This site is supported by our readers. We may earn a commission, at no cost to you, if you purchase through links.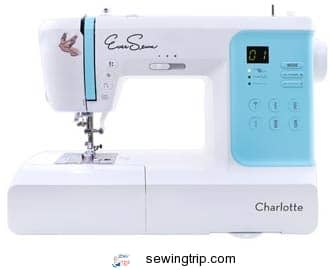 EverSewn Charlotte computerized sewing machine
Beauty is always in the eyes of the beholder. However, there are some sewing beauties like EverSewn Charlotte .-stitch computerized sewing machine that goes beyond catching the imagination of a few.
Decorated in bright colors that make it look childish, but you know it's real when you see the first few stitches it produces.
There's a reason EverSewn sewing machines are so popular in the United States sewing community. And like wildfire, this trust and popularity is spreading beyond North America to Europe.
It's not just about great reviews. The EverSewn Charlotte has more to offer.
Why choose EverSewn Charlotte Sewing Machine
Do you want exclusivity and rarity in your sewing machines? Then you have just found the exact one with these two functions.
Think of this as a perfect sewing machine to sew or as a spare sewing machine. There are many reasons and many useful features of the Charlotte that will allow you to click the order button with confidence now!
What are those? You may need to read on to find out!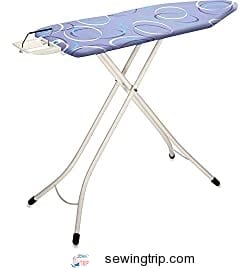 Description of EverSewn Charlotte
Ever Sewn Charlottes is a product of the best form of technology. Features . built-in stitches. You must see the beautiful stitches that this sewing machine produces. You can set the stitch width up to a maximum of 7 mm at the touch of a button.
Starting and stopping sewing is also easy at the touch of a button. EverSewn Charlotte can go as fast as 850 stitches per minute. However, the stitch speed can with a fingertip pressure.
The Charlotte sewing machine on a drop-in bobbin system. The free arm length is also as wide as 163mm, wide enough for your puffs, seams and collars. You may want to know that the 6-step buttonhole style gives you plenty of options to choose from and also includes an eyelet.
Because it is a computerized sewing machine, there is an LED screen to choose stitches. This gives you a perfect view of everything you operate on your Charlotte sewing machine. As with most computerized sewing machines, there is an automatic needle threader to secure your smallest thread.
Whatever project and material you're working on, seven presser feet should suffice.. You also have to imagine what you can achieve with a large sewing space of 6.5 inches; enough, right? We thought so.
You don't have to worry about the durability and longevity of the sewing machine. The EverSewn Design Team makes of heavy metal it. Every part of the sewing machine and ISO 9001 certified.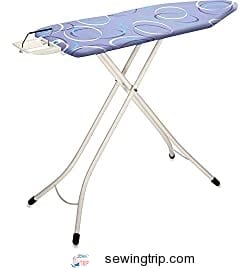 Who should buy EverSewn Charlotte
No doubt, this is a beginner sewing machine. Reading through its features and specifications, I designed it for entry-level users. We designed all of this to make sewing and learning easy for beginners.
Automatic features are usually best for beginners. Experienced users can still take advantage of the advanced features that come with the sewing machine.
EverSewn We may intend Charlotte for beginners, but there functions that can be useful for experts.
Quick summary of functions
. built-in stitches
7 Presser Feet
6 Styles Buttonhole with Eyelets
Start/Stop Button
850 stitches per minute
Heavymetal frame
7 mm Maximum stitch width
Plug-in bobbing with transparent cover
Stitch Library
Automated Stitch Panel
Feed Dog Drop
ISO 9001 certified
Advantages
Great sewing machine to learn
Large number of stitches
Heavy metal housing
Cons
Feels a bit fragile
Not a cheap brand
What's in the kit?
EverSewn Charlotte Sewing Machine
All-Purpose Foot
Spools
Spool holder
Spool pin felt
Large and small screwdriver set
Edge/Quilting Guide
Machine Needles
Power cord
Top Image Credit: EverSewn
References
bestsewingmachinereviewspot.com