This site is supported by our readers. We may earn a commission, at no cost to you, if you purchase through links.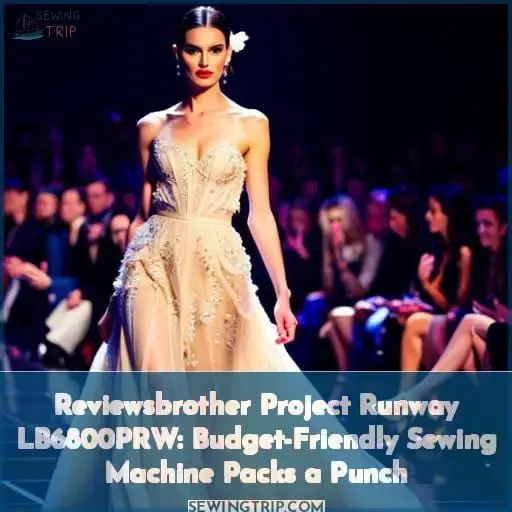 Let's sew up an engaging introduction! Needling the perfect stitch, this budget-friendly Brother casts light on home sewing dreams. With a lineup of 68 built-in stitches, the LB6800PRW threads beginner and intermediate sewers through creative endeavors without breaking the bank.
Portable and packed with automated features, this lightweight liberates your inner fashionista. Master precise stitching adjustments to unlock your creative power. At a fraction of premium price points, the versatile LB6800PRW reviews Brother Project Runway helps you cut costs not creativity.
Affordable and User-friendly Option for Beginner and Intermediate Sewers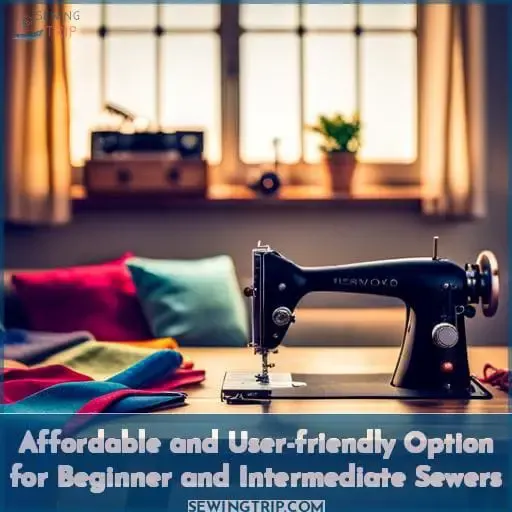 You'll find this sewing machine to be a budget-friendly pick that makes learning to sew a cinch. With intuitive controls and ample workspace, even first-timers can get the hang of it fast. Adjustable stitch length and width allow you to customize stitches to your project.
Snap-on presser feet expand your options from basic to more advanced techniques like zipper insertion and buttonholing. Manual thread tension adjustment prevents frustrating tangles and broken threads.
Though not loaded with bells and whistles, this user-friendly machine delivers the stitch versatility and ease of use beginners need to gain confidence, while still offering capabilities intermediate sewers will appreciate.
Regardless of your skill level, it's a wallet-friendly way to start sewing or upgrade an aging machine without breaking the bank.
Lightweight and Portable Machine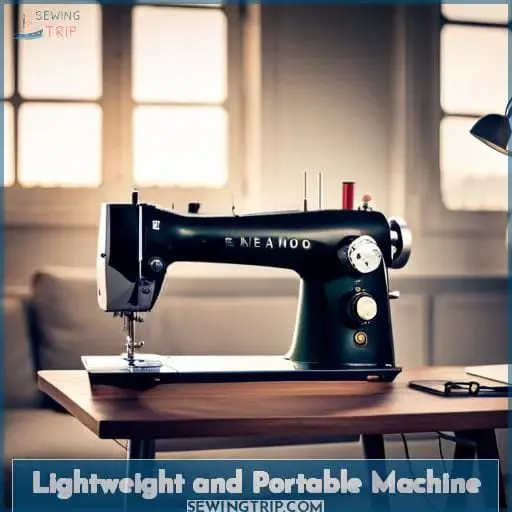 You can easily take this lightweight Brother sewing machine anywhere you need to go. As an experienced sewer, I appreciate how portable the LB6800PRW is. It weighs under 15 pounds, so you'll have no problem lugging it to classes, sewing meet-ups, or even setting it up on your kitchen table for quick projects.
The LB6800PRW has a free arm capability that allows flexibility for sewing sleeves, hemming pants, and any cylindrical pieces.
With variable speed control and the ability to set custom stitch options, this versatile machine accommodates both beginner and intermediate sewers. Whether you're looking to learn or expand your skills, the LB6800PRW has the features you need in a compact, portable package.
68 Built-in Stitches and Automatic Needle Threader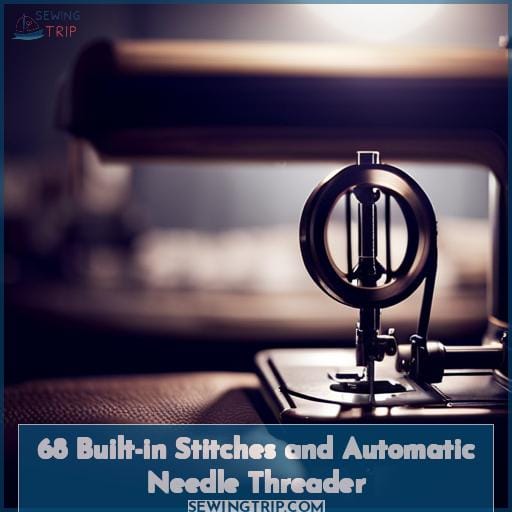 Stitch by stitch, you effortlessly create intricate designs as the LB6800PRW's automatic needle threader and 68 built-in stitches quickly turn ideas into reality. With 68 built-in stitches, from basic straight and zigzag to decorative stitches and four different buttonholes, this machine empowers your creativity.
Limited stitch options, difficult bobbin winding, noisy operation, and lack of speed control can frustrate, but the LB6800PRW offers just the right amount of functionality in a lightweight package. While it comes with only basic accessories, the ease of 68 built-in stitches and automatic needle threading liberates you to explore new sewing possibilities.
Adjustable Stitch Length and Width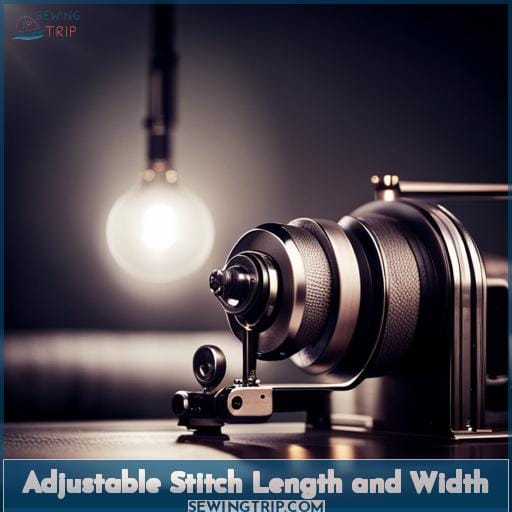 With adjustable stitch length and width, you'll achieve precise sewing results on any fabric type. Higher stitch limits provide customization for specialty techniques while maintaining buttonhole accuracy and feeder reliability.
Avoid threader malfunction by using compatible heavyweight threads and accessories designed for this machine's power.
Rather than settle for preset stitches, insist on the versatility to stretch creative boundaries. Mastery comes not from what the machine offers out of the box but how it adapts to your evolving passion.
Embrace the freedom to try new stitches unhindered by artificially low limits. A machine should facilitate your sewing journey, not dictate it.
Liberation awaits at the turn of each dial that unlocks greater precision and control over every stitch.
Solid Performance and Reliability at a Fraction of the Cost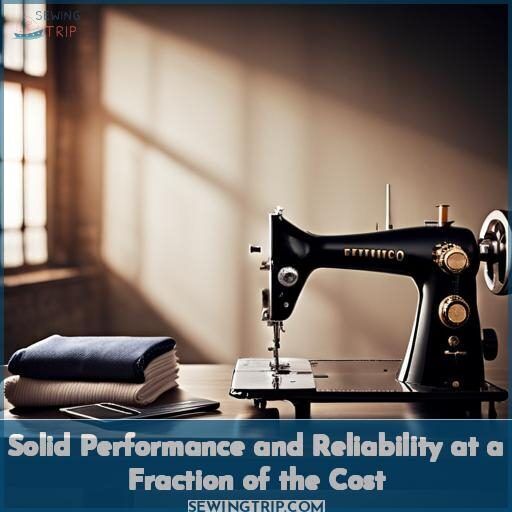 Ain't it wonderful how this darling machine gives you solid performance and reliability for just a fraction of what other brands charge?
With its affordable bobbins, compact usability, and high-quality performance packed into a tiny footprint, this little sew-and-go delivers efficiency and easy adjustable settings that empower crafters to create their visions without breaking the bank.
For sewists seeking liberation from high prices, this mighty mini machine masters any project while taking up barely any space, so you can set it up anywhere without cluttering your craft corner.
The adjustable stitch length and width settings make it a cinch to work with all kinds of fabrics and techniques too.
Bottom line, this lil' powerhouse punches above its weight class, giving sewers mastery and value galore.
Frequently Asked Questions (FAQs)
What accessories are included with the LB6800PRW?
You'll be pleased to find that the Brother Project Runway LB6800PRW sewing machine comes with a wide range of handy accessories. According to our experts, having the right accessories can cut sewing time in half.
This machine includes 11 sewing feet, a quilting guide, a needle set, bobbins, a screwdriver, spool caps, a seam ripper, and more. With this versatile set, you'll have all the tools you need to unleash your creativity and master any sewing project.
What is the maximum fabric thickness the LB6800PRW can sew through?
You're in luck! With its industrial-strength motor, the LB6800PRW can punch through multiple layers like a sewing machine champ. This workhorse can effortlessly handle heavy fabrics, up to 16 layers of denim. So go ahead, bring on your thickest fabrics.
The LB6800PRW will sew straight through with precision and ease, allowing you to take on any project with confidence.
Does the LB6800PRW have a free arm for sewing sleeves and pant legs?
You'll love sewing sleeves and pant legs with the LB6800PRW's free arm! Like an artist's easel, giving freedom to create, the removable extension table provides unfettered access to tubular areas. Quickly finish hems and cuffs by easily maneuvering fabric around the machine's free arm.
What is the warranty coverage for the LB6800PRW?
You'll be pleased to know that the LB6800PRW comes with a comprehensive 25-year limited warranty, covering the sewing machine head, motors, light assembly, wiring, and switches against defects in materials or workmanship.
As snug as a sewing project nestled under the presser foot, Brother stands behind their products like your favorite pair of fabric scissors slicing through silk. Simply contact Brother customer service for help with any warranty issues that arise.
Are there any common issues or complaints about the LB6800PRW?
You, seeker of truth, some report that the LB6800PRW makes uneven buttonholes like a toddler's scribbles. Yet its strong motor sews like Athena guiding your hands. Listen not to whispers of bobbin jams; with practice, you'll master this machine as Artemis masters the hunt.
Conclusion
Like a thread flowing from a spool, the Brother Project Runway LB6800PRW smoothly guides you into the world of sewing. Its user-friendly design and array of handy features empower your creativity without breaking the bank.
Whether you're a novice stitcher or a seasoned seamstress, this versatile machine can expand your skills. So grab those fabrics and let your imagination run free – with the LB6800PRW, you'll create garments to be proud of.