This site is supported by our readers. We may earn a commission, at no cost to you, if you purchase through links.
The Brother XM2701 lightweight sewing machine is a tough competitor in simplified strength and durability on the go.
While it is definitely a good option if you are just starting out in sewing or if you have a secondary machine need to hit the road, it can be temperamental with bobbins and it can take some time to adjust to the sensitive foot pedal.
But with a very affordable price tag and the backing of the Brother brand, this could be the machine for you — especially if you're a dedicated beginner.
Here We'll break down all the highs and lows, the hidden benefits and the occasional setback, and everything in between – so you can make the best informed decision before clicking'order'on the Brother XM2701 sewing machine.
Brother XM2701 Sewing Machine: The Details
The Look
The is a fairly small machine, which can be useful if you're looking for a model that doesn't take up too much desk space.
It has a decorative floral design on the front where you can select your stitches, and while it's a cute design, it might not suit every sewer's aesthetic – we're looking at your minimalists.
]
One of the main selling points of the Brother XM2701 is how light it is, but this means that most of it of plastic rather than metal, so it's definitely not a heavyweight machine.
Specs
Weight: 15.8 pounds
Dimensions: 17.8 x 7.6 x 15.1 inches
Stitches: 27 built-in stitches, including one-step auto size buttonhole machine
Speed: Up to 800 stitches per minute
Automated/Mechanical: Automated
Spool: Drop-in coil
Warranty: 1 year for parts, labor and accessories; 2 years for electronic components and circuit boards; and 25 years for the chassis molding
Accessories
This Brother sewing machine is more or less a " bare " model, so the accessories are pretty standard. It comes with all the extras you need to complete basic projects.
If you're looking for more complicated projects, Brother also offers you the option to create additional custom projects. accessories for Brother sewing machines.
This comes with:
Six quick change feet: buttonhole, zipper -, zigzag, narrow hem, blind stitch and button presser foot.
Triple needle set
Screwdriver
Additional spool pin
Three spools
Stop plate
Power cord
Instructional DVD
Instruction manual in both the English as Spanish
Brother: The Company
Brother International Corporation in 1954, but the company exists actually for almost 120 years. A sewing machine manufacturer originally found the company in Japan.
When they started their journey in the United States, their primary focus was on home office and business products. The name Brother quickly became synonymous with quality business and sewing products. You may have come across some of their top-of-the-line laser jet printers or all-in-one printers.
Brother brings the same level of commitment to quality to their sewing machines, which is part of the reason they have established a fairly excellent reputation within the sewing machine industry.
The Warranty
The warranty for the Brother XM2701 sewing machine is standard. They offer a 25-year limited warranty. However, there are a few specific details of this warranty that you should be familiar with.
Their warranty covers up to one year on parts, labor and accessories. If there are problems with the electronic components of the machine or the printed circuit boards, we covered them for up to two years.
The chassis is the part of the machine that lasts the longest. time ; it remains insured for 25 years after you make your purchase. To take advantage of the warranty, you must have proof of purchase, so keep your receipt.
Brother XM2701 Features
The Brother XM2701 has some really great features are tailored for beginners learning to sew, who may want to avoid the bells and whistles of more complex machines.
It is one of the best sewing machines for beginners.
Here is the official introduction of Brother to their machine:
Easy automatic needle threader
Threading a needle on a sewing machine can be a chore whether you are a beginner or an experienced sewer – the parts are small and the hole is small.
But this Brother sewing machine makes it super easy.
It has a built-in automatic needle threader, so you just need to touch the lever on the side of the machine to thread the needle. The machine will pull the thread through the needle and you are ready to sew.
Jam-Resistant Top Drop-In Bobbin
Good bobbing placement can be the key to even stitches. It built this machine to withstand jamming.
We found that while this function works well most
] of the time, sometimes it can still get stuck if the bobbin properly, so you have to take it into account.
The machine has a built-in automatic bobbin winder, but observe the thread when winding.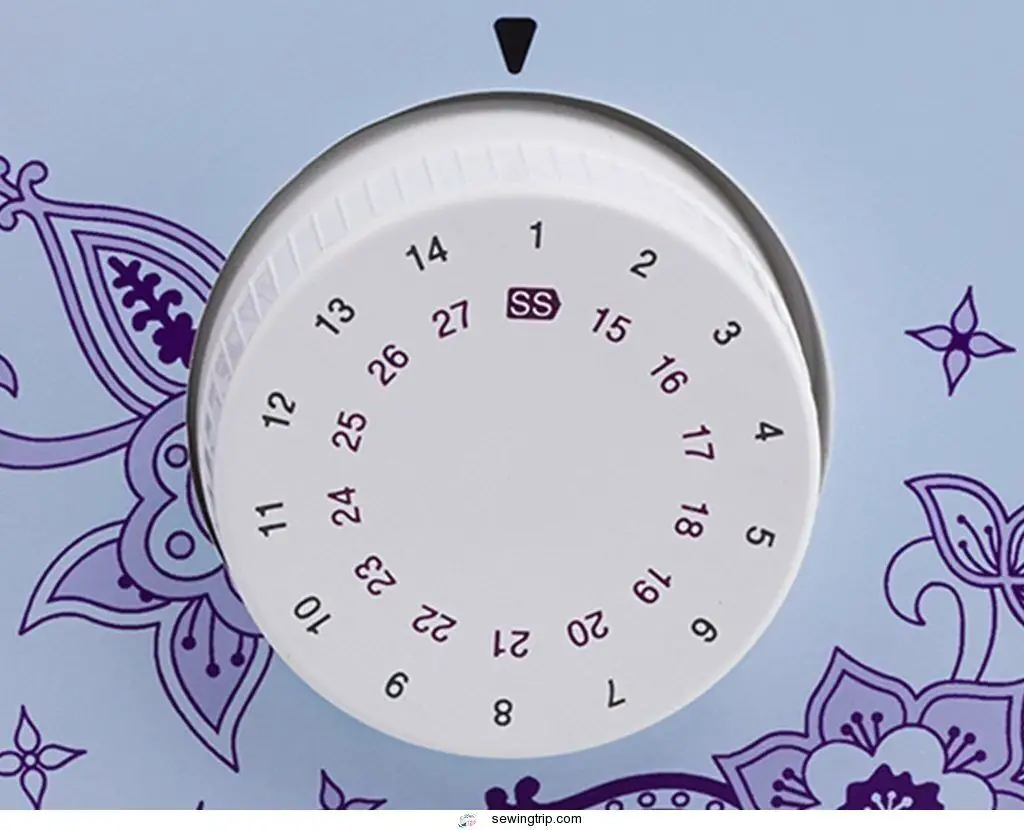 27 Built-in stitches
]
The 27 pre-programmed stitches in the XM2701 are really all you need for your basic sewing projects.
They cover decorative stitches, Blindheim, zigzag and stretch stitches and a one-step automatic buttonhole function.
Easy stitch selection
The stitch selection button is simple, on the front of the machine, so you should be able to select the stitch you want with no confusion.
One-Step Buttonholes
Buttonholes can intimidate, especially for beginning seamstresses. The machine comes with a Buttonhole Foot and Sew-on Foot, which makes it easy to make buttonholes for any sewing project.
The machine also automatically adjusts the size of the buttonholes so you can adjust the size of the buttonholes. select the size that best suits your project. Hemming with your sewing machine can without a hitch thanks to the twin needle feature of the Brother XM2701.
It's great to see this feature on an entry-level machine.
Brother XM2701 Sewing Machine Review
The Positives
Very easy to use
We that the Brother XM2701 is arguably one of the best beginner sewing machines available today.
For starters, it's really easy to use.
Stitch selection is practically effortless thanks to the easy-to-read stitch dial. Some machines make selecting stitches too complicated, either by having over one dial or by having a complicated numbering system for their stitches. getting used to it, it's infinitely easier and more efficient than squeezing to thread the eye of your needle yourself.
In addition, the included DVD is useful if you find yourself in a jam. It covers most of the basics and helps you use the machine.
Great for basic projects and more
This is a superb machine for beginners, especially if you're looking for a machine that can do more than just'basic'stitches. Most comparably priced machines offer a few fewer stitches than the Brother XM2701 lightweight sewing machine . We with the extensive selection of 27 stitches.
If you are just starting out or are looking for a machine to make basic garments, blankets and other minor projects. This machine fits really well.
It seems to be made for sewer beginners as it is perfect for someone new to sewing who doesn't want to invest in a more industrial machine.
Lightweight and portable
Although beginners love the Brother XM2701 sewing machine, we know a handful of more experienced sewing machines who bought it as a second machine to take with you on a trip.
It's lightweight for its capabilities, and easily slips into a sewing machine bag to get started.
It's Cheap
While the XM2701 doesn't have the same low prices as some of the cheapest sewing machines on the market, we think it considering its features and ease of use.
This isn't a knock-off machine for kids or those who just want to play, it's a well-made machine designed for dedicated beginners and experienced sewers on a budget.
It's impressive.
The cons
No average speed
The foot control can be quite sensitive. If you want to sew at medium speed, this can be difficult, as sometimes even a light pressure forward can make the sewing machine speed quite fast.
Hopefully this won't be a deal breaker for you – we found it just took some getting used to.
Dim LED light
The LED light is not dazzling. If you're hoping for a well-lit sewing room, you may need to invest in a sewing lamp.
Bobbins can be tricky
It's always best to make sure you have the right bobbin for your sewing machine, but even with the right bobbin, this machine can be a little temperamental.
You really need to make sure that the bobbin just right, to avoid getting the thread caught while sewing.
Again, we emphasize that this was rarely a problem and only a minor annoyance when it happened. It's worth knowing though, in case you expect this to be a flawless machine.
Overall verdict
Although there are some issues, the Brother XM2701 may well be the best cheap sewing machine may be on the market. market at the moment.
Many models with a similar price tag offer a lot less in terms of features and a few headaches with problems. This machine is easy to use and offers a lot for both novice and advanced sewers.
Not to mention, it's also super portable, so an ideal second machine for on the go. to sew away,
Brother has also been in the sewing machine industry for a long time, so you can trust they will support their product if you run into any problems.
All this is a great sewing machine for beginners who want to learn to sew or for experienced seamstresses who need a secondary machine that is a bit more portable. We love it!
Where to buy the Brother XM2701 sewing machine
With a low price tag, lightweight and with near-universal appeal, it's no surprise the XM2701 is a perennially popular sewing machine that can in most homeware stores.
And of course it is.. On Amazon.

---
Have you tried the Brother XM2701 lightweight machine?
For more reviews, visit our complete archive of machine reviews.