This site is supported by our readers. We may earn a commission, at no cost to you, if you purchase through links.
Are you looking for a simple sewing machine, for when you just want to create a hem quickly or don't want to take the time to sew by hand?
]
Looking for a sewing machine that is kid-friendly for a younger sewer? Or maybe you're looking for a smaller machine that you can take with you to your sewing class or when traveling?
The Janome Graceful Gray Basic sewing machine might be something for you. It comes in a wide variety of colors, weighs just five pounds and comes with finger guards to protect younger or novice sewers.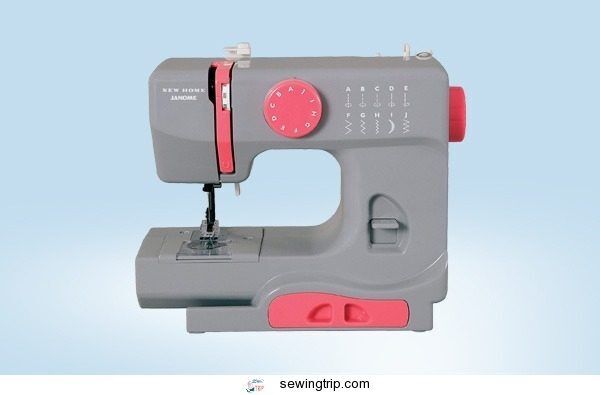 While there have been complaints from users about the machine because it is noisy, unreliable and the bobbin is difficult to thread, this might be just what you are looking for.
Let's inspect the Janome Graceful gray basic sewing machine and then you can make a more informed decision whether it is the right one for you.
Janome Graceful Basic Gary Ewing Machine: The Details
The Look
The Janome Graceful Gray is a very compact machine that is available in a wide variety of colours. Weighing in at 5 lbs. it is the perfect machine to travel with or take to your sewing group.
The machine is about the size of a large textbook. Available in 11 different colours, from gray to fuchsia, you can choose how basic or modern your sewing machine looks.
Specs
Weight: 5lbs.
Dimensions: 10.5 x 5 x 9 inches
Stitches: Four stitches with six stitch width and length variations; no buttonhole stitch
Speed: 350 stitches per minute
Automated/Mechanical: Mechanical
Spool: Top-loading, drop-in coil
Warranty: 25 year limited warranty
Accessories
Clear cover
Three plastic bobbins
Two #14 needles
One needle threader
Instruction manual
Janome: The Brand
Janome started out as The Pine Sewing Machine Factory in 1921, founded by Kosaku Ose, and Janome in 1954.
Janome's mission is to create the most easy-to-use, reliable and high-quality sewing. machines and servers.
They want their customers " to get the most out of their creativity" by using their products.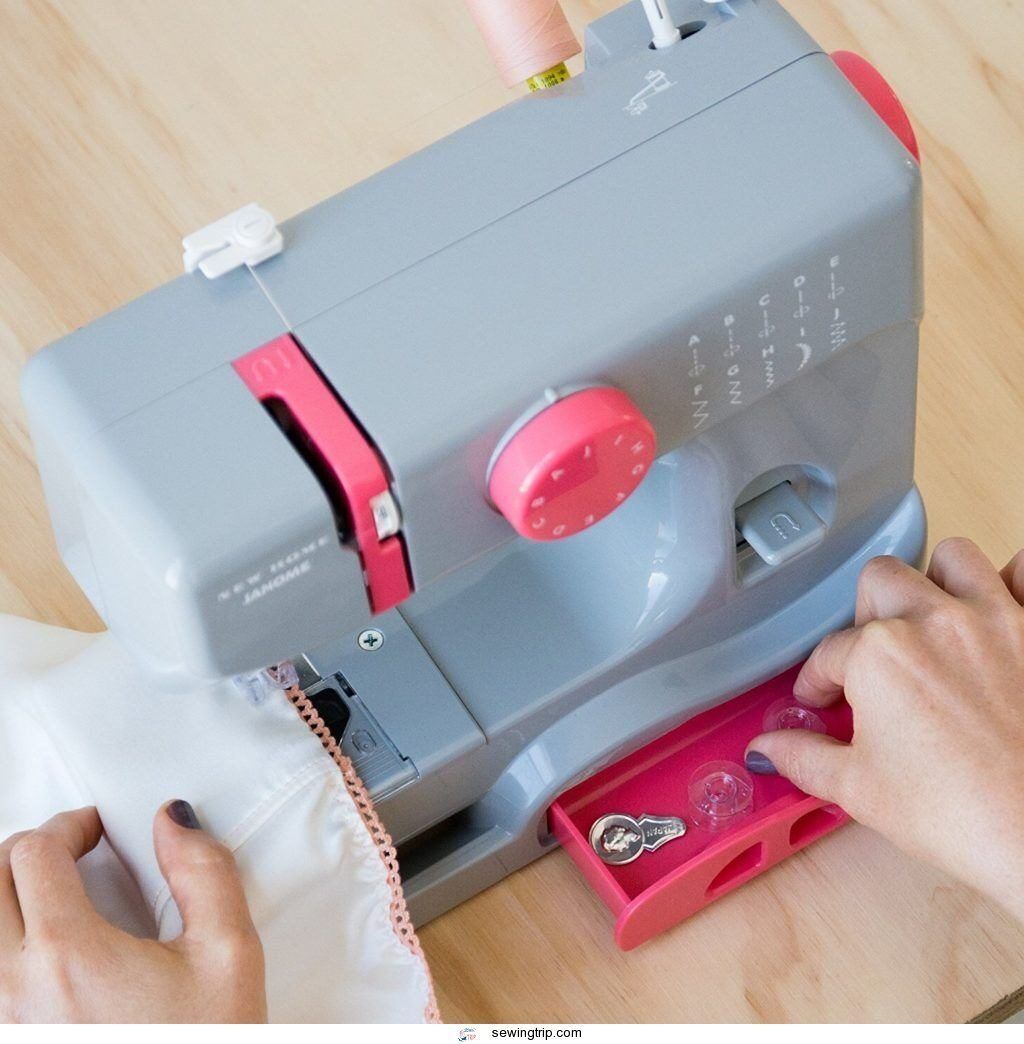 The Warranty
The Janome Graceful Gray comes with a 25-year limited warranty.
The warranty protects the user against any problems with the "materials or workmanship, except for electrical/electronic equipment, which is warranted for two years from original purchase."
During the first year you have the machine, you can receive replacement parts for defective parts and labor will be free.
After the first year, defective parts can free, but you must pay for all the labor required to repair your Janome.
The warranty does not cover damage caused by lack of maintenance or repairs to your machine, nor does it cover damage caused by "normal wear and tear and cracks."
The warranty also only applies to machines purchased through an allowed Janome dealer.
Attributes
4 built-in stitches
The Janome Graceful Gray comes with four built-in stitches including straight stitch, zigzag stitch, crescent stitch and multiple zigzag stitch.
In addition, there are six different stitch widths and length variations to choose from.
Top Loading, Drop-In Bobbin
Also, the Janome Graceful Gray has a top loading, drop-in spool, which means you just open the lid at the needle and insert your threaded spool.
For For beginners, this is the easiest type of flushing system you can get.
Finger guards
This machine with finger guards near the needle so that beginners or younger sewers do not accidentally get their fingers under the needle (OUCH!).
This model supplied with a threading diagram to help new sewers learn how to thread the machine.
Two needle positions
With multiple needle positions, you can position the needle where you want it and you don't have to maneuver the fabric awkwardly that can lead to jams or mistakes.
If you change the needle positions, you should have more control over where your stitch goes and how it ends.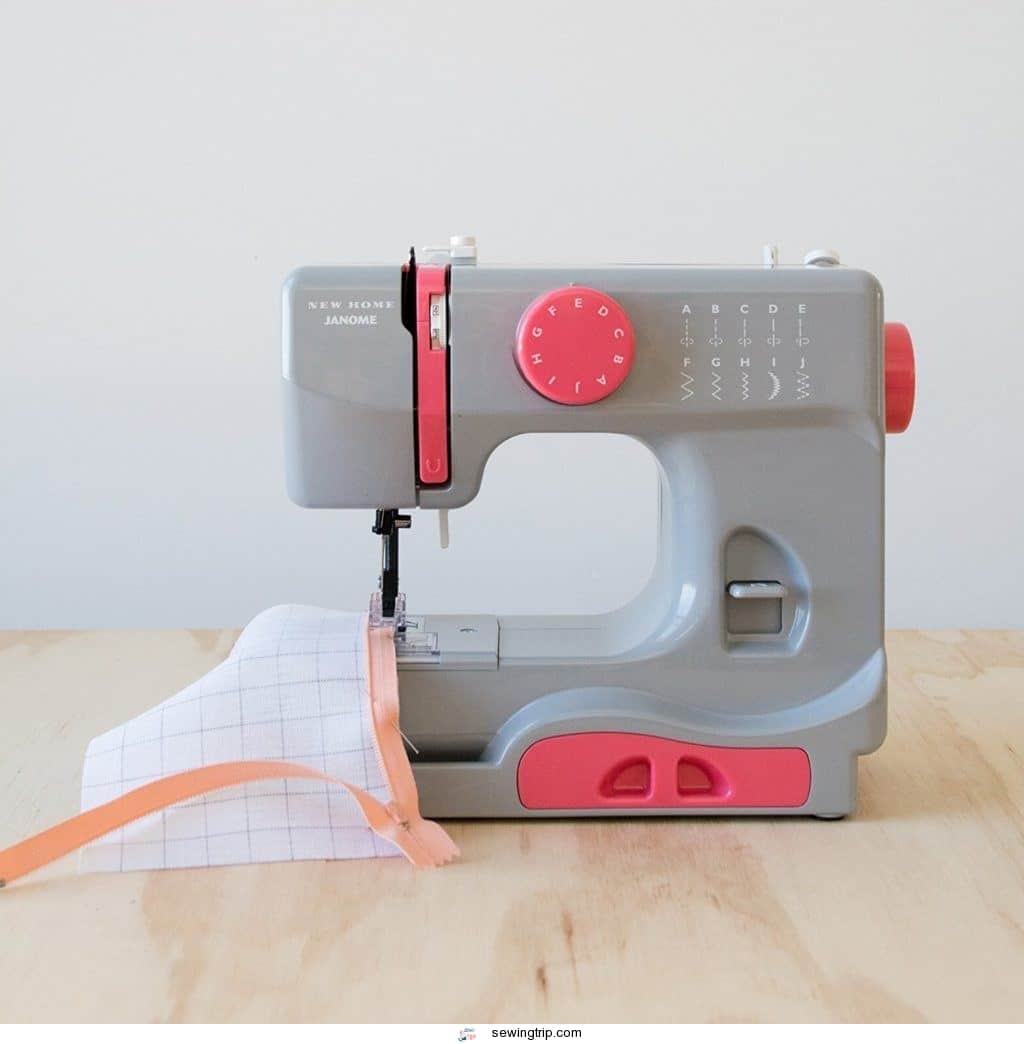 Janome Graceful Gray Basic Sewing Machine Review
The Positives
Compact and portable
The Janome Graceful Gray–only five pounds and 10.5 inches long and 9 inches wide – means it's by far one of the lightest, most compact sewing machines on the market.
If you live in a small flat or have limited space to work in. This machine is the perfect solution for you.
If Take your machine with you, it's also so light, that shouldn't be a problem. Whether you're going to class or just want to help a friend across town, carry this machine with you.
Top charging coil
Since this machine is being marketed for beginners, it was a great design choice by Janome to give the machine a top loader.
It's easier to load, easier to see what's going on because it has a clear cover, and easier to reach if there are problems.
This removes the frustration and hassle that can arise for new users and novice sewers.
Comes in a variety of colors
The Janome Graceful Gray comes in 11 different colors and the names are just as fun as the colors themselves; Bandana Blush, Graceful Grey, Citrus Circus, Fastlane Fuchsia, Lady Lilac, Marine Magic, Mystical Mint, Pink Lightning, Purple Thunder, Turbo Teal and Watermelon Crush.
All you just pick your favourite.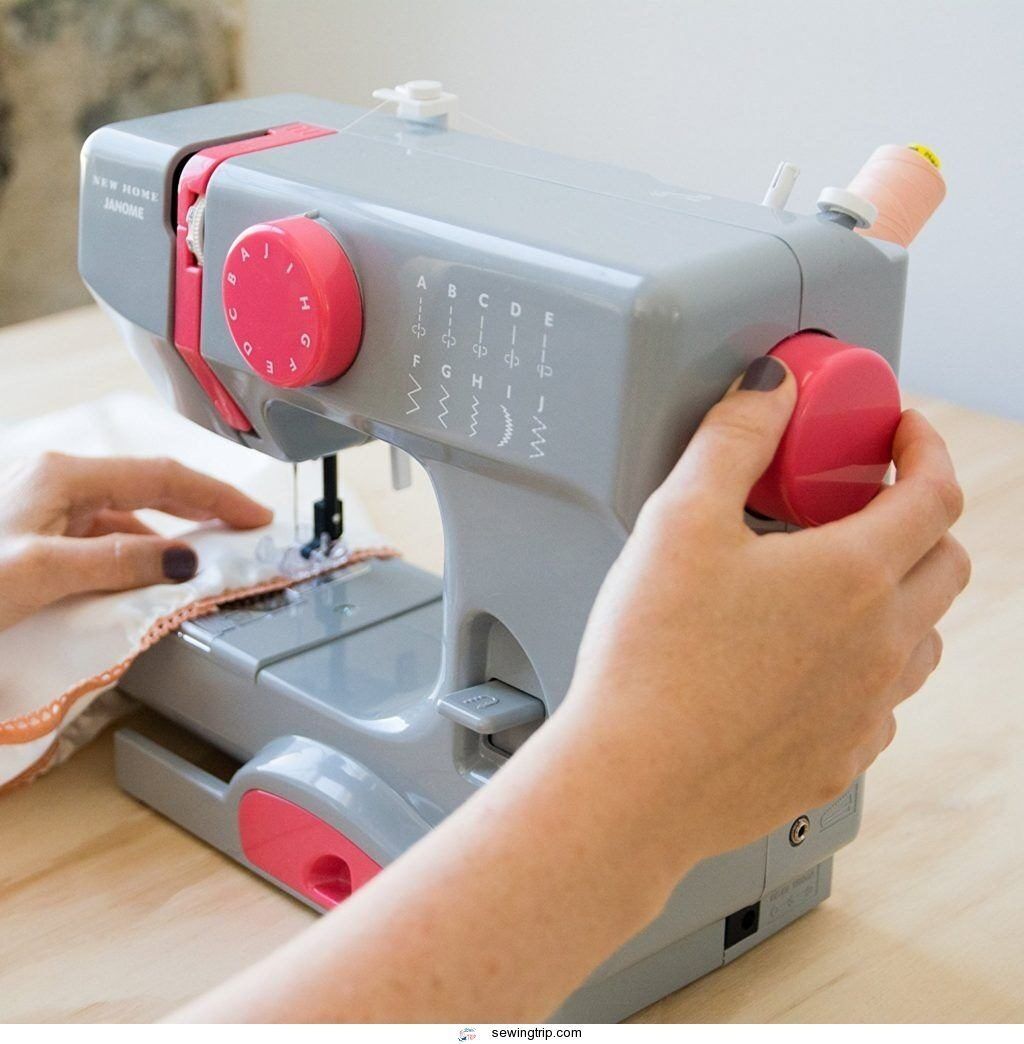 Not only do these fun colors really make your sewing machine stand out, but it's also easy to give your flat or craft room a touch of whimsy with these machines.
Extra high presser foot lift
The extra high presser foot lift allows you to lift many fabrics between presser foot and needle plate.
You can try everything from lightweight denim to heavier knits. But you don't just have to use fabrics; you can also use the Janome Graceful Gray Machine to sew paper for crafting as well.
Great for learning
Although advanced sewers may not with the lack of features and settings this machine offers offers, it is a great tool for curious beginners and children who want to learn this trade.
Features such as the finger guard, and that it is lightweight, make it safe for children and beginners to learn and play with, and to master the basics before moving on to bigger projects.
It has only a few built-in stitches making this not too overwhelming for beginners, and the speed is great for perfecting basic sewing skills.
This is what the Janome Graceful Gray looks like out of the box and works.
The Negatives
Jams a Lot
Unfortunately, the Janome Graceful Gray crashes often.
Multiple users complained they had to retread the machine, fix the jam, only to have it happen again. In more extreme cases, after a failure, the machine would completely shut down.
A machine is not much use if the user has to stop every few minutes to troubleshoot. You may need to be patient with this machine.
Noisy
Several users have complained that this sewing machine very noisy. No matter what they did, the loud noise persisted.
While this isn't the biggest problem, it can be a deal breaker for many people – especially those with sensitive ears.
No one wants to lose their hearing or wake everyone in the house wanting to hem their pants.
In this case it is probably best to use this in a room where noise is not an issue or in a hobby room where you don't bother others.
Low speed
Because the Janome Graceful Gray has only one speed, some users felt it was too slow for what they wanted.
It could be fine for beginners and kids, but most adults wanted a faster machine. This may not be the machine for an experienced sewer, even if it's just a backup or travel machine.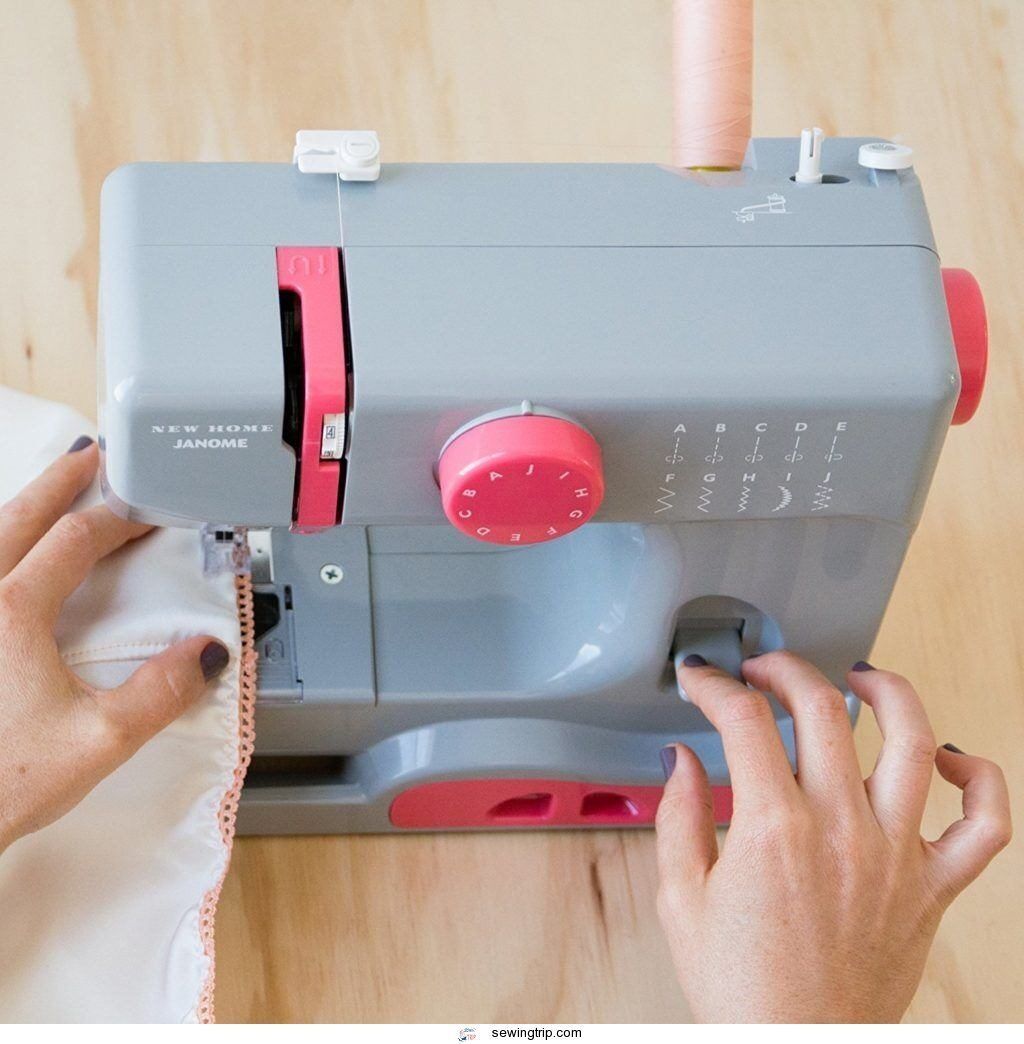 No built-in light
The Janome Graceful Gray also has no built-in lighting, so you will need to place a lamp near or above your machine, or your machine in a location with good lighting.
Although this is not the main problem, several users noted this in their reviews.
Can't Sew Thicker Fabrics
Although the extra high presser foot lifter is a prominent feature, according to several reviews, the machine cannot handle thicker, heavier fabrics. It may snag or stop halfway through sewing.
It can sew through several layers of light fabric, but if you're trying to sew something thicker, switch to another machine.
Overall verdict
After considering all the factors, we recommend the Janome Graceful gray basic sewing machine for someone who just wants to sew, or kids who want to tinker.
With the number of complaints about this machine, it may not work consistently enough to be worth buying are for bigger, heavier projects.
The price for this machine reflects its performance, so this really is a "]you get what you pay for" situation.
If you really want to dive deeper into the world of sewing, it's better to pay a little more for a machine that can handle bigger tasks.
That said., for the price and design of the Janome Graceful Gray Basic Sewing Machine, it will also be a substantial gift to inspire future sewers or push them in a more artistic direction.
Where to buy the Janome Graceful Gary Ewing Machine
Janome is a brand known for making solid sewing machines. Although the Janome Graceful Gary Ewing Machine is at the bottom of the models Janome offers, it is still a popular choice among hobbyists.
This I can find sewing machine in both stores in-store and online.
Check out the following online retailers to start your search.
And of course you can also find this machine on Amazon.

---
That was it for our review of the Janome Graceful Gary Ewing Machine. Did we tempt you to give it a try?
Want to see other models before deciding? Check out our latest user reviews.