This site is supported by our readers. We may earn a commission, at no cost to you, if you purchase through links.
With the rise of DIY projects, sewing is more popular now than ever before. In fact, over 10 million Americans have picked up a needle and thread in the last year alone!
If you're looking for an affordable machine to get started or upgrade your existing set-up without breaking the bank, then this article on top 9 inexpensive sewing machines will be perfect for you.
We'll take a look at some of our favorite options that are perfect whether you're just starting out or already experienced with stitching.
Key Takeaways
Over 10 million Americans have taken up sewing in the past year.
There are affordable sewing machine options available for all budgets and skill levels.
Factors to consider before purchasing include size, computerized vs. mechanical models, presser feet, variety of stitches and buttonholes, automatic needle threader, machine weight and portability, durability factors, local servicing and repairs, built-in thread cutter, hard case, and free arm.
Full-size and miniature sewing machines have their own pros and cons, as do computerized and mechanical models.
The Best 9 Inexpensive Sewing Machines
Introducing nine of the best inexpensive sewing machines for every budget and skill level. Whether you're seeking a portable machine for quick fixes, a computerized model with multiple stitches, or a lightweight option for kids, these affordable choices provide quality and versatility without breaking the bank.
Singer Stitch Sew Quick Portable Mending Machine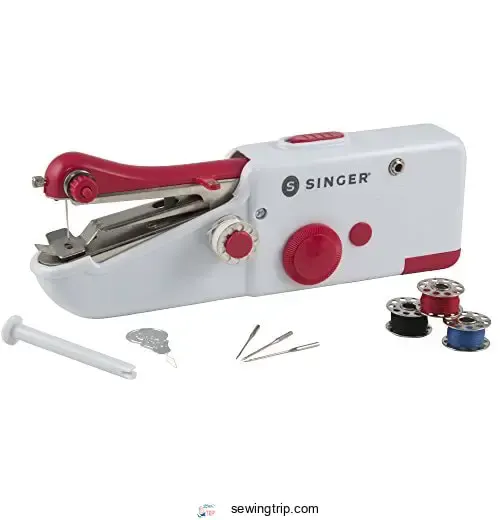 View On Amazon
You'll find the Singer Stitch Sew Quick is a handy little cordless device for quickly mending lightweight fabrics, though it lacks the versatility of full-sized sewing machines. With its portable size and single thread feed, it's ideal for minor repairs to dress shirts, curtains, or tablecloths.
However, thicker materials like denim may be tricky for this battery-powered machine.
Some key pros are its compact portability, brand reputation with Singer, and specialized functionality for temporary basting.
Drawbacks to consider are limited stitches and settings, lack of speed control, and potential issues securing stitches.
Compact, lightweight, and portable
Good for quick mending of thin fabrics
Made by reputable Singer brand
Lacks versatility of full-size sewing machines
Struggles with thicker materials
Limited functionality and lack of settings
Brother Sewing Machine GX37 37 Built-in Stitches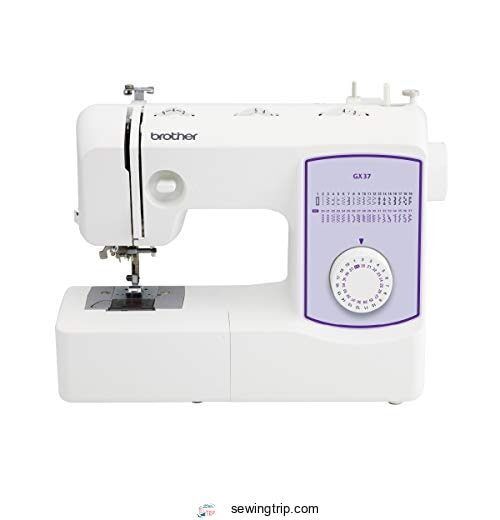 View On Amazon
This user-friendly Brother sewing machine helps beginners and experts alike tackle any sewing project imaginably. It features 37 built-in stitches, including both utility and decorative options, offering versatility for all skill levels.
The intuitive stitch selection dial makes choosing your desired stitch a breeze, while the automated needle threader takes care of that fiddly step for you.
Perfect for fashioning anything from dresses to quilts, the GX37 excels at both free-motion quilting and basic mending tasks. Despite its compact size, it handles varied fabrics with ease, showcasing surprising robustness.
The lightweight plastic housing and quiet motor ensure that your creative zen won't be disturbed.
You can easily expand the machine's repertoire over time by adding on accessories like walking feet and quilting guides. However, it's worth noting that the GX37 comes with limited accessories included.
In summary, the Brother GX37 is a quality sewing machine that offers construction without the premium price. With its 37 built-in stitches, automatic needle threader, quiet motor, and versatility for many projects, it hits the sweet spot for sewists of any skill level.
Janome Graceful Gray Basic Portable Compact Sewing Machine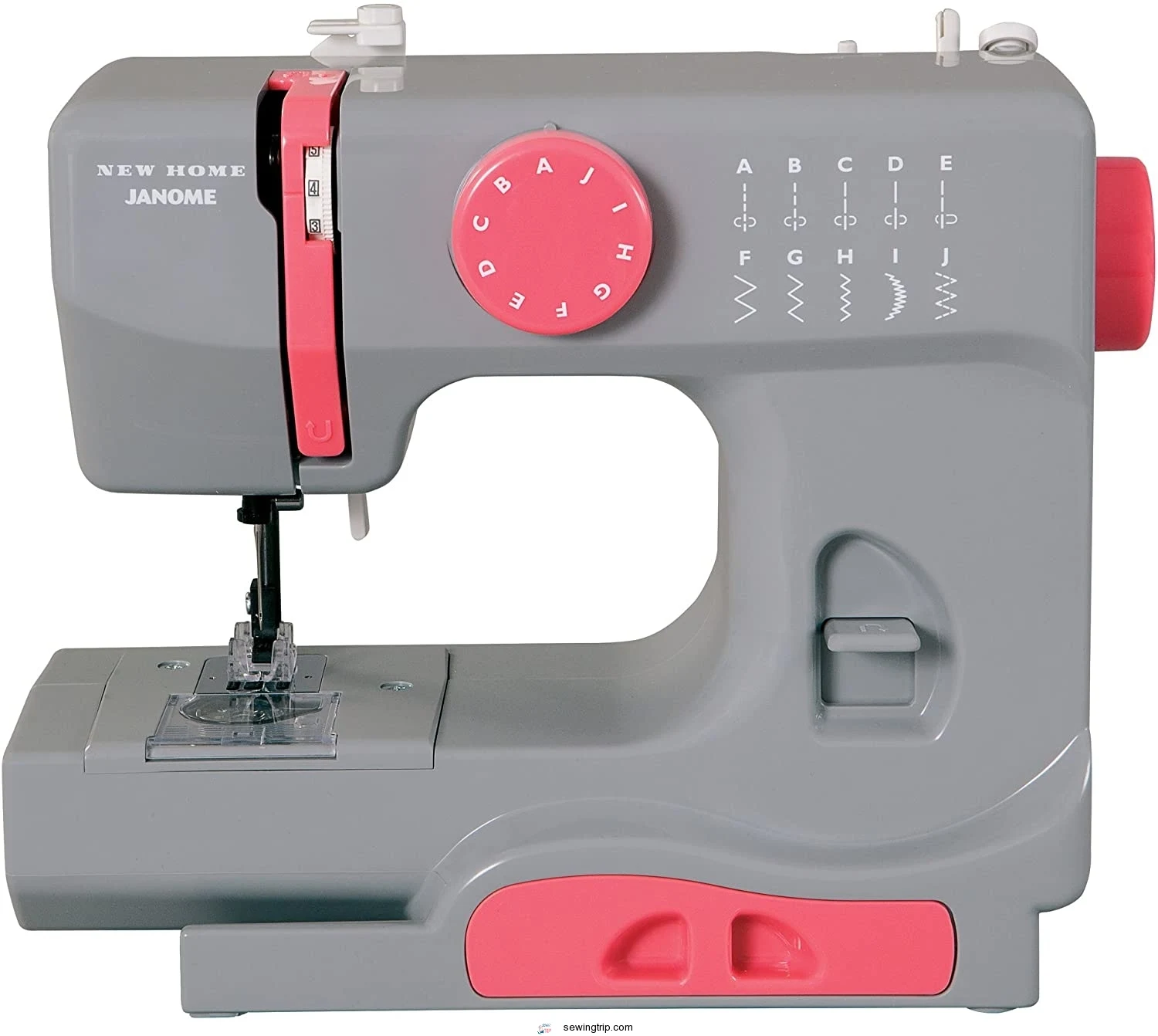 View On Amazon
What better way to start learning sewing basics without breaking the bank than the Janome Graceful Gray, a portable compact machine weighing just 5 lbs for grab-and-go projects or practice sessions with the kids? However, can you really expect superior performance from an entry-level model lacking a built-in light? Weighing the pros and cons, this mini sewing machine offers an affordable introduction to stitching for simple tasks, but the manual threading and bobbin issues reported suggest investing a little more for a machine with better functionality and durability.
Lightweight and portable
Low price point
Suitable for basic sewing
Free arm for sleeves
No built-in sewing light
Manual threading can be tricky
Mixed reviews on bobbin holder durability
May struggle with some fabrics
Magicfly Portable Sewing Machine Beginner Back Stitching White
View On Amazon
Whether at home or on-the-go, the Magicfly's backstitching and 12 stitches handle minor mending and basic sewing projects. This portable sewing machine's lightweight design makes it easy to store in your craft bag for road trips or move around your sewing room.
Simply thread your chosen needle, select a stitch, and you're ready for piecing quilts, hemming pants, or repairing tears on lightweight fabrics.
With the reverse lever, securing stitches is a cinch. An enlarged extension table provides ample workspace for managing larger swaths of fabric. The multi-use accessory kit equips you with specialized feet to install zippers or buttons.
Portable and lightweight at 7 pounds
Good for basic tasks on thin fabrics
Affordable at under $100
Accessory kit for buttons, zippers, etc
Limited built-in stitches
Not suitable for heavy fabrics
Tension may need adjustment
Stitch selection discrepancies
Varmax Electric Sewing Machine for Beginners With Extension Table
View On Amazon
You'll be stunned by how fast you can master sewing with the Varmax beginner electric sewing machine! This mini sewing wonder makes learning to sew a breeze. The compact size and intuitive design provide everything a novice needs to start sewing successfully.
The built-in light illuminates your work area, while the extension table offers a stable surface for fabric. With adjustable speeds, you can sew at a comfortable pace. The special cuff slot streamlines hemming pants or sleeves.
Running on batteries or a power cord allows flexibility. Double threads prevent skipped stitches for smooth sewing.
Within minutes of unboxing, you'll be creating simple projects with confidence. This versatile machine empowers beginners to expand their skills quickly.
Compact and lightweight design
Adjustable speeds for learning
Built-in light for visibility
Extension table for stability
Special cuff slot for sleeves/pants
Double threads prevent skipped stitches
Battery or power cord option
Beginner-friendly and intuitive
Limited functionality for heavy fabrics
No reverse stitch option
Manual threading can be tricky
Not suitable for heavy-duty sewing
Lil Sew Sew Multi Purpose Sewing Machine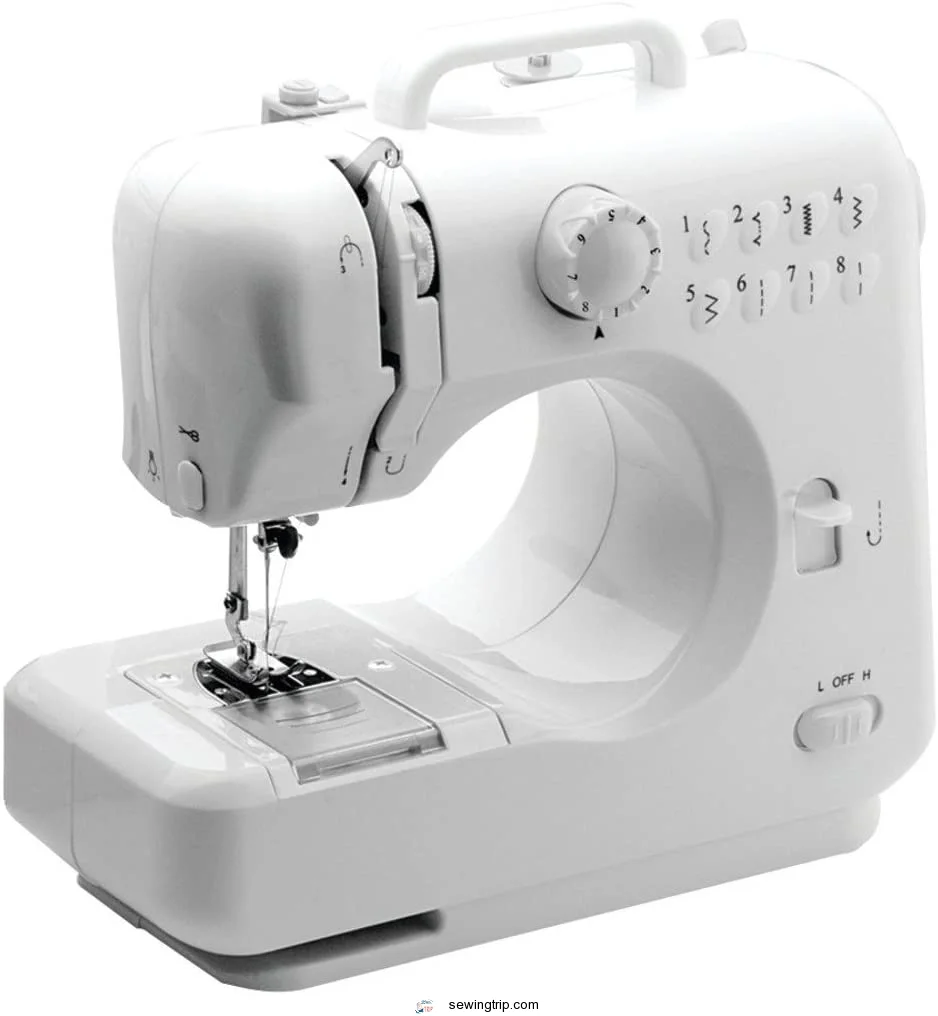 View On Amazon
You can easily store and take this lightweight, portable machine anywhere for simple crafts and mending. Weighing only 5 pounds, the Lil Sew Sew offers surprising versatility given its compact size.
Ideal for beginning sewers or small projects, it delivers adequate stitch quality on sheer to mid-weight fabrics. The built-in LED lamp illuminates your work area, and the reverse function allows for flexible stitching.
Portable and lightweight at 5 pounds
Good for small projects and light fabrics
Built-in LED sewing light
Reverse stitch function
Not suitable for heavy fabrics
Tricky threading
Plastic bobbins
Specific thread required
Pink Portable Electric Sewing Machine Mini Overlock
View On Amazon
Scarletta's small-sized, sweet stitched sewing sails smoothly for slight shirt sleeves. This darling device delights desktops with delightful dimensions, dazzling in dazzling pink. Equipped for ease, this electric empowers the embroidery enthusiast, enabling simple stitching for slim supplies.
Led lighting lessens labor, its lacy levers letting leverage flow freely for the fledgling fabric fashioner.
Portable and lightweight
Cute and compact design
Good for beginners and simple projects
Built-in LED lighting
Reverse stitch and speed controls
Dual power supply
Not suitable for heavy fabrics
Tricky threading
Issues with thread jamming
English-only instructions
Not recommended for serious sewing
NEX Portable Sewing Machine Double Speeds Beginner Kids
View On Amazon
The compact NEX machine's safety-tested adapter makes it a versatile option for teaching young beginners basic sewing skills. It's portable size and battery option enable sewing on-the-go. With its 12 stitch functions and speed control foot pedal, you can start sewing projects anywhere while keeping tabs on the kids.
The NEX machine is a great choice for creating simple clothing items or teaching children with adult supervision. It has good safety features for beginner use and comes with free technical support from the company.
However, there are a few drawbacks to consider. The manual is lacking in detail, which may make it more difficult for beginners to use. Some defects have been reported in used models, so it's important to be aware of this potential issue.
The machine may also struggle with heavy fabrics, so it's best suited for lighter materials.
Overall, the NEX Portable Sewing Machine is a convenient option for beginners and kids. Its portability and safety features make it a great choice for on-the-go sewing, and the free technical support provides added assurance.
Just keep in mind the limitations and potential defects when making your decision.
KPCB Tech Mini Sewing Machine Beginners Sewing Kit
View On Amazon
For crafty children or creative hobbyists, this mini sewing machine kit jumpstarts basic stitching skills while allowing portable practice anywhere. With its lightweight size, pre-threaded convenience, and 42-piece accessory set, you can learn sewing fundamentals in a simplified starter kit.
Tackle simple fixes, crafts, or embellishments on apparel with this mighty mini's double thread capability for thinner fabrics. Access key how-to knowledge through multilingual manuals that walk through threading, winding bobbins, and troubleshooting common snags.
Though noise or the need for replacement needles may arise over time, enjoy an accessible introduction to sewing in AC or battery-powered flexibility. This purple portable packs power, potential, and portability into a tidy beginner-approved package.
Compact size for portability and storage
Pre-threaded for quick set up
Accessory kit with 42 sewing essentials
May struggle with heavy fabrics
Some noise during operation
Occasional thread tangling
Considerations Before Purchasing

You should have a few essential considerations in mind before deciding which inexpensive sewing machine to purchase. What size will work best for your needs and project plans, between full-size and miniature machines? Are basic mechanical features sufficient, or will you put computerized functionality to use? Examine presser foot options, the number of both built-in stitches and buttonhole styles, and whether key conveniences like an automatic needle threader are included.
Full-size Vs. Miniature Sewing Machine
Before buying, you'll have to weigh your needs to determine if a mini or full-size sewing machine suits your projects. Mini sewing machines win on portability and storage but offer fewer features. Full-size models boast larger sewing surfaces, stronger motors, and provide more stitch variety, better suited for quilting or projects needing top-notch performance.
However, mini machines work well for quick fixes, travel sewing, or learning. Assess your sewing goals, space constraints, and budget. Reputable brands like Brother, Singer, and Janome make quality machines in both mini and full-size.
Keep size priority at the forefront when seeking your best inexpensive sewing machine.
Computerized Vs. Mechanical
While computerized machines automatically handle tricky tasks, fiddling with mechanical knobs and levers empowers your inner tinkerer.
Computerized models offer:

Easy selection of stitches
One-step buttonholes

Mechanical models provide:

Direct control
No electronics
Lower cost

Ultimately, both options have value for sewists seeking the best inexpensive sewing machine. Computerized models simplify complex tasks, while mechanical models give direct hands-on control.
Included Presser Feet
You'll find basic presser feet like zigzag included with most entry-level sewing machines. Check what presser feet come standard to maximize versatility for your projects. Quality machines often include basic utility feet for straight stitching, zigzag, buttonholes, zippers, etc.
Explore presser foot compatibility to expand your machine's functionality with specialty feet for embroidery, quilting, rolled hems, or other techniques. Accessorize your machine with presser feet that suit your sewing style. The right attachments optimize your sewing machine and empower your creativity.
Stitches and Buttonholes
As with any sewing machine, ensure that the stitch and buttonhole variety suit your intended projects. Even inexpensive sewing machines should offer adequate stitch options for basic projects. Evaluate stitch length control and stitch quality before purchasing. Stitch settings like straight, zigzag, and stretch are essentials.
Also, ensure that the automatic one-step buttonhole function creates even, consistent buttonholes for your needs. The more stitches and quality buttonholes an affordable sewing machine offers, the more versatile it becomes.
Carefully assess stitching and buttonhole functionality when selecting entry-level models.
Automatic Needle Threader
Before buying, double-check that your machine has an automatic needle threader for efficiency.
You struggle with threading the tiny needle eye
Your eyesight isn't what it used to be
You need to change threads frequently
An automatic needle threader quickly and easily threads the needle so you can get on with your project.
Stitch Options

Your sewing machine's stitches can sail you across creative seas or leave your projects dead in the water. The options vary widely between basic, intermediate, and advanced models. Assess your needs – straight stitches may suffice initially, but zigzag, stretch, and decorative choices unlock new realms.
Compare stitch count, type, and quality between machines. More doesn't mean better; focus on ones you'll actually use. Customize stitch length, width, and tension to master even standard stitches. Adjustable settings provide greater control.
Durability matters too – nylon/polyester threads and firm threading create uniform stitches that stand the test of time. Whether embossing jeans or embroidering pillows, let your machine's stitches stoke inspiration.
The journey begins with a single stitch.
Weight

You'll adore how gracefully those portable mini models move around. When shopping for an inexpensive sewing machine, you'll want to consider the weight and portability. The ideal sewing machine for you should have a lightweight design for easy transport and storage.
Here are 5 key aspects to evaluate regarding weight:
Overall machine weight – Consider both setup weight and carrying weight. Lighter is typically better for maneuverability.
Stability – Make sure any lightweight model still offers stability during use with features like rubber feet.
Carrying case – Look for a sturdy carrying case or bag to safely transport a lightweight machine.
Size dimensions – Compact sizes tend to have lower weights yet still allow functionality.
Setup process – Easy, quick setup allows you to carry and use a lightweight machine with minimal hassle.
Checking the machine weight and portability features will ensure you find a model you can comfortably use and move around.
Durability

As you consider a sewing machine's durability, there are several key factors to keep in mind. The quality of materials and components impacts how well the machine will stand up over time. All-metal interior components generally last longer than plastic parts. Look for machines with sturdy metal frames and high-quality motors.
Proper maintenance also ensures longevity – keep your machine well-oiled and cleaned, replace needles frequently, and get routine tune-ups. Consider warranty coverage too; many offer 1-5 years on mechanical parts. I recommend models like the Brother GX37, CS5055, and XM1010 for their reputation of reliability.
And don't overlook lightweight options; they can be quite durable with polymer bodies and quality construction. Taking care of your machine and choosing one from a trusted brand will ensure it continues running smoothly project after project.
Here are some key durability factors to consider:
Durability Factor: Quality Materials
Metal frames and components last longer than plastic.
Durability Factor: Proper Maintenance
Keep machine well-oiled and cleaned for longevity.
Durability Factor: Warranty Coverage
Look for 1-5 years on mechanical parts.
Durability Factor: Reputable Brand
Trusted brands like Brother known for reliability.
Durability Factor: Lightweight Options
Can still be durable with polymer bodies.
Local Servicing

Once tightened, those tension discs keep thread from unraveling on good machines like the Janome Graceful Grey found at neighborhood shops. Local servicing offers peace of mind with warranty coverage through authorized dealers.
Simple maintenance tips keep your machine running smoothly, but breakdowns occasionally require repairs by technicians. Because computerized models have more components, mechanical machines tend to be more straightforward for fixing and adjusting.
Still, even quality brands like the Magicfly Mini Portable can malfunction over time.
That's where local servicing comes in handy, ensuring your lightweight machine stays nimble through years of weekend projects. For advanced features in compact sizes without excessive weight, the Janome Graceful Grey gets top marks.
But no matter which of the best 5 inexpensive sewing machines you choose, authorized service provides confidence down the road.
Built-in Thread Cutter

Having a built-in thread cutter means you don't have to reach for scissors every time you want to snip your threads. This handy feature saves time and hassle while sewing, allowing you to maintain your rhythm.
Built-in thread cutters are usually side-mounted levers or small buttons near the needle. When pressed, a tiny automated blade pops up to cut your threads. Some even catch the thread tail to keep things tidy.
Thread cutters make seam finishing a breeze and enable quick color changes in your projects. They also promote better machine hygiene by reducing buildup. Look for sturdy cutters made of quality materials that won't get dull or break easily.
These cutters are built to last through continual snipping, boosting your sewing efficiency. Investing in a sewing machine with a built-in thread cutter will make your projects go smoother and keep your hands stress-free.
Hard Case

A hard case offers important advantages for your sewing machine's protection and portability. Unlike soft cases, a durable plastic hard case offers maximum impact resistance to avoid damage. The solid shell and locking latches keep your machine fully secured during transport or storage.
A sleek, lightweight hard case won't weigh you down in transit. Cases like Janome's optional colored hard cases have convenient built-in carrying handles and ample storage space for accessories. Leaving home or heading to a sewing class, rest assured your precious machine stays safe and sound in a hard case.
Whether you're traversing pavement or storing in cluttered spaces, a hard case protects your investment from bumps, spills, and crushing impact.
Free Arm

Free arm access lets you easily sew cylinders like sleeve hems or pant cuffs. With just a flip of a lever on your sewing machine, the extension table pops off, exposing the free arm. This slender open end allows tubular items to slide on and rotate freely for optimal access.
You'll gain more control sewing circles and curves without fabric bunching. Ditch the annoying task of hand-sewing narrow hems and cuffs. The free arm opens up new sewing techniques to try, like making bags, st■ animals, quilting, and even mending socks and patching knees in pants.
Enjoy convenience when adding trim, elastic, ribbon, or piping around wrists, ankles, waists, and necklines. Maintain the free arm area by keeping it free of dust and gently wiping it with a lint-free cloth.
Let the free arm guide you to faster, flexible sewing success.
Frequently Asked Questions (FAQs)
What is the warranty period for the sewing machine? Warranty length varies widely, from 90 days to several years. Understanding the warranty coverage provides assurance if repair issues arise down the road. Extended warranties may also be available for purchase.
Getting the warranty details before you buy gives you confidence that your new machine is covered if issues pop up. Aim for at least a 1-year warranty from the manufacturer. Extended plans can provide added peace of mind too, so ask what's available if you want long-term protection for your investment.
Conclusion
You've been looking for the perfect sewing machine, and with the right guidance, you can find the one that fits your budget and all your needs. There's a wide range of inexpensive sewing machines that offer quality and features to suit any project.
Consider the full-size vs. miniature sewing machine, computerized vs. mechanical, included presser feet, stitches, and buttonholes, and automatic needle threader before making your purchase.
From the Singer Stitch Sew Quick Portable Mending Machine to the KPCB Tech Mini Sewing Machine Beginners Sewing Kit, you have plenty of options. With these top 9 affordable sewing machines, you can find the perfect one for your budget and your projects.