This site is supported by our readers. We may earn a commission, at no cost to you, if you purchase through links.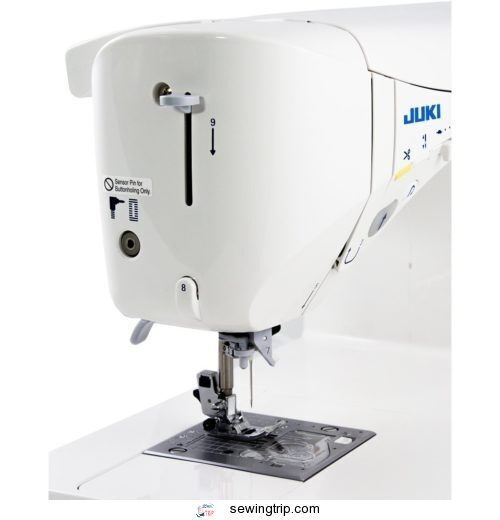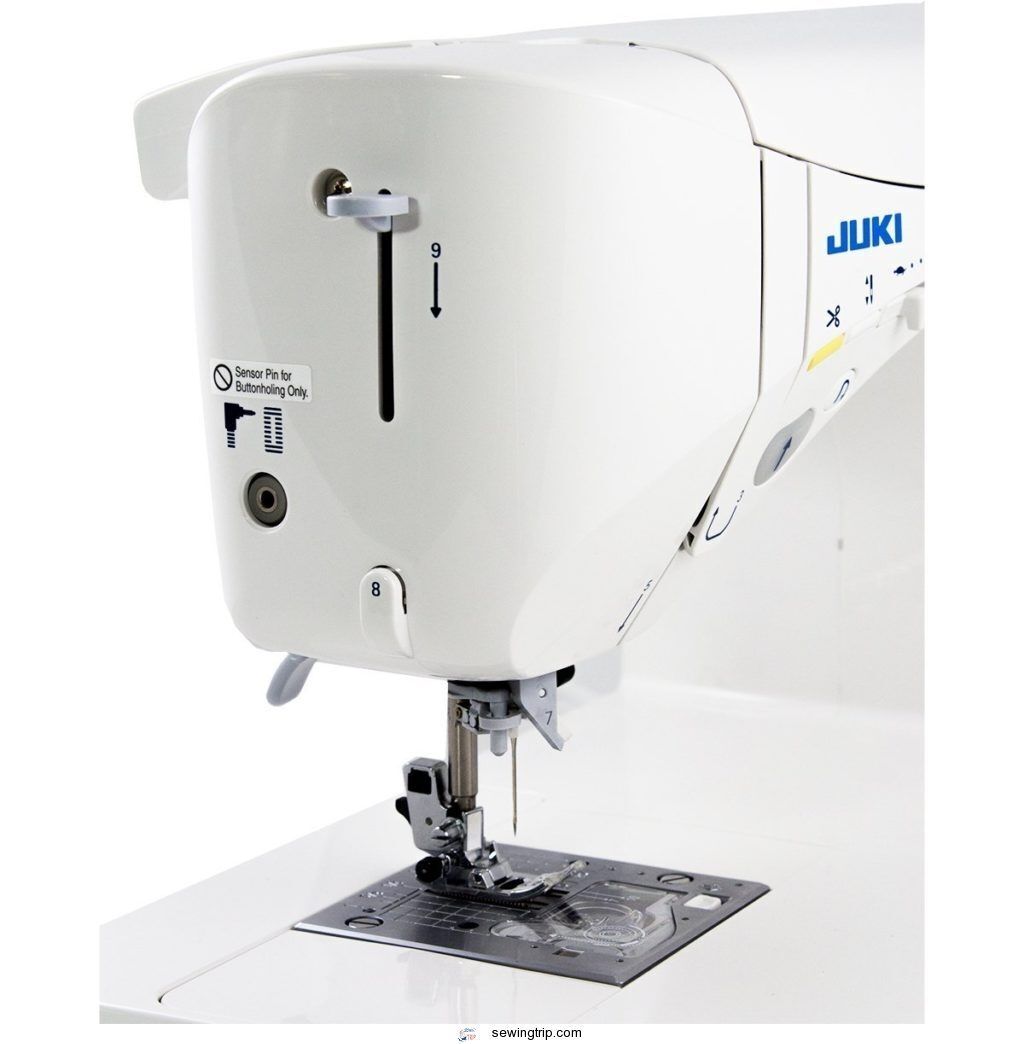 Best Juki Sewing Machine
Do you need a Juki sewing machine? Here's a Juki fan so I understand why you really need one.
Juki machines have always proven to be robust, durable.
In this article, we cover the 5 best Juki sewing machines you should. These are usually the ones you can get in the market for value, durability, features, and cost.
What's the Best Juki Sewing Machine You Can Buy?
Juki sewing machines are sturdy and can last four hours of intensive use? In addition, these sewing machines are user-friendly, robust, semi-industrial, maintenance-friendly and not that expensive compared to other brands. Here are the Juki sewing models you should consider buying:
Straight pitch, servo motor option, smooth operation, low vibration, rarely jammed, 5,500 stitches per minute (SPM).
Sew sturdy materials, expandable work space, reasonable speed, speed control, automatic needle threader, reverse sewing.
Reverse sewing, low-vibration bed, lightweight, heavy-duty fabric sewing, expandable large workspace, speed control, automatic needle threader, reverse sewing, 1,500 stitches per minute (SPM).
900 stitches per minute, computer controlled, many sewing stitch patterns, easy to handle, compact, knee handle.
Enough stitches, sturdy, compact, 22 stitch patterns, cheaper Juki option.
They range from simple household, semi-professional to industrial sewing machines. Whichever model you choose, it is robust and very durable. Use the table below for a more detailed comparison.
Products /
Characteristics
Juki DDL -870
JUKI TL-2000Qi
JUKI TL-2010Q1
JUKI H; L-F600
Sewing speed
5500 stitches / minute
1500 stitches / minute
1500 stitches / minute
900 stitches / minute
Number of stitches
1 (straight stitch)
1 (straight stitch)
1 (straight stitch)
255 sewing patterns
Variable Speed
Yes
Yes – Pedal
Yes
Yes
Presser Foot
10 mm standard, 13 mm max
7 mm / 9 mm (12 mm on the knee lifter)
7 mm / 9 mm (12 mm with knee lifter)
Yes – Knee lift
Needle threader
Manual
Auto
Auto
Auto
Servo motor
Servo – Very Free
No
No
No
Bottom hole
N/A
N/A
N/A
Yes
Reverse stitching (Yes or no)
Yes
Yes
Yes
Yes
Thread Cutter
N/A
Yes-Trimmer
Yes
Yes
Stitch length
Max. 5 mm
Max. 6 mm
Max. 6 mm
Max. Variable
Dimension (inch)
48 x 36 x 48
17.8 x 8.6 x 13.8
25.7 x 18 x 14
14 x 23 x 16
Knee lever
No
Yes
Yes
Yes
To motivate you, here are some reasons buy a Juki sewing machine.
Why should you buy a Juki sewing machine?
Juki sewing machines are among the best brands you can get on the market as it has held a long place of honor in the busy workspaces of tailors, professional seamstresses and change experts. This is what you get with a Juki sewing machine
Constant stitch quality.
Easy to use
Robust
Fair Priced
Suitable for wide ranges of fabric
Simple
Fast for Commercial Purposes
Durable
User-friendliness
Just to name a few.
The Top Reviews of Juki Sewing Machines
Below are the reviews of the top 5 Juki sewing machines to choose from. consider:
Juki DDL-8700 Industrial straight stitch sewing machine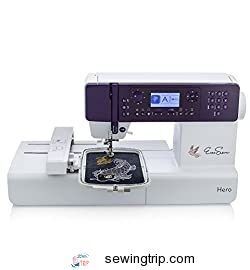 The Juki DDL-8700 is a premium straight stitch sewing machine with a powerful 110V servo motor. Servo motor draws less power and they are much quieter and more controllable. It's a great industrial sewing machine that is also perfect for home use.
Dimensions are 48 x 20 x 48 inches and weigh approximately 30 pounds. It offers great sewing speeds with a maximum sewing speed of 5,500 stitches per minute. Juki DDL-8700 is perfect for light to medium-weight fabrics. With this Juki sewing machine I assured you of snag-free sewing, amazing speeds and perfect stitches every time.
The Juki DDL-8700 for less vibration and noise. making it optimized for home use.
This machine as a complete unit, including machine head, stand, table, motor, drawer, sewing light and all other necessary components installed and ready to use. I make it for singer size needles (9-18) and offers several variants – another feature that makes this machine incredible.
The A world leader brought Juki DDL-8700 to you in sewing technology and quality. In between, the large sewing space and quiet motor of this device ensure a comfortable operating experience every time.
If you need a commercial or industrial Juki sewing machine that can handle enormous amounts of work and still ensure a straight stitch every time, the Juki DDL 8700 is the perfect option for you.
JUKI TL-2000Qi Sewing and Quilting Machine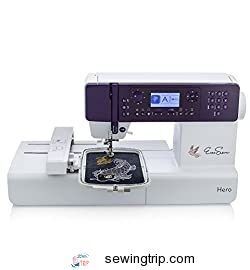 The Juki TL-2000Qi is a single needle lock stitch machine that is perfect for straight stitching.
It has a maximum speed of 1500 stitches per minute and is perfect for quilting garments, home decor, tailoring and other projects. We loaded this machine with a cast aluminum arm for low-vibration use, making it perfect for home use.
This Juki sewing machine is great for big jobs like quilting. has an extension table included for a wide work area. It has a single pedal control and with LED lights.
In addition, it comes with a plain foot, a free-motion quilting foot and a walking foot. Also on top there are some bobbins and a screwdriver so you can easily change your needles and feet and open them up for cleaning., a thread snips / trimmer, two needles (both sizes 11s and 14s), a foot press gauge and a thread change knob.
TL-2000Qi is very robust, consistent and reliable. However, it only has a straight stitch some people may find limiting. If you need a Yoke sewing machine for free motion quilting and running through difficult fabric, choose the JUKI TL-2000Qi sewing and quilting machine.
Buy JUKI TL-2000Qi from Amazon
JUKI TL-2010Q1 Sewing and Quilting Machine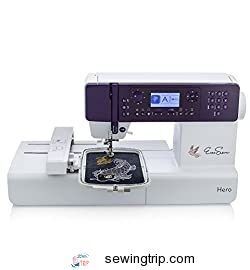 The JUKI TL-2010Q is a single needle lockstitch machine for quilting and straight stitching and is also perfect for custom, home decor items, and dressmaking. We can use it on machine quilting frames or as a table top on a cabinet.
It has all the features you would need from a straight stitch sewing machine; durability, strength, incredible speed, a drop switch, many feet that come standard with the machine. Plus, you'd love the pre-stressed feature, great LED lighting, extension table for large projects, and a knee lift.
Not to mention the great thread cutting function built into the foot control, which means you don't have to take your hands off your workpiece to take the threads off to cut.
The machine works extremely fast but comes with speed control. It's also very heavy, so it doesn't have the resilience that plastic machines have. This machine is also powerful and can even sew through several layers of duck cloth canvas.
Even with a combination of layers of canvas and a zipper, this machine doesn't falter. It's a great machine and easy to learn. Here's a video to help you understand what to expect from this rugged sewing machine.
The JUKI TL-2010Q does not come with computer controlled parts, which can be a bummer for some people but on the plus side; this sewing machine you don't have to spend a lot on maintenance and replacement costs.
JUKI H; L-F600 Quilting and Computerized Sewing Machine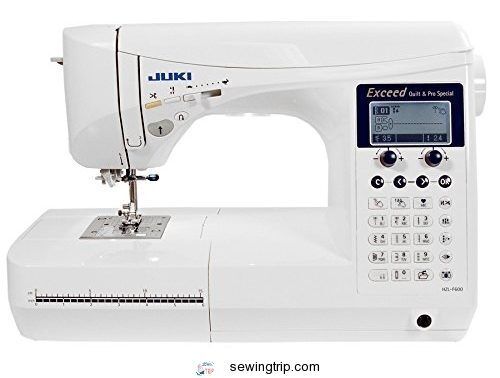 The Juki H; L-F600 comes with a wide variety of patterns and stitches (decorative / alphabet / usable). It has 255 sewing patterns and 4 fonts, so whatever stitch or design you want on your printout you can do it effortlessly with the Juki H; L-F600. It also has a large LCD screen and the pattern selection is very easy to master.
The machine has a large working space about 20 cm wide and 30 cm long, longer than the average working space. The machine has a pretty decent speed of around 900 stitches per minute, making it the perfect machine for beginners.
It comes with a foot control, thread cutter, automatic buttonhole foot and a wide variety of stitches. It works quietly so you can't hear it while working and it comes with so many useful features.
Hey, I'm not the only one who loves Juki. Watch this video review from TheCraftyGemini
It is perfect for straight stitches and comes with many other features including Teflon, a walking foot, 4 bobbins, eyelet punch, seam ripper, twin needles, blind hem, 10 clickable presser feet and a knee lever.
Buy JUKI H; L-F600 from Amazon
JUKI H; L-LB5100 Home Sewing Machine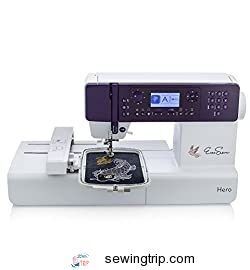 The Juki H; L-LB5100 is a wonderful sewing machine that is great for beginners and experts alike. The Juki H; L-LB5100 can on machine quilting frames or as a machine mounted on a table on a cabinet.
It's quiet, lightweight and easy to use. It comes with a longer sewing bed for large projects. On this sewing machine you will find 100 stitch patterns and 1-step 4 buttonholes. It also has an automatic needle threader and is ideal for everyday use.
When it comes to bobbin winding and threading this sewing machine, this machine is a good starter kit for a child. The easy-to-follow board guides are so well laid out that an eight-year-old child will master even these two tasks in no time.
The stitch quality of the Juki H; L-LB5100 is far superior to many other sewing machines in its class. The large stitch selection dial is easy to use, although adjusting the stitch width and length can be quite a challenge for young beginners, this machine can be a great learning tool.
If you're a Juki fan and want a fairly inexpensive Juki home sewing machine, the Juki H; L-LB5100 should be on your list to consider. It would be great for a beginner.
Buy Juki H; L-LB5100 from Amazon
Delivered where Juki gets manufactured or brand quality?
Where is the Juki Sewing Machine Made?
Juki is a world-class Japanese company that started production in 1938 and to date, the machines have earned a reputation for reliability, quality and perfect stitch.
Juki ranks number one for industrial sewing machine manufacturers. Many people trust Juki. I know them for producing strong industrial or commercial sewing machines.
CONCLUSION
To make it easy for you to choose a sewing machine that is ideal for your specific needs, here is our summary:
Based on our reviews, Juki's best industrial sewing machine is the Juki DDL-8700; especially if you in sewing as the sewing speed of 5,500 stitches per minute means you can do a lot more in a lot less time.
Another wonderful alternative to the Juki DDL-8700 is the Juki TL-2010Q [0Fm;whichhasverygoodsewingspeedandisidealforsewingthroughtoughmaterials
For a Juki computerized sewing machine, you should choose the JUKI H; L-F600 Quilting and Computerized Sewing Machine. Lots of sewing options rarely found in a Juki sewing machine.
However, if you need a beginner Juki sewing machine or a cheap Juki sewing machine, you should. look no further than the Juki H; L-LB5100. It comes with the basic features perfect for a beginner
Finally, these are the best Juki sewing machines you can find.
Yes, our list is not exhaustive as there are other good Juki sewing machines that are not mentioned. However, all the ones mentioned here can perform the expected tasks aU2XY; VOtA9 problems.
We have listed Juki sewing machines with a tendency towards the uniqueness of specific tasks and level of experience. Whatever you choose, you would have made a wonderful choice.
Best regards
References
bestsewingmachinereviewspot.com