This site is supported by our readers. We may earn a commission, at no cost to you, if you purchase through links.
Are you a budding sewing hobbyist looking for a machine that is both modern, nostalgic and long lasting? Or have you been a long-time fan of Juki sewing machines and are you looking for a new seated, long-arm addition to your repertoire?
The Juki TL-2200QVP-S Sit Down Long Arm Sewing Machine is a hearty, sentimental blend of modern and classic technology.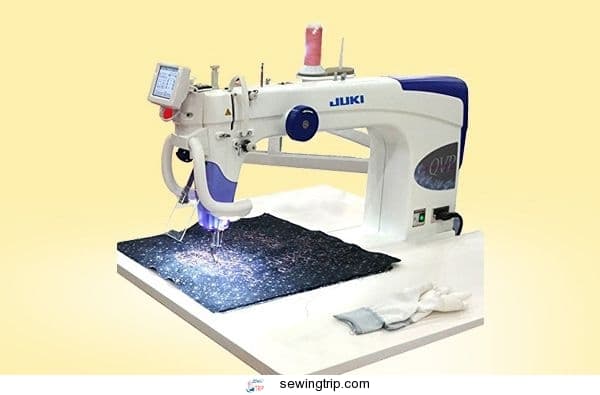 Juki uses their proven methods to create a heavy-duty sewing machine that will provide years of quality work, including well-known features to increase efficiency and control
These features include their automatic thread cutter and auxiliary handwheel, classic elements that coexist with the modern LCD display.
However, some users have re(rted sharing frustration of electronics requiring upgrades from the company.
There are also some concerns about the major differences between this machine and others, which create a steeper learning curve for experienced sewing enthusiasts.
Still wondering if the Juki TL-2200QVP-S is the best long arm sewing machine for your needs? Here we explain the details, both (sitive and negative, so that you can make the best decision for yourself.
Juki TL-2200QVP-S Sewing Machine: The Details
The Look
Ignoring the small LCD screen on the front, the look evokes the feeling of a classic mechanical sewing machine.
From the slender, blocky shape of the machine to placing the thread, you can imagine using an old-fashioned variant like your grandmother or mother has used, making it the ideal addition to a nostalgic technician's toolbox.
Although predominantly white, a cool, dark blue hue contributes to the soft, attractive appearance of the Juki TL-200QVP-S.
Specs
Weight: 150 lbs.
Dimensions: 33 x 23 x 11 inches.
Speed: Up to 2,200 stitches per minute.
Automated/Mechanical:
Bobbin: Double capacity bobbins "M" style.
Accessories
This Juki TL-2200QVP-S Sit Down Long Arm Sewing Machine comes with several accessories, including:
Genuine Juki M- size long arm bobbins, designed the machine of this brand.
Genuine Juki industrial M size long arm bobbin case, ideal for holding the bobbins of the machine for easier access.
Power cord.
Small screwdriver for minor repairs.
Cleaning brush.
S(ol cap.
134R size 18 or 16 needles.
Optional accessories, which can separately, include:
Towa meter, to help users help set the bobbin case thread tension,
Open toe quilting foot for better visibility.
Ruler sets.
]
Learning ruler kit with reusable practice grid for viewing your designs.
Juki: The Company
Juki has been in the home sewing machine industry for over sixty years, opening their first company in 1945 and manufacturing their first home machines in the 1970s.
They have a wide marketing (rtfolio and sell their products all over Japan and in other countries around the world.
Over the past six decades they have grown from a small home machine company to an industrial sewing machine company, with the with is first sale of an industrial sewing machine in 1953.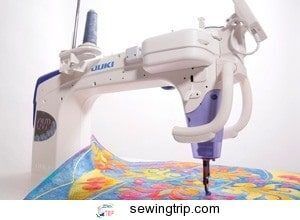 Since its inception, Juki has been at the forefront of revolutionary innovations in technology of home sewing machines, with the development of the first rotary needle thread take-up system in 1954, the first automatic thread cutter and needle threader in 1978, and the first automatic ic thread tensioning system in 1985.
Although other sewing machine companies later added these features, Juki was the first and since then they remain reliably at the forefront of the sewing machine industry.
Juki received the renowned Deming Prize for quality control in industrial sewing machine manufacturing in 1981, and made his breakthrough in 2001 with computerized sewing machines for home use.
Features
Wide working area
This long arm sewing machine has a basic working area of 18 inches long and 10 in. high, but both dimensions can ed.
The included table and stand can to 34 in. high and 35 in. wide, making this a machine that can handle even the largest sewing projects.
If you need even more space, optional blades, which are not included with this machine but are available on Juki's website, can extend the adjustable table up to 50 inches in width.
Juki Exclusive Foot Control Thread Cutter
Juki is clearly proud of their products and has the best features they have developed to date in this long arm sewing machine.
These features include an automatic thread cutter under the bed, easy to operate with the foot pedal for extra ease. This makes it exceptionally easy for users to manage mid-project.
LCD touchscreen
Although this machine looks like a classic, the LCD touch screen control panel bring it up to date to 2018.
From the panel you can adjust the settings of the sewing machine, including the desired needle (sition, foot pedal control, and screen brightness.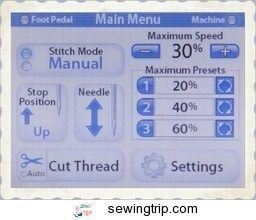 The touchscreen panel also allows you to adjust your speed and program preferred settings that save you time in the future when setting up.
]
Interchangeable with TL-2200QVP Stand-Up Frame
If you already own a Juki TL-2200QVP machine and if you've already assembled the standing frame, you may think it's difficult to buy a machine that can sit alone next to the one you have now – never fear!
The Juki TL-2200QVP-S can become a standing sewing machine as it has the same specifications as the TL-2200QVP and can on the standing frame of that machine.
Auxiliary Handwheel
Although most computerized sewing machines give up their mechanical properties instead of fancy buttons, this long arm sewing machine has kept its auxiliary handwheel.
This provides additional control for users concerned about computer errors and button failures.
Juki TL-2200QVP-S Review ]
The (sitives
Sturdy design
This is a heavy machine, built to work well and will last for years to keep working.
The Juki TL-2200QVP is sturdy enough to prevent damage and handle major projects, and satisfied customers re(rt it will provide years of quality work after completion. first purchase.
Because these can be expensive machines and being, it helps to know that your investment will last. provide peace of mind.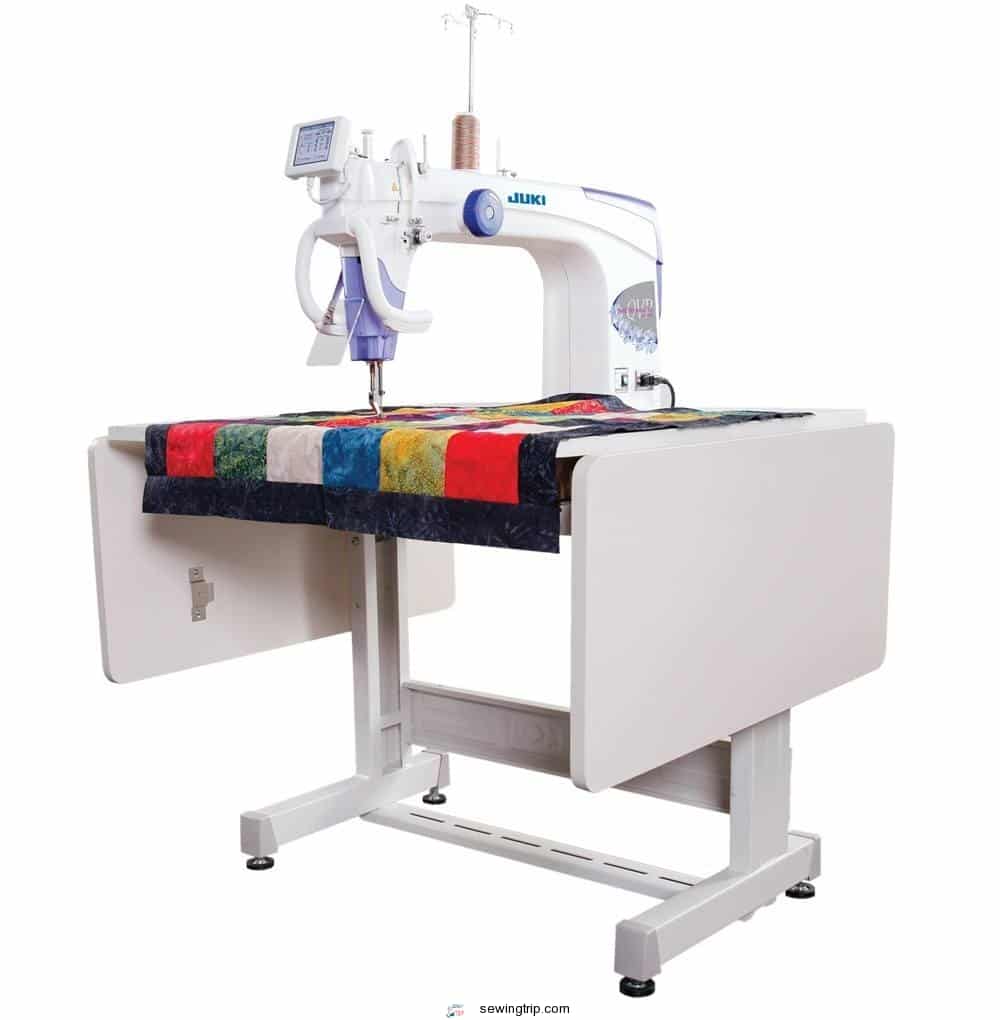 Adjustable table
One of the real highlights of this machine is the table it comes with along with it, this turns into a seated sewing machine.
What's even better is that it's adjustable so you can decide how you want to use your machine.. Once assembled, you can adjust the table to sew standing or sitting.
Don't worry with this table either, it's sturdy and big enough to hold layers of heavier quilts. can. and fabrics so you don't have to worry about it collapsing while sewing.
As mentioned, when you're ready to tackle the biggest projects, there's also the option to add sheet extensions to the workspace.
Useful functions
The Juki Sit Down Long Arm Sewing Machine with many functions to help sewers move forward quickly.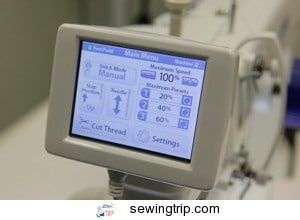 From the automatic thread cutter to the automatic bobbin winder, no function is too small in sewing efficiently.
This is also useful for novice sewers and will help those switching to a Juki get used to their machine more.
Most of these functions are also programmable, this way you can easily select the desired settings when switching projects and you don't have to do it every time you get started is going to reprogram everything.
Even the LED lighting is double directional, so you are never in the dark with this Juki.
Juki Warranty
About not being left in the dark, that's just not Juki's style. Juki's standard warranty includes 5 years of coverage for mechanical parts and 2 years of coverage for electrical parts.
If you notice a manufacturing defect or defect on these parts, please contact Juki, and they decide whether to replace or repair these parts – at no extra cost to you.
Please be kind to your Juki TL-2200QVP-S as the warranty does not cover damage because of normal wear and tear or accidents.
Perfect for businesses and professionals
Those looking for a sewing machine to complete several orders or one that regularly designs, this Juki sewing machine could be your answer.[196590]It with the commercial sewer in mind with its large work space, robust structure and efficient functions.
If you run or want to start your own business; you don't have to slow down your work with the Juki TL-2200QVP -S.
The min(ints
Minimum assembly instructions
Some users re(rt minimal instructions for assembling the table for this sit-down sewing machine.
There are also extra parts in the box, apparently intended for an earlier model Juki sewing machine, which this machine does not require.
This can cause some confusion for new users and show oversight in quality assurance.
Electronics requires upgrades
Other users of this long-arm sewing machine have found that the electronic com(nents of this machine, such as the LCD screen, need to be upgraded.
Juki can provide these upgrades when requested, but this can be inconvenient for users who prefer to receive a machine that is already up-to-date and ready to use right out of the box.
Thread tensions different from other home machines
Juki products differ from other home sewing machines in several ways, including that the tension discs work differently than in other small home machines.
While this may not be a problem for users who are completely new to sewing and used to nothing else. Sewing enthusiasts with experience with other machines may find it frustrating how much the thread in the machine must . tension discs.
Here is a video showing what the Juki TL-2200QVP-S looks like out of the box and ready to use.
Overall verdict
We recommend the Juki TL-2200QVP-S sewing machine for anyone looking for a heavy seater; something that will deliver quality work for a long time.
This useful automatic functions, as well as back sturdy machine, the standard Juki warranty if problems arise.
]
However, if you are already used to the way non-Juki computer sewing machines work, you should know there can be a learning curve with this mechanical machine.
Where can you buy the Juki TL-2200QVP-S
Juki is a brand often seen on the shelves from craft stores and specialty stores, making their products easy to find.
The Juki TL-2200QVP-S Sit Down Long Arm Sewing Machine is no different, both available and in-store and online.
Visit the following online retailers to start your search.
And of course this sewing machine is also available on Amazon.

---
That's all for our Juki TL-2200QVP-S review. What do you think? Want to give it a try?
For more reviews, visit our complete archive of machine reviews.