This site is supported by our readers. We may earn a commission, at no cost to you, if you purchase through links.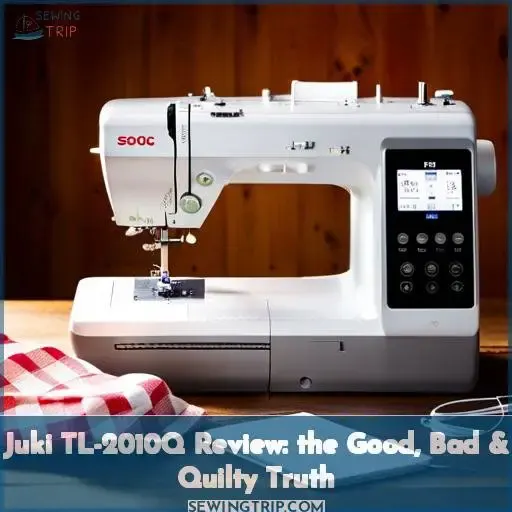 Trust me, I get it – you're in the market for a new sewing machine and your head is spinning from all the options. But let me save you some time: the Juki TL-2010Q is the machine for you, my friend.
I've been sewing up a storm on this baby for years, and she has yet to let me down. Her power and precision are unbeatable. With just the touch of a lever, she roars to life, ready to sew straight stitches through even the thickest quilting layers with lightning speed.
No fussy extras, just good old-fashioned sewing mastery. The instant I first stitched on the TL-2010Q, I felt it – that thrilling sense that I could create anything.
So take it from me, with this trusty Juki by your side, you'll be sewing with confidence and reaching new creative heights in no time!
Key Takeaways
High build quality and durability praised.
1500 stitches per minute capability with speed control.
Adjustable stitch length and width settings.
Excellent thread management, large spool capacity.
My Requirements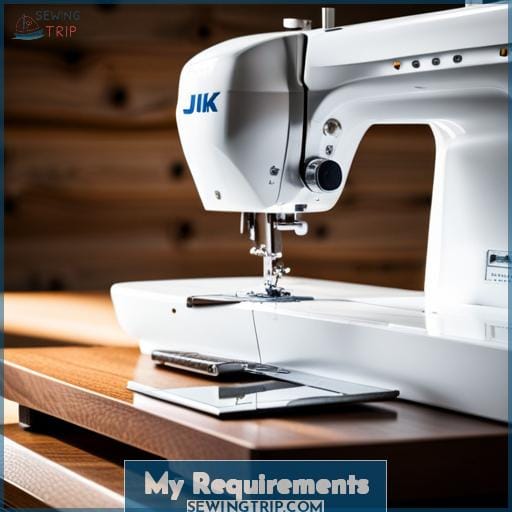 You carefully researched and tested different models before deciding that the Juki TL-2010Q best met your needs for reliable tension, a large harp space, and simple operation. With its sturdy metal body, the TL-2010Q provides an ergonomic height and large workspace to easily maneuver quilts.
You've been impressed by the smooth operation and precise stitch quality this machine delivers. Features like speed control, needle up/down, and a thread cutter make sewing faster and more convenient.
Thread management is excellent, with the ability to use large spools without tangling. For quilting, the TL-2010Q truly excels at straight stitching. Its strong motor and quality construction produce accurate stitches on layer after layer of fabric.
This is the perfect machine for sewing precise seams and stippling beautiful quilting designs.
The Pros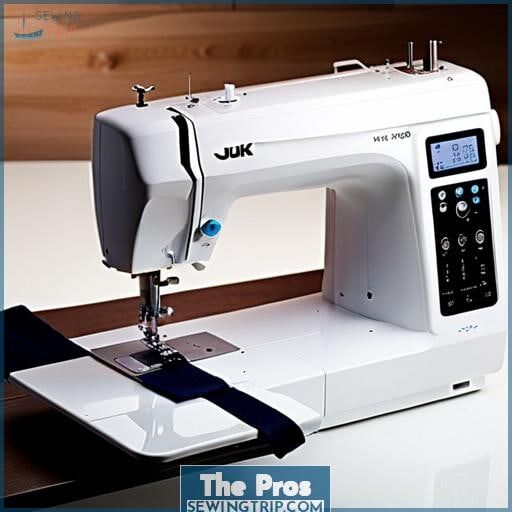 The Juki TL-2010Q is capable of sewing up to 1500 stitches per minute with speed control, allowing you to work faster than ever.
Accurately stitches fine to heavy weight fabrics up to 1500 SPM.
Adjustable stitch length and width for versatile sewing.
Even feed foot pressure prevents puckering on any fabric.
With its industrial-grade high-speed straight stitching, the TL-2010Q helps you finish projects in record time without sacrificing stitch quality. The fast yet precise stitching excels at straight line quilting, sewing long seams, and constructing garments.
Adjustable settings give you total control to customize stitch length and width for different fabrics and techniques. The machine glides effortlessly from lightweight silks to multiple quilt layers without pressure issues.
The Drawbacks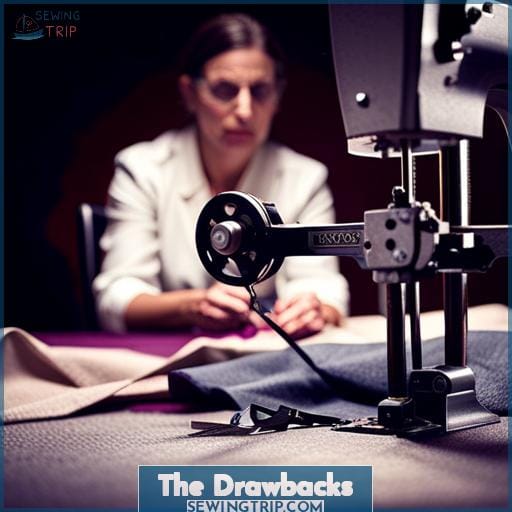 Despite glowing reviews, your Juki TL-2010Q has some inherent flaws that'll leave you frustrated. The walking foot can bunch fabric, causing skipped stitches. Adjusting the foot pressure helps, but it's tricky business.
Needle drift mid-stitch is maddening. No matter how carefully you insert the needle, it drifts left as you sew, making wonky seams. The brushed darning foot lacks grip, so fabric slides around while quilting. Visibility is poor and the harp space gets cramped.
Tension advances erratically, going too tight then too loose. With trial and error, you can improve these issues. But for a pricey machine, quality control should be better. Consider what flaws you can live with before purchase.
Additional Thoughts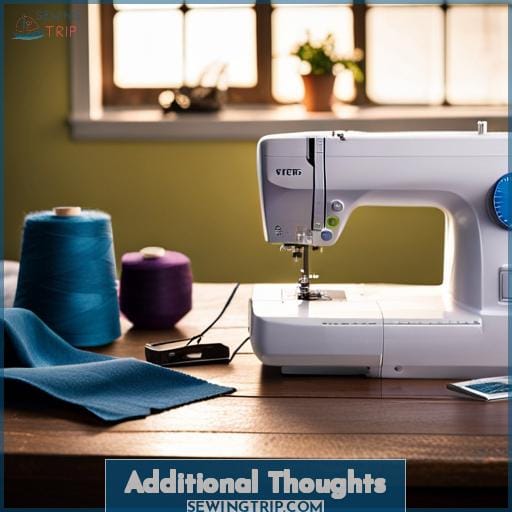 Consider servicing options before purchasing to ensure continued performance. When weighing additional considerations for the Juki TL-2010Q, think about the following:
Budget for potential repairs or upgrades down the road. Machine servicing can optimize performance.
Add supplemental lighting as needed. Consider installing an LED lighting strip for enhanced visibility.
Mobility can expand workspace. Mount the machine on a rolling cart for portability.
Future add-ons like a Grace frame open longarm possibilities. Expand skills with attachments.
Machine hacks involve risks but can add features. Research software tweaks thoroughly first.
Evaluating service plans, electrical needs, workspace design, and potential upgrades during your review process can uncover unseen costs or limitations before investing in your new Juki. Looking ahead protects your budget and leads to informed purchases. With some forethought, this machine can grow with your developing mastery.
Tips on Buying a Sewing Machine + Free Checklist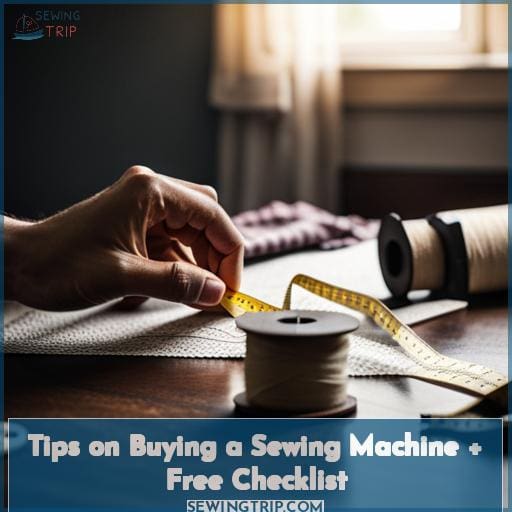 Like Goldilocks testing beds, you'll want to try different models in-store before choosing the one that's just right for your style and budget.
Key factors to assess when purchasing a sewing machine:
Compatibility with your fabric types and thickness
Adequate harp and bed space for your projects
Tension adjustments for consistent stitch quality
Placement and visibility of controls that suit your needs
Availability of dealer service and manual options
Finding the perfect match requires hands-on testing. Focus on must-have features and long-term reliability to select the ideal sewing companion.
What Other Quilters Have to Say

You're best bettin' on the Juki TL-2010Q for quilting if straight stitchin's your jam, though its walkin' foot may leave you in a jam for free motion. Once you get your hands on this machine, you'll be zippin' through quilts quicker than a jackrabbit thanks to its speed control.
With a sturdy build and precise stitchin', it churns out them perfect quarter inch seams. The large harp space lets you wrangle king-sized quilts with ease. However, the walkin' foot can get all bunched up and tangled when free motion quilting.
Overall, it's a top choice for straight line quilters who value quality construction and reliable performance over bells and whistles. Can't beat the Juki for basic quilting needs, but advanced quilters may find it lackin'.
JUKI TL-2010Q Vs JUKI TL-2000QI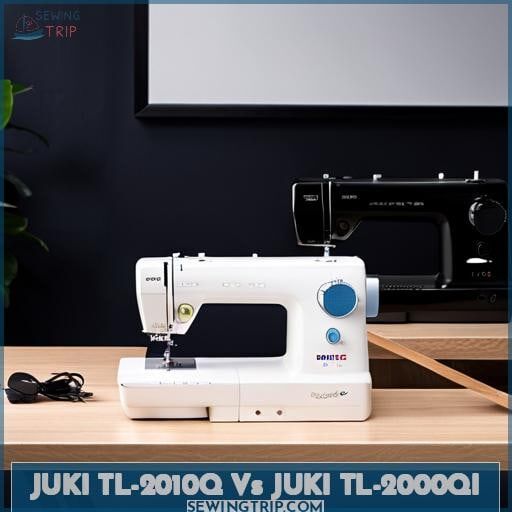 Previously, we discussed what other quilters have to say about the Juki TL-2010Q. Now let's do a side-by-side comparison of the TL-2010Q and its very similar sibling, the Juki TL-2000QI.
These two Juki models are essentially the same straight-stitch workhorse built for quilting, with just a couple of key differences. The TL-2010Q includes handy extras like a needle-down button, an auto thread cutter, and a knee lift lever.
Meanwhile, the TL-2000QI is a more basic, pared-down machine. You'll miss out on some nice features but also save a couple of hundred dollars.
When deciding between the two, think about your budget and sewing needs. The TL-2010Q gives you more capabilities if you can spend a little extra. But the TL-2000QI still provides Juki's signature precise stitching at a lower price point.
Test them out in person to feel the differences yourself. And remember – you can't go wrong with either one! Juki machines are built to last.
Origin Story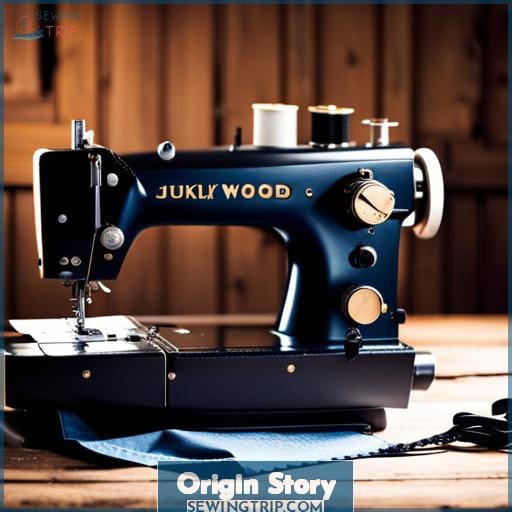 Gotta say, after over a year of research before buying this machine, the Juki TL-2010Q has been my workhorse for precision quilting since 2016.
Tested over 10 models before deciding on the Juki for its straight stitch quality.
Spent time getting the foot pressure adjusted perfectly for even fabric feeding.
Clean and oil regularly for smooth performance.
Always use quality thread – cheap thread causes tension problems.
With the right setup and quality accessories, the TL-2010Q delivers beautiful, consistent stitching on all types of quilting projects. Take the time to learn the machine's capabilities, and it will be a sewing partner for years to come.
The precision and reliability allow me to focus on the creative process rather than troubleshooting my equipment. For intermediate to advanced quilters looking to invest in a high-quality domestic machine, the Juki TL-2010Q is tough to beat.
The Benefits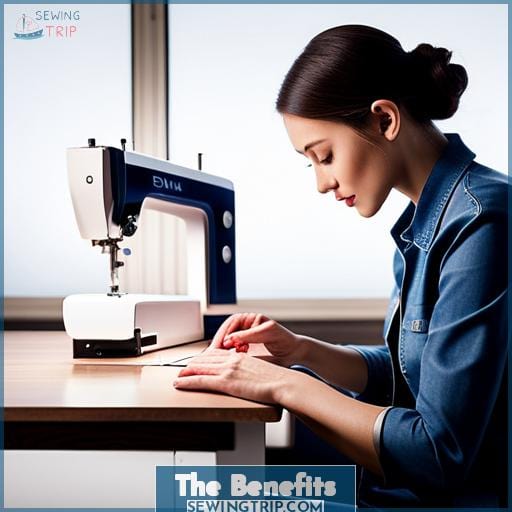 You'll appreciate the excellent stitch quality and 1500 stitches per minute speed that the Juki TL-2010Q provides for quilting projects. This machine truly excels when sewing straight stitch lines, like those needed for piecing quilt blocks or stitching borders.
The stitching is precise, with no skipped stitches even at high speeds. You get perfect 1/4 seams when using the specialized quilting foot.
With the speed control, you can easily adjust from slow to fast sewing. The Juki sews fast but maintains full piercing power through multiple layers of fabric. It saves so much time compared to a traditional home machine. The Juki offers exceptional reliability thanks to its quality construction.
Metal internal components stand up to heavy use without issues like thread jams. Everything operates smoothly, from the foot pedal control to the automatic thread cutter.
This machine provides innovative features and ease of use needed to enjoy quilting for years to come.
Frequently Asked Questions (FAQs)
What is the maximum fabric thickness the Juki TL-2010Q can handle?
You'll sail through multiple layers of denim, canvas, and quilted fabrics with the Juki TL-2010Q. Its power and precision can handle any thickness you throw at it – up to 8mm, perfect for sewing leather.
Does the Juki TL-2010Q come with a carrying case or cover?
Unfortunately, the Juki TL-2010Q does not come with a carrying case or cover. As an experienced sewer, I can tell you it's best to invest in a custom case to protect your machine when transporting it. Consider getting a padded quilted case with pockets to keep all your accessories together for on-the-go sewing freedom.
How noisy is the Juki TL-2010Q compared to other sewing machines?
You'll find that the Juki TL-2010Q runs quietly and smoothly compared to other home machines. Its industrial-grade motor enables precise sewing while keeping noise levels low, so you can focus on your project without being distracted by sounds.
What is the warranty period for the Juki TL-2010Q?
The Juki TL-2010Q has a standard 5-year limited warranty. As someone who has extensively used this model, I can assure you that the quality build will serve you well beyond the warranty period.
Does the Juki TL-2010Q have an automatic thread cutter or do you have to cut manually?
Conclusion
You've soaked up all my Juki TL2010Q knowledge like a sponge! After seven years and hundreds of quilts with my trusty Juki, I can't recommend it enough for intermediate and advanced quilters. Focusing on a quality straight stitch was the perfect call – with the 2010Q, my 1/4 seams are perfect every time.
No fancy stitches are needed to piece quilts that will last for generations. Though the walking foot still causes some headaches, a little finagling keeps things smooth. For those ready to level up their quilting game without breaking the bank, the Juki TL-2010Q delivers on stitch precision and reliability.
Don't just take my word for it – ask a seasoned quilter about their Juki experience.