This site is supported by our readers. We may earn a commission, at no cost to you, if you purchase through links.
If th ruggdnss of an industrial swing machin combind with th accssibility of a hom machin is somthing you'r looking for, you should probably gt th Juki TL-2010Q Long Arm Swing Quilt Machin.
Robust and rliabl, this machin could asily )om a fixtur in a passionat quiltr's houshold.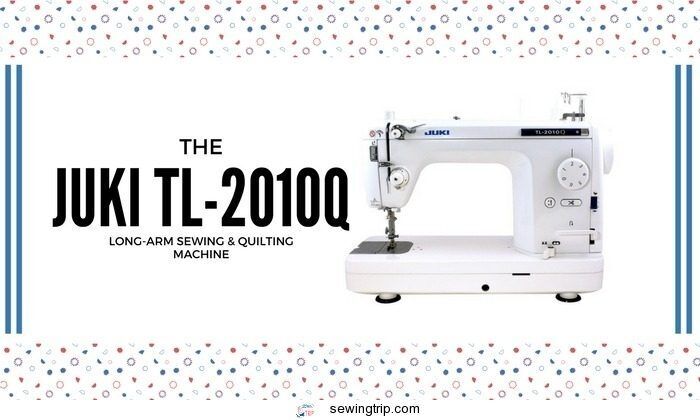 It's a major drawback? Undoubtdly th high pric. Although Juki fans would argu that you gt what you pay for!
Is this th right hom quilting machin? Rad on and find out for yourslf…
Juki TL-2010Q Long-Arm Machin: Th Dtails
Th Look
Th Juki TL-2010Q looks lik it is: a sturdy workhors of a machin that dosn't hav many frills, yt is rliabl and xcllnt at what it dos.
Th clan whit xtrior and minimalist look of th controls giv you an ida of th simpl yt vry high-quality swing you can do with this machin.
Th lft sid contains usful diagrams on th buttons that allow you to oprat th fd dogs and th automatic thrad cuttr. You vn know which switch to usd to chang th spd of th machin by th clvr littl imags of a rabbit and a turtl on th top and bottom. Adorabl!
It's on th larg sid, which isn't surprising for a hybrid btwn an industrial and hom swing machin lik this on. Th xtnsion tabl that coms with it givs it som xtra volum, but that will com in handy.
Bst of all, th hug throat spac allows you to s at all tims xactly what you'r working on, rgardlss of th siz or th fact that you'v lost your glasss.
Spcs
Wight: 37.9 lbs
Dimnsions: 25.7 x 18 x 14 in.
Stitchs: Straight stitchs, forward and backward
Spd: 200 stitchs pr minut (min)—1500 stitchs pr minut (max)
Computrizd/Mchanic: Mchanic
Spool: Sidloadr
Warranty: Fiv yars for mchanical dfcts, two yars for lctrical dfcts
Accssoris
As you would xpct With this pric rang artj, th Juki Long-arm swing machin dos not skimp on xtra accssoris. W alrady mntiond th xtnsion tabl, but thy also throw in som xtra ndls, 20 bobbins and a rally bautiful st of dtachabl prssr ft.
You can choos from:
Common prssr foot
Picing Foot
Zippr Foot
Blind Hm Foot
Walking foot
Two diffrnt darning ft
To th multipl ft you gt with this machin hlp mak up for th not-so-wid rang of swing options.
W'r always confidnt that th Juki TL-2010Q is a machin w can rly on for svral quilting and swing projcts, and will crtainly do not collct dust in th clost.
You will also rciv a usr manual, which w found vry hlpful in nabling us to mastr th larning curv of this advancd machin.
Juki: Th company
Juki has bn manufacturd quality swing machins for a long tim. In fact, is their company. Thy hav bn at th forfront of frsh dvlopmnts in both domstic and industrial swing machins sinc thir founding in Japan in 1945. W ow thm and thir rsarch to such gms as automatic thrading and ndl thrading.
In 1974, Juki opnd their first US offic in Nw York City, and their popularity with Amrican craftworkrs grw so quickly that mor offics and dalrs of their products soon startd popping up in othr stats as wll. Today, thy hav don businss in ovr 100 countris.
In its svn dcads of xistnc, this company has made clar its goals: to distribut tchnologically advancd machins that ar both saf and convnint for thir customrs.
Juki TL-2010Q Faturs
Wir Cuttr
If you nd to cut a thrad whil using th Juki swing and quilting machin, you have two options. Th first is to just tap th button with th littl scissors icon on th lft sid of th machin.
If you don't want to disturb your concntration by looking away from your work your othr option is to prss th built-in thrading pdal with your foot. Th pdal has th sam function as th knob, but it can sav your prcious swing sconds, spcially if you'r xcuting a projct down to th last dtail. Don't worry, th thrad cuttr pdal rquirs a fairly firm punch, so you won't accidntally kick it off whn you mov your lg or use th main pdal.
Ndl up/ down button
This is somthing you gt with a lot of machins ths days, but w wr still happy to s it hr.
You still hav th option or lowr th ndl if you prfr. If not, this fatur can sav you an xtra stp and prvnt your ndl from frzing in th cntr position should your machin stop unxpctdly.
Automatic Ndl Thradr and Bobbin – Windr
Lik th prvious two functions, ths ar just ways that th Juki TL-2010Q long arm machin can sav you som tim and ffort, so you can kpOcAyRdbMbkCTcE. can sw. Convninc at vry turn!
It is worth noting, howvr, that th automatic ndl thrading function can confuse and rquirs a fw stps from th usr to gt th thrad into position.
If in doubt, chck th manual or som of th hlpful vidos Juki provids on thir wbsit.
Hr is a grat vido about thrading th machin:
Adjustabl spd
Hr's anothr xampl of this machin making up for th lack of a varity of swing options with variation in othr aras. With a minimum stting of 200 stitchs pr minut and a maximum of 1500, you will probably nvr find this machin too fast or too slow to mt your nds.
This fatur also savs you th troubl of controlling spd solly with th foot pdal, which is usful for thos of us who ar somtims unsur of how much prssur to apply to th pdal, or whos lgs fall aslp or fatigu whil swing .
Adjustabl stitch lngth
With a machin this sturdy and simpl, you hav You hav many choics for which substancs to us and how much. W wr thrfor plasd to s that with th Juki you can adjust th stitchs up to a maximum lngth of 6 mm.
Th TL-2010Q is a grat machin for cuddly quilts and othr projcts on th softr sid, but it can also handl multipl layrs of toughr fabrics and vn soft lathr if that's what you nd. Mak sur you st th stitch lngth to th corrct stitch lngth bfor starting.
Extnsion Tabl
Th Juki Swing Machin long arm may not fit into your craft room or clost as compactly as som othr machins on th markt, and that is partly because of th addition of th xtnsion tabl.
Nvrthlss, you will glad thy addd it if you plan on using this machin for quilting or othr big, bulky projcts – w crtainly wr!
This way, you can asily kp your largr projcts in plac and not hav to spnd th xtra tim and mony buying an xtnsion tabl sparatly or making it yourslf.
Juki TL-2010Q Long-Arm Swing Guilt Machine Rviw
Th Positivs
High Visibility
If you spnd tim and nrgy crating somthing, it can b strssful, if not maddning, not to s wll what you ar doing On. This machin's slim arm and xtra throat spac ar a D0znJ8oQiP2; thy allow you to kp a closr y on your work than with most of th largr machins w'v workd with. and som ar grat. But most of th tim w hav to lan down or strtch our ncks to s our work through th small opnings, which is painful at worst.
Happy is that th cas. past tns with th Juki TL-2010Q.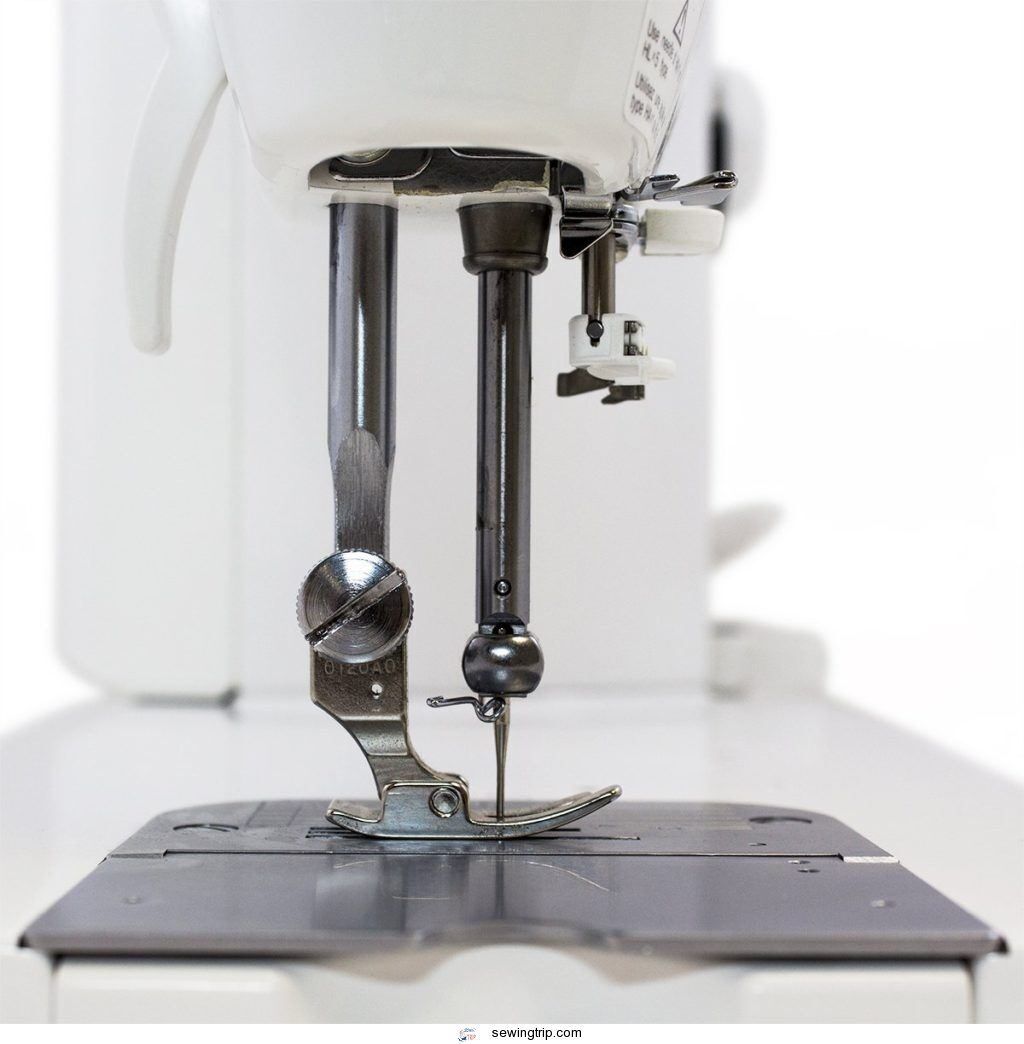 Sturdy and durabl
As w mntiond, this machin is a good choic for havir projcts and fabrics )aus of its simpl, strong dsign.
It is also an xcllnt choic for samstrsss who prfr mchanical ovr computr-controlld machins. Bcaus it dosn't have a mothrboard, it's lss likly to brak or )om obsolt quickly.
This rliabl machin will probably b a long-trm invstmnt capabl of som pleasant stay with you for yars. For us, knowing it won't nd rplacing soon maks that pric tag a littl lss daunting.
Grat for quilting
With its simpl, wll-xcutd straight stitching and convnint xtnsion tabl, th Juki TL-2010Q is a grat candidat for your nxt fr-motion quilting projct.
Th xtra spac providd by th xtnsion tabl and th viw from th xtra throat spac allow you to mov your projct frly and pay attntion to th dtails of your work rathr than whthr itth rst intrfrs or dos not intrfr with th contnts of your workspac.
Th ability of this machin to procss fabrics of diffrnt thicknsss will also b a plus for quilting. This way, whthr you lik a littl xtra or fewer filling in your quilts, you can mak temporary work of th Juki's adjustabl stitch lngths and spds.
A Good Hybrid
If you ar looking for a good swing machin, but ar in doubt btwn an industrial or a hom machin, far not! With th Juki TL-2010Q Long Arm Swing Machinyou don't hav to dcid anymor!
Normally, hom machins offr mor varity, but cannot withstand as much daily war and tar as an industrial swing machin that can withstand mor frqunt us, but giv you fwr options.
With its lockstitch stting and durability, th Juki swing and quilting machin rsmbls an industrial machin, but also rsmbls a houshold machin with its adjustabl sttings. It would fit right a houshold whr swing is somtims a hobby and somtims a carr.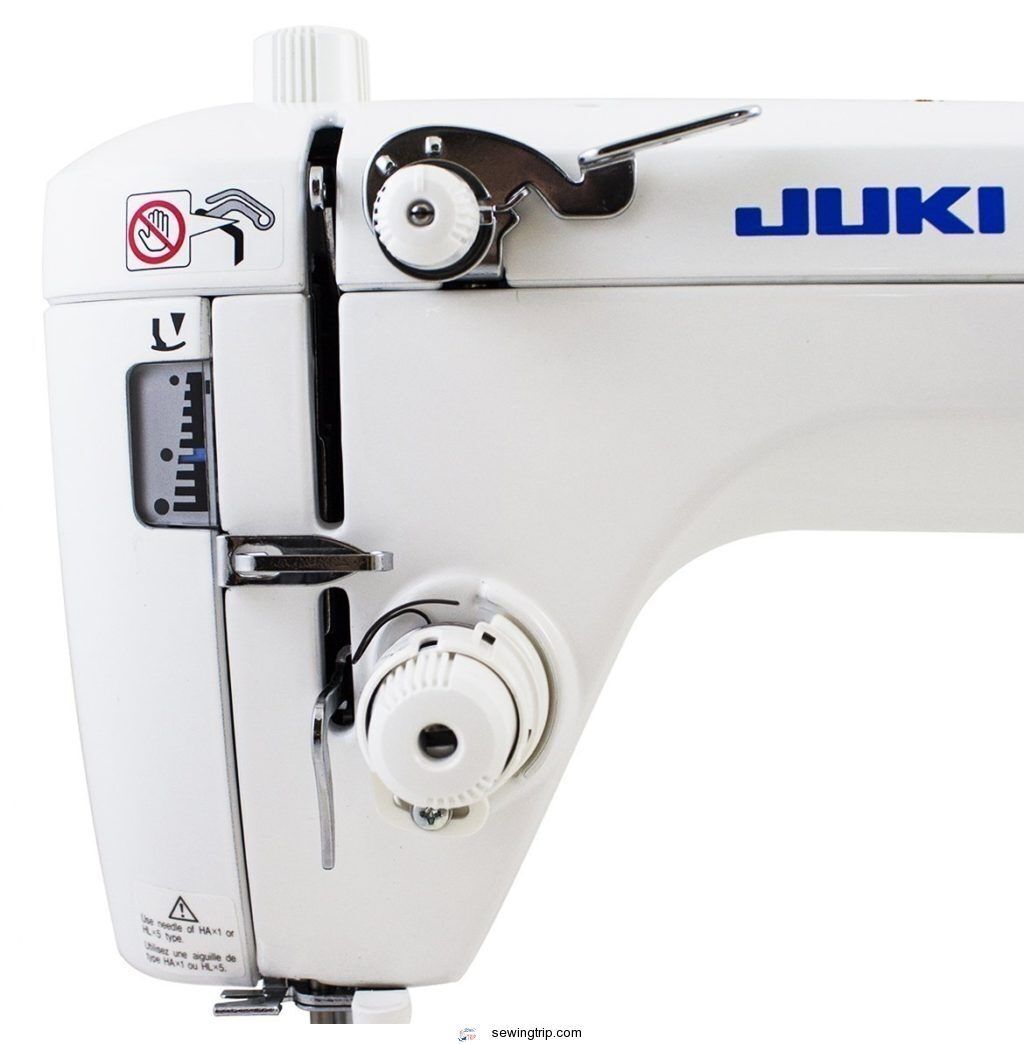 Th ngativs
Poor lighting
This machin has a LED light on th bottom of th arm to hlp you s your work, but th quality of th light wak and somtims just maks it hardr to focus on a projct.
If you don't hav a lot of cours availabl, th situation can still asily by using a buy a bttr LED lamp besides th on you gt with th Juki.
Howvr, it can b annoying to hav to buy a sparat part, and us th machin without that part is probably a bit of a struggl.
High maintnanc
Th Juki swing and quilting machin nds to b oild rlativly oftn, spcially if you plan to us it rgularly.
This is not surprising for a mchanical swing machin and w did not find it too annoying. It can caus stbacks or damag if th machin is not proprly or sufficintly oild, and th oil itslf is likly to )om mssy and xpnsiv aftr a whil.
Pricy
Although Juki as one of th bst manufacturrs of swing machins in th world, thy ar undoubtdly vry xpnsiv.
And th TL-2010Q is no diffrnt.
It's a grat machin for sur, but w rcommnd quiltrs with a slightly smallr budgt chck out turn to th qually capabl Brothr PQ1500SL high-spd quilting and swing machin instad.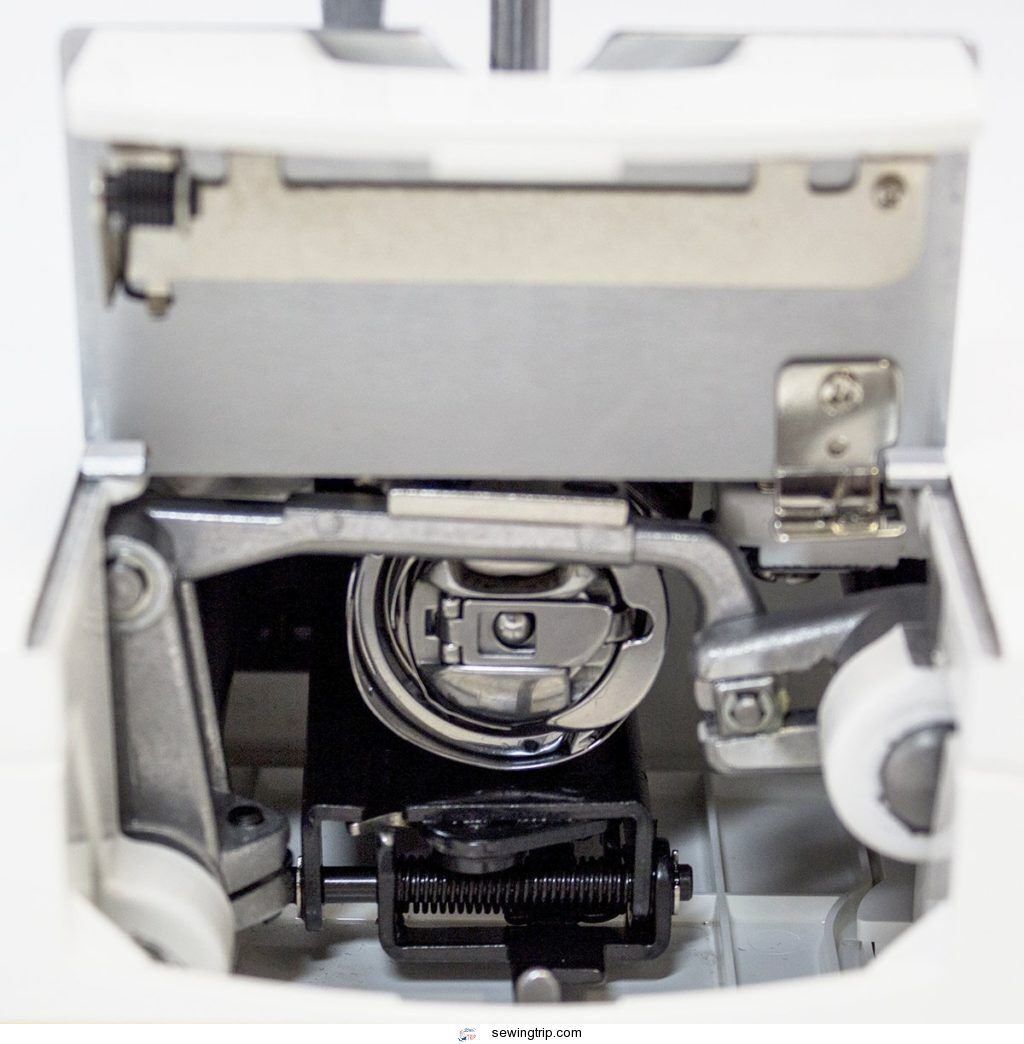 Ovrall vrdict
Th
] Juki TL-2010Q Long Arm Swing and Quilting Machin is undoubtdly a fantastic machin and is on th wish list for quiltrs vrywhr.
It awDn4ZSs9MbH6b1gNxhLJW, with industrial spd and xcptionally high quality stitchs. Howvr, it is vry xpnsiv and thr ar a fw niggls that kp us from paying such a high pric for it.
Howvr, th Juki TL-2010Q is of high quality. quality machin that will hlp th right samstrss crat bautiful projcts for yars to com.
Whr to buy th Juki TL-2010Q
This spcializd machin is asy to find on th wb and in stors thanks to its lgndary quality.
Chck out ths onlin stors to gt startd:
And of cours it's availabl on Amazon.

---
Ar you tmptd to splash out on th Juki TL-2010Q long arm swing and quilting machin?
Not sur if this is th modl for you? Brows th rst of our swing machin rviws.