This site is supported by our readers. We may earn a commission, at no cost to you, if you purchase through links.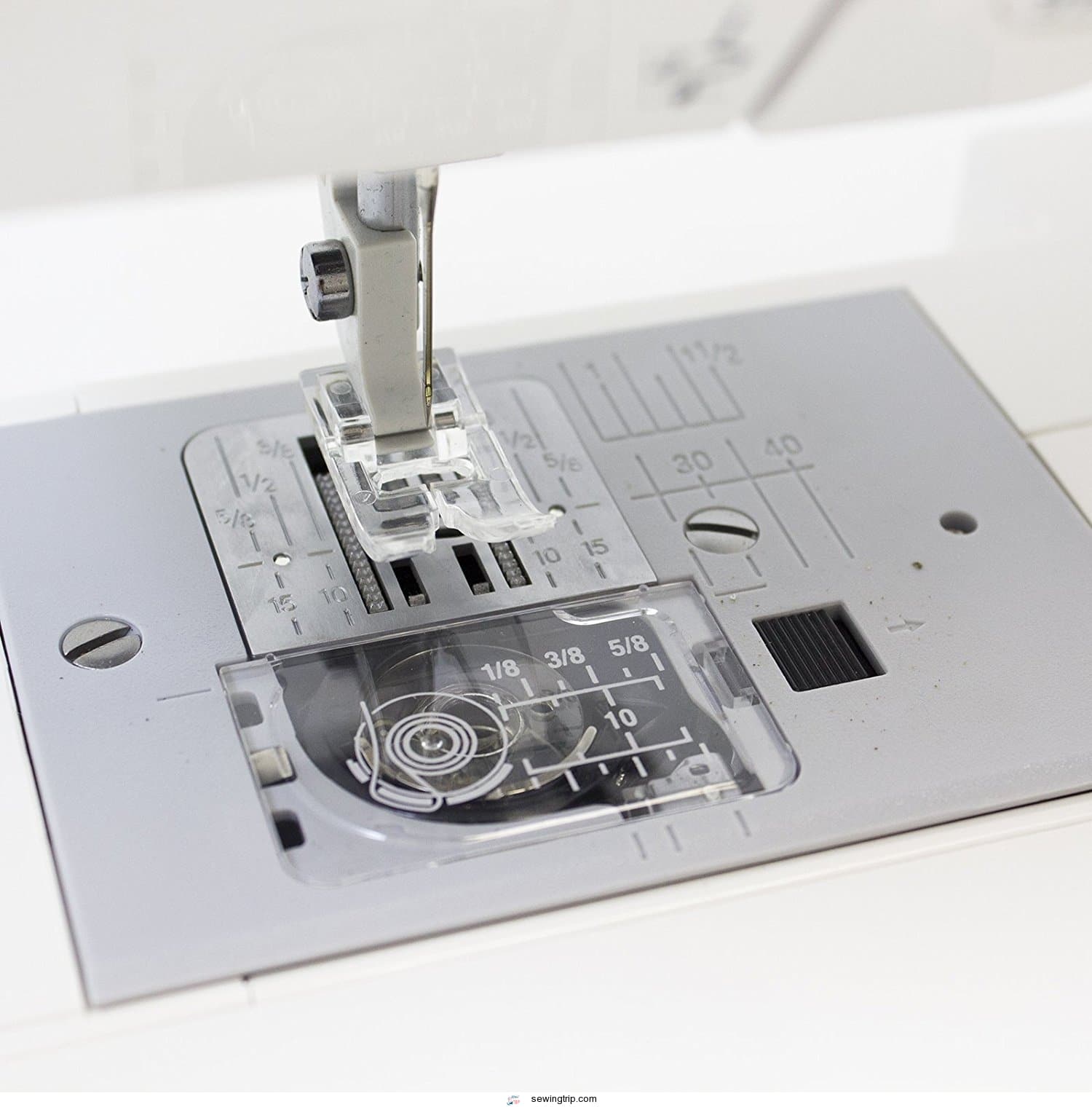 Janome DC1018 will be a good option for those looking for an affordable Janome computerized sewing machine in 2018. However, it in stitch numbers.
Key Features
18 Built-in Stitches
Programmable Needle Up/Down
Sealing and reverse stitching key
Speed control slider
Janome DC1018 Review
Doyousew recommendation level: HIGH
DC 1018 is the cheapest computerized machine you can get from Janome in the US. Janome has faced stiff competition from other brands such as Brother and Singer in the computerized sewing machine category. Brother and Singer have automated sewing machines in the lower price range, so it forced Janome to come up with an inexpensive automated machine. Janome machines with the same features as a Singer or Brother will cost a little more. I think Janome is trying to play differently with DC1018. The price seems perfect to me.
Click on the picture to see the price on Amazon
Janome DC1018 is coming with 18 built-in stitches, including 3 one-step buttonholes. It features an automatic needle threader to prevent eyestrain, especially for older people. There is a start/stop button for sewing. The speed control slider gives you full control over the sewing speed. Low speed sewing works best for beginners at first, you can ramp it up if you are confident. It has a powerful motor that can handle many fabrics.
The programmable needle up/down button is a tremendous boon for quilters like me. It literally works like an extra hand. The locking stitch knot is essential to secure the stitches so that they do not come loose. Directly above the start/stop button is a simple reverse button. The automatically disengaged bobbin wider prevents the bobbin from overfilling. The LCD screen is quite good. There are quick select buttons for stitch selection. Stitch selection and adjustments are very easy to understand. Even people over 60 will have no qualms about using it. The maximum stitch width is 7 mm and the stitch length is 5 mm.
The thread tension can manually. The presser feet are of the slide-on type, so you don't have to run for a screwdriver every time you want to change the feet (this isn't too much of a problem, as even cheaper machines now come with slide-on presser feet). The machine is a free-arm convertible. DC1018 can for free motion quilting by lowering the feed dogs (they provided a lever for this). The extra high presser foot lift on this machine gives excellent clearance to work with multiple layers of fabric. The top drop-in coil adds to ease of use.
Janome DC1018 comes with an included softcover. The box also includes a bonus kit, which Janome says is worth something. Weighing less than 14 pounds, you can think of it as a lightweight sewing machine.
Ease of use
Janome has that didn't compromise on quality, even though the machine has a budget price tag (one thing I've always noticed about Janome is the excellent build quality of their machines). You get a sense of quality when you see this machine. The machine has a reasonable variety of stitches on board. Even impressive is the stitch quality. I sewed 6 layers of denim on this machine and it went on effortlessly. I always test machines with multiple layers of denim, you can tell something about the quality of the machine. The machine works just as well on lightweight fabrics.
Limitations
I always wanted Janome machines to have a lot more built-in stitches. DC1018 is no exception.
Pros
Affordable
Easy to use
Many functions
Cons
Decrease number of built-in stitches
Is it worth buying?
Considering the price and quality, I think Janome DC1018 is not a poor deal at all. It has all the features you want as a beginner. Also the quality is excellent. It is a superb choice for those looking for an inexpensive Janome computer sewing machine.
Related Posts:
Best Sewing Machines For Kids – Guide Reviews
Brother Xl 3750 Sewing Machine Review (Updated 2018)
Singer 9985 Quantum Stylist Sewing Machine Review
Singer 14CG754 Pro Finis Ewing Machine Review
Halloween Costume Ideas–20 Easy Sewing Ideas for Kids and Adults