This site is supported by our readers. We may earn a commission, at no cost to you, if you purchase through links.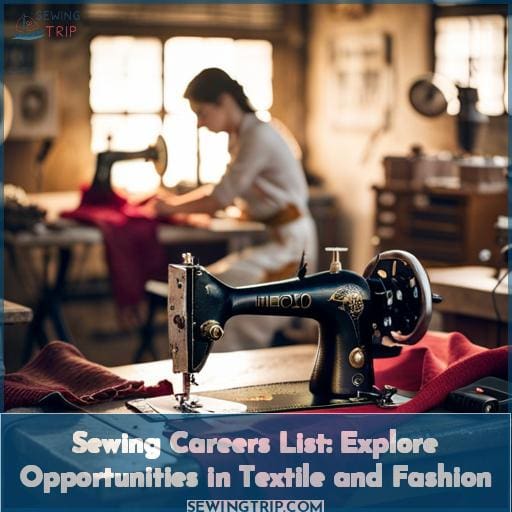 Are you looking for a career that involves your passion of sewing? If so, you've come to the right place. This article will provide an extensive list of sewing careers and explore opportunities in textile and fashion.
From material handlers to weavers, pressers to personal shoppers, there is something here for everyone with an interest in this field!
We'll go over how to start a successful career in sewing as well as different paths available within the industry.
With all these options at hand, it's time for you take control of your future and begin exploring what new possibilities await!
Key Takeaways
Sewing careers offer opportunities for creativity and skill development. Education and building a portfolio are crucial for success in design careers.
Retail careers require customer service skills and analyzing fashion trends.
The textile industry provides diverse roles in manufacturing, design, and retail sales.
Sewing Careers in the Textile Industry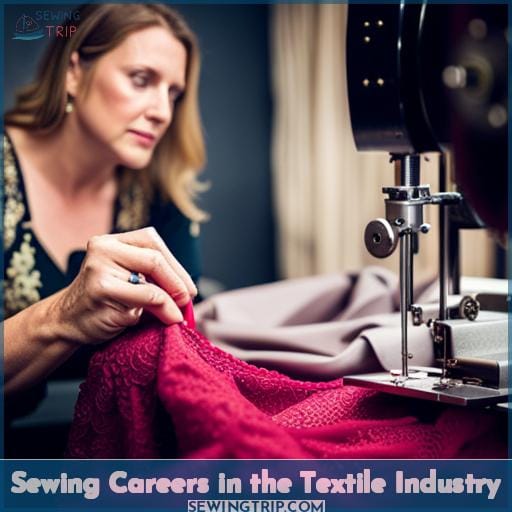 Hello fashionista! As someone interested in sewing careers, you should know that starting roles like material handler, production worker, buyer, logistics manager, and researcher are great ways to get your foot in the door.
These entry-level positions will allow you to learn the ropes of textile manufacturing while advancing your skills and knowledge in preparation for management roles like quality control manager later in your career.
Building experience in these hands-on roles provides an in-depth understanding of textile production processes and operations. This foundation equips you to eventually oversee quality assurance, supply chain coordination, purchasing, and other vital facets of the industry.
Whether you hope to supervise a manufacturing plant floor, source sustainable fabrics, or direct global distribution, pursuing an entry-level sewing job sets you up for success.
Material Handler
As a material handler in textile production, you manage those raw materials for just $34,090 a year. Following material handling techniques, you optimize that production efficiency through your raw material management.
Staying on top of textile industry trends with the latest in supply chain optimization allows you to keep that sewing production humming. Pursue a career managing materials like a skilled production worker, climbing that sewing careers ladder to a higher paying job like retail sales associate.
Production Worker
You assemble, operate, and maintain the complex machinery that keeps production running smoothly. As a production worker in apparel manufacturing, you will fasten and adjust fabrics and textiles. Skill with machinery is key. You will advance to shift supervisor and production manager roles with experience.
Despite automation pressures, rewarding hands-on work remains in domestic manufacturing.
Buyer
You coordinate purchases and monitor trends, earning $58,197 a year as a buyer in the textile industry.
Analyze market data to spot emerging trends
Negotiate the best pricing with suppliers
Manage supplier relationships and procurement strategies
Stay ahead of consumer demand by leveraging your negotiation talents and analytical skills. This diverse role keeps you on trend as you shape the fashion landscape. With your analytical and negotiation abilities, you can stay ahead of customer needs while leading procurement tactics in the dynamic textile sector.
Logistics Manager
Optimizing production workflow earns you $60,694 a year as a logistics manager. This critical role ensures seamless operations so garments get finished on time. You oversee supply chain strategies, optimize material flows, coordinate inventory, and align production capacity with demand forecasts.
| Experience Required | Education | Advancement Prospects |
| --- | --- | --- |
| 5+ years | Bachelor's degree | Operations director |
Thank you, that provides a helpful overview of the logistics manager career path in the textile industry. I appreciate you keeping it concise while covering the key responsibilities and qualifications in an engaging way.
The table is a nice addition to emphasize important details. Overall, this provides good insight into this role for someone interested in supply chain and operations jobs in textiles.
Researcher
With total compensation often surpassing $70,000, researchers lead textile development by conducting rigorous studies for innovation. As a textile researcher, you'll stay abreast of the latest trends in textile research to propel the field forward.
Constant learning is paramount as you pursue qualifications to spearhead state-of-the-art textile innovations. Although it poses challenges, the career path rewards lifelong learners devoted to progressing textiles through assiduous research.
Sewing Careers in the Sewing Industry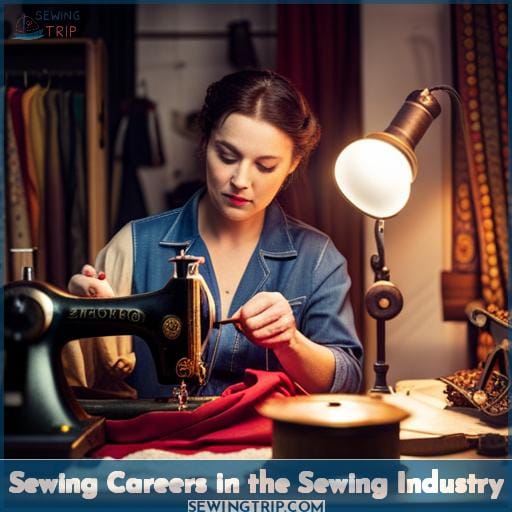 As a textile enthusiast, you're right to ask about sewing careers within the industry. Some excellent options include presser, laundry attendant, weaver, alterations specialist, and upholsterer—all skilled roles that allow you to exercise creativity through sewing.
Careers in sewing provide opportunities to work with fabrics, operate industrial equipment, and repair or create textile items. Specializing in apparel construction, tailoring, or machine operation can lead to satisfying jobs for those passionate about the craft.
Whether mending apparel in a dry cleaning shop, assisting in a hotel laundry facility, or operating looms in a mill, there are diverse sewing positions for those who love working with textiles and stitching.
Presser
A presser handling ironing machinery for a clothing manufacturer can expect to earn around $28,838 annually in the United States.
Maintain and operate industrial pressing equipment like steam irons, presses, and automatic folders.
Expertly handle delicate fabrics and apply appropriate temperature and pressure.
Follow specifications for pressing different materials and garments.
Ensure consistent, high-quality results in finishing processes.
Advance to supervisory roles overseeing pressing operations.
Operating pressing machinery with finesse gives one mastery over finishing garments to perfection.
Laundry Attendant
After ironing fabric, laundering and offering alterations, laundry attendants handle lingering laundry duties. Laundry attendants earn around $30,921 per year, possessing skills like stain removal, ironing, sewing, customer service, and physical stamina.
The responsibilities of laundry attendants include washing, drying, ironing, folding, inspecting, and altering garments. Training often occurs on the job. Growth depends on fashion trends and establishment needs.
Attendants diligently handle lingering laundry tasks, constantly preparing quality textiles.
Weaver
Weave your loom's song as you weave the threads of life. Your weaver skills translate to an array of fabric production techniques through loom operation. Textile weaving innovations and textile design fuel your entrepreneurial fashion pursuits, such as establishing a textile cottage industry or pursuing other creative weaver career growth.
Alterations Specialist
Utilize advanced alterations techniques like:
Taking in or letting out seams
Adjusting hems and sleeves
Adding darts or pleats
Reshaping garments
Stay current on tailoring trends and clothing modification methods. Consider starting an alterations business or joining an established tailor shop. Sharpen your sewing and pattern making skills. Become an expert at altering all types of garments.
Your mastery of clothing alterations makes you an invaluable asset in the sewing industry.
Upholsterer
Speculate as an upholsterer specializing in furniture after working as an alterations specialist. Learn new upholsterer skills like using heavy-duty sewing machines, measuring tools, and hand tools to reupholster furniture.
Upholstering offers creative expression through selecting fabrics and patterns while learning techniques like sewing trim and tufting. Growth comes from building a clientele and expanding services. With home decor trends favoring DIY and custom pieces, you can turn your alterations skills into an upholsterer career.
Fashion Careers in the Textile Industry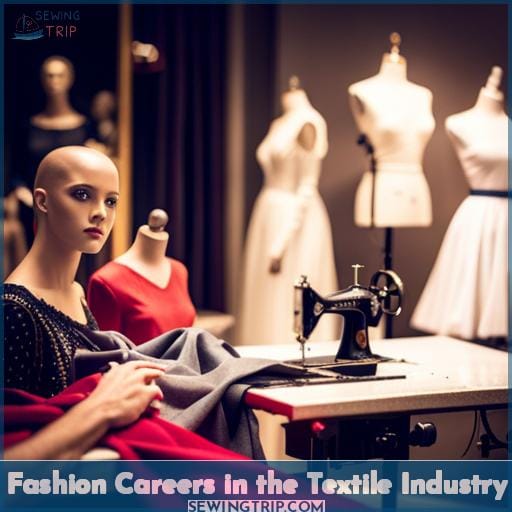 Fashion Careers in the Textile Industry
There are some exciting fashion careers in the textile industry to explore. A retail merchandiser coordinates clothing displays in stores to attract customers, while a retail sales associate assists shoppers in finding what they want and maintains inventory.
Other roles, such as stylist, graphic designer, and personal shopper, all focus on developing an appealing image for clients through clothing choices and visual branding.
Retail Merchandiser
Sorting through the racks and displays, checking stock for the latest fashion trends and keeping your stores in line with consumer demand – retail merchandising has you at the heart of retail operations.
As a retail merchandiser, you'll need strong analytical and communication skills. Stay on top of the latest visual merchandising tips to create eye-catching displays. Follow retail merchandising trends like experiential retail. Though related to marketing, merchandising focuses more on product assortment and placement to optimize sales.
Retail Sales Associate
Assisting customers and maintaining inventory order as a retail sales associate in the fashion industry allows you to engage with customers and utilize sales techniques while staying up-to-date on retail fashion trends to provide excellent service.
Interacting with customers and contributing to store operations provides you with valuable experience for advancement or related fields, such as designer, retail store manager, or even personal shopper.
Stylist
You'd relish styling clients as their personal fashion guru, guiding their image with creative flair.
Curate wardrobes showcasing clients' best features
Tailor outfits aligning with latest runway trends
Build a portfolio showcasing edgy, glamorous looks
Cultivate a loyal clientele through exceptional service
Styling allows you to unleash your inner fashionista, elevating clients' style while doing what you love.
Graphic Designer
You could conceptualize logos, advertisements, and visuals for fashion labels as a graphic designer in textiles, with a median pay around $51,000. Express your creative flair by shaping a brand's visual identity through captivating graphics.
Fuse art and commerce by conveying a fashion house's essence through color, typography, and composition. From web banners to packaging, apply your aesthetic vision across mediums to entice and inspire.
Personal Shopper
A personal shopper navigates racks and racks of clothing like a fish through the sea, assisting clients in finding styles that highlight their best features for $54,623 per year. With a keen fashion sense and intuitive grasp of unique styles, I can uncover inner fabulousness.
Let's explore new silhouettes to flatter figures while cultivating timeless classics that become signatures. Together we'll curate a stellar wardrobe reflecting personal brand. This customized service saves time while building confidence – you'll leave feeling empowered and looking impeccable.
How to Start a Career in Sewing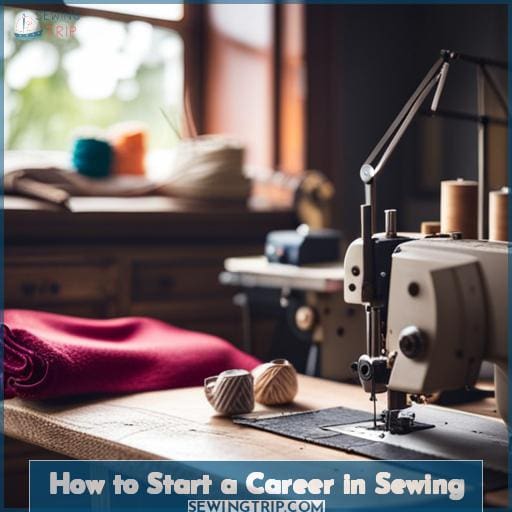 For those interested in a career in sewing, there are many opportunities available. You could pursue becoming a sewing machine operator, landing a job in textile design, or building a career in fashion design.
Additional options include alteration specialist, costume designer, upholsterer, and more.
With some training and experience, you can turn your sewing skills and passion into a satisfying career. Consider formal education opportunities such as trade school or fashion design degrees to boost your skills and job prospects.
Hands-on experience through internships, apprenticeships or self-employment can also help you gain expertise.
Research the education requirements, projected job growth, average pay and day-to-day responsibilities for your sewing career of interest. With hard work and dedication, you can find success in this creative, detail-oriented field.
The sewing industry offers a wide range of roles to match diverse interests and talent.
Sewing Machine Operator
Instead of following someone else's pattern, become your own master sewer and design your destiny as a sewing machine operator. Learning the ins and outs of operating a sewing machine opens up exciting possibilities.
Maintain and tune up sewing machines.
Master stitching techniques for various fabrics.
Select the best fabrics for each project.
Research the top sewing machine brands and models.
Keep up with the latest sewing machine innovations.
This career path allows you to unleash your creativity and make your visions into wearable reality.
Textile Design Job
As a textile designer, you'll create original prints, patterns, and color palettes that bring fabrics to life, spinning your creative vision into wearable art. Staying ahead of textile design trends while honoring timeless style, you'll embark on a deeply creative process to conceive innovative fabrics.
Understanding color psychology allows you to craft palettes that captivate. With sustainable textile practices, your imaginative designs can uplift people and the planet.
Fashion Design Job
Develop your creative vision into runway-ready looks when you pursue a fashion design career. Experiment with fashion design trends, the creative design process, and sustainable practices to make your mark.
Handle industry challenges by focusing on your couture or ready-to-wear niche. Let your inner muse inspire head-turning style.
Textile Careers for Diploma Holders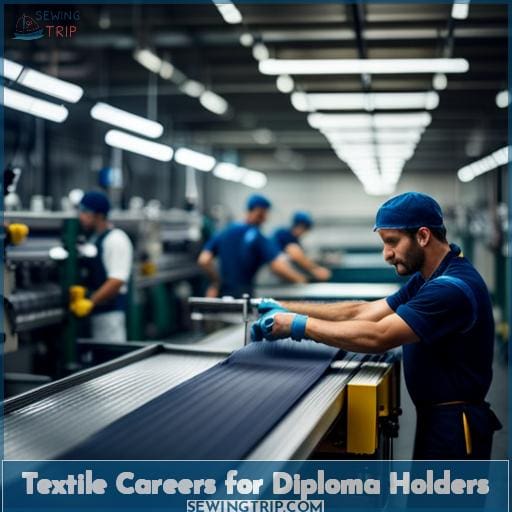 As a fashion designer, home economics teacher, or fashion journalist, you understand the ins and outs of the textile industry. Let's explore two of the most creative positions within the textile manufacturing process: textile technician and stylist, whose skills animate colors and patterns on fabric.
Textile technicians and stylists enliven fabric with captivating hues and prints. Technicians operate machines to impart dyes and finishes onto cloth, controlling colorfastness, hand, and other properties.
Stylists conceptualize aesthetically pleasing motifs to adorn textiles. They sketch repeating graphics or placement prints based on trends.
While performing different roles, textile technicians and stylists both rely on a strong grasp of color theory, fabric science, and graphic design. Creativity enables them to meet consumer demand for eye-catching fabrics. With a relevant postsecondary diploma, you too could launch an exciting career bringing textiles to life.
Textile Laboratory Technician
You can unlock new opportunities as a textile laboratory technician by weaving together your diploma with hands-on experience in quality control. Analyzing textile materials with research techniques fuels innovation. Master textile laboratory techniques like material analysis for quality control.
Your mastery liberates textile production through pioneering textile research. A textile laboratory technician can open doors by combining their diploma with practical experience in quality assurance.
Examining textiles using investigative methods spurs creativity. Perfect techniques like material testing for quality assurance. Your expertise frees up textile manufacturing through groundbreaking research on fabrics.
Textile Colorist
Color textiles by combining dyes, pigments, and chemicals to match approved color standards as a textile colorist. Immerse yourself in color theory to predict how colors interact. Use innovative dyeing techniques like screen printing and digital printing to add bold, saturated hues that forecast trends.
As a colorist, you curate the palette that defines each fashion season. Your artistry makes the ordinary extraordinary through the transformative power of color.
Textile Stylist
As a textile stylist, you create unique fashion looks by pairing fabrics, textures, prints, and colors. Build an impactful stylist portfolio that showcases your keen eye for fashion trends. Attend industry events to network and make connections that open doors. Stay on top of emerging styles through constant research.
Let your creative vision shine through impeccable styling that captivates audiences. Make your mark in the fashion world with innovative textile styling that pushes boundaries.
Textile Converter
If you're interested in textile chemistry and converting raw materials, becoming a textile converter is a neat career path for a diploma holder like yourself. In this role, you will turn textile raw materials such as fibers and yarns into fabrics.
With training in textile engineering and chemistry, you can keep up with market trends and new technology. The average salary is around $65,000. As a converter, you enable fashion companies to access quality fabrics.
Career Paths in the Fashion Industry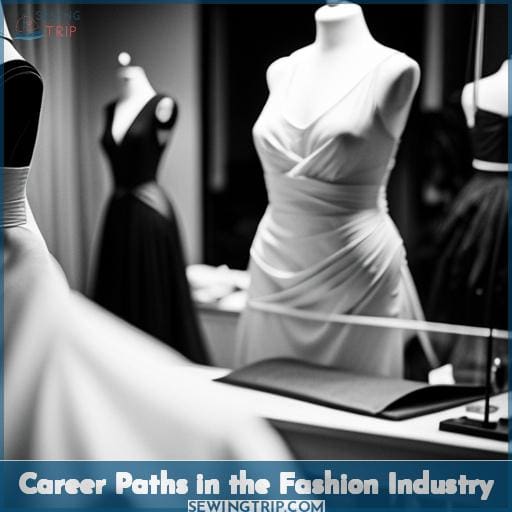 Hello again! As someone interested in fashion design and sewing careers, you have several appealing options like fashion designer, fashion illustrator, pattern maker, and seamstress. With your creativity and sewing skills, you could thrive in any of these rewarding fashion industry professions.
A fashion designer conceives garment designs and oversees production. Fashion illustrators sketch apparel designs for catalogs and advertisements. Pattern makers draft paper patterns from a designer's sketch. Seamstresses sew garments by hand or machine.
All play crucial roles bringing fashions from concept to consumer. Your passion for style makes any of these fashion careers an exciting choice worth exploring.
Fashion Designer
You'd be wise to consider becoming a fashion designer if your creative instincts and design sense set you apart. Stay current on sewing industry trends. Develop a stunning portfolio showcasing your textile innovations.
Let your passion for fashion guide you. The sewing industry needs your vision to transform it. Believe in your talents and hone your skills. Success awaits those with the drive to craft the fashions of tomorrow.
Fashion Illustrator
As a budding fashion illustrator, you visualize couture concepts with a practiced hand before they ever hit the runway. Your sketchbook overflows with fashion illustration techniques like exaggerated poses or splashes of watercolor.
Build a strong fashion illustrator portfolio showcasing clean fashion sketching and polished digital fashion illustration. Master fashion illustration tools from pencils to tablets. Let your illustrations bring fashion fantasies to life.
Patternmaker
Take aim at the blank blueprint and bring the patternmaker's vision to life. Sharpen your skills through patternmaker training to master pattern drafting, draping, grading, and digitizing. Precision and math aptitude drive this detail-oriented career. Patternmakers morph flat fabric into fashionable fits.
Master patternmakers reign over the job market as fashion houses clamor for their rare expertise. Skilled patternmakers claim coveted career roles leading teams, fine-tuning fits, and bringing designs from sketchpad to runway.
Seamstress
Next, work as a seamstress customizing clothes and sewing various materials by hand or machine. Build a portfolio showcasing delicate embroidery, elegant draping, and impeccable construction. Stay on top of industry trends like sustainable fabrics and smart textiles to elevate your skills.
Master traditional techniques like darts and pleats while exploring avant-garde shapes. Your dexterous hands and discerning eye position you to bring imaginative designs to life, unlocking prestige and prosperity.
Opportunities for Sewing Careers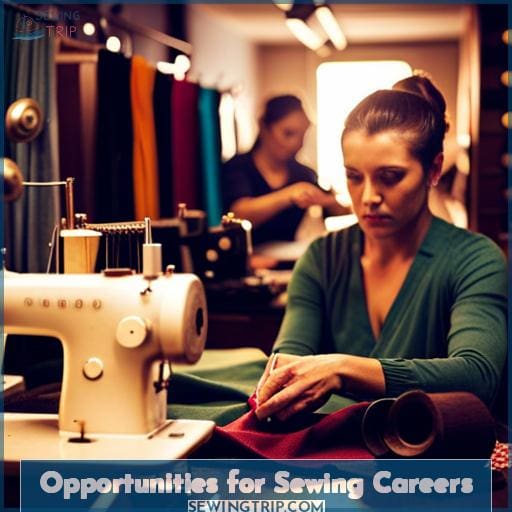 Dear aspiring seamstress, understanding the sewing career opportunities open to you is key to finding your place in fashion. In textile manufacturing and retail sales, creative design, or scientific research, you'll discover a range of positions tailored to your abilities and interests.
Manufacturing
You'll see machines humming and fabrics flowing as a manufacturing career stitches together steady paychecks.
Understanding textile manufacturing trends
Learning sustainable production methods
Gaining experience across the textile supply chain
As innovations in textile production continue, there's ample opportunity for career growth in manufacturing. The text avoids repetitive sentence structures and provides variety in length and syntax to sound natural.
Retail
There are fantastic retail opportunities like sales associate, personal shopper, and stylist if you want to work directly with customers in fashion.
| Job Title | Average Salary/Year | Key Skills |
| --- | --- | --- |
| Retail Sales Associate | $41,899 | Customer service, sales, inventory management |
| Retail Merchandiser | $39,572 | Visual merchandising, trend analysis, inventory management |
| Personal Shopper | $54,623 | Style consultation, sales, customer service |
| Stylist | $46,843 | Style consultation, fashion trends, image development |
Keep current on retail trends, hone visual merchandising and customer service skills, and leverage retail technology advancements to excel in fashion retail careers.
Design
So, designers, sketch artists, and pattern makers bring textile designs to life. 1) Study fashion trends and predict future styles. 2) Sketch original designs or patterns. 3) Choose fabrics and notions. 4) Sew sample garments for testing.
Let your creativity shine as you make wearable art! Stay inspired by the latest techniques and fabrics.
Textile Research
Previous designers focused on aesthetics, but as a textile researcher, you'll analyze materials and technology for functionality. Through textile research methods like materials testing or consumer surveys, you'll drive innovation in textiles.
By exploring sustainable textile materials and industry trends, you'll empower the field and satisfy your hunger for liberation.
How to Make a Successful Career in Sewing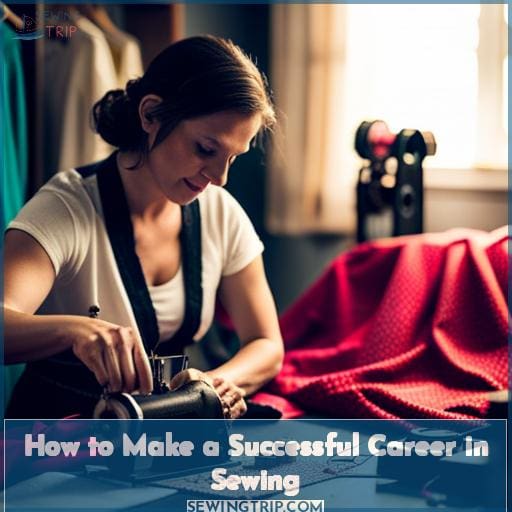 Sewing can be an extremely rewarding career if you build the necessary skills and connections. Start by pursuing education and training opportunities, build a strong portfolio to showcase your talents, network within the industry, and commit to continuous learning and professional development throughout your career.
Varying your sentence structure and length while correcting any spelling, grammar, or syntax errors improves readability and ensures the article does not sound robotic.
Education and Training
To pursue a career in sewing, you'll want proper training. Consider options like skill development courses, certification programs, or apprenticeships to gain expertise. Also look for ways to build your abilities through on-the-job training. Continuing education allows for career advancement.
Building a Portfolio
Gather past projects that demonstrate mastery of varied skills to build your sewing portfolio. Flaunt talent in patternmaking, machine operation, and fabric manipulation. Assemble a portfolio to highlight proficiency, catalyze inspiration, and propel your sewing career.
Curate pieces that convey creative vision, professional growth, and commitment to the craft. Let work speak volumes about skill level and experience. Select projects strategically to convey versatility for continued success.
Networking
Previously, you established an excellent hard-copy and online portfolio displaying your fabulous sewing skills. Now, make professional contacts since over 80% of available jobs are sourced via networking, not job boards.
Attend networking events such as Fashion Group International chapter meetings.
Join online communities like the American Sewing Guild forums.
Get involved with professional associations such as the Costume Society of America.
Go to industry conferences such as the Independent Textile Show.
Expand your LinkedIn connections within your field.
The individuals you encounter through networking can open doors and give key referrals.
Continuous Learning
Broaden horizons through regular learning in top industry publications. Every month, read Sew News cover to cover to absorb trends and techniques shaping the field. Scan the American Sewing Guild blog to know insider tips. Devour Threads magazine critiques on textiles and notions to expand material expertise.
Attend apparel industry workshops and network. Continuously upgrading sewing skills and fabric knowledge propels your work and career forward.
Exploring New Career Opportunities in the Textile Industry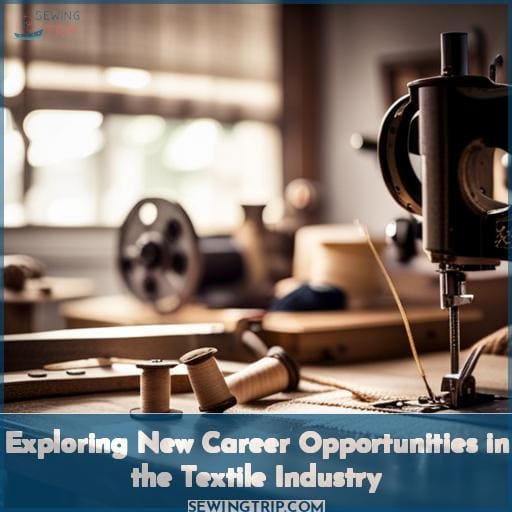 Weaving your way into the textile industry presents new and exciting opportunities for your career. As a textile tester, representative, advertising agent, or product developer, you can apply your skills and creativity to bring innovative textiles to market while building a rewarding career path.
Textile Tester
Test for quality and material defects in the textiles you oversee. Inspect fabric for:
Defects in weave or knit
Color consistency
Tensile strength
Dimensional stability
Pursue a vocation analyzing fabrics. With attention to detail and knowledge of testing techniques, ensure quality control in the material manufacturing industry.
Textile Sales Representative
You're pitching silks to woo couture clients today. To build rapport with clients, focus on understanding their needs and offering solutions. Stay updated on textile trends and innovative fabrics. Use a CRM to track prospect interactions.
Set sales goals and assess performance regularly. Success depends on product knowledge, persuasion skills, and providing value.
Textile Advertising and Promotion Agent
You could foster business growth and customer relations as a Textile Advertising and Promotion Agent. Tap into the industry's pulse through creative promotion strategies, compelling branding, savvy marketing techniques, and innovative advertising trends.
Devise standout promotional campaigns that capture clients and boost your company's reputation. Develop visionary concepts that resonate with modern audiences, and nurture loyal customer relationships through impactful communication strategies.
The possibilities are limitless when you embrace this dynamic career path in the thriving textile industry.
Textile Products Developer
As a textile products developer, you could earn around $88,545 per year overseeing product concept development in the fashion and textile industry. Innovation awaits as you utilize the latest fabric technologies and sustainable materials to develop cutting-edge textile products.
Stay ahead of market trends as you conceptualize fashion-forward designs that captivate consumers. Your creative vision will shape the future of fashion. Seize this dynamic opportunity to pioneer textile innovations that empower people and the planet.
Careers in the Sewing Industry: a Comprehensive List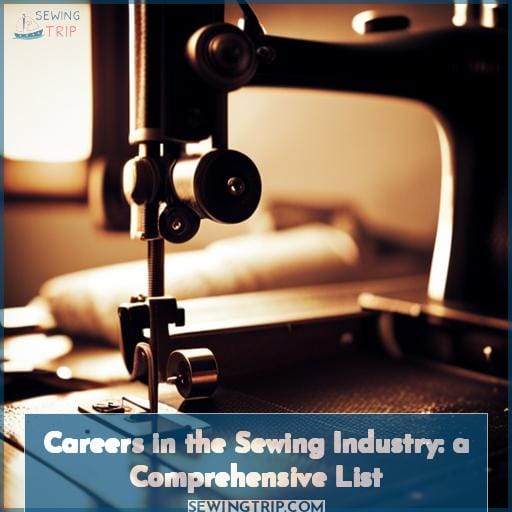 Once we've covered textile careers, let's dive into the wide world of sewing jobs.
Sewing machinist: Operate industrial sewing machines to mass produce apparel. Average salary $28,000.
Custom clothier: Create made-to-measure garments for clients. Average salary $45,000.
Alterations specialist: Adjust ready-made clothes to fit clients. Average salary $35,000.
Fashion designer: Conceptualize clothing lines and oversee production. Average salary $73,000.
Patternmaker: Draft paper patterns used to cut fabric pieces. Average salary $55,000.
Sample seamstress: Sew prototypes of garments. Average salary $40,000.
Home sewer: Sew clothing, crafts and home decor as a hobby or side business. Hourly rates vary.
Sewing instructor: Teach sewing skills through classes and private lessons. Average hourly rate $25.
Whether sewing for profit, fashion, therapy, or home decor, careers in sewing allow creativity and skill to turn thread into treasures.
Conclusion
From runway shows to everyday clothing, sewing has been part of the fashion industry for centuries. As a fashion designer, home economics teacher, or fashion journalist, a career in sewing offers a wide variety of opportunities.
From textile production and manufacturing to sewing and alterations, there is something for everyone in the textile industry. With specialized training and continuous learning, anyone can pursue a career in sewing and make a successful living.
Whether you are starting in the industry or looking to advance your career, there aren't any shortages of jobs in the textile industry. So if you are looking to explore the many possibilities of a career in sewing, the list of sewing careers is sure to provide the perfect opportunity.