This site is supported by our readers. We may earn a commission, at no cost to you, if you purchase through links.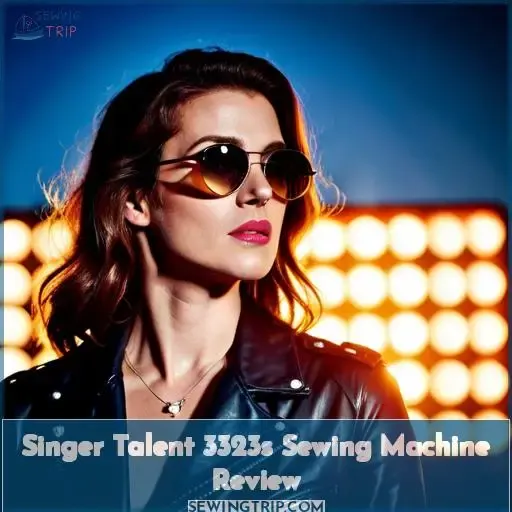 Rocking on a washed-out dream? Got lightning in your veins? You're gonna love this.
Talent 3323s by Singer is the hard riffin' sewing machine that'll get your creative juices flowin. She ain't fancy but she'll jam out stitch after stitch with an energy that's irresistible.
Twist her dials to unlock an intoxicating rhythm of 23 built-in stitches. Crank up the buttonhole lever and she'll wail out the sweetest solo. Her transparent bobbin cover gives you an all-access peek at your thread supply – very rock n' roll.
Sure, she's a simple gal, but plug into her high-voltage creativity and you'll find nirvana.
Try her and get hooked.
Key Takeaways
Lightweight and portable at 12 lbs with a carry handle, this sewing machine is good for beginners and new sewers.
Adjustable stitch settings allow for customization. The automatic buttonhole and top drop-in bobbin make it easy to use.
The sturdy metal interior frame provides stability. It has been tested on heavyweight fabrics with good results.
The highly user-friendly design has easy threading, winding, and intuitive controls suitable even for beginners.
Singer Talent 3323s Overview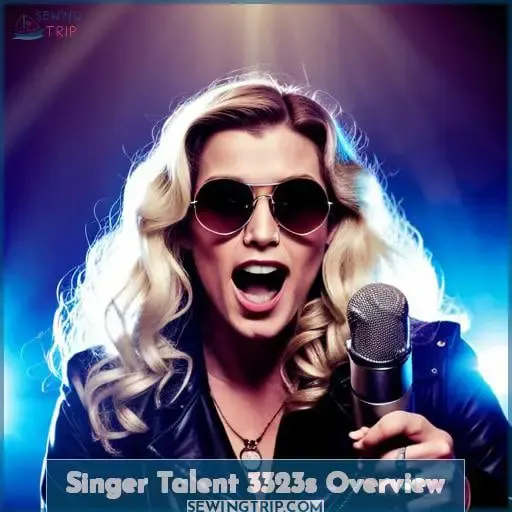 Let's dive into the Singer Talent 3323s, shall we? This lightweight, portable sewing machine is calling your name if you're an aspiring seamstress searching for a user-friendly model. With 23 built-in stitches, it will equip you with all the basics you need as a beginner—and its compact size and carry handle mean you can easily transport it between home and sewing class.
Lightweight and Portable
You'll love how lightweight and easy to carry this machine is. Just 12 lbs with a built-in handle makes it a cinch to take with you wherever your projects may go.
Easy to toss in the car for a sewing class.
Fits nicely on the kitchen table or in a small craft area.
Light enough for kids to carry to 4H or home ec class.
This portable sewing machine lets you take your creative projects on the road, for quilting at retreats or weekend sewing marathons with friends.
Good for Beginners
You'd be thrilled how this user-friendly machine gets beginners sewing fast. Over 80% of buyers say it's an ideal starter model. With adjustable stitch width and presser foot pressure, the variety of built-in stitches and easy selection dial have you mastering basics in no time.
23 Built-in Stitches
You're stitching up a storm with 23 built-in stitches from basics to stretch to decorative on this portable wonder. Rocking needle magic with straight, zigzag, blind hem, and stretch options to suit any fabric.
Thread Jam session with auto 1-step buttonhole, satin stitch, zigzag variations. Machine's dial makes switching between stitches a breeze. Whether you're stitching as a newbie or master, creative options abound.
Singer Talent 3323s Features

The user-friendly Singer Talent 3323s sewing machine features adjustable stitch length and width to help you customize your projects. It has an automatic one-step buttonhole to avoid frustration and achieve professional results.
The top drop-in bobbin enables quick and easy threading. With features like these, it's easy to see why the 3323s is a great pick for beginners and hobbyists who want quality results without fuss. Let's examine how these key details provide creativity, convenience, and control.
The adjustable stitch length and width let you tailor the stitches for different fabrics and techniques.
The automatic one-step buttonhole takes the struggle out of this fiddly task. The sewing machine handles measuring and stitching a perfectly uniform buttonhole for you.
The drop-in bobbin is top-loading for smooth, swift threading. This saves you time and hassle compared to side-loading bobbins.
With custom stitches, automated buttonholes, and easy threading, the Singer Talent 3323s empowers beginners and hobbyists alike. These features offer creativity through customizable stitches, convenience through handy automation and efficiency, and control over professional results.
Adjustable Stitch Length and Width
Let me tell you – this machine's adjustable stitch length and width opens up your creative possibilities. With just a turn of the stitch selector dial, you've got options from basic straight stitching to zigzag and decorative sewing.
Experiment without limits thanks to personalized stitch length and width controls.
Automatic Buttonhole
The one-step automatic buttonhole lets you fashion perfectly even, every time buttonholes in just seconds flat. Forget about the fuss of four-step buttonholes on basic machines. This sassy singer's got attitude with its automatic buttonhole foot that flawlessly feeds material under the foot while the feed dogs do their thing.
Voila – buttonholes with pizzazz, even on cuffs and sleeves thanks to the free arm.
Top Drop-in Bobbin
You'll love how quick 'n easy it is to load the bobbin on this baby. Just plop your pre-wound bobbin right into the machine head, then pull your top thread through the feed foot. With the drop-in bobbin, you don't have to fiddle and fuss threading bobbins like some old sewing machines.
Changing your bobbin and twin needle is a snap, letting you move on to more exciting projects in a flash.
Singer Talent 3323s Accessories

Grab your sewing shears and get ready to take on your next project, crafter. This handy sewing companion comes armed with an arsenal of user-friendly features to guide even novices through the sewing process with ease.
An automatic needle threader effortlessly pulls your thread through the eye so you can swiftly get stitching. A storage compartment tucked inside the free arm keeps all your notions and accessories organized yet easily accessible.
And speaking of that free arm, it allows you to deftly sew sleeves, cuffs, and other tubular pieces for professional-looking results every time. With these accessories at the ready, you'll be churning out creations in no time.
Automatic Needle Threader
An automatic needle threader simplifies sewing by gliding effortless as a dove through the eye of your needle.
Swift set-up
Eye-saving sight
Fumble-free function
This handy helper takes the tedium out of threading, letting you leap straight into your latest creation! Just lower the presser foot lifter, pop up the built-in needle threader, and watch it elegantly slip the thread home in seconds.
Sew simple with no strain or frustration. You don't want to style, you want to struggle – let this high presser foot lifter lift the needle threading labor from your shoulders. Effortless, beatific threading means more minutes immersed in your visions and less squinting and swearing.
Storage Compartment
You've got a built-in spot to stash your threads 'n spool.
| | |
| --- | --- |
| Bobbins | Needles |
| Thread | Thimbles |
| Scissors | Pins |
| Measuring Tape | Seam Ripper |
Sew sisters! This handy hideaway keeps your sewing essentials organized and within reach, so you can grab what you need in a flash. No more rummaging around for bobbins or hunting high and low for scissors. Your sewing survival kit is safely stored and ready to rock 'n roll.
Everything has its place in this crafty cubby – thread, needles, thimbles, pins – you name it. So say goodbye to messy workspaces and lost supplies. This storage compartment transforms chaos into order with room for all your staples.
Free Arm for Sleeves
Sew around those sleeves with ease, girl, thanks to this time machine's free arm!
Hem pants and sleeves in a flash
Circle round and round for tubular projects
Bypass tricky sleeve cuffs and hems
Access hard-to-reach nooks and crannies
Sew basic projects without bunching fabric
Rock your DIY style with the freedom to sew closed shapes. This handy helper lets you slip sleeves and pants right on so seams glide smoothly. No more wrestling with fabric or awkward maneuvering. The removable extension creates an open cylinder for stitching tubular items.
Hemlines have met their seamless match! Sew creative and sew happy with an accessory arm that conquers fiddly fabric.
Singer Talent 3323s Manual and Support

You're going to love diving into this manual, sewing maven! An illustrated guide walks you through everything from threading your machine to executing specialty stitches. Large diagrams demonstrate how to wind the bobbin, change feet, and more. Once you get rolling, refer back to handy stitch charts identifying settings for each built-in seam.
Best of all, a 25 year warranty on the machine head provides peace of mind that your new sidekick is in it for the long haul.
Detailed Instruction Manual
The Singer Talent 3323's owner's manual has you covered with charts and illustrations to guide you through every stitch. Whether you're selecting stitches, downloading instructional sheets, or learning various sewing techniques, this manual walks you through specific sewing techniques.
Stitch Type
Stitch Name
Stitch Length (mm)
Stitch Width (mm)
Basic
Straight
0-4.5
3.5, 5
Decorative
Scallop
0-4
3.5-7
Stretch
Lightning
0-4
3.5
Buttonhole
Round End
5
With detailed diagrams and step-by-step instructions, this manual ensures sewing success for beginners and experts alike.
Charts and Illustrations
You'll love the clear sewing charts that walk you through each stitch so you can master your machine in no time. The detailed diagrams make stitch selection a cinch with 23 built-in stitches to choose from.
Adjustable stitch width and length let you get creative. Multiple presser feet and a handy stitch reference chart help you conquer every project.
Warranty Information
You'll be thrilled to know this machine is covered by a 25 year limited warranty on the head, so you can sew carefree for years to come. The extensive warranty shows they stand behind their product. With a detailed manual and warranty coverage, you can tackle any project without worry.
Stitch knowing repairs are covered if issues arise, so you can focus on creativity not electrical components.
Singer Talent 3323s Reviews

Hey there sewing friend! Get ready to hear the high notes and low notes on the Singer Talent 3323s. Users sing the praises of this mechanical machine for its easy threading and bobbin winding. They applaud the sturdy metal interior frame and lightweight portability. However, some critics point out the limited built-in stitches and accessories.
Ease of Use Praised
You're thrilled to find this Singer so user-friendly right out of the box.
Easy threading and winding mechanisms
Automatic features like the needle threader
Detailed manual with illustrations
The beginner-friendly design makes learning a breeze. Thanks to intuitive operation and handy tools like the automatic needle threader, you'll be stitching in no time.
Sturdy Build Quality
The machine's sturdy build gives you confidence in its durability.
| Feature | Description |
| --- | --- |
| Heavy duty metal frame | Provides stability for skip-free sewing |
| Inside made of metal | Long-lasting construction |
| Weighs 13 pounds | Heft helps reduce vibration |
| Tested on heavyweight fabrics | Ability to handle thick, dense materials |
You'll make quick work of projects, flying through leaps and loops. Reliable, this mechanical marvel gets the rhythm just right.
Limited Features
It's got features as basic as a butter knife, but it slices fabric just fine. This no-frills workhorse won't overload you with options – it just sews straight and true.
Only 23 built-in stitches
No feed dogs to drop for free-motion sewing
Single font, no decorative options
Sew easy, no need to stress! What it lacks in flair, it makes up in care. With a focus on function, the Talent 3323s fulfills your fundamentals!
Frequently Asked Questions (FAQs)
What fabrics does the Singer Talent 3323s work best on?
You'll breeze through cotton and polyester fabrics on this beginner-friendly sewing machine. Its lightweight build allows you to tackle slippery silks or even stretchy knits – just adjust the tension and stitch length as needed.
Wherever your creative inspiration leads, the Singer Talent 3323s can keep up. This versatile machine handles all kinds of fabrics from silky to stretchy with ease once you get the settings right. Both novice and experienced sewers will appreciate how the Talent 3323s adapts to any fabric you feed it.
How noisy is the Singer Talent 3323s when running?
Here, friends! This budget sewing machine hums along nicely without too much noise. You'll hear some mechanical sounds as it works, but it should not distract you from your sewing projects. The motor purrs steadily and the needle zips up and down at a comfortable volume.
Can the Singer Talent 3323s handle thick fabrics like denim?
You bet it can! This sturdy little machine sews denim like a charm. Just adjust the presser foot pressure and sew slowly. The metal interior keeps things running smoothly even on thick fabrics. It'll tackle multiple layers without hesitation – perfect for hemming jeans or sewing denim jackets.
How long does the Singer Talent 3323s take to wind a bobbin?
You'll breeze through bobbin winding on the 3323s! Just a minute or two and you're ready to sew.
Does the Singer Talent 3323s come with a dust cover or machine case?
Unfortunately, no, the Singer Talent 3323s does not include a dust cover or machine case. You will need to purchase one separately if you want to protect your machine when not in use.
Conclusion
The Singer Talent 3323s has reached the end of the road! This portable sewing whiz is music to a beginner's ears with its user-friendly features. Like a chart-topping chorus, its automatic needle threader and handy storage compartments hit all the right notes for stress-free sewing.
Its 23 built-in stitches and adjustable options give you creative freedom, while the sturdy construction means your Singer Talent 3323s will go the distance.
References
bestsewingmachinereviewspot.com