This site is supported by our readers. We may earn a commission, at no cost to you, if you purchase through links.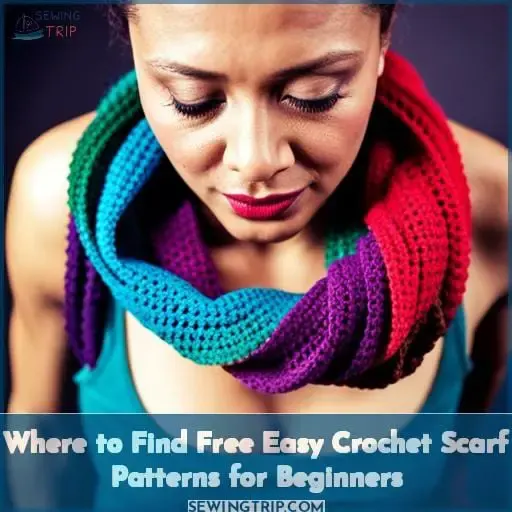 Heading out to craft a scarf? Whether you're an experienced crocheter or just starting out, this post will help you find the perfect free and easy crochet scarf pattern. From simple stitches to chunky yarns, get ready to explore a wide range of options for creating your own unique crochet scarves.
Let's take some time now and discover where we can find these amazing patterns—free of charge! Not only that, but learn which materials are best suited for each type of project so that your finished product is nothing short of stunning.
With our guide in hand, it won't be long until you have all the tools needed to make beautiful crocheted pieces with ease!
Key Takeaways
Perfect, free, and easy crochet scarf patterns can be found online.
Many websites offer free crochet patterns, including PDF patterns for easy printing on the go.
Tutorial videos are available for quick project completion and to learn new techniques.
Crochet scarves can be customized with different patterns and embellishments.
Best Yarn for a Crochet Scarf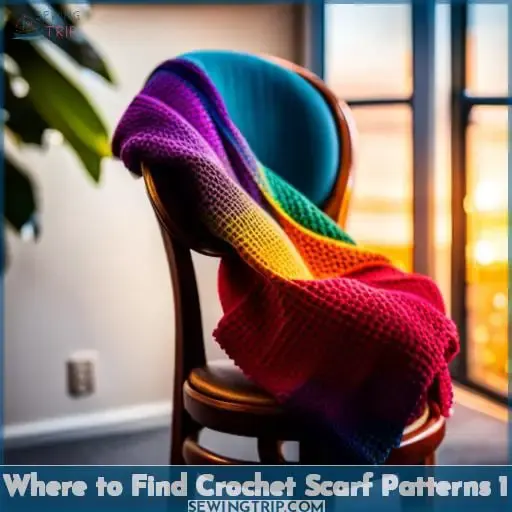 When it comes to crocheting scarves, the yarn weight you choose can make a big difference in how your project turns out. From lightweight for spring and summer to bulky for cold winters, there's an option perfect for any weather! Yarn weight affects the size of the crochet hook used as well as the scarf size.
Lightweight yarn is great when making thinner and shorter scarves, while medium or worsted-weight is good all year round and most popularly used. Bulky or super bulky yarns are best suited during colder times of the year due to their warmth factor.
The color selection also plays a part in finding patterns that fit with each individual's style preference.
In addition, some PDF patterns offer easy printing on-the-go convenience, so you never miss out on your next favorite accessory. Tutorial videos are included too, helping complete projects quickly without hassle—all 100% free from EasyCrochet.
com! With detailed descriptions, material lists, step-by-step photos, plus 80 different designs available, creating beautiful handmade gifts has never been easier than now.
Crochet Stitches in Scarves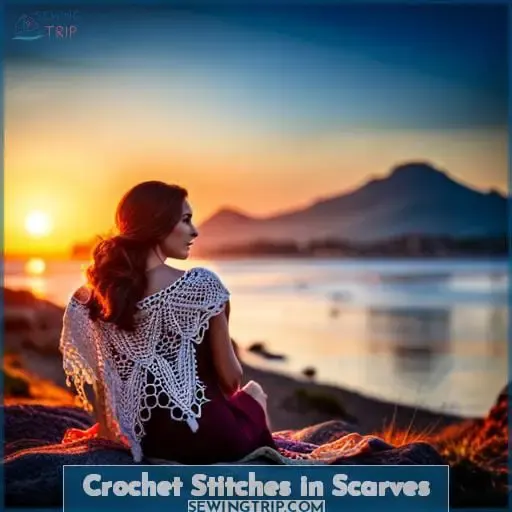 Explore the diverse range of crochet stitches designed to make stunning, unique scarves that'll keep you cozy and stylish all year round! Learn how to create basic chains, granny stitches, intricate color combos, and more.
Whether you're just starting out or an experienced crocheter looking for new patterns, these techniques will help you master your craft.
From cluster stitches to threadwork designs – there are so many ways to customize your scarf pattern. To get started on a project, gather supplies like yarn in various colors or textures and the correct size hook depending on the weight of yarn chosen, as well as any additional accessories such as buttons or beads if desired.
Once everything is ready, it's time for some fun experimenting with different stitch combinations until one is found that fits perfectly with an individual's style preference!
Crochet scarves can be made from lightweight yarns, great during springtime all the way up through bulky winter wear, keeping warm when temperatures drop outside! With so much variety available now between types of materials used plus endless color possibilities – anyone has access to creating their own perfect accessory no matter what season it may be!
From classic solids that never go out of style, to adding texture through griddle stitching at each end, incorporating stripes into a design using multiple hues, and embellishing flowers along edges – every finished piece will become something special once complete, no matter its shape or size, simply being handmade by someone who cares enough about their craftsmanship result in feeling proud wearing around town proudly anywhere, anytime!
So why not give yourself a chance today? Start exploring exciting options right away, discovering beautiful results sure to bring smiles again and again!
Sizing a Crochet Scarf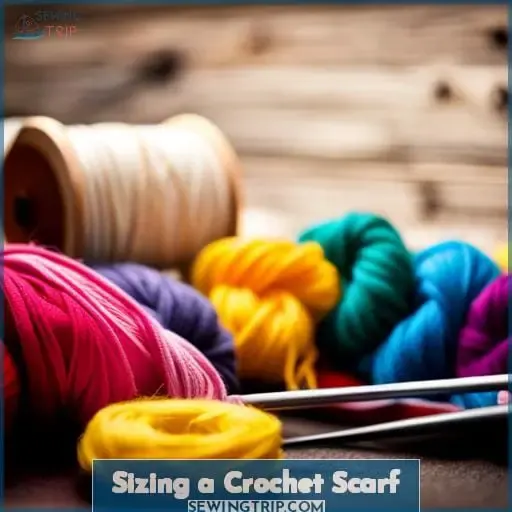 Now that you've explored the diverse range of crochet stitches available for your scarf project, it's time to decide on the perfect size.
First, determine what kind of look you're going for: a snug neck warmer or something long enough to wrap around multiple times? You can also play with different proportions (thickness versus length) depending on how much coverage is desired in colder months.
Yarn weight will also affect the hook size used when crocheting – lightweight skeins work great during springtime while bulky ones help keep warm during winter days. To figure out which one best suits your needs, consider the thickness required as well as personal style preference.
If you're opting for a more traditional look, then heavier weights may be ideal. But if you want something cheerful and bright, go ahead with lighter varieties! Choose colors wisely too, since combining hues together can create an even more unique piece like striped scarves or flower-embellished accessories.
Once everything has been decided upon, it's time to start measuring out chain lengths needed based on the width chosen (typically between 6-12 inches).
Other Free Scarf Patterns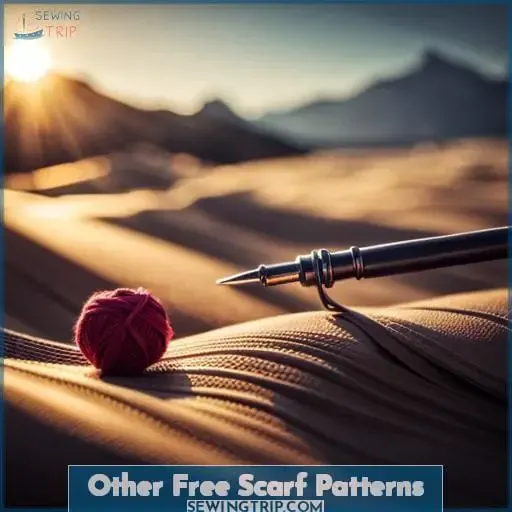 Discover the delightful array of free scarf patterns available to you, from chevron and griddle stitch creations to whimsical flower-embellished designs.
Learn all the crochet basics needed for a successful project – from understanding yarn weight differences (lightweight, medium/worsted, bulky) and selecting an appropriate hook size for it; or discovering how many chains are necessary depending on desired widths.
And don't forget about infinity loops that can be created in one piece!
There's also something special here for everyone: vintage patterns with classic looks perfect for men's styles; flower scarves adding cheerful hues into any ensemble; textured creations featuring puffs and cables lending dimensionality to clothing pieces – there really is no end to what can be done.
The possibilities go beyond these as well – try out waffle stitches if looking for more texture within your masterpiece or opt in favor of striped varieties providing plenty of color combinations!
Additionally, some PDF formats come complete with tutorial videos making it even easier than ever before to pick up projects like this at home without having much prior experience.
With so many options available online thanks to sites such as EasyCrochet which offer 80+ 100% free crochet pattern downloads – finding inspiration has never been simpler nor more enjoyable!
So grab your hooks today and get ready to make something unique that will stand apart among others found elsewhere on store shelves – plus have fun doing it too along the way!.
Print the Scarf Patterns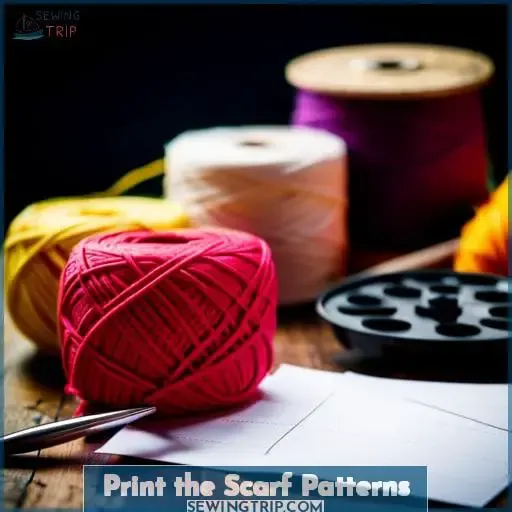 Print your favorite scarf patterns today and start stitching up something special!
With so many options available online, it's easier than ever to find the perfect pattern for you. Whether you're looking for a chevron design or an infinity loop, there are plenty of free crochet patterns out there that can help bring your vision to life.
Gather all the necessary tools like yarn in various weights (lightweight for spring/summer; medium/worsted weight year-round; bulky and super bulky ideal for cold weather), crochet hooks from B-2.25mm to J-6.00mm (for different projects), plus a yarn needle and some basic stitch knowledge.
With widths ranging from 6 inches onwards, usually depending on age group preferences, use chains according to desired size while remembering other accessories such as wraps or shawls can be added too should time allow it later down the road if preferred over simpler designs at first glance.
Texture fans will love puffs along with stripes within their creations while heavier fabrics provide warmth during colder months outdoors.
Above all else, though, don't forget these 80+ 100% free downloads found exclusively through EasyCrochet, which make this entire process even more accessible by providing helpful step-by-step photos alongside each project description, ensuring success every single time! So what better time than now? Get creative and have fun doing so, print out those beloved patterns right away, and see exactly why homemade goods always stand apart among others elsewhere – soon enough, expect compliments galore when wearing one around town afterwards too!.
Design Notes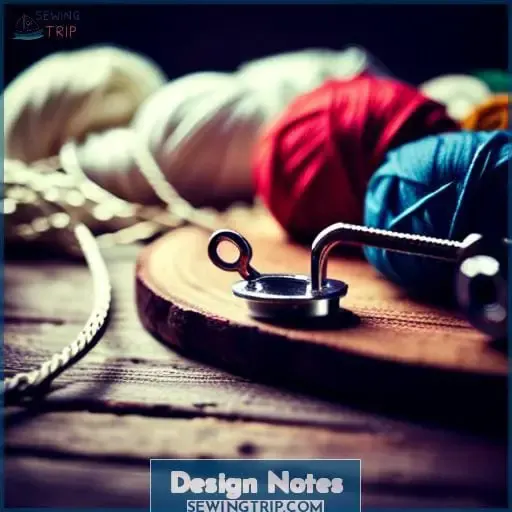 Take your crochet skills to the next level with unique designs featuring wraps, shawls, and flower embellishments – all sure to bring a touch of elegance wherever you go! Choosing the right pattern is key for success.
Luckily, there are plenty of free crochet scarf patterns available online. With clever tension control and yarn substitution options, as well as stitch variations that range from easy to advanced, it's just a matter of selecting one that fits your style best.
Not only will this provide hours of fun, but it will also help develop design elements that can be tailored into other projects later down the line! When it comes time for construction, remember that proper sizing depends on age group preferences, with widths typically between 6 inches or more wide depending on the desired thickness.
As far as accessories like wraps/shawls plus texture puff & stripes are concerned, always keep in mind that heavier fabrics could make them too heavy when outdoors during colder months.
Lastly, don't forget about these 80+ 100% free downloads found exclusively through EasyCrochet. They provide helpful step-by-step photos alongside each project description, including tutorial videos if needed too.
This makes crocheting easier than ever before, no matter what skill level you're at now.
Scarf Pattern Variations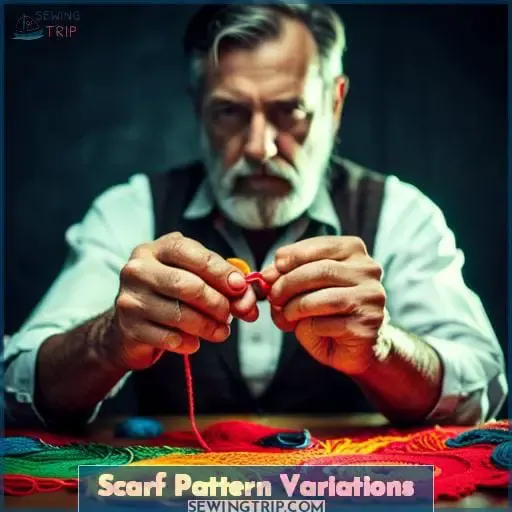 Explore the endless possibilities of crocheting with different scarf pattern variations – from chevron and griddle stitch to waffle stitch and even accessories like wraps, shawls, and flower embellishments! Infuse your wardrobe with these creative designs that range in difficulty from easy to advanced.
Whether you're a beginner or an experienced crocheter, there are numerous styles available for all skill levels. Infinity loops make great scarves for colder weather, while flower embellishments bring out color layers without being overly bulky – perfect for springtime fashion.
Don't forget about men's scarves that offer unique shapes or bulky yarns if you need extra insulation during winter months too.
So why wait? Get creative today discovering various patterns tailored just right towards achieving a masterpiece soon after once stitched up according to plans set forth here first & foremost leading towards success guaranteed every time thereafter resulting in satisfaction obtained throughout the entire process altogether until completion finally achieved beyond expectations exceeded time after time again thus far indeed!
Best Yarn for Chunky Scarves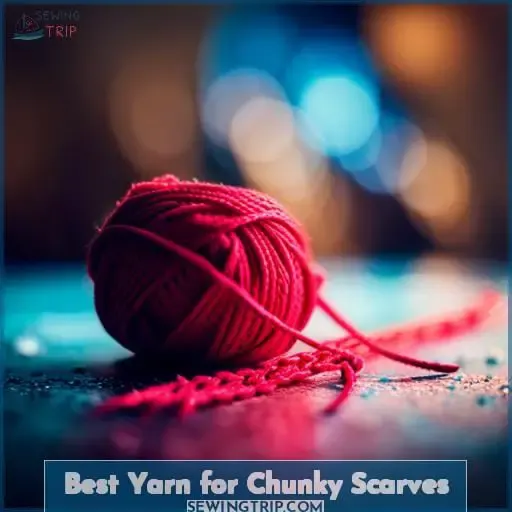 Choose the best yarn for chunky scarves and create a stunning look with ease! Whether you're making an infinity scarf or something extra cozy to keep warm this winter, the right type of yarn can make all the difference.
Before starting your project, it's important to consider chain gauge and hook size when selecting your preferred yarn weight.
Lightweight Yarn: Perfect for spring & summer scarves because they are thin & airy.
Worsted/Medium Weight Yarn: The most common option – works well in all weathers and is perfect for beginners as it's easy on hands while crocheting due to the flexibility of stitches used.
Bulky And Super Bulky Yarns: An ideal choice if you want extra warmth during cold seasons; also a great way to speed up projects as fewer chains per row are required compared to other types of wool.
No matter what kind of crochet pattern you choose, there will be some preplanning that needs to be done prior to starting any chunky scarf project.
With a variety of colors available from different brands, plus free patterns online like chevron, griddle stitch, waffle stitch, wraps, shawls, flower embellishments, textured striped bulky men's PDF, and purchase options from EasyCrochet with 100% guaranteed satisfaction each time, you can achieve and experiment further.
Start crafting your masterpiece in no time flat and you will surely belong amongst the crowd looking good and doing so too.
How Long Should a Crochet Scarf Be?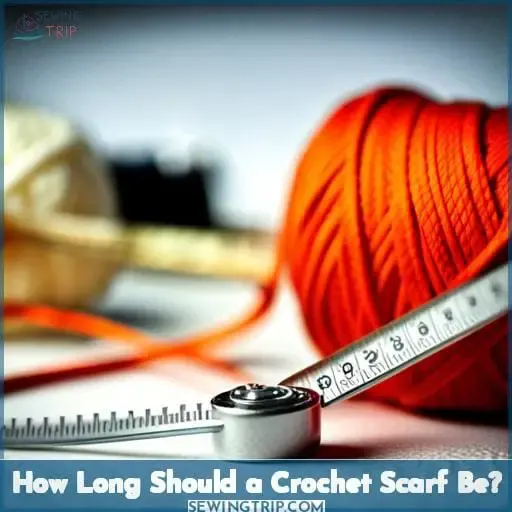 You can easily determine the length of your crochet scarf by considering the age group it's intended for. For example, adult scarves typically measure 60 to 70 inches long, while children's scarves are usually between 30 and 40 inches long.
To make sure you get exactly what you want out of your project, there are a few things to consider when deciding on yarn selection and hook size.
Make a gauge swatch before starting. This helps ensure that all stitches match up correctly and that the finished product looks just as expected!
If making an infinity loop scarf or cowls, adjust chain count accordingly so loops don't become too tight or too loose when pulled over head and shoulders.
Bulky yarns, such as super bulky wool, provide extra warmth during winter months but require larger hooks than lighter weight options like worsted/medium weight yarns, which work well for all weather conditions.
When selecting appropriate materials for any type of crocheting project, it's important to keep these tips in mind.
Whether creating something cozy and snuggly or looking forward to brightening up springtime days with lightweight designs, having knowledge about different types of materials available makes crafting easier and more enjoyable!
With careful planning ahead plus experimentation along the way, one has access to ultimate freedom with their creative projects, no matter how small they may be.
More Crochet Patterns and Tutorials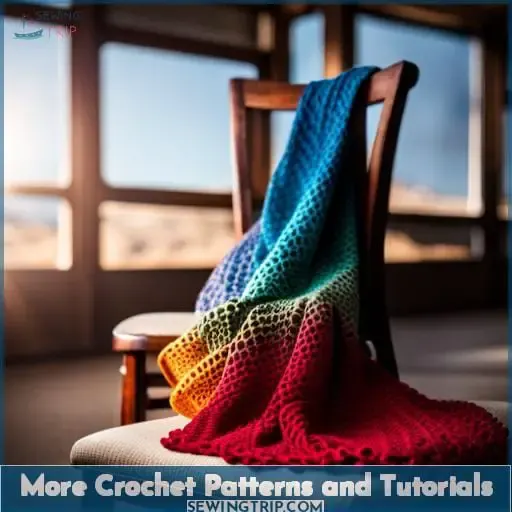 Discover a variety of colorful scarves and cowls, from chevron patterns to bulky winter accessories, with the help of easy-to-follow tutorial videos.
From basic stitches like single crochet and double crochet to more advanced techniques such as griddle stitch and waffle stitch – plus embellishment ideas that bring any project alive – these pattern collections offer endless possibilities.
And don't forget about men's scarves too; they can be stylish yet practical at the same time!
When choosing materials for your scarf or cowl projects, it is important to consider yarn weight along with hook size selection. Lightweight yarns are perfect for springtime creations, while worsted/medium weight options create versatile pieces that will work year-round.
Bulky or super bulky woolen threads provide extra warmth when needed during cold winter days but require larger hooks than their lighter counterparts do.
With plenty of free patterns available online, plus PDF versions offered through various platforms where purchasing is made convenient, finding the right crocheted accessory has never been easier. Not forgetting tutorials specifically designed around beginner basics either (like chain counting).
Frequently Asked Questions (FAQs)
What type of yarn should I use for a crochet scarf?
Choose yarn for your crochet scarf based on the season and desired look. For a light, breezy feel in spring or summer, go with lace-weight; medium-weight is perfect for all weathers and will give you a classic style.
Bulky yarn can keep you warm during cold winter days, while super bulky creates an extra cozy effect.
How do I determine the size of a crochet scarf?
To determine the size of a crochet scarf, consider yarn weight and how many chains you need for the desired width. Choose lightweight yarns for spring and summer, or heavier varieties such as worsted medium weight for colder weather.
Beginner stitches like single/half double/double crochet help create a basic scarf with a 6-12 inch width using chain stitches based on your yarn type.
Can I make a crochet scarf with bulky or super bulky yarn?
Yes, you can make a crochet scarf with bulky or super bulky yarn. You can work up cozy creations in no time with this fantastic fiber for the frigid winter months.
How do I make an infinity scarf?
Create an infinity scarf with a crochet hook and your favorite yarn! Cast on the desired length, then join in the round to make a continuous loop. Use your imagination and get creative – you can even mix up stitches for texture! With some practice, you'll be ready to wrap yourself up in this cozy masterpiece – and don't forget, every stitch is just one step closer to becoming an expert crocheter.
How do I add embellishments to my crochet scarf?
Embellish your crochet scarf by adding symbols of personal significance. Create a unique design that reflects who you are with appliqués, buttons, beads, and other decorative materials.
Conclusion
Your scarf-making journey is about to begin! With the knowledge gained in this article, you can create beautiful scarves that'll keep you warm and stylish during any season.
Be sure to select the best yarn for your scarf and keep in mind the sizing and variations available. Once you've got the basics down, the possibilities are endless! Enjoy the creative process and the feeling of accomplishment once your scarf is complete.
Make sure to share your work with family and friends – they'll be amazed at your creative genius!