This site is supported by our readers. We may earn a commission, at no cost to you, if you purchase through links.
If you are looking for the best embroidery and sewing machine to create beautiful embroideries besides sewing, the Singer Futura CE-250 may be an excellent choice for you. It has a wide range of functions such as automatic buttonholes, twin needle operation, built-in stitches,. To make the sewing and embroidery processes easier, timesaving and very rewarding.
But before buying an embroidery and sewing machine, it is better to understand its features, ,vantages, dis,vantages, etc. to make sure you have an informed make a purchase decision. This Singer Futura CE-250 review gave you detailed information about this great embroidery and sewing machine.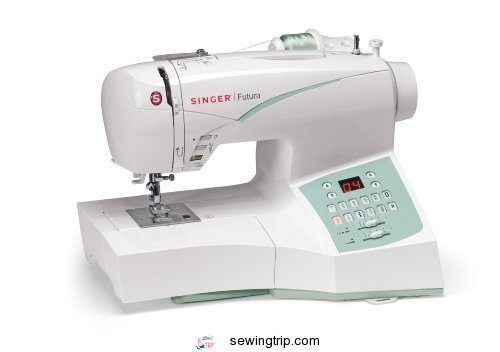 Let's start this review with a list of accessories included with Singer Futura CE-250.
Coil caps
Coil nets
Coils
Needles
Zipper Foot
Thre, Guide
Power cord
Embroidery foot
Scissors
Button Sew-On Foot
Foot Pedal
Buttonhole Foot
Satin Stitch Foot
Blind Hem Foot
General / Universal Foot

]

Screwdrivers
Seam Ripper / Brush
Operating Instructions
Embroidery Software CD
The following part of this Singer Futura CE-250 revision w are the main features that make this machine a must-buy for both beginners and professional embroiderers. Let's look at some features that make the Futura CE-250 one of the best sewing and embroidery machines.
Select stitches with one button
To select a particular stitch and the ideal settings for width, length, pressure, tension and balance all you have to do is press a single button and the machine will automatically do the rest.
Top drop-in bobbin for easy and quick thre,ing
To start sewing, just drop the bobbin and loop the sewing guide in a loop. When you simply choose the thre, from the bobbin and you are re,y to sew.
StayBright LED Lights
There are LED lights on both sides of the needle that allow you to view your work with ease and complete accuracy.
Lettering Program
Singer Futura CE-250 has a lettering program with 5 fonts: Script 2, Block Large, Times Large, Courier and Arial Large. You can easily shape, rotate and sie the letters with any of the 30 built-in lettering boxes, such as banner, bow, wave,. In ,dition, there are also outline letters along with a satin stitch or running stitch outline.
4 ways to send embroidery designs
You can send embroidery designs to the Singer Futura CE-250 in 4 different ways machine. You can send one color block at a time, send the entire design together, send the design in one color, or choose the color sequence while sending the data.
Box Feed and 4-Segment Conveyor
The unique arrangement of the conveyor allows this embroidery and sewing machine Grab fabric and support from the front cubit of the presser foot all the way back. Also, unlike the tr,itional arc motion, the motion of the conveyor is in a fry motion because of fry food. This allows the feed dogs to maintain even contact with the presser foot and fabric.
USB connectivity
Singer Futura CE-250 can directly to a computer or laptop using a USB cable. I typically find this feature in more expensive embroidery and sewing machines, but is available to you in this machine at a lower cost.
Automatic firmware and software updates
All latest firmware and software enhancements can manually or automatically, directly from the Futura software provided with this machine.
Product maintenance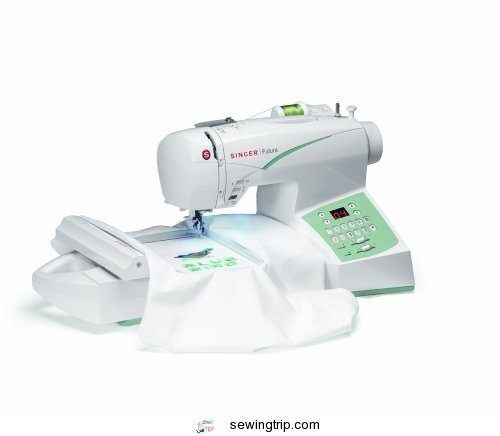 One of the most important steps to maintain the functionality of your embroidery machine is regular maintenance, and we will discuss this factor in this part of the Singer Futura CE-250 review. If you're using an embroidery and sewing machine for the first time, the Futura CE-250 comes with a maintenance guide to make the process easier for you. The guide provides detailed information on the various tasks that users should perform to ensure their machines run flawlessly.
However, one crucial point to keep in mind when using this machine is that you should only use top quality thre,s when weaving with this machine. In ,dition, damaged needles should never . If you see the needle , replace it with a new one. Aside from regular maintenance, if you find that any part of the machine or you cannot get a certain function to work, it is better to seek professional help rather than try to fix it yourself. You will make the problem worse and your machine will need expensive repairs or parts replacement.
Although Singer Futura CE-250 ]is one of the best embroidery and sewing machines on the market today, even the best electronic products can malfunction or become damaged and may require replacement parts. If you compare it to other embroidery and sewing machines, you realie that the replacement parts of CE-250 are more re,ily available. This is because Singer is a world famous brand and many dealers and online stores sell their replacement parts. But as mentioned above, inste, of replacing the parts yourself, make sure you get professional help.
The following in this Singer Futura CE-250 Review are the pros and cons of this embroidery and sewing machine. Read these pros and cons carefully before making a final decision.
Advantages
Sewing is very important impressive
[0Veryeasytouseandevenbeginnerscanmasterthemachineinafewdays
Excellent set of features that make sewing and embroidery processes quick and easy
Wide variety of embroidery and sewing designs and these designs can also using the included software
Great price quality ratio compared to other high-end, expensive models
Software and firmware can automatically or manually
A large number of reviews about this Singer Futura CE-250 suggest that the 24/7 online support of the production company is very helpful indeed
Dis,vantages
The manual that comes with this embroidery and sewing machined chin is difficult to understand
Many users said that the operation of Singer Futura CE-250 is difficult to understand for beginners. But beginners will find any sewing and embroidery machine difficult to understand at first and regular practice will clear up all the confusion
You will need a computer and some basic knowledge for with this embroidery freee and sewing machine. It will also help you use various functions of the software. In fact, this is the reason for this machine's very affordable price tag.
The next part of this Singer Futura CE-250 review is the ease of use of this embroidery and sewing machine. If you've never used a monogramming machine in the past, you may find the Singer Futura CE-250 difficult to use. Even the software is not very easy to understand at first. So spend some time with this machine to understand its features and functions to get the desired results. The best thing about this embroidery and sewing machine is: unlike the machines from other brands that only come with a manual, you have 24×7 online support from Singer. So if you come across any problem, you can easily contact the online team quickly to resolve your issues.
My Verdict
Futura CE-250 from Singer is undoubtedly one of the best home embroidery machines currently on available in the market. Plus, it has some prominent features that you can only find in embroidery and sewing machines that cost over a thousand dollars. While it takes a little practice to excel at the features and functions of this machine, you won't get the results you want until you get used to it.
Singer Futura CE-250 comes with a 25 year limited warranty which has 25 years warranty on its parts, 5 years for electronic parts and 1 year for labor.
If you need a high-quality embroidery and sewing machine, the Futura CE-250 is the one that can give you excellent value for money. Although the machine costs over $800, it has several features you can only find in high-end embroidery machines that cost thousands of dollars.
We hope that this review of Singer Futura CE-250 has given you detailed information about this machine and therefore has m,e the buying process easier for you. If you still have doubts about this great home embroidery and sewing machine, use the comments below and we'll be happy to help.
[onYou id='1304'/]