This site is supported by our readers. We may earn a commission, at no cost to you, if you purchase through links.
It can sometimes be an impossible task to find a sewing machine that meets your needs. Many models are available, each with features you may not need.
The Juki HXL – LB5100 Automated Sewing Machine can suit you perfectly. It has 100 built-in stitches, an automatic needle threader so you never strain your eyes, and is quite portable at just 12.3 lbs.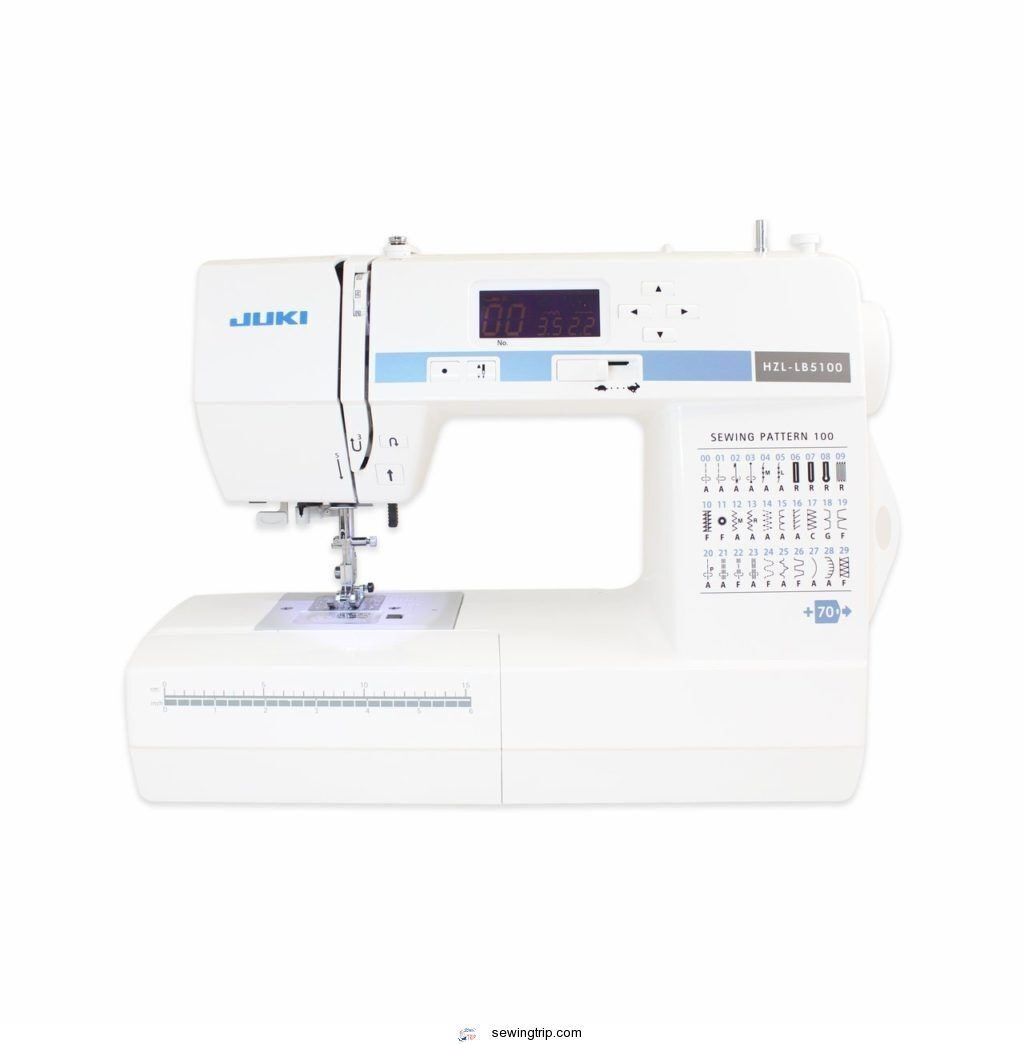 Unfortunately, not everyone has that pleasant experience with this model. Some users found the wires tangled repeatedly, while others felt it was too loud. With the Juki HXL-LB5100 computerized sewing machine.
Juki HZL-LB5100 computerized sewing machine: the details
The Look
This Juki computerized sewing machine is almost all white, with blue accents on the front of the machine.
It includes a sewing chart on the front, showing some of the 100 built-in stitches. You can choose from. I make most of the exterior of plastic, although the needle plate of stainless steel. The only sign that it is a modern device.
Specs
Weight: 12.3 lbs.
Dimensions: 16 x 11.75 x 7 inches.
Stitches: 100 built-in stitches.
Automated/Mechanical: Automated.
Spool: Drop-in coil.
Warranty: Five years for mechanical problems, two years for electrical and 90 days for workmanship or materials problems.
Accessories
Standard Zigzag Foot.
Applique/Satin Stitch Foot.
Blind Presser Foot (Blind Hem).
Zipper Foot.
Buttonhole Presser Foot.
Overcasting Presser Foot (Other Side).]Spool caps (large and small).
Spool stand.
Multi-Function Screwdriver Tool.
Extra spool pin.
Spool pin felt.
Pack of needles (3).
Spools (4).
Power Cord.
Foot pedal.
Hard case.
Instructional video DVD.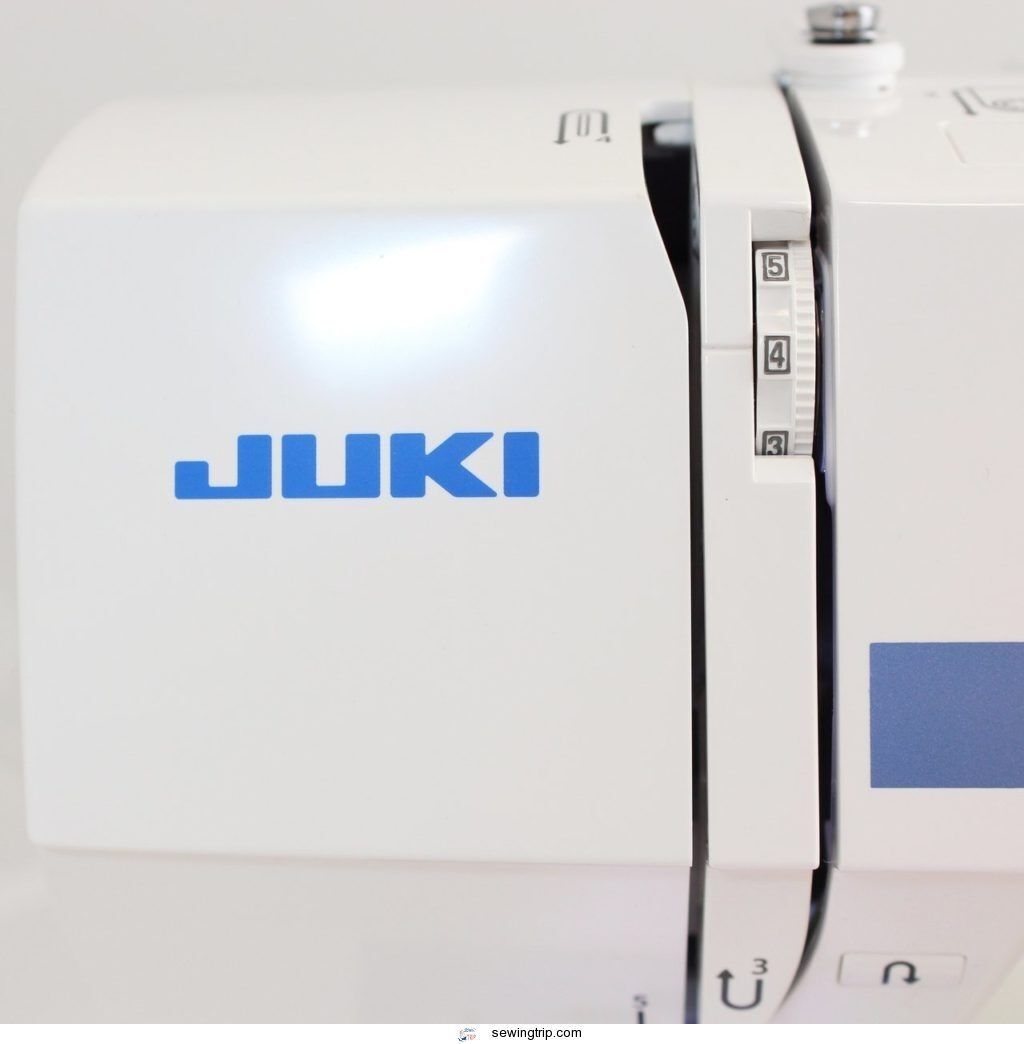 Juki: The Company
Juki, founded in 1938 in Tokyo, Japan Juki, has been a leading authority on sewing machines for decades.
They have models for almost any sewing adventure you take on, professional or hobbyist, but that they have never done. strayed far from their roots.
That's why they want to develop a sewing machine for "every generation of sewers."
Warranty
The warranty on all Juki sewing machines is five years for mechanical problems, two years for electrical failures and 90 days for adjustments made because of material defects. or manufacturing defects.
The warranty excludes needles, hooks, blades, light bulbs, lamps and belts. This warranty is refundable only by the original purchaser and is void if the machine has or abused.
Features
100 built-in stitches
With 100 built-in stitches in this Juki Computerized Sewing Machine, you have an ideal choice for every occasion, whether you're hemming a skirt or making a quilt.
The stitches include m8,IeXYXs, zigzags, buttonholes, stretch stitches, an overlook stitch, a knit stitch and more.
Juki made sure you got exactly what you need for no reason to give McGuire a solution.
Lighting
This sewing machine also includes built-in lighting, so if you're working in a dark corner or rather sew at night, you can easily view your project and spot any errors without using an extra lamp.
The LED light is located directly above the area of the needle plate and delivers precise focus exactly where you need it; needles are sharp, so don't risk getting your fingers too close because of poor lighting!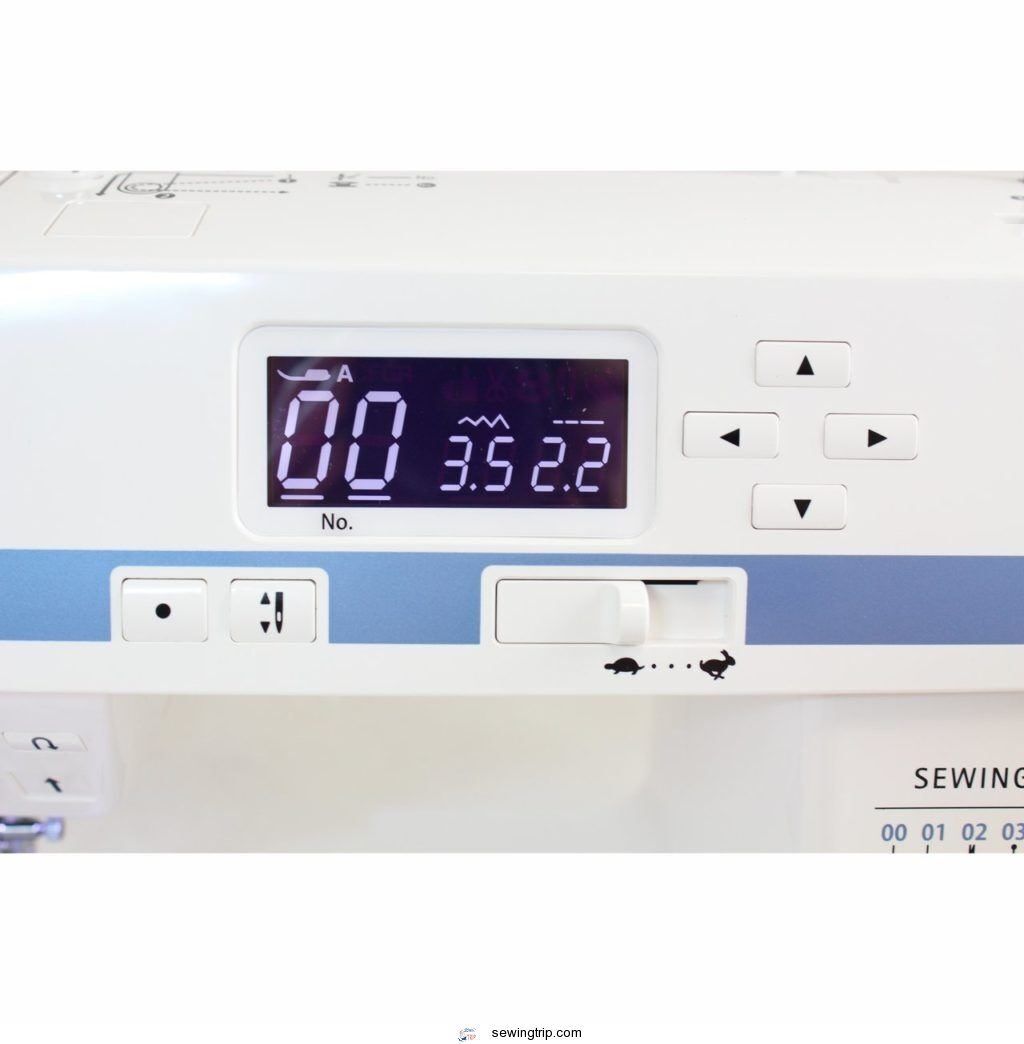 LCD screen
The LCD screen shows you which stitch has , as well as the width and length of the stitch.
Since it is a computerized machine, all you have to do is press press a few buttons to master the whole process and start your project in moments. There is no doubt with this Juki sewing machine!
Automatic needle threader
For those who know the trials of threading an impossibly small needle with an equally small thread, the Juki computerized sewing machine presents the automatic needle threader.
The machine completes this necessary process with very little input yours, so you can get to the important part: sewing!
7 Point Feed Dog System
The 7-point conveyor system allows this machine to handle a variety of fabrics from light to heavy.
This along with the drop feed system allows users to plod along with quilting and other projects that cannot on other sewing machines.
Juki HZL-LB5100 Automated Sewing Machine Review
The Positives
Convenient
With 100 built-in stitches, an automatic needle threader and lighting directly on the machine, it is easy to understand why users called this device useful. Everything is at your fingertips.
The most complicated aspects , you only have to select your choices with the LCD screen and there is even enough help for those who prefer sewing at night.
This machine ensures you can complete your projects with no problems. This is great for beginners or sewers switching machines. Complicated features wo n't put you off.
Versatile
Some projects require certain stitches or patterns to be observed. Instead of fighting the details in person, you can select the right stitch on your machine and let it shoot.
With the included presser feet and other accessories, you can even more. Hemming a dress, making a tote bag or developing your own quilt are all easy ventures with this machine, so their variety.[ do not limit your projects0]
The variety this machine offers offers makes it great for sewers of all levels. Beginners don't need to invest in a new machine to tackle other projects, and more advanced users won't feel that this machine is too simplistic.
Easy to install
Both beginners and experts noticed how easy you can set up the Juki sewing machine. Once connected, all you need to do is select the desired stitch, choose the stitch length and width and then thread the bobbin.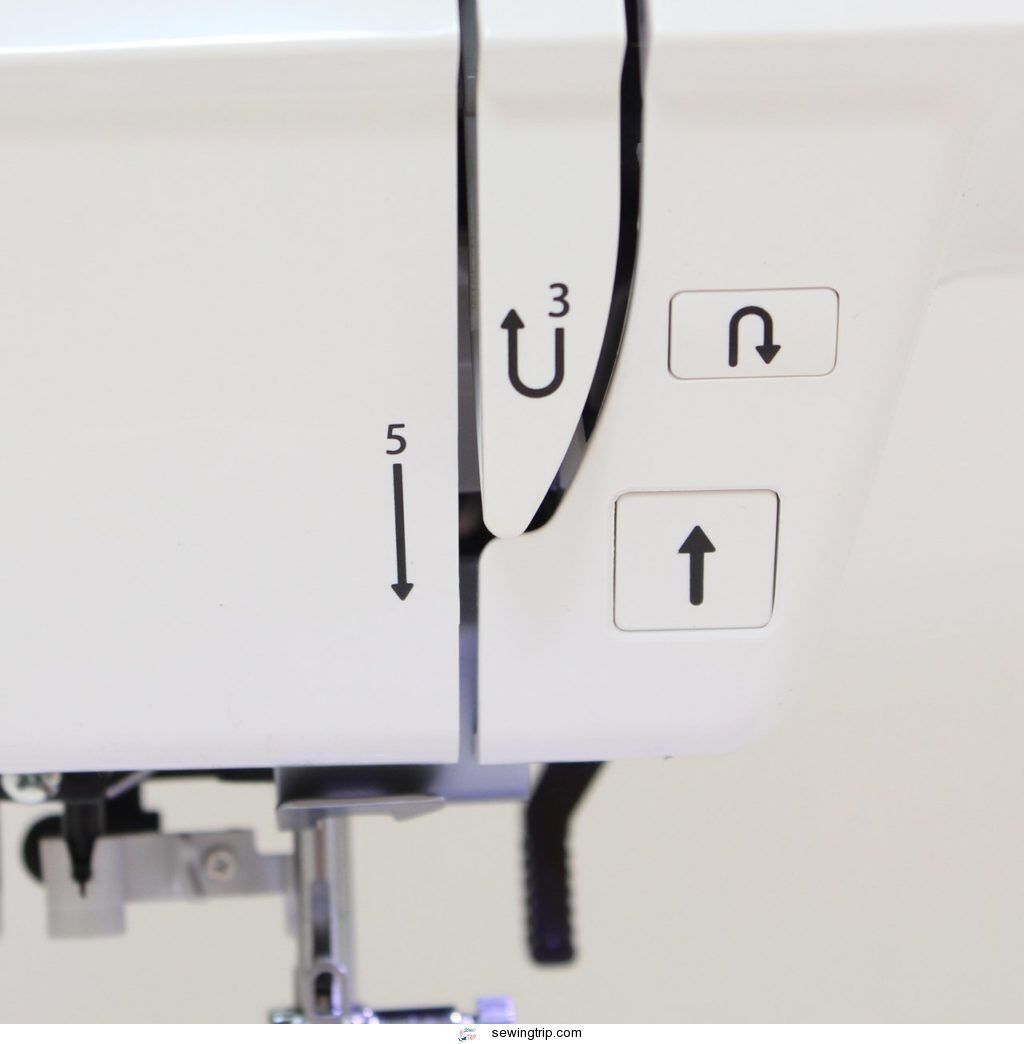 Once the bobbin threaded, you can place it in the compartment under the needle plate.
Finally, use the automatic needle threader to make sure your sewing machine is ready to start. After that, you can dive right in!
A few minutes after unpacking this Juki model, you can work on your projects. If you're just starting out, don't let the installation process put you off.
Juki also includes a detailed guide to help users get started.
Easy to use
Once the machine up correctly, it's just a matter of pressing the foot pedal to set the speed.
If you want to change the stitch type, you can refer to the card directly on the machine and then enter the correct number on the LCD.
When you run out of thread, you can refill your bobbing just as effortlessly as the first time. If you are looking for a machine with a gentle learning curve, this is an ideal option!
Good for thick fabrics
Fortunately, this sewing machine works well on hard, thick fabrics. That's not always the case with machines in this price range (under $500).
Whether you want to work with denim, thinner wool or velvet, this Juki will work effortlessly. perform any task – without breaking a needle or damaging the machine.
It even has an easy-start function, so you can quickly go through thicker fabrics. This touches more on the big cattle versatility of this machine.
Its ability to handle heavier fabrics means you're not limited by the type and number of projects you can do!
Portable
While it's not the lightest machine out there, it weighs just 12.3 lbs for sure portable. So if you want to take it with you on a trip or to a sewing class, it's easy to put it in your suitcase or a large bag.
Although it does not have a handle, in unlike some other machines, you can still lift it with no second pair of hands.. It won't be the machine that takes up all the space on your table or counter.
Because it's lightweight, you can easily put it in a store cupboard or closet until you need to use it.
Quality stitches
Not only is this machine convenient and easy to use, it also produces quality stitches. Users have pointed out that this machine gives them the perfect stitches to get the job done.
The Juki runs smoothly, so there are no bumps or mistakes along the way. Users were happy that they didn't have to put too much effort into the process themselves to get significant results.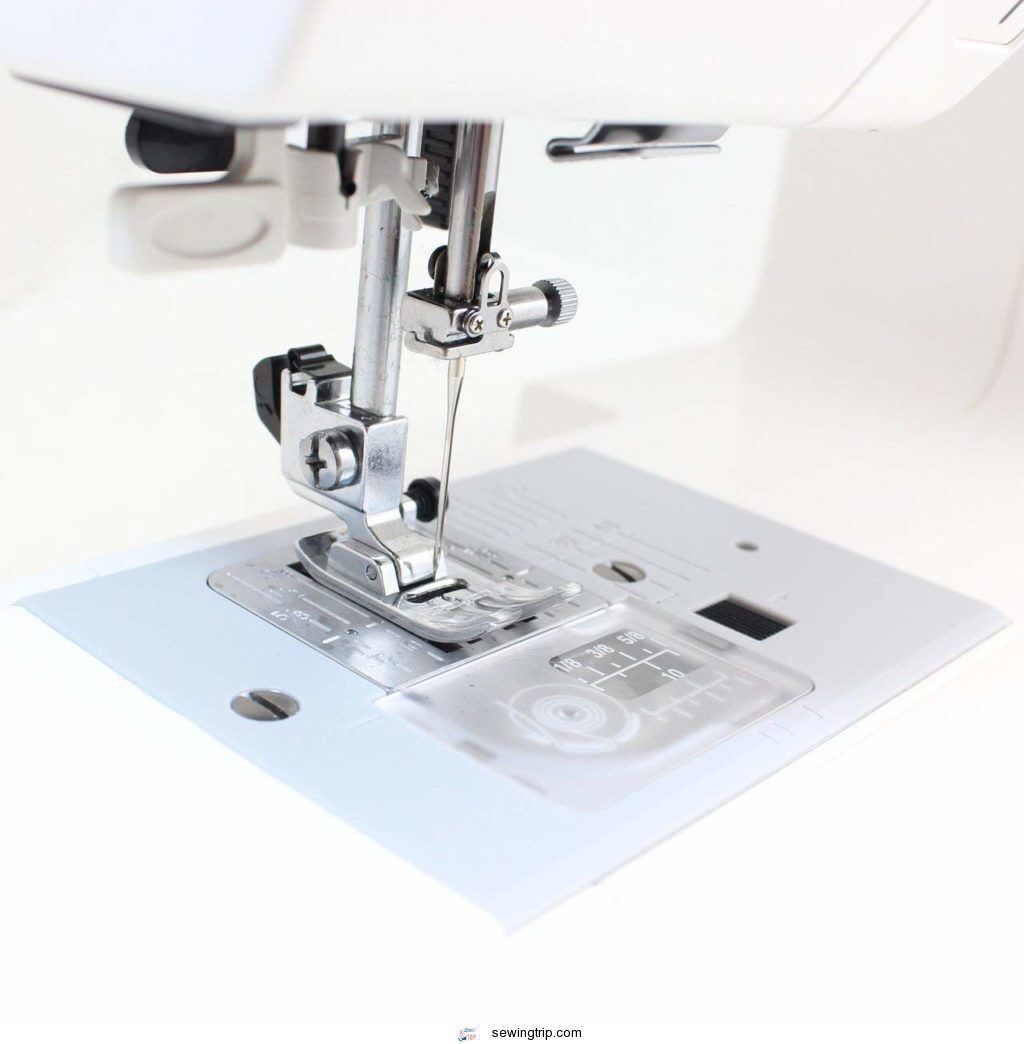 The Negatives
A bit loud
Unfortunately, this Juki is loud. Most sewing machines make noise, as a motor powerful enough for denim will not be completely silent. However, users found this machine to be louder than usual.
A loud machine can annoy for sewers with sensitive ears, or for sewers that work near others.
If you're looking for a quiet model or one that won't wake the house when you tackle a midnight project, it's smart to keep shopping.
Some Blunder Frustration
A few testers have also experienced failures while using this Juki computerized sewing machine.
There were multiple instances where the bobbin thread caught and tangled while the machine was in use, and it was frustrating to stop and repair.
This was not a common problem with all testers, but is certainly worth mentioning.
Overall verdict
After looking at all the positives and negatives, we recommend he Juki HXL-LB5100 computerized sewing machine.
With 100 built-in stitches, the portability and convenience of the light and automatic needle threader, it is difficult to find fault with this machine.
While a few people experienced complications, the positive points outweigh the negatives in this case.
Where to buy the Juki HZL-LB5100 computerized sewing machine
Juki is a top name in the sewing world and they have been on the market for decades. Their brand and machines have a great reputation behind them, which makes Juki brand popular all over the world.
You can find Juki HZL-LB5100 computerized sewing machine both. in-store and online.
While it's usually best to check out craft and sewing stores. You can boost your search at the following online retailers.
And of course you can also find this sewing machine on Amazon.

---
That's the end of our Juki HZL-LB5100 review. Were you tempted to give this machine a try?
Not sure if this is the model for you? Browse our latest reviews.