This site is supported by our readers. We may earn a commission, at no cost to you, if you purchase through links.
Finding a portable sewing machine that fits your needs is harder than you might expect.
Most are thin or do not contain enough features. But that could all change with the Luby JG-1602 portable sewing machine.
It comes with 12 built-in stitches, is compact and portable and even includes an automatic threader – something you rarely see on smaller machines.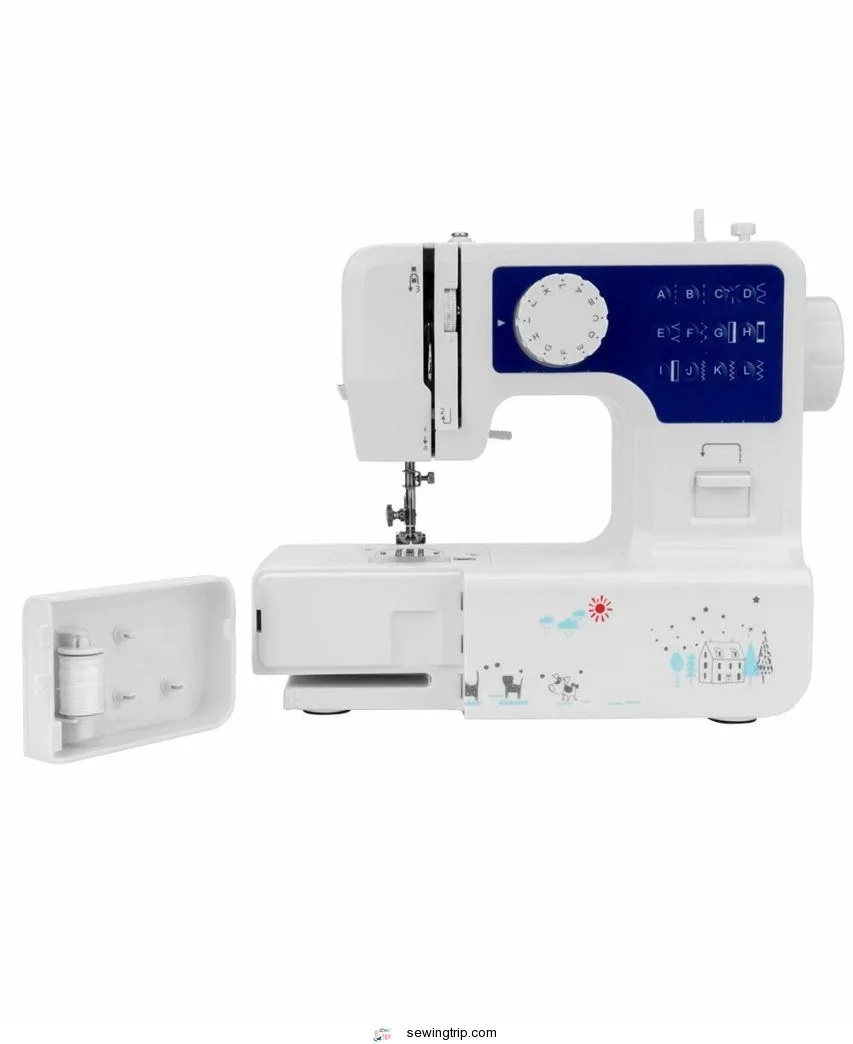 That said, not everyone had a great experience with the Luby JG-1602. For example, some testers had some minor issues with the coil.
Are these rare issues or an overarching product flaw? Let's inspect the Luby JG-1602 Portable Sewing Machine and find out.
Luby JG-1602 Portable Sewing Machine: The Details
The Look
The Luby JG-1602 portable sewing machine is very compact. It is not bigger than a large textbook or a small microwave.
Most of the exterior is white, with the control panel in dark blue. Their aesthetic also includes a house, trees and a few animals printed on the front.
The machine looks quite simple with dial and handles, as there are no screens or computer. elements included.
Specs
Weight: 6.25 lbs.
Dimensions: 11.5 x 4.5 x 6.5 inches.
Stitches: 12 different stitches.
Speed: Low and high only.
Computerized/Mechanic: Mechanic.
Spool: Drop-in coil.
Accessories
Removable table.
Buttonhole presser foot.
Foot control.
2 needles.
2 spools of thread.
2 spools.
]
Luby: The Company
There seems to be a great lack of information about Luby on the internet. It could be an offshoot of a bigger company, but it's hard to tell; there is no easily accessible data on them.
As such, it may be difficult to contact them if you have a problem with their product or if you have questions have.
]
In addition to this sewing machine, their Amazon seller page features a variety of items from dehumidifiers and diffusers to vacuum cleaners and hot air fryers.
The warranty
Based on the information Luby provides, this sewing machine does not appear to have a warranty.
If you order it from Amazon; you get a 30-day money-back guarantee, where you can return or exchange it.
But otherwise Luby doesn't seem to provide help if replacement, replacement or repair .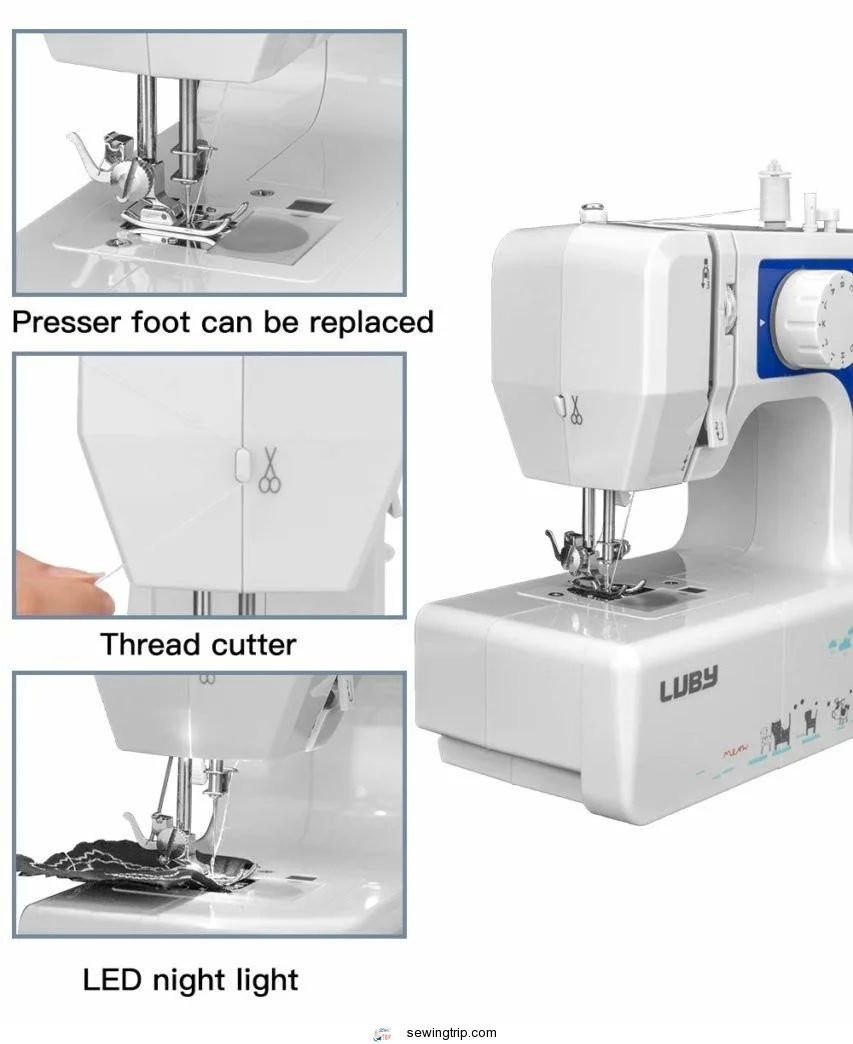 Features
12 stitches
For a compact and portable sewing machine like this model, 12 built-in stitches are ideal. You won't be making vast projects on this machine, so there's no point in having a ton of stitch options.
You'll instead receive the basic stitches for hemming pants. or make a quick project, as well as a few zigzag stitches and a buttonhole stitch.
You can choose the stitches individually by turning the selector knob on the front panel.
Lighting
Luby doesn't skimp on the extras just because this is an affordable and compact machine.
]
Lighting . There is a lamp right above the wing section to make your experience so much easier.
Whether you are sewing in a dark room or want extra light to ensure you no stitch is missing. This one is a very handy feature. As a bonus, you don't have to flip a switch to turn on the light; I activated it by sliding a lever.
Speeds
There are two different speeds on this Luby sewing machine. You move the switch to "low" or "high,", depending on your needs.
If you are new to sewing, start on the low setting. If you've been sewing for years, set the machine to "high" speed and you'll with your project in no time.
With this Luby portable sewing machine, you can easily thread the needle – automatically! Simply press the control lever on the machine and the thread will and fed into the needle.
This is much less complicated than even expensive sewing provides machinery. The Luby also comes with a wire cutter if you prefer to do it manually.
Removable table
If you sleeve or trouser legs, the Lucy Ewing Machine makes it easy by also adding a removable table.
You don't have to twist and turn to get around these tricky parts of sewing, eliminating another daunting task of sewing. Just remove the auxiliary table and you will find space to slide these tubular items on.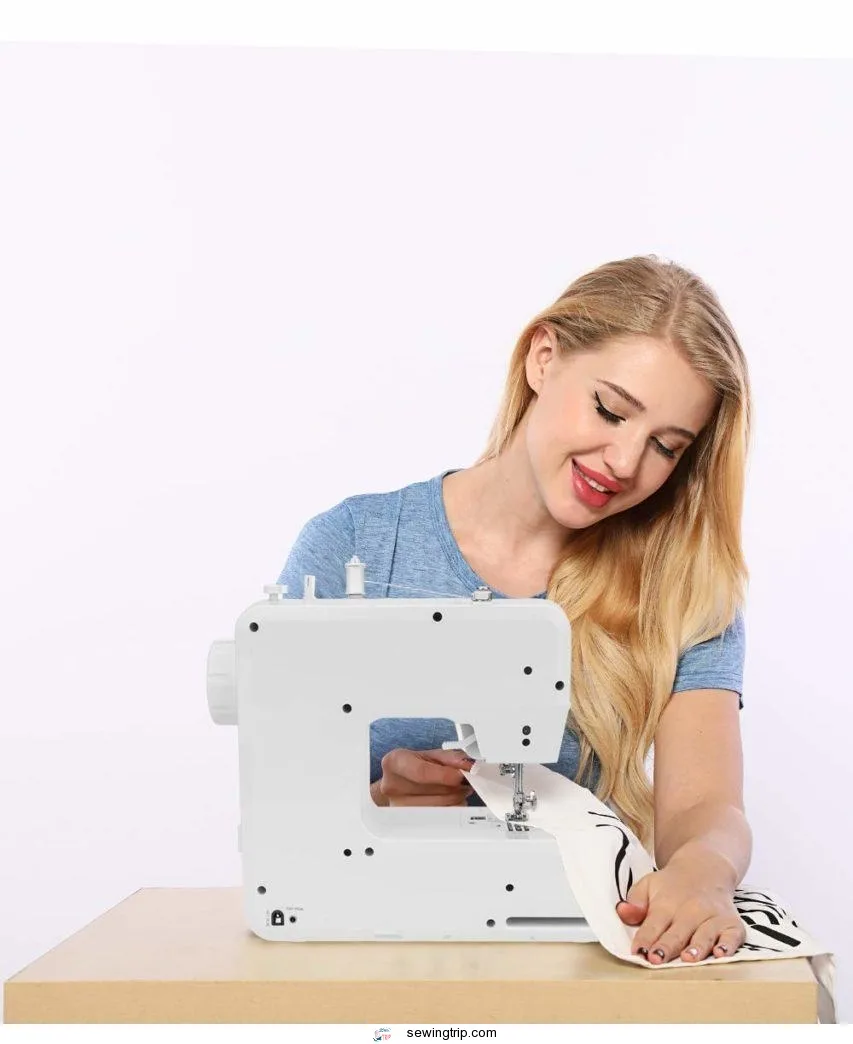 Luby JG-1602 Portable Sewing Machine Review
The positives
Easy to set up
Many testers liked the simple set-up process of this Luby sewing machine. Using the threader and the top loading bobbin, this machine and ready to sew within a minute.
The top loading bobbin allows you to open the compartment, retract the thread spool and pull the bobbin thread through with no problems.
Because the threader only needs to press a button. Preparing the machine is no longer a struggle. This is great news for those just starting their sewing adventure. The machine's easy-to-use features make set-up a breeze and save many common tedious sewing tasks.
Easy to use
The Luby JG-1602 sewing machine is also easy to use. Once threaded, simply turn the selector dial to choose the desired thread, set the thread tension and dive straight into your project.
Press the foot pedal and the machine will start. If you want to reverse a stitch, there is a simple lever you can press to achieve it.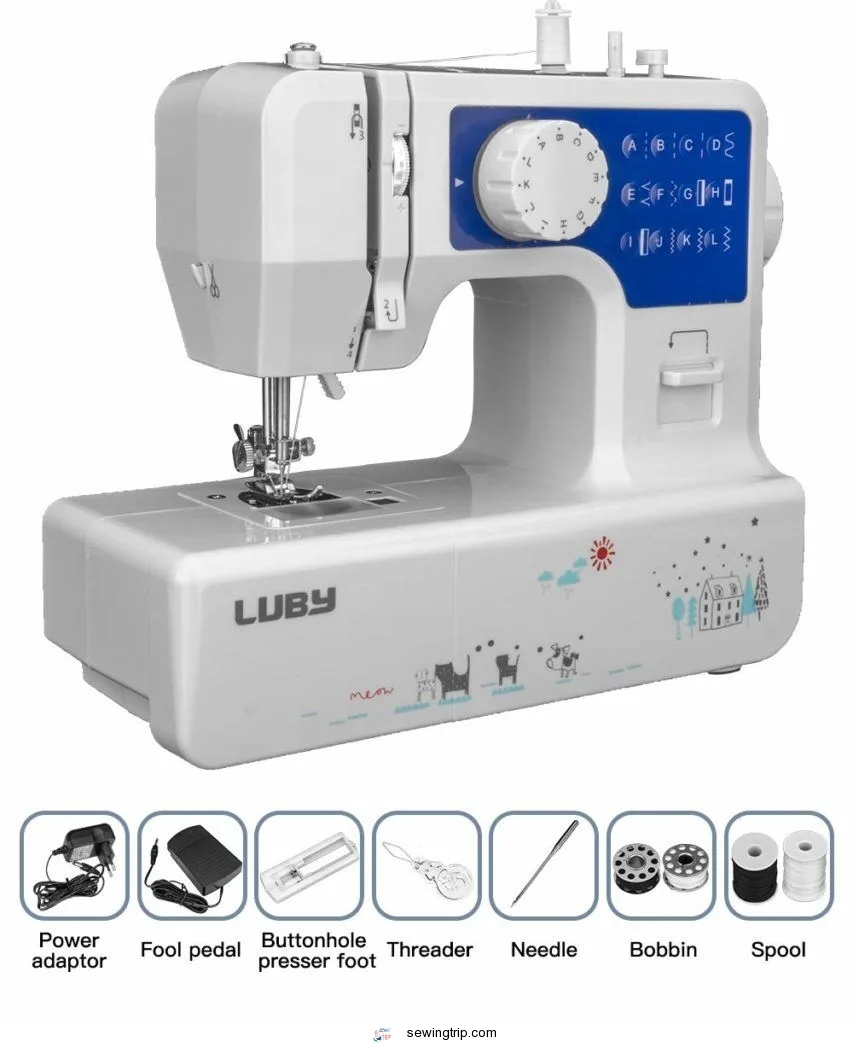 This machine to be perfect for the beginner or the expert. If you're just starting out, the features of the machine make it all the easier to dive into the craft. Customers even let kids test their hand on this hobby with this machine. machine is low, so there is no hassle getting projects done.
Compact and portable
Weighing with just over six pounds, and the size of a small microwave, this sewing machine fits just about anywhere.
Whether you live in a small apartment or just don't have a lot of space, the Luby JG-1602 can fit on a bite-sized sewing table or on a bookshelf.
It's also very light, so you can move it from one to another without effort. Location. So if you'd rather take it on vacation, take it to class, or lend it to a friend, it's an easy undertaking.
It's lightweight and compact design also means that it's no hassle to fit in your closet or closet until you need it. So if you want to save space when you're not tinkering, this is a cinch to move around.
With a dual on/off switch, you don't even have to do. leave it plugged in if you need to take it on the road. Just grab some batteries and you can start sewing!
Affordable
On Amazons, the Luby JG-1602 costs less than $100. For all the features this little machine offers, that's a great deal.
Most sewing machines – especially portable – don't have a light or a needle threader, but these machines still cost that much or more. And by buying on Amazon, you don't even have to leave your home to embark on a cheap sewing adventure!
If you're looking for a budget-friendly investment, this could be your perfect fit. For sewers novices, you also don't have to worry about breaking the bank before you've even learned the trade.
An affordable machine lets you use up your scraps budget for fabric and other beautiful sewing materials to inspire a variety of projects.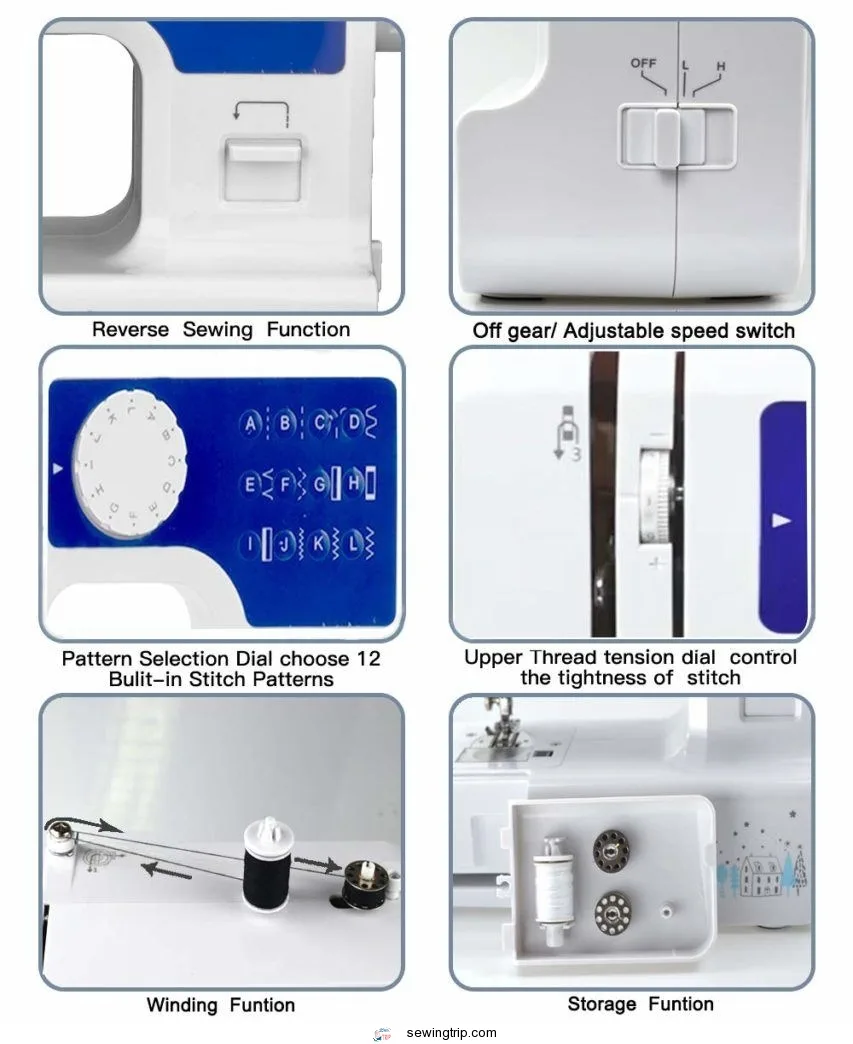 The Negatives
Missing Pieces
A few testers had the sewing machine arrive with missing pieces. When yours arrives, be sure to check all accessories and components in advance.
If you find the package is missing, please contact Amazon or go your local craft/sew shop and grab what you need.
This didn't happen to many people, so it seems to be a rare issue in the shipping process. If bartering with Amazon is too much of a hassle, the low price tag still makes it cost-effective to buy items individually.
Coal Problems
Some users had trouble getting the bobbin thread into the machine. The bobbin thread joins the upper thread as you sew, giving you a secure seam.
However, if I do not feed the bobbin thread into the machine, two pieces of fabric are useless to connect them together. This was a rare issue, so it may be a fluke.
Confusing tutorial
Some customers with the manual, but not enough to make that a huge drawback in the Luby's overall purchase.
Some noted that the sewing machine instructions were confusing to follow. Fortunately, however, this machine is super easy to set up and use, so most sewers had no problem ignoring the manual altogether.
For those who need a little help they could find information and videos online to guide them. So while the manual may not be in order, at least it won't affect the quality of the product.
Overall verdict
After looking at all the positive and negative points, we recommend the Luby JG-1602 portable sewing machine.
As long as you understand I do not design this for thick fabrics or large projects, it will work perfectly.
Portability, automatic needle threader, ease of use and low price make for a great deal. If you're looking for a starter machine for small jobs, this is worth checking out.
Where to buy the Luby JG-1602 portable sewing machine
Although Luby has a range of items available on Amazon, finding them through the usual retailers will be a difficult task. There isn't much about this brand and they seem to only sell to third-party retailers.
Even with positive feedback on their products, you probably won't find any items, including the Luby JG-1602 portable sewing machine in the store.
Although it is usually best to check craft and household department stores, you are more likely to get this sewing machine through Amazon.
---
That's the end of our Luby JG-1602 review. Want to give this sewing machine a try?
Not sure if this is the model for you? Browse the rest of our sewing machine reviews.