This site is supported by our readers. We may earn a commission, at no cost to you, if you purchase through links.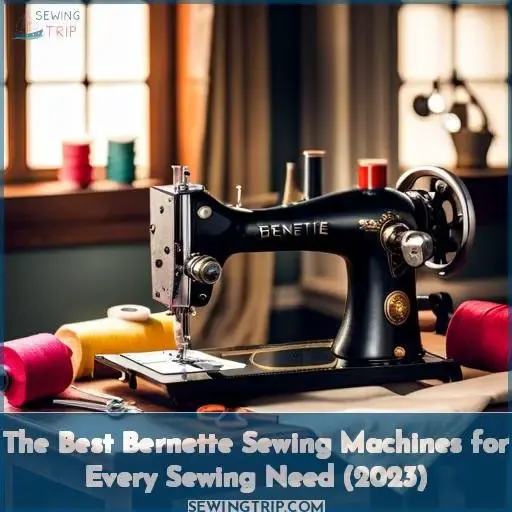 You're wondering if you'll ever be ready for your big sewing debut. The kids and hubby will soon expect handmade clothes! But that 1971 Singer model in the closet just isn't cutting it anymore.
Look no further – those Bernette gems will launch you straight to sewing domination! Their sleek designs and buttery speeds will have you feeling like a Project Runway all-star. Trust me, once that B79 ends up on your craft table, you'll be whipping up everything from cocktail dresses to custom curtains before you can blink.
With Bernette, even the most sewing-challenged can unlock their inner garment genius.
Features of Bernette Sewing Machines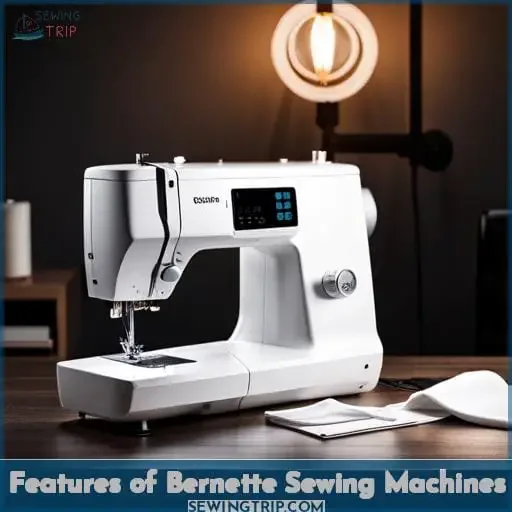 You're looking for the best Bernette sewing machine to upgrade your skills and projects. Top models like the B79 computerized embroidery/sewing combo, B77 computerized quilting/sewing machine, versatile 38 computerized all-fabric sewing machine, mechanical 35, and beginner 05 offer features to match your budget and sewing needs.
We'll compare these models on price, stitches, computerization, and specialty features to help you decide which Bernette suits your creative sewing style.
Bernette B79
You'll create masterpieces with the B79's blend of embroidery, sewing prowess, and creative potential. Make any project imaginable with 650 stitches, 5 alphabets, and 240 embroidery designs. Transition smoothly between sewing and embroidery with the large 8.5 workspace. Get creative with the myriad accessories.
With high precision, innovative technology, and Swiss engineering, the B79 empowers your ideas.
Bernette B77
The B77's computerized precision guides your creative quilting endeavors. This innovative model optimizes tension, positions the needle, and winds the bobbin with ease. Bernette designed it for seamless accessory compatibility and servicing. With 500 stitches, 17 one-step buttonholes, a knee lift, and an extension table, you'll achieve your quilting visions.
Bernette 38
With 394 stitches and computerized convenience, this lightweight Bernette seamlessly sews clothes, quilts, and more. The versatile 38 model boasts adjustable stitch width, decorative stitch patterns, and a dual-feed system for smooth fabric feeding.
Switch between 7 needle positions, utilize multiple bobbins, and take advantage of the easy-to-use interface. As a top Bernette line offering beginner friendliness, it's the ideal next step after a basic mechanical.
Bernette 35
Buy Bernettes for budget buyers. Walk away from high-priced machines. Sew your heart out with the Bernette 35 mechanical model. Stitch effortlessly with its quick needle up/down button, easy reverse lever, and fifty built-in stitches.
Adjust thread tension and presser foot pressure on the fly. Streamline sewing techniques as the workhorse motor powers through fabric. Access presser feet and accessories in the free arm storage. Affordable price equals quality construction.
Bernette 05
You'll love zipping through projects with the fast motor on the economical Bernette 05. This basic model offers adjustable needle positions, decent screen visibility, and built-in threading troubleshooting.
The motor runs smoothly but is louder than higher-end Bernette models. Bernette provides good customer support if issues arise. Overall, it's a solid starter machine to learn on before upgrading to pricier computerized Bernette or Bernina models.
Comparison of Bernette and Other Brands

Bernette sewing machines have been gaining popularity for their combination of quality and value when compared to brands like Singer, Brother, and Juki. While Bernette may not quite match Juki's reputation for reliability, they do offer better durability and features than comparably priced Singer and Brother models.
Plus, Bernette backs their machines with an industry-leading warranty of up to 25 years, depending on the model. You'll find Bernette machines deliver professional results at home sewer prices.
Bernette Vs Singer, Brother, and Juki
Bernette stands durable against Singer and Brother, but can't quite best Juki's legendary reliability. When deciding on a new sewing machine, selectively focus on pricing, features, and brand reputation.
Bernette consistently outperforms Singer and Brother models in tension adjustments, stitch selection, and overall durability thanks to quality Swiss engineering. However, for true industrial-grade sewing, Juki still reigns supreme. Carefully review your needs to find the ideal balance between quality, cost, and capabilities.
Durability and Quality of Bernette
Having used Bernette machines for years, you've found their exceptional durability and Swiss quality unparalleled. The sturdy metal frames withstand years of sewing projects without loosening or rattling.
The refined mechanics allow easy adjustments to thread tensions and fabric feeds for flawless stitching. Though computerized, the intuitive interfaces have built-in tutorials so every sewer can master buttonholes, embroidery, and more with ease.
For sewing enthusiasts seeking high-quality, reliable machines, Bernette's thoughtful engineering provides creative freedom without frustration.
Warranty Period of Bernette
Your choice of Bernette model will determine the warranty period offered. Bernette provides warranties from 10-25 years based on the sewing machine series. Basic mechanical models like the Bernette 35 have a 10-year warranty. Most computerized Bernette machines offer a 5-year warranty.
High-end embroidery and sewing combos such as the B79 extend to 25 years. Always register your warranty right after purchasing for full coverage. Proper maintenance like oiling and tension checks will keep your Bernette running smoothly for decades.
Factors to Consider When Buying a Bernette Sewing Machine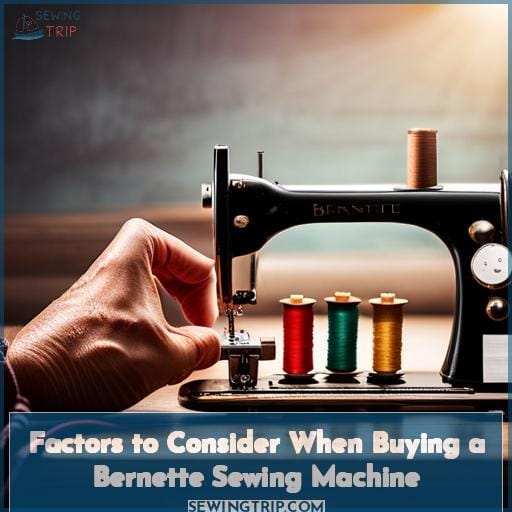 When buying a Bernette sewing machine, consider your skill level, desired maximum sewing speed, price range, and any additional features you need. Also, think about your available workspace and interest in embroidery capabilities.
An economical starter model like the Bernette 05 may suit a beginner, while more advanced sewers would benefit from the computerization, faster motor, and extra stitches of something like the Bernette 38.
Make sure to compare noise levels, ease of use, manual vs automatic features, and accessories needed for your projects. Selecting the right Bernette model for your budget and sewing needs will ensure you get a machine you'll enjoy using for years to come.
Skill Level
Assess your abilities before purchasing a Bernette model to ensure it matches your sewing skills.
Mechanical: Basic stitches and settings for beginners
Computerized: More options for intermediate sewers
Advanced: Specialized features for experienced users
Compare models based on ease of use
Don't overbuy if you're just starting out
Maximum Sewing Speed
Consider the mile-a-minute stitching speed, like a hummingbird's wings, when selecting the bernette sewing machine for your projects. Faster feed speed efficiency allows finishing more detail-oriented sewing quicker.
Test the foot pedal's responsiveness, start-stop smoothness, and fast stitch skipping before buying. Ensure quick speed adjustments suit your workflow. The computerized BERNINA 770QE, 880 Plus, 790 Plus, and 475 QE offer the best quick stitching capabilities.
Price Range
Check out Bernette's budget-friendly mechanical models if you're just starting out sewing. The B35 offers basic utility stitches to tackle light fabrics for under $300. While computerized Bernettes have more bells and whistles, beginners benefit from mastering the basics first.
Consider extras needed too. For sewing knits and stretch fabrics, a serger adds value over time.
Additional Features
Look at the specialized presser feet, software options, and extras that come with each model to determine if they align with your creative goals. Consider attachments for embroidery, quilting, and decorative stitching to expand your capabilities.
Also, look at features like automatic updating, timing troubleshooting, and tension adjustment for precision sewing and ease of use. Carefully compare foot attachments, automation, and unique creative features when buying a Bernette.
Workspace and Embroidery Capabilities
Measure your workspace and imagine if the Bernette models will fit comfortably, remembering that embroidery capabilities require more room to maneuver the fabric. Consider the size of the embroidery hoop, your stabilizer choice, digitizing software, design placement options, and thread selection for each model.
You'll want to ensure your sewing area accommodates these extra steps when evaluating the embroidery features.
Maintenance Tips for Bernette Sewing Machines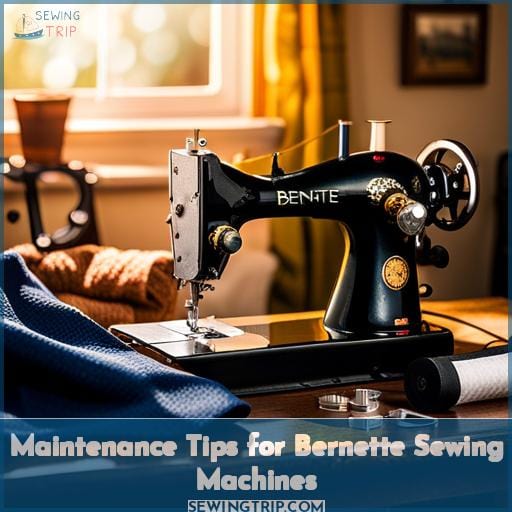 You'll want to oil your Bernette every month or two – more often if you sew frequently. Use light sewing machine oil and apply just a drop or two to all moving parts like the needle bar, presser foot, and bobbin area.
Also, be sure to keep your machine free of dust and lint by wiping it down after projects. Refer to your user manual for Bernette's recommended cleaning instructions based on your model.
With regular oiling and gentle surface cleaning, you can ensure your Bernette sewing machine will provide years of reliable service.
Regular Oiling Schedule
Oil it every month or so for smooth operation. Keeping your Bernette oiled regularly prevents friction and wear inside the machine. Use quality sewing machine oil on moving parts, avoiding electrical contacts or plastic gears.
Check the manual for oiling points, but focus on the hook, needle bar, and feed dogs. Wipe away excess and sew slowly after oiling so the lubricant distributes evenly. Proper cleaning, lubrication, and tension adjustments give a Bernette years of quality performance.
Cleaning and Care Instructions
Make sure to wipe away lint and stray threads after each project. Check under the needle plate and bobbin area for built-up fibers. Use the provided brush to sweep away dust and debris. A small vacuum attachment can also help keep the interior of your Bernette free of thread scraps and fabric bits.
Don't forget to clean the feed dogs so they can grip fabric properly during sewing.
Where to Find Deals on Bernette Sewing Machines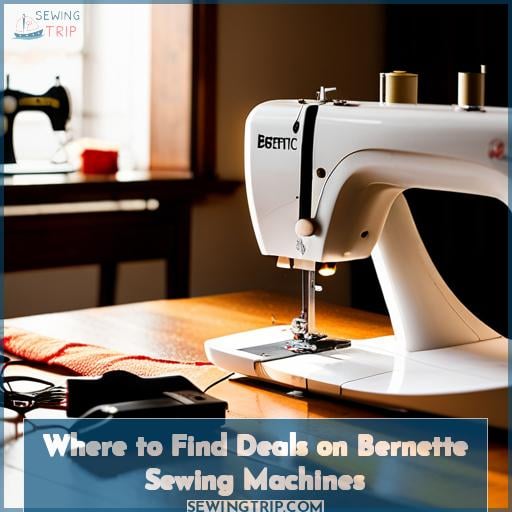 Before purchasing a Bernette sewing machine, it's wise to check eBay and Craigslist for quality used machines that could save you hundreds. Thoroughly research the availability, warranty coverage, and customer reviews, as this background will ensure you select a dependable model that suits your unique needs and budget.
Check EBay and Craigslist for Used Machines
You'd be crazy not to check eBay and Craigslist for used Bernette sewing machines! Scour completed listings to find the going rates. Study the photos carefully. Ask about repairs and condition. Meet up to test stitching and buttons.
Examine wear and tear. Use defects to negotiate. Verify model numbers to estimate costs of belts or foot pedal replacements. Snag an older workhorse model for cheap. Just budget for minor tune-ups and you can get modern features for a fraction of retail.
Research Availability, Warranty, and Customer Reviews
Before purchasing, you'll want to research a model's availability, included warranty coverage, and customer reviews. Checking retailers online can help determine current inventory and shipping times for models you're considering.
Review warranty details to understand the length and coverage of parts and labor. Read reviews from other sewers to get insights on ease of use, features, customer service responsiveness for repairs, and more.
Manual reading and video tutorials also provide a helpful preview before deciding on your ideal Bernette.
Frequently Asked Questions (FAQs)
What is the difference between a mechanical and a computerized Bernette sewing machine?
You'll find the main difference between mechanical and computerized Bernette sewing machines is in their capabilities. Mechanical models operate manually with dials and levers, giving you basic stitch options and direct control.
Computerized Bernettes automate functions like stitch selection, speed, and buttonholes, offering hundreds of built-in stitches, simplicity, and extra features you access digitally. Though pricier, they expand your creative possibilities through programmed variety and ease.
How difficult is it to thread a Bernette sewing machine?
You'll find threading a Bernette sewing machine is quick and easy – just follow the numbered diagram beside the machine. The color-coded thread guides and automatic needle threader on most models make it a breeze for sewers of any skill level to be up and sewing in no time.
Do all Bernette models have a free arm for sewing sleeves and pant legs?
You'll find a free arm on most Bernette models for easy sleeve and pant leg sewing. Bernette designs most of its machines with this handy feature to aid closed construction techniques like hemming and cuff sewing.
It's one of the many thoughtful design choices that make Bernettes a pleasure to sew on.
What accessories come included with each Bernette model?
Most Bernette models come with a nice assortment of accessories and feet for getting started. The B77 includes 9 different presser feet, like a zipper foot and buttonhole foot. The B44 Overlock even includes a cutter foot and 4 thread cones. With thoughtful accessories, Bernette sets you up for sewing success right out of the box.
Is there an extension table available for the more basic Bernette models?
Yes, Bernette offers the Free Hand System Extension Table for their more basic mechanical models like the B35 and B This sturdy table provides 10 inches of extended flat workspace for easier handling of larger projects.
With this useful accessory, any Bernette model can have an expanded sewing area.
Conclusion
So, which Bernette sewing machine is right for you? When shopping for your dream machine, remember that the top choices boast computerization for convenience. They also offer a wide variety of stitches to unleash your creativity, along with special features like extension tables and adjustable foot pressure to make sewing thicker fabrics a breeze.
While all Bernette models share the Bernina legacy of quality craftsmanship, the 38 hits a sweet spot between advanced functionality and budget friendliness. Test drive the 38's intuitive interface and see how smoothly it handles everything from gauzy blouses to fluffy quilts.
With proper care and regular oiling, your Bernette will sew circles around the competition for years to come.