This site is supported by our readers. We may earn a commission, at no cost to you, if you purchase through links.
Want to improve your sewing and embroidery skills? Do you like a little creativity when sewing?
Anyway, the Singer Futura XL-400 Sewing and embroidery machine goes beyond the call of a sewing machine to allow you to create embroidery designs on your computer, transfer them to your machine and then see how your hard work unfolds in real life.
A popular machine for more advanced seamstresses, the Futura XL-400 will undoubtedly enable you to embroider skills and create impressive pieces.
Sure, it's not a perfect machine — no machine is.
All the same, we'll give you an overview of the details of the machine and our honest assessment of the product, then let you decide if the Futura XL-400 is the right one for you.
Get started!
Singer Futura XL-400 Machine: The Details
The Look
To start with: the Singer Futura XL-400 is quite large .
Despite, its sleeker appearance, you need a certain spot on your desk for this machine. The machine leaves plenty of room for work and keeps the design simple.
Your stitch options on the neck of the machine and illuminated by light gray-blue plastic.
Despite the simple white and gray color pattern, the Singer Futura XL-400 makes a statement just by looking at it.
Specs
Weight: 23 lbs
Dimensions: 22 x 9.5 x 13 inch
Stitch: 30 built-in stitches
Speed: 600/min
Automated/Mechanical: Automated
Spool: Drop Sew Flush System
Warranty: Limited Warranty of 25 years
Accessories
A pretty substantial machine, so far, but let's face it check the accessories. The Singer Futura XL-400 comes with:
10 inch x 6 inch embroidery hoop
4 inch x 4 inch embroidery hoop
Embroidery foot
Thread spool netting
Scissors , USB cable
Embroidery software and design CD
Universal foot
Zipper foot
Buttonhole foot with bottom plate
Blind hem foot
Satin stitch foot
Button presser foot
Needle packing
Spools (class 15J)
Thread caps
Additional spool pin
Felt spool pin
Screwdrivers
Clear ripper/lint brush
Machine Intro DVD
Quick Start Guide
Instruction Manual with stitch guide
Foot control
Power cord
That's quite a lineup! However, what else would you expect from a company that has been in the business from the start?
Singer: The Company
Singer is by far one of the best known manufacturers of sewing machines in the world. They have been in the sewing machine trade since 1851 and have broken many of the early milestones of sewing, creating the first electrical machines and making sewing easier for anyone interested in the craft.
Singer produces a variety of sewing machines and is constantly working toimprove on previous models. It's likely they have something for every sewer in their extensive collection, and they have proven to be a reputable company.
The Warranty
The Singer Futura XL-400 with Singer's 25 year limited warranty. We can find more information about that guarantee here.
Features
What about the Singer Futura XL-400 that really stands out? Well…
SwiftSmart Threading
The Singer Futura XL-400's SwiftSmart Threading System includes an automatic needle threader that works from scratch.
You don't have to spend five minutes poking your thread through the eye of a needle – Singer has you covered.
Drop Sew Bobbin System
Likewise, the Drop Sew Bobbin System makes changing bobbins as easy as possible.
0]
No need to pick up the bobbin thread–the Drop Sew Bobbin system will take care of it for you.
Stitches
The Singer Futura XL-400 with 30 different stitches to choose from, including two one-step buttonholes.
That's a lot of variety already, and everything is accessible in both the Singer manual and on the neck of the machine.
Feel like venturing from your standard stitches? The Futura allows you to expand your skills beyond your sewing base, and it tries to make the process as easy as possible.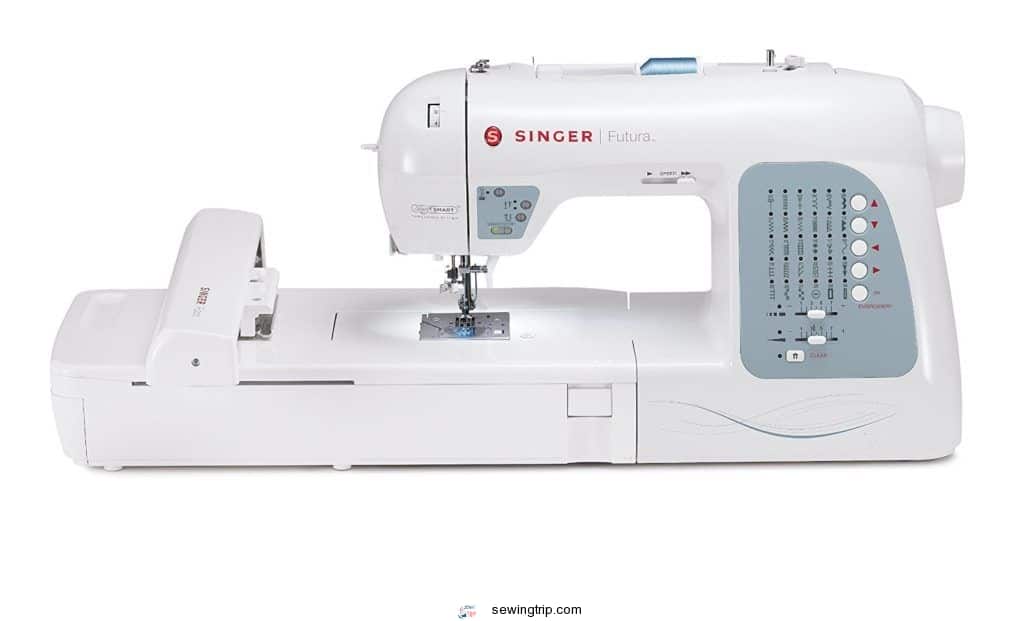 Embroidery Designs
The Singer Futura sewing and embroidery machine has a double name of course: you can sew and embroider.
And the machine goes all the way from the embroidery front and gives you 125 predefined patterns to choose from, including 5 fonts and outline letters.
The inclusion of two hoops isn't bad either. If you're up for a challenge, you can take advantage of the ability to make multiple hoops from the Futura XL-400 and also go crazy with your embroidery projects.
That's not the last. it does. The Singer Futura XL-400 comes with the software you need to design your own embroidery patterns, edit them at your convenience and then transfer them to the machine. No previous coding knowledge needed, just creativity.
Multihooping capability
We have to admit that this function cost us a bit of time to get our heads around – but it's definitely a great thing for the avid embroiderers out there!
A large hoop option is already available, measuring 10″x 10″ x 6″, but with the built-in software included with the Singer Futura XL-400, you can create an even larger virtual hoop, meaning you can end up creating designs twice that size — 20″ x 12 .
Other useful features of the Singer Futura XL-400 are:
Controls for editing embroidery designs
Letter program
Six Staybright LEDs
Computer-to-machine software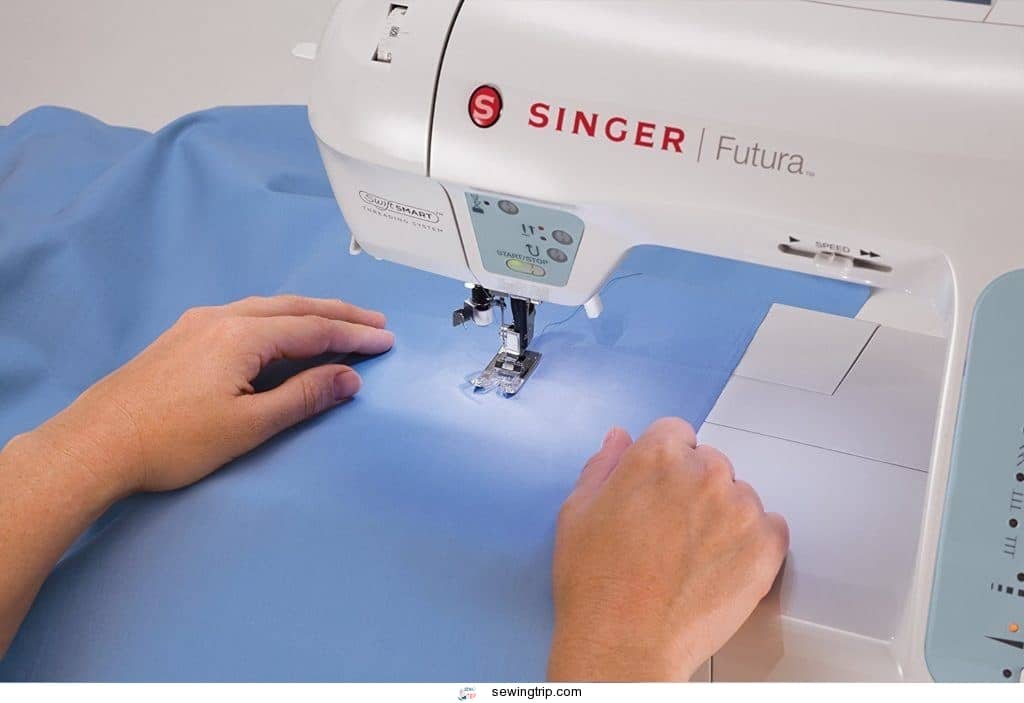 Singer Futura XL-400 Review
That's the Singer Futura XL-400 in data — but what do we think? Is it one of the best sewing and embroidery machines on the market? Let's see.
The Positives
Perfect for large embroideries
Considering the mid-range price, it amazed us we can create embroidery designs up to 20″ x 12″ on this machine.
In many comparable – and even more expensive – sewing and embroidery machines, the maximum hoop size you're looking at is a meager 4″ x 4″.
This is a big plus for the Singer Futura XL-400 and an important reason for its popularity.
Here you see it in action:
Easy to use
While we wouldn't recommend the Futura XL-400 as a beginner's sewing machine, we bless it with plenty of features that make it making it as accessible as possible for everyone.
The Swift Smart Threading system is intuitive and fast, while the drop-and-sai coil system is a walk in the park.
As a bonus, the 6 StayBright LE D lights make this one of the better lit embroidery machines we've ever used.
And while there's a bit of a learning curve once you use it, there's plenty of support out there — the manual, DVD and video tutorials make it a machine anyone can get to grips with.
Huge sewing area
Another A big plus is the amount of space and space you have to create with this machine. It is the ideal size for working on larger projects such as quilts, tapestries and clothesing.
The arm length to the right of the needle is a whopping 8.25″ – very generous indeed.
Steady Machine
The actual sewing quality of the Futura XL-400 is not turn your head, either.
Be careful not to overload the machine when working on your projects, but don't worry too much about it – it's clearly designed to handle a variety of fabrics and doesn't have a weakness for any one fabric yet revealed regardless of thickness.
Excellent value for money
As we have already hinted, we think the
] Singer Futura XL-400 represents a lot considering the amount of functions and possibilities this machine offers.
It is not a cheap sewing machine, but it solidly in the middle market for sewing and embroidery hybrids. We think it outperforms its competitors overall.
The Negatives
Not compatible with Macs
Our number one with the Singer Futura XL-400 is big: it's not compatible with Mac computers.
Somewhat stupidly, we hadn't read the computer requirements before clicking'buy'so we spent a few hours in our attic crawl space for an old PC laptop.
The machine and software require a PC with 1 GHz Intel or AMD processor, Windows XP/Vista/7/8/8.1 operating system and a CD-ROM drive.
For all the Mac users out there, look at another machine.
Tipsy Tension
Keep an eye on your tension settings and don't rely solely on the instructions in the Futura XL-400 manual.
Sometimes the machine gets a little too tense for the taste of the wire, or sometimes it's'a hair is too loose – whichever direction it goes, monitor it.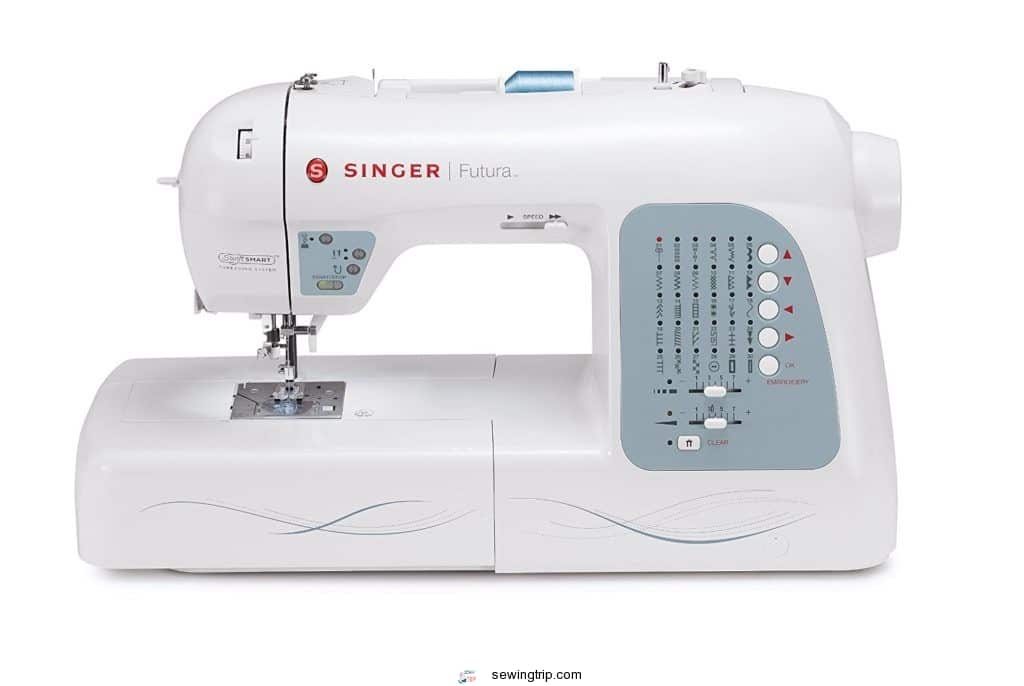 Simple Software
Some people complain that the software that comes with the Singer Futura XL-400 is too simple for their liking.
It makes creation and editing possible, but if you're interested in more complicated options, you may have to pay more for software extensions. The impact of this really depends on how involved you want to be in your design work, but it is a valid issue and worth mentioning.
Overall verdict[1965912]In general we think that the Singer Futura XL-400 is an excellent sewing and embroidery machine that offers much more than other machines at a comparable price. It is an economical choice for people working on large embroidery projects, and it is a high quality machine to boot. There are a few niggles — the main thing is that it's not compatible with Macs — but overall we like it a great buy for those looking to expand their skills in this department. Where to buy the Singer Futura XL-400
With its average market price and overall high quality, this is certainly a popular sewing and embroidery machine.
Here are a few of the online marketplaces that you can find:
And of course it also available on Amazon.

---
Have you tried the Singer Futura XL-400 computerized sewing and embroidery machine?
For more reviews, visit our complete archive of machine reviews.