This site is supported by our readers. We may earn a commission, at no cost to you, if you purchase through links.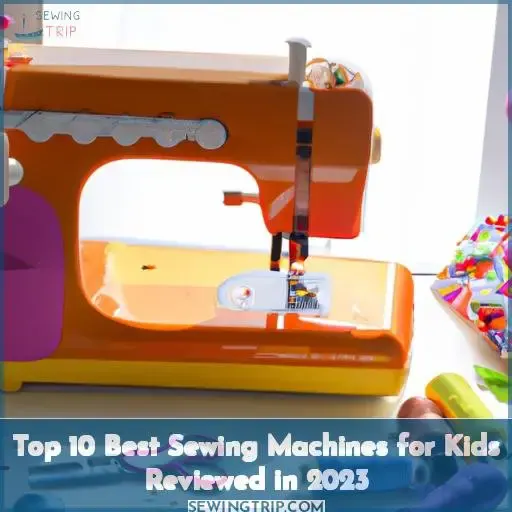 You're ready to get your child sewing and need the perfect machine. With so many kid-friendly options, how do you choose? Get the scoop here and find a great sewing machine for your little sewist.
We've researched top models and figured out what really matters. Consider features like easy bobbin loading, adjustable stitch length and width, speed control, needle up/down, convenient controls, and lightweight portability.
Accessories, like free motion feet and seam rippers, stretch a machine's versatility.
Teach basic machine skills and maintenance so your child's machine hums. Then watch creative confidence blossom as your kid sews unique projects! With the right sewing machine match, you'll cultivate a lifelong passion.
Key Takeaways
Brother CS5055PRW Project Runway – 50 stitches, LCD screen, accessories. Good for fashion design.
Singer Start 1304 – Lightweight at 7 lbs, 57 stitches. Automatic bobbin winder makes learning easy.
Janome 2212 – Mechanical model has a metal body, adjustable stitches. Reliable quality for beginners.
MICHLEY Mini – 2 lb machine good for small projects and beginners. Portable and affordable.
Top 10 Best Sewing Machines for Kids Reviewed
Looking for the best sewing machine to get your kids started in the craft? Top choices like the user-friendly Brother CS5055PRW Project Runway computerized machine, the lightweight Singer Start 1304 with its beginner-focused features, or the back-to-basics Janome 2212 mechanical model are designed to make learning to sew easy and fun.
More pint-sized picks such as the MICHLEY or Magicfly mini machines boast portability and an affordable price tag. For a youngster's first sewing experience, also consider the playful Sew Crazy Magic Sequin Headband model, kid-safe KPCB starter machine, or the Sew N' Style machine which adds a creative twist.
If you want to inspire a lifelong love of sewing in your child, choosing the right beginner's machine is key. Leading options like Brother's Project Runway computerized model, Singer's Start 1304 lightweight pick, or Janome's back-to-basics 2212 mechanical machine promise an easy introduction.
Compact mini machines from MICHLEY and Magicfly offer portability and budget prices. Or go for a playful model like the Sew Crazy Headband machine, kid-safe KPCB starter, or creative Sew N' Style machine with pom pom maker for a fun first sewing experience.
Ease a child into sewing with a kid-friendly machine like Brother's versatile Project Runway, Singer's lightweight Start 1304, or Janome's simplistic 2212 model. Affordable mini machines from MICHLEY and Magicfly promise portability and budget prices.
Also consider playful options like the Sew Crazy Headband machine, safe KPCB starter model, or creative Sew N' Style machine with pom pom maker for a fun introduction to sewing.
Brother Sewing Machine CS5055PRW Project Runway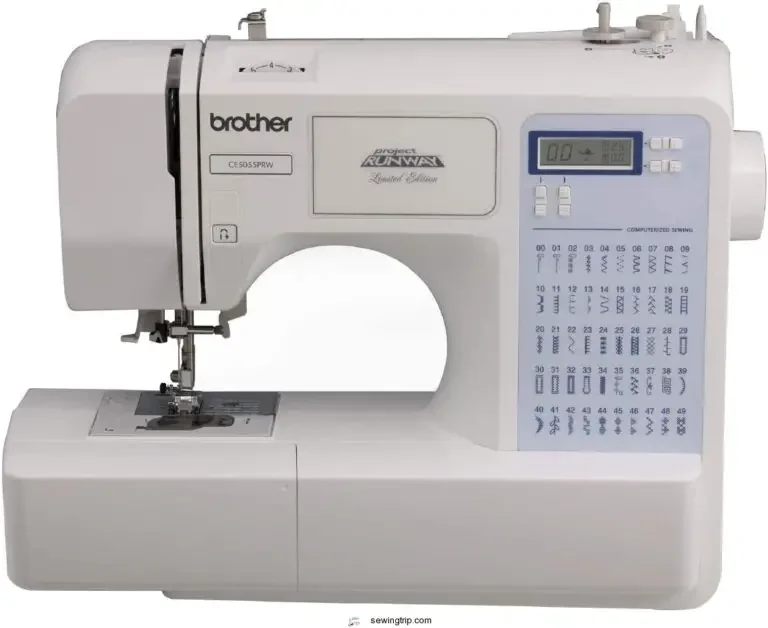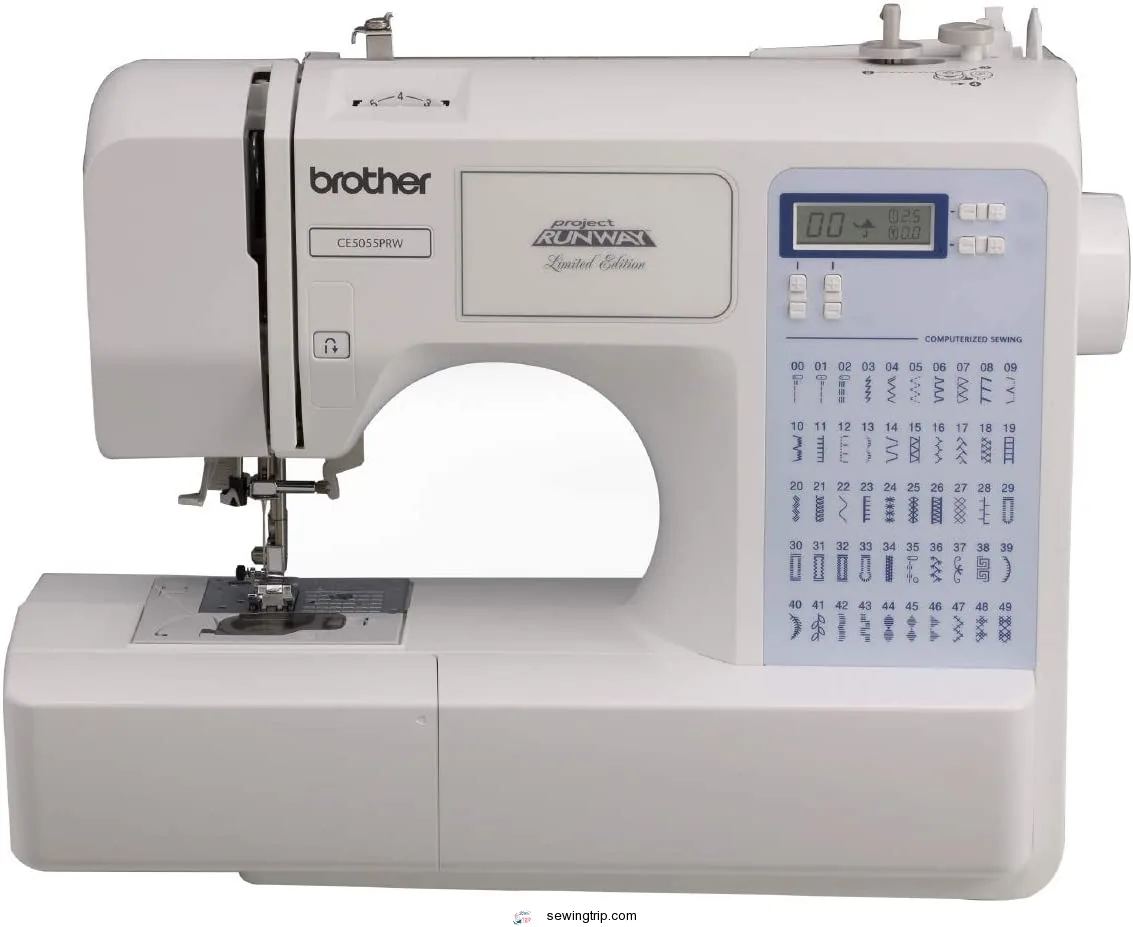 View On Amazon
With the Brother CS5055PRW Project Runway, you can introduce an aspiring fashion designer to a feature-rich sewing machine that builds real skills. Your daughter could start sewing cute pillows and graduate to making her own stylish clothes as her abilities progress.
This versatile, computerized sewing machine is perfect for beginners and experienced sewists alike. It has user-friendly features like automatic buttonholes, needle up/down, an automatic needle threader, and a helpful stitches reference chart that make sewing simple and fun.
Its lightweight yet durable construction can handle a wide variety of fabrics to create high-end fashions at an affordable price.
50 built-in stitches
Automatic needle threader
Drop-in top bobbin
LCD screen to select stitches
Included accessories like specialty feet
Bilingual instruction manual
25-year limited warranty
Not ideal for heavy, thick fabrics
Computerized features may overwhelm some beginners
Smaller throat space than industrial machines
Singer Start 1304 Sewing Machine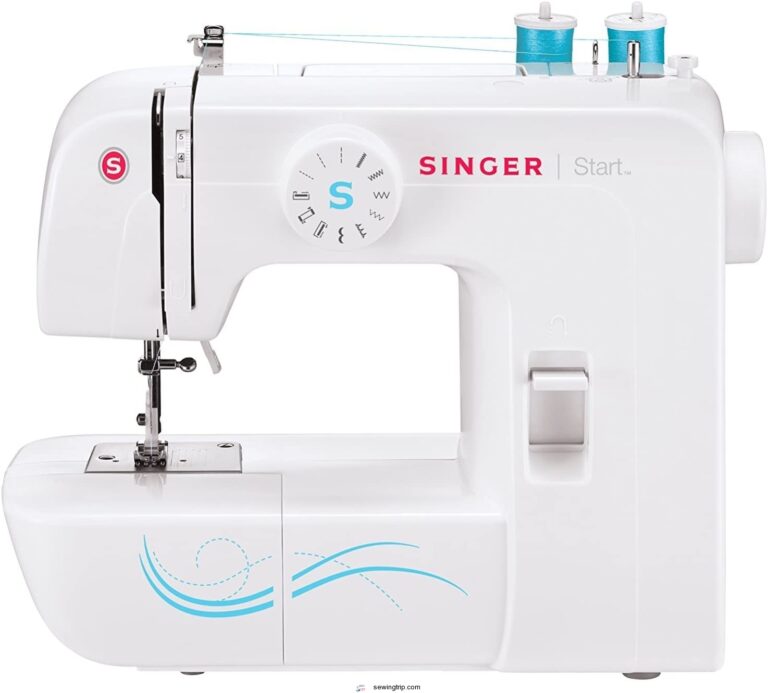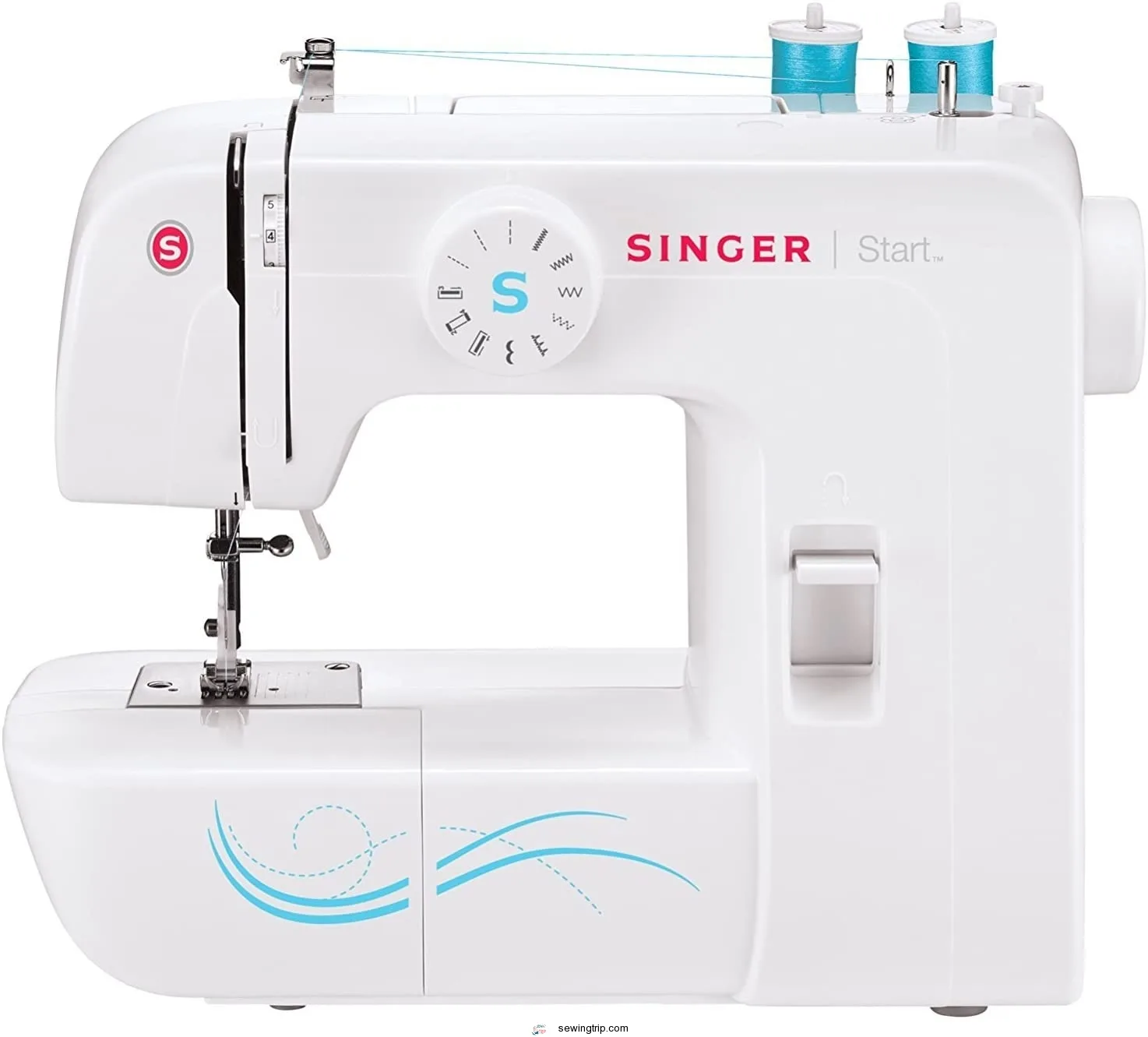 View On Amazon
You'll love how the portable Singer Start 1304's automatic bobbin winder and numbered stitch diagram make learning to sew a breeze. Weighing just 7 pounds, this lightweight blue machine is designed for beginners.
With 57 built-in stitches, it covers all the basics. The included six presser feet provide versatility for sewing a range of fabrics.
While speed control is limited and the short power cord can be frustrating, the Start 1304's user-friendly features and affordable price deliver good value overall for an entry-level free arm sewing machine.
Lightweight and portable
Automatic bobbin winding
Numbered stitch diagram on machine
57 built-in stitches
Comes with 6 presser feet
Affordable price
No speed control except foot pedal
Short power cord
Can sew too fast for beginners
Janome Sewing Machine 2212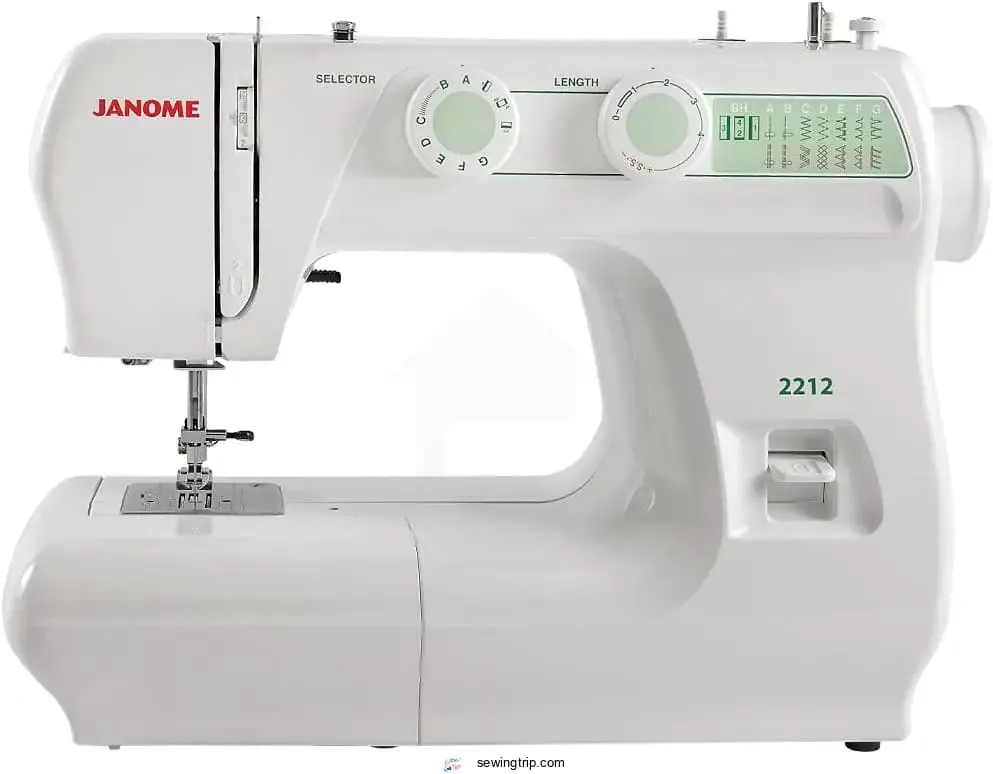 View On Amazon
Discover the unbreakable quality and mechanical simplicity of the compact Janome 2212—it'll turn anyone into a lifelong stitcher. Despite its lightweight frame and petite size, this basic white workhorse delivers industrial-grade durability, thanks to its sturdy metal body.
The easy-to-use dial stitch selection and intuitive threading make sewing accessible for first-timers. Additionally, the adjustable stitch width and length provide room to grow your skills. With a reputation for reliability at an affordable price point, the straightforward 2212 mechanical sewing machine empowers beginners to master fundamental techniques and tackle projects with confidence.
Sturdy metal construction
Adjustable stitch width/length
Easy to thread and operate
Affordable price
Portable lightweight size
Quality stitches
Ideal for beginners
Limited built-in stitches
No automatic thread cutter
No speed control
Manual tension adjustments
No stitch memory function
Only available in white
MICHLEY Lil Sew and Sew Mini Sewing Machine White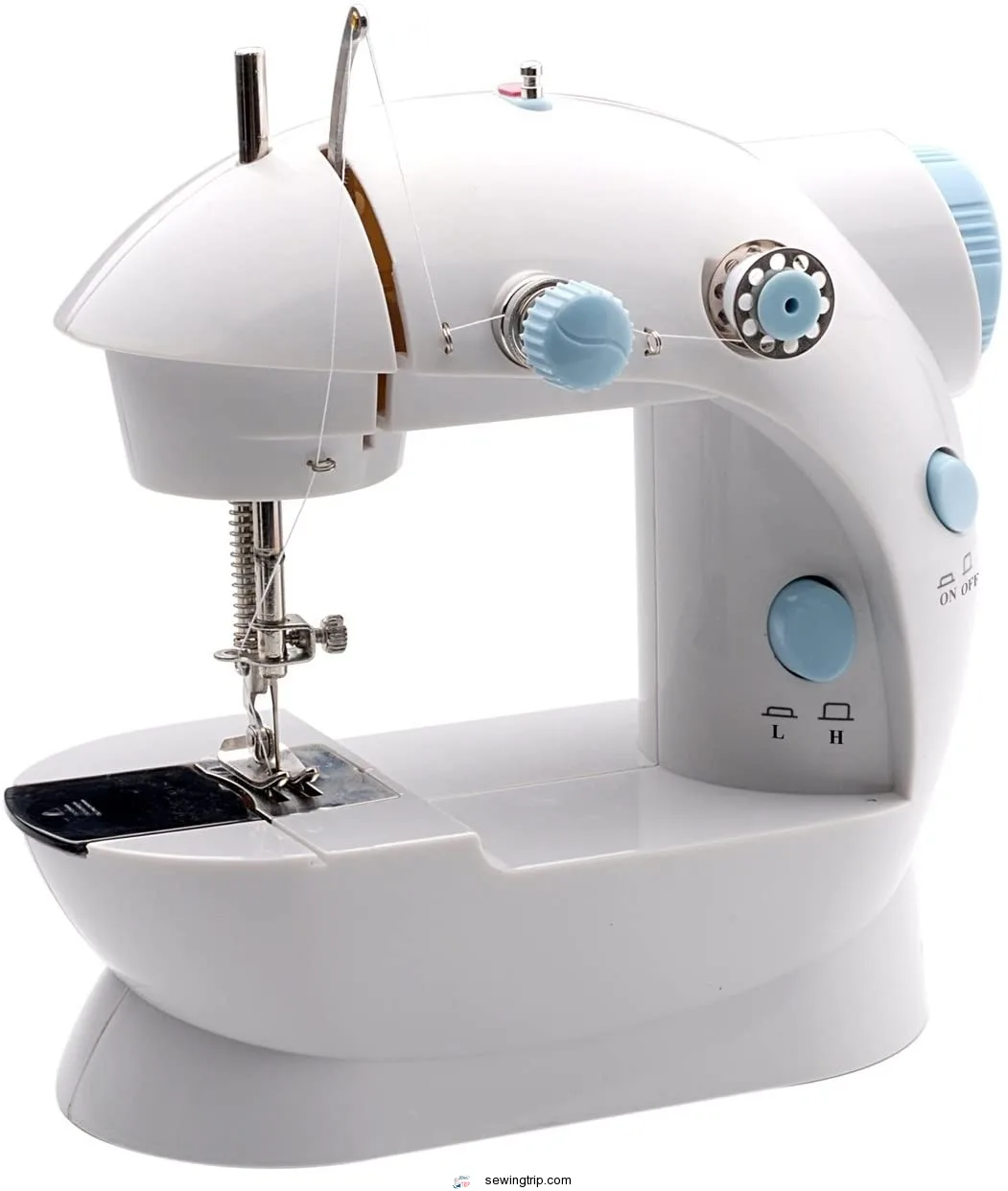 View On Amazon
This mini machine is perfect for your little seamstress's first attempts at basic hems and craft projects. With plastic construction weighing just 2 pounds, the MICHLEY Lil Sew and Sew mini sewing machine offers an ultra-portable and affordable option for introducing kids to sewing.
Though limited in its capabilities with a single stitch and no reverse function, it provides a simple, straightforward sewing experience ideal for small, lightweight fabrics.
The automatic bobbin winder and easy thread tension adjustments allow even tiny fingers to set up projects. And running on batteries, AC, or DC power gives flexibility for sewing anywhere inspiration strikes.
While this budget mini can't handle heavy fabrics or large projects, its bargain price makes it a smart choice for trying out sewing. With help loading the bobbin and threading the needle, young crafters can start stitching their own pillows, st■ animals, and other fun beginner projects.
Let your child's creativity blossom without a big investment using this portable, easy-to-use mini.
Affordable
Portable and lightweight
Suitable for small projects
Easy to operate
Only one stitch type
Not durable for heavy fabrics
Limited functionality
Some quality concerns noted
Magicfly Mini Sewing Machine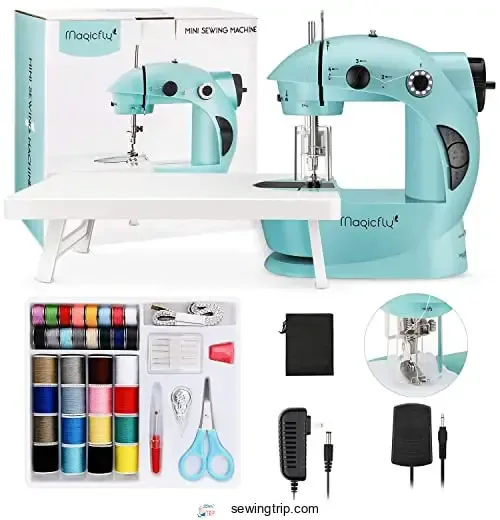 View On Amazon
Compact and lightweight, it offers an affordable introduction to sewing basics, though with limited stitch options. This electric mini sewing machine is perfect for beginners looking to learn sewing fundamentals on a budget.
With dual speed settings and operation by batteries or outlet power, it provides portability for small projects. The included starter kit provides the needed accessories, but its single stitch type and lack of reverse sew limit what it can handle.
Compact, lightweight, and portable
Affordable price
Dual speed settings
Included sewing kit and accessories
Only one stitch type
No backstitch function
Not suitable for heavy fabrics
Limited capabilities overall
Sew Mighty Mini Sewing Machine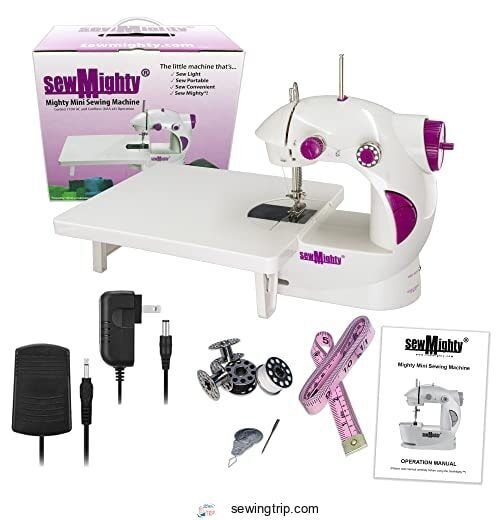 View On Amazon
You'd find the Sew Mighty Mini's simple capabilities charming yet limiting, like a budding Matisse whose creative aspirations outweigh his current skills. This petite machine nicely initiates novices into sewing's possibilities, empowering them to fashion and mend while sheltering them from complexities.
But those wanting to unleash their inner Chanel or Dior will soon chafe at its barebones stitch repertoire, yearning for the technical aptitude to manifest their visions.
Portable and lightweight
Easy for beginners to use
Affordable price
Built-in light is convenient
Only does one stitch
Not suitable for heavy fabrics
Reports of quality/durability issues
Setup can be tricky without video instructions
Sew Crazy Sewing Machine Magic Sequin Headband
View On Amazon
Your inner fashionista will squeal over this darling pink sewing machine that brings creative projects to life! The Cra-Z-Art Sewing Machine is a real, working sewing machine designed for kids ages 8-13.
It includes a foot pedal for operation and comes with bobbins, thread, needles, fabric, and patterns so kids can create their own scarves, pillows, headbands, and more right out of the box.
This metal sewing machine, with its safety features, provides a fun introduction to sewing for aspiring young fashion designers. Some reviews mention it can be difficult for kids to use, so getting an instruction book is recommended.
Real working sewing machine for kids
Comes with all supplies needed to make projects
Fun way to learn sewing basics
Encourages creativity in young fashion designers
May be tricky for some kids to operate alone
Limited features compared to adult sewing machines
Some quality concerns noted in reviews
Nex Sewing Machine Crafting Mending Portable 12 Stitches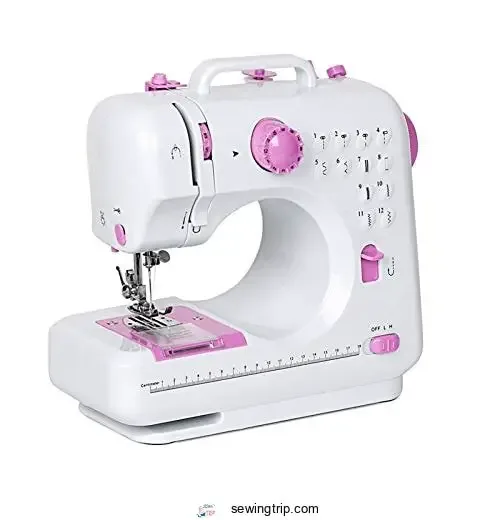 View On Amazon
The nex portable sewing machine's simple operation helps youngsters start stitching their own crafts and clothes. It is compact and lightweight, weighing just 5 pounds. This pink beginner's machine simplifies sewing with twelve built-in stitches, easy threading, and illumination.
It is battery-powered and comes with a foot pedal, giving kids the independence to craft anywhere. While it is not suitable for heavy fabrics, it can handle basic hems, minor repairs, quilts, and more.
The machine is affordably priced, allowing budding seamstresses to gain skills without a huge investment.
Portable and lightweight
Easy to use with 12 stitches
Good for simple projects
Low-cost starter machine
Not suitable for heavy fabrics
Limited features compared to full-size models
Some quality issues reported
Cool Maker Sew N Style Sewing Machine With Pom Pom Maker Attachment
View On Amazon
Spark creativity with this intro sewing set for kids 6+. The Sew N Style uses punch needles to affix felt pieces, teaching sewing concepts without sharp objects. It provides a safe, engaging play environment for fashion exploration. With step-by-step guides, kids can make fun projects like pillows, bags, pom poms, and more.
The included supplies minimize extra purchases. Some adult supervision is still recommended.
Overall, it's a great starter set that stimulates imagination through hands-on sewing play.
Safe needle coverage and operation
Inspires creativity and fashion exploration
Teaches intro sewing skills
Detailed playbook for beginner guidance
Portable and easy to store
Limited to included supplies unless buying refills
Not a true sewing machine, uses punch method
Adult supervision still required for ages 6-7
Durability concerns noted in some reviews
KPCB Kids Sewing Machine Beginners Finger Guard Christmas DIY Bag Material Red
View On Amazon
Make sure your little tailor's hands are protected while learning with this starter sewing machine's built-in finger guard.
With a lightweight and compact build, two speeds, and included accessories like the foot pedal and DIY bag materials, it's a simple machine for basic projects to help introduce sewing concepts to beginners.
The adapter powers it, and the tutorial manual guides you through getting started and using the bobbin winder, cutter, and LED light.
Overall, it's an affordable way for kids to gain experience with supervision.
Built-in safety finger guard
Lightweight, portable size
Two stitching speeds
Comes with starter materials and accessories
Affordable price point for beginners
Can jam with thicker fabrics
Foot pedal may malfunction
Needs some adult supervision
Questionable durability due to lightweight build
What Features to Look for While Purchasing a Sewing Machine for Kids?

After reviewing some of the best sewing machines for kids, it's important to also consider what features to look for when purchasing one.
Start young to foster their creativity, around ages 4-6 with supervision. Seek kid-friendly machines that are lightweight, portable, and easy to use. Look for features like finger guards, plastic bodies, and slow speed controls for safety precautions.
Opt for simple dial stitch selection, screw-on presser feet, and automatic needle threaders to minimize frustration. Consider versatility for fabric options, letting kids start with simple projects like pillows and move on to more complexity as their skills build over time.
Look for accessories, guidebooks, and built-in stitches to aid in teaching sewing techniques. Invest in a quality kid's machine that will last for years, building lifelong skills as they discover the joy of creating their own handmade projects.
Features to Look for in a Sewing Machine for Kids

When selecting a sewing machine for kids, focus on a few key features that make learning to sew easy and safe. Look for an automatic needle threader, a drop-in bobbin that's simple to insert, and basic straight and zigzag stitch options.
Seek out dials for easy stitch and length adjustments rather than lots of buttons. Also, ensure variable speed control, seam guides, and included starter accessories like threaders and seam rippers. Machines designed specifically for beginners will emphasize these traits to minimize frustration and build skills over time.
Bobbin Insertion
When inserting the bobbin, ensure it turns counterclockwise as you gently guide it into the bobbin case. Wearing your Air Jordans, take care not to force it. Slow and steady wins the race – resist rushing the bobbin winding and insertion.
Be patient. Focus only on the light shining on the needle as you guide the thread into its eye. Threading becomes easier with practice. Soon you'll be sewing pillowcases and headbands in the blink of an eye.
Stitch Options
Look over the stitch option features and choose what will suit your child's skill level. Opt for basic straight and zigzag stitches to start. Advance to decorative stitches as skills improve. Test tension settings on fabric scraps first. Quality accessories aid practice. Well-labeled diagrams demonstrate stitch types.
Prioritize easy threading and bobbin features initially. Simple machines prevent frustration. Focus on building fundamental abilities before adding complexity. Progress expands creativity.
Included Accessories
Examine what accessories accompany the machine; a starter kit helps hit the ground running. Look for sewing machines that include basic accessories like needles, bobbins, thread, sewing feet, screwdrivers, seam rippers, and storage cases.
Kits with fabric, patterns, and guides aid beginners in getting set up quickly. Compare the quantity and quality of included accessories when choosing a kid's sewing machine.
Dials and Controls
Straightforward dials and simple controls keep young sewists from getting overwhelmed as they learn. Opt for machines with easy-to-use dial stitch selection over lots of buttons. Check for adjustable stitch width and reverse levers.
Open dial covers allow lint and dust removal. Limiting stitch options reduces frustration factors. Focus on essential controls like needle position to build skills before introducing more features.
Speed
Check whether it has adjustable speed controls. Look for sewing machines with multiple speed settings or a speed limiter to start kids at a slow pace. Variable speed allows beginners to sew with control as their dexterity and skills progress.
Most kids' machines have two speeds, but advanced models offer settings up to 1000 stitches per minute for versatility. Speed control prevents fast unintended stitching and broken needles. It's an important feature for safe, successful learning and long-term enjoyment of sewing.
How to Maintain a Child's Sewing Machine

Keep your kid's sewing machine running smoothly by cleaning out lint and replacing needles as needed. A well-maintained machine will stay in good working order for years of creative fun.
Clean lint buildup after each project. Use the lint brush, tweezers, or canned air to remove fuzz from moving parts.
Replace needles often, especially right after hitting a pin or thick fabric. Dull needles make sewing frustrating.
Follow the manual for oiling when needed to keep parts moving freely.
Cover the machine when not in use to prevent dust buildup.
Proper care will extend the machine's lifespan. With regular cleaning and maintenance, it can be passed down and enjoyed for generations. Sewing is a valuable skill for kids to learn. Keep frustration at bay with a well-tuned machine they'll love using as their talents grow.
Why Teach Your Child to Sew?

You'll expand your child's creativity and problem-solving skills when you teach them to sew. Sewing helps develop fine motor skills and hand-eye coordination as kids learn to thread needles and guide fabric.
Following patterns boosts focus, while choosing fun fabrics allows creative expression. Sewing teaches patience and persistence through tricky steps like bobbin winding.
Start with simple hand sewing using thick yarn before graduating to machines. Let them practice on scrap fabric first. Offer praise for effort to encourage progress. With your guidance, sewing unlocks a lifelong passion for creating and confidence in their abilities.
| Benefit | Example |
| --- | --- |
| Fine Motor Skills | Needle threading, hand coordination |
| Creativity | Choosing fabrics, embroidery |
| Problem Solving | Troubleshooting mistakes |
| Patience | Bobbin winding, tricky steps |
Frequently Asked Questions (FAQs)
What age is best for a child to start learning to sew?
You'll find your child is ready to start sewing around ages 4- However, kids younger than 4 may show an interest too. Gauge their coordination and patience before introducing needles. Stay nearby to guide tiny fingers, offer encouragement, and keep them safe as their skills progress.
Should I buy my child an adult-sized sewing machine or look for a kids model?
You'll want a real, but smallish machine. Adult machines can frustrate little hands and impair learning. Seek kid features like low speeds, safety guards, guides, easy threading, and bobbins.
Are there safety concerns with children using sewing machines?
Yes, there are safety concerns. Use age-appropriate machines with safety features like finger guards. Supervise kids closely and teach proper techniques. Prioritize safety over skills at first. Require adult help for tricky tasks until dexterity develops. Patience prevents injury as skills progress.
What projects are good beginner sewing projects for children?
Make simple pillows and pouches to learn sewing in straight lines. Move on to totes and aprons to practice curves. Try making scrunchies, hair bows, blankets, and st■ animals as skills progress. Alter and personalize clothing too. Encourage creativity with costumes and accessories.
How can I find sewing classes for kids in my area?
Check craft stores, fabric shops, community centers, parks & rec departments, libraries, and schools. Look on bulletin boards, social media groups, and online listings. Call local sewing machine dealers as they sometimes host classes too.
Word of mouth can help locate options. Being proactive by asking around will uncover great opportunities for your child to learn valuable sewing skills.
Conclusion
You've been given recommendations for the best sewing machines to get your little one started in the craft. From portable machines for practice to computerized models with more options, there are top picks reviewed to suit any child's skill level.
Whether purchasing their first machine or looking to upgrade, the models highlighted as the top 10 best sewing machines for kids reviewed provide quality, durability, and features to unleash any kid's creativity.