This site is supported by our readers. We may earn a commission, at no cost to you, if you purchase through links.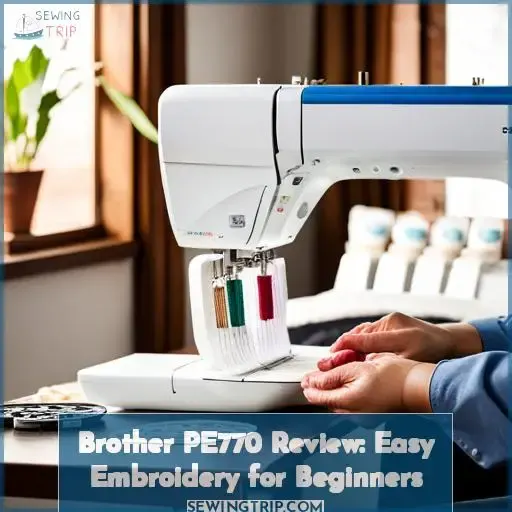 You've always loved handcrafts, haven't you? There's just something so fulfilling about making art with your own two hands.
If you're considering taking up machine embroidery, you're in for a treat. The Brother PE770 is the perfect starter embroidery machine. With 136 built-in designs, you can embroider right out of the box. Customizing is a cinch with the editing functions on the LCD touchscreen.
The 5 x 7 inch hoop gives you plenty of space for your creations. Whether you want to embroider jacket backs, quilt blocks, or home decor pieces, the PE770 Embroidery Machine won't let you down.
As a beginner, you'll appreciate how quick and easy it is to set up. The included accessories eliminate guesswork and get you stitching ASAP.
Read on to discover all the possibilities awaiting you and your Brother PE770. This machine takes embroidery from intimidating to totally approachable.
Key Takeaways
Built-in LCD touchscreen for editing designs before stitching
136 built-in designs and 5 lettering fonts to get started
Upload more designs via USB connectivity
Quality stitching and features despite limitations for beginners
Brother PE770 Overview

You're gonna love how this sweet little embroidery machine opens up a world of creative possibilities right at home. With 136 built-in designs and 6 lettering fonts, the versatile Brother PE770 gives you an awesome selection of patterns to stitch out on everything from dish towels to t-shirts.
The backlit LCD touch screen makes it a cinch to edit and customize designs right on the machine.
While it only has a 5 x 7 inch hoop, you can resize and reposition designs to create projects of any size. The PE770 may be an entry-level model, but it delivers professional embroidery results. With easy USB connectivity to import new designs, this machine grows with your skills.
The online Brother community provides tutorials to master machine embroidery. For the price, the PE770 offers incredible value, delivering professional-quality embroidery without the pro price tag.
Built-in Embroidery Designs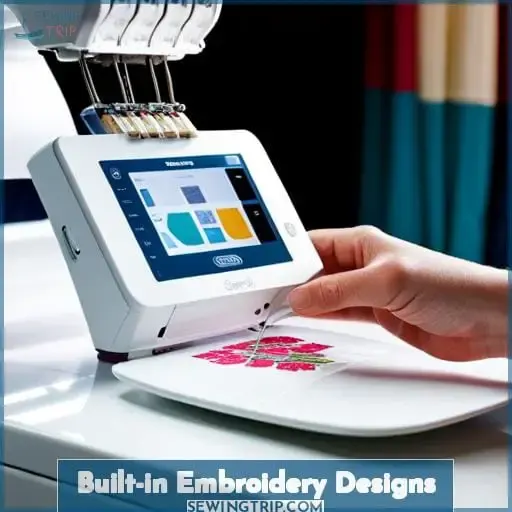 Let the creativity flow as your PE770 unlocks a treasure trove of 136 built-in embroidery designs. Satiate your cravings for creative expression with floral bouquets, scrolling vines, and decorative motifs ready to stitch.
Position designs in custom hoops, then edit right on the LCD screen. Rotate, mirror image, resize, whatever you envision. Mix and match designs to make your own combinations. The PE770 groups designs efficiently to minimize color changes.
Dive into the design library organized by style. Find whimsical patterns, holiday themes, lacework borders. Import more in.dst format via USB. Master mixed stitch types and watch your projects bloom in satin, step stitch, fill patterns.
With professional results achievable at home, you'll delight in the journey. Each design stitches your bonding time with this machine and sense of accomplishment.
Customizing Your Designs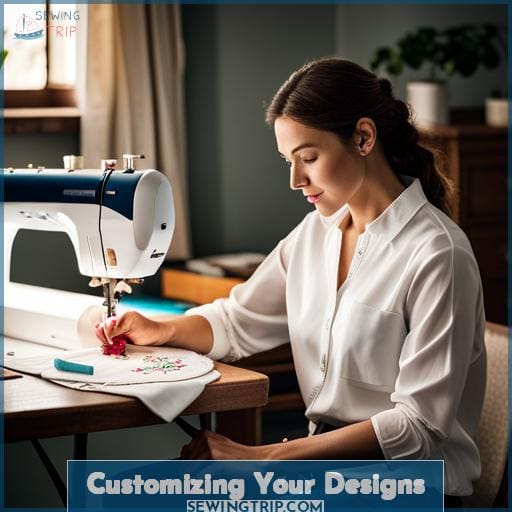 Let's dive into customizing your embroidery designs on the Brother PE770 embroidery machine. As you load designs, whether built-in or imported, you'll have full creative control to personalize them. Edit right on the intuitive LCD touch screen to rotate, increase or decrease size, mirror image, etc.
Practice with the ample built-in designs, then import.PES, .DST, .XXX formats via USB. With endless options to customize, you'll add your personal touch and expand your creative horizons.
Editing Capabilities
Personalize your projects by customizing built-in designs right on the brilliant LCD screen. Reposition designs, rotate them, resize to fit different hoops. Mirror images, swap thread colors – the editing options empower your creativity.
Combine designs for original motifs. The machine's extensive design editing functions, like precise positioning in various hoop sizes, make embroidering flexible. Quickly cut jump stitches with small scissors. Master mirroring, rotating, rescaling features to expand your capabilities.
Compatible Design Formats
Don't restrict your creativity – the PE770 reads design files from multiple formats for unlimited personalization. Upload your own designs right from USB or download designs from popular sharing sites.
Convert patterns into embroidery files using digitizing software. The built-in editing tools let you customize designs on screen. Combine smaller designs into larger, multi-hoop creations. With the PE770, your imagination is the only limit to personalizing projects in so many ways.
Recommended Fabrics and Materials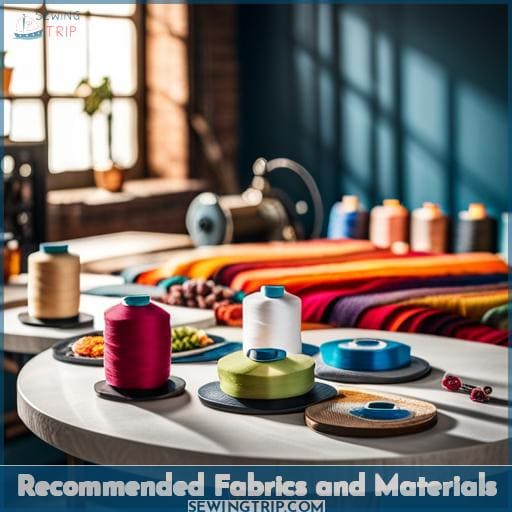 Choose smart fabrics when embroidering on the PE770 for quality results. Test different weights first, as the machine handles light to medium materials best.
Cotton blends – Provide a soft, smooth surface for designs. Try cotton/polyester blends.
Linen – Natural fiber that drapes nicely. Use tear-away stabilizer.
Denim – Fun for jean jackets and accessories. Use topping to prevent puckering.
Fleece – Super soft but can get thick. Find lightweight options.
Polyester fabrics – Shiny athletic material embroiders well. Increase tension.
The PE770 can handle a wide variety of different fabrics, from silky satins to structured canvas. Focus on medium weighted, tightly woven materials. Synthetic fabrics like polyester and rayon work beautifully.
Test different types of fabric and stabilizer backings to find your perfect embroidery combination.
Included Accessories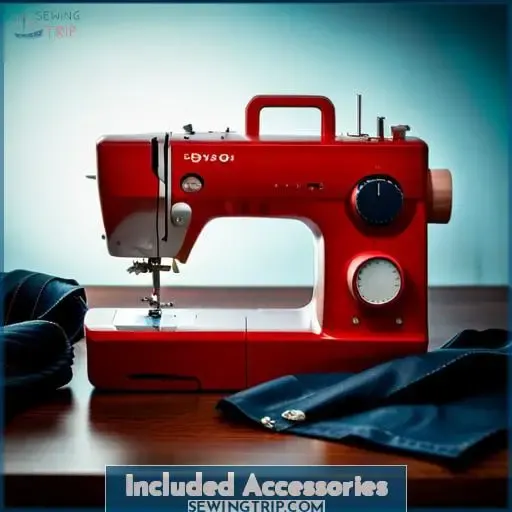 The 5 x 7 hoop lets you hold fabric taut for precision stitching. It's just the right size for everyday embroidery projects. With a larger hoop, you risk distortion. Smaller ones restrict your creative freedom.
Most PE770 users report the 5 x 7 is ideal for pillows, hats, bags, sleeves, and so much more.
| Hoop Size | Best Uses | Things to Know |
| --- | --- | --- |
| 5 x 7 in | Shirts, towels, bags, sleeves, quilts | PE770's max size |
| 4 x 4 in | Hats, cuffs, pockets, onesies | Good detail |
| 2 x 2 in | Socks, collars, cuffs, patches | For tiny areas |
The hoop arrives ready to install and includes an instruction guide showing proper fabric and stabilizer positioning. Always use cutaway or tear-away stabilizer to prevent tunneling or puckering. Polyester organza and vinyl also work as topping stabilizers.
Check your owner's manual for tips on getting the perfect tautness and alignment.
Ease of Setup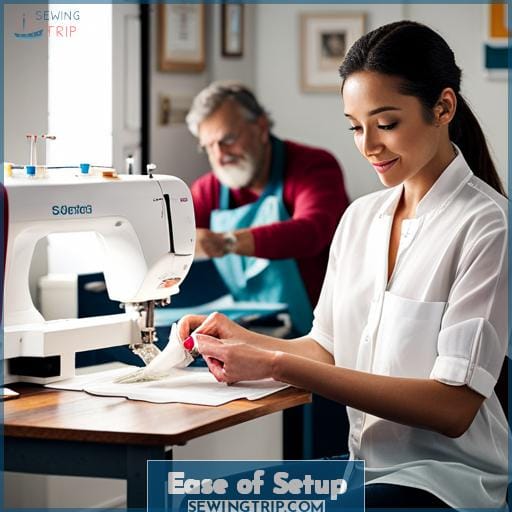 Y'all'll be stitchin' away in no time once ya get this embroidery machine outta the box. Just plug 'er in, thread the needle, and you're ready to start embellishin' like a pro. With the easy-to-use LED touchscreen, simply select your design, hoop your fabric and stabilizer, and let 'er rip.
If the design's not quite right, use the screen to rotate, resize, or mirror image it to suit your project. To add new patterns, just pop your USB memory stick into the usb port and import fresh designs anytime.
If the stitches look a little wonky, play with the tension adjustment and foot pressure till everythin's smooth as butter. Use the right stabilizer for your fabric too – tearaway works great but cutaway may hold up better for heavy duty projects.
With some trial and error, you'll get those settings dialed in and be churnin' out pro-quality pieces on the daily. This user-friendly machine takes the struggle outta embroidery so you can let your creativity shine.
Features for Beginners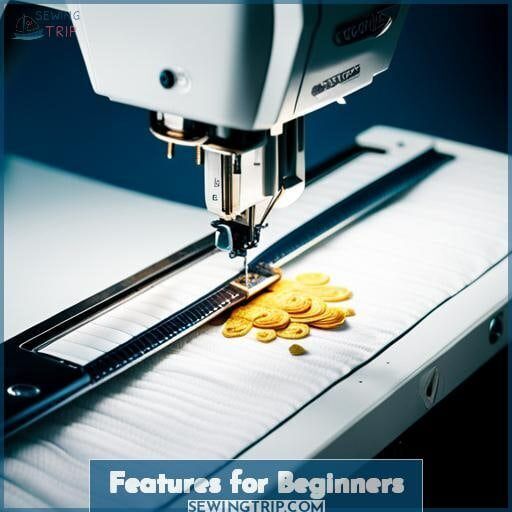 You're stitchin' away like a pro with this beginner-friendly embroidery machine. The PE770 minimizes frustration so you can dive right into embellishing. With quality threads, the right stabilizer materials, and properly hooping your fabric, it produces crisp, vibrant designs.
Resizing designs is a cinch with the built-in memory and LED screen. Edit sizing onscreen before stitching, and the 5×7 inch embroidery hoop accommodates most projects. With 136 built-in designs and 5 lettering fonts, you'll create personalized masterpieces in no time.
The onscreen tutorials demystify embroidery for total newbies. With practice, patience, and the user-friendly features of the PE770, you'll be churning out pro-quality pieces and expanding your creative talents in a snap.
Comparison to Advanced Models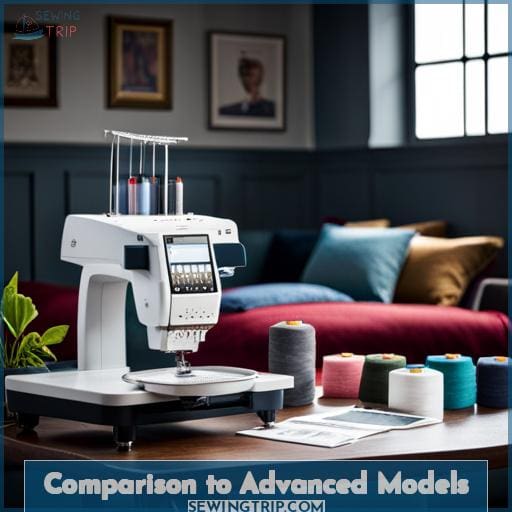 You'd see the need for speed if moving from a PE770 to an advanced embroidery machine. The difference is like trading in a reliable ol' pickup for a souped-up sports car – that multi-needle machine'll have your projects zooming by quicker than a jackrabbit at a county fair.
But for most home embroiderers, the dependable PE770 has just the right amount of horsepower.
Max 650 stitches per minute
5×7 inch hoop limits larger projects
Manual thread changing less efficient
Basic built-in design library
The PE770 won't set any land speed records, but its versatility and simplicity're just what crafters need for quality results right at home. For producing personalized pieces and small-batch projects, this little workhorse delivers steady, reliable performance.
With practice and patience, the PE770 empowers beginners to create dazzling designs that'll make them beam with pride.
Projects You Can Make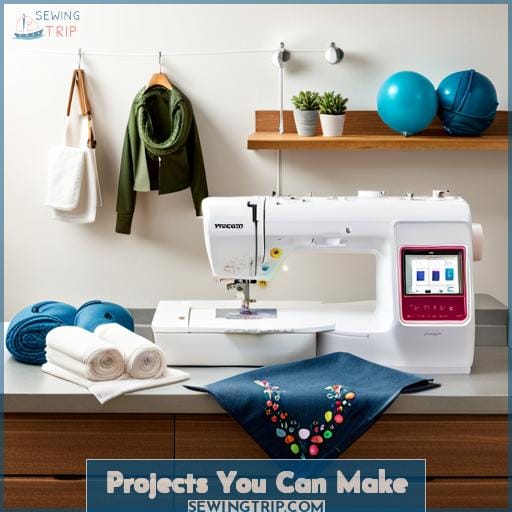 With that handy PE770 by your side, you'll be embroidering personalized pillows, elegant table runners, and cheerful kitchen towels in no time. First up, make custom throw pillows for the living room by adorning pre-made pillow forms with stitched monograms and intricate motifs.
Or create beautiful table accents by embellishing cloth napkins and runners with delicate floral patterns and scrolling vines using rayon or metallic threads. For a personal touch in the kitchen, embroider dish towels with whimsical designs, inspirational quotes, or monograms of family members' names.
Beyond the basics, explore your creativity by stitching pretty posies and vines on linen A-line dresses, bold critters and letters on kids' t-shirts, and floral wreaths on denim jackets. With the PE770's user-friendly interface and versatile 5×7 hoop, you'll delight in dreaming up personalized projects to showcase your embroidery talents.
Overall Recommendation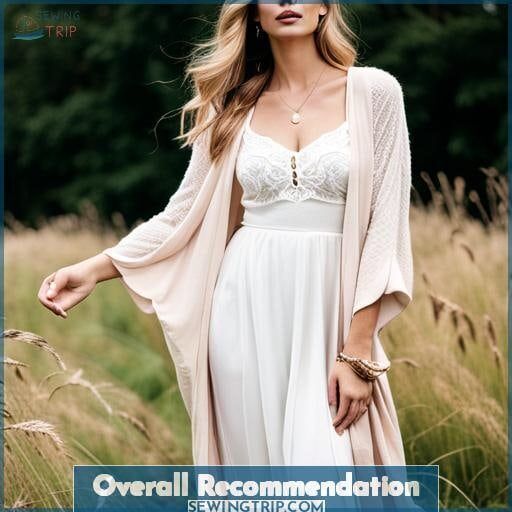 The versatile PE770 exceeded expectations with simplicity and power. The easy setup was a breeze thanks to the user-friendly automatic needle threading. Although the built-in editor has limitations, this machine's versatility empowers creativity.
You'll appreciate how surprisingly quiet it is compared to others. While it may lack bells and whistles of advanced machines, the PE770 delivers beautiful results. For beginners, it provides a perfect introduction without being overwhelming. Even experienced embroiderers will be impressed by what this workhorse can do.
Despite minor drawbacks, the PE770 packs a punch with user-friendly operation and quality stitching. You'll quickly see why it remains a top choice for crafters ready to master embroidery and make projects shine.
Frequently Asked Questions (FAQs)
What file formats can I import into the PE770?
You can import designs in.PES, .PEC, .DST, and.XXX formats onto the PE770 from a USB thumb drive. Simply insert the drive into the port, preview your files on the LCD screen, and select the designs you want to stitch out.
With the ability to read these common embroidery file types, you'll have numerous options for adding unique projects.
How loud is the PE770 when embroidering?
The PE770 operates at around 65 decibels when embroidering, similar to a normal conversation. You'll hear the hum of the motor and some noise from the needle moving, but it shouldn't be disruptively loud.
With the cover closed, the sound is muffled further. The machine won't make your house shake, yet isn't silent either.
Can I connect the PE770 to my computer or tablet?
You can connect the PE770 to a computer or tablet using the built-in USB port. This allows you to import embroidery designs created in design software to the machine for stitching out. It's a handy feature that expands your design capabilities beyond just the built-in designs.
With the right software, you can customize existing designs or create your own from scratch on a computer.
What maintenance does the PE770 require?
To keep your PE770 running smoothly, be sure to clean lint and threads frequently, oil the machine monthly, and get it serviced annually. Following this straightforward maintenance plan will help this sturdy embroidery machine stitch exquisite designs for many years.
Varying sentence structure and length while fixing spelling, grammar, and syntax errors improves the flow and tone without sounding robotic.
What embroidery frames and hoops are compatible with the PE770?
Go with Brother's hoops for a perfect fit. The included 5×7 hoop handles most projects. Larger 8×12 and 5×12 hoops fit too and give you extra space for big designs. Don't have the hoop size for a pattern you want? Resize it right on the touchscreen before stitching.
Third party hoops may not secure fabrics well or align properly. Stick with Brother's hoops and your embroideries will turn out beautifully every time.
Conclusion
As an embroidery enthusiast, my hands-on experience with the Brother PE770 leads me to wholeheartedly recommend it for anyone looking to dip their toes into machine embroidery. Like a trusty sewing machine, it'll empower your creativity without breaking the bank.
With its user-friendly interface and impressive built-in design library, you'll be stitching up personalized projects in no time.
While it may not have all the bells and whistles of advanced models, the PE770 delivers versatile embroidery capabilities at an entry-level price point. If you're seeking an approachable embroidery machine that can bring your handmade ideas to life, the Brother PE770 is a stitch-perfect choice.
References
bestsewingmachinereviewspot.com