This site is supported by our readers. We may earn a commission, at no cost to you, if you purchase through links.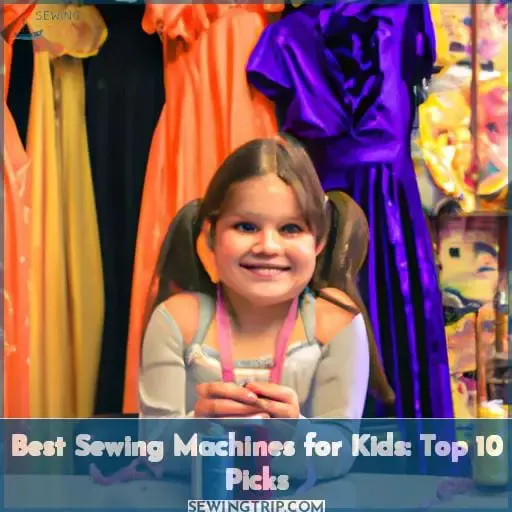 Are you looking to get your child started with a new hobby? Sewing machines for kids are a great way to give them the tools they need to explore their creativity and develop essential life skills. According to Statista, more than one million children ages seven through 17 learned how to sew in 2020.
Key Takeaways
Sewing machines for kids foster creativity and life skills.
Over 1 million children learned to sew in 2020.
Top sewing machines for kids include Janome Fastlane, Brother XM1010, Singer Simple, and Magicfly Mini.
Learning to sew enhances creativity, problem-solving skills, fine motor skills, and boosts confidence.
Top 10 Best Sewing Machines for Kids
Fostering kids' interest in creative textile crafts starts with the right sewing machine. We will explore the top 10 best options designed for young and beginner sewers, ranging from safety-focused starter models to advanced machines that can grow with budding sewists.
1. Janome Fastlane Fuschia Basic Portable Compact Sewing Machine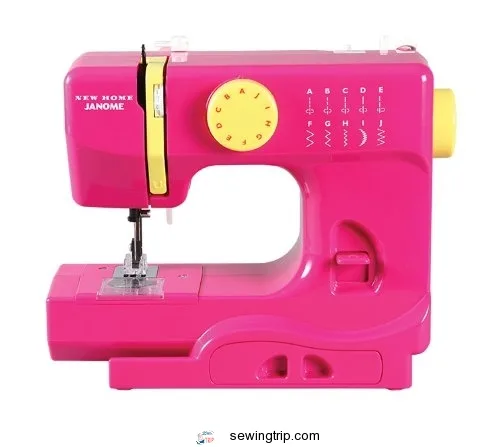 View On Amazon
You'll love how the Janome Fastlane's compact size and portability lets your child sew on-the-go for quick mending or crafting projects. It weighs only 5 pounds and has a small footprint, making it easy to tote to classes or friends' houses.
The 10 built-in stitches handle basic tasks like seams, hems, and zigzags. The Fastlane is not as feature-rich as pricier machines, but it offers a frustration-free introduction to sewing for kids who are always on the move.
Lightweight and portable at only 5 pounds
Good for basic mending and crafts
Affordable starter sewing machine
Easy threading and bobbin
Lacks a built-in light for threading the needle
Mixed reliability according to user reviews
No adjustable stitch width or length
Only 10 built-in stitches
2. Brother Sewing Machine XM1010 10 Built-in Stitches 4 Included Feet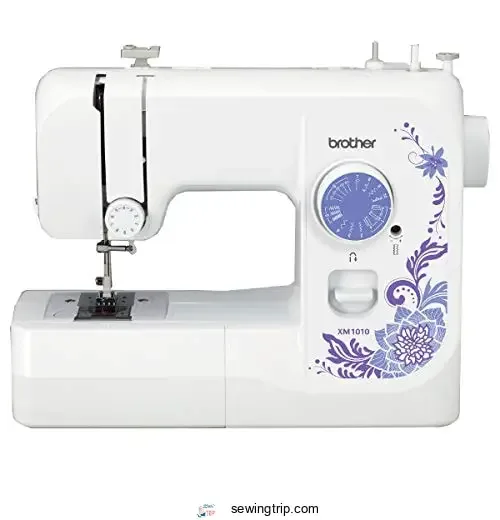 View On Amazon
With its lightweight portability and array of handy accessories, this Brother model makes sewing accessible for any space-constrained beginner. The XM1010 packs 10 built-in stitches into a compact, 15-pound frame that's a cinch to tote between projects.
Its free arm welcomes sleeves, while an auto-sized buttonholer elevates your wardrobe. Four included presser feet have you covered from zippers to zigzags. Simply select your stitch with a turn of the dial.
An instructional DVD lifts the learning curve for fledglings. Just be wary of wrestling the bobbin – it may take a few tries. But for those ready to awaken their inner sewer within modest means, this user-friendly Brother empowers the first stitch of a lifelong passion.
Lightweight and portable
Beginner-friendly operation
Good value for the price
Lots of handy included accessories
25-year limited warranty
Some struggle with bobbin threading
Learning curve with thread tension
Short foot controller cord
3. Singer Simple Sewing Machine for Beginners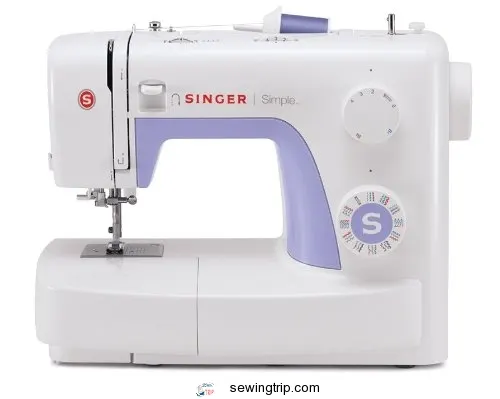 View On Amazon
Let this beginner-friendly sewing machine unleash your inner fashion designer. The Singer Simple makes sewing simple for novice sewists with its 32 built-in stitches. Its automatic needle threader takes the frustration out of threading, while adjustable stitch length and width settings empower your creativity.
The inclusion of a zipper foot and buttonhole foot allows you to master key techniques. Its lightweight yet durable construction provides portability to sew on the go. This machine's built-in reverse makes securing stitches a breeze, even though it is mainly intended for light sewing and alterations.
Accessories like a seam ripper and quilting guide help you hone your skills. With proper care and maintenance, its heavy-duty metal interior promises years of reliable service.
Ideal for beginners
Automatic needle threading
Adjustable stitch settings
Lightweight and portable
25-year limited warranty
Struggles with cheap thread
Bobbin loading not intuitive initially
Tension may need adjusting
4. Magicfly Mini Sewing Machine Portable for Beginners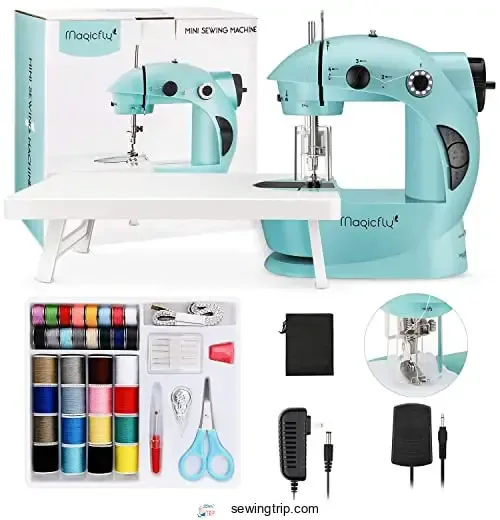 View On Amazon
This portable mini sewing machine offers basic functionality in a compact size, ideal for new sewists with limited space. This easy-to-use sewing machine has just enough features to perform simple mending and craft projects at home or on the go.
The dual-speed button allows you to adjust between high and low speeds for more control.
It comes with a double thread design for added durability. You'll find the extension table expansive enough for pillows and similar projects. All the accessories like needles, bobbins, and threader are included, so you can start sewing as soon as it arrives.
With simple controls like stitch direction markings, it's beginner-friendly straight out of the box.
The lack of adjustable stitch width and inability to backstitch limits the creative possibilities for advanced sewing. However, it remains an affordable starter machine to learn the basics before upgrading.
Compact, portable size
Dual speeds for control
Double thread for durability
Extension table for bigger projects
Accessories included to start sewing quickly
Beginner-friendly simple controls
Lacks adjustable stitch width
No backstitch function
Not suitable for complex projects
5. Sew Mighty Mini Sewing Machine for Kids and Beginners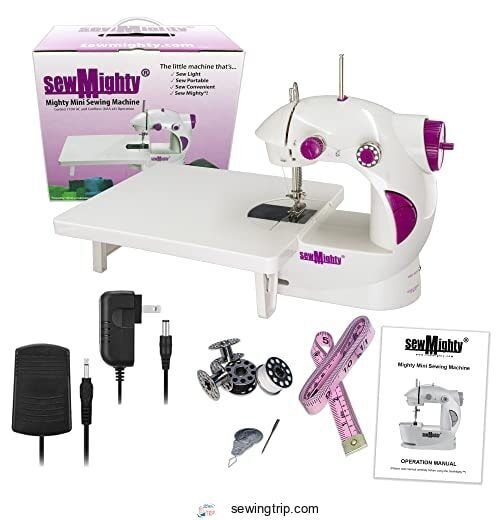 View On Amazon
You're right, the Sew Mighty Mini is a clever choice for introducing youngsters to sewing. My niece Lauren learned stitching basics on it last summer before moving up to more advanced projects.
With its lightweight and portable design, this mini machine empowers creative beginners and kids to unlock their potential. The automatic bobbin winder and built-in light provide user-friendly features, while the optional foot pedal offers customizable control.
Though limited for heavy projects, it excels at lighter fabrics, simple repairs, and starter crafts.
Lightweight and portable
Beginner-friendly features like automatic bobbin winder
Optional foot pedal for speed control
Runs on batteries or AC adapter
Not suitable for heavy fabrics
Limited built-in stitches
Smaller throat space
6. Sew Crazy Sewing Machine Magic Sequin Headband New
View On Amazon
Despite some mixed customer reviews on the ease of use for young children, the real working Sew Crazy Sewing Machine offers an introductory sewing experience for aspiring 8-13-year-old fashion designers.
It provides the tools for experimenting with sewing concepts, including an included foot pedal, needle guard, thread, needles, bobbins, and fabric patterns for making items like scarves and pillows. The corded electric machine can be operated with or without the foot pedal, empowering young designers to learn at their own pace.
While tension and functionality issues were noted by some customers, many found it suitable for gifting their grandchildren an engaging introduction to sewing. Let your child's inner fashionista shine by nurturing their creativity with this hands-on Sew Crazy sewing machine.
Real, functioning sewing machine
Foot pedal included
Needle guard for safety
Fabrics and patterns provided
Allows independent and self-paced learning
Engaging gift to introduce sewing
Some issues noted with tension
Mixed feedback on ease of use for young kids
Functionality problems reported
7. NEX Portable Sewing Machine for Crafting and Mending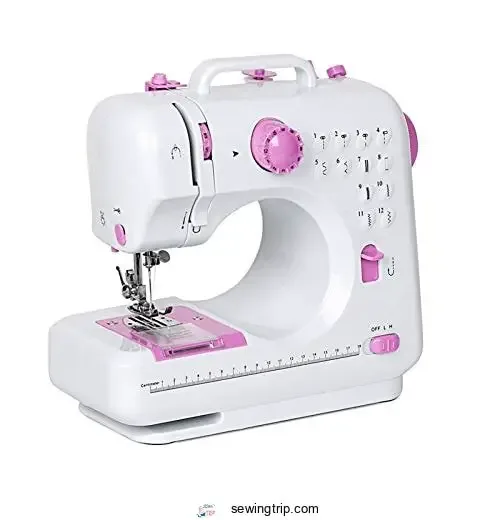 View On Amazon
The NEX Portable Sewing Machine allows you're aspiring sewer to tackle simple projects anywhere. This lightweight and compact sewing machine is perfect for beginners looking to learn the basics of sewing.
With its portable size, multi-speed options, and 12 built-in stitches, you can start sewing projects, from clothing repairs to crafts, in any small space.
The online video tutorials provide guidance for getting started, so you don't need prior experience. Run it on batteries when you're on the go or plug it in at home. The At Your Side lifetime support means help is available when you need it.
This versatile machine allows you to discover your inner sewing enthusiast.
Portable and lightweight for sewing on the go
Beginner-friendly with online tutorials
Variable speeds for safety
12 built-in stitches for various projects
Free lifetime technical support
Not suitable for heavy duty or complex projects
Small workspace
No adjustable stitch width/length settings
8. Portable Mini Sewing Machine for Beginner Gift
View On Amazon
Consider investing in this compact pink machine as a thoughtful gift to nurture a budding passion for sewing. It's portable and lightweight, making it perfect for traveling. With adjustable speed control and sixteen built-in stitches, it offers the versatility to tackle simple repairs or creative projects on the go.
The machine has a handy reverse function that allows for precise stitching, and the three needle sizes adapt to different fabrics. Nighttime sewing is a breeze with the auxiliary lighting. However, tension adjustment may prove tricky for a novice, but the visible tension tips facilitate threading.
While this machine is not suitable for heavy fabrics or marathon sewing sessions, it is user-friendly and empowers beginners to gain confidence in their sewing skills. It's good for beginners learning the basics and has a foot pedal for easy control.
Portable and lightweight for traveling
Good for beginners learning basics
Sixteen built-in stitches for versatility
Reverse sewing function for precision
Night light for visibility
Not for heavy-duty sewing
Tricky tension adjustment
Needle may jam at times
Foot pedal not very responsive
9. Cool Maker Sew Style Sewing Machine Pom Pom Maker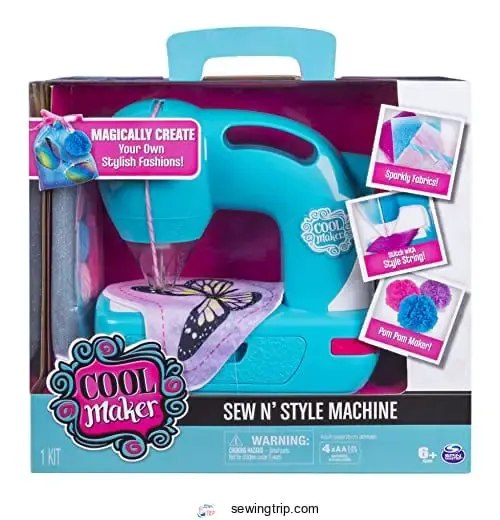 View On Amazon
Let your little designer craft up cute felt fashions with the Cool Maker machine. This kid-friendly felting machine is specially designed for budding fashionistas aged 6-8. It uses friction from enclosed needles to sew felt materials together into simple projects, providing a safe introduction to sewing concepts.
The pom-pom maker attachment adds customizable flair as your child's creativity takes shape. With storage for supplies and included materials to make a glittery purse, plush unicorn, and more, it's an engaging way for kids to gain independence through crafting.
While not built for sewing actual fabrics, it lets young imaginations run free with sparkly prints and embellishments. Equip your aspiring designer with their very own machine to start stitching up stylish felted creations.
Fun, engaging introduction to sewing concepts for kids 6-8
Enclosed needles provide safe operation
Comes with materials to make projects like plush unicorn
Pom pom maker for added customization
Promotes creativity and independence
Not an actual sewing machine; made for felt/embellishments only
Limited materials included; may need separate purchases
Simple projects may have limited long-term play value
Not suitable for heavy or complex sewing
10. Kids Sewing Machine Beginners Finger Guard Christmas Bag Material Red
View On Amazon
You've got a compact red beginner's machine with finger guard protection for your little quilter. The KPCB Tech Kids Sewing Machine is an ideal starter model for introducing sewing to young kids. Its safety features, like the finger guard and adjustable speeds, make it easy for small hands to learn without frustration.
While not built for heavy-duty projects, it lets kids practice on lightweight fabrics to create simple items like drawstring bags. Kids can follow along using the included tutorials. Just be aware that some users report issues with setup and build quality.
Safety features like finger guard
Adjustable speeds for beginners
Automatic bobbin winding
Lightweight for kids to handle
Tutorials included for learning
Not suitable for heavy fabrics
Some quality concerns reported
Can be tricky to initially set up
Essential Features to Consider for Kids' Sewing Machines

When selecting a sewing machine for kids, weight and portability are key. You'll want a lightweight model under 10 pounds that's easy to move between crafting stations or pack for classes. Equally important are safety features like finger guards, adjustable speed controls, needle locks, and stable bases.
Stitch options allowing creativity and versatility will let them graduate from basic to more advanced projects.
Weight and Portability
A portable sewing machine lets you stitch on the go. Compact sewing machines with lightweight designs provide portability benefits. The Brother XM2701 and Janome Fastlane are travel-friendly choices for kids under 10 lbs.
Older kids handle heavier options like the Singer 3232 at 14 lbs. Look for built-in handles, storage cases, and easy transport when shopping for children. Portability allows sewing in small spaces, on trips, or wherever creativity strikes.
Safety Features and Controls
One vital thing that protects tiny fingers is the safety features. Essential for kid-focused sewing machines are finger guards to avoid needle injuries. Low and adjustable speed settings let young learners gain control at a safe pace.
Easy-to-understand stitch selection markings and reverse sewing buttons reduce frustration. Parents should stay nearby for supervision and teaching through creative skill-building projects.
Stitch Options and Versatility
You'll want a model with basic stitches like straight, zigzag, and buttonhole to start. Look for options with around 10-30 built-in stitches. More variety allows you to tackle different fabrics and explore creative possibilities.
Having utility stitches like blind hem alongside fun decorative stitches increases project flexibility. Consider child-friendly machines that offer an array of stitches to suit different skills and interests.
Essential Safety Features for Kids' Sewing Machines

When choosing a sewing machine for kids, essential safety features are critical. You'll want a finger guard to keep little hands from potential puncture wounds, adjustable slower speeds to avoid rapid stitching mishaps, and easy-to-use foot pedal and speed controls appropriate for developing motor skills and coordination.
Importance of finger guards
Desist worrying, thimble shields for safety should be a priority when getting a sewing gadget for your young one. Finger guards prevent ouchies and mishaps by keeping tiny digits away from the moving needle.
Choosing a kid-friendly sewing machine means scrutinizing for finger guards and other precautions.
Benefits of slow-speed settings
You would have more control over stitching speed with slow-speed settings on a kid's sewing machine. These settings allow a child to go at their own pace as they get the hang of operating the foot pedal or start/stop button.
Gradually working up to full speed reduces frustration while building fine motor skills. Slow speeds let kids focus on each stitch without feeling overwhelmed. As their confidence grows, speed can be increased for efficiency.
Thoughtful speed controls make learning to sew an achievable, confidence-boosting process for children.
Easy-to-use control features
You have automatic needle threaders and jam-resistant bobbins that make sewing frustration-free. But when it comes to keeping young hands safe, easy-to-use control features are the real champions. The user interface and control panel on kids' sewing machines are designed to be child-friendly while integrating vital safety measures.
These features ensure that little fingers stay away from harm, preventing accidents like tangled threads or falling feet. So go ahead, explore the best sewing machines for beginners, equipped with these intuitive and safeguarded controls.
Tips and Techniques for Teaching Your Child to Sew

You can start your little one on hand sewing to build fine motor skills before introducing them to the sewing machine. Select age-appropriate, easy beginner projects like pillows or tote bags. Use thicker fabrics like felt or cotton to start.
Closely supervise for safety around needles. If they get frustrated, encourage taking a break.
Check tension, threading, and stitch length if issues arise. When your child is ready for the sewing machine, choose a model with safety features and slowly build skills. Guide them through threading, winding bobbins, adjusting settings, and completing simple projects.
With practice and increasingly complex projects, they will gain competence. The sense of mastery in creating handmade items boosts confidence and creativity.
Different Types of Sewing Machines: Which One is Right for Your Child?

There are mechanical and computerized sewing machines to consider when choosing the right one for your kid. Mechanical machines have manual dials to select stitch type and length. They are straightforward to operate, durable, and budget-friendly.
Computerized options automate stitch selection and settings. They provide a wider range of stitches, easy decorative sewing, and built-in tutorials.
For beginners, focus on safety features like finger guards, a slow speed setting, and stable construction. Simple machines allow kids to grasp sewing basics, but offer expandability for more advanced techniques down the road.
Investing in a quality kid's sewing machine nurtures creativity and skill development.
The Benefits of Learning to Sew at a Young Age

Introducing young children to sewing can provide numerous benefits that will serve them throughout life. Learning this skill set at a young age can enhance creativity, sharpen problem-solving abilities, and boost self-esteem and independence.
Building essential life skills
When kids learn to sew young, it strengthens their creativity, problem-solving skills, independence, and self-confidence.
Encourages creative thinking and imagination through fabric art.
Develops fine motor skills and hand-eye coordination.
Teaches practical life skills like mending and alterations.
Boosts confidence through designing and completing projects.
Learning to sew at a young age provides lifelong benefits that reach far beyond needle and thread. Sewing empowers kids to envision and create the world anew through fabric, serving as an artistic outlet.
The skills gained build practical habits and abilities that unlock greater self-sufficiency. Most of all, sewing gifts children the power to dream up their own beautiful reality and bring it to life with their own hands.
Boosting creativity and problem-solving
Learning to sew as a child boosts creativity and sharpens problem-solving abilities by enabling kids to design, construct, and troubleshoot their own sewing projects. Sewing allows children to bring their imaginations to life through creative projects.
They gain valuable skills by tackling each step hands-on, from planning designs to selecting fabrics and handling obstacles.
Sewing provides innovative ways for young minds to craft, invent, and solve problems through their own crafting challenges. It unleashes imagination and fosters design creation, such as creating an original plushie design.
Children also learn by doing and develop skills in following instructions, for example, sewing from a pattern. Additionally, sewing helps children innovate solutions and improve troubleshooting skills, such as fixing mistakes in stitching.
Overall, sewing boosts creativity, innovation, and problem-solving skills in children by letting them bring their own ideas to life through hands-on crafting challenges full of learning opportunities.
Fostering independence and self-esteem
You'll gain more independence and boost your self-esteem as you master sewing skills. Sewing provides a creative outlet to build confidence as you develop new abilities. With each completed project, you'll gain sewing know-how and nurture self-esteem.
Mastering the craft promotes responsibility and independence. Your expanding skill set will empower greater self-sufficiency in fixing, altering, and even creating original clothing and items.
Sewing Machine Maintenance Tips for Kids

Keep it running smoothly with regular cleaning, oil, and needle changes. Overcome frustration from skipped stitches and tension issues.
Wipe down the machine after each use to remove stray threads and lint. Dust and debris can interfere with mechanisms.
Frequently change the needle. Dull needles are a common cause of skipped stitches.
Use quality thread to prevent tangling or breaking. Cheap thread can damage the machine over time.
Oil the motor and moving parts every couple of projects. This prevents rust and keeps everything running smoothly.
Invest a few minutes into basic maintenance for a frustration-free sewing experience. Taking care of your machine helps it last longer and perform at its best. Don't let minor issues discourage young sewists.
Factors to Consider When Choosing a Sewing Machine for Your Child

When choosing a sewing machine for your child, there are several important factors to keep in mind. Safety features like finger guards, slow speed settings, and easy-to-use controls are essential to consider.
You'll also want to make sure the machine is simple enough for your child to operate and offers a variety of basic stitches to start with.
Safety features to consider
When choosing a sewing machine for your child, look for essential safety features like finger guards, slow speed settings, easy-to-use controls, and stable construction. The right kids' sewing machine should have adjustable speed control so your child can learn at their own pace.
Look for rounded, protective edges so little fingers don't get pinched. Make sure the machine sits firmly on the table without rocking.
User-friendly stitch selection knobs allow creativity without frustration. Test drive models with your child before purchasing to ensure the size and settings suit their skills. With the proper safety features, sewing can be a fun, creative journey for your aspiring young designer.
Ease of use
Weigh whether big buttons bewilder 'bout beginners' basic bouts. Ease of use is key when selecting a sewing machine for your child.
Large, easy-to-press buttons.
Intuitive controls.
Built-in tutorials and guides.
Look for kid-focused innovations that reduce frustration. Sewing should be an exploratory journey, not a source of struggle. With the right beginner's machine, your child can safely learn fundamental skills and unleash their creativity.
The ideal model offers a blend of interactive features, creative freedom, and simplified mechanics crafted just for kids.
Stitch options and variety
You'll want options beyond just basic straight stitches. As your child explores sewing, having a variety of stitch types helps unlock their creativity. Look for built-in stitches like zigzag, buttonhole, and decorative stitches. More advanced machines also offer programmable stitch selection, allowing you to save favorite stitch settings.
With options like stretch, overcast, blind hem, and satin stitches, your child can experiment with stitching techniques for more intricate projects.
Frequently Asked Questions (FAQs)
What age should my child be before introducing them to sewing? There are no hard rules, but many experts recommend waiting until at least age 5 or 6 when fine motor skills are more developed. However, engaging younger kids in sewing activities with close supervision can work too.
You can introduce sewing as early as age 4 or 5 with close guidance. Let their curiosity and fine motor skills develop before expecting complex skills. Engage their creativity with simple, fun projects suited to their age and abilities.
Can I get my kid's sewing machine engraved/customized? Some specialty retailers offer customization like engraving for an extra fee. This can make the machine feel more special and personalized.
Intrigued by personalizing your child's sewing machine? Some retailers do offer custom engraving for a fee. This personalized touch can make the machine extra special for your budding seamstress.
Conclusion
As the old adage goes, Give a man a fish and you feed him for a day; teach a man to fish and you feed him for a lifetime. Sewing is no exception. By teaching kids to sew, you're gifting them a skill they can use for the rest of their lives.
With the right sewing machine, children can learn the basics of sewing and progress to more complex projects as they grow. When looking for the best sewing machine for kids, consider safety features, ease of use, stitch options, and price.
With the right sewing machine and guidance, your child can begin a journey of creativity, problem-solving, and independence.
References
bestsewingmachinereviewspot.com