This site is supported by our readers. We may earn a commission, at no cost to you, if you purchase through links.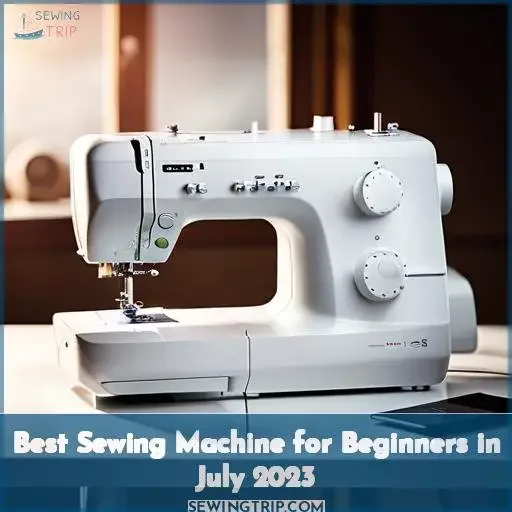 Hello sewers! Have you ever wanted to learn how to make your own wardrobe from scratch or spruce up tired furniture with a homemade slipcover? If so, finding the right beginner sewing machine is key to getting started on your creative journey.
We'll walk you through choosing the perfect machine for learning the basics, from types and features to brands and models. With the right beginner sewing machine, you'll be stitching up projects in no time.
Key Takeaways
Mechanical models with 10-15 stitches and moderate sewing speeds are ideal for learning the basics. They allow you to focus on developing fundamental skills without getting overwhelmed by too many features.
Look for features that make learning easier, such as easy threading, bobbin winding, automatic needle threaders, and one-step buttonholes.
Try out different models in person before buying. Testing them yourself will help you get a feel for the controls and sewing experience each offers.
Consider starter bundles that include useful accessories like needles, bobbins, seam rippers, and foot pedals.
Key Features of Sewing Machines for Beginners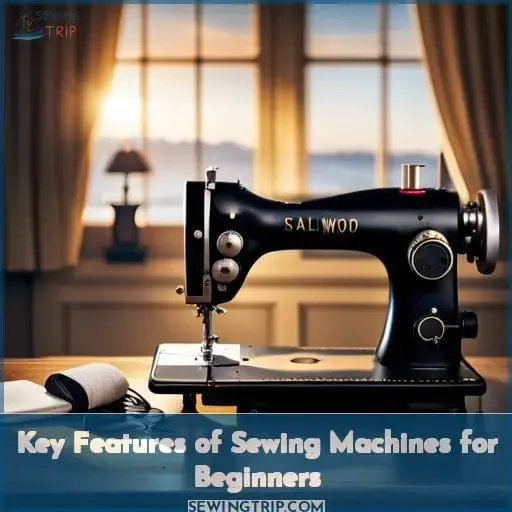 When shopping for your first sewing machine, narrowing down the options can feel overwhelming. Focus on three key features – machine type, number of stitches, and sewing speed – to find the best fit for your needs.
Mechanical models offer simplicity and reliability. Look for around 10-15 stitches to handle basic projects plus a few stretch stitches. Moderate speeds from 500-850 stitches per minute ensure you have good control as you learn.
More computerized options provide added functionality, but avoid highly automated machines starting out. Think through your fabric and project plans, then select a reasonably-priced model with enough versatility for a beginner without too many bells and whistles.
Type
You'd be crazy not to start with a basic mechanical model that keeps it simple yet sturdy for your first clumsy projects. Look for options with essential straight and zigzag stitches to handle basic seams and finishing edges.
Avoid complex computerized or industrial machines with fancy embroidery and multiple stitches. Focus on finding a starter model with basic utility stitches like straight, zigzag, and buttonhole to master the fundamentals without being overwhelmed.
Number of Stitches
Straight stitch for seams
Zigzag for finishing raw edges
Buttonhole for closures
Blind hem for invisible hems
Overcasting stitch to secure seams
When first learning to sew, it's best to start with a basic mechanical machine that has these fundamental stitches. Focus on mastering the essentials before upgrading to a computerized machine with fancy embroidery capabilities later on.
More advanced stitches can come after you've honed your skills on the core basics.
Speed
Look quickly, the speed matters. As a beginner sewist starting out on a mechanical machine, focus first on learning proper technique and stitch formation. Once comfortable with straight and zigzag stitches, you can upgrade later to a computerized machine offering faster stitching speeds for efficiency on bigger projects and thicker fabrics.
But for mastering fundamentals initially, precision trumps raw speed every time.
Top Beginner-Friendly Sewing Machine Brands
Let's get you started with a trusted sewing machine brand for beginners. When shopping for your first sewing machine, you want a quality model that's easy to use and offers versatility to grow your skills.
Brands like Singer, Brother, Bernette, and Janome are established names in sewing that offer excellent entry-level models. These brands balance features, reliability, and cost in their entry machines to help new sewers get comfortable behind their first machine.
Focus your search on a few models and features that fit your needs from one of these reputable brands and you'll be on your way to sewing success.
Singer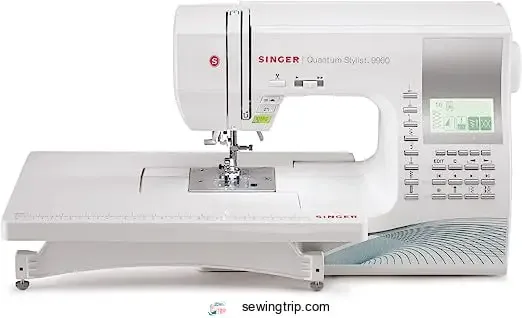 View On Amazon
Singer offers a quality computerized sewing machine with the Singer 9960, featuring 600 stitches, 10 presser feet, and a fast 850 stitches per minute for handling thick fabrics and creative projects. As a seasoned sewing instructor, I often recommend Singer to my beginner students for its versatility and ease of use right out of the box.
This leading brand combines thoughtful engineering with intuitive design so you can dive into creative projects with confidence.
With the Singer 9960, you get lots of functionality without being overwhelmed. The high stitch count and multiple presser feet equip you to sew anything from delicate fabrics to heavy quilts. And the fast speed means you can whip up projects in no time without sacrificing neat seams.
Of course, no machine's perfect. Be sure to use the appropriate needle for thicker materials to avoid frustrating jams. And not all manuals are available in every language yet. But overall, Singer and the 9960 model offer quality construction and simplicity ideal for the novice ready to master sewing.
Trusted Singer brand
Computerized functionality
600 stitches for versatility
Fast 850 stitches per minute speed
10 presser feet included
Good for quilting and thick fabrics
Some users experienced jamming
Manual not in all languages
Needle must suit fabric thickness
Brother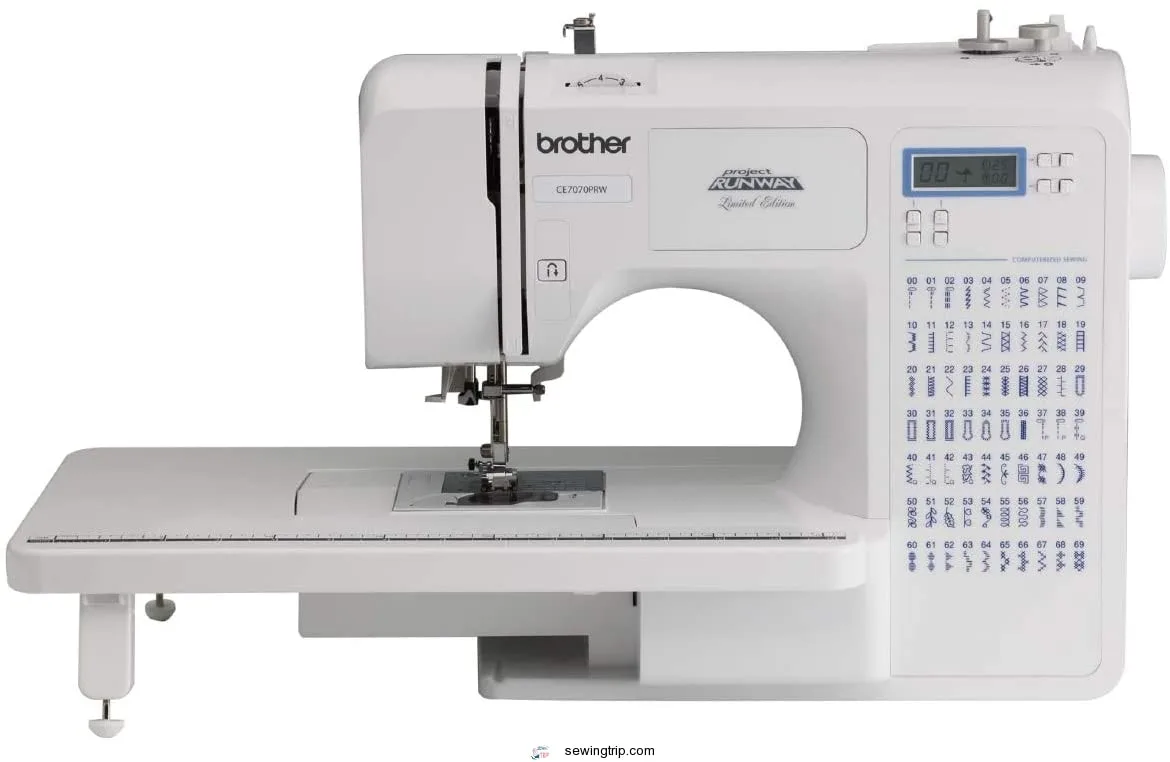 View On Amazon
Brother dazzles you with the CE7070PRW. It packs 70 stitches, auto-sizing buttonholes, and a spacious worktable to delight your creative spirit. This versatile powerhouse unlocks your potential for sewing clothes, quilts, crafts, and everyday repairs.
Just power it on and let the automatic needle threader and top loading bobbin simplify setup. The intuitive LCD screen walks you through selecting stitches, adjusting length and width, and more with just a touch of a button.
Built with Brother's reputation for reliability, the sturdy CE7070PRW confidently handles layered and heavy fabrics while staying quieter than competing models. It ships with multiple presser feet, needles, and bobbins so you can start sewing ASAP.
While cover and case are sold separately, reviews confirm this machine delivers incredible quality and functionality right out of the box.
With 70 stitches, you'll experiment with decorative touches on blankets, leather, denim, and knits effortlessly. The 7 auto-sizing buttonholes perfectly finish your handmade shirts and dresses every time.
Feed your creative spirit and master sewing with this thoughtfully designed powerhouse.
Trusted Brother brand
70 built-in stitches for versatility
7 auto-sizing buttonholes
LCD screen simplifies settings
Cover and case sold separately
Can be noisy at high speeds
May require servicing over time
Bernette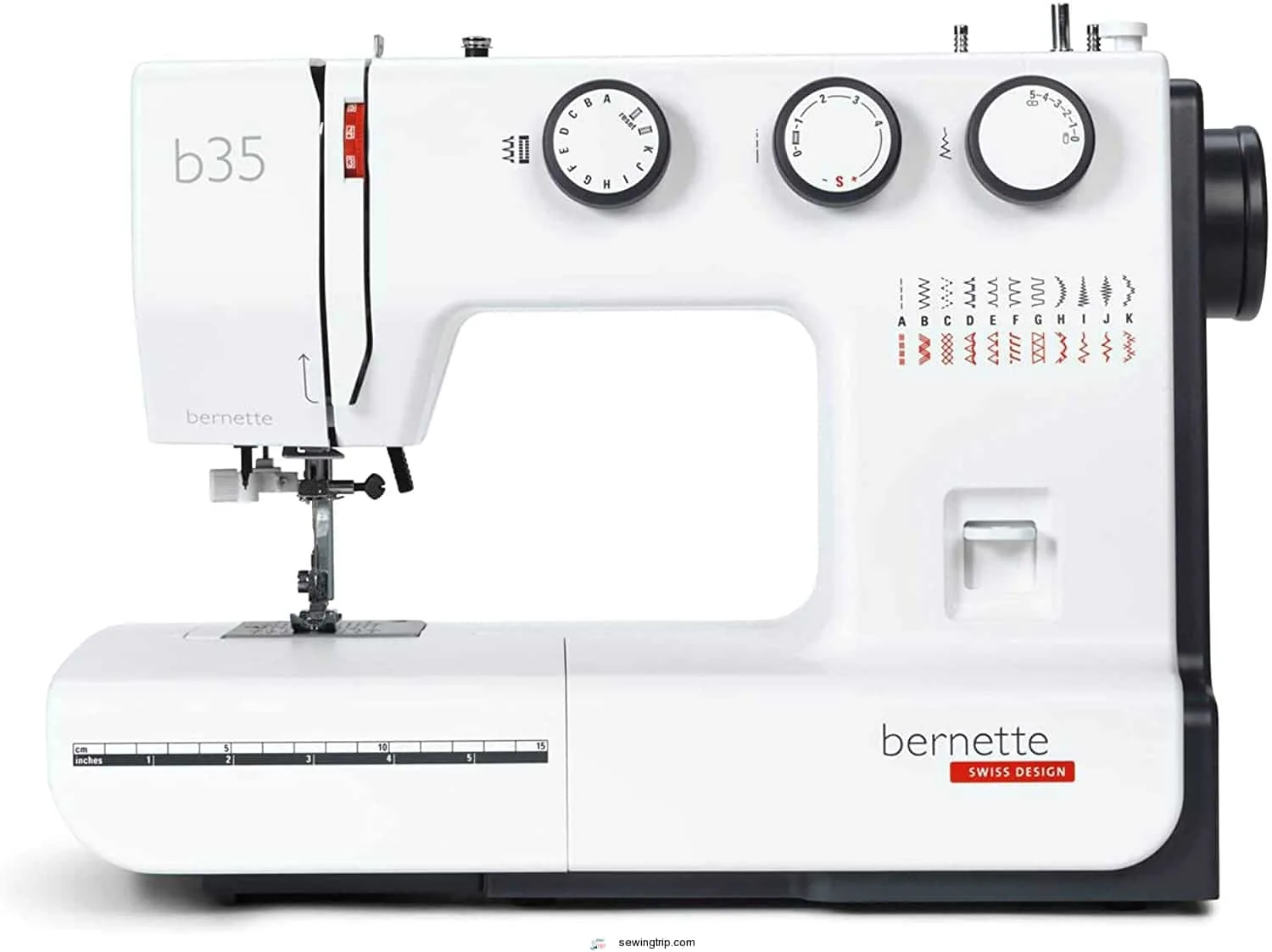 View On Amazon
You'll be impressed by the ease of use with Bernette's entry-level mechanical model. This lightweight, Swiss-designed machine makes sewing basics like blankets, straight stitch, and zigzag a breeze for beginners.
The automatic buttonhole function and needle threader simplify setup so you can start sewing sooner. With multiple presser feet included, you'll have the tools to handle a variety of fabrics right away.
While some customers report issues with longevity after a few months of use, initial reviews praise the Benette as a solid value starter machine for developing essential sewing skills.
Lightweight and portable
Good for beginners
Multiple presser feet included
Durability concerns after a few months
Limited built-in stitches
Lacks some accessories
Janome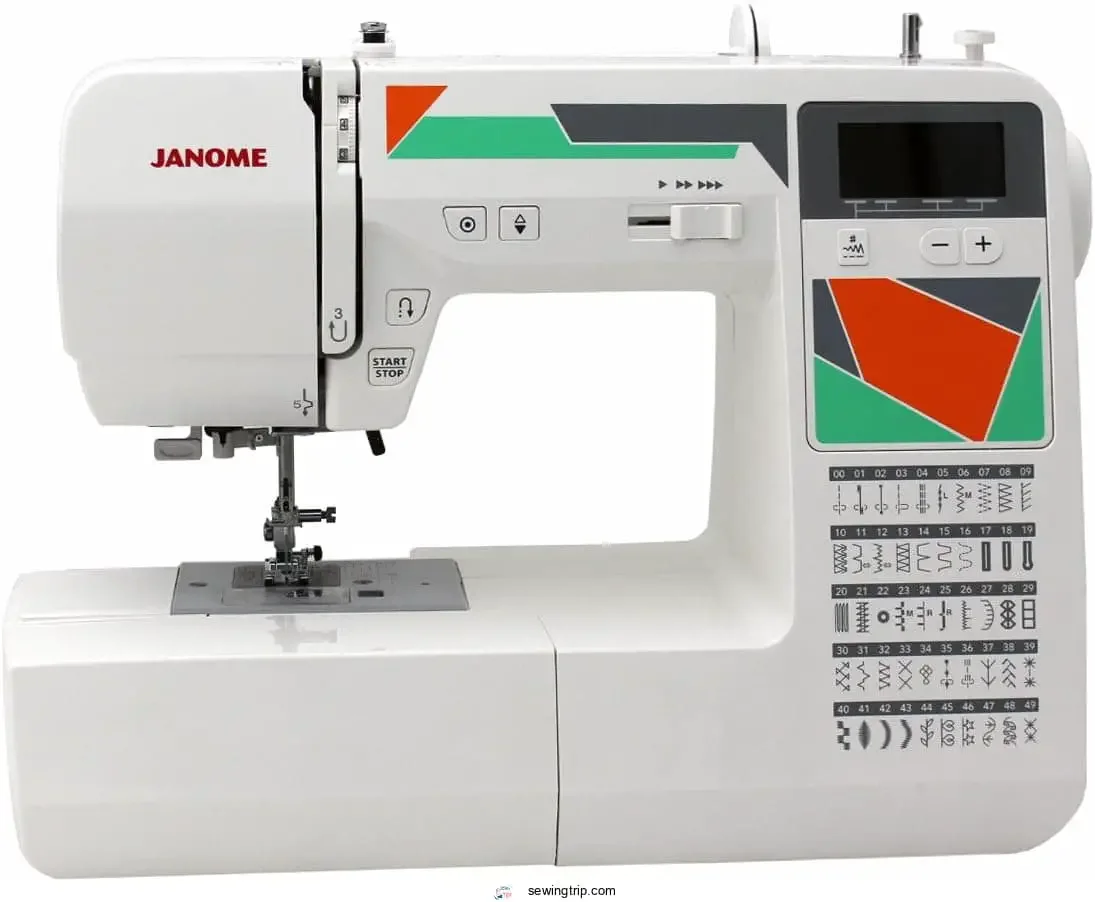 View On Amazon
You're in luck – the Janome MOD-50's user-friendly interface makes computerized sewing a cinch for newbies. With an intuitive layout, backlit LCD screen, and labeled buttons for key functions, you'll be sewing creative projects in no time.
The top loading bobbin and easy threading system reduce frustration so you can focus on the joy of sewing. And with 50 built-in stitches, you'll have plenty of options for stitching knits, wovens, and buttonholes.
Easy to use interface and controls
Helpful LCD display screen
Built-in stitches for versatility
Top loading bobbin
Automatic needle threader
Difficult to clean lint
Lacks some accessories
No single hole needle plate
Best Computerized Sewing Machines for Beginners

Let's find you the perfect computerized sewing machine to start your sewing journey. Investing in a high-quality beginner model sets you on the path to sewing success. The Janome MOD-50, Magicfly Mini, and JUCVNB Mini offer user-friendly features, reliability, and portability to inspire your creativity on small crafts and projects.
Janome MOD-50 Computerized Sewing Machine
The Janome MOD-50's built-in stitches and LCD screen make computerized sewing a breeze for beginner sewers. This portable, lightweight machine's easy threading system, top load bobbin, and backlit display provide user-friendly convenience.
With 50 built-in stitches, 25-year warranty, and 3 one-step buttonholes, the MOD-50 handles a variety of fabrics and projects. Adjust stitch length and width for customized sewing. While lacking some accessories, the MOD-50's smooth stitching, straight seams, and feed dogs inspire creativity.
Janome's feature-rich computerized model is affordable for intermediate and novice sewers.
Magicfly Mini Sewing Machine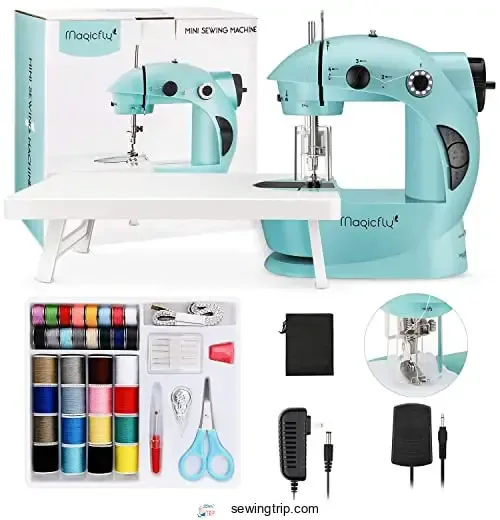 View On Amazon
With the 2.2 pound Magicfly mini sewing machine, you can easily take basic sewing on the go. Compact and battery-operated, this little wonder is there whenever inspiration strikes. Adjust the speed for your project and get to sewing lightweight fabrics like cotton, fleece, and linen in a snap.
An accompanying kit equips you with bobbins, needles, thread, and scissors right out of the box. While limited to one stitch type and ideal for small projects, this portable sewer empowers beginners to get creative with an accessible, affordable design.
Portable and lightweight
Dual speed settings
Easy threading
Accessory kit included
Affordable price
Battery operated
Only one stitch type
Not for heavy fabrics
Some durability concerns
Bobbin winding unclear
No stitch width/length adjustment
JUCVNB Mini Sewing Machine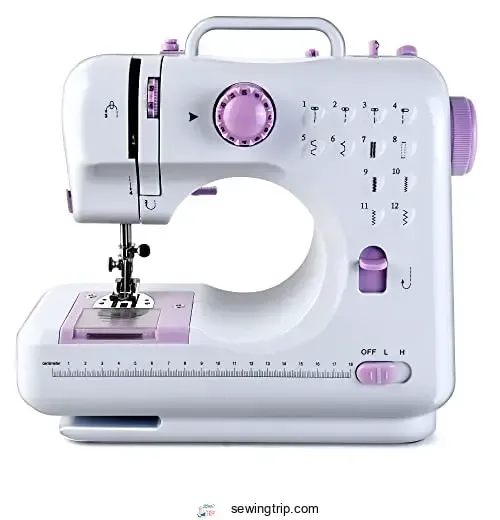 View On Amazon
Inspire creativity and expand your skills with this feature-packed mini sewing machine. Offering both battery and outlet power, the JUCVNB's compact design makes it convenient to sew anytime, anywhere.
Adjust the width and length on its 12 built-in stitches to take on projects big or small. Perfect for beginners, this accessible machine handles lightweight fabrics with ease, empowering you to craft bags, pet clothes, mats and more.
Portable and lightweight
Adjustable stitch settings
Dual power source
Beginner-friendly
Inspires creativity

Cons:

Not for heavy fabrics
Limited built-in stitches
Requires practice and patience
Durability concerns
Tips for Choosing Your First Sewing Machine
Consider how many built-in stitches you need. 10-20 is often enough for simple projects.
Look for easy threading, bobbin winding, and automatic features. This simplifies learning.
Choose a model with accessories like feet, needles, bobbins to get started.
Stick with reputable brands like Singer, Brother, Janome known for quality.
Find a retailer who offers demos and comparisons to try before you buy.
You'll love finding the perfect beginner's sewing machine if you focus on key features like number of stitches, ease of use, accessories, and brand reputation.
Getting the right starter machine tailored to your skill level allows you to learn at your own pace and set yourself up for lifelong sewing success!
Frequently Asked Questions (FAQs)
Conclusion
Let's sew up what we've learned, sewcialites! From key features to trusted brands, you're now armed with everything you need to start stitchin' up a storm. Just be open to trying different models, read those manuals, and don't be afraid to get those creative juices flowing.