This site is supported by our readers. We may earn a commission, at no cost to you, if you purchase through links.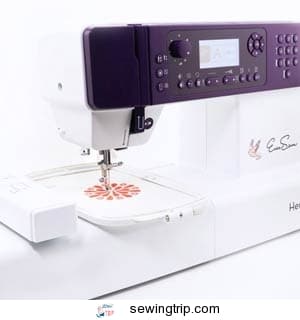 Iverson hero sewing machine – effacing.com
There's more to the EverSewn Hero sewing machine than the most other traditional ones.
A sewing machine with three different perspectives; computer-controlled sewing machine, computer-controlled embroidery machine and a sewing and embroidery machine.
In terms of design, ease of use and user experience, the EverSewn Hero computerized sewing machine is a round pin in a round hole. Equipped with all the advanced functions that appeal to the younger generation. It is still traditional enough for the oldies.
Visiting sewing workshops in the United States, you will see how much acceptance and trustworthiness the EverSewn brand commands.
Why Choose EverSewn Hero Sewing Machine
The popularity of EverSewn Hero among famous bloggers is not only enough if reason, there is more. Being a computerized embroidery machine, professionals will enjoy plenty of space that the machine offers.
There is a good comparison between the design of this sewing machine and the quality of the stitches produced. I've seen there is more style and appeal in the EverSewn Hero than any sewing machine needs. A sewing machine in a class of its own without compromising on stitch quality.
Therefore, you don't need to choose EverSewn Hero because of its popularity. Think about its construction and .
Description of EverSewn Hero
Rarely will you find something you need for sewing and embroidery absent from EverSewn Hero. One sewing and embroidery machine with functions that guide you as you follow suit.
The volume of the 400 built-in stitches may confuse you as a newbie. It might amaze you which one you want to work with. It doesn't end here; 40 embroidery designs should be enough to bring out your creative side. There's even room for more, just plug in via the USB port and you're all on track.
At 850 stitches per minute, everyone can handle a high speed. Don't worry, although the stitching speed can by a speed control with slider.
Just the right speed for intermediate and experienced users to get started. For your embroideries, it's time to consider large-scale projects with the embroidery space of 110mm by 170mm.
As a computerized sewing machine, you can expect some automated functions such as needle threader, bobbin thread control and LCD screen. You expect fully met, especially the bright and robust LCD screen displayed in normal, memory and embroidery mode.
While other EverSewn sewing machines have products between 1 and 6 buttonhole styles, the EverSewn Hero continued with 10. For your needle, there is an up and down button to control the movement to control. And for this sewing machine, a start and stop button are at your fingertips with just the touch of a fingertip.
Who Should Buy EverSewn Hero
There are plenty of features that make this attractive to beginners and intermediate users. The speed and number of stitches built-in clarify that experts have a better chance of owning EverSewn Hero.
With the embroidery design size and workspace, top level embroiderers should have their eyes on EverSewn Hero. Consider it an indispensable embroidery machine in any workshop.
[0Briefsummaryoffunctions[0Briefsummaryoffunctions
400 built-in stitches
800 stitches per minute
10 Buttonhole Style
Start and Stop Button
Speed Control Slider
40 Embroidery Designs
163mm Free Arm Length
Needle Control
Automatic Needle Threader
LCD Screen
USB Port
5 inch workspace
Top needle and coil level check
Adjustable stitch width of 7 mm
25 lbs.
Pros
Portable
Easy to operate
Room for customization
Disadvantages
None automatic thread cutter
What's in the package?
EverSewn Hero Sewing Machine
Embroidery Set
Soft sleeve
Net
Screwdriver
Rim and Quilting Guide
Universal Foot
Brush / Seam Ripper
Power Cord
Instruction Manual
Top Image Credit: EverSewn
References
bestsewingmachinereviewspot.com