This site is supported by our readers. We may earn a commission, at no cost to you, if you purchase through links.
Friend, I adore giving things a personal touch with embroidery. Nothing feels better than adding a pop of personality to denim! Let's delve into personalizing our clothing with customized stitches. Together, we'll explore tips for using computerized sewing machines and hand embroidery.
I'll provide a free pattern download too, so even novices can easily make magic. Embellishing denim may seem daunting, but have no fear. With the right tools like EverSewn's user-friendly Hero, unleashing your creativity is a breeze.
Key Takeaways
EverSewn Hero offers 400+ built-in stitches for versatility.
The machine is praised for its creative possibilities and portability.
The EverSewn Hero has a 25-year limited warranty and a 1-year basic warranty.
Considerations for choosing the EverSewn Hero include needs, budget, and desired features such as hoop size and designs.
Top 3 EverSewn Hero Sewing Machines
You're researching some highly-rated sewing and embroidery machines like the EverSewn Embroidery model with 400 stitches and 40 embroidery designs, the versatile Brother SE400 with 185 stitches and 70 designs, and the user-friendly Singer Futura XL400 with 30 stitches and 125 embroidery designs.
We'll examine reviews of these top-rated EverSewn, Brother, and Singer machines to compare features, capabilities, and performance for sewing and embroidery projects.
1. EverSewn Embroidery Sewing Machine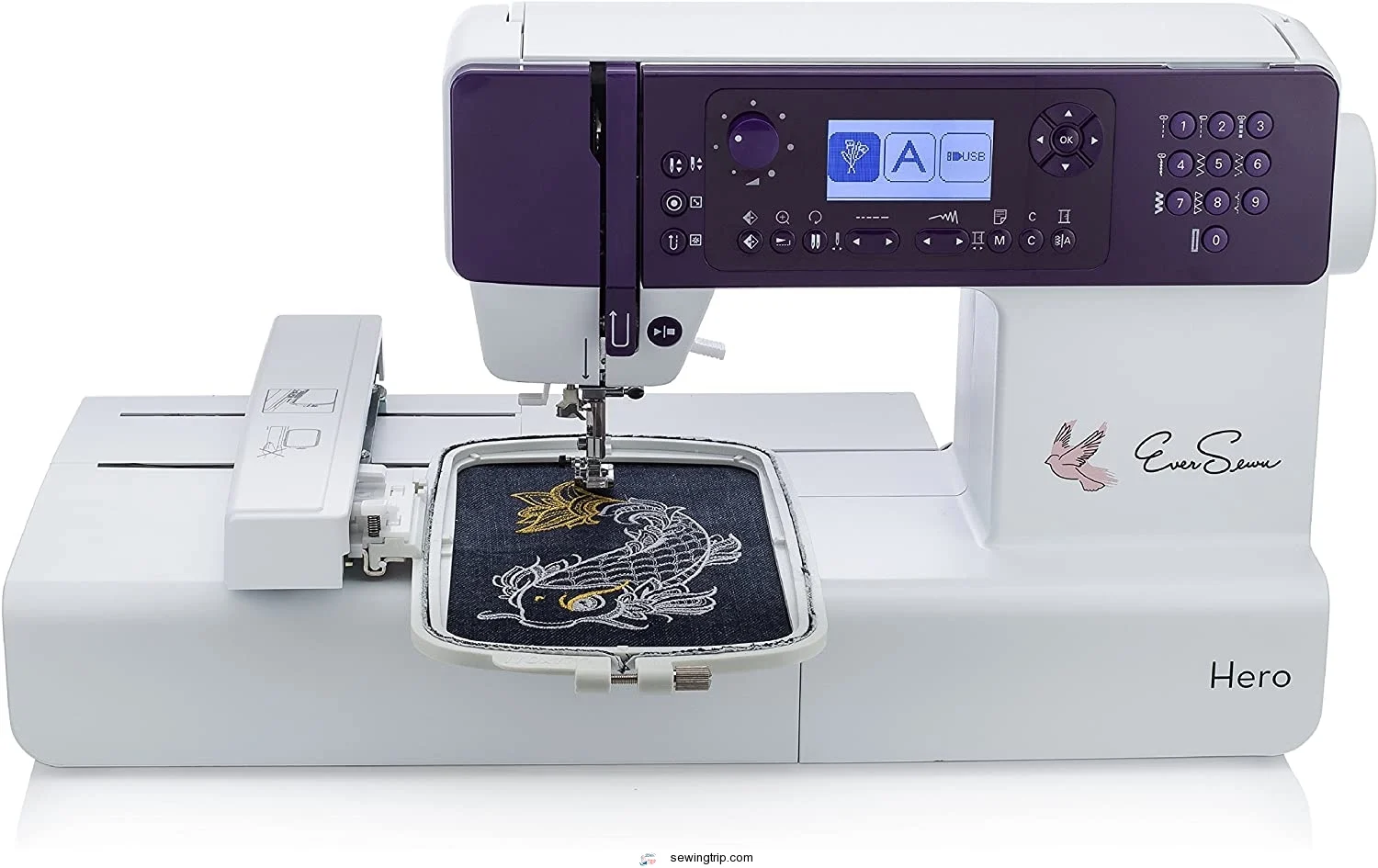 View On Amazon
You'll appreciate this EverSewn model's abundance of utility and decorative stitches, built-in embroidery designs, and ample workspace. However, be aware that some users have encountered inconsistencies with alphabet embroidery quality and bobbin functioning.
With 400+ stitches and 40 embroidery designs, you'll have abundant creative options. The spacious 6.5-inch work area also enables easier handling of projects. However, the lack of an automatic thread cutter is a downgrade from some competitors.
There are also isolated complaints about bobbin jams and inconsistent alphabet embroidery quality compared to other fonts. But with multiple presser feet, editing features, and safety alerts, it provides satisfactory performance for the price.
400 built-in stitches
40 embroidery designs included
Spacious 6.5 workspace
8 presser feet included
No automatic thread cutter
Some bobbin functioning issues
Inconsistent alphabet embroidery quality
2. Brother Sewing and Embroidery Machine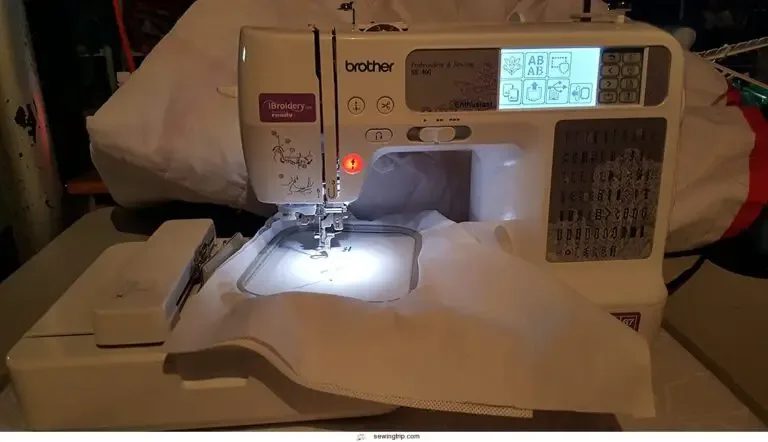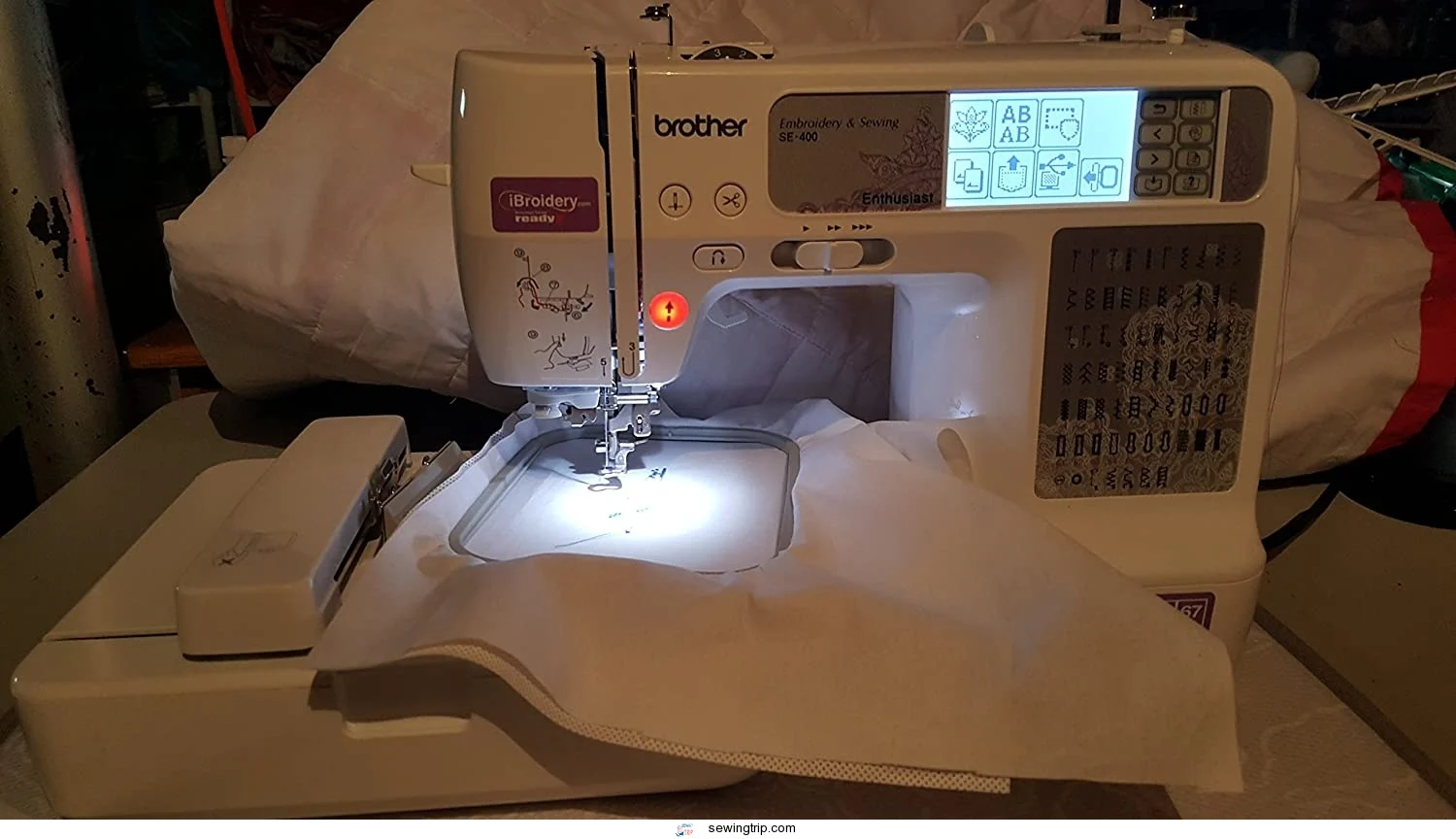 View On Amazon
The Brother SE400 allows you to easily import designs, do embroidery, and tackle sewing projects with its wide range of built-in stitches, helpful accessories, and workspace. Equipped with 185 stitches, 70 embroidery designs, and computer connectivity, this versatile machine empowers your creativity.
The automatic needle threader, LED lighting, and multiple presser feet optimize functionality for sewing, quilting, and embroidery alike.
Versatile for sewing and embroidery
Automatic needle threader
Computer connectivity for importing designs
Heavier than some portable models
Lacks a built-in thread cutter
3. Singer Futura XL400 Portable Sewing and Embroidery Machine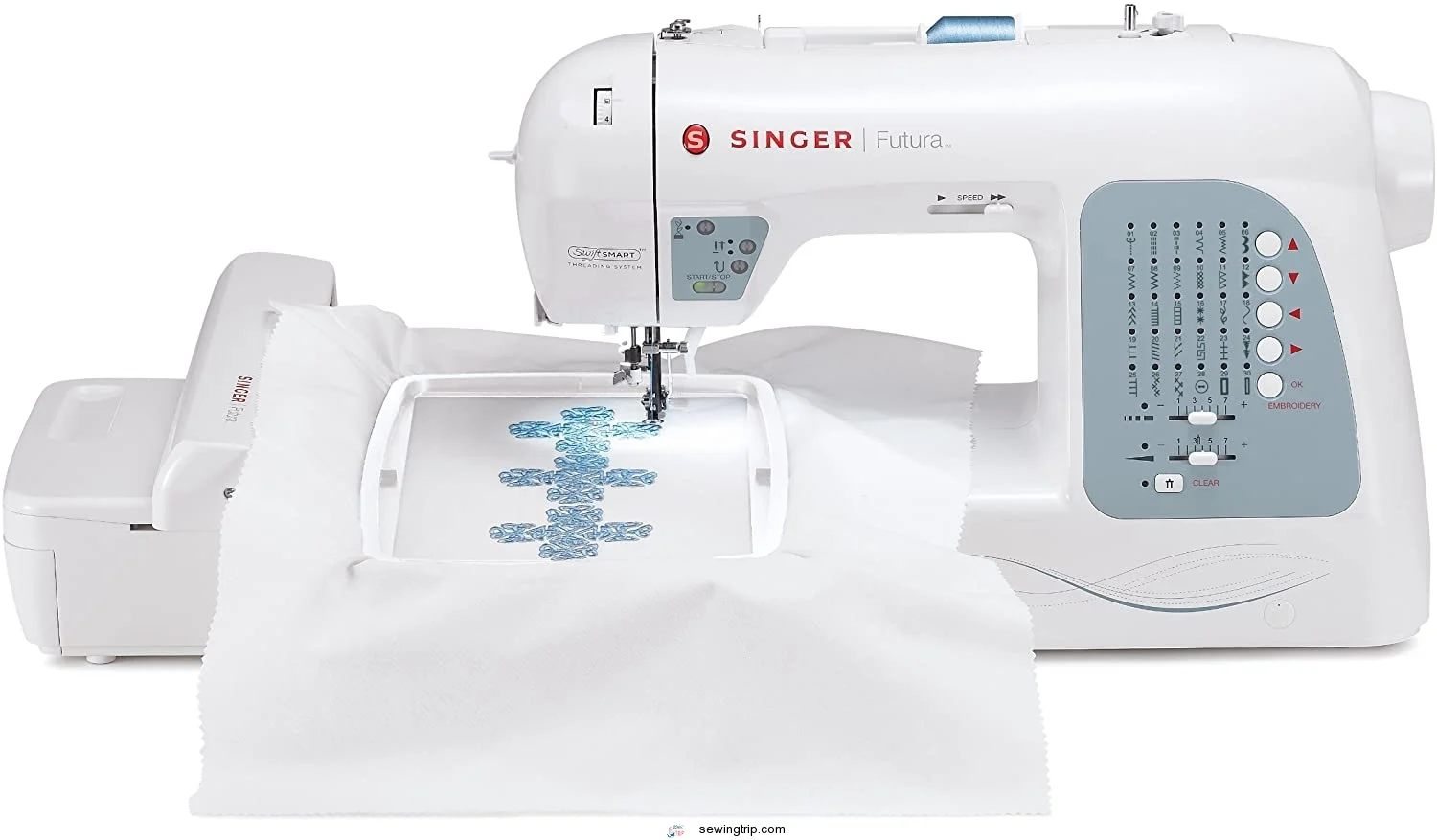 View On Amazon
Next, check out Singer's Futura XL400 for portable sewing and embroidery. This lightweight, feature-packed machine combines 30 built-in stitches, a 10"x6" hoop, and 125 embroidery designs. The automated needle threader and USB connectivity make operation smooth, while the backlit LCD screen enables editing embroidery designs on-screen.
With stellar ease of use and performance for the price, it empowers home crafters to unleash their creativity. LED lighting reduces eyestrain during marathon sewing sessions. For an affordable introduction to computerized embroidery, the XL400 hits the sweet spot.
Portable and lightweight
Affordable price
User-friendly operation
Good variety of built-in stitches and designs
Large embroidery hoop
Backlit LCD screen
Limited to 125 embroidery designs
Smaller selection of fonts
Software only for Windows, not Mac
Learning curve for embroidery features
Why Choose EverSewn Hero Sewing Machine

You are seeking a sewing machine that can handle a wide range of projects while being easy to use and transport. The EverSewn Hero offers over 400 stitches, USB connectivity for importing designs, and a lightweight, user-friendly interface that makes sewing and embroidery accessible for crafters of all skill levels.
Versatile stitching options
Uh-oh, with that many stitch options, you'll get carried away crafting up a storm!
Over 400 built-in stitches for versatility
Automatic needle threader saves time
Large workspace and extension table
USB drive for importing designs
LCD screen shows the selected stitch
The EverSewn Hero offers abundant creative options with its 400+ stitches, built-in designs, and embroidery capabilities. Customize your projects with the stitch editing features and ample workspace. With so much versatility, you'll be inspired to take on any sewing or embroidery project.
Convenient USB connectivity
You'll appreciate the convenient USB port for easily transferring designs. The USB connectivity provides key benefits like easy design transfer from your computer, allowing you to connect embroidery designs from your PC or laptop for convenience.
Overall, the USB port offers handy connectivity advantages for transferring designs and expanding your embroidery options.
Portable and user-friendly
You can easily take this versatile machine to classes and sewing bees thanks to its lightweight, portable design. Surprisingly, the EverSewn Hero weighs under 15 pounds. Its lightweight profile, paired with an easy-to-navigate LCD interface, makes this machine exceptionally user-friendly.
From basic stitches to decorative designs, the Hero provides excellent stitch quality and versatility. Convenient USB connectivity allows you to import new patterns with ease. With robust construction and good customer support, this machine offers reliability to match its flexibility.
Pros and Cons of EverSewn Hero Sewing Machine

While budget-friendly, the EverSewn Hero's inconsistent embroidery quality and lack of an auto thread cutter are downsides. Enthusiasts value the extensive 400 in-built stitches and 40 embroidery patterns.
The machine offers adjustable speed, needle up-down, and start-stop features, providing users with control. Although it lacks an auto thread cutter, it does include other convenient features such as the automatic needle threader and upper thread sensor.
The backlit LCD touchscreen maximizes visibility when selecting stitch patterns and editing designs.
Users praise the user-friendly interface and solid performance for most sewing and embroidery tasks. However, it is important to note that for optimal results, high-quality thread should be paired with any machine.
Overall, the EverSewn Hero offers noteworthy design versatility and stitch options at an affordable price point for hobbyists. One key drawback is its average embroidery quality and the absence of a thread cutter.
Review of EverSewn Hero Sewing Machine

Wanna check out this moderate combo machine with loads of stitches and embroidery options? The EverSewn Hero sewing and embroidery machine offers impressive versatility for the price. With 400 built-in stitches and 40 embroidery designs, you get abundant creative possibilities.
Weighing just 16 pounds, it's easy to lug around. Users report the Hero delivers satisfactory stitching and embroidery results. The backlit LCD screen and computerized functions automate tedious tasks. While it lacks a thread cutter, the Hero still wins over crafters seeking lots of stitch variety, portability benefits, and design versatility in an affordable computerized embroidery machine.
This handy machine empowers hobbyists with its performance, convenience, and capabilities.
Stitch Options of EverSewn Hero Sewing Machine

With over 400 built-in stitches, this versatile machine empowers crafters to explore their creativity.
Choose from utility, decorative, quilting, satin, and alphabet options.
Sew buttonholes, overcast edges, applique designs, and more.
Select twin needle mode for parallel stitching.
Access stitch width and length adjustment for customization.
Experiment with the abundant built-in stitch options to bring your sewing visions to life.
The EverSewn Hero opens up immense creative possibilities with its array of stitch types and ability to fine-tune settings.
Discover new techniques as you try out the different stitches and push your skills in new directions.
This feature-packed machine truly supports your creative growth as a sewer.
Specifications of EverSewn Hero Sewing Machine

You'd love its 400 stitches, embroidery designs, and ample 6.5 workspace for your projects. The EverSewn Hero offers versatile stitching options to unleash your creativity. With 400 built-in stitches, you can embellish fabrics from denim to lace. The Hero's compact size and light 15-pound weight provide portability benefits.
Its easy-to-navigate interface allows you to select stitch patterns and lengths intuitively. You can embroider monograms, motifs, and lettering using the 40 built-in designs.
Overall, the Hero provides noteworthy features like ample stitch variety, a user-friendly design, embroidery capabilities, and computer connectivity at a reasonable price point for sewists seeking versatility.
Key Features to Look for in a Sewing and Embroidery Machine

When it comes to choosing a sewing and embroidery machine, two key features to consider are hoop size for designs and the range of built-in stitches. The hoop size determines the maximum design area for your projects, while the built-in stitches provide a variety of stitch patterns for executing designs.
You'll also want computer connectivity for easily transferring embroidery designs and creative editing capabilities.
Hoop size for designs.
The EverSewn hoop offers adjustable hoop sizes ranging from 4×4 to 6×10 inches. It provides a sufficient hoop size for most embroidery projects and eliminates the need to re-hoop when stitching multi-hoop designs.
The large hoop maximizes the embroidery field and opens up creative possibilities. Additionally, it provides ample working space for stitching projects of any dimensions.
With the Hero's automatically adjustable hoops, you can unlock the machine's full artistic potential while conveniently embroidering projects of any size.
Range of built-in stitches.
You have a versatile machine with an abundance of stitches for crafting creative projects. When reviewing computerized sewing options, consider the range of built-in stitches. Stitch variety enables decorative possibilities, and ample stitch selection brings versatile creative options.
With abundant built-in stitches, you have stitch versatility for personalized crafts.
Computer connectivity for designs
You can transfer designs from your computer to the machine using USB connectivity. This allows you to import embroidery designs created in compatible software or purchased digitally into your machine's library.
Connectivity also enables wireless sending of designs from tablet or phone apps. Managing your design collection across devices provides flexibility in accessing and editing patterns for projects. Embroidery formats like.pes or.dst stitch files can be read when transferred properly through USB or wireless methods.
Warranty Information for EverSewn Hero Sewing Machine

Check that warranty clause closely, 'cause ya never know what restrictions lurk in the fine print! EverSewn provides a 25-year limited warranty on the Hero sewing machine. It covers defects in materials and craftsmanship. Normal wear and tear, misuse, or commercial use are exempt.
Extended service plans can provide longer coverage. But the Hero's entry-level class means even the basic 1-year warranty should suffice if product issues arise. Research any warranty information to ensure sufficient protection on your investment.
With reputable brands like EverSewn, you can sew and embroider with confidence.
Care and Maintenance Tips for EverSewn Hero Sewing Machine
Clean lint and threads after each use. Wipe down the machine's exterior with a soft cloth, avoiding harsh cleaners.
Check thread tension regularly and adjust as needed to prevent stitch issues caused by tangled threads.
Change the needle often, especially if it becomes bent or dull. Additionally, check for any broken pieces in the bobbin area.
When not in use, cover your machine to limit dust buildup and store it in a cool, dry area.
Before embroidering, it's a good idea to test the designs on scrap fabric. Use quality thread and the appropriate needle for your project.
Following these regular maintenance routines will help your EverSewn Hero sew and embroider beautifully for years to come.
Conclusion
You have a difficult choice to make with so many sewing and embroidery machines available. Consider your needs and budget, then examine features like hoop size, built-in designs, and computer connectivity.
Read reviews from reliable sources. Test machines if you can. With research and realistic expectations, you can find the EverSewn Hero or another model to unleash your creativity.
References
bestsewingmachinereviewspot.com