This site is supported by our readers. We may earn a commission, at no cost to you, if you purchase through links.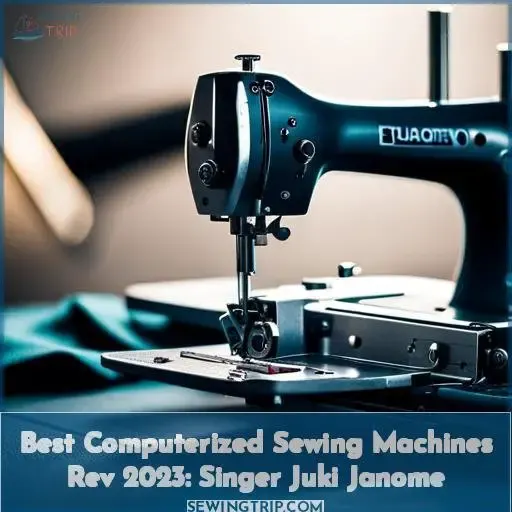 Searching for your first computerized sewing machine? Or perhaps you want to upgrade from your starter mechanical model to something more full-featured? You've come to the right place.
We've done the research and compiled a list of the top computerized sewing machines for 2023 based on performance, ease of use, and value. Whether you're interested in essential stitches or advanced embroidery, these technology-packed machines make sewing and creating easier and more efficient.
From Singer's customizable model to Janome's high-end quilter, you're sure to find your perfect match. We'll compare stitch options, LCD screens, workspaces, and more to help you determine which features are must-haves.
With so many choices, selecting the right computerized sewing machine for your needs can feel overwhelming. Let our comparisons guide you to the versatile, user-friendly model that best fits your budget and goals.
Happy sewing!
Key Takeaways
Computerized sewing machines range in price from $200 to over $1000, with entry-level models starting at around $200 and intermediate models costing between $500 and $1000.
Clear menus and an easy selection process make computerized sewing machines user-friendly, with a minimal learning curve when transitioning from mechanical machines.
More built-in stitches offer greater flexibility, and specialized functions like embroidery and quilting expand creativity.
Test machine performance on preferred fabrics to ensure optimal quality, capabilities, and ease of use within budget. Prioritize features that align with goals, budget, and skill level.
Top 6 Best Computerized Sewing Machines Reviewed
The Singer 9960, Brother XM2701, Juki HZL-F600, and Janome 4336999940 are some high-quality models to consider for computerized sewing. The Brother embroidery hoops and EverSewn Sparrow X2 provide expanded embroidery functionality.
Singer 9960 Sewing Machine With Accessories and Extension Table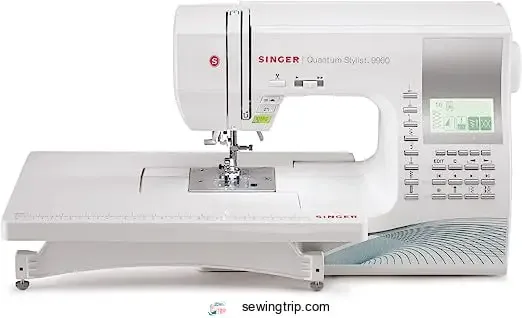 View On Amazon
You've got this fancy schmancy machine that'll sew your buttons on crooked. The Singer Quantum Stylist 9960 is an advanced computerized sewing machine packed with features for the ambitious home sewer.
It has 600 built-in stitches, a high maximum speed of 850 stitches per minute, and a wide range of included accessories. This machine offers exceptional versatility for sewing, quilting, crafting, and decorative techniques.
The large selection of presser feet enables work on any type of fabric. Convenient amenities like the needle threader, drop-in bobbin, and stitch editing functions simplify operation. Overall, the Quantum Stylist 9960 gives sewers professional-quality results in a portable package.
However, the high price tag and learning curve for the computerized functions may intimidate some novices.
600 built-in stitches for versatility
Fast sewing speed up to 850 SPM
Comes with lots of accessories and presser feet
Easy-to-use, automated features
Expensive price point
Steep learning curve for computerized functions
Can be overwhelming for beginner sewers
Brother Computerized Sewing Machine Sixty Stitches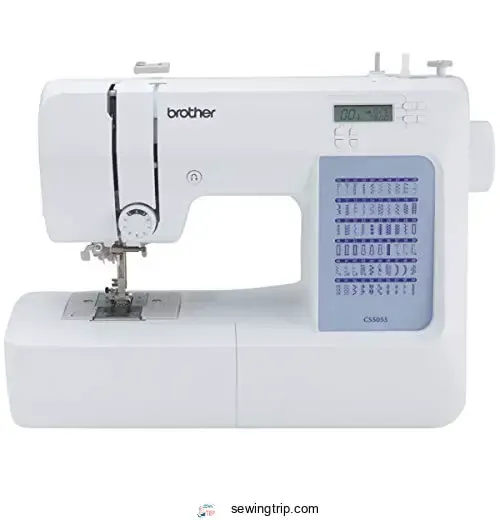 View On Amazon
Impressed with the features of this model, you'll breeze through projects thanks to the Brother XM2701's automatic needle threader and jam-proof bobbin. This mechanical machine is packed with 60 built-in stitch patterns for sewing versatility.
The durable metal construction and wide workspace handle thicker fabrics and bigger projects easily. Convenient functions like the fast bobbin winder, needle up/down, and auto reverse stitch boost efficiency.
While a lack of an illuminated display and slight delay when halting stitching are downsides, overall this machine offers incredible value with smooth performance for beginners and experienced sewists.
60 built-in stitches for versatility
Automatic needle threader
Durable metal construction
No illuminated display
Short delay stopping stitches
Juki Computerized Sewing and Quilting Machine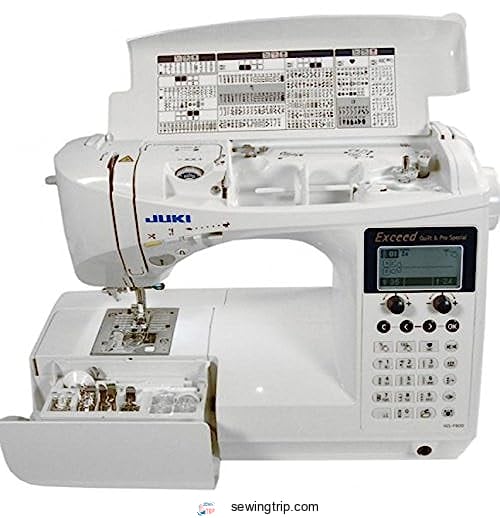 View On Amazon
The Juki dazzles with a broad LCD and swift speed for effortless sewing or quilting alike. This versatile machine simplifies choosing from 255 built-in stitches with its large backlit LCD screen. An auto needle threader, quick bobbin, and programmable features expedite setup while the 900 stitches-per-minute capability powers through projects.
The generous workspace accommodates quilts or garments with ease. Precision feeding and industrial strength buttonholes ensure consistent, quality results. Transition seamlessly from sewing to quilting with the Juki's array of convenient functions.
Large LCD screen makes stitch selection easy.
Fast sewing speed for efficiency.
Automatic needle threader and bobbin.
Spacious workspace for large projects.
Costs more than basic mechanical models.
Complex functions have a learning curve.
Heavy, not as portable.
Janome Computerized Sewing Machine With Accessories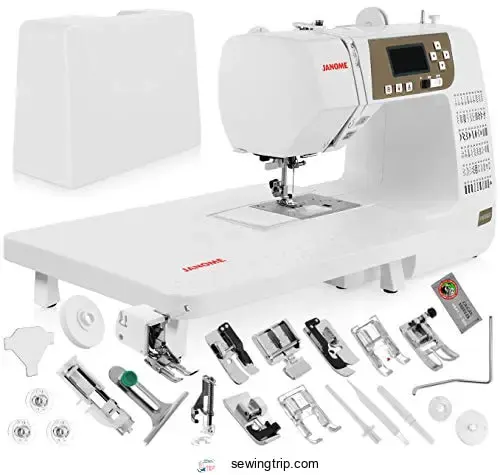 View On Amazon
Hey there! Here's a quick review of that Janome computerized sewing machine:
Lots of handy features make this lower-cost Janome model great for quilting and general sewing projects. The 60 built-in stitches, automatic threader, and easy-to-use LCD screen provide convenience.
Automatic needle threader
LCD screen displays stitches
Good for quilting and sewing
Convenient features like auto-cutter
May struggle with thick fabrics
Production stopped by the manufacturer
Some reviews mention skipped stitches
Brother Embroidery Hoops for Brother SE PE Babylock Machines
View On Amazon
You've gotta see these durable Brother embroidery hoops for yourself – they'll fit your machine perfectly, won't they?
With the four hoop sizes and handy grid markings, how can your next project not turn out great?
These aftermarket hoops are made of plastic with metal screws for adjusting fabric tension. They provide a less expensive alternative to Brother brand hoops with quality and performance that make them a worthwhile purchase.
Customers find they fit well and help achieve quality embroidery.
Good price
Grid markings for alignment
Durable plastic and metal
May have imperfect centered grids
Missing ridge of official Brother hoops
EverSewn Sparrow X2 Sewing Embroidery Machine White
View On Amazon
Unleash your creativity with the EverSewn Sparrow X2's innovative sewing and embroidery features—perfect for crafters, beginners, and quilters looking to have fun making unique projects.
This next-gen machine has 120+ built-in stitches and 100+ embroidery designs right out of the box.
Easily customize designs on the go via the mobile app—no Wi-Fi needed.
The advanced auto-threader, speed control, and presser foot adjust ensure ease of use.
Includes two hoops for embroidery projects, large and small.
With state-of-the-art features, this machine makes sewing and embroidering a blast.
Built-in stitches and designs for embroidery
Mobile app for easy design customization
Auto-threader and presser foot adjust for ease of use
Comes with two embroidery hoops
Requires a mobile device and app
Limited to included design files
Embroidery features may have a learning curve
What is an Electronic Sewing Machine?

Electronic sewing machines put technology at your fingertips for precision and versatility when sewing. With a computerized panel and touchscreen interface, electronic models offer digitally controlled features.
Needle position sensors provide accurate stitch placement. You can adjust tension and stitching speed for optimal results. These machines provide countless decorative options and utility stitches well beyond mechanical models.
Convenient automated features like needle threaders and thread cutters simplify sewing. While more complex, computerized sewing opens up expanded creative possibilities. You gain the freedom to easily produce complex stitch patterns with electronic sewing machines.
Manual Vs Electronic – Are Computerized Sewing Machines Better Than Mechanical Machines?

When purchasing a sewing machine, you'll need to decide between computerized and mechanical models. Computerized sewing machines offer features like speed control, a wider variety of stitches, and precise stitch placement, but mechanical models are often sturdier, easier to maintain, and allow for greater manual control.
Comparison of Computerized and Mechanical Sewing Machines
While a computerized sewing machine offers helpful features, a mechanical model ensures precision stitching on heavy fabrics. When sewing denim, leather, or canvas, the sturdier build and direct needle control of a mechanical machine prevent skipped stitches.
Computerized models shine when ease of use and versatility are key. Their preset stitches, speed, and auto-features aid beginners and speed up projects. Consider your budget and projects when choosing between computerized or mechanical.
Advantages and Disadvantages of Each Type
Though mechanical models have charm, computerized sewing machines simplify and speed up sewing for nearly any level crafter. Computerized machines allow easy stitch selection and adjustments through built-in editing software.
They automatically set optimal tension and speed for different fabrics. However, mechanical machines suit specialized sewing like straight stitching heavy materials. They prove more rugged and repairable too. Consider workflow and project variety when deciding between computerized versatility or mechanical focus.
Buying Guide – Choosing the Best Computerized Sewing Machine

When choosing the best computerized sewing machine for your needs, consider your budget, features, and build quality. Computerized sewing machines range from a couple hundred dollars for basic models to over a thousand for machines with lots of bells and whistles.
Factors to Consider When Selecting a Computerized Sewing Machine
When choosing a computerized sewing machine, consider your budget, features needed, and desired versatility before investing in upgrades.
Price range – Entry-level $200-$500, mid-range $500-$1000, high-end $1000+
Built-in stitches and pattern variety – More = greater flexibility
User-friendliness – Clear menus, easy selection process
Specialized functions – Embroidery, quilting, etc.
Connectivity – Ability to update software, transfer files
Work space size – Larger for big projects like quilts
Rather than overspending on unnecessary extras, focus on finding a model with the right mix of quality, capabilities, and ease of use for your needs. Test different machines to get a feel for their performance with your preferred fabrics.
Price Range of Computerized Sewing Machines
You'd be shocked by the range of shekels computerized stitching machines fetch nowadays, dollface. From a Benjamin or two for basic automation, to a grand for embroidery and quilting capabilities. Intermediate models offer wireless transfer and hundreds of built-in designs. But beginner-friendly machines still provide auto thread cutting and needle threading without blowing your whole paycheck.
What Computerized Can Mean to Embroiderers

Built-in computers and LCD screens allow embroiderers to easily select and edit designs with computerized embroidery machines. Considering crucial factors like maximum hoop size, built-in designs, and connectivity will help you choose the best model, such as the feature-rich Brother PE900 embroidery-only machine with a 5×7 hoop and 193 built-in designs.
Explanation of Computerized Embroidery Machines
Adding hand-embroidered detail can take your sewing projects to the next level, but computerized embroidery machines simplify the process for beginners and experts alike. With computerized tension control, digital design transfers, and built-in design editing, these advanced machines do the tricky work for you.
Electronic hoop size options accommodate small and large projects. Many models offer wireless connectivity for transferring designs from your computer. Research features and brands to find the right match for your budget and embroidery goals.
Embellishing garments and decor is now faster and more precise thanks to computerized embroidery.
Different Types of Computerized Embroidery Machines
Looking beyond the basics opens up exciting new embroidery machine possibilities.
Embroidery-only models offer more hoop size and built-in design versatility.
Sewing combo machines allow embellishing garments and quilts.
Advanced connectivity enables wirelessly importing new designs and fonts.
Specialty features like multi-position hoops and cams for unique stitches expand your creative options.
With the right computerized embroidery machine, you can customize projects, use specialty techniques, and unlock your creative potential.
Factors to Consider When Selecting a Computerized Embroidery Machine
When buying a computerized embroidery machine, prioritize features that align with your goals, budget, and skill level. Look for models with the necessary user connectivity, software compatibility, and embroidery area for your projects.
Beginners benefit from built-in designs and design customization features. Those with mastery may prefer specialized machines with minimal accessories and robust manual speed control. Finicky bobbin winding can frustrate, so ensure the machine feeds thread smoothly.
Example: Brother PE900 Computerized 5×7 Embroidery Only Machine
Get creative with the Brother PE900's computerized 5×7 embroidery-only power – it will open up a world of custom designs you can make your own. This top-rated embroidery machine boasts an expansive embroidery field, built-in memory, and an LCD touchscreen to make embroidering your next project fun and easy.
Frequently Asked Questions (FAQs)
What accessories come with computerized sewing machines? Do they include all the basic feet I'll need?
You'll get a few basic presser feet like a zipper foot and buttonhole foot to handle common tasks. But most computerized machines don't automatically include specialty feet for embroidery, quilting, etc.
Check what's in the box and buy additional feet or multifunction foot kits as needed for your projects.
How difficult is it to learn to use a computerized sewing machine if I'm used to a mechanical model? Is there a steep learning curve?
It's not too difficult to switch from mechanical to computerized. The interfaces are designed to be user-friendly. Focus on learning the key features first. You'll quickly get the hang of selecting stitches and customizing settings.
Can computerized sewing machines sew through thick fabrics like denim? What's the maximum thickness they can handle?
Most computerized sewing machines can handle multiple layers of denim or other medium-weight fabrics if you use the right needle. Some models will specify thickness capabilities in layers; others offer special presser feet to help feed thicker materials.
You may need to slow down your stitching speed as the thickness increases. Testing with fabric scraps first helps fine-tune settings.
How noisy are computerized sewing machines compared to mechanical ones while running? Do they make a loud hum?
While computerized sewing machines generally operate more quietly than mechanical ones, they do produce some hum while running. The amount of noise depends on the quality and construction of the machine. Higher-end computerized models tend to be quieter thanks to features like professional-grade motors.
You'll want to research decibel levels and consumer reviews to find a computerized machine with a noise level you find acceptable.
Do I need special needles for a computerized sewing machine? Are regular universal needles ok or do I need specialty ones?
Conclusion
You have searched the market and read expert reviews for the top computerized sewing machines. Now it is clear that the perfect machine for your needs is within reach! Open new creative possibilities and take your sewing skills to the next level.
The incredible selection of technologically advanced options on the market today empowers you to effortlessly craft anything imaginable. Make your dreams a reality by investing in one of the stellar computerized sewing machines reviewed here.