This site is supported by our readers. We may earn a commission, at no cost to you, if you purchase through links.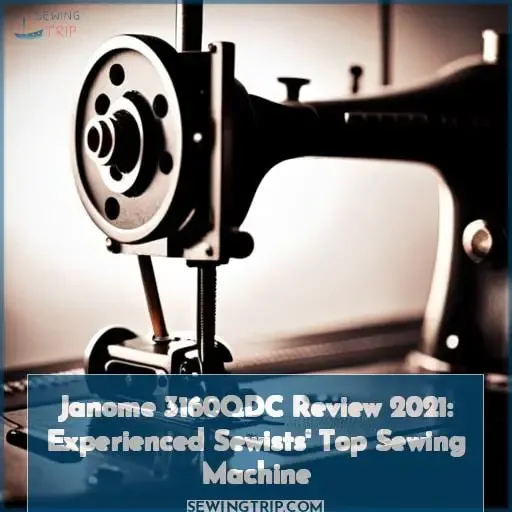 Are you stuck trying to decide on a new sewing machine? With so many options available, it can be hard to know which one is right for your needs. For experienced sewists looking for the ultimate in quality and performance, the Janome 3160QDC may just be what they need.
Key Takeaways
60 built-in stitches and 6 one-step buttonholes
Automatic thread cutter, adjustable stitch length and width
Strong metal frame and 25-year limited manufacturer warranty
LED lamp, adjustable speed and tension controls, and dust protection for sensitive parts
Top 4 Sewing Machines for Experienced Sewists
If you're an experienced sewist looking for a high-quality sewing machine, then look no further. The Singer 7258 Sewing and Quilting Machine, the Juki HZL F600 Quilting Machine, the Janome MC6650 Quilting Machine, and the Brother HC1850 Sewing Machine all offer exceptional performance, along with features that will make any advanced sewer or quilter happy.
Singer 7258 Sewing Quilting Machine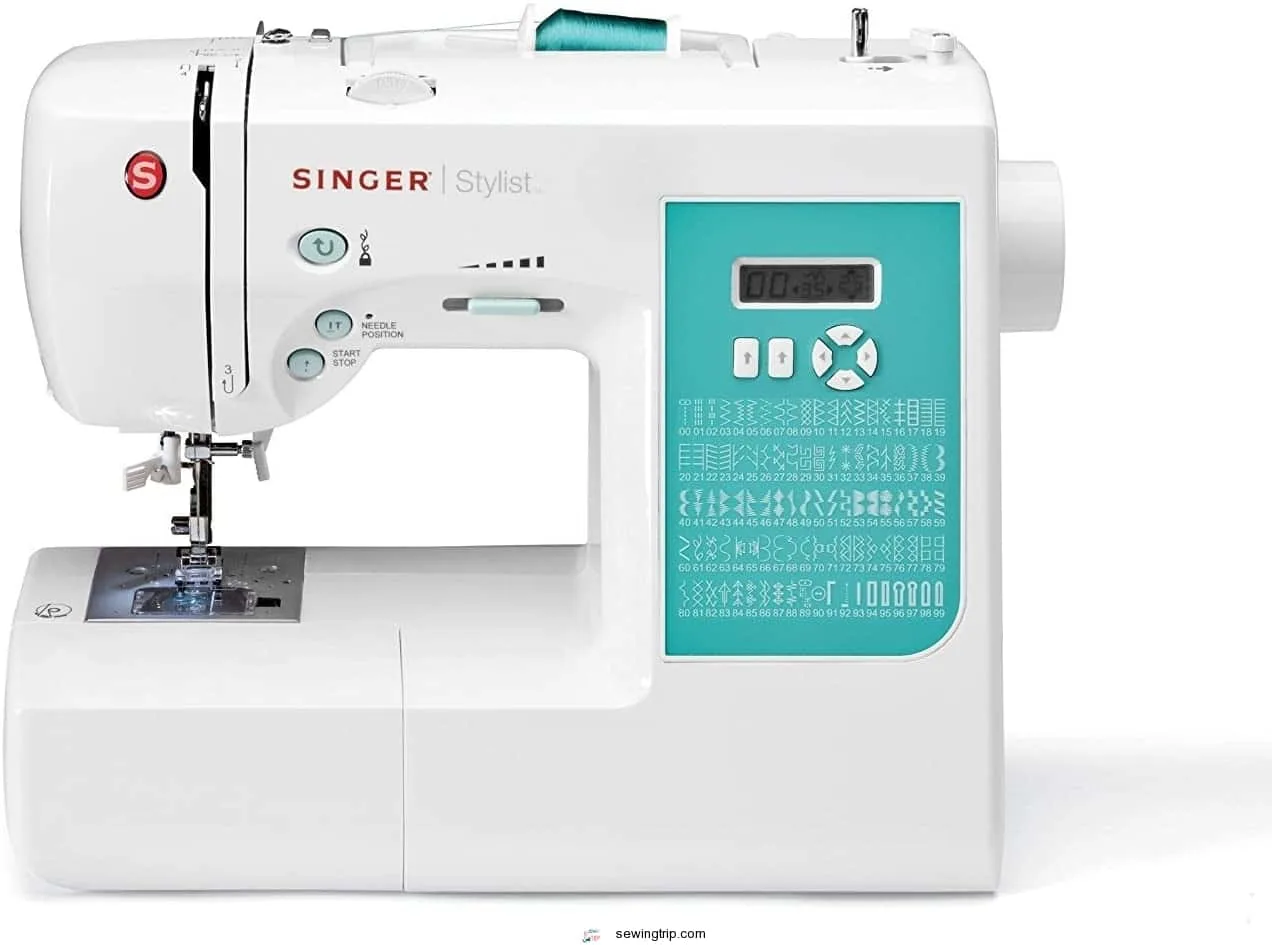 View On Amazon
For experienced sewists, the Singer 7258 Sewing Quilting Machine is a perfect choice with its 100 built-in stitches, adjustable stitch length and width, 6-segment feeding system, and powerful metal frame.
This machine offers an intuitive LCD screen for easy programming of stitching options, as well as an electronic start/stop function to make operation effortless. The package includes 10 presser feet, open toe presser foot, patchwork presser foot, edge sewing pressers, plus needles, bobbins, darning plate, thread spool caps, soft-sided dust cover, foot pedal, and more accessories for your convenience.
It also features a bright LED light that makes tackling thick seams easier than ever before, together with speed control so you can easily adjust your work rate according to the material used or project at hand.
Its durable construction ensures long-lasting use, while its quiet motor runs smoothly without disturbing anyone in the house, even when working on large projects like quilts or blankets.
Intuitive LCD screen
Electronic start/stop function
Durable construction & quiet motor
Includes 10 accessories & bright LED light
No walking foot included
Not compatible with embroidery designs
Limited warranty
Juki HZL F600 Quilting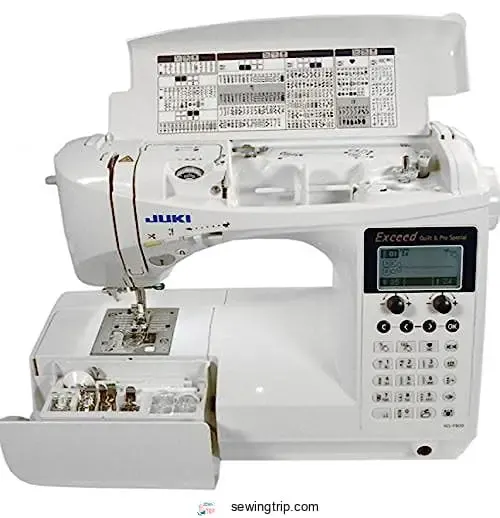 View On Amazon
You'll be quilting like a pro with Juki's HZL F600, offering 255 built-in stitches and an intuitive LCD display for endless creativity. This high-performance machine comes with an impressive range of features that are sure to please any experienced sewist.
The open-toe presser foot, patchwork presser foot, and edge sewing presser foot provide a variety of options for your projects. It also has adjustable stitch length and width settings, as well as 10 all-metal seamless flatbeds, making it perfect for garment sewing, hemming/mending tasks, or even larger quilting projects.
With its large workspace (8 wide x 12 1/4 long), you can create much bigger pieces than the average consumer machines allow.
Large variety of patterns & stitches including basic stretch, decorative letters & buttonhole stitches
User-friendly designed LCD screen
Automatic needle threader
Variety of accessories
Intuitive LCD display
High speed up to 900 spm
Power at low speed 80 SPM
Heavyweight (30 pounds)
No knee lift
Janome MC6650 Quilting Machine
View On Amazon
The Janome MC6650 offers a high-performance sewing experience with its 170 stitches, one-push needle plate conversion, and 10 all-metal seamless flatbed. In addition to adjustable stitch length and width, as well as speed control, the machine also features an intuitive LCD display for easy navigation.
The independent bobbin winding motor enables greater accuracy in creating intricate designs, while the memorized needle up/down setting ensures consistent results each time you sew.
High-performance sewing experience with 170 stitches plus 2 alphabets
Intuitive LCD display
Independent bobbin winding motor
Memorized needle up/down superior threading
6 LED lights in 3 different locations
Includes various accessories
Can be picky – use good thread bobbins and needles
Bobbin issues after two months of use
No automatic walking foot
Brother HC1850 Sewing Machine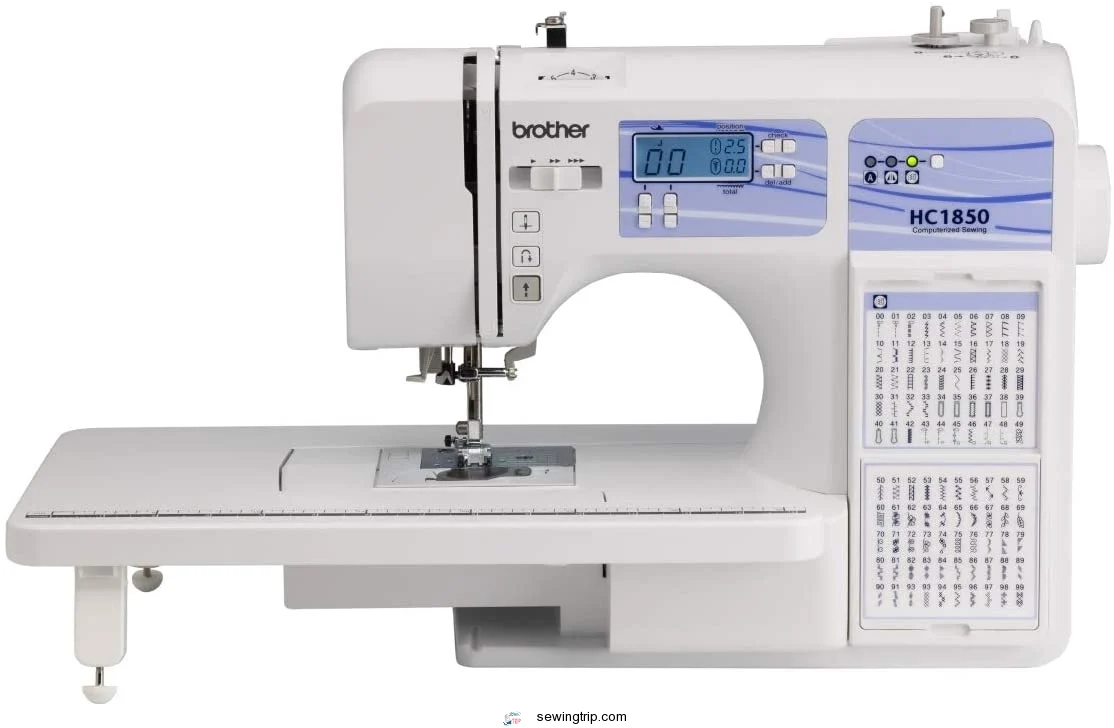 View On Amazon
With 185 unique built-in stitches, an LCD screen, and push-button stitch selectors, the Brother HC1850 Sewing Machine is a dream come true for experienced sewists. It comes with 8 presser feet, a detachable wide table, and adjustable sewing speed to make customizing projects easier than ever.
The machine includes an advanced needle threader that can help you quickly switch between different types of threads without any hassle. Additionally, it has a spring-action quilting foot that allows for free-motion quilting and drop-feed capability so you can work on intricate designs as well as simple ones with ease.
185 unique built-in stitches
Detachable wide table
Adjustable sewing speed
Advanced needle threader
Spring-action quilting foot
Drop-feed capability
LED-lit workspace
Janome 3160QDC Features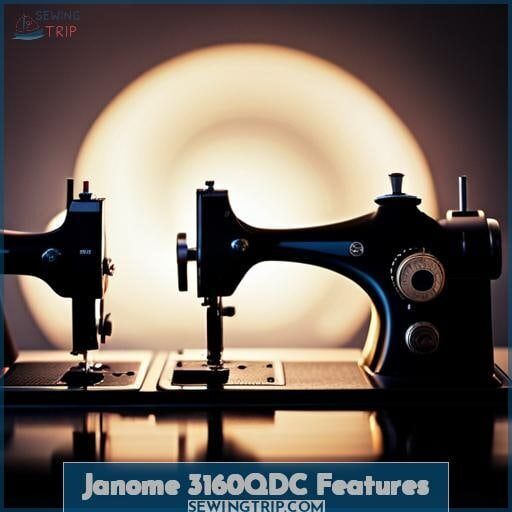 The Janome 3160QDC is a great choice for experienced sewists. It features easy setup, computerized automation buttons that offer quick access to 60 built-in stitches and 6 one-step buttonholes, as well as intuitive thread control with tension dials and adjustable stitch width/length.
Additionally, the machine design also includes enhanced sewing functions like an automatic needle threader, reverse stitch button, lockstitch button, and more — all of which are complemented by its robust construction, allowing for quilting projects with ease.
Easy Set Up
Set up your Janome 3160QDC with ease – its automatic needle threader, thread cutter button, reverse stitch button, and more make it a breeze to get sewing. Features like the built-in one-hand needle threader reduce set-up time while enhanced features such as adjustable speed and tension controls ensure perfect stitches every time.
The machine design makes it easy to follow the included threading guide for fast set-up of projects big or small. Needle plate conversion is made simple by pressing the start/stop button, which allows you to switch from one presser foot setting to another without resetting your settings each time.
Computerized Automation Buttons
You can easily use the computerized automation buttons on the Janome 3160QDC, such as its automatic thread cutter, easy-to-use buttonhole attachment, and lock stitch button. The machine features multiple function buttons to help you get precise control over your stitches for professional results.
It also offers a backlit LCD display with adjustable stitch options, so you can customize each project. Plus, it comes with an advanced needle threader and LED work light for working in dimly lit areas or at night.
Thread Control
Easily control thread tension with the Janome 3160QDC's manual tension dial, speed control slider, and automatic needle threader. Make precise adjustments for stitch accuracy using the presser foot lever or select from 60 built-in stitches, including 6 one-step buttonholes.
Achieve top-notch stitch quality by controlling needle stop position, up to 820 stitches per minute sewing speed, and variable foot pressure settings. The 7-piece feed dog ensures smooth fabric feeding, while improved LED lights provide clear visibility when working on projects—great for quilting! With all these features, you can easily customize every project to give it a unique look that will last.
Enhanced Sewing Functions
Experience professional-quality results at home with the Janome 3160QDC. It features adjustable stitch length and width, automatic bobbin winding clutch, speed control slider, and more! An extra-large needle plate gives great visibility when sewing, while etched seam guides provide precision stitching.
The Superior Plus Feed System (SFS) ensures smooth fabric feeding for even stitches over multiple layers of fabric or thick seams. Enjoy reliable performance from its 7-piece feed dog and a maximum sewing speed of 820 spm – perfect for quilting projects! User reviews are overwhelmingly positive about this machine's quality construction, design advantages, and ease of use – making it an ideal choice for any sewist looking to upgrade their skillset.
Professionals recommend this model if you have money to spend on a top-quality machine that will last for years.
Machine Design
The Janome 3160QDC is designed for convenience, with 60 built-in stitches and 6 one-step buttonholes to make sewing projects a breeze. It's a full-sized, portable machine, equipped with an automatic needle threader and foot control, as well as LED lights in three locations.
It can adjust stitch width up to 7mm and has presser feet for blind hemming, buttonhole making, and more. The automated features of this machine let users access quick stitch selection via direct buttons or LCD display, and its LED lamp provides sufficient lighting for intricate designs.
Should You Buy the Janome 3160QDC-T?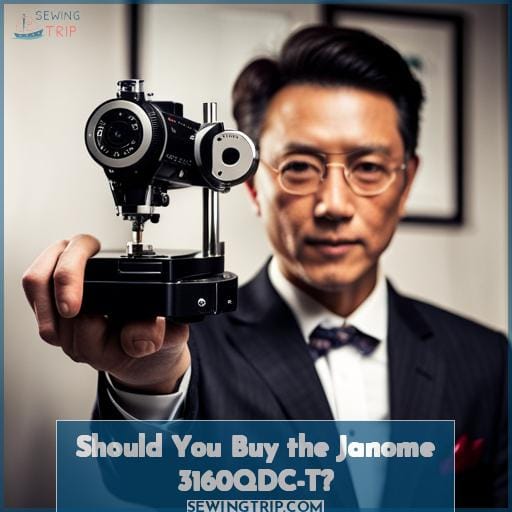 With 60 built-in stitches, 6 one-step buttonholes, and plenty of features for both beginner and experienced sewers, you can create beautiful projects with the Janome 3160QDC. It's priced at $999 list, making it affordable while still providing quality sewing results.
This machine has a variety of accessories included, such as a blind hem foot, buttonhole foots, sliding buttonhole feet, ¼ inch seam feet, and more. The LED lights are dim, but they don't hinder your view when working on projects or quilts due to the extension table that comes in handy when using larger fabric pieces or multiple layers of material.
The weight is 12.6 lbs, making it portable enough to take with you if needed, but heavy enough so vibrations won't be an issue during use. In terms of performance, reviews from owners have been positive; straight stitch was excellent, as was basting stitch, and the zipper test got a perfect score.
Multi-layer denim tested very good, too. Taking all these factors into consideration, it's clear why this mid-range machine stands out amongst others like Janome 4120QDC, HD3000, and HD5000 models, as well as other competitors like Brother HC1850, Singer 9960 Quantum Stylist, Singer 7258 Stylist, and Brother CS5055.
All in all, if you want great value for money, the Janome 3160QCD should definitely make your shortlist, whether for home use or professional purposes.
Performance and Quality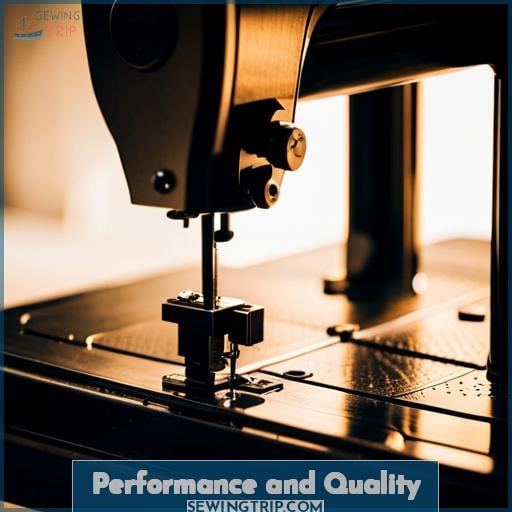 You'll be amazed by the Janome 3160QDC-T's performance and quality, with its 60 built-in stitches, 6 one-step buttonholes, automatic needle threader, and more! It has adjustable stitch length and width, plus a variable speed control slider.
The extra-long extension table is great for quilting projects, and time-saving features like the thread trimmer make sewing faster than ever. With a consumer rating of 93.2/100, this machine is a must-have for experienced sewers who want to create amazing projects quickly.
It's equipped with many advanced features, like an easy-to-use needle threader, adjustable foot pressure for perfect results, and a lock stitch button. This high-quality sewing machine will provide years of reliable service if cared for properly – it even comes with a 25-year limited manufacturer warranty.
So what are you waiting for? Get your hands on this versatile piece of equipment today and start creating beautiful garments from quality fabrics without any hassle or stress.
Warranty and Recommendations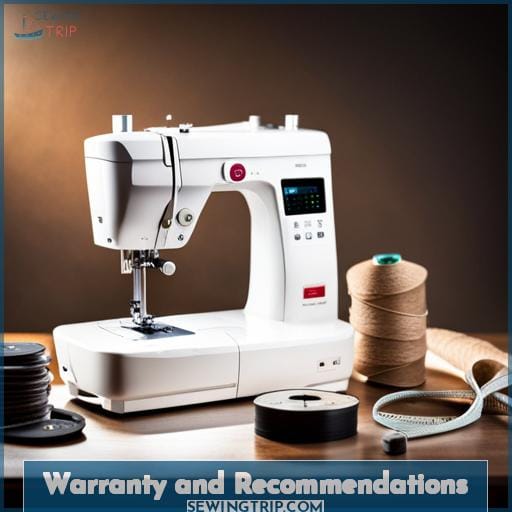 Experience the confidence of having a 25-year limited manufacturer warranty and find the perfect machine for your needs with expert recommendations for Janome 3160QDC. The price tag is $999, but you get an overall score of 71 and an ease-of-use rating of 8.
8, making it worth every penny. It comes with 60 built-in stitches, 6 one-step buttonholes, LED lights, an extension table, and other features like an automatic needle threader, thread cutter button, etc.
Great for quilting too! Plus, you can compare it easily to similar products such as Brother HC1850 (79), Singer 9960 Quantum Stylist (78), Singer 7258 Stylist (75), or Brother CS5055 (72). Performance-wise, all straight stitch and basting stitch are excellent; however, zigzag tension may be too tight at times, so check reviews before buying.
Frequently Asked Questions (FAQs)
Conclusion
In the end, the Janome 3160QDC is a top-notch sewing machine for experienced sewists looking for a reliable, automated machine. It has a wealth of features, including easy setup, computerized buttons, thread control, and enhanced sewing functions.
The machine is designed with a strong metal frame, making it durable. Plus, it comes with a 25-year limited manufacturer warranty, so you can have peace of mind when using it. The Janome 3160QDC provides precision stitching and produces clean, smooth end products.
So, if you're looking for a high-performance sewing machine that can handle both thin and heavy materials, the Janome 3160QDC is the perfect choice.