This site is supported by our readers. We may earn a commission, at no cost to you, if you purchase through links.
Are you interested in sewing or quilting, but worried about a machine that is too complicated? Then this might be the sewing and quilting machine for you.
The Janome Horizon Memory Craft 8900QCP Special Edition Sewing and quilting machine has a wide range of functions for many products – yet it remains simple and easy for beginners to use, without hours of puzzling instructions.
]
It has so many timesaving features, such as the automatic thread cutter, adjustable knee lift, speed control slider, easy reverse button and a simple start and stop button.
This makes the Janome 8900QCP accessible to users of all skill levels, while providing the craftsmanship quality you would expect from a much more complicated sewing and quilting machine.
Still wondering if the Janome 8900QCP is the best quilting sewing machine for your needs? Here we've laid out the details, both positive and negative, so you can make the best decision for yourself.
Janome Horizon Memory Craft 8900QCP: The Details
The Look
The Janome Horizon 8900QCP sewing and quilting machine is distinctly modern, although it has a shape reminiscent of older sewing machines.
It's a nice feedback for people who appreciate classic designs but still want a new, automated system.
Specs
Weight:2 lb.
Dimensions:4 x 9.1 x 12.4 in.
Stitches: 270 built-in stitches, up to 9mm wide and 5 mm long, including 3 alphabets and 11 one-step buttonholes.
Speed: 1,000 stitches per minute (ppm).
Computerized/Mechanic: Automated, with a high-resolution LCD touchscreen.
Spool: Top loading bobbing system with full rotating hook and an auto-detachable bobbin winder.
Accessories
This Janome Horizon Memory Craft 8900QCP Special Edition sewing and quilting machine comes with a wide variety of accessories, including the following:
Detachable Cold . lex System, a dual feed holder with AD foot.
Snap-on presser feet – includes ¼ inch seamer foot, button presser foot, free quilting closed toe foot, open toe satin stitch foot, standard satin stitch foot, automatic buttonhole foot, blind hem foot, darning foot, free motion zigzag foot, rolled hem foot, zipper foot and over hem foot.
. abric guide.
Straight stitch needle plate.
Pattern stitch length calculator.
Extension table for larger projects that require more space than the installed free arm.
5 ultra-bright LED lights for shadow-free sewing.
Double accessory trays plus top storage for all your crafting needs, from presser feet to bobbins, to needles and thread.
Sew Vac Direct exclusive bonus bundle, including a walking foot.
Machine cover to keep dust out when not in use.
Janome: The Company
As part of the sewing technology industry, Janome has been running at the forefront of the company.
In 1979 they were the first to develop a computer-controlled machine for home use. In 1990 they were the first to introduce professional embroidery machines to the home market. And in 2003, they were the first to offer a long-arm home quilting machine.
31]Janome prides itself on enabling creativity and unlocking possibilities. Their products offer features that expand users'options and horizons, and it is a priority that these features are easy to use once the product out of the box.
Janome makes better tools for a more effective and enjoyable crafting experience, and designs their machines not only for good performance but also for comfort and ease of use.
They strive to make products that do not intimidate, but inspire users.
. eatures
Easy-to-use computer system
This sewing and quilting machine features a high-resolution LCD touchscreen, allowing users to easily and quickly select from among the 270 built-in stitches.
These stitches include three alphabet embroidery stitches and 11 buttonhole stitches in one step.
This computer system makes it possible to edit both individual stitches and combination stitches, Ng users to expand the already large number of stitch possibilities.
The computer system also includes a possibility to recall stitches, so that it remembers the stitches you have used and made. allowing you to use the methods and creative patterns you have come up with over and over.
Simple and efficient functions that save time
Let's face it – sewing and quilting can intimidate activities for beginners.
. ortunately, the Janome 8900QCP comes with a wide range of features that make the sewing and quilting process easier and more efficient for users, saving a lot of time and frustration, and significantly reducing intimidation decrease.
These functions include:
A simple start and stop button.
]
A simple reverse button.
A speed control slider that is easier to operate than a foot pedal.
An adjustable knee lifter that allows you to rotate your projects.
An automatic thread cutter.
An automatic tensioning system.
A built-in needle threader that can only with one hand.
A locking stitch button.
An auto-declutching bobbin winder.
A one-step needle plate conversion function.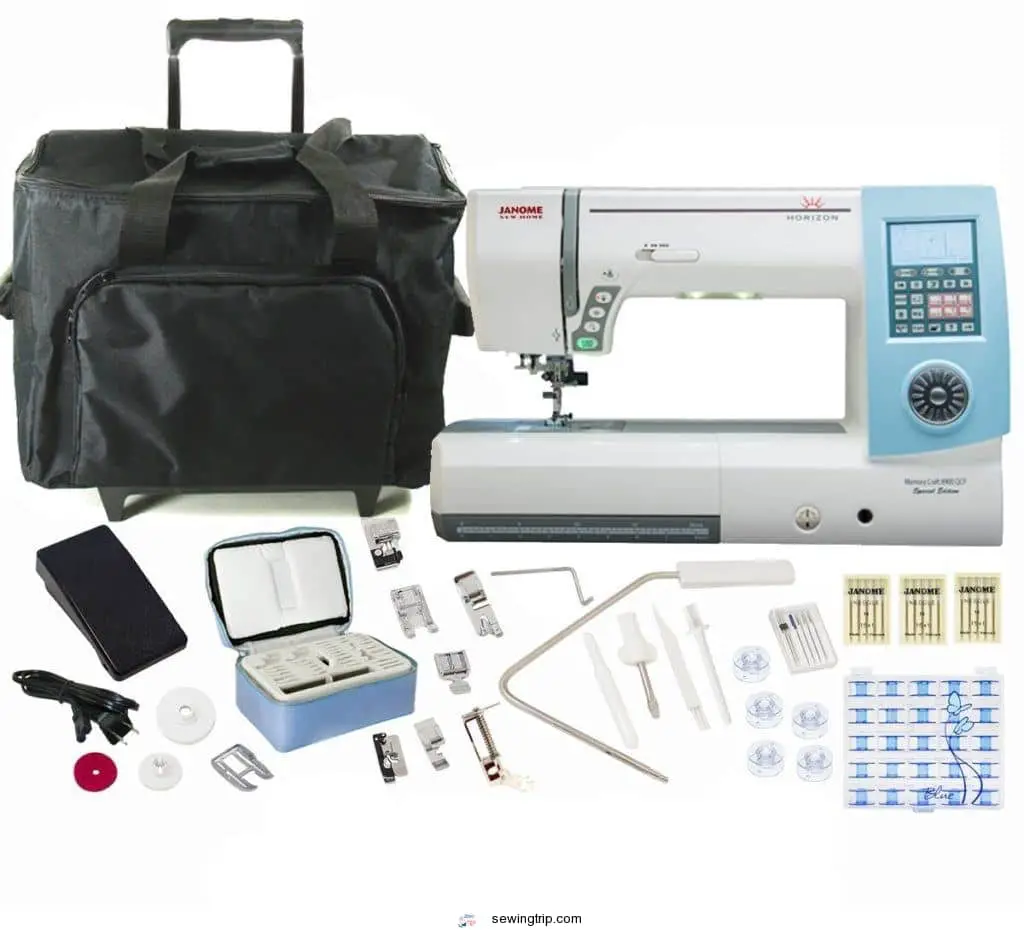 Janome Horizon Memory Craft 8900QCP Sewing and Quilting Machine Review
The Positives
Easy for beginners to get started
. or a machine with so many features, Janome's Horizon Memory Craft 8900QCP Special Edition sewing and quilting machine is easy to use, with clearly labeled controls and easy to follow instructions.
It is incredibly accessible for beginners, whether you are new to sewing, quilting or both, making it a great starting point for someone who has absolutely no experience with these crafts.
And with the wide range of functions this machine includes, a beginner will find that it keeps them engaged and engaged with so many new things to learn for a very long time!
Extra large workspace
Compared to others of its kind, This sewing and quilting machine offers a much larger workspace, allowing for a wider range of products.
This extra-large workspace is useful for larger products such as quilting, when you don't have to mess around with your material.
There's no fear this machine won't be able to handle all your biggest crafting dreams; the Janome 8900QCP is big enough to handle it!
Durable and powerful
Since the extra large workspace encourages larger projects, you would expect this machine to be powerful – it is! It has a 1,000 gpm speed, so you'll be through those extensive projects in no time.
Remember this is also a quilting machine, which means it's done to tackle heavier fabrics such as denim, and large projects such as quilting.
Users have reported quilting with this machine for years, so know it won Go don't back down or succumb to high expectations.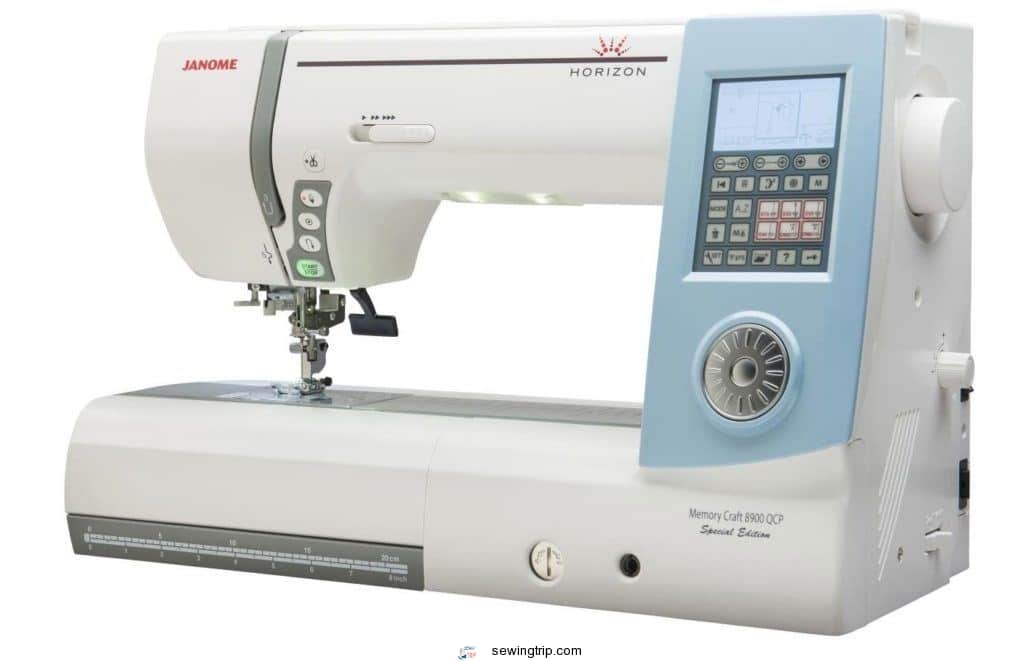 Machine hood works well, extends machine life
This Janome 8900QCP comes with a machine cover to protect the sewing and quilting machine from dust or other debris when not in use.
Users have found this cover to keep their machines clean and keep it clean. in good, well-functioning condition for a long time.
Not only does the machine cover extend the life of your machine, but it also keeps it looking good!
]
Warranty
Speaking of long-term, like most of their machines, the Janome 8900QCP has a 25-year limited warranty years, listed on their website.
This warranty is long and covers any errors or defects in manufacturing.
If your machine does not work as promised, please contact Janome Customer Service and they will replace or repair your machine at no additional cost.
]
These warranties do not cover damage caused by normal wear and tear or misuse, so be sure to take care of your machine while you have it.
Great customer service
Luckily, in using your warranty, you're not stuck. There is nothing more frustrating than a company not responding to its customers or being helpful.
Users who have had problems using their Janome Horizon Memory Craft 8900QCP Special Edition sewing and quilting machine reports that the Janome company provides excellent customer service.
Janome's I know customer service for being friendly and knowledgeable. helpful staff eagerly waiting to answer questions.
Good customer service is always nice to keep in mind, just in case there are problems!
The cons
Lots of buttons, but in awkward locations
As mentioned above, the Janome Horizon Memory Craft has many Pof. VOwPv3K features.
Unfortunately, with the number of buttons out there, some controls of these functions, such as the back stitch button, are in awkward locations to reach.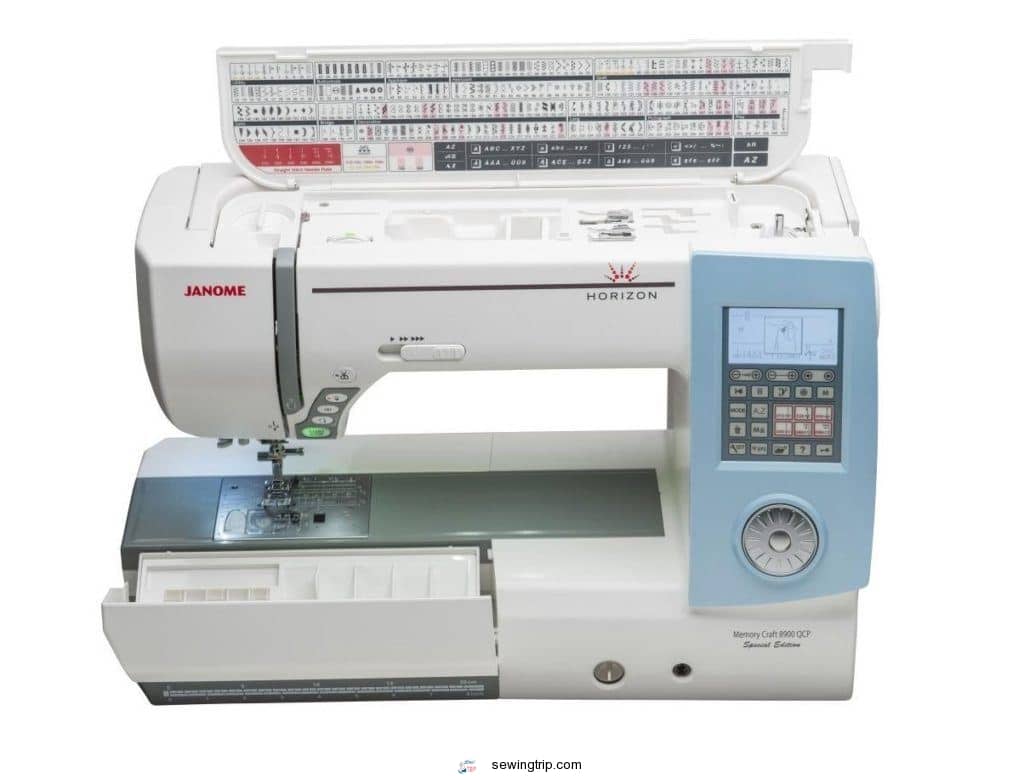 Since ease of use is the name of this game, it is a disappointing problem as beginners will have a hard time negotiating these features while in the middle of a project.
]
Heavy
This is far from a portable machine. It's great that it's pretty to look at because you probably want to keep it stationary thanks to the weight.
It weighs just under 60 pounds, so we can give you imagine how daunting this machine can be to take to school or move if you plan to become a mobile sewer.
This is not a problem for people who looking for a machine to keep on their crafting table or in a specific place, but for those who move around as they sew, this may not be an ideal solution.
Here's a video showing what the Janome 8900QCP looks like out of the box.
Overall Verdict
We recommend the Janome 8900QCP Sewing and Quilting Machine for anyone new to either or both crafts.
It is easy to use and has enough features that we o ok would recommend to someone more experienced in the trade who also wants a new, more versatile machine.
Where to buy the Janome Horizon Memory Craft 8900QCP sewing and quilting machine
Janome is a top player in the sewing machine game we've been producing accessible, high quality machines for a while that are not only powerful but also last a long time.
Professionals and hobbyists know Janome competes with the best of them, so it's no surprise you can find their products on the shelves of department, craft and specialty stores.
The Janome Horizon Memory Craft 8900QCP sewing and quilting machine is no different, available both in store and online.
To start your search, visit the following online retailers.
But this sewing and quilting course machine is also available on Amazon.

---
That's all for our Janome Horizon Memory Craft 8900QCP review. Have dQIVAqGj. dvKtUM9 to give this machine a try?
Not sure if this is the model for you? Browse our latest machine reviews.