This site is supported by our readers. We may earn a commission, at no cost to you, if you purchase through links.
Janome is a heavy-hitter in the craft world, and their Janome MOD-30 sewing machine can be the next substantial addition to your sewing business. But does it live up to expectations?
Technically, it comes with 30 stitches, an automatic needle threader and a wide range of accessories. We loved it is durable, easy to set up and very convenient to use. With that in mind, it's time to hit "buy now,", right?
Well, not yet. To make sure you buy exactly the machine you need (and there are tons of options to choose from, trust us), let's get a closer look.
A lot of testers warned that this is not a machine for more advanced seamstresses. Is that a subjective opinion or the final verdict? Read on and we'll let you decide.
Janome MOD-30 Sewing Machine: The Details
The Look
The Janome MOD-30 is a pretty plain looking machine. The exterior is mostly white with blue and yellow accents on the front of the machine.
The only place where it differs from your everyday sewing machine is the LCD screen. The interior is all metal, as is the needle plate. In size, it looks about the size of a small microwave oven.
Specs
Weight: 12.7 lbs.
Size: 16 x 7 x 12 inches.
Stitches: 30 different stitches.
Speed: 750 bpm.
Automated/Mechanical: Automated
Spool: Drop-in coil.
Warranty: 25 year warranty.
Accessories
General purpose foot.
Zip foot.
Satin stitch foot.
Automatic buttonhole foot.
Spool holders.
Extra bobbing pin.
Spools (class 15).
Various needle set.
Clutter/Buttonhole Opener.
Fluff Brush.
Screwdriver.
Instruction book.
Dust cover.
Foot control.
Power cable.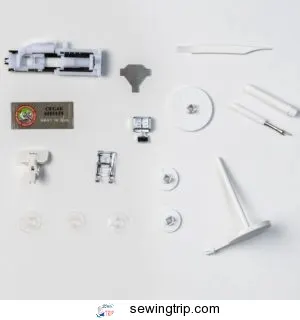 Janome: Gosaku Osem found the Company
Janome in 1921. The company, which was first called The Pine Sewing Machine Factory, did not become the Janome Sewing Co until 1954.
Now Janome has branches in the US, Canada, Mexico, Europe, Australia and many more countries. Their stated mission is to provide sewing machines and overlook machines that are easy to use, reliable and made from high quality materials.
They want to ensure that their users are able " to get the most out of their creativity."
The Warranty
The Janome MOD-3- Sewing The machine by a 25 year limited warranty.
The warranty protects all problems with "materials or workmanship, except for electrical/electronic equipment, which is guaranteed. for two years from the original date of purchase."
During the first year of ownership, you can receive replacement parts that are defective and receive any labor for free. After the first year, it can replace defective parts free, but you will have to pay the labor costs.
The warranty covers nothing that is because of poor maintenance or insufficient repairs, nor does it cover damage caused by "normal wear and tear." The warranty also only applies to machines that are-purchased through an allowed Janome dealer.
Features
Stitch
The Janome MOD-30 sewing machine comes with 30 different stitches and three one-step buttonholes. This lineup includes basic, fashion, quilting and decorative stitches.
Whether you're tackling a simple blouse repair or a blanket quilt. This Janome has most of the stitches you need to get the job done right.
Bobbin
The Janome MOD-30 Sewing Machine comes with a top loading, drop-in bobbin. The bobbin case is located close to the needle plate, making it very convenient to insert the bobbin, access when the thread runs out, or repair paper jams.
Some sewing machines come with bobbins in the front where the compartment is inside the machine, making it much harder to reach. Fortunately, with a top-loading coil, you can view or use the compartment without delay.
The MOD-30 sewing machine comes with an automatic needle threader. To use it, first lower the presser foot and raise the needle to its highest position.
Pull the needle threader knob down as far as it will go. Then move the thread through the left and right guides and then under the hook. Pull the thread to the right, along the right guide, and raise the needle threader knob.
The thread forms a loop. From here, pull the loop through the eye of the needle. It's so easy! You'll wonder how you ever worked without it!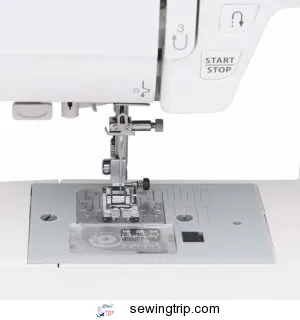 LCD display
Because this is a computerized sewing machine, it has an LCD screen on the front to display your stitch selections, the stitch length and width and any other options you have chosen.
The display is also back-lit, so you can easily read it when sewing in a dark corner. Just press the navigation buttons to choose your selections and enjoy the easy-to-use interface.
The Janome MOD-30 Sewing Machine has a full metal interior. This helps to avoid skipped stitches and ensure the machine lasts for years. easy down.
Janome MOD-30 Sewing Machine Review
The Positives
Incredibly easy to set up
For beginners, operating a sewing machine can be a chore, especially computerized sewing machines. Especially these kinds of machines can then ask someone who is tech-savvy.
Fortunately, the Janome MOD- 30 is easy and intuitive to set up. With the combination of the automatic threader, top loading and easy-to-use screen, the machine will guide you through the sewing process.
No need to fumble and fiddle with hard-to-follow instructions or complicated setup, you'll have this machine up and running in no time. This way you can dive into your sewing projects sooner than later.
Super easy to use
Equally, it is using this Janome sewing machine is almost effortless. Once the machine and ready, go to the LCD and use the navigation buttons to choose your stitch.
Here you can also select the stitch length and – choose width, as well as any other options you may need. Finally, place your fabric under the presser foot, make sure the presser foot lever is down, press the foot control and sew!
An easy-to-use machine makes it all possible the easier to create grand projects and designs. You won't off or slowed down by a machine with a big learning curve, Janome makes it effortless.
This is great news for novice sewers just getting started on sewing machines, while more advanced hobbyists do not feel held back by their new machine.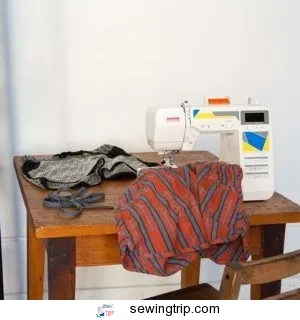 Very versatile
We also liked the versatility of this sewing machine. With 30 different stitches, three buttonholes in one step, multiple stitch lengths and widths and included accessories, you'll understand why.
This machine can also handle many types of fabric.. It does not limit you to working with simple, thin materials. It sews through multiple layers, as well as fabrics that are on the heavier side.
You'll with the Janome MOD-30, allowing you to grow with your machine without feeling the need to upgrade. You can try out different projects and patterns and your sewing machine will it keep up with it.
With its many functions, this Janome is a great addition to hobbyists who like variety.
Extremely useful
With all the different features onboard the MOD -30, we also loved how handy it is.
You have a start/stop button for when you don't want to use the foot control, a reverse button to reinforce seams, a needle up/down button and a backstitch button – right where you need them.
As a bonus, the automatic needle threader is next to the needle. Everything you need is on board; you don't need to make secondary purchases. As a beginner, this is great as it covered you from the get- ready to get started.
This is also a bonus for busy hobbyists, as this Janome sewing machine will not slow you down. With its many useful features, it makes the sewing process more fun and efficient.
Truly durable
Because the Janome MOD-30 Sewing Machine has a full metal interior, it is very sturdy and durable. This will not be a machine that breaks after a few uses. All parts will remain intact and in good working order for many years.
The sturdy frame of this sewing machine allows it to withstand a wide range of projects and busy artisans. While the high-quality interior will extend the life of the Janome so you don't have to replace it soon, it also makes the sewing process a lot easier.
This means your sewing machine will don't skip and bounce on your work table, causing errors and problems that you should spend more time on repair. And if you plan on traveling with your machine, a durable one is definitely a bonus.
The Negatives
Not for professional sewers
Although this machine has a wide range of functions, most testers agreed it is not for professional seamstresses.
The 30 stitches are enough for simple jobs, but they struggle with more complicated projects.
If you are a beginner, this is a great machine to learn and grow with, but if you are more professional, you may find that certain functions miss you are looking for.
General opinion
After combing through all the positives and negatives, we recommend the Janome MOD-30 sewing machine.
With 30 stitches, an automatic needle threader and many special functions, it has almost everything you need. While experienced sewing machines may get bored, it can still handle a wide variety of projects. out.
Where to buy the Janome MOD-30 sewing machine
Janome is certainly no newcomer to sewing market. With decades in the game, their high-end machines have become so popular that you can find them on the shelves of retailers around the world.
While Janome items will not be hard to find, especially the Janome MOD-30 is a popular track, available both in store and online., and stores, but you can kick-start your search at the following online retailers.
And of course you can find this sewing machine too on Amazon.

---
That's the end of our Janome MOD-30 review. Curious about a'sew'?
Would you like to keep looking? Check out the rest of our reviews for more great options!