This site is supported by our readers. We may earn a commission, at no cost to you, if you purchase through links.
Janome for their excellent sewing and embroidery machines. Besides the high-quality finish that you can expect from their product line, there is also a good finish with the Janome devices themselves.
Janome sewing machine can do just that. Not be mistaken for anything else. This makes them extremely suitable for hobbyists who like to stand out themselves. The Janome Pink Sorbet Easy to Use Sewing Machine is a great example and most of all a workhorse different.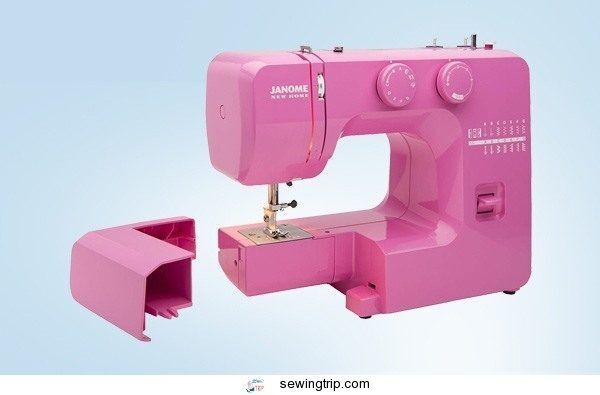 It can handle almost any fabric, and armed with the most used stitches, you can reliably finish any project.
Beginner-friendly and accompanied by excellent online tutorial videos, the Pink Sorbet is the perfect beginner machine.
Once you believe you are advanced enough to no longer need the Pink Sorbet, it can still perform as an excellent sewing machine for the more basic tasks that an advanced (but less sturdy) machine.
Does it suit you? Let's see.
Janome Pink Sorbet Easy to use sewing machine: the details
The look
This machine is definitely a statement given its fun and poppy pink design. This contrasts with the white letters that stand out nicely, giving a'can do'look.
Don't let the color fool you though; this machine came to play hard, but even harder.
While the plastic casing might be a concern for some sewers, the Janome Pink Sorbet Easy to Use Sewing Machine Has the metal parts to make any task you have in mind a breeze.
The plastic housing reduces unnecessary weight; Weighing in at twelve pounds, this is a lightweight sewing machine, easy to transport without the risk of breaking down on the road.
Specs
Weight: 12 lbs.
Dimensions: 16 x 7 x 12 inches.
Stitches: 14 built-in stitches and a four step buttonhole.
Speed: up to 800 stitches per minute.
Computerized / Mechanic: Mechanic.
Spool: Front loading spool system.
Warranty: 25 year limited warranty.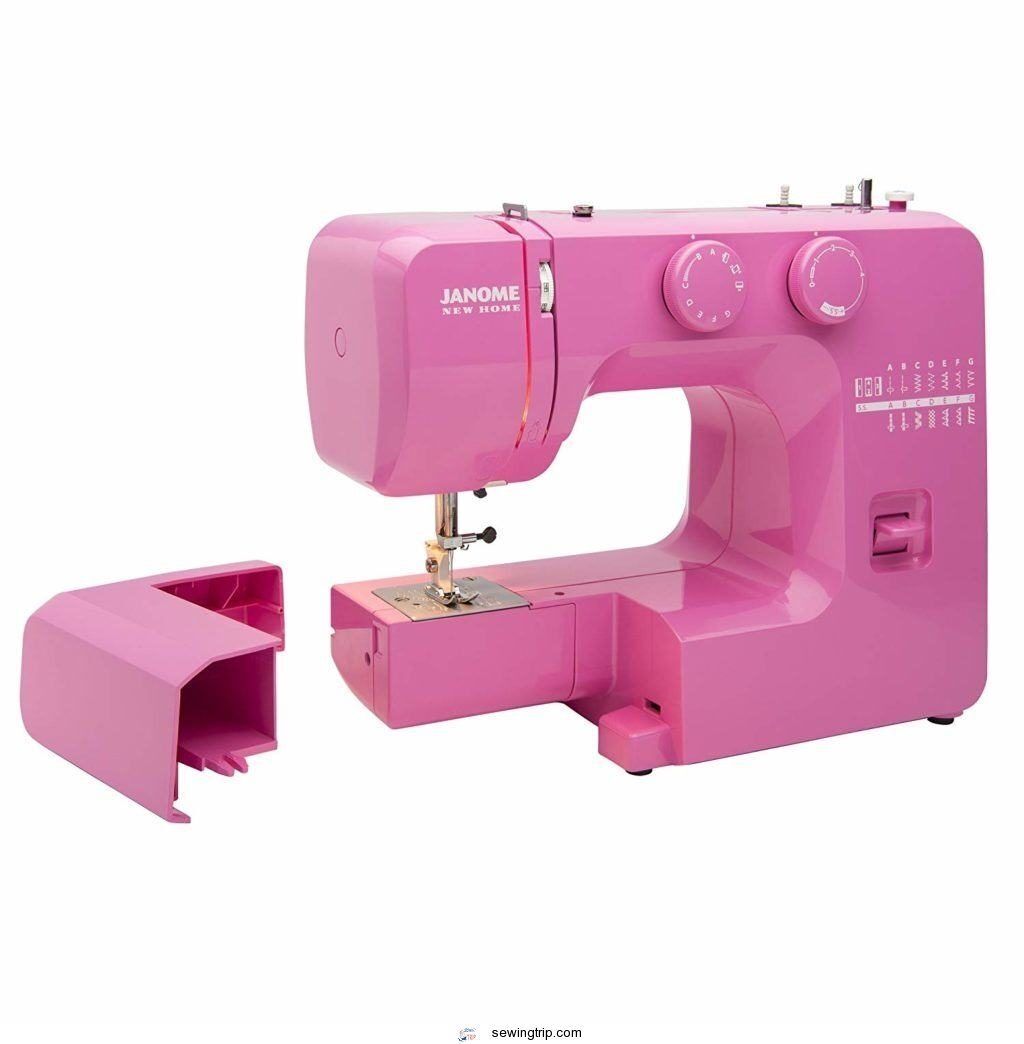 ccessories
No device can claim the status of " best sewing machine for beginners " without using the accessories.
The The most commonly used presser feet accompany janome Pink Sorbet, giving you the chance to familiarize yourself with the basics.
True mastery starts at the very beginning, so be sure to try out the added parts and discover your favorites.
If you are unsure of how to use certain items, check out the online tutorials created only for this sewing machine.
dditional accessories include:
General purpose base (pre-installed on the machine)
Blind Hem Foot
Four Step Buttonhole Foot
Zipper Foot
Bobbins
Needles
Seam ripper
Stop plate
Quick Start Guide
Instruction Manual
Janome: The Company
Just three years away from celebrating their centenary, Janome is pulling out all the stops to create a revived name for herself.
0]
They in Japan and now have offices around the world. Their main The US New Jersey office has been critical in interacting with their US clients.
Sewing machines are not their only expertise; they are also well-known suppliers of electro-presses, imprinters and desktop robots.
However, none of these can hope to compare to the touch of elegance Janome brings to their sewing and embroidery machines.
Each one is a showstopper in its own right, made to fit in a niche and take the hard work off your hands, leaving you with the joy of crafting.
The Warranty
With the 25-year limited warranty your new sewing machine and all added parts arrive in perfect working order.
The vwnh4YZ2wdjP2eaO7 for the full 25-year period, while it covered some electronic components up to the two-year period.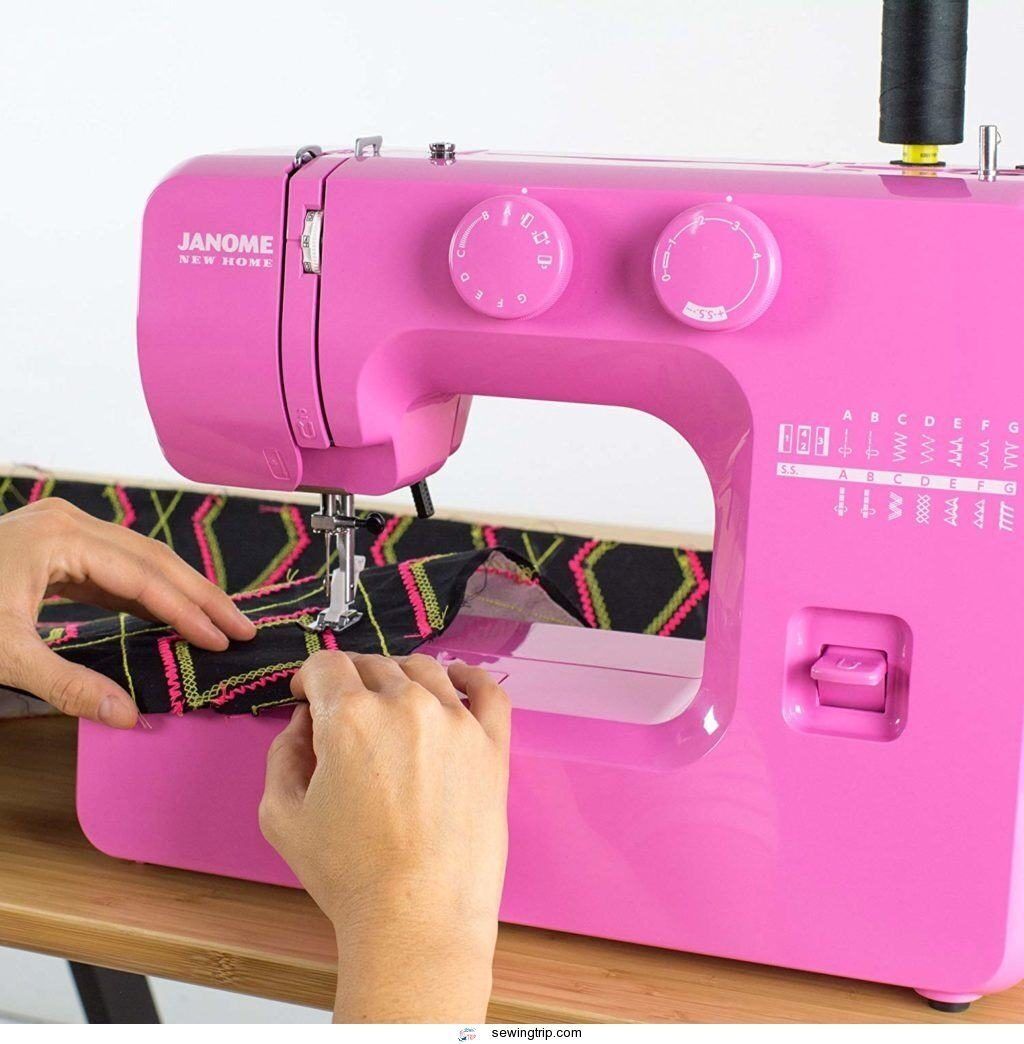 s with any electronic purchase, it is important to read which insurance policies your supplier will provide. By asking for clarification and details, you can save yourself confusion later on.
Since your warranty depends on your receipt date, it is important not to throw away your receipt.
If you are purchasing from a supplier other than Amazon; we recommend you consult their warranty guidelines.
Features
Double coils
Twice the coils equate to twice the fun. It also means that you get a little more freedom in the way you want to go about your projects.
If you are not sure how to make the most of these, then get the excellent online video tutorials.
Online Video Tutorials
It is a daunting task to target a sewing machine at beginners. It should be easy to use so that you don't have to take a class if you don't want to, but, it should have enough features to make it worthwhile.
Janome has cleverly published video tutorials on YouTube to make sure you get the most out of your computer without attending classes.
Heavy Duty Frame
The Janome Pink Sorbet Sewing Machine Machine may look small, but it will stand the test of time. It has a sturdy metal frame, so while it looks cute and dainty, it's built to last.
nd although it qmlDB4 with a durable frame, it doesn't make it heavy.
Bobbin Loading Guide
Inserting a bobbin is difficult the first few times. nd if you haven't sewn in months, you'll find that memorizing even the most basic task isn't always easy.
With the bobbing guide etched into the Pink Sorbet, you will never forget how to position your bobbin, even if it has been years since you last sewed.
Janome Pink Sorbet Easy to Use -Use Sewing Machine Rating
The Positives
Retractable Bobbins
Bobbins are a necessary but delicate part of any sewing machine.
The Pink Sorbet has two coils, we can retract both of which to make storage easier and less. likely to damage these crucial parts of your creation process.
Free-motion quilting
lthough small, the Janome Pink Sorbet provides some quilting from the free hand.
This extra makes it easy for beginners to try quilting for the first time without forcing them the most out of it. from their machine, by quilting when they don't want to.
Lightweight and compact
People bOR1ccIo3Xj of the space left will with the compact size of the Janome Pink Sorbet.
It's so small it won't take up all the space on your crafting table, which is great for those with limited space.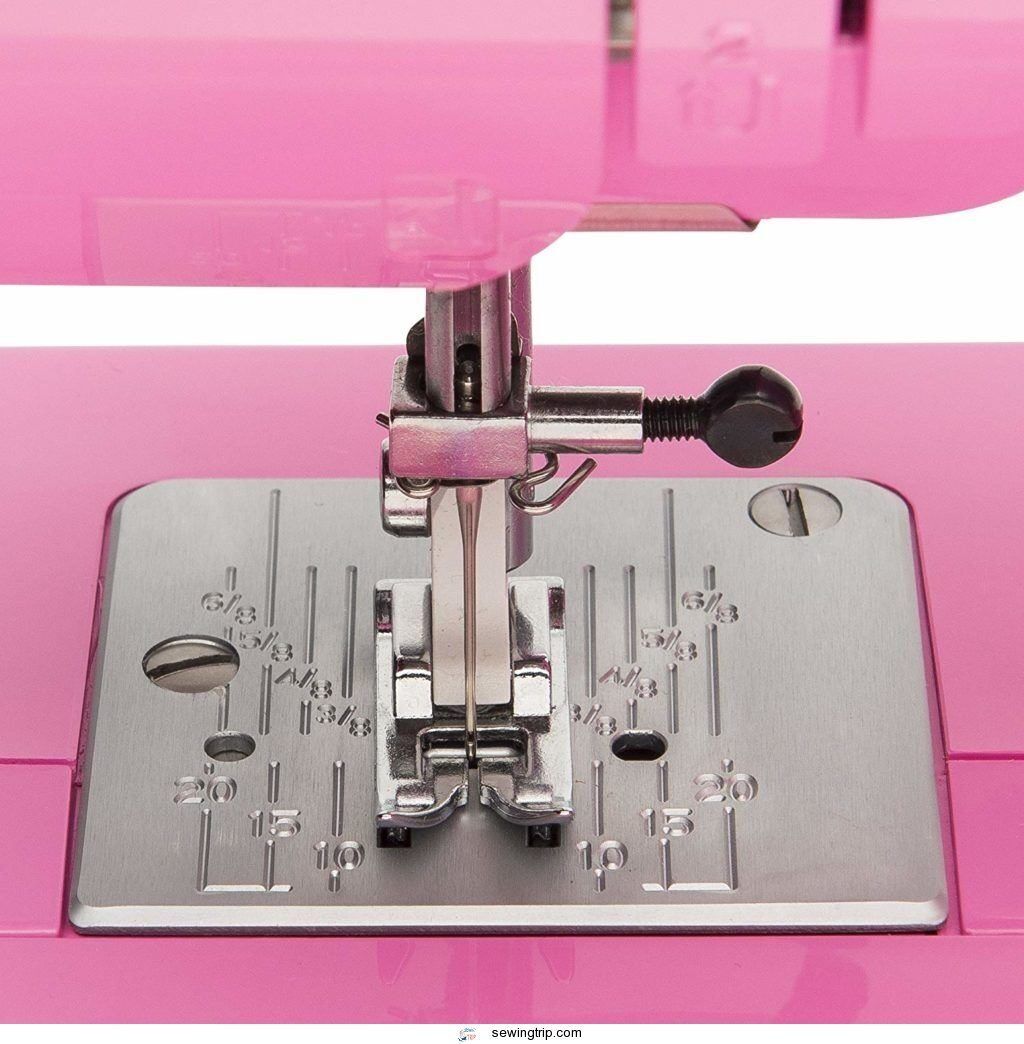 The compact size matches the weight, weighs only twelve pounds, you will have no problem hiding this in a closet or closet until you need it, and it will be a breeze to bring to classes.
Price and Customer Service
For all the features of this machine and its solid build, you would at the price.
It's actually very affordable, making it more accessible to beginners, those on a budget, or those looking for a secondary machine. You don't have to dig too far into your savings for this.
Included in the price is a 25-year limited warranty against any damage or defects you may encounter. in your machine.
Should you discover an error, all you have to do is contact customer service. They can then determine whether to repair or replace your device. machine.
Great for Beginners
Because this sewing machine is so easy to use, it is a great tool for novice seamstresses.
You don't have to too much fiddling with this machine. The instructions are super easy to follow, and the price point makes it easy for beginner seamstresses to bob in the craft without breaking the bank.
Features such as the bobbin on the front make it easy to learn how to perform basic sewing tasks, and the accessories and 15 stitches included make it easy to grow and learn new techniques.
Users have had success installing this sewing machine quickly with little to no hassle, and you can also access online tutorials to help you out vcL63EKjVaqrfwhich is useful for all stages.
The negatives
Very striking
of the things that make this machine pop is its bright and cheerful exterior.
While this makes the machine especially attractive to younger users, others may think the machine does not. It doesn't project the image you'd expect from a real workhorse.
Remember if this is the one thing you don't like about this machine, it's just a matter of covering it up after we do you working. No one will judge!
Lack of quilting space
lthough the machine is very compliant, you make sure you can quilt in free motion there just isn't much room started.
vid quilters looking to tackle large projects would feel happier with a quilting machine that can give them more space.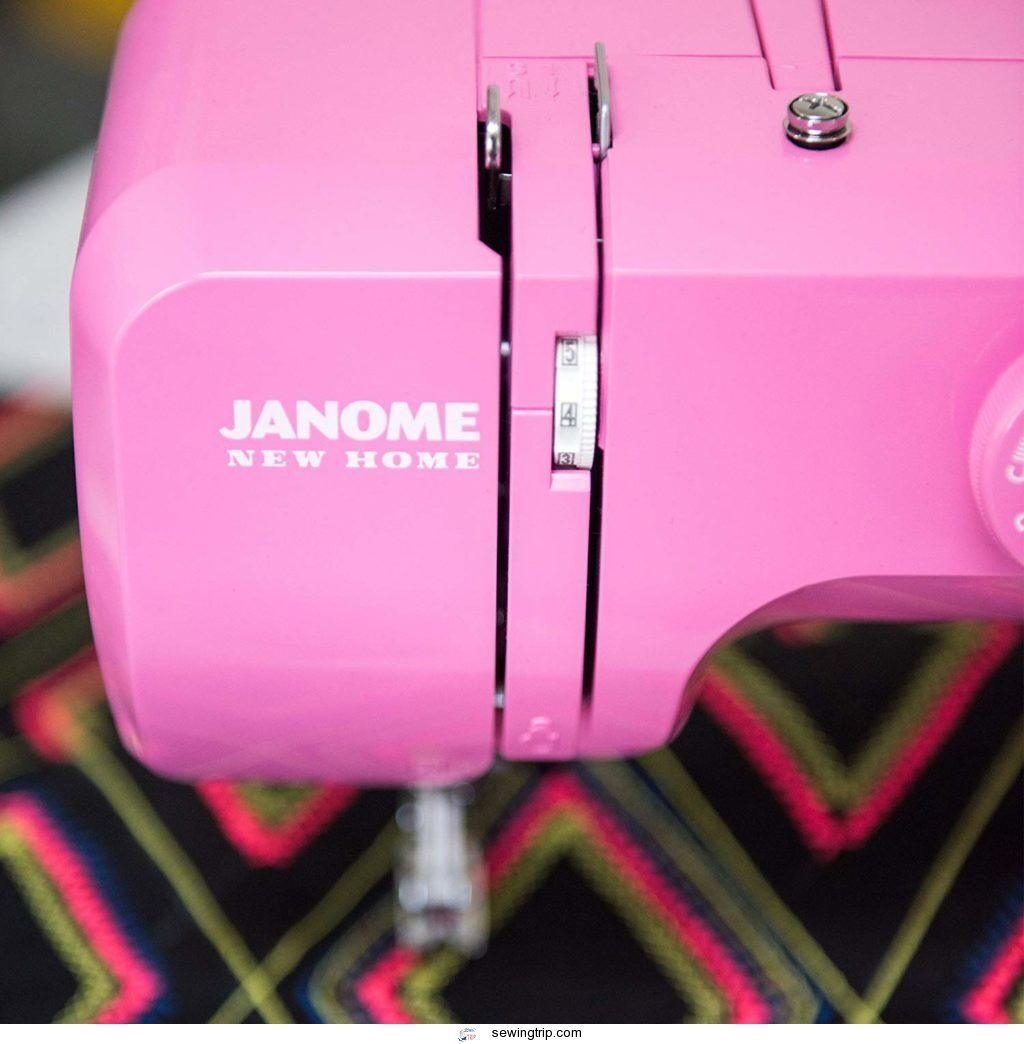 General Judgment
The Janome Pink Sorbet Easy to use sewing machine is the perfect statement for any budding seamstress.
Set up with all the basics and accompanied by easy to follow online tutorials, the Pink Sorbet makes it possible for almost anyone to pick up the craft. Its compatibility with almost all fabrics means you can tackle most projects with ease.
While excellent for beginners and advanced users who need a sturdy machine to handle tougher fabrics, the Pink Sorbet isn't for everyone.
Sewers who don't see the point of a statement piece, or who are interested in quilting, are less likely to find this sewing machine tempting to beginners.
But if you're looking for a sturdy machine can handle everything, the Pink Sorbet is your best friend.
Where Can I Buy the Janome Pink Sorbet Easy-to-Use Sewing Machine
With decades of experience producing quality and affordable sewing machines under their belts, chances are you've seen the Janome name at a local chapter, craft or sewing store.
Janome has the best names in sewing, making their machines like the Janome Pink Sorbet Easy-to-use sewing machine readily available in stores and online.
While this sewing machine doesn't take much effort to find, you can jump-start your search by ticking off the following online retailers.
nd of course you can also find the Pink Sorbet on mazon.

---
That's all for our Janome Pink Sorbet Sewing Machine review. Tempted to give it a try?
Not sure if this is the model for you? Browse our latest machine reviews.