This site is supported by our readers. We may earn a commission, at no cost to you, if you purchase through links.
Are you in the market for a new sewing machine? If so, then the Singer Quantum Stylist 9960 is worth considering. This powerful and reliable machine comes with an array of features that make it ideal for both experienced sewists and beginners alike.
In this review, we will take a closer look at what makes this model stand out from its competition, as well as provide comparisons to similar models on the market today. We'll also cover who should consider purchasing the Singer 9960 Quantum Stylist based on their needs and preferences.
So read on to find out if this premium sewing machine is right for you!
Key Takeaways
Review of the Singer Quantum Stylist 9960 Sewing Machine

As a sewer looking to upgrade your machine, the Singer Quantum Stylist 9960 should be on your shortlist. With 600 built-in stitches, one-step buttonholes, a built-in thread cutter, and stitch editing capabilities, this computerized sewing machine aims to make your projects easier, but its size may limit portability.
Design: Great Features but Not Portable
Despite packing in 600 stitches and a convenient automatic thread cutter for versatility, the bulky Singer Quantum Stylist 9960 isn't quite as portable as the sales pitch makes it out to be. With a metal interior framed by plastic casing, this 17-pound machine feels more like a workhorse than a roadster.
But for sewers focused on flipping between stitches, stitch editing, and memory within a single machine, the Quantum Stylist 9960 delivers extensive functionality that many competitors lack.
How is the 9960 Different?
You'll discover 600 built-in stitches, including 5 alphanumeric fonts, with the Singer 9960.
The Singer 9960 stands out from competitors with:
An extension table and automatic needle threader for ease of use.
Twin needle capability for decorative stitching.
A large stitch library with monogramming fonts.
Automatic thread cutting and built-in storage.
LED lights and easy stitch selection on the LCD screen.
The 9960 differentiates itself through top-of-the-line features that enhance functionality and convenience for avid sewists. Its abundance of stitches and thoughtful design make this Singer's flagship worthwhile for experts.
How to Choose Your Next Upgrade
When upgrading your sewing machine, you would want to consider features like an automatic needle threader, multiple stitch options, easy bobbin winding, and a well-lit workspace. Determine your future sewing needs and budget constraints. Ensure a machine upgrade complements your skills.
The Singer Quantum Stylist line offers features quilters need. Carefully review sewing machine capabilities before purchasing your ideal upgrade within your price range.
Features and Benefits of the Singer Quantum Stylist 9960
With its 600 built-in stitches, you're getting an expansive stitch library with the Singer Quantum Stylist 9960 to unleash your creativity. The automatic needle threader simplifies setup, while the built-in thread cutter saves time.
Stitch variety empowers your sewing, and you can expand your skills with the embroidery options and five fonts for monogramming. With stitch memory, you can store your own stitch sequences for repeat projects.
The Singer Quantum Stylist 9960 aims to be a user-friendly sewing machine that enhances your experience.
Are You Ready for an Upgrade?
After reviewing other quality machines, gauging your skills, and deciding on a budget, it's time to seriously consider upgrading to the Singer Quantum Stylist 9960.
When deciding if you're ready to upgrade your sewing machine, consider these key factors:
Current skill level and projects
Need for more stitch options and specialty feet
Desire for automated features like threading and cutting
Available workspace and portability requirements
Budget and value for enhanced capabilities
If your skills and needs have advanced beyond basic entry-level machines, the Singer Quantum Stylist 9960 may be the ideal next step. With 600 stitches, automated features, and accessories galore, this machine offers sophisticated capabilities to take your sewing to the next level.
Should You Buy the Singer 9960 Quantum Stylist?

You'd be crazy not to grab the Singer 9960 Quantum Stylist and all its insane features before someone else snaps up this gem of a sewing machine! This computerized sewing and embroidery machine boasts an impressive 600 built-in stitches, automatic needle threader, and a wide table for big projects.
Users praise its variety of stitches, quiet operation, and useful accessories included. Though it may have a learning curve, the 9960's extensive features, stitch editing capabilities, and excellent reviews make this a versatile, high-quality machine.
With handy functions like twin needle settings, LED lights, and a 25-year warranty, the 9960 is well worth its price for sewists seeking versatility. Consider investing in this feature-rich sewing machine before someone else seizes its potential for creative, masterful sewing.
What Other Sewing Machines Should You Consider?
The Brother CS7000X and Janome 9850 are worth considering alongside the Singer Quantum Stylist 9960 if you're looking for premium features, while the more budget-friendly Bernette 38 balances capabilities with affordability.
When evaluating your options, keep in mind stitch selection, extras like an embroidery module or wide table, and the reputation of each brand for quality and reliability.
Brother CS7000X Sewing Machine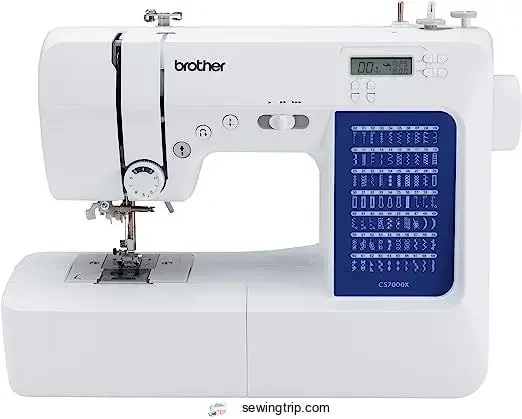 View On Amazon
Before purchasing, understand the Brother CS7000X's phenomenal value for a computerized sewing machine, yet its limitations for super thick materials. The CS7000X boasts an impressive array of handy features. It proves itself as a versatile stitcher for both sewing novices and veterans.
It offers a generous 70 built-in stitches, an LCD display, and a bonus wide table expansion. The streamlined automatic needle threading and bobbin systems make setup a cinch. Additionally, the expanded work room delights quilters. The CS7000X also allows for adjustable sewing speed, allowing mastery over any project, minus the trickiest heavy-duty materials.
Wide variety of built-in stitches
Convenient automatic needle threader
Bonus wide table for quilting
Good for beginners and experienced sewers
Portable with protective case
Durable metal interior frame
LCD screen with stitch previews
Not suitable for very thick fabrics
Smaller free arm opening
Learning curve from basic models
Lower maximum stitches per minute speed
Janome 9850 Sewing Machine
View On Amazon
You'll appreciate the Janome 9850's 200 built-in stitches and 175 embroidery designs. This feature-rich sewing and embroidery machine includes an automatic needle threader, easy set bobbin, and LCD touchscreen display.
For embroidery, it boasts a 5 x 7 hoop size and editing capabilities. With speeds up to 1000 stitches per minute, the Janome 9850 is suitable for both beginners and advanced sewers looking for versatility in one machine.
Large selection of built-in stitches and embroidery designs
Convenient automatic needle threader
Bright LCD touchscreen
Good maximum stitch width and embroidery hoop size
High sewing speed capacity
Suitable for beginners and experienced sewers
Higher price point
Not recommended for complete beginners
Bobbin filling may require a side winder
Bernette 38 Sewing Machine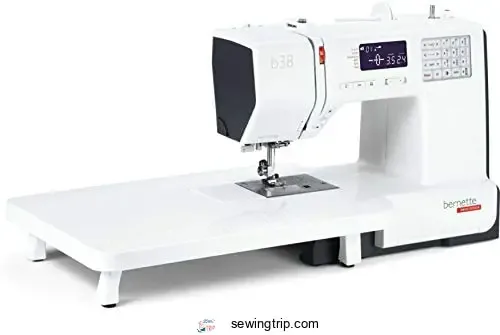 View On Amazon
The Bernette 38's computerized functionality provides a versatile selection of stitches while remaining easy to operate for sewers transitioning from basic models. With 394 stitches, automatic thread cutting, a brightness-adjustable LED light, and adjustable presser foot pressure, this lightweight machine aims to make sewing projects more efficient.
The helpful stitch selection screen and settings like a speed regulator also provide a friendly interface for advancing from starter machines.
The Bernette 38 offers a generous selection of 394 stitches.
It features a bright LED sewing light for improved visibility.
The machine has an automatic thread cutting function for convenience.
There may be a learning curve for those transitioning from basic machines.
The Bernette 38 does not have an embroidery function.
It has a smaller hoop size compared to some competitors.
Conclusion
If you're looking for a sewing machine that's packed with features and can handle a variety of sewing tasks and projects, the Singer Quantum Stylist 9960 is worth considering. This machine has 600 built-in stitches, an automatic needle threader, twin needle settings, a large extension table, and 18 additional presser feet and accessories, making it a great choice for experienced sewers and quilters.
Although it can be challenging to use and is not the best value for beginners, the Singer 9960's combination of features and performance makes it an attractive option for those looking to upgrade their sewing experience.