This site is supported by our readers. We may earn a commission, at no cost to you, if you purchase through links.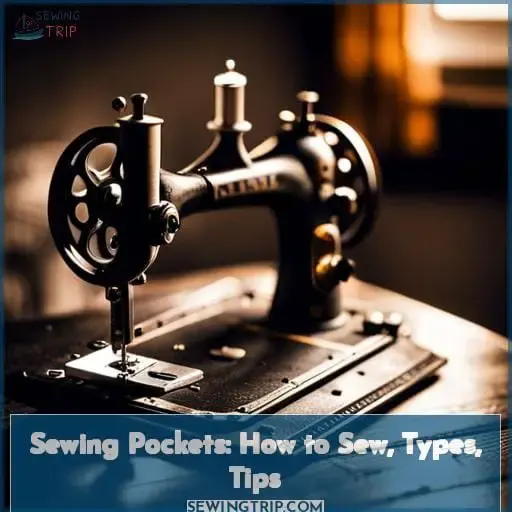 Stop what you're doing and grab your sewing machine—it's time to sew some pockets! Whether you're jazzing up store-bought garments or adding storage solutions to your homemade creations, pockets open up a world of possibilities.
Don't worry if you're new to sewing—this guide has got you covered with beginner-friendly tips for adding patch, zippered, cargo, and other styles of pockets. We'll walk through how to measure and mark pocket placement, choose pocket-friendly fabrics, and use finishing techniques like clipping curves so your pockets look professionally stitched.
With the freedom to customize placement and get creative with decorations, you'll feel empowered to make pockets your own. Equipped with expert techniques, your homemade pockets will be both stylish and functional for years of wear.
Key Takeaways
Sewing pockets allows for creative customization of garments.
Different pocket styles include patch, zippered, cargo, and inseam pockets.
Careful placement and marking of pockets is essential.
Experiment with fabric weight, color, and embellishments to enhance pocket designs.
How to Sew a Pocket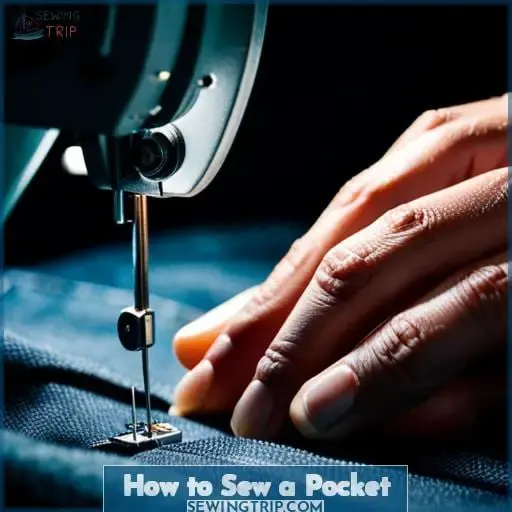 You'll want to start by creating a teardrop-shaped template with a 1⁄2-inch seam allowance for your pocket creation.
Choose your pocket fabric wisely, picking a thinner material for inseam pockets so they lie flat, while sturdier fabrics work better for patch pockets.
Once you have your fabric cut, mark the pocket placement carefully on the garment, using a mirror to ensure symmetry.
Focus on neat pocket stitch lengths as you sew, backstitching at the corners for strength.
Experiment with creative pocket embellishments like lace or sequins to make the pocket unique.
Troubleshooting pockets may be needed if the fabric frays or placement is off, so have seam rippers and chalk on hand for adjustments.
With some practice on pocket pattern variations, you'll master proper pocket placement techniques and sew functional, stylish pockets that elevate your clothing designs.
Instructions for Sewing Pockets

Good afternoon! Let's get started with sewing pockets. Carefully cut out your pocket pieces according to the pattern, then mark their placement on your garment. Pin the pockets in place, stitch around the edges, leaving an opening, and gently turn the pockets right side out through the opening.
Make sure to press the seams so they lie flat before topstitching the pockets to the garment.
Cutting Out Pocket Pieces
After gathering your materials, carefully cut out the pocket pieces like a surgeon handling delicate tissue, ensuring that each edge aligns precisely with the pattern's guidelines. When cutting pocket fabric, select medium-weight cottons or linens that won't stretch.
Trace the pocket template onto pattern paper, adding 1/2-inch seam allowances. Use sharp scissors or a rotary cutter for clean cuts around curved shapes. For unlined pockets, interface the fabric first before cutting the pieces. Finally, handle the cut pieces gently to avoid distorting shapes before sewing.
Marking Pocket Placement
Before attaching the pocket, pin it precisely where desired on the garment front and back for accurate placement. For hidden pockets, consider using a mirror when marking to ensure symmetry. Lightly mark with chalk or a fabric pen for a subtle stitching line.
Take care to neatly pin the pocket pieces, aligning edges perfectly before stitching.
Pinning the Pockets
Make sure the pockets are pinned precisely before sewing. When pinning patch pockets, ensure that straight edges align and insert pins perpendicular to the fabric. Secure pins closely together, keeping the pocket flat when positioning and pinning for accurate pocket attachment.
Stitching the Pockets
Once pinned, run those pockets under your machine's foot with a topstitch for extra strength. Reinforce your seams with sturdy topstitching or try alternatives like zig-zag stitching. Experiment with lace or other embellishments on your pocket seams for a whimsical finish.
Inside-out stitching creates tidy, hidden pocket seams along the side of your garment.
Turning Out the Pockets
After trimming the corners, flip the pocket right side out and press it smoothly. To troubleshoot puckering, firmly grasp the edges of the pocket and pull taut while pressing to flatten. Make sure to thoroughly heat the fusible interfacing or lining before flipping. While the pocket corners are hot, rotate and shape them.
Crisp professional results can be achieved through edge finishing. It is important to secure the corners to prevent fraying.
Different Types of Pockets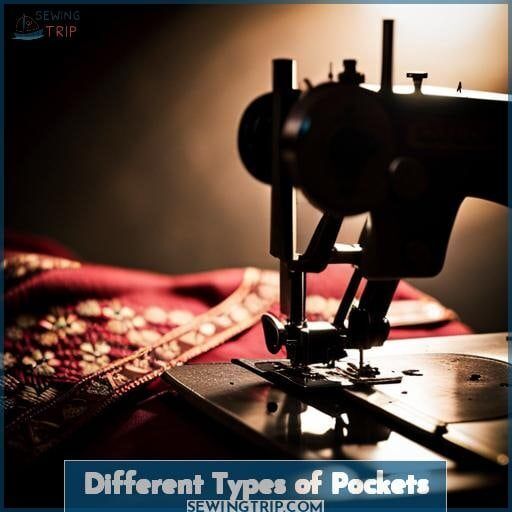 Sewing different types of pockets allows you to customize your garments for style and function. Zippered pockets provide security, inseam pockets are discreet, welt pockets have a clean finish, and cargo pockets add casual utility.
Zippered Pockets
For secure storage, try your hand at adding zippered pockets.
Purchase zippers longer than the finished pocket opening.
Consider placement based on garment style and use.
Choose between exposed and hidden zipper installations.
Select zipper colors that complement the garment.
Troubleshoot issues like stuck zippers promptly.
With the right preparation and technique, you can integrate practical zippered pockets to elevate your clothing. Play with creative color combinations and pocket placement for custom creations with secure storage.
Inseam Pockets
Stitch cleverly hidden storage into your garments with inseam pockets. Strategically sew pockets into side or interior seams for discreet, utilitarian flair. Reinforce with interfacing, then neatly stitch into the garment lining. Shake up the silhouette with angled, curved, or uniquely shaped inseam pockets.
Pick thin, light fabrics that won't add bulk. Customize with colorful fabrics or creative topstitch designs for subtle style.
Welt Pockets
Let's add sleek welt pockets to make your jeans extra stylish. Welt pockets have a clean, tailored look perfect for casual and formal wear alike. When designing unique pieces, play with welts in different shapes, like rounded or angled.
Troubleshoot sagging or gaping welts by reinforcing them with fusible interfacing. Welts are suitable for heavy fabrics like denim, as opposed to patch pockets which pair nicely with lighter materials.
For show-stopping style, embellish welts with decorative stitching. To make boring jeans exciting again, experiment with welt placement, such as using diagonal or curved welts.
Cargo Pockets
You'll add ample space for essentials when affixing sturdy flaps with multiple compartments onto garments. Sew flapped patch pockets in various designs like square, rounded, scalloped, or utilitarian to create capacious cargo pockets.
Strategically place cargo pockets for convenient access to gear. Combine with welt, inseam, or patch pockets in complementary or matching fabrics for a cohesive aesthetic. Customize cargo pockets with topstitch designs, lace, or fabric manipulations like shirring.
Tips for Sewing Patch Pockets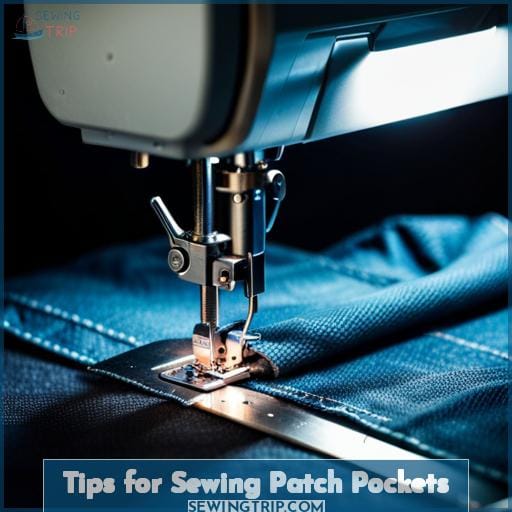 There are many creative ways to sew a stylish patch pocket. For lined patch pockets, cut two pocket pieces from coordinating fabrics and interface one piece for sturdiness; sew them together and attach them to the garment.
Unlined patch pockets are quick and easy, requiring just one pocket piece; simply hem, topstitch, and decorate. You can also get creative and add embellishments like ruching, trim, appliques, or embroidery for a playful, personalized patch pocket.
Lined Patch Pockets
After selecting the fabrics, you'd line the patch pocket for durability. For extra strength, interface the pocket lining before stitching. Customize the pocket shape when tracing the pattern. Try angular or curved silhouettes for added character.
Before sewing the lining, decorate it with contrasting fabrics or trims as embellishments. Play with the stitching by creatively topstitching, using contrasting threads, or adding decorative stitches.
For reinforcement, consider adding extra rows of stitching at stress points. Omitting corners creates a softer look. Lining and reinforcing the patch pocket will maximize its functionality and style.
Unlined Patch Pockets
Feel the fabric's weight when deciding if your patch pocket needs to be reinforced for durability. For unlined patch pockets, focus on neatness—carefully cut, press, and pin fabric pieces before stitching.
Mind pocket placement and size as you decorate with ric rac or lace. Patch pockets invite creative embellishments, but stay aware of fabric weight and sewing techniques for sufficient sturdiness.
Creative Patch Pockets
Embellish patch pockets with details like ruching or lace for a creative flair.
Add decorative touches such as embroidery, appliqué shapes, or ribbon trim.
Use contrasting thread colors for eye-catching stitching.
Try mixed media by combining fabric, buttons, beads, or charms.
Highlight the pocket shape with piping or cording.
Sew on creative flaps, tabs, or ties for functionality.
Customizing patch pockets is an opportunity to infuse personal style. With imagination, even the simplest pockets transform into wearable art.
Choosing the Right Fabric for Pockets

In choosing the right fabric for pockets, trust your gut. Some cloth sings to your deepest self, evoking freedom but capturing light like the wings of a moth.
Evaluate fabric weight and drape for the garment and pocket style.
Test fabric samples for durability by tugging, pinning, and washing.
Select hues that complement both the pocket and garment colors.
When selecting fabric for hand or machine-sewn pockets, consider durability, weight, and color. Sturdier mid-weight cottons, denims, and canvas tend to perform better for patch pockets subject to wear.
Use lighter broadcloths, batistes, or silks for a more delicate look with inseam pockets. Match or intentionally contrast the pocket's hue to the garment. Fuse interfacing to the wrong side of fabric like silk or voile to reinforce the pocket shape.
Trust your creative spirit to choose the fabrics that speak to your unique vision.
What cloth captures your imagination and beckons to be stitched into pockets holding the stories of your life? Listen.
Pocket Decoration Ideas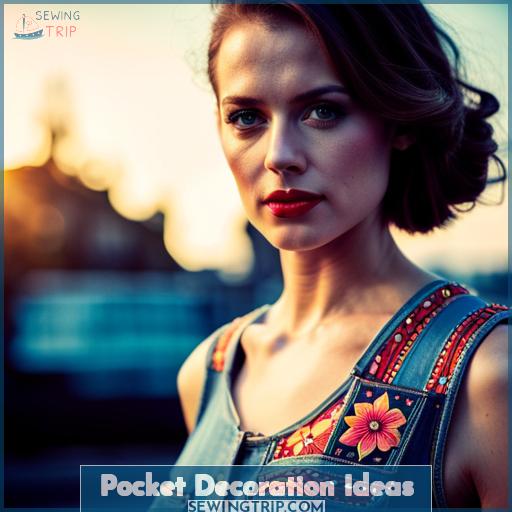 Add character to your pockets by adorning them with ric rac, sequins, pintucks, lace trim, pom pom trim, rhinestones, ruching, or even fraying the fabric.
Embroidery accents like floral motifs or monograms lend pockets a handcrafted allure. Bead embellishments in metallic, glass, or carved forms provide eye-catching sparkle. Fabric appliqué using contrasting prints or textures gives artistic flair. Ribbon details in satin, grosgrain, or lace exude femininity.
Experiment with different decorative trims and textures to make each pocket uniquely you. The options are endless for personalizing pockets with delightful details that showcase your style.
| Decoration | Ideas |
| --- | --- |
| Embroidery | Floral motifs, monograms, geometric patterns |
| Beadwork | Glass beads, sequins, metallic beads |
| Appliqué | Contrasting fabrics, frayed edges, lace, corduroy patches |
| Ribbon | Satin, grosgrain, lace edging |
| Faux leather | Contrasting leatherette panels or edging |
Pockets are the perfect canvas for creative embellishment. With an array of accents from elegant to eclectic, you can make pockets as fancy or functional as you desire.
Additional Pocket Sewing Tutorials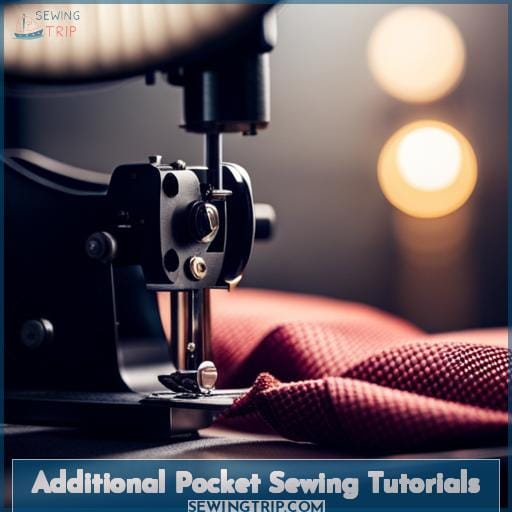 Dig deeper into pocket sewing by watching online video tutorials that demonstrate the techniques step-by-step. Video lessons from skilled sewers reveal stitch variations for functional and decorative pockets.
Learn embellishment techniques like adding lace, ruffles, or contrasting fabric that make basic pockets pop.
Find inspiration for creative advanced pocket designs like using faux or exposed zippers. Discover solutions for pocket stitching challenges through visual demonstrations of tricky steps.
With video guidance on pocket construction and troubleshooting, you'll gain knowledge to elevate your skills. Sewing forums and YouTube channels offer a wealth of pocket sewing instruction. Supplement written tutorials with videos unveiling the finer points not captured in still photos.
Hands-on demonstrations will build your confidence to tackle pockets of any shape and style while unleashing your inner design genius.
Reader Interactions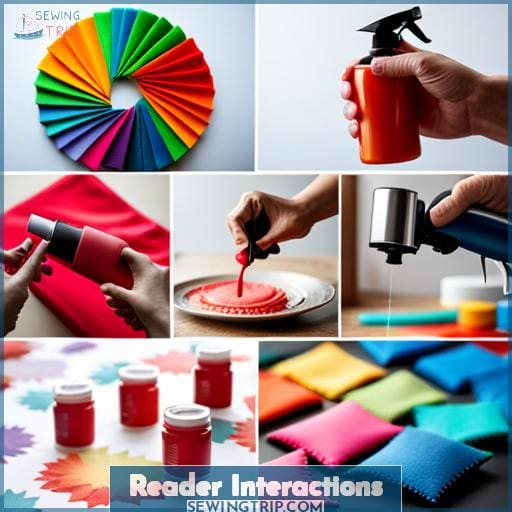 Leave comments below detailing your pocket sewing experiences or additional techniques for enhancing pockets. I've always loved experimenting with decorative pocket accents – sequins, rhinestones, and lace trims add a fun pop of personality.
When it comes to fabric choices, I prefer lighter weight cottons or linens for patch pockets and sturdier broadcloths or even denim for inseam versions. Proper placement is crucial too, so make sure to mirror mark and measure carefully.
As for challenges, I find invisible zippered pockets tricky but using heavier interfacing helps reinforce the seam. I'm continuously inspired by historical costume pockets and military garb when brainstorming creative shapes and closures.
Share your best tricks for achieving perfectly stitched corners or adding hidden inner compartments. And if stumped on size and scale, go bigger! Oversized patch pockets with bright contrast facings modernize any look.
Together we can swap stories, problem solve struggles, and inspire each other's future pocket creations.
Conclusion
How to Sew, Types, Tips:
Whether you're adorning a magnificent ball gown or just jazzing up some jeans, you now hold the keys to the kingdom when it comes to sewing pockets. With a bounty of elegant fabrics at your fingertips and the stitches of creativity flowing through your hands, you can design wondrous pockets beyond imagination.
Trust your talents and let the poetry of your pockets tell captivating tales. When you sew pockets with passion, your clothing will sing of enchantment.