This site is supported by our readers. We may earn a commission, at no cost to you, if you purchase through links.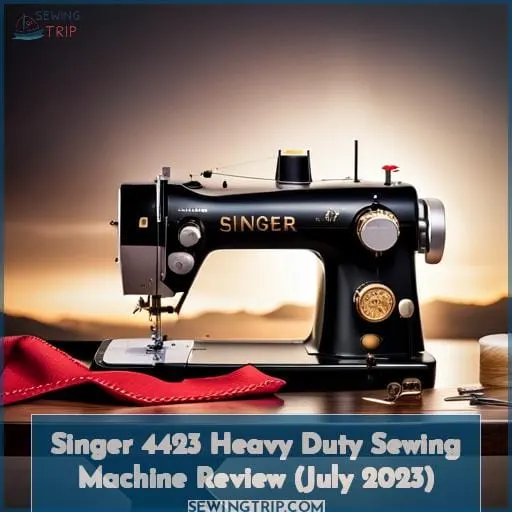 the sewing machine you already have is probably just fine. Sure, the Singer 4423 Heavy Duty looks mighty tempting with its rugged metal frame and array of built-in stitches.
So why not spend your time and money on a few sewing classes instead? Who knows, you may discover capabilities in your current machine you never realized it had.
So go ahead, browse those enticing sewing machine reviews if you must – we know resisting temptation is hard.
Key Takeaways
1100 stitches per minute for rapid sewing speed
23 built-in stitches including essentials like zipper and buttonhole
Adjustable stitch length and width for customizing on any fabric
Automatic needle threader and multiple presser feet add convenience
Singer 4423 Overview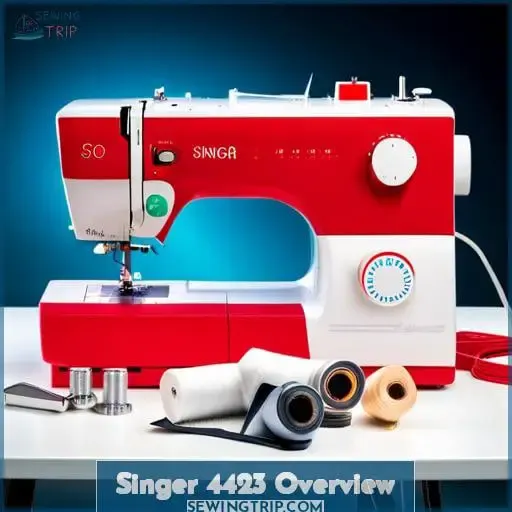 You'll find this heavy duty Singer sews denim, canvas, and quilts easily with its powerful motor reaching up to 1100 stitches per minute. Packed in a compact 15-pound frame, it's like having a portable garment factory in your home.
Just plug it in, thread the needle with the automatic threader, and let your creativity flow.
With the turn of a dial, you can choose from 23 built-in stitches including all the essentials plus decorative options. Adjust the stitch length up to 4mm and width up to 6mm for perfect buttonholes or stretch seams.
When thick seams demand it, the free arm and drop feed dogs help wrestle sleeves and free-motion quilting. An unexpected jam? Simply raise the presser foot lifter extra high to wrestle your project free.
With a 25-year warranty on the chassis, this Singer's built to churn out projects daily.
Don't let its budget-friendly price tag fool you. This machine means business with denim and canvas yet purrs quietly when stitching delicate fabrics. Think of it as your personal sewing assistant, always ready to help with that new pair of jeans, a trench coat revamp, or quilt-making marathon.
The Singer 4423 packs power, versatility, and convenience into one portable package.
Built-in Stitches and Functions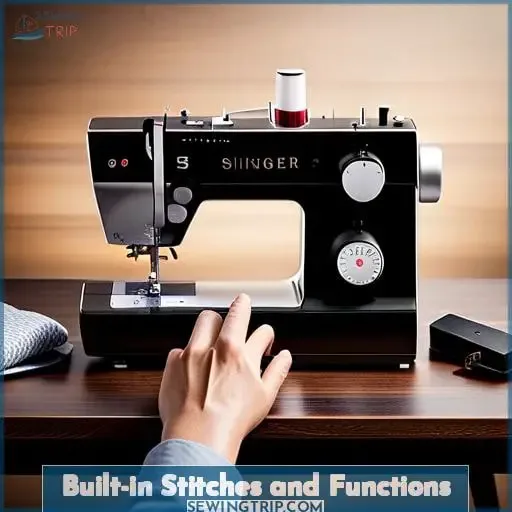 With 23 stitches plus auto buttonholing up your sleeve, tackling any fabric is a cinch on the Singer. Whether you're sewing knits, wovens, jean hems, or stretch seams, you've got options galore.
Baste a fitted skirt with the extra long blind hem stitch. Adjust the stitch length up to 4mm and width to 6mm for perfect proportions.
Sew precise buttonholes automatically every time with the 1-step buttonhole foot.
Reinforce tough spots on jeans or backpacks with the triple straight and zig zag stitch combo.
With the turn of the direct stitch selection dial, you can instantly switch stitches mid-project for flawless results. No more fumbling with complicated screens and electronics. Sometimes simple is best.
The presser feet options add versatility too. Install the all-purpose foot for everyday sewing, the zipper foot to flawlessly insert zippers close to seams, or the buttonhole foot for auto buttonholes.
Having adjustable stitch length and width at your fingertips provides amazing creative freedom. You can sew a closely spaced zigzag for appliques or a widely spaced straight stitch for basting. Dial it down small for hemming knits and up for sturdy seams on canvas tote bags.
Whether you're a total beginner or seasoned seamster, the Singer 4423 truly makes sewing a pleasure. With stitches galore, adjustable settings, and handy presser feet, you'll breeze through projects feeling like a pro.
All those pesky stitch limitations and tension headaches become a thing of the past.
Adjustable Settings

Dial in the precise length and width for each fabric. The adjustable settings empower your creativity. With the turn of a knob, you've got granular control over stitch size to customize any project. This liberates you from the shackles of preset stitch parameters, unleashing your inner sewing rock star.
Crank the stitch length lever down to its smallest setting for a micro-straight stitch that adds durability when hemming knits. Extend it out to 4mm for the long blind hem on that flowing chiffon skirt. You get to play with the full spectrum in between too.
When tackling thicker fabrics like denim or canvas, open up the stitch width for rugged reinforcement. Max it out at 6mm for durable seams that withstand tough abuse on jeans and totes. Compress it down to make buttonholes and satin stitches nice and narrow. You dictate the voice.
Getting the right balance of length and width is crucial for skip-free sewing. Expertly adjust the tension with the presser foot pressure dial as needed – lightening up on thin silks, increasing for quilting layers, finding that sweet spot becomes intuitive.
Having total stitch length and width control boosts creativity exponentially. Any fabric, no matter how unique, fits right in. You develop a deeper relationship with each material through the personalized attention of the settings.
Included Accessories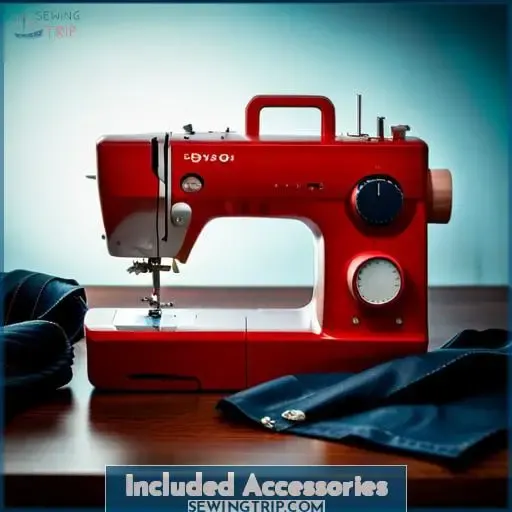 You've got a full studio at your fingertips with the presser foot accessories to open new creative pathways.
The zipper foot slices through the teeth with precision, allowing layered melody and structure to intertwine in harmony. Glissando up and down the scale, dancing to avoid collision. With focus and care, a seamless duet emerges.
The buttonhole foot gives voice to enclosure and flow. An adagio of connection and separation written note by note in denim cloth.
The blind hem foot whispers subtlety, tucking silk into a whisper quiet fade out. Or swelling up in bold theatrics down the legs of a flowing gown, stealing the scene in dramatic fashion.
A versatile collection ready to back any creative whim. Different soles provide unique articulation, breathing nuance into every material. Collaborate by selecting the right support for your vision. Let accessories provide creative inspiration, not limitation.
Convenient Features

An automatic needle threader gracefully prepares the canvas, while an LED light illuminates each stitch with clarity. Moving into improvisation, the free arm allows creative freedom on tubular pieces and tricky terrain.
Automatic Needle Threader
Quickly end threadin' frustrations with the automatic needle threader. One press and the metal wire pierces the needle's eye, pullin' the thread through like a patient mother guidin' her child. Triumphant, you're ready to sew, your focus freed. Embrace the flow state as creativity guides your moves.
Dance as the needle punches your chosen tempo, the beat set by your foot's pedal pulse. Forget fumbles, tangled messes – stay immersed in visions takin' shape. Your focus remains unbroken, momentum buildin' with each new line sewn.
Hands move in practiced motions, muscle memory steerin' as ideas unfold. Ride the wave and create fearlessly, limitations and struggles put to rest.
LED Light
Illuminate your stitches with the handy LED light. Its bright beam shines right where you need it, giving clear visibility so you can sew with precision. No more straining to see in dim corners or fumbling blindly. Just flip the switch and that little light casts its glow, guiding your work so seams stay straight and even.
Forget neck craning, eye squinting and back hunching trying to focus. You'll see every detail, able to finesse each stitch just right. No need for extra lamps or awkward adjustments. This built-in bulb's got you covered, making sure nothing's missed.
So flick on that light and start sewing – you'll be amazed how easily intricate projects unfold when you can see every stitch clearly.
The white plastic buttonhole foot glides smoothly along fabric edges, lower thread pulled taut for precise stitching. No tangled messes or skipped stitches when you engage that handy lever. Just align your marks and let the machine work its magic.
With clear visibility from the LED, perfectly shaped buttonholes get sewn quick and easy.
Free Arm
You'll expose the free arm for sleeves and pants by removing the accessory box. Move to the edge of your seat as possibility unfolds. This free arm transforms your world, granting you access to the hard-to-reach places that once seemed out of reach.
Zipper sides and little leg hems bend to your will, no longer able to escape the power of your needle and thread. Dreams of perfectly set sleeves dance through your mind as you lift that extended, extra-high presser foot and glide effortlessly over bulky seams.
Your presser foot floats across the fabric landscape, unencumbered by the usual obstacles. Through the magic portal of this free arm, no sewing project can resist the siren song of your imagination. So free yourself from limitation and let inspiration flow through the open canvas of what could be.
Heavy Duty Capabilities

The power to sew multiple layers lets your creativity soar in crafting heavy duty projects. From rugged denim to cozy quilts, this machine empowers you to bring your boldest visions to life. Its buttonhole foot effortlessly punches the slit for closure while the stronger motor plows through heavier fabrics without hesitation.
Sturdy and smooth, the stainless steel bedplate glides multiple layers of thicker fabrics for a professional finish. With a longer stitch length up to 4mm, those embellishing details dazzle as you personalize your leatherworks and decor.
Liberated from the limits of light duty, indulge your passion for crafting original masterpieces that demand durability.
This machine frees you to fearlessly create, knowing it can handle the thickness, weight and intensity your inspired mind conceives. So release your imagination and start sewing beyond the expected, backed by the power to turn your dreams into enduring reality.
Ease of Use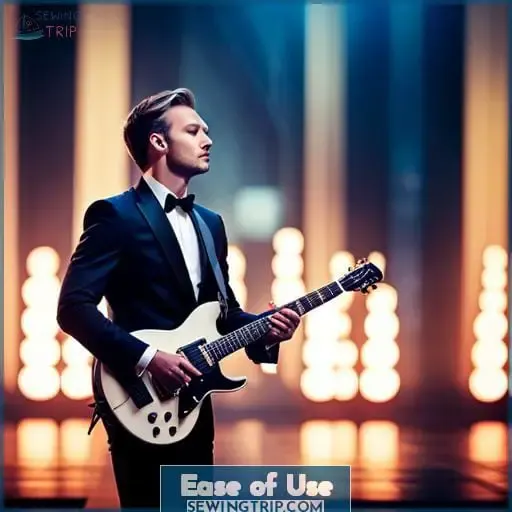 Savin' time and frustration, that automatic needle threader's got your back when sight and dexterity fail ya. No more squintin' and pokin' tryin' to sneak the thread through that miniscule eye. Just lower the lever and bam – that thin thread is pulled right on through with precision.
And them presser feet – they make sewin' a breeze too. Swappin' 'em out dependin' on the stitch, you've got the right foot for the job every time. The general purpose foot for your straight stitchin'. The zipper foot to sew that garment closure nice and flat.
And the buttonhole foot to automagically sew that slit for the button in just one step. Genius! Each foot is customized to help these stitches turn out picture perfect.
When it comes to selectin' your stitch style, you've got options galore to personalize your project just how you envisioned. Those 23 built-in stitches handle all your basic needs – straight, zigzag, stretch – plus some fun decorative ones too.
You can adjust the length and width to get it just right. And with that reverse lever, securin' your seams is a cinch. Whether hemming some new trousers or embroiderin' a dish towel, you've got the settings to make it uniquely yours.
With that handy stitch selection dial, changin' stitches is smooth as silk. No decodin' screens and menus. Turn to the style you want and start sewin'. Combined with the adjustable settings, you've got the command to take your sewin' up a notch without frustration.
It just goes to show ya, it's the little things that make all the difference. When a machine takes the hassle out of tedious tasks, everything becomes more enjoyable. You can set your imaginatin' free knowin' it'll all come together beautifully. That's when sewin' stops bein' a chore and becomes a pleasure.
Ain't nothin' more satisfyin' than creatin' something by hand just how you pictured it.
Quilting and Free Motion

With decorative quilting and free motion embroidery openin' up a world of textile art, unleash your inner artist sewin' a one-of-a-kind masterpiece at up to 1100 stitches per minute! Loose those feed dogs and glide that fabric under the needle, followin' no path but your imagination.
The world's your canvas to quilt anything you dream up:
Freehand stitchin' to add texture and dimension
Drawin' patterns, shapes, even portraits in thread
Usin' that buttonhole foot as your guide for perfect parallel lines
Quiltin' lets you break free from the constraints of seams and patterns. With nothin' but fabric under the presser foot, you control where the needle travels, layerin' on swirls of color and texture with no rules.
From pictorial landscapes stitched to stunning photorealism, the possibilities are endless. Whether you're after months-long masterpieces or quick holiday gifts, free motion sewin' makes it attainable.
Don't fear mistakes neither – give yourself permission just to play, let loose, and explore new techniques. You can always rip out those stitches. But happy accidents have birthed some of the most creative compositions.
With the right tools, free motion is freedom. Set that stitch length nice and short, drop the feed dogs, and let the fabric glide.
Performance and Recommendation

You need a machine that can keep up with your creative spirit, pumpin' out stitches faster than your foot can hit the pedal. This workhorse hits 1100 stitches per minute, ready to bring your visions to life at top speeds.
Crank it up and listen to that motor purr, glidin' through denim like butter. The 4423 powers through project after project without missin' a beat.
Even after years of use, its performance won't let you down.
While she weighs in at a solid 15 pounds, that sturdy build absorbs vibration for smooth sailin' at any speed. The heavy-duty metal frame and stainless steel bedplate form an unstoppable foundation, tailored to withstand marathon sew-a-thons.
Layers of thick fabric can slow down lesser machines, but not this gal. She'll conquer whatever you feed her without compromise.
| Sewing Speed | 1100 spm max |
| --- | --- |
| Number of Stitches | 23 built-in |
| Automatic Needle Threader | Yes |
From basic garments to home dec projects galore, her versatility stretches as far as your imagination. With 23 built-in stitches plus automatic buttonholin', she's equipped to bring any design to life.
The included accessories empower you to install zippers, sew buttons, and finish edges with ease.
It's time to stop dreamin' and start doin'. This machine gives you the power, durability, and versatility to create whatever your heart desires. So plug in, thread up, and let your talents shine. Anything you envision, this heavy duty darling can sew.
Frequently Asked Questions (FAQs)
What is the maximum fabric thickness the Singer 4423 can handle?
You'll have no trouble sewing multiple layers of heavy fabrics like denim or canvas, since the Singer 4423 can handle up to 8 layers with its powerful motor.
How noisy is the Singer 4423 compared to other heavy duty sewing machines?
The Singer 4423 hums along nicely at lower speeds, but reviewers note it gets noticeably louder when sewing through multiple layers of denim at full throttle. Compared to similar models, noise levels seem middling – neither whisper-quiet nor obtrusive for most home sewing.
Does the Singer 4423 come with a dust cover or machine case?
Unfortunately, the Singer 4423 does not include a dust cover or machine case. You will need to purchase one separately if you want to protect your machine when not in use.
How long is the power cord on the Singer 4423?
The Singer 4423's power cord measures 7 feet long, enough to comfortably reach outlets when sewing. Simply plug in the cord and you'll be ready to start stitching with this heavy duty machine's excellent power and range of motion.
What is the bobbin size and type for the Singer 4423?
The Singer 4423 uses a drop-in bobbin that's class You'll get one in the box, but any standard plastic class 15 bobbin will work.
Conclusion
Well, if you're a heavy duty sewing enthusiast needing power and versatility, we think the Singer 4423's your perfect match. Like your favorite pair of jeans, this machine's built to last through thick and thin with its rugged metal frame and reliable motor.
Sure, it may have some quirks, but its easy threading and ample accessories will win you over quick as a lightning stitch.
For the price, nothing else sews denim, canvas or leather quite as smoothly. So why not take this dependable machine for a spin and see just how well you two get along?
After all, who doesn't love a model that can keep up with all your wildest sewing dreams? The Singer 4423 is ready to make some memories with you.
References
bestsewingmachinereviewspot.com