This site is supported by our readers. We may earn a commission, at no cost to you, if you purchase through links.
You've sewn straight and zigzag stitches on your rickety old machine for years, but now you're ready to kick it up a notch. When you lay eyes on the SINGER Heavy Duty 4432, you know she's got the power and versatility to bring your projects to life.
With decades of experience analyzing sewing machines, we've stitched up an in-depth review to help you decide. We'll guide you under the hood of this mechanical darling, highlight her strengths and weaknesses, and compare her to similar models so you can determine if she'll master all the fabrics and techniques on your wish list.
One thing's for sure—this classic grey beauty will sew circles around your outdated model.
Key Takeaways
Sturdy construction with a metal interior frame
Sewing capabilities include a maximum speed of 1,100 stitches per minute and 32 built-in stitches
Easy to use with features such as easy threading, automatic needle threader, and top drop-in bobbin
Affordable price under $200 with a 25-year warranty on sewing head and 2-year warranty on motor
SINGER 4432: a Quick Review

Don't sweat it, the 4432's got you covered for most sewing projects with its sturdy build and ample stitches. This machine can plow through thick fabrics like denim, thanks to its metal interior frame and 1,100 stitches per minute speed.
Adjust the feed dogs up or down for smooth stitching on light or heavy materials.
The automatic needle threader is a blessing when switching between thread colors. When you need precise buttonholes, the included buttonhole foot has you covered. Keep projects tidy with the built-in reverse stitching. The 4432 really shines for free motion quilting with its adjustable presser foot pressure and stitch length/width.
When you're done, a little cleaning and oiling maintenance keeps this workhorse running smoothly. With 32 built-in stitches, adjustable tension, a 25-year warranty, and a price tag under $200, the Singer 4432 hits that sweet spot between budget-friendly and heavy-duty versatility.
What Makes the SINGER 4432 Stand Out?

When you're looking for a heavy-duty sewing machine that can handle thick fabrics with ease, the Singer 4432 should be at the top of your list. With its metal interior frame, 110 built-in stitches, high sewing speed, adjustable stitch settings, multiple presser feet, and 25-year warranty, this versatile machine provides excellent stitch quality and long-lasting performance for home sewers.
Features and Specifications
Let's now explore the alluring capabilities this machine offers. With easy threading, bobbin winding, and stitch versatility up to 6mm, the 4432 adeptly handles heavy fabrics. Manual controls allow mastery over stitch length and width for everything from denim to velvet.
The heavy-duty metal frame, strong 1,100 SPM motor, and 32 built-in stitches, including essentials like zigzag, empower you to take on any project. High presser foot clearance and removable free arm conquer thick seams and sleeves with ease.
This smooth-running workhorse won't jump stitches even at high speeds. The 4432 has the durability and versatility needed to unleash your creativity.
Durability and Sturdiness
You'd be amazed at how durable this sewing machine is, thanks to its sturdy metal frame and its ability to handle thick fabrics without skipping stitches. The heavy-duty metal frame provides a rock-solid foundation for precise stitching.
It has a stronger motor than standard machines, so it powers through multiple layers of dense fabrics like jeans without hesitation. The heavy-duty construction extends through every component, from the metal foot pedal to the steel needle plate cover.
Whether you're sewing heavy canvas, stitching durable outerwear seams, or reinforcing stress points on work clothes, this machine has the rugged build to handle repetitive, heavy stitching all day long.
SINGER 4432: Pros and Cons

With its sturdy metal frame and 1100 SPM motor, you'll enjoy skip-free sewing and handling thick fabrics with the 4432. The heavy-duty metal frame provides stability for skip-free sewing, even at high speeds, up to 1100 stitches per minute.
Adjustable thread tension helps achieve balanced stitches with different fabric weights. The machine comes with multiple presser feet for basic techniques like zipper insertion and button sewing.
While the top drop-in bobbin is easy to insert, the vertical bobbin case may require tweaking bobbin tension for consistent stitching.
Choose an appropriate needle size when sewing very light or heavy fabrics. With 32 built-in stitches, you get essentials for sewing most projects. The automatic needle threader saves time and frustration, and the removable free arm makes sewing sleeves, pant legs, and other tubular items simple.
For versatile sewing with thick fabrics, the 4432 provides excellent value and performance.
Our in Depth SINGER Heavy Duty 4432 Review

Let's dive right into our in-depth review of the Singer 4432 Heavy Duty sewing machine. This versatile mechanical workhorse may lack the bells and whistles of electronic and computerized models, but it delivers where it counts.
It has a sturdy metal frame, a powerful motor, and user-friendly controls that are perfect for handling thick fabrics and everyday sewing projects.
With 32 built-in stitches, an automatic needle threader, a top drop-in bobbin, and adjustable stitch length and width, you'll have all the key features you need to take on sewing projects from quilting to home decor and clothing repairs.
Now let's examine how the 4432 performs for stitch quality and ease of use.
Mechanical Sewing Machines
A whopping 25-year warranty on the sewing head shows how confident Singer is in the durability of their mechanical 4432 model. The simple mechanics mean easy maintenance with online tutorials for cleaning and oiling.
With basic features like adjustable stitch width and length, an all-purpose foot, and a zipper foot, it handles most fabric projects from quilts to clothing. Reliable, sturdy, and budget-friendly, it empowers sewers to unleash creativity on any project.
Electronic Sewing Machines
Unlike the mechanical Singer 4432, you would appreciate the convenient features of electronic sewing machines. With computer connectivity and embroidery capabilities, these machines offer more decorative stitches and better fabric handling than mechanical models.
Their versatility suits sewers working with delicate satin or tough denim fabrics.
Computerized Sewing Machines
Though computerized sewing machines offer helpful features, you'll miss the tactile control and responsiveness of this mechanical workhorse.
Easy threading
Affordable pricing
Reliable stitching
Versatile functions
User-friendly operation
With its mechanical simplicity and rugged construction, the Singer 4432 performs flawlessly for clothing construction, crafts, and home decor projects without frustrating computer issues.
Key Features of the SINGER 4432
You'll love how the Singer 4432's sturdy metal frame and 1,100 stitches per minute motor tackle thick fabrics without skipping stitches. The feed dog adjustment, presser foot pressure, needle system, and bobbin winding give you control over stitch tension for sewing denim layers.
The buttonholer, automatic needle threader, drop-in bobbin, and adjustable pressure make sewing thick seams easy.
Performance and Stitch Quality
You can tackle thick fabrics and seams with ease thanks to this machine's sturdy build and smooth 1,100 stitches per minute motor.
Consistent stitch spacing
Even fabric feeding
Quality stitching from mechanical precision
Who is the SINGER 4432 Heavy Duty Aimed At?

If you're new to sewing and want an affordable heavy-duty machine, the Singer 4432 is an excellent option. With its sturdy metal interior frame and powerful motor, this machine can handle thicker fabrics like denim with ease – perfect for learning on.
Yet it's still versatile enough for intermediates wanting to expand into decorative stitches and embroidery while maintaining user-friendly dials.
Beginner Sewers
Despite its sturdy construction, the 4432's straightforward interface and ease of use make it an inviting first machine for novice sewers ready to graduate from flimsy plastic models.
With adjustable thread tension, fabric choices, and stitch settings, beginners can explore different materials and techniques without getting overwhelmed.
By mastering the basics of needle types, positions, and standard voltage, new sewers gain core skills and avoid common mistakes.
Thoughtful touches like an easy-to-use top-loading bobbin and free arm for sleeve sewing make the learning curve gentler.
With practice, beginners gain mastery and graduate from the 4432, ready for more advanced machines.
Intermediate Sewers
The seasoned sewer will appreciate the 4432's sturdy build and versatility to smoothly tackle thicker fabrics like denim or multiple layers.
The 4432 quickly sews long seams and heavy fabrics like denim with ease.
It is durable enough for heavyweight projects without frustration.
The machine makes fabric adjustments simply with the included button foot.
It is a reliable basic machine, not industrial, but it does have a seam ripper.
This versatile machine handles thick and thin fabrics adeptly.
The SINGER 4432 Heavy Duty provides the right amount of power and versatility for intermediate sewers ready to upgrade from a basic machine. With its sturdy construction and helpful accessories, the 4432 allows crafters to confidently make adjustments and sew a variety of fabrics for polished results without the learning curve of industrial machines.
A Peek Under the Hood: Technical Details

Let's take a peek under the hood of the Singer 4432 heavy duty to check out some key technical details. With a 1,100 stitches per minute motor and 32 built-in stitches, including a 6mm stitch width, this machine gives you the power and flexibility you need for most projects.
Simple turn dial controls and easy threading make the 4432 user-friendly for sewers of all levels.
Motor Power and Speed
Do you know this machine can whiz through projects at up to 1100 stitches per minute without skipping? The 4432's 110-volt motor provides ample torque and 1100 SPM to power through thick fabrics like denim, canvas, and multiple quilt layers effortlessly.
Whether you're sewing lightweight cottons or heavy brocades, the motor's high torque rating and optimized startup procedure ensure smooth delivery speed for skip-free sewing. With its high torque motor, the 4432 handles layered projects and abrasion-resistant fabrics with ease.
Stitch Options and Adjustability
You'll appreciate how the 32 built-in stitches give you versatility for both utilitarian and decorative sewing, and the adjustable stitch length up to 6mm lets you dial in just the right setting for your project.
The 4432 offers 6mm width adjustments and adjustable needle positions for precise topstitching, easy mending, and reinforced seams.
With a quick turn of the dial, you can easily switch between utility stitches, stretch stitches, decorative stitches, and buttonhole stitches.
The heavy-duty motor provides 1100 stitches per minute for rapid sewing on multiple fabric types.
The stitch options and adjustability empower sewers to customize settings for their projects.
User Interface and Controls
Knobs let you easily adjust stitch width and length for precision work. The user-friendly dial offers sensitivity control when navigating tricky seams. Color-coded buttons and easy threading simplify operation so you can get to sewing fast.
With multiple pressure feet, it handles home decor, craft items, and clothes from scratch. Sturdy and heavy for tables, it comes with a handy lint brush. The Singer 4432 empowers you to master any project.
Sew, Should You Buy the SINGER 4432?

Before deciding whether to purchase the Singer 4432 heavy-duty sewing machine, considering its value for money compared to your needs is key. Assess if this versatile machine packs the right features like durability, sewing speed, and ease of use to suit your projects, space, and budget.
Considerations for Purchase
Before shelling out your cash, see if its built-in stitches and simple interface check your project boxes.
Consider if the 32 built-in stitches like straight, zigzag, and blind hem cover your needs or if you'll want more decorative options.
The limited selection makes operation straightforward but restricts creativity.
Weigh whether the lack of computerized features matches your mechanical skill level.
With renowned Singer strength and ample versatility for most, this machine empowers purposeful creation.
Value for Money
Considering its capabilities, the 4432 offers tremendous value for your money. With easy bobbin access, an adjustable presser foot, twin needle capability, and smooth fabric feeding, you get versatile sewing options.
The tension adjustment ensures consistent stitch quality on all fabrics. This home sewing machine has a high 1100 SPM sewing speed, a 25-year warranty, a clear plastic cover, and even a dust cover – all for an affordable price.
Given the combination of heavy-duty construction, user-friendly features, and an excellent warranty, the 4432 provides unmatched value.
What Fabrics Can Be Used With the SINGER 4432?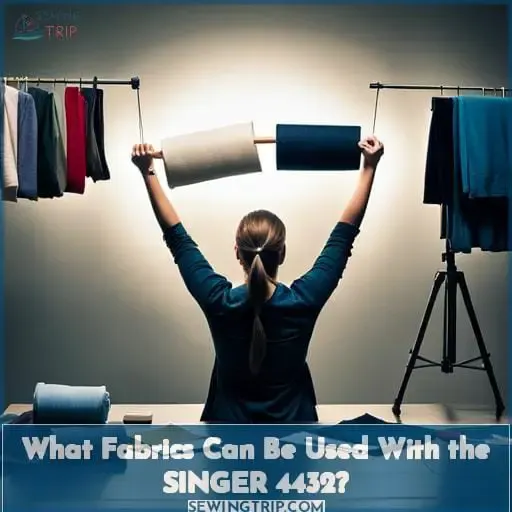 You'll find the Singer 4432 can handle most medium-weight fabrics like cotton, denim, and velvet nicely for your sewing projects. This versatile machine can also manage lightweight wool, canvas fabric, jersey knit, and other thick woven fabrics without issue.
While it may struggle with very heavy materials like upholstery leather, the 4432 offers excellent value for money for most home sewing needs. With its powerful motor and heavy-duty metal frame, this machine deals with thick seams and multiple layers easily.
Overall, Singer has designed a quality, durable machine that can handle most fabrics the average sewer will use. The 4432 punches above its weight given its reasonable price point. For the money, you'd be hard-pressed to find another machine that offers this level of versatility from a trusted company like Singer, according to most reviews.
Accessories That Come With the SINGER 4432

You'd be thrilled to find the Singer 4432 comes with snap-on feet, bobbins, needles, and a quilting guide so you can start sewing straight out of the box.
The machine includes a zipper foot, buttonhole foot, button sewing foot, blind stitch foot, and satin stitch foot, so you can tackle a variety of sewing projects right away.
With the included all-purpose foot, you'll be ready for basic hemming, seams, and topstitching on medium-weight fabrics like denim, canvas, and corduroy.
The machine also comes with a pack of needles, 4 bobbins, a seam ripper, a lint brush, a screwdriver, spool caps, and spool pin felt.
With hand-turned dials for easy adjustments, blind hemming and rolled hem capabilities, and metal presser feet, the 4432 gives you versatility for sewing clothes, crafts, home decor items, and more.
The free motion foot lets you get creative with free motion sewing and quilting.
This heavy-duty machine comes ready for clothing construction, crafting, quilting, and everyday mending tasks.
Alternative Singer Heavy Duty Machines

Check out other Singer heavy-duty models for more stitches and features.
| Model | Stitches | Features |
| --- | --- | --- |
| Singer Heavy Duty 4452 | 32 built-in stitches | Metal interior frame, top drop-in bobbin, adjustable stitch length/width |
| Singer Quantum Stylist 9960 | 600 built-in stitches | Automatic needle threader, top drop-in bobbin, adjustable stitch length/width, extension table |
| Singer Heavy Duty 4411 | 11 built-in stitches | Metal frame, top drop-in bobbin, adjustable stitch length/width |
The 4452 has a sturdy metal frame like the 4432 but adds a couple of extra basic stitches. The Quantum Stylist 9960 takes it to the next level with computerized stitch selection, speed control, and an extension table option.
The 4411 is the most basic heavy-duty model but still has the key fundamentals. Consider your stitch needs and budget to choose the right Singer heavy-duty sewing machine for you. With metal interior framing, these machines can power through thick seams while keeping everything aligned.
Frequently Asked Questions (FAQs)
What is the warranty for the Singer 4432?
You receive a 25-year warranty on the sewing head and 2 years on the motor with the Singer 4432 heavy-duty sewing machine.
How noisy is the Singer 4432 when sewing?
The Singer 4432 purrs smoothly when sewing, not too noisy for a budget heavy-duty machine. Its powerful motor hums along without vibration at speeds up to 1100 stitches per minute. You'll appreciate how quietly it handles thick fabrics without making a racket in your sewing room.
Is the Singer 4432 easy to thread?
Yes, the Singer 4432 is easy to thread. Its automatic needle threader does the tricky work of guiding the thread through the needle eye for you. Simply raise the presser foot, follow the guide path, lower the lever, and voila – your thread is threaded and ready to sew in seconds.
The clear markings and diagrams printed right on the machine make it simple to know where to place the thread at each step.
How often does the Singer 4432 need to be oiled or serviced?
Like most sewing machines, the Singer 4432 needs regular oiling and servicing every 6-12 months to keep it running smoothly. This prevents buildup and keeps the internal parts lubricated. Simply oil the points described in the manual using sewing machine oil.
Or take it to an authorized Singer service center for a professional tune-up if you prefer.
What is the maximum fabric thickness the Singer 4432 can sew through?
You can easily sew multiple layers of denim, canvas, or other heavy fabrics up to 1/4 inch thick. The Singer 4432's metal interior frame and 1,100 stitches per minute motor provide the strength and speed needed for thicker fabrics.
Conclusion
You've reached the end of our journey reviewing the SINGER 4432 heavy-duty sewing machine. We dug deep, investigating its features, performance, and value. This workhorse stands sturdy, handling thick fabrics without skipping stitches.
While not fancy with bells and whistles, it delivers quality stitches from denim to velvet.
For most home sewers, the 4432 strikes the sweet spot – user-friendly controls, ample built-in stitches, and workhorse durability. Its excellent value shines brightest for beginners and intermediates wanting versatile performance without breaking the bank.
If you need a dependable, heavy-duty machine, put the SINGER 4432 at the top of your list.
This review illuminated its strengths – now it's your turn to take the reins and sew forth.