This site is supported by our readers. We may earn a commission, at no cost to you, if you purchase through links.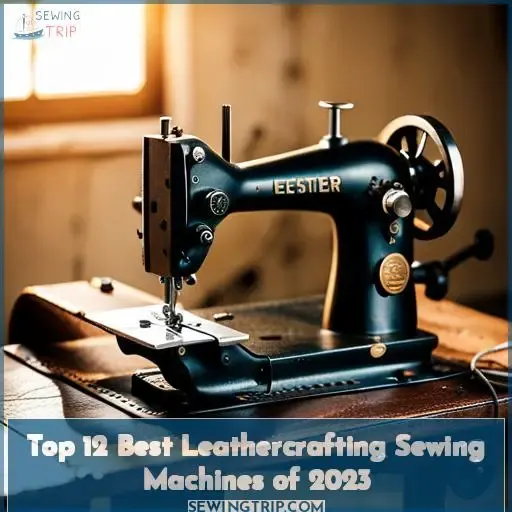 You've got the leather and the dream, now you just need the machine. We get it – finding the best leather sewing machine for your projects can be daunting.
With our expertise, you'll be crafting quality leather goods in no time. We know machines – inside and out. We breathe life into leather with specialty machines designed to bring mastery to stitching. They empower your vision with precise foot control and raw power to handle even the toughest hides.
Forget the limitations of regular sewing machines. Unleash your creativity with the right leather machine by your side. Let us guide you. We'll break it down – weight, power, specialty feet – all the key factors in choosing the perfect match.
Follow our leather intuition and your imagination won't just be liberated, it'll be unstoppable.
Key Takeaways
Power and durability are crucial considerations for leather sewing machines.
Adjustable presser foot pressure and built-in walking foot aid in precision and smooth feeding.
Look for models with a hardened metal frame and speeds over 3000 rpm for continuous operation.
Portability is a factor, with a hard case and compact size being desirable features.
Top 12 Best Leathercrafting Sewing Machines
When investing in a sewing machine for leathercrafting, you need one with power, precision, and durability to pierce and stitch heavy materials. This guide explores the best options based on leatherworkers' experiences, from the versatile Singer Heavy Duty to the industrial-strength Juki High Speed Lock Stitch and Consew Walking Foot machines.
We'll highlight must-have features like Teflon presser feet, knee lifters, and compound feed mechanisms so you can find your perfect leathercrafting partner. Take this expertise along to find the right machine for your leatherworking needs and skill level.
Singer Heavy Duty Sewing Machine With Accessory Kit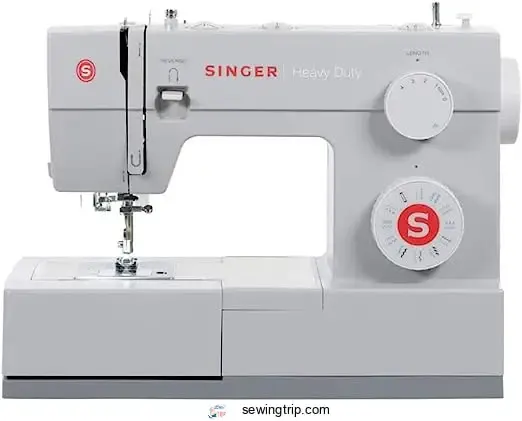 View On Amazon
You'll love whipping up leather projects on the Singer Heavy Duty – it's packed with power and perks for the price. This versatile workhorse has a 60% stronger motor than standard Singers, letting you sew multiple layers or heavy fabrics with ease.
The stainless steel bedplate provides a smooth surface for feeding leather through.
With 23 built-in stitches plus a one-step buttonholer, you can decorate and construct all kinds of leather goods. Dual spool pins allow for quick thread switches to finish projects faster. An automatic needle threader takes the frustration out of setup.
The heavy-duty metal frame absorbs vibration, keeping skip-free stitches even at high speeds.
Powerful 60% stronger motor handles heavy fabrics
23 built-in stitches for decorative options
Automatic needle threader saves time and eye strain
Heavy-duty metal frame minimizes vibration
25-year warranty for product longevity
No full paper manual included, digital manual only
May need a table extension for large projects
Limited to fabrics under denim in thickness
Brother Sewing Machine ST371HD 37 Stitches 6 Feet Free Arm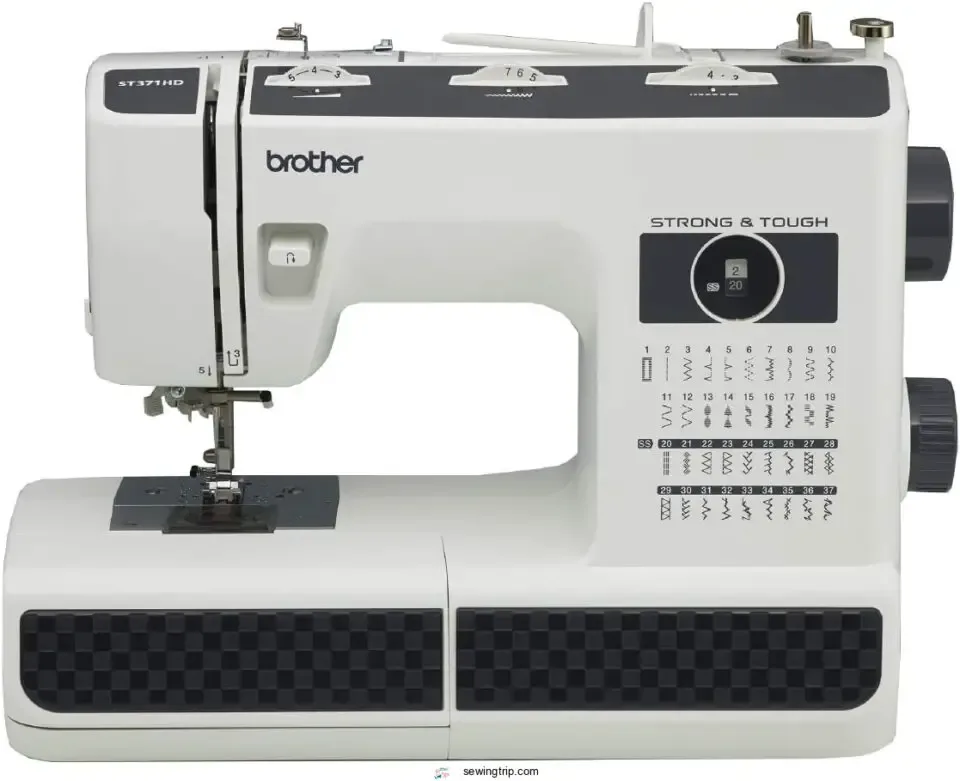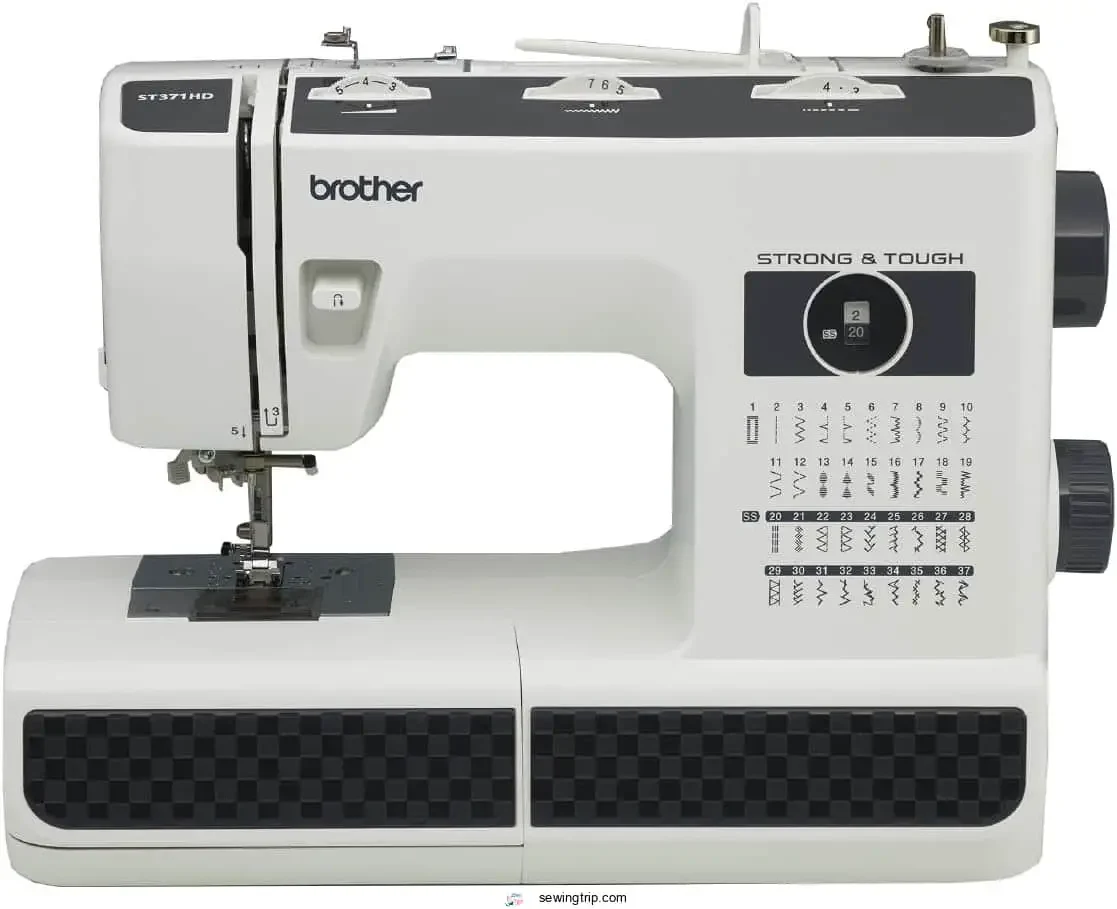 View On Amazon
Next, this made-in-Vietnam machine brings Brother's support and warranty to experienced sewers seeking reliable performance across 60 built-in stitches. From decorative embellishments to utilitarian repairs, this workhorse powers through projects for hobbyists and small businesses alike.
The automatic needle threader saves frustration, while the drop-in bobbin keeps stitches free of snarls.
Yet, don't underestimate the care and maintenance required to keep this 14-pound machine running smoothly long-term.
60 built-in stitches for versatility
Automatic needle threading for convenience
Drop-in bobbin minimizes tangles
Hardened metal interior frame for durability
6 included presser feet accommodate techniques
Heavier than some at 14.52 lbs
Not recommended for beginners
Requires diligent care and maintenance
Singer Commercial Grade Sewing Machine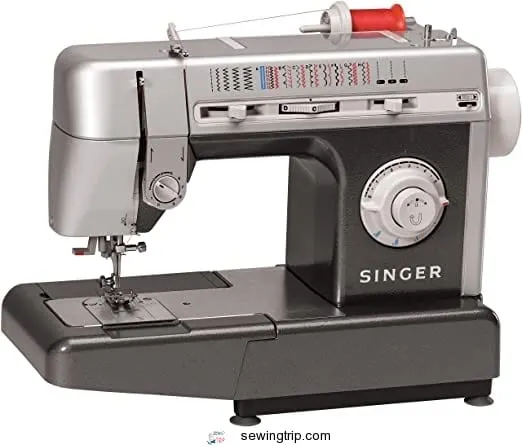 View On Amazon
With power and precision like this, your imagination is the only limit. The fast commercial-grade sewing machine handles thick leather work and delicate detail work with ease. Experience the control and power previously only available on industrial machines.
The heavy-duty motor maximizes stitching speed while the regulator keeps everything smooth. Appreciate the streamlined operation when cranking through production runs and enjoy the convenience of simple maintenance.
Sturdy construction withstands rugged use so you can create with confidence. This machine quickly becomes a trusted partner, enabling your boldest leatherwork visions to become reality.
High stitching speed for efficiency
Heavy-duty motor pierces thick leathers
Electronic controls for precision work
Significant investment for home sewers
Requires experience for best results
Limited built-in stitch options
Janome Heavy Duty Sewing Machine Built-in Stitches Hard Case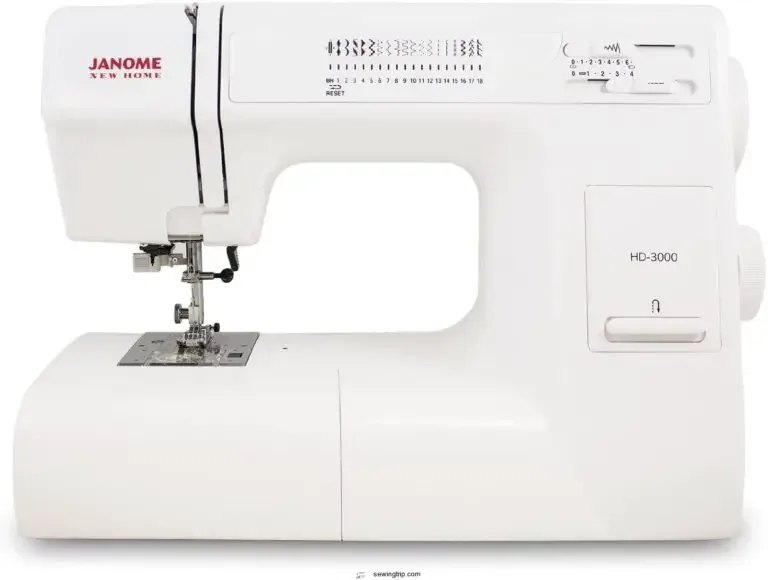 View On Amazon
The durable Janome HD comes packed in a protective case, making it a convenient choice for sewing tough fabrics on the go. This workhorse's adjustable foot pressure helps it power through multiple layers, though its limited eight stitches may leave crafters wanting more.
Sturdy construction for heavy fabrics
Built-in needle threader for convenience
Hard case for portability
Adjustable foot pressure
Only 8 built-in stitches
May be heavy to transport
Limited features compared to computerized models
Juki High Speed Lock Stitch Sewing Machine Head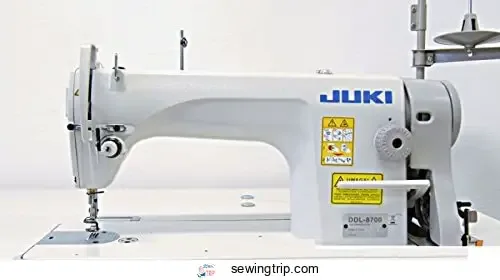 View On Amazon
Grab this high-speed Juki sewing machine head to sail through thick boat canvas projects. With a max speed of 4000rpm, you can fly through heavy fabrics like leather with precision. The adjustable presser foot, 25mm needle bar stroke, and built-in accessories give you the power and control needed for professional results.
Embrace the simplicity of a head – just add your own table and motor, then go full throttle on curtains, jeans, and upholstery.
Very high max sewing speed (4000rpm)
Powerful for thick fabrics like leather
Adjustable presser foot lift up to 13mm
Long 25mm needle bar stroke
Quality engineering and construction
Table and motor not included
Not a walking foot machine
Can be noisy at high speeds
Setup takes some effort
REX Portable Walking Foot Sewing Machine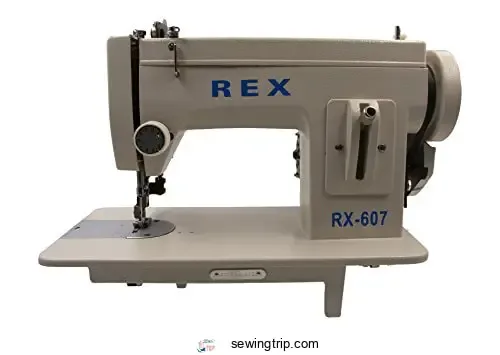 View On Amazon
Expand your capabilities instantly with this heavy-duty machine. An affordable workhorse with robust engineering, the REX Portable Walking Foot Sewing Machine lets you take on tougher jobs and tackle new projects.
You'll feel limitless tackling multi-layer leather, vinyl, and upholstery pieces with the REX's power and precision. Its industrial strength and portable design give you mastery over thick materials anywhere.
While it requires more maintenance than basic machines, a bit of upfront care yields big rewards down the road – this REX machine will outlive its warranty if you establish sound care habits from the start.
Once broken in, the REX purrs along with much less noise. With the REX, there are no limits to what you can create and accomplish. This is your key to unlocking new skills, techniques, and business opportunities in leathercrafting.
Handles 4 layers of upholstery or 2 layers of velvet
Portable size allows use anywhere
Industrial quality at a fraction of the cost
Easy to use and maintain
Great for small businesses or skilled home sewers
Louder than expected until broken in
More maintenance needed than basic machines
Motor not as refined as the rest of the machine
Schmetz Leather Sewing Machine Needles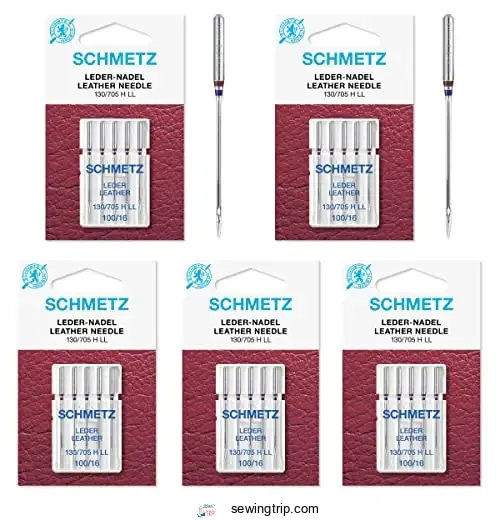 View On Amazon
Protect your machine and leather with Schmetz's tough needles. These German-engineered needles are specially designed for sewing thick leathers, vinyl, synthetics, and upholstery fabrics. I've used them for years on my leather machines, and they really make a difference in avoiding skipped stitches, needle breaks, and marking delicate hides.
The cutting point style pierces dense materials with ease, so your machine runs smoother. They fit most household and industrial machines, and the bulk packs bring down the cost per needle considerably.
For my heavy leatherwork, I prefer the 135/14 size, but check your manual for the best match.
Specially designed cutting point for leather
Fits most machines – industrial or home
Resists breaking on heavy materials
Bulk pack reduces cost per needle
Quality engineering by Schmetz
Needle size not specified in the pack
Not for knits or woven fabrics
Coats and Clark Dual Duty XP Heavy Black Thread Spools
View On Amazon
You'll need quality threads like those Coats and Clark spools to handle the demands of leatherwork without frustrating breaks. With regular polyester threads, you risk thread snapping mid-stitch on thick hides or heavy seams.
But the XP heavy-duty black threads stand up to the repetitive puncturing and tugging of industrial machines.
While no thread eliminates broken needles on thick leather, these 3 spools minimize the risk. And they hold strong across heavy-duty projects – jeans, upholstery, rag rugs. Just ensure you're using appropriately sized needles for the machine and hand-sewing.
Strong, durable polyester threads
Dual-trap prevents unwinding
Good for heavy projects like upholstery
Made in the USA by a trusted brand
Need heavy-duty needles
Can still break when pulling hard
Only available in black
Copydex Glue 125ml
View On Amazon
This Copydex glue bonds leather pieces for permanent repairs and modifications. With its brush applicator, you can easily spread the adhesive onto leather surfaces for a flexible, durable bond.
While quite strong, Copydex allows some flexibility so bonded leather can still bend and move naturally.
Use this adhesive for quick fixes like reattaching loose edges, torn seams, or cracked corners on purses, luggage, and furniture. Reinforce stress points on leather garments and gears too. With proper application, your repairs should be long-lasting.
Copydex even works for securing leather soles on shoes when stitched methods fail.
While not specifically a leather glue, this multi-use adhesive performs impressively on leathercraft projects both large and small. Just be sure to follow label directions and test small areas first. Allow proper drying time before handling or stressing the bond.
Flexible when dry
Strong, permanent bond
Multiple uses
Easy brush applicator
Strong odor when wet
Can dry out and clog quickly
Not specifically for leather
Leather Glue Leathercraft Cement Fiebing's
View On Amazon
Consider cementing leather with a thin, flexible layer of Fiebing's for permanent bonds. Working with leather? This leathercraft cement is a must-have in your toolkit. A pea-sized dab spreads a virtually invisible layer that permanently bonds leather pieces.
Made for leatherworkers, Fiebing's specially formulated glue remains flexible when dry. No more cracking or peeling on those hard-wearing leather bags and boots. Be sure to follow directions carefully as too much glue causes rippling.
For small jobs, I keep my 4oz bottle handy to reinforce weak spots and stitch pieces. The fast dry time means I can get back to creating in no time. While not suited for bonding smooth finishes, this reasonably priced adhesive excels at bonding porous leathers.
Unleash your inner leather artisan and cement like a pro. Your custom leather creations will be stronger and built to last thanks to this superb leatherworker's glue.
Strong, flexible bond
Dries fast
For porous leather
Reasonably priced
4oz convenient size
Directions must be followed carefully
Too much glue causes rippling
Not for smooth finishes
Leather Press Platen Roller Creaser and Smoother
View On Amazon
Fold leather evenly without accidental creasing using the 271g silver-tone wheel creaser with a 2.5cm long trumpet and lightweight 9.5cm wood handle. This handy tool lets you crease crisp folds and bond edges with ease.
The adhesive roller smoothes as it seals leather pieces together for a seamless finish.
With the lightweight wooden grip, your hand won't tire during long crafting sessions. The silver wheel provides the ideal surface for creasing leather without snagging or tearing the material. While simple in design, this little roller will become an essential part of your leatherworking kit.
After rolling and pressing, edges stay sealed and creases remain crisp – exactly how quality leather goods should look and feel.
Lightweight wooden handle for comfort
Prevents accidental creasing
Silver-tone roller won't snag leather
Adhesive can be messy
Requires practice to master smooth rolling technique
Small size not ideal for large projects
Consew Walking Foot Industrial Sewing Machine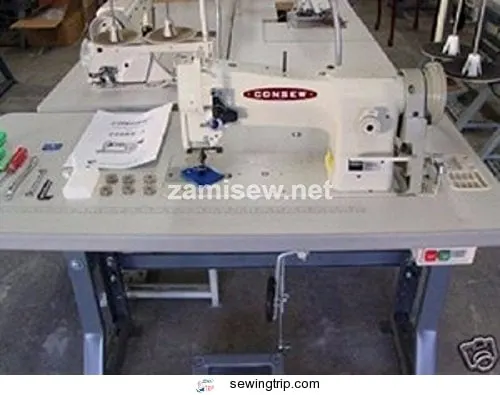 View On Amazon
Get the top-rated Consew walking foot machine for heavy-duty leather projects. As a leatherworker, you know that having the right tool for the job saves time and frustration. This industry favorite delivers consistent, quality stitching across all types of leather thanks to its triple feed system and adjustable walking foot.
With its reputation for durability, high foot lift, and extra long stitches, this machine can handle the thickest hides and upholstery projects with ease.
Triple feed walking foot for consistent stitching
Adjustable walking foot height
Sturdy construction and long lifespan
High lift for thick materials
Extra long max stitch length
Higher initial investment cost
Heavy weight
Loud operation
What to Look for When Buying a Leather Sewing Machine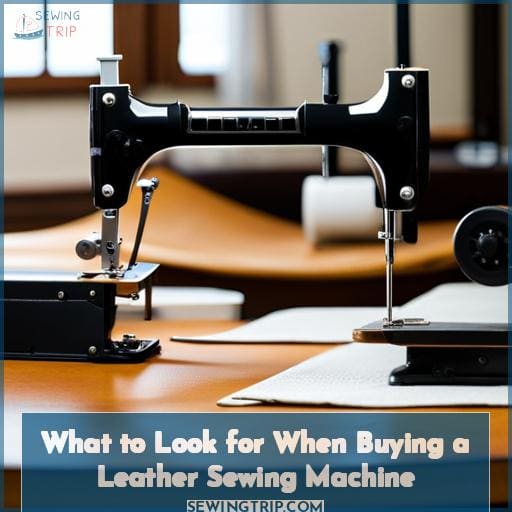 As an experienced leathercrafter familiar with a wide range of leather sewing machines, I recommend focusing on a few key factors when selecting a new machine for leatherwork.
Consider needle size and type, machine power and motor strength, the feed mechanism and walking foot, maximum sewing thickness capacity, thread and needle sizes for leather, and the machine's overall weight and noise levels.
Be sure to evaluate the machine's durability, warranty terms, brand reputation, and reviews from the leather community before deciding.
With so many options on the market, it's important to research how each factor meets your specific needs for leather types, project scale, and budgets.
Thoroughly evaluate each shortlisted machine to ensure it has the right features and proven capability to consistently deliver quality results on your leather pieces.
Needle Size and Type
Check the needle size and type for your leather project. The right needle ensures clean stitching. Adjust the size for thread and leather thickness. Use leather needles for tough materials. They resist breaking and heat buildup. Check manuals for recommended sizes. The needle lever controls tension.
Machine Power and Motor Strength
Consider a machine with at least 550 watts of power so it can easily pierce thick leathers without straining the motor. Pushing an underpowered machine can burn it out quickly, costing you hundreds in repairs.
Check motor wattage – 550+ is ideal.
Look for metal internals and quality construction.
Industrial machines offer the most power.
Power matters when sewing leather. Don't skimp to save money or you'll pay for it later. Invest in a quality machine designed for heavy-duty sewing. It will have the muscle to drive needles through tough hides while maintaining precision stitching.
Optimize performance with proper needles, threads, tension settings, and care. Then relax and let that robust motor do the hard work while you focus on crafting.
Feed Mechanism and Walking Foot
Look at a compound feed system or walking foot to smoothly move the leather through the machine. Adjust feed timing. Adjust needle position. Customize feed pressure, grip strength.
Maximum Sewing Thickness Capacity
Determine the machine's maximum thickness capacity when selecting a leather sewing machine. Go bigger than your projects require. Thicker fabrics need more space between the foot and needle. Test sample leathers to find the right fit. Upgrade machines when taking on thicker hides.
Roller feet help feed bulkier materials smoothly. Adjust tensions carefully, and engage feed dogs fully with each stitch. Control pedals matter; tune sensitivity. Maintenance keeps things moving freely at maximum capacity.
Thread and Needle Sizes
You'll want needles and threads sized appropriately for the leather's thickness. Go with thicker, longer staple-length threads. Match the needle size to handle those heavier threads without fraying or breaking.
Consult your machine's manual for recommended sizes. Triple feed walking feet improve stitching control. Proper tension prevents puckering on seams. Practice testing settings to master precision work.
Consideration of Leather Thickness and Type
You'd appraise the hide's density before deciding which machine to employ. The machine must handle the resistance of thick leather. Quality controls and sturdy construction prevent equipment vibration. Teflon feet options suit different types of leather.
Preset stitches pierce tough hides. Durable builds for leathercraft withstand leather projects.
Machine Weight and Portability
Lug the sturdy machine to your workspace, then dial in the perfect stitch length for your latest leather project.
Portability
Workspace size
Transport effort
Noise Level and Foot Controls
Consider controlling noise with cushioned pads and pedal controls.
| Janome HD3000 | Brother ST371HD | Singer 4423 |
| --- | --- | --- |
| Mechanical sewing machine with basic noise insulation | Strong motor adds vibration and noise without sound dampening | Standard home sewing machine noise levels |
| Optional presser feet help muffle sound | Sturdy build not optimized for quiet performance | Acceptable for home use, not an industrial workhorse |
| Upgrade to a quieter computerized model for significant noise reduction | Ideal for tough fabrics but noisy for long sewing sessions | Hobbyists should consider a sound dampening cabinet for extended use |
Cater your leather sewing machine choices to the work environment. Dedicated spaces allow for industrial equipment, while home setups require compromises between power and noise. Evaluate options like digital features, adjustable controls, cushioned pads, and pedal operation based on your needs.
Well-built machines engineered for smooth power translate to less vibration and noise.
Durability, Warranty, and Brand Reputation
Research a machine's durability, warranty length, and brand reputation to help determine longevity for your leatherworking needs.
Sturdy build for consistent performance over many years
Longer warranties indicate reliability and seller confidence
Established brands known for quality have a reputation to uphold
Handcrafted leather goods built to last require dependable machines engineered for precision and endurance. Like any master tool, seek out reputable brands that stand behind their products. Amish craftsmen search for quality equipment to pass down through generations. Chuck Dorsett relies on heavy-duty SailRite machines to produce quality saddlework.
With some models still sewing strong after fifty years, longevity depends on durability and care.
Thoughtfully investing in an enduring leathercraft sewing machine grants you greater mastery and liberates your potential.
Reviews and Recommendations From the Leather Community
Tap the leather community for valuable reviews and recommendations before committing to a machine. Their hands-on expertise guides you to models with proven durability, features, and performance for leatherwork.
Consider used industrial machines. Precision and reliability matter more than speed for quality leather goods. Match electronic vs mechanical feed to your skills. Upgrade presser feet for thickness. Favor reviews of tested models from experienced leathercrafters over brand hype.
Let community wisdom steer you towards the ideal machine for your budget and projects.
Can Any Sewing Machine Sew Leather?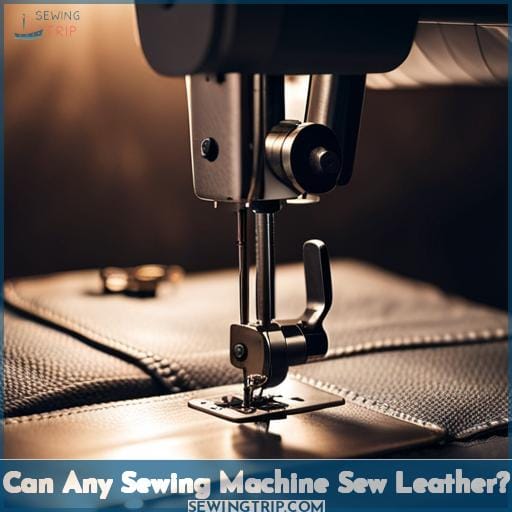 Selecting the wrong sewing machine can mark your leather or break needles. Not all machines can handle the thick, tough material of leather. Home sewing devices lack the power to easily pierce hides. Their motors burn out quickly under the strain.
Standard machines also can't drive leather evenly with built-in presser feet. The material sticks and jams the needle, risking needle breaks or scratches on your leather.
Finding the right machine takes research on features like motor strength, presser feet, and max thickness ratings. Opt for heavy-duty, industrial, or commercial-grade devices designed for leather's demands.
They have the needle power, compound feed, and presser foot clearance needed. Sturdy metal frames prevent vibration or skipping stitches on thick layers.
While pricier, a quality leather machine saves money long-term through consistent performance and durability. Investing in the proper equipment prevents frustrations and ensures professional results on your leatherwork every time.
What Do I Need to Sew Leather?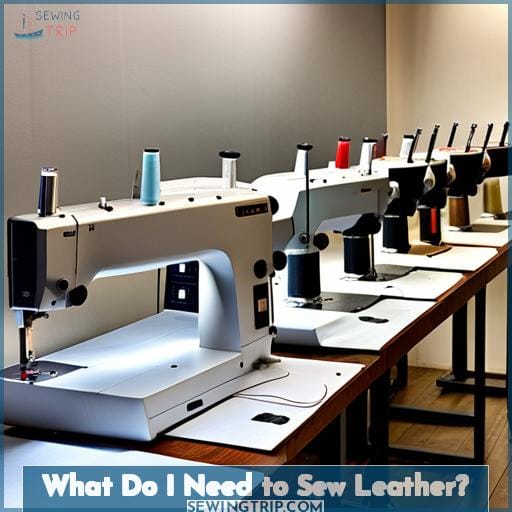 Transitioning from whether any sewing machine can handle leather to the essentials for leather sewing, let's dive into the key items you need for successful leathercraft projects.
Securing quality tools and supplies upfront saves headaches down the road. Consider this your leather sewing checklist:
Leather Machine
Proper Needles
Invest in an industrial or heavy-duty household machine designed for leather. Check the presser foot style, lift clearance, and maximum stitch length.
Opt for all-purpose polyester thread in the 40 to 60 weight range. It resists abrasion from tough leathers.
Leather needles prevent frustration. Their specialized cutting point and shaft help pierce the material without damage.
With the right setup, you'll avoid skipped stitches, thread breaks, and marred projects during stitching. Care for your machine and quality tools will ensure many years of leatherworking enjoyment.
What Size Needle Do I Need to Sew Leather?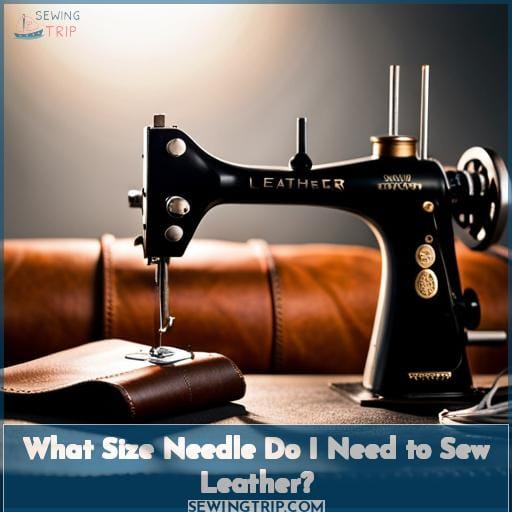 For sewing leather, you'll need a sharp leather needle in a size that fits your project's thickness and machine. When working with soft garment leathers like lambskin or deerskin, a size 80/12 needle will do the job.
For most medium weight tooling or bag leathers in the 2-4oz range, step up to a 90/14 or 100/16 needle. These won't cut as cleanly through the denser fibers, reducing potential snagging or damage.
When dealing with extremely thick belting or saddle leathers over 9oz, you'll need a needle more like 110/18 or higher so it can pierce through the material without breaking or causing skips. Compare your leather thickness in ounces to the needle size chart in your machine's manual.
And remember – you want the smallest needle that will efficiently sew your particular leather weight and density. Oversized needles create larger holes, risking damage. Don't be afraid to do test samples on scrap leather to dial in the best needle choice before starting your project.
Can You Use a Regular Sewing Machine for Leather?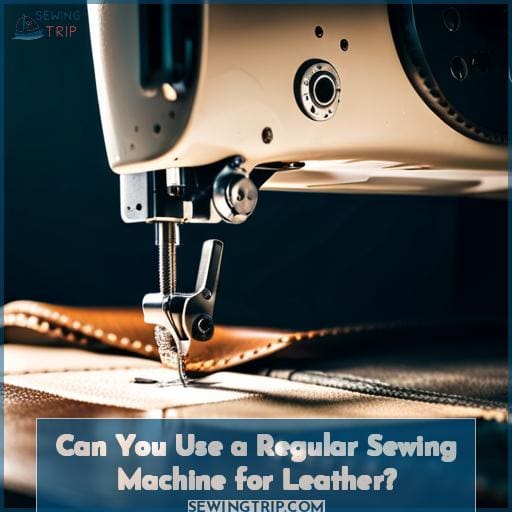 You'll be plumb out of luck using a regular sewing machine on leather without the proper equipment, so invest in a heavy-duty model upfront if you want quality results. Leather's thick hide laughs at standard needles, shredding and devouring them like a rawhide chew.
And without a leather needle's triangular point to pierce that tough exterior, you'll face nothing but frustration.
Regular machines also lack the torque required to punch holes through such durable material. Their motors will grind and strain, skipping stitches or stopping entirely. Adjusting tension proves fruitless, with lightweight threads snapping under leather's unyielding resistance.
And forget about finishing edges properly. Standard presser feet will tear and ripple leather's exterior. Only teflon-coated feet provide the non-stick smooth gliding that quality work demands.
Skimp on equipment, and you'll sacrifice more than time and money on botched projects. Do leather's distinctive character justice by investing in a machine purpose-built for the material. With the right heavy-duty equipment, you'll stitch flawless seams and empower leather's natural beauty.
So choose liberating mastery over shallow cost savings, and let leather's spirit shine.
What Type of Sewing Machine Do I Need to Sew Leather?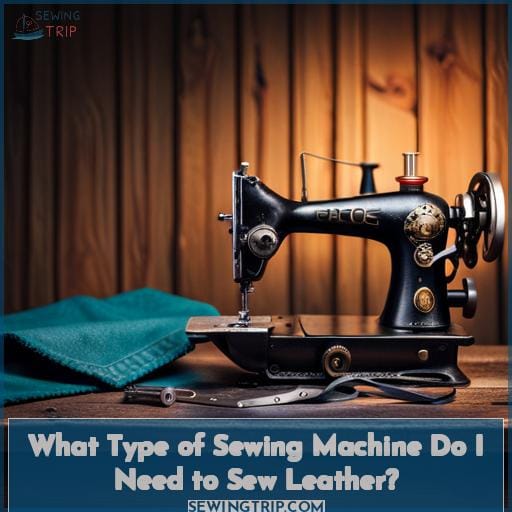 The investment in a quality leather machine saves time and aggravation down the road. When selecting a sewing machine for leatherwork, pay close attention to its construction and capabilities. Look for an industrial-grade motor with sufficient power to pierce thick hides – generally 550+ watts is ideal.
Examine the machine's leather needle and presser foot requirements as well. Teflon presser feet glide smoothly over leather without sticking or scuffing. Specialized leather needles come in thicker sizes from 70/10 to 110/18 and feature a cutting point to slice through hides cleanly.
Check that the model handles a range of heavyweight thread sizes suited to leatherwork as well. Other specifications like stitch length, lift height, and maximum thickness may factor into your selection too.
Hands-on testing with leather scraps can confirm which machine handles your projects best before purchase.
Investing in the most rugged, durable leathercrafting equipment you can afford reduces headaches and keeps your stitching results smooth and consistent over time.
What is the Best Sewing Machine for Leather?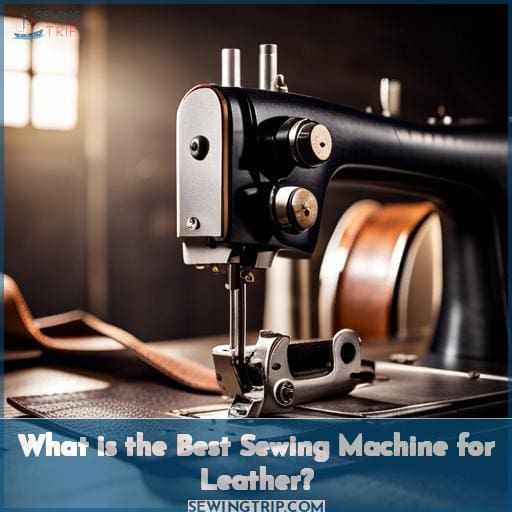 Invest wisely in the Consew walking foot industrial sewing machine, for quality equipment lasts longer. This heavy-duty workhorse powers through leather up to 9/16 thick at up to 3,300 stitches per minute.
Key features include:
Powerful servo motor and steel internals built for 24/7 use.
Walking foot prevents slippage on slick leathers.
10mm max stitch length for thick seams.
82 lb cast iron bed stands up to heavy materials.
Made in the USA – quality engineering and construction.
With the Consew, you'll achieve professional-grade results on leather goods like boots, belts, wallets, holsters, saddles, and custom auto interiors.
Prepare leather properly – skive edges, moisten, use adhesive film.
Optimize machine setup – select bonded nylon thread, install the correct needle, adjust presser foot pressure.
Then take your time, let the machine work, keep surfaces lubed.
With mastery of this world-class equipment, you gain the capability to bring creative visions to life in durable leather. The Consew unlocks new realms of personal expression through high-quality construction that stands the test of time.
It represents a sound investment for those committed to the art and craft of leatherwork.
Can Singer Heavy Duty Sewing Machine Sew Leather?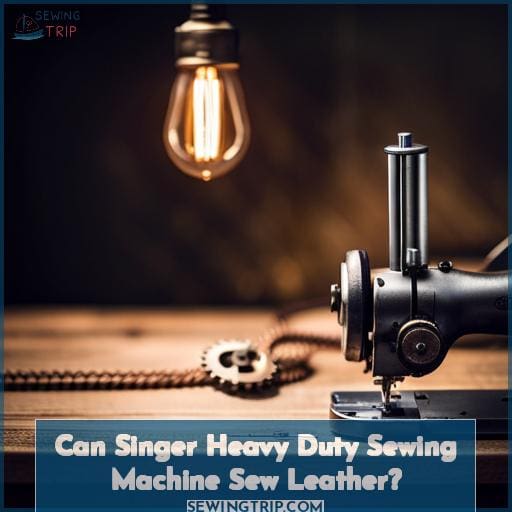 Although versatility matters, testing confirms a Singer Heavy Duty can handle most leather projects beginners attempt. With the machine's heavy-duty motor providing extra power, you can sew multiple layers of thicker leather if needed for basic wares.
Adjust the presser foot pressure and use the recommended needle for leather to pierce the material without fraying threads or damaging the point.
Check your manual for specifics, but a size 16 leather needle usually works for medium-weight cowhide. Set your stitch length longer, around 4 mm, and opt for a thicker bonded nylon thread like Tex 70 or Tex 90 to stand up to the demands.
Stay focused when guiding the layers under the foot to prevent slipping. Consider a Teflon foot and engage the heavy fabric setting if working with especially thick leather stacks for bag panels or holsters.
Proper preparation and reasonable expectations help a Singer Heavy Duty sew leather successfully. Prioritize safety and quality results over speed. With care, this versatile machine can produce durable leather goods that reflect your growing skills.
Can Singer 4423 Sew Leather?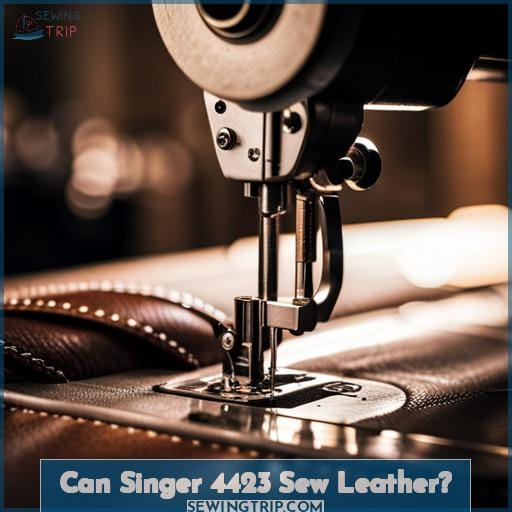 You'll seamlessly stitch leather using the Singer 4423's strong motor and heavy-duty metal frame that's 60% more powerful than a standard Singer.
This versatile machine can handle all types of projects and materials with ease. The free arm allows you to easily sew cylindrical pieces like sleeves or pant legs. Switch out presser feet to suit your needs, like using a Teflon foot for leather.
Adjust the thread tension and take advantage of the built-in needle threader for smooth threading.
The heavy-duty metal interior components ensure skip-free sewing, and the stainless steel bedplate provides smooth fabric feeding. This machine sews up to 1,100 stitches per minute, letting you work efficiently.
With 23 built-in stitches, you can decorate and construct leather goods of all kinds.
Maintain consistent stitch quality by oiling as directed. Thread dual spool pins, adjust bobbin tension, and select stitch length and width settings to suit thick leather.
With the Singer 4423, you'll gain mastery sewing leather at home or in your workshop.
How Much Does a Leather Sewing Machine Cost?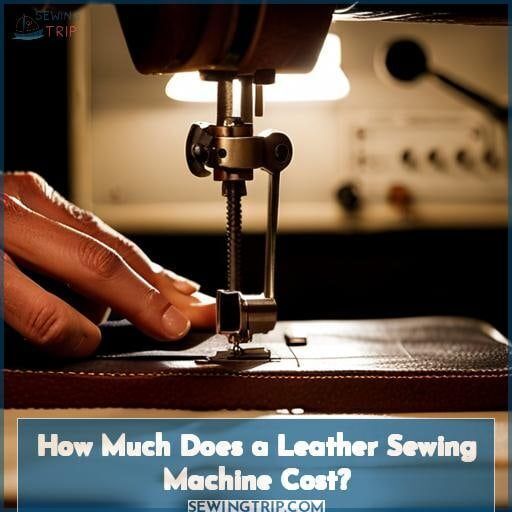 You'd be amazed at how affordable quality leather sewing machines can be. While industrial-grade machines run $1,000+, there are plenty of options under $500 that will handle leather projects with ease:
Basic mechanical machines like the Janome HD1000 can often be found for $200-300. They have the power and durability for leatherworking at a fraction of the cost.
Computerized machines like the Brother ST371HD add handy features like automatic threading and multiple stitch options while still costing under $500.
Vintage machines built decades ago were made to last and can be purchased used for $100-300.
Mini portable machines lack strength but are an ultra-budget option under $100. Great for small projects and testing skills before investing more.
With some research and comparison shopping, you can find a machine matching your budget and project needs. Focus less on fancy bells and whistles and more on must-haves like quality construction, leather needles, and a strong motor.
Proper preparation of leather using skiving, glue, quality threads/needles will also help any machine handle the material with ease. Cost is just one factor – finding a machine that stitches leather smoothly and consistently without frustration will lead to enjoyable projects and lasting results.
Do I Need a Walking Foot to Sew Leather?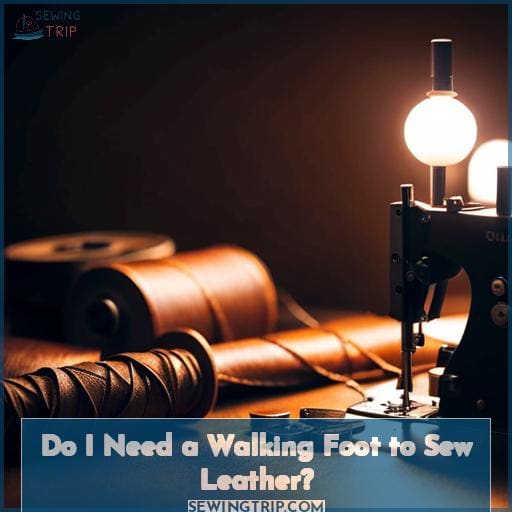 When it comes to leathercraft sewing machines, a walking foot can be incredibly useful but isn't strictly necessary. Many skilled leatherworkers hand stitch all of their pieces and make beautiful, durable goods without ever touching a sewing machine.
However, for most leather projects, a machine with the right features will save you hours of labor and frustration.
The key to sewing leather is using the proper needle size and thread thickness to pierce the material without damaging it. Many standard household machines simply lack the power to do this effectively. Upgrading to a heavy-duty motor and a Teflon-coated foot will help feed the leather smoothly.
Adjusting the presser foot pressure so the material glides instead of catching also makes a difference. An old machine without variable foot pressure will struggle with leather's thickness and stiffness.
Ultimately, walking foot industrial machines excel at sewing leather because they have the strength to stitch multiple layers cleanly, and their special feed mechanism ensures uniform stitching on heavy materials.
Without a walking foot, skipping stitches and uneven seams often occur. The extra purchase cost of these leather workhorses quickly pays for itself in time savings and quality results over cheaper machines.
But for small projects, a heavy-duty household machine with a Teflon foot and the right settings can produce nice hand-stitched looking seams.
Frequently Asked Questions (FAQs)
What maintenance does a leather sewing machine require?
Proper leather machine care keeps it humming like a well-oiled engine. Clean lint regularly, oil moving parts daily, inspect needles often. Replace dull needles to prevent snags and jams. Adjust tensions and stitch settings for each new leather.
A well-maintained machine performs consistently and lasts longer. Hand-oil daily; keep it cleaned and tuned for peak sewing performance.
How long can I expect my leather sewing machine to last?
You'll get years of durable service from a quality leather machine with proper care. Oil key components daily per manual guidance for smooth, consistent operation through countless yards of leather. Adjust and inspect parts regularly, replace needles and feet when worn. With routine upkeep, it'll reliably handle all your leatherwork for the long haul.
Are there safety precautions I should take when sewing leather?
Yes, be safe. Wear leather gloves while sewing to grip your work and avoid accidental needle pricks. Don't rush; focus carefully as each stitch is sewn. Sharp needles can pierce hands. Unplug when changing needles, feet, or threading to prevent accidental activation.
Secure your leather workpiece firmly to prevent slippage and frustration. Sew mindfully for the best results and injury prevention.
What troubleshooting tips are there for common leather sewing machine issues?
Change your needle often when sewing leather. Switch to a leather needle for the best results. Check that the needle is inserted properly to avoid jams. Make sure the thread is pulled through each guide to prevent tangles.
Adjust tension if skipping stitches. Don't push the fabric; let the machine set the pace.
What accessories and tools will I need in addition to the sewing machine?
Quality needles and threads designed for leatherwork make all the difference. Teflon-coated presser feet glide smoothly over leather. Spend time practicing techniques before tackling large projects. Let the machine do the hard work – don't push or pull too fast.
A sturdy table provides the needed support and workspace. Don't skimp on proper maintenance for peak performance. Invest in accessories like edge creasers and glue that produce professional results. With the right tools and know-how, you'll be stitching quality leather goods in no time.
Conclusion
Like a leatherworker's trusted hammer, you need the right sewing machine to craft quality leather goods. After sharpening your skills, invest wisely for the long haul in the best leathercrafting machine you can afford.
Let trusted brands like Juki, Singer, and Brother guide you towards models that'll sew leather smoothly as butter for years to come.