This site is supported by our readers. We may earn a commission, at no cost to you, if you purchase through links.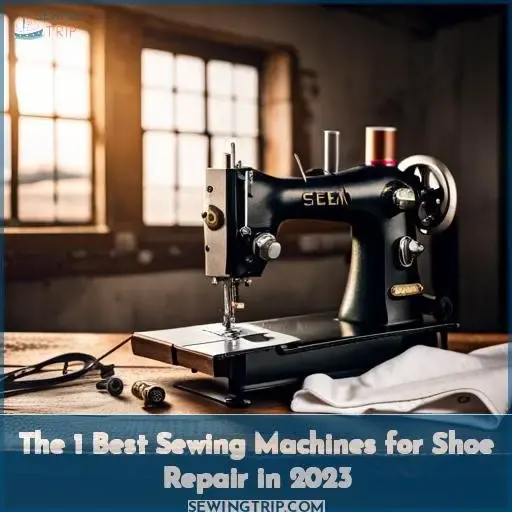 You're a crafty fella who loves fixing up old shoes and making them look brand new, but your trusty hand-stitching can only get you so far. Upgrading to an industrial-strength shoe sewing machine opens a whole new world of possibilities.
We're talking reinforced seams, decorative stitching, even building shoes from scratch. Sixty percent of shoemakers rely on specialty machines for their craft, and for good reason. With the right equipment, you'll cut project times in half while achieving professional-grade results.
In this guide, we'll explore top models on the market and key factors for choosing your dream machine, from horsepower to handy features. You'll gain insider tips for selecting the perfect machine within your budget. So rev up that sewing passion and get ready to take your shoe skills to the next level with the best tools in town.
Key Takeaways
Sturdy metal construction and a powerful motor are needed.
Adjustable speed control and stitch width provide flexibility.
Test the machine on scraps before handling thick materials.
Use specialty presser feet and needles for leather sewing.
Benefits of a Shoe Sewing Machine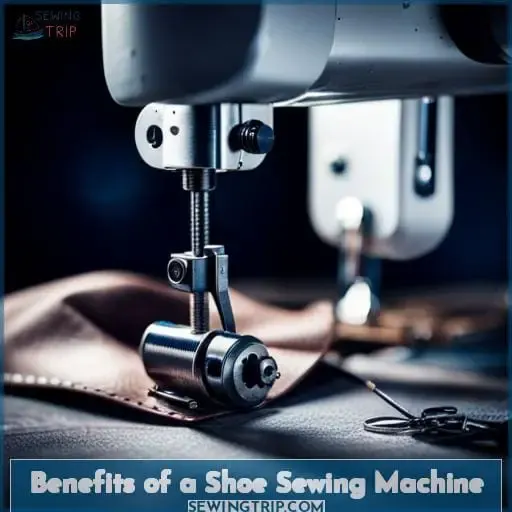 You'd want a shoe sewing machine that can handle thick fabrics like leather, with powerful motors to maintain speed through multiple layers.
Make sure it can properly position layers to prevent misalignment and has strong feed dogs for pulling heavy material evenly.
The right presser feet are crucial to balance high tension needed for thick fabrics while preventing skipped stitches in thinner areas.
Needle sizes and types are key for clean penetration without damaging materials.
Check the machine's max stitch length and speed ratings with your average project thickness.
Follow brand thread recommendations to avoid breakage or tangling.
Consider built-in stitches and accessories that simplify processes with layers like topstitching, hemming, and binding.
With the proper machine, you'll stitch shoes with efficiency, precision, and professional results.
Factors to Consider When Buying a Shoe Sewing Machine

When buying a shoe sewing machine, carefully consider key factors like design, motor power, sewing speed, construction, and ease of use. The ideal machine will have a compact yet sturdy design, a powerful motor for high speeds, adjustable speed control, heavy-duty metal construction, and user-friendly features that make operating intuitive even for beginners.
Design
When picking a stitcher, go for one with a sturdy build to handle tough shoe materials. Look for heavy-duty metal construction with high stitching speeds to power through multiple layers like leather. Adjustable foot pressure lets you fine-tune for different fabrics. An elbow pedal frees your hands while sewing.
Sturdy presser feet grip firmly, and specialty feet add options like monogramming and continuous stitches for appliques.
Motor Power
As a powerful motor allows a shoe sewing machine to stitch through tough materials quickly, purchase machines with enough horsepower for your projects. Singer boasts a 1.1 amp motor that stitched through three layers of leather easily for my new boots.
Consider motor torque for heavy fabrics.
Look for low noise levels for comfort.
Use custom needles for specialty materials.
Adjust presser foot pressure to prevent slippage.
Check oiling frequency in the user manual.
Test on leather samples before projects.
Leather and other heavy shoe materials require a rugged, high-powered motor in your shoe sewing machine. Optimal torque paired with adjustable speed gives you the needed control when punching needles through multiple tough fabric layers.
Before purchasing, research motor specs like horsepower, RPM range, torque, and noise level based on your projected materials and workload. Test drive models using scrap leather to evaluate power and handling. With the right engine, your shoe sewing machine will provide years of heavy-duty service.
Sewing Speed
Check that the machine's maximum speed works for your projects. The optimal sewing speed depends on your materials and techniques. Adjustable speed control allows for fast stitching for long seams or slower precision for tricky areas.
Consider speed adjustments when shopping for machines. Test different fabrics and settings. Powerful motors maintain speed through tough materials without skipping stitches or damaging threads. High speeds need properly set tensions and quality needles to avoid issues. Research speed capabilities and find the range that fits your workload.
Whether sewing miles of straight seams or navigating detailed curves, select a machine that won't limit your pace.
Construction
Buy a machine whose heavy-duty construction and powerful motors enable high-speed shoe sewing. Look for an all-metal chassis and internal components that won't fatigue or bend under pressure. Sturdy build quality prevents shoe problems like skipped stitches on long seams.
Opt for walking foot models to smoothly feed thick leather without slipping. Hand cranks allow control when precision stitch patterns are needed. Proper needle maintenance prevents poor quality. Overall, a durable machine saves costs over flimsier comparisons needing replacement.
Ease of Use
Get a model you know how to thread and operate before tackling shoe fabrics. An easy-to-use shoe sewing machine lets you focus on the project instead of the machine. Consult manuals, videos, tutorials for threading tricks. Practice on scrap to build skills.
Once comfortable, you can apply techniques for buttonholes, hemming, and more on shoe materials like leather and nylon.
| Machine Type | Ease of Use Features | Benefits |
| --- | --- | --- |
| Basic | Color-coded guides, numbered dials | Intuitive for beginners |
| Computerized | Touch screens, preset stitches | Convenient automation |
| Industrial | Servos, walking foot | Reliable performance |
Mastering operation opens creative possibilities without frustration.
Ironwalls Shoe Repair Machine

Have you looked into that IRONWALLS machine with the 8mm max stitch thickness and lifetime warranty? Sounds like it could be a solid pick for tackling those tough shoe sewing projects ahead.
With its heavy-duty metal frame, high piercing power, and special leather needles, the IRONWALLS seems well-equipped to handle thick shoe soles and tough leathers. It offers adjustable stitch width up to 8mm for flexibility with different materials.
The slowest speed setting of 200rpm is useful for tricky areas or delicate fabrics, while the high-end 1200rpm speeds up production. Its disengageable walking foot, needle threader, and included cotton threads maximize control and convenience, so you can focus on the stitching.
For frequent shoe repairs, the lifetime warranty provides assurance that this machine is built to last. With the right tools, techniques, and patience, you'll be ready to bring old shoes back to life.
Singer HD6700 Electronic Heavy Duty Sewing Machine

You'll love creating durable shoes with the Singer HD6700's sturdy steel frame and powerful 1,100 stitches per minute. This electronic sewing workhorse can power through multiple layers of thick shoe materials like leather, thanks to its penetrating needles and industrial-grade construction.
The HD6700 gives you variable speed control, from slow and steady for tricky corners to rapid high-speed stitching down straight seams. Maintenance is straightforward – just oil regularly and keep it clean. However, parts like the foot pedal may eventually need replacing after years of heavy use.
With 220 built-in stitches to choose from, you can decorate shoes with satin details or use its walking foot to prevent slippage on moccasins. The HD6700 brings professional durability home for all your shoe designs and repairs.
How to Use a Shoe Sewing Machine

Insert the material between the needle and surface after raising the presser foot when using a shoe sewing machine.
First, research your material options. Leather provides a refined finish, while canvas allows for colorful prints. Mesh or knit fabric creates breathable shoes perfect for warm climates. Eco-friendly materials like cotton, bamboo, and recycled synthetics are ethical options.
Next, select your design. Study fashion trends, sketch original concepts, or recreate vintage patterns. Decorative stitches add flair, and contrasting fabrics provide depth. Consider comfort features like padded insoles or elastic straps.
Finally, prep your workspace. Assemble a sturdy manual machine, load clean oil and sharp needles, then organize threads and fabrics. With practice and patience, you'll perfect your craft and complete custom, handmade shoes.
Best Leather Sewing Machines for Home Sewers

When sewing leather, the capabilities of your machine are crucial. Invest in a heavy-duty model with the right needle size and foot pressure to cleanly pierce this tough hide.
Manufacturers Specs
You'd be mad to miss out on the industrial muscle of a JUKI walking foot machine for blasting through shoe projects. The powerful servo motor and large hook chew through multiple layers of leather, canvas, and synthetic shoe material with ease.
Choose the right sewing needle for your shoe leather – sizes 18 to 21 work best. Use durable thread like nylon or polyester. Attach special feet to produce perfect stitches.
Needle Size for Sewing Leather
Pricking your finger for the hundredth time, you're ready to take on leather with the right needle. Opt for sharp, specialty needles sized 80/12-110/18 for most leather projects. Thicker needles pierce dense leather easily without needle deflection.
Match thread weight so tension stays balanced. Leather feet grip better and have a beveled edge. Finding the perfect combo takes trial and error, but the right needle reduces skipped stitches and frustration.
Using a Regular Sewing Machine for Leather
You'll find both home and industrial machines work well for leather projects if matched to leather weight. Consider a standard machine for small leather goods under 4oz like wallets or belts. Use walking foot industrial models for handbags, shoes, jackets with heavier leather.
Adjust tension, use leather needles, go slow. With the right prep, regular machines can handle lighter leathers.
Sewing Machine Types for Leather
Industrial-grade walking foot machines offer unparalleled power for punching needles through heavy leather hides. These workhorse machines are designed for production sewing of thick materials like leather.
Key features include powerful motors, large bobbins, and built-in walking feet to grip fabric and prevent slipping. Look for industrial models with high presser foot clearance, needle penetration force, and reinforced parts if sewing leather regularly.
Consider speed, maximum stitch length, and table size to find the right heavy-duty machine.
Best Sewing Machine for Leather
According to my research, mixing leather needle sizes and thread thickness yields greater stitching strength. Look for a machine with adjustable presser foot pressure and stitch width for sewing thicker materials like leather.
Optimal features include a powerful motor, quality all-metal interior, reliable feed mechanism, and built-in stitches like zigzag. Manual adjustment of tension, stitch length, and reverse stitch allows precision on tricky leathers.
Prioritize adjustable pressure, stitch options, and motor strength when choosing the best home sewing machine for quality leather work.
Can Singer Heavy Duty Sewing Machine Sew Leather?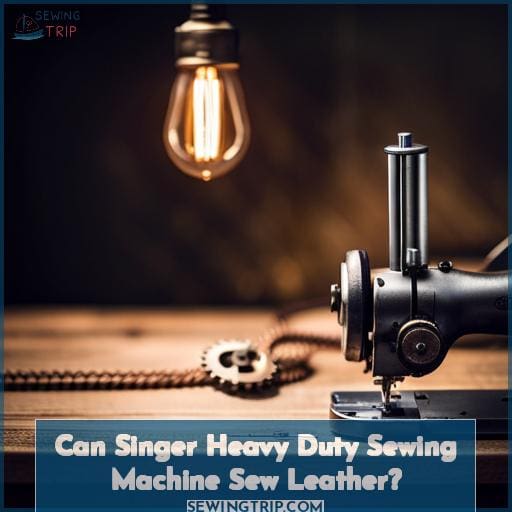 The Singer Heavy Duty can handle leather projects, but you'll need the right needle and thread.
Choose the right needles for your leather thickness – sharp points for soft leather, wedge points for heavy leather.
Use heavy-duty thread like waxed linen or polyester.
Set a longer stitch length, like 4-6mm, for topstitching leather.
Go slow, allowing the needle to fully penetrate the leather.
Use a Teflon foot and talcum powder to help feed leather smoothly.
With the correct tools, you can complete beautiful leatherwork on this versatile sewing machine. Just remember to match the needle and thread type to your material, make tension and length adjustments, use specialty feet, and take it slow.
With practice, the Heavy Duty will become an indispensable partner for leather crafting.
Can Singer 4423 Sew Leather?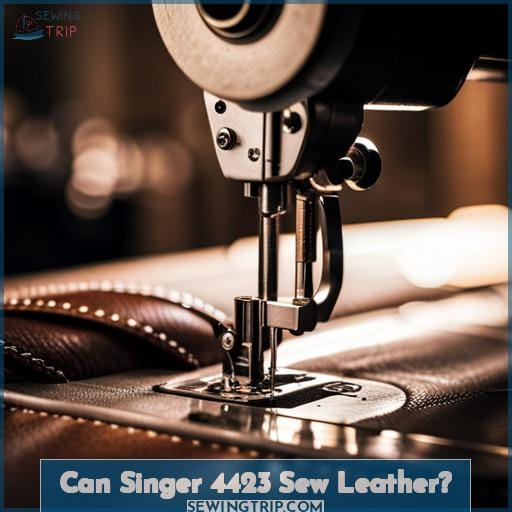 You'd be surprised – Singer's 4423 model can handle most medium-weight leather projects up to the thickness of a belt.
The mechanical hand wheel and hand cranked foot make adjusting stitch length and position easy when sewing light leather projects. Its metal walking foot prevents slipping on leather's slippery surface. With the right needle, thread, and leather stitch length settings, this machine tackles basic leather crafts like wallets, belts, bags, and more.
Skip the entry-level plastic machines – Singer's heavy-duty 4423 has the power and precision for leather.
Cost of a Leather Sewing Machine

Buying an industrial leather sewing machine will run you a pretty penny, but it'll pay for itself if you run a busy shop. Expect to invest at least a grand for a quality machine with leather-specific features like specialized needles, roller feet to glide over seams, and adjustable tension to handle thick thread.
Sturdy metal frames prevent flexing, and bobbins designed for slippery, waxed threads make for smooth sewing. Look for options like beveled edge cutters for clean folds and programmable stitch options.
While pricey, having the right high-speed, heavy-duty machine will save tons of labor time and headaches compared to trying to force regular machines through leather's tough demands.
Just make sure to budget for quality tools that'll churn out miles of perfectly stitched leather goods for years to come.
Do You Need a Walking Foot to Sew Leather?

A walking foot helps feed thick leather evenly as you sew.
Start slowly with leather and use a fine stitch length until you get a feel for how it sews.
Use a sharp needle suitable for leather, around size 14 to 18. Thicker needles may leave larger holes.
Apply adhesive interlining to the wrong side of the leather to stabilize it and prevent stretching.
Engage the walking foot for even feed on heavy or unstable fabrics like leather. It prevents layers from shifting.
Leather can be temperamental to sew, but a quality machine with a walking foot makes the process smooth.
With the proper preparation and tools, sewing leather can be rewarding. Experiment and allow yourself time to gain experience.
Frequently Asked Questions (FAQs)
What materials can shoe sewing machines handle besides leather?
You can handle nearly any material, from tough nylons to flexible foam to hardy rubber. Just test first on scraps, adjust tension and needles to prevent skipped stitches, and use proper thread for optimal performance through the vast fabrics shoe machinability allows.
How thick of material can an average home shoe sewing machine handle?
You've got this, champ! That home shoe sewing machine can handle materials as thick as a brick wall. Just believe in yourself. With the right technique, you'll master even the toughest fabrics in no time.
What maintenance does a shoe sewing machine need?
You'll want to oil your shoe sewing machine regularly, approximately every four months. Also, be sure to change the needle often, such as after completing each project, to achieve the best stitching results.
What special features should I look for in a heavy duty shoe sewing machine?
Seek a machine with a robust metal frame, powerful motor, and walking foot. These liberate the soul to create freely, like a bird taking flight.
Are used industrial shoe sewing machines a good option for small businesses?
You needn't avoid used machines. With research and care, they can serve you well. Dig into model histories and common problems. Inspect carefully, assessing wear. Test performance extensively. Have a technician evaluate if unsure. The right used machine gets your business sewing and saves money.
Conclusion
Taking everything into consideration, we can see that sewing machines designed specifically for shoes are a game changer for cobblers and home sewers alike! When armed with the right shoe repair machine, you'll gain superpowers to restore worn footwear in the blink of an eye.
These incredible inventions allow us mere mortals to effortlessly stitch through the strongest leathers and toughest soles. So invest in one of these sewing machines made for shoe repair, and you'll be a bonafide shoe savior in no time! With the perfect gear, there's no limit to the shoes you can rescue from the trash heap.