This site is supported by our readers. We may earn a commission, at no cost to you, if you purchase through links.
Time and tide wait for no man – this timeless adage rings true when it comes to sewing denim. Working with the toughest fabric around, you need a durable machine that can handle extended daily use. If you're looking for the best sewing machine for denim, look no further! We review our top 4 picks below and provide buying advice to help make sure your sewing projects turn out great every time.
Denim is made of cotton fibers woven in a certain way – twill pattern with white filling yarns and an indigo-dyed warp – making it resistant against tears and damage but more difficult to sew than other fabrics.
Key Takeaways
SINGER Heavy Duty: Metal frame, powerful motor, 110 stitches, 25-year warranty.
Juki Portable: Industrial-quality construction, automatic thread trimmer, knee lifter lever.
Brother CS6000i: 60 built-in stitches, automatic needle threader, 25-year warranty.
Janome HD3000: Sturdy, 18 stitches, manual thread tension adjustment.
Top 4 Best Sewing Machines for Denim
When you're looking for a sewing machine that can handle thick denim fabric without hesitation, there are some great options worth considering. The SINGER Heavy Duty Sewing Machine, Juki Portable Sewing Machine, Brother CS6000i Sewing Machine, and Janome HD3000 Sewing Machine are top choices with features tailored for denim and other heavyweight fabrics.
With robust builds, specialized feet, and easy threading, these machines make sewing denim projects enjoyable rather than frustrating.
1. SINGER Heavy Duty Sewing Machine
View On Amazon
If you're after a reliable companion for your toughest sewing challenges, look no further than the SINGER Heavy Duty Sewing Machine. It is a robust and dependable option designed for both beginners and experienced sewists.
This heavy-duty sewing machine boasts a metal interior frame and a stainless steel bedplate, ensuring stability and durability during your sewing endeavors.
With an extra-high sewing speed and a powerful motor, it delivers efficiency for faster results. The machine offers 110 stitch applications, including both decorative and utility stitches. It also provides adjustable stitch width and needle positions to suit various projects.
Heavy-duty metal frame for stability and durability.
Extra-high sewing speed and powerful motor for efficient sewing.
110 stitch applications, including decorative and utility stitches.
Adjustable stitch width and needle positions for project versatility.
Convenient features like a built-in needle threader and top drop-in bobbin.
Free Arm design for easy access to cuffs, collars, and pant hems.
Comes with a comprehensive set of accessories.
Backed by a 25-year warranty on the sewing machine head.
Some users found the manual unclear for certain functions.
Heavy use on thick materials may require occasional servicing.
May not be suitable for extremely advanced or specialized sewing projects.
Lack of computerized features for those seeking advanced automation.
Tension issues and challenges with thick layers of fabric reported by some users.
2. Juki Portable Sewing Machine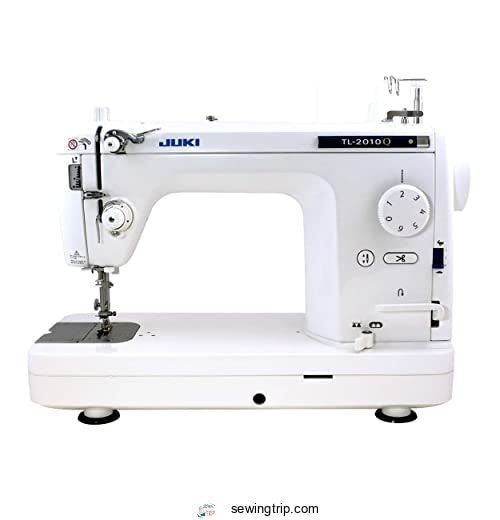 View On Amazon
Explore the Juki Portable Sewing Machine, renowned for its precision and durability, as it seamlessly combines industrial-quality construction with user-friendly features to reignite your passion for crafting.
This high-performance sewing and quilting marvel, made of sturdy aluminum, offers a generous work area of up to 23 inches with an auxiliary table, making it perfect for quilting enthusiasts.
Its automatic thread trimmer for both needle and bobbin threads, along with a knee lifter lever for hands-free presser foot control, provides unparalleled convenience. The Juki MO 735 boasts an automatic needle threader for a quick start and a thread trimming mechanism similar to industrial machines, ensuring consistent stitching with ease.
Industrial-quality construction for precision and durability.
Generous work area and hands-free presser foot control for quilting.
Automatic thread trimmer and needle threader for convenience.
Consistent stitching and speed control.
Sturdy build ensures long-lasting performance.
Manual threading may be challenging for some users.
Comparatively heavier at 40 pounds for a portable machine.
Not the simplest option for beginners seeking basic sewing functions.
3. Brother CS6000i Sewing Machine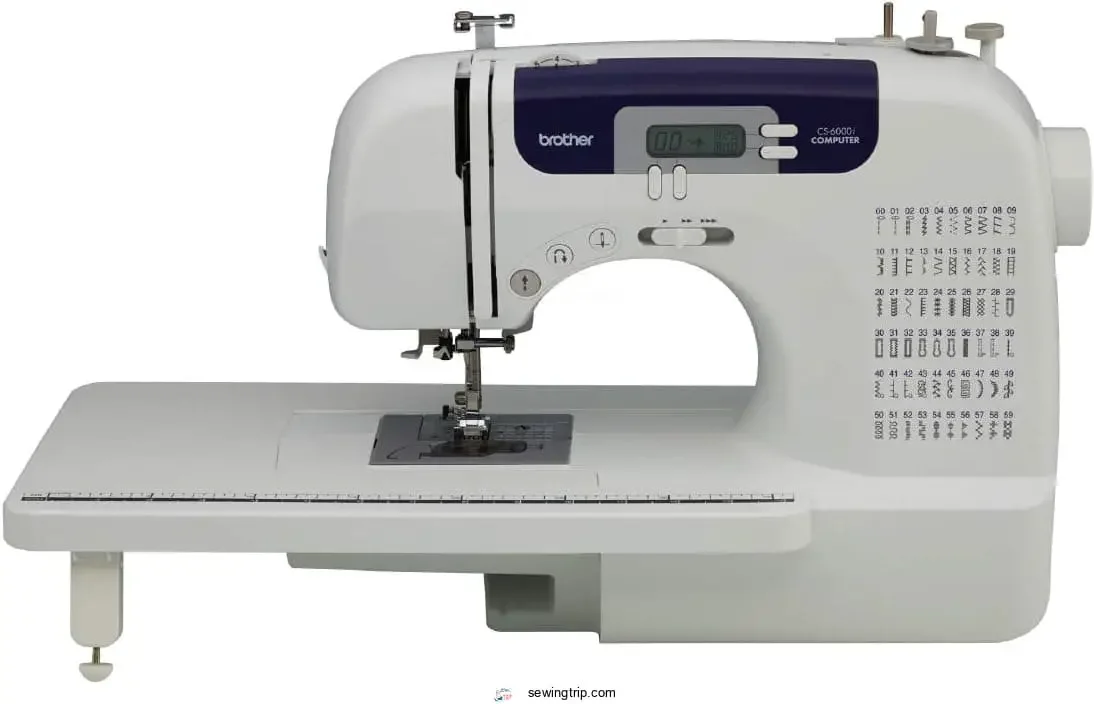 View On Amazon
You'll find the Brother CS6000i sewing machine versatile and user-friendly, tailored for both novices and enthusiasts seeking to elevate their sewing skills. With an impressive selection of 60 built-in sewing stitches, including decorative options and 7 auto-size buttonholes, this machine offers a wide range of creative possibilities.
Its automatic needle threader and jam-resistant drop-in top bobbin simplify the threading process.
The inclusion of accessories like a hard protective case, wide table, and 10 sewing feet adds to its value. The 25-year limited warranty with free technical support provides peace of mind, making it an ideal choice for those looking to expand their sewing horizons.
Versatile with 60 built-in stitches, suitable for various sewing projects.
User-friendly features like automatic needle threader and jam-resistant bobbin.
Comes with a comprehensive set of accessories, including a hard protective case.
LCD screen for easy stitch selection.
25-year limited warranty with free technical support for added confidence.
Affordable price at $149, making it economical for beginners.
Some users have reported tension issues.
May struggle with thick layers of fabric.
Not ideal for heavy-duty or industrial-level sewing tasks.
4. Janome HD3000 Sewing Machine
View On Amazon
Considering your desire for a reliable and straightforward sewing companion, the Janome HD3000 might just be the no-nonsense workhorse you've been searching for. This sturdy sewing machine is constructed with a durable metal body. It offers 18 built-in stitches and a one-step buttonhole feature, providing flexibility for various sewing projects.
The built-in needle threader and snap-on presser feet simplify the sewing process, making it accessible for users of all experience levels, including beginners.
Its extra-high presser foot lift and push-pull bobbin winder enhance usability, giving you precise control over your stitches. While lacking computerized features, this mechanical sewing machine's simplicity is appreciated by those who prefer a straightforward and dependable tool.
Whether you need a primary sewing machine or a reliable backup, the Janome HD3000 delivers consistent performance and has garnered positive feedback from a diverse range of users.
Sturdy metal construction for durability.
Suitable for both beginners and experienced sewers.
Extra-high presser foot lift for handling thick fabrics.
Manual thread tension adjustment for precise control.
One-step buttonhole and built-in needle threader for convenience.
Lacks computerized features found in some other models.
Some users may find the manual threading challenging.
Not ideal for advanced embroidery or decorative stitching.
Limited stitch options compared to more advanced machines.
May require occasional servicing with heavy use on thick materials.
What is Denim and Why is It Challenging to Sew?

Now that you've explored the top choices for sewing machines tailored to handle denim with finesse, let's delve deeper into the world of denim itself and why it presents unique challenges for stitching.
Denim, renowned for its durability and timeless appeal, is crafted from cotton in a distinctive twill pattern, often dyed in indigo. Its rugged charm makes it a favored choice for various clothing items, but working with it requires a special touch.
The robust nature of denim demands heavy-duty sewing machines, equipped with the power to penetrate multiple layers seamlessly. Its dense weave can quickly dull ordinary needles, necessitating the use of denim-specific needles to ensure smooth stitching.
Moreover, mastering the art of denim sewing involves understanding fabric characteristics, precise stitching techniques, and the selection of appropriate tools and threads. So, let's unravel the mysteries of denim and equip you with the knowledge and skills needed to conquer its unique challenges in the realm of sewing.
Key Features to Consider in a Sewing Machine for Denim

When sewing denim, your sewing machine needs to have some power with key features suited for this heavyweight fabric. Select a model with ample motor strength to handle thick denim layers, combined with the right denim needle size and a sturdy metal frame for skip-free sewing and long-lasting performance.
Motor power for denim
When sewing denim, unleash the beast within your machine. Select a heavy-duty model with a powerful motor, designed to conquer thick fabrics without hesitation. Such robust mechanics allow for smooth stitching even through multiple denim layers.
Pair that brawn with the brains of proper needle types, threads, presser feet, and settings. Then harness your machine's full potential for any denim endeavor, wielding supreme strength with artful technique.
Wield your steel steed without mercy, and it will reward you with sturdy seams to outfit armies.
Denim needle compatibility
Ensure your sewing machine can handle denim needles for effective stitching through thick fabric. Select the correct denim needle size and type for your machine's compatibility, such as Singer 4423 with size 14 needles or Brother Project Runway CS5055PRW with Schmetz denim needles.
Larger needle sizes and specialty needles prevent breakage when sewing heavy fabrics like denim. Check your manual for supported needle sizes and types to avoid jams or skipped stitches.
Sturdy frame construction
You'll want a sturdy metal frame for your denim sewing machine to handle the thick fabric without flexing. Look for industrial machines or those with heavy-duty metal frames designed for challenging fabrics like denim.
Avoid plastic bodies prone to wobbling from the force needed to penetrate multiple denim layers. A sturdy build prevents needle breakage, slipped stitches, and frustration. Invest in quality engineering for smooth sailing through denim projects.
With precise alignment and stability from a rigid frame, you can achieve perfect seams and professional results on any denim garment.
Buying Guide: How to Choose the Best Sewing Machine for Denim

When shopping for the best sewing machine for denim, two essential factors to consider are motor power and durability, along with the right needle and presser feet. For sewing thick materials like denim, you'll need a sewing machine with adequate motor power to drive the needle through multiple layers, as well as an overall sturdy build for durability during frequent use.
Motor power and durability
Choose a sewing machine with ample motor power and sturdy construction to handle thick denim fabric without straining the motor or compromising durability. Select a machine like the Singer Heavy Duty 4452 or Janome HD 1000 that can easily sew multiple layers of denim with a heavy-duty motor.
Use the right needle types and heavy-duty thread for optimal stitch quality in denim. Consider features like adjustable presser foot pressure and stitch length to master various denim sewing techniques.
Needle and presser feet
Select a denim needle; heavy fabric like denim can bend regular needles. Standard needles punch holes, whereas denim needles have a sharp point to penetrate tightly woven and thick material like denim without breakage.
For sewing denim, choose needles sized 14/90 for lightweight denim, 16/100 for midweight denim, and 18/110 for heavyweight denim.
The presser foot height on a sewing machine determines the thickness of fabric it can handle. Adjustable presser feet allow you to raise it higher to accommodate multiple denim layers when topstitching or edgestitching.
Maintaining proper thread tension prevents puckering on seams and ensures strong stitches. Regularly cleaning lint and changing needles keeps your sewing machine running smoothly for denim projects.
Stitching adjustment and frame
Adjustable stitch length and width allow you to fine-tune the tension and gait to prevent skipped stitches or thread breakage when sewing thick denim layers. A heavy-duty machine designed for denim should offer adjustable stitching to handle multiple fabric thicknesses.
Select a longer stitch length for heavier denim to allow the needle to fully penetrate the layers without breaking. Adjust the presser foot pressure so thick seams can pass below smoothly. Match heavier denim with thicker thread and needles to prevent issues.
Look for machines with powerful motors to pierce denim layers consistently with each stitch.
A sturdy metal frame prevents vibration for smooth stitching on heavy fabrics like denim.
Tips for Sewing Denim: What to Consider for Denim Sewing Projects

When sewing with denim, proper needle selection is crucial to avoid skipped stitches and breakage. Also, ensure that your sewing machine has enough power to effortlessly penetrate multiple layers of denim.
For perfectly straight topstitching, apply pressure with an iron before sewing and choose a heavier thread.
Needle selection for denim
I hear ya – the right needle is crucial for perfect denim seams!
Here are 5 key tips for needle selection with denim:
Size matters – use 90/14 for lightweight denim, 100/16 for medium-weight, and 100/18 for heavy denim.
Sharp point – denim needles have an acute point to pierce the tightly woven fabric.
Sturdy construction – choose needles with more robust shafts to prevent bending or breaking.
Ballpoint tip – prevents skipped stitches in denim's coarse weave.
Denim icon – look for the denim needle icon on the packaging for easy identification.
With the proper needle, you'll get smooth stitching and avoid frustration.
Now get creative with your denim sewing projects!
Importance of machine power
A capable motor powers through multiple denim layers with ease, preventing frustration and keeping projects moving along.
Requiring heavy-duty performance, providing strong piercing force, sewing thick seams smoothly, and delivering speed for efficiency.
When working with a heavyweight fabric like denim, machine power is essential for achieving optimal results. A robust motor allows efficient stitching through the fabric's thickness without needle breakage or skipped stitches.
Prioritizing torque over top speed, a high-powered machine easily handles intensive sewing tasks on denim to save time and effort.
With a strong motor, sewists gain the freedom to bring denim projects to life just as imagined.
Tips for topstitching denim
You'll get cleaner results when topstitching denim after pressing it with an iron. For a neater look, choose heavier threads like topstitching thread when topstitching seams or hems. Finish seams with techniques like flat-felled or Hong Kong finishes for added strength and style.
Trim and notch curves before turning hems. For extra flair, add pocket embellishments with embroidery or contrasting thread. Lengthen the zigzag stitch and widen stitch width to safely secure thick denim seams.
Sharpen your scissors often for smooth cutting. With care and know-how, your denim creations will impress.
Conclusion
When it comes to finding the best sewing machine for denim, there are several important features to consider. Motor power, denim needles, presser feet height, stitching adjustment, and a sturdy frame are all essential for creating successful denim projects.
With the right machine, sewing denim can be a breeze. Our top four picks—the SINGER Heavy Duty Sewing Machine, the Juki Portable Sewing Machine, the Brother CS6000i Sewing Machine, and the Janome HD3000 Sewing Machine—all offer powerful motors, durable frames, adjustable stitches, and denim needle compatibility.
With these machines, you can rest assured that your denim projects will be of the highest quality. So, if you're looking for the best sewing machine for denim, these four machines are a great place to start.
References
bestsewingmachinereviewspot.com