This site is supported by our readers. We may earn a commission, at no cost to you, if you purchase through links.
You've heard it before: a sewing machine isn't just for beginners if it has the features you need. Let's take an honest look at the Janome 8077 to see if it's the machine for you.
I know you want reliable performance and versatility without breaking the bank. You care about craftsmanship and ease of use because your joy comes from creating, not fussing with settings.
With simple controls, a spacious workspace, and customizable options, the 8077 could be the machine to spark your creative spirit. Its reputation for consistency and bundled accessories make this Janome a strong contender.
See how it measures up to your wishes. You may find the freedom to turn your sewing dreams into realities.
Key Takeaways
The Janome 8077 offers many built-in stitches and functions for creative and functional sewing.
It has a superior fabric feeding system for precise stitching on any type of material.
Convenient features include auto-lock, reverse stitching, and a needle up/down button.
The spacious flat bed and see-through bobbin cover provide ease of use.
Key Features of the Janome 8077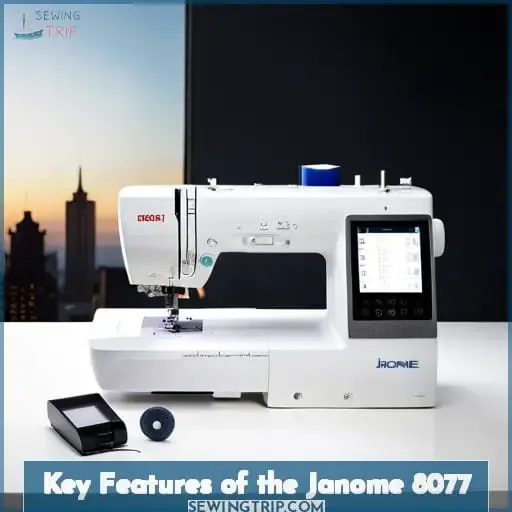 As a sewing machine expert, I want to highlight three key features of the Janome 8077 for you. This computerized sewing machine boasts 30 built-in stitches including 6 one-step buttonholes, utility stitches, and decorative stitches with a maximum 7mm stitch width.
Its 7-point feed dog system, drop feed dogs, and free arm provide superior fabric handling. For convenience, the Janome 8077 offers intuitive buttons to adjust the needle up/down position, auto-lock stitches, and reverse stitching.
Stitch Options
You'll love experimenting with the 30 versatile built-in stitches, including 6 one-step buttonholes that professionally finish any garment.
Utilize the 4 types of utility stitches for seaming, mending, and decorative topstitching.
Create one-step, heirloom-style buttonholes for polished finishes.
Reinforce stitches with the reverse stitch function.
Access a range of built-in stitches like zigzag, stretch, and satin for creative sewing.
With so many stitch options right at your fingertips, you'll enjoy exploring all the creative possibilities of the 8077.
Feed System
Experience effortless excellence with the 7-point feed dog system that smoothly steers fabric. Savor precise topstitching with 110 feed dog teeth per inch. Control fabric feeds and manage thread tension.
Set stitch length from 0-5mm, selecting the perfect length for any fabric. Snap on specialty presser feet to professionally handle any project – for hemming, zippers, buttonholes, and more. Effortlessly feed heavy canvas, delicate silks, or bulky fleece and achieve professional results every time.
The 8077's industry-leading feeding system ensures your stitching always flows smoothly.
Convenient Buttons
Auto-lock button secures stitching at the start and end to prevent unraveling.
Raise or lower the needle with a simple push of a button.
Reverse stitch button makes quick work of reinforcements and pivots.
Experience the ultimate convenience of one-touch commands to control stitching. Effortlessly reinforce seams, turn corners, and finish off projects with just the press of a button. The automated functions handle the tedious tasks so you can fully focus on your creative vision.
Janome Brand Overview

With Janome's innovative sewing machines, you'll stitch perfection faster than a NASCAR pit stop. Janome has been a leader in quality sewing for over 50 years. This Japanese brand pioneered the first electronic sewing machine and continues to innovate with advanced computerized models.
Janome builds all components in-house, from the casting to stitch programming. This control over manufacturing allows Janome to ensure consistent quality.
Janome offers mechanical machines like the Magnolia, great for beginners. And computerized machines like the 8077 boast convenient features that save time and effort. This includes a needle up/down button, reverse button, and auto-locking stitches.
With superior feeding systems, Janome machines excel at handling diverse fabrics with even, accurate stitches.
Janome's innovations focus on making sewing an efficient, satisfying experience. While prices range from affordable to high-end, every Janome machine provides innovation and quality. With Janome, crafters find machines tailored to their skill level and project needs.
Convenient Sewing Controls

You'll appreciate Janome's convenient sewing controls for effortless stitching. With just the touch of a button, this innovative machine threads the needle automatically, saving you time and frustration.
The easy access needle up/down button allows you to stop with the needle engaged in fabric, perfect for pivoting fabric corners or adding topstitching details. The reverse button makes quick work of securing your stitches at the beginning and end of seams.
And the auto-lock feature does this for you, for continuous sewing without having to hold down the reverse button.
The Janome 8077 takes the guesswork out of buttonholes with its exclusive buttonhole foot with window. You can easily see where to position the button in the clear window for perfectly sized and located buttonholes every time.
This machine also boasts a convenient speed control slider, so you can sew at a comfortable pace. Its see-through bobbin cover lets you monitor bobbin thread, so you aren't caught short. With Janome's thoughtful design, sewing feels effortless. From winding bobbins to choosing stitches, you can focus on your project creativity rather than fussing with your machine.
Spacious Workspace

You can see your bobbin thread supply through the clear cover as you sew. The Janome 8077's spacious workspace provides plenty of room for managing your fabric.
The wide, flat bed offers ample support for large quilts or home decor projects. No need to fight gravity as your fabric drapes over skinny free arms.
The lifted needle arm adds clearance for sliding thicker fabrics and quilts under the foot unimpeded.
Janome's exclusive Mending Plate creates a flat bed surface, essential for darning and free motion quilting.
Seven-point feed dog system firmly grips fabric from all angles for precise feeding and straight seams.
The Janome 8077 workspace adds comfort and precision to sewing. From the expansive flat bed to the high clearance needle arm, Janome's thoughtful design provides the flexibility to sew any project – light or heavy, sheer or thick.
You'll breeze through home decor or intricate quilting without cramped quarters or clumsy fabric handling. Janome elevates sewing with a work environment designed for efficiency and ease.
Customizable Settings

Control the 8077's speed with its slider for precision stitches. With just the slide of your finger, you can sew slowly and accurately or zip through long seams.
The 8077's speed control ranges from slow for learning, perfecting technique, and detail work to full speed for efficiently stitching yards of fabric.
| Fabric/Project | Recommended Speed Setting |
| --- | --- |
| Lightweight, delicate | 1-3 |
| Medium weight | 3-6 |
| Heavyweight, canvas | 5-7 |
| Buttonholes, zigzag | 1-3 |
| Long seams | 8-10 |
Customize your sewing speed for each fabric and task. Glide slowly and precisely along a buttonhole or zip at full throttle down a straight seam. Control consistent fabric feeding and movement with the slide of the speed control.
With the 8077's variable speed settings, you steer stitching to suit diverse fabrics and needs. Speed options allow focused control for delicate work or confident power for construction stitches. Find your rhythm, adjust as you go, and enjoy the customized sew of your dreams.
Reliability and Consistency

You can always count on the Janome 8077 for a smooth, quiet stitching experience. With superior internal construction and a nearly indestructible metal interior frame, this machine is built to perform project after project with unfailing consistency.
The 8077 produces even, balanced stitches on all fabric weights and types thanks to its unique 7-point feed dog system. This specialized box-style mechanism grips fabric from top and bottom for superior handling, preventing slipped stitches and eliminating the need for a bulky walking foot attachment.
Computerized stitch settings eliminate guesswork for the perfect stitch length and width.
With 30 built-in stitches, including 6 styles of 1-step buttonholes, you'll find endless creative options.
The top loading jam proof bobbin and automatic needle threader save time and frustration.
The Janome 8077 simply works, project after project, with the quality and consistency essential for confident sewing and creative satisfaction. Its sturdy reliability inspires trust that your machine won't let you down, freeing you to focus on your joy of sewing.
With the 8077, Janome has engineered not just a computerized sewing machine, but an extension of your own two hands.
Bundled Accessories

The 8077's bonus bundle really enhances your projects. It includes marking tools, needle packs, and quilting feet to open up creative options. As a sewing machine expert, I'm thrilled with the extensive accessories Janome includes.
With bonus feet for zippers, hemming, and quilting, you can take on specialized techniques without purchasing additional presser feet. The seam ripper and multiple packs of needles for various fabrics save you trips to the sewing store.
Bobbins allow you to wind different colored threads for creative effects. Screwdrivers provide frustration-free maintenance and adjustments.
But my favorite bonus item is the special plate for free motion quilting and darning. By dropping the feed dogs, you gain total control of fabric movement. This is essential for stippling and freehand embroidery.
Janome curates this bundle specifically for the 8077's target users. These are beginners ready to expand their skills and take on new sewing adventures. With every accessory conveniently included, this value-packed computerized machine inspires confidence.
As an absolute beginner or first-time homeowner, you'll appreciate Janome's approach. The 8077 is equipped with everything required to set up, maintain, and enhance your sewing. With this bonus bundle, you save money while gaining tools to grow your mastery.
Your new machine arrives ready for action. It's eager to assist as you discover your talents and develop a lifelong passion for sewing.
Where to Purchase

As you gain more sewing experience, your Janome 8077 will continue providing features to match your developing skills. When seeking this computerized sewing machine, know your purchase is protected by Janome's 25-year limited warranty.
This coverage demonstrates the company's confidence in its premium products designed for longevity. With your new 8077, you've found the perfect quilting machine and creative outlet to last a lifetime.
Though online retailers offer convenience, purchasing from an authorized local Janome dealer has unique benefits. Their passionate Janome-certified staff provide friendly guidance to help you find your ideal match.
Seeing and touching display models in person ensures you select a machine suited to your ergonomics. Dealers thoroughly test and fine-tune each 8077 before delivery to your home, the new home of your Janome.
They'll educate you on basic features and maintenance at no charge. Local dealers often include complimentary sewing lessons, inspiring your creative journey. Janome dealers become trusted partners as you progress on your sewing adventures.
They'll service your machine and offer discounts on notions and classes. By purchasing from experts dedicated exclusively to Janome, you gain a supportive community and confidence in your investment. Let their knowledgeable team match you with the perfect computerized Janome to fulfill all your quilting dreams.
Frequently Asked Questions (FAQs)
What is the maximum fabric thickness the Janome 8077 can handle?
The Janome 8077 can handle most medium weight fabrics up to 16 layers of denim thanks to its powerful motor. Multiple layers of denim or canvas will sew smoothly without slowing or stalling the machine.
For thicker fabrics like leather, you'll want to opt for a heavy duty model with a stronger motor. However, for most sewing projects, the 8077 has ample strength to easily sew through heavier fabrics.
Does the Janome 8077 have a built-in needle threader?
Yes, the Janome 8077 has a built-in automatic needle threader that makes threading the needle quick and easy. Simply lower the presser foot, raise the needle to its highest position, and let the threader pull the thread right through the eye of the needle.
This handy feature saves time and frustration when changing thread colors or replacing needles.
What types of feet are included with the Janome 8077?
Is the Janome 8077 a heavy duty machine?
You'll find the Janome 8077 has the power and performance for most sewing jobs, but I wouldn't call it heavy duty. With an 850 stitches per minute maximum speed, it can handle thicker fabrics, but this model is better suited for garments and crafts than heavy canvas or leather.
How noisy is the Janome 8077 compared to other Janome models?
The 8077 purrs along far more quietly than other Janome models, thanks to its sturdy metal frame and quiet motor. You'll appreciate the peaceful sewing experience as this workhorse tackles all your projects with ease! The 8077 provides a much quieter sewing experience compared to other Janomes.
Its sturdy metal frame and quiet motor allow it to operate smoothly and quietly as it handles all your sewing projects with ease. Enjoy the tranquil sewing atmosphere the 8077 creates with its hushed operation – a welcome contrast to the noise of many other machines.
Conclusion
After examining all of the notable features and capabilities of the Janome 8077, it's clear this machine lives up to its reputation. With ample stitch options, a reliable feed system, handy controls, and a spacious work area, the 8077 delivers on versatility and convenience.
The consistently smooth operation and quality construction reflect Janome's commitment to excellence.
For sewists seeking a well-appointed, computerized sewing machine, the Janome 8077 is a top contender. Between its abundance of useful accessories and available dealer support, this technologically advanced model offers tremendous value to finish every project beautifully.
The Janome 8077 is an exceptional choice for sewing enthusiasts ready to upgrade their possibilities.