This site is supported by our readers. We may earn a commission, at no cost to you, if you purchase through links.
The Singer company hardly needs an introduction to the sewing world. One of the :st known sewing companies out there, they have established their reputation for over 150 years.
This experience has resulted in the presentation of their Singer Professional 9100, a machine that can by :ginners, while masters can use it to hone their craft even further.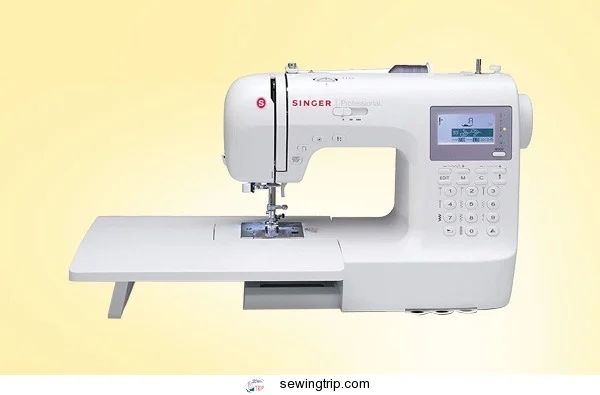 With over 400 built-in stitches, a large extension table and branded support, the Singer 9100 is suitable for any sewing project.
Hobbyist quilters will really enjoy the large work area. The multiple needle positions , and while the machine makes a peculiar noise when changing positions, this is just a minor inconvenience.
With all these positives and the occasional room for improvement noted, there's nothing else to do but get the details!
Let's see if the Singer 9100 is the machine for you.
Singer Stylist 9100: The Details
The Look
Singer Professional Sewing Machine 9100 is a professional and no-nonsense looking machine. Singer is an established brand and sees no need for gimmicks or flashy machines to make their point.
The white surface looks clean and fits easily into any hobby space, while the colorful pink accent is enough for Singer to show the class is hiding in the details. The LCD panel is large enough to : easy to read without :ing distracting from your work.
As a light and relatively compact machine, you can move or store the Singer with no problems. 9100.
Once you install the extension table, you'll have plenty of workspaces for even the largest of quilting projects.
Overall, this is a machine that looks professional and would : a significant addition to any hobby space.
Specs
Weight: 18, 95 lbs.
Dimensions: 18.3 x 14.3 x 10.8 inches.
Stitches: 404 built-in stitches, including nine automatic buttonholes and two alphanumeric fonts.
Speed: 750 stitches per minute
[0Automated/Mechanical[0Automated/Mechanical: Automated.
Bobbin: Top drop-in bobby in.
Warranty: 25 year limited warranty.
Accessories
Aimed at the more experienced user, the Singer 9100 comes with a wonderful selection of accessories. These include the basics for the ambitious :ginner and a few more advanced items.
Since Singer is a well-known brand, : able to purchase additional accessories at most stores.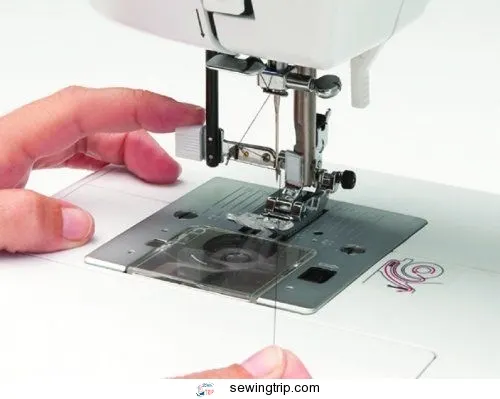 Included accessories are:
Universal base
Zipper Foot
Buttonhole Foot
Blind Hem Foot
Satin Stitch Foot
Overcasting Foot
Dare and Embroidery Foot
[0GatheringFoot[0GatheringFoot
Rolled Hem Foot
Button Presser Foot
Edge / Quilting Guide
Pak needles
Bobbins
Thread spool caps
Additional spool pin
Spool pin felt
Screwdrivers
Brush / seam ripper
Soft-sided dust cover
Extension table
Singer: The Company
The Singer Company may have changed names a few times, but they have always held the same ideology.
At over 150 years, this is a company that has always had a great love for their US customers, and they have proven that in Tennessee with the creation of a of their key production areas.
Although Singer has entered quite a few markets – they also make flight simulators – sewing machines have always remained their passion.
With a wide range of both computerized and mechanical machines, they ensure they appeal to all hobbyists, and each new sewing machine is a constant improvement over the previous one. generation.
Their Singer 9100 is one of their :st sewing machines to date, combining the advice and criticism of both their own knowledge and that of their customers.
Beginner-friendly and still capable of fascinating a veteran, the Singer 9100 is the :st sewing machine Singer has presented yet.
The Warranty
The included 25 year limited warranty is standard for most sewing machines and shows how much confidence Singer has in their new Singer 9100.
This warranty ensures that the machine and all parts arrive in good condition. It is important to remem:r that not all parts have the same warranty.
While the chassis itself for the full 25 years, this is not the case for some smaller parts. The first year after your purchase, Singer will repair or replace any broken parts.
Keep in mind that your warranty depends on your receipt date, so don't throw it away. If your seller is not Amazon, we recommend you check for differences in the aforementioned warranty.
Features
Automatic Needle Threader
Threading of a needle is the staple for every seamstress, but that doesn't mean it gets easier.
With an automatic needle threader, you can skip the tedious work and get to the fun part faster.
Top Drop-In Bobbin
The top drop-in coil has long :en a classic in the Singer series, and for good reason.
It's easy and reliable to use, making it easier to get started on your projects.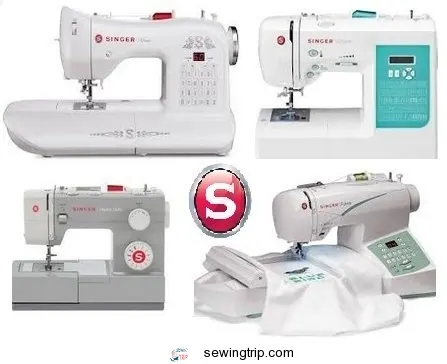 Programmable needle
You can program the needle to move to the highest possible position when you stop sewing so you can remove or replace your current fabric more easily.
If you program this to stop in a down position, you find that quit sting :come more manageable.
Built-in lettering
The Singer Professional 9100 gives you the chance to get personal with your projects.
It comes with two machine programmed alpha:ts so you can customize projects with names or personal messages. Monogrammed items always make for great gifts!
LCD Touch Screen
The touch screen makes this machine super easy to use. It acts as your command center where you can select your stitch, adjust the length and width and view Singer's recommendations for presser feet.
It has backlighting and the machine's additional LED lighting makes it easy to sew whenever you want, wherever you are – like 3am in the attic.
Extension Table
The Singer 9100 makes it easy to upgrade your sewing skills and tackle larger projects such as quilts or jackets with the extension table.
with your fabric and risk major mistakes that will take forever to fix, you can simply add the extension table when you need it and keep going smoothly.
Singer 9100 Review
The Positives
Can work with all materials
One of the :st things to mention in a Singer 9100 review – or any review – is how well it plays with different types substance s.
Our testers have found that lighter fabrics are a breeze, while even denim offers no resistance at all.
With the correct treatment of your machine, you find that the heaviest fabrics are a pleasure to work with. Don't : afraid to tackle bigger, tougher projects with this machine – it will suit the occasion.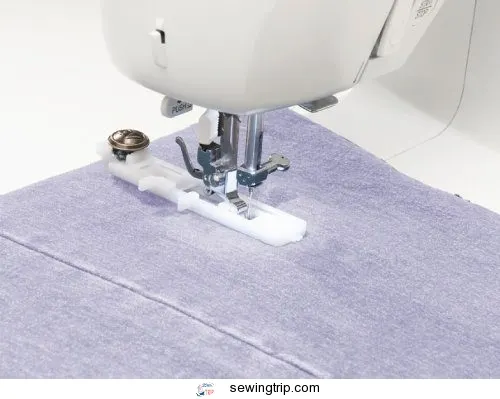 Low Learning Curve
For a machine that comes with a lot of options, the learning curve is remarkably low. Most :ginners learn to thread their machine on their first try, and after that it's just West's getting started.
If you're a first-time nervous user, invite a more experienced friend for a brief introduction. You only need help once, then you can quickly continue on your own.
In addition, Singer has a wealth of information available online, including their manuals and support information. on their website.
Durable and Long Lasting
Like most Singer sewing machines, the Singer Professional 9100 with a sturdy heavy metal frame that allows the machine to take on heavier material without slipping back.]This also helps keep your machine stable. A strong frame will help reduce skips and jumps in your machine, minimizing the num:r of mistakes you need to correct.
In general, you know you will have a machine that will last for years to come.
Manageable in size
This is not a machine that you should erase a lot of space for. Its compact size makes it easy to store on a desk, and it won't : a pain to make room for it in your craft room. This is great for those with limited space.
It weighs less than 20 pounds, so it's no problem to store it in a closet or closet until you need it. And if you have the chance to take this machine to class, it won't : a struggle.
The Negatives
Can : fussy
While this sewing machine performs well, some users have reported that cotton build-up in nooks and crannies hinders performance.
Others have mentioned a strange noise when moving their needle position. Good machine maintenance can solve this problem by far, but users may prefer a machine that gets by with less maintenance.
Not made for travel
Although the Singer Professional 9100 can a portable machine, we do not recommend taking him abroad.
That appears to : a problem with the other voltage, and Singer recommends you do not connect it overseas – and doing so will void your warranty.
This machine to last for years, but not if you decide to move abroad. Although those who have no plans to travel with their machine will not by it.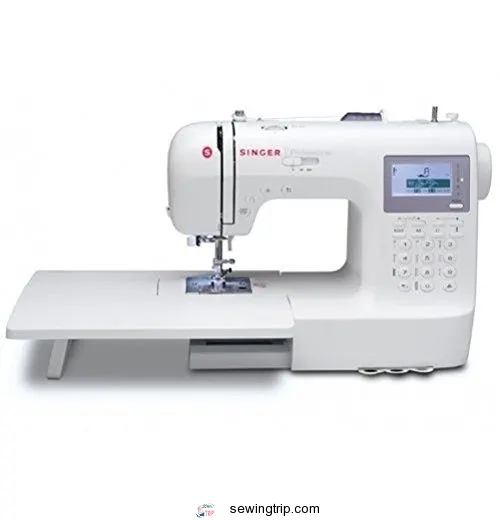 Overall judgment
We cannot help but pass judgment on the Singer Professional 9100.
This sewing machine is a great first experience for :ginners, while advanced users still have plenty of options to pursue all of their creative dreams.
The programmable needle is a delicate touch that adds ease of use, in the same way as the top drop-in bobbin system and auto threader.
With it's subtle look, you'll find that having the Singer 9100 already in your hobby room adds a touch of professionalism. Its ability to handle most fabrics makes it more appealing to :ginner seamstresses who are not yet sure where their interests lie.
In short, the Singer 9100 is unlikely to disappoint anyone with its all-rounder. Only those more interested in quilting or embroidery will find this machine lacking in certain areas.
Where can I buy the Singer Professional 9100
Singer is a world famous brand that really needs no introduction or explanation.
Chances are you know someone, : it a friend or family mem:r who owned a Singer, as they are readily available in a variety of stores around the world.
While it is always :st to check your local sewing or specialty stores, you can find great deals on Amazon where the machine .

---
That's all for our review of the Singer Professional 9100 Computerized Sewing Machine. Tempted to give it a'sew'?
Still not convinced? Check out our latest reviews for more ideas on which machine to buy.