This site is supported by our readers. We may earn a commission, at no cost to you, if you purchase through links.
Are you looking for the perfect sewing machine to introduce your young one to the art of stitching? Then Janome's Hello Kitty line is just what you need! Popular among kids and adults alike, these sophisticated yet stylish machines are cute and functional.
From lightweight portability to reliable stitch quality – our top pick being Janome 15822 – we'll discuss all that makes this model a great choice when it comes to finding the best Janome Hello Kitty sewing machine.
Let's get started on this exciting journey in finding out why Hello Kitty sewing machines from Janome may be exactly what your family needs!
Key Takeaways
Janome Hello Kitty sewing machines are loved by both kids and adults.
The top Janome Hello Kitty sewing machines include models like 11706, 18750, 15822, and 13512.
Hello Kitty sewing machines offer features like automatic needle threaders and adjustable settings.
Janome Hello Kitty machines appeal to beginners and experts and are suitable for sewing various fabrics.
Top 5 Janome Hello Kitty Sewing Machines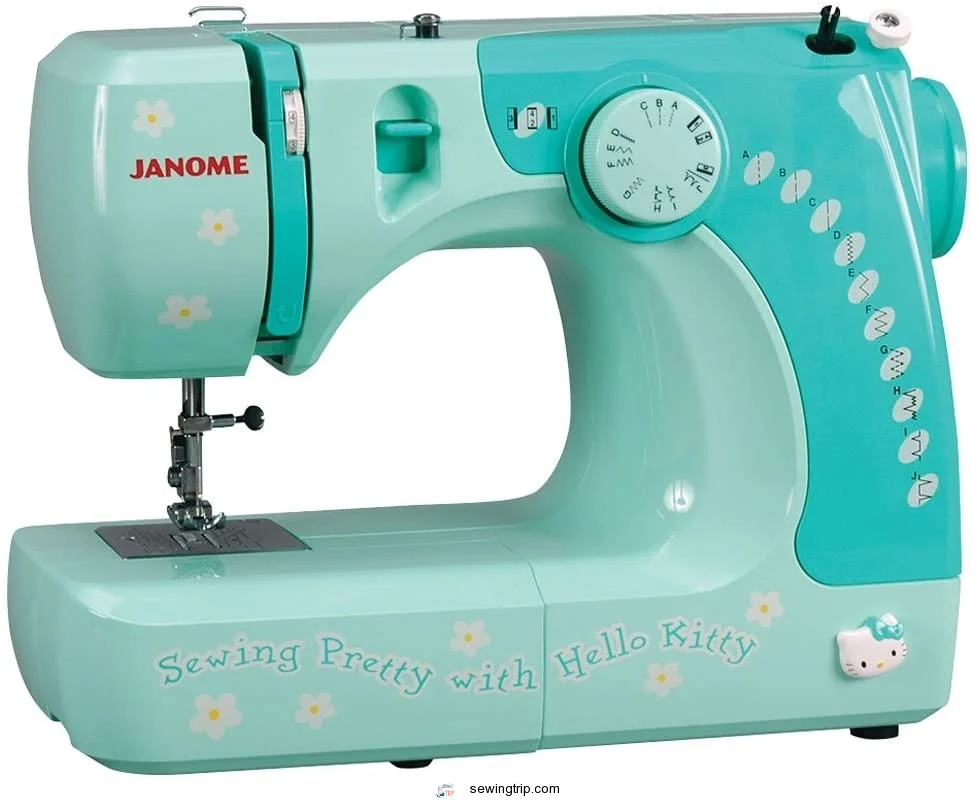 View On Amazon
You'll want to snap up this adorable little workhorse if cute and functional are your jam! When it comes to Janome Hello Kitty sewing machines, you have some paw-some options to choose from.
Janome Hello Kitty 11706 – With 11 stitches and a 4-step buttonhole, this lightweight model is purr-fect for beginners or as a portable machine.
Janome Hello Kitty 18750 – This computerized kitty machine boasts 50 stitches and an LCD screen for easy selection. It's great for intermediate sewers. The built-in needle threader saves time and frustration.
Singer Making the Cut – Though not Hello Kitty branded, this machine is featured on the TV show. It has 97 stitches and LED lighting to illuminate your work. It's a great machine for novices.
Janome Hello Kitty 15822 – This discontinued model is hard to find but offers 22 stitches if you can track it down.
Janome Hello Kitty 13512 – With 12 stitches and a speedy 860 SPM, this full-sized Janome helps you whip up projects fast.
Cute and stylish
Good for beginners
Portable and lightweight
Smooth stitching
Durable construction
Wide variety of stitches
Limited stitches on some models
Potential availability issues on discontinued models
Manual thread tension on some models
Front loading bobbins on certain models
Are Hello Kitty Sewing Machines Just for Kids?

You could see a Hello Kitty sewing machine sitting on grandma's work table, tackling intricate projects with ease. Behind the cute facade lies a powerful Janome product. Hello Kitty models boast features like automatic needle threaders, speed controls, stitch selection dials, and adjustable settings.
Many adults appreciate the retro styling while enjoying modern conveniences. With options like the Janome 2212 mechanical and Janome Memory Craft 350E electronic, Hello Kitty appeals to beginners and experts.
Rather than just a starter, it can transition to lifelong passion. Don't underestimate Hello Kitty's capabilities.
Hello Kitty offers user-friendly design and versatility from doll clothes to home decor. She makes sewing accessible for kids while satisfying adults' needs. Its unexpected charm inspires experienced and novice alike.
Which Hello Kitty Sewing Machine Should I Choose?

When looking for the best Janome Hello Kitty sewing machine for your needs, the Janome Hello Kitty Sewing Machine offers a winning combination of quality, versatility, and cute style. With multiple stitches, sturdy construction, and lightweight portability, this model provides an ideal introduction to sewing that will delight Hello Kitty fans young and old.
The Singer Making the Cut machine presents another child-friendly option worth considering if you need more advanced features like a wide variety of stitches and adjustable settings. Either way, Hello Kitty sewing machines allow you to add a playful touch of style to your hobby.
Key features and specs
Sparkling with colorful style, a three-dimensional Hello Kitty peeks over the silky smooth arm as you guide fabric under the hopping foot.
The key features to consider are:
Number of stitches
Included accessories
Ease of use
Reliability and durability
When choosing your Hello Kitty sewing machine, prioritize the features most important for your needs. The best option provides a blend of cute style, versatility, and Janome's trusted quality.
Pros and cons
Looking at the pros and cons can help narrow down the best Janome Hello Kitty sewing machine for your needs.
| Model | Pros | Cons |
| --- | --- | --- |
| 11706 | Lightweight, portable, easy to use | Limited stitches, front-loading bobbin |
| 18750 | More stitches, built-in threader | More expensive, complex for beginners |
Consider your skill level, portability needs, and budget. The 11706 is great for beginners who want something lightweight and cute. The 18750 offers more features for intermediate sewers. Either provides a fun, Hello Kitty branded machine.
Best option for beginners
Hold up, partner! Choosing the cutest Hello Kitty sewing machine doesn't make you a master seamstress. For beginners, consider the Janome 11706. With only 11 stitches, it's easy as pie to operate. The manual has pictures to guide you along. It sews light fabrics smoothly and makes play clothes for your little cowpoke.
The stitch quality impresses parents. Another affordable choice is the Janome 2212. It gives 12 stitches to start simple projects but builds skills. Reviews praise its durability to outlast cheap models.
Are There More Hello Kitty Themed Sewing Machines by Janome?

You'd adore the other cute and capable Janome Hello Kitty sewing machines. The Janome Hello Kitty 3/4 KT-W is a portable model with 11 stitches, lightweight design, and easy threading.
The Janome Memory Craft 200E offers 67 stitches, an extension table, and a hard cover for transporting.
The computerized Hello Kitty MC 350E boasts 50 decorative stitches, an automatic needle threader, and a wide sewing space.
Each Janome Hello Kitty machine comes with accessories like presser feet and bobbins. They provide quality stitches and reliability that any Hello Kitty lover would enjoy.
What Features Does Janome Hello Kitty 15822 Come With?

The Janome Hello Kitty 15822 comes equipped with several handy features to make sewing projects easier, including three large dials for selecting stitches, adjusting stitch width and length, a tension adjustment dial, and an onboard needle threader.
With these useful controls right on the machine, you'll have everything you need to get creative and sew a variety of fabrics and projects with ease.
Stitch Selection
You can choose from 22 stitches with the user-friendly stitch selection dial. The Janome Hello Kitty 15822 offers a variety of utility and decorative stitches to enhance projects while remaining simple enough for children to use.
With options such as zigzag, blind hem, and buttonhole stitches, it can handle most types of fabric.
Stitch Width Adjustment
The 15822 featured a large dial for conveniently adjusting the stitch width. This allowed you to customize the width of straight stitches, zigzag stitches, and various decorative stitches from 0 to 5mm.
Whether sewing lightweight or heavy fabrics, you could select narrow or wider stitch widths for the right amount of coverage and strength. Adjusting the stitch width dial expanded your creative options when sewing projects requiring varying stitch widths.
Reliable Janome sewing machines like the 15822 provide easy-to-use controls for personalizing stitches to suit each sewing project.
Stitch Length Adjustment
Y'all have a stitch length adjustment dial for customizing your stitch size. Adjusting the stitch length allows you to:
Match the stitch size to your fabric
Create decorative stitching effects
Prevent puckering on lightweight fabrics
Maintain even stitching on heavy fabrics
Get the right stitch size for buttonholes
This handy dial gives you sewing versatility to handle different projects. Play around with the settings to find what works best for each task.
Tension Adjustment
Additionally, it provides manual tension control for balanced stitching across fabric types. The tension dial allows you to adjust the top thread tension to prevent puckering, gathering, or loose stitching.
Optimal tension suits both lightweight and heavyweight fabrics. Accessories aid in sewing tasks and maintenance. The seam ripper quickly fixes mistakes, while oil keeps mechanisms running smoothly. Adjust stitch length and width for custom stitches. Creative children can learn sewing basics on this machine.
Proper threading, bobbin setup, and tension adjustment prevent frustration. With practice, sewers can master tension for quality results.
On-board Needle Threader
You'll quickly thread needles with its on-board threader. Pass the thread along the guide, insert it into the notch, grip the thread, and pull it through the needle. It saves time and frustration when threading, so you can enjoy sewing faster. The on-board needle threader eliminates eye strain and is conveniently located for efficient use.
What Fabrics Can Be Used on Janome Hello Kitty 15822?

With its handy features and adjustable settings, this miniature machine can handle everything from threadbare cottons to slippery synthetics with ease. Don't let the Hello Kitty motif fool you – this sturdy model can sew thick denim for backpacks or light chiffon for doll clothes.
For stretchy knits, use a zigzag; for stable wovens, opt for a straight stitch. With the free arm, easily sew cuffs and doll clothes. Add Hello Kitty appliques or use built-in decorative stitches to personalize projects.
Though compact, it has the power to handle layered fabrics like quilts. Follow the manual's tips to smoothly sew slippery fabrics like satin.
This versatile machine will bring your Hello Kitty creations to life, whether you're sewing clothes, bags, pillows, or more.
What Accessories Come With Janome Hello Kitty 15822?

Imagine unpacking your Hello Kitty sewing machine and finding bobbins, needles, seam rippers—all the accessories you need to get stitching right away. The Janome Hello Kitty 15822 comes equipped with handy accessories to help you get started sewing quickly.
Bobbins: Several bobbins are included so you can wind multiple colors of thread for your projects.
Needles: An assortment of needles for various fabric thicknesses is provided.
Seam ripper: This essential tool helps remove stitches easily if you make a mistake.
With its cute styling and useful accessories, the Hello Kitty 15822 has everything you need in one box to begin sewing fun projects right out of the gate.
How to Maintain the Janome Hello Kitty 15822?

Unfortunately, since the Janome Hello Kitty 15822 sewing machine is discontinued, there are no specific maintenance guidelines available. However, for any sewing machine, it's wise to keep it clean, lubricated, and well-adjusted to prolong its life.
Regularly wipe it down, keep lint and threads cleared, oil key points, and get it serviced if issues arise.
Handle it with care, store properly, and it should continue purring for years.
Clean lint and threads regularly
Oil moving parts
Get regular servicing
Store properly when not in use
By keeping your machine well-maintained with regular cleaning, oiling, and servicing as needed, you can help ensure your discontinued Janome Hello Kitty 15822 sewing machine continues providing smooth performance and longevity.
Simple maintenance habits allow you to get the most out of your machine.
Conclusion
So, you've got the lowdown on all the Janome Hello Kitty Sewing Machines available. But what's the very best one? Well, that really depends on your budget and skill level.
If you're a beginner, the Janome Hello Kitty Sewing Machine is a great choice. It's lightweight and portable, with 11 stitches and a 4-step buttonhole.
But if you're an experienced sewer looking for a little more power, the Singer Making the Cut Sewing Machine is a great option. With 97 stitch applications and an easy-to-use LED display, it's a perfect choice for tackling a variety of fabrics and projects.
So, whatever your style and skill level, there's a Janome Hello Kitty Sewing Machine out there that's sure to make your next project a success.
References
bestsewingmachinereviewspot.com