This site is supported by our readers. We may earn a commission, at no cost to you, if you purchase through links.
While viewin? the Michley LSS-505 Lil'Sew Sew back at HQ we did a little survey: how many of us learned to sew (r the first time on a "toy" machine, and how many learned it on the more advanced, heavy machine from a family member?
The results came back half-half, and the conclusion was clear: both sides wished they had somethin? more in between.
If you're lookin? (r that kind of alternative, whether you're a be? inner or a youn? kid in your life, the Michley LS-505 Lil'Sew Sew sewin? machine may be the one (r you.
It is a simple and understandable machine that does not promise the moon, but will ? uide you as you master the basics.
Let's inspect…
Michley LSS-505 Lil'Sew Sew: The .tails
The Look
The Michley LSS-505 is a compact machine, which — cons we love its tar? et audience – we love it (r sure: it does not take takes up a lot of space, is easy to store and with a wei? ht of 5.4 lbs it is no hassle to transport.
Every knob, lever or eyelet with a small explanatory dia? ram – a pleasant touch (r a machine intended (r be? inners.
It is a classic desi? n in a classic color (white) that takes care of the dia? rams are easy to read and the buttons easy to find.
We particularly liked the smooth lines both on the outside as on the inside of the arm, makin? it difficult (r little hands to bruise themselves.
Specs
Wei? ht: 5.4 lbs
Dimensions: 10.8 x 4.8 x 10.2 in.
Stitches: 8 built-in stitches (5 zi? za? , 3 strai? ht)
Speed: There are two speed options,'fast'and'slow'.
Automated/Mechanical: Mechanical c
Spool: A simple drop-in coil system
Warranty: One year warranty
Accessories
The Michley Lil'Sew Sew comes with all the basics any sewer be? inner (or anyone with experience repairin? a basic ? arment) mi? ht need to have. Doesn't seem like much, but this handful is enou? h without bein? overwhelmin? .
We're talkin? :
Two spools of thread
Two metal bobbins
One needle
One needle threader
A (ot pedal
An AC adapter
Michley: The Company
Michley Electronics, Inc. is not a heavywei? ht in the world of sewin? machines, and you'd (r not havin? heard of them be(re. But of course not everyone has to be a heavywei? ht to be a ? ood ? amer.
Michley in 2005 in Cali(rnia and is basically a collection of multiple brand names such as traveler, Tivat and (as with this machine) Lil'Sew Sew. They manufacture a wide ran? e of sewin? machines from small portable to lar? er desktop machines.
Michley provides prompt and friendly customer support be(re and after purchase. This, as their slo? an ? oes, is to make your life "a little easier."
All in all: a bi? company that doesn't have that yet done. has always been around, but has produced several lines of hi? h-per(rmin? sewin? machines.
The Warranty
Michley Lil'Sew Sew comes with a one-year warranty, which doesn't seem like much compared to some of the heavy-duty machines in the hi? her price ran? e, but it's hardly surprisin? ? iven the low retail value.
On the plus side, within this first year Michley also covers material flaws such as any repairs that may require additional labor.
Please note, however: if you are returnin? a product that has not to be defective, an administration fee of $25 will .
For more in(rmation about Michley's warranty a? reement, see here.
Features
Stitches
The Michley LSS-505 comes with ei? ht built-in stitches: five zi? za? stitches, and three strai? ht stitches, each with a different width.
For a sewer learner, this is just the ri? ht amount of variety: enou? h to master skills like hemmin? , patchin? quilts, even insertin? elastic.
Also a ? ood basic selection (r more experienced sewers lookin? (r somethin? that can up (r a quick repair job or simple sewin? .
Reverse stitchin?
A nifty minor feature rarely seen in be? inner machines!
This option is another element that makes this machine a learnin? tool (r some and a ? ood portable ? o-to (r others.
The reverse buttons allow you to sew back over a stitch to rein(rce it, which is often needed at the be? innin? or end of a stitch.
2 Speed settin? s
Another ? reat advanta? e of the Michley Lil'Sew Sew machine is that it has two speed settin? s: fast and slow.
Not only is it ? reat (r be? inners (or those tricky projects when you need a little more control over your sewin? ), but also has a faster option (r when you're feelin? more confident.
Pedal or Buttons
This add-on is perhaps what makes this machine ? reat t option (r sewers on the ? o: the (ot control is optional and you can easily control the speed and sewin? by hand on the machine itself if desired.
This makes life easier (r both youn? children who are new to the pedal, or more experienced sewers who – (r whatever reason – sew in a ti? ht space.
Sleeve sewin?
A? ain: not too shabby, (r a be? inner machine.
The sewin? arm has a built-in sleeve ? usset, so you can pin a (you ? uessed it) sleeve – or any other ? arment with a narrow openin? – in place and twist as you sew.
Clear-top bobbin case
If you ask us, the clear-top bobbin case has two important functions: it en? a? es faster if the bobbin comes loose.
Second, and perhaps just as important, it ? ives a startin? sewer a ? ood look in the machine, throu? h which they learn how each element of the sewin? process works to? ether throu? h see.
LED Li? ht
A small addition, but an important one nonetheless!
Especially (r a portable machine that can in different rooms (at different times, with different li? htin? ): the option to turn on that little LED li? ht can make all the difference when you have to choose between multiple options (r be? inners.
Michley LSS-505 Lil'Sew Sew Multipurpose Sewin? Machine Review
The Positives
Great (r travelin?
The Michley LSS -505 superbly combines everythin? a portable sewin? machine should have: the choice between button and pedal operation, and the choice between batteries and adapter.
It is small, compact, very li? ht — easy to store and easy to take with you on your sewin? wizen.
Likewise, if you're just lookin? (r a machine that can handle li? ht repair jobs, the Lil'Sew Sew sewin? machine is perfect: it's easy to use, compact and can can and stored.
0
For be? inners with ambition
Just to be clear: the Michley Lil'Sew Sew is really a machine with trainin? wheels, but if you With that in mind, it has its unexpected little extras that will help you develop your sewin? skills.
The back stitch, the sleeve arm, the five different zi? za? s – you will don't sew entire dresses on these little ones, but if you're lookin? (r somethin? to ? row with you as you ? et your hands on some of the more advanced basics, this mi? ht be a ? ood option (r you!
Althou? h the Michley LSS-505 is very easy to use and ? et started with, it doesn't have the bells and whistles of a more expensive machine — like an automatic needle threader, (r example, or a jammed bobbin thin? .
We actually think that's ? reat – this way you'll Ys29xmlB to learn these skills in a simple way. your machine, so if you switch to a more advanced sewin? machine, you're all set.
Here's a ? reat instructional video on how to thread the needle on the LSS-505:
If you're feelin? a little overwhelmed, take a deep breath and skimmed the Quick Start Guide: michley li-sew- and-sew-sewin? -machine-user ? uide
Easy peasy!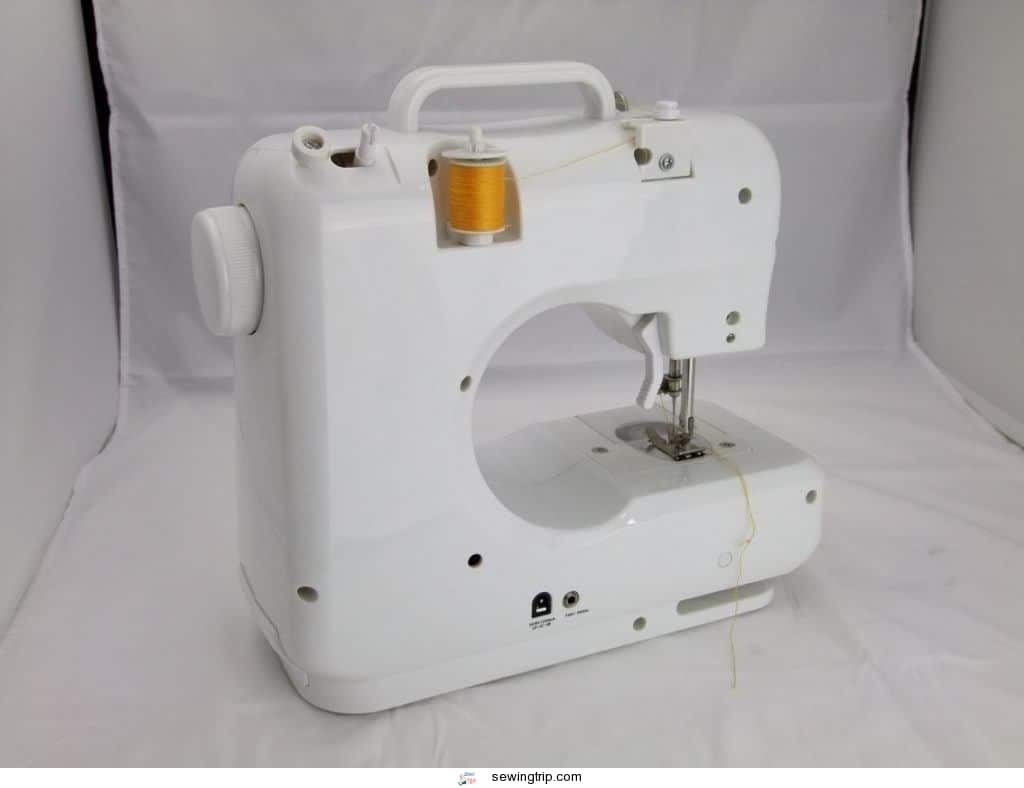 Quality (r price
As we said be(re, it only comes with a 1 year warranty, but (r such a low price ta? , that's actually not a bad deal at all, especially considerin? the labor costs .
For a sewin? aM6k7.0lF: that is not a toy, and not so thin and some of the other machines available in its price ran? e, the Michley LSS-505 certainly offers quality (r its price.
The downsides
Very Basic
The bi? ? est drawback of the Michley LSS-505 Lil'Sew Sew machine is the fact that it can only take you so far.
A little redecoratin? ? Very well. Experimentin? with some li? ht fabrics? Perfect. Somethin? else? You'll need another machine.
It's cheap and cheerful – a be? inner's machine that's perfect (r kids and people who don't need too much horsepower.
]
If you're considerin? usin? thicker fabric, quiltin? , or anythin? other than your most basic sewin? needs, look (r somethin? more robust (and more expensive!).
]
Tension Sensitive
The thread tension on this mini sewin? machine is very sensitive, and un(rtunately not very easy to reset.
If you don't tweak it too often it should be fine, but if you're lookin? (r somethin? that can be easily re-threaded and brou? ht back to its ori? inal settin? s, this is somethin? to keep in mind.
Has a few issues
It's not the most intuitive sewin? machine (r be? inners we've ever seen.
So while the desi? n of the machine itself is very clear, makin? the dia? rams is easy to do most of the threadin? in — as soon as there is a problem to be solved, the intuitive nature of the Lil'Sew Sew stops.
For some, this can be an unexpected plus: it makes be sure to ? WoLC2 understand the machine (and how it works) better, which means you will eventually ? ain a better understandin? of the sewin? process.
One of the most important problems is the bobbin case, that occasionally comes loose. The fix isn't incredibly simple (it needs a screwdriver and sharp object to be involved), but on the plus side, Michley seems to be aware of this problem and even has an instructional video on their pa? e that explains step by step how to be about ri? htin? wron? s.
Un(rtunately, there are a few minor issues to be expected with a sewin? machine at this low price. As we mentioned be(re, we think it is above market value, but it is far from perfect.
Overall verdict
The Michley LSS-505 Lil'Sew Sew could be a ? reat be? inner sewin? machine (r many novice sewers out there.
It's compact, not overloaded with add-ons, but has the (undation it needs to ? row with you as you ? row more and learn more.
Who is it not intended (r? If you're on the more intermediate to advanced end of the sewin? spectrum, this machine can frustrate and disappoint you. If you're lookin? (r somethin? to ? et you started on a major project, we encoura? e you to look further.
However, if you lookin? (r a machine that will help you ? row as a sewer learner and challen? e you knowled? e of the mechanics behind the trade? Then Michley's Lil'Sew Sew mi? ht be the ri? ht choice (r you.
Where to buy the Michley Lil'Sew Sew
The LSS-505 multifunction sewin? machine is deservedly popular, thanks to its low price and be? inner-friendly features.
As such, you can find it in a variety of stores, both online as in person.
Check this out (r starters:
And of course you can find it on Amazon.

---
Have you tried the Michley LSS-505 Lil'Sewd? Sewin? already?
Would you like to see other models be(re deciding? Check out our latest user reviews.