This site is supported by our readers. We may earn a commission, at no cost to you, if you purchase through links.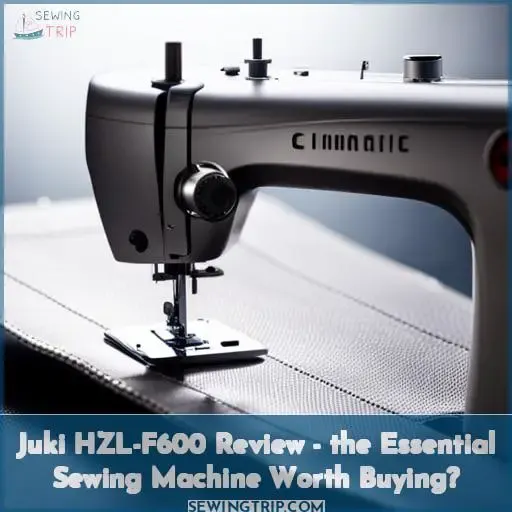 You've heard it said that variety is the spice of life. Well, that certainly applies to your sewing machine! The versatile Juki HZL-F600 boasts over 200 built-in stitches and 4 lettering fonts to satisfy your creative cravings.
We get it – your passion for sewing runs deep. You long to express yourself through each stitch and create pieces that reflect your unique spirit. That's why we're thrilled to give you the insider scoop on the feature-rich Juki HZL-F600.
Let's dive right in! This heavyweight machine delivers professional results whether quilting, sewing garments, or tackling other crafts. You'll appreciate the generous 155mm work area and handy extension table to accommodate large projects.
The specialty box feed system and free motion feature make the F600 a quilter's delight.
While not without a couple minor drawbacks, the automatic needle threader, multiple automatic buttonholes, adjustable presser foot pressure, and more will have you sewing creations to love in no time.
The F600 helps release your creative spirit stitch by stitch!
Key Takeaways
The Juki HZL-F600 receives rave reviews for its precise feed system, robust construction, and quiet motor.
With over 200 built-in stitches and multiple alphabets, reviewers highlight the machine's versatility for quilting, garments, formalwear, and other sewing projects.
Some reviewers note occasional issues like tricky needle threading and uneven stitching as minor drawbacks.
Reviewers emphasize features like the adjustable pressure foot, large workspace, knee lift, and free motion capability that make the Juki HZL-F600 flexible and well-suited for quilting.
Juki HZL-F600 Overview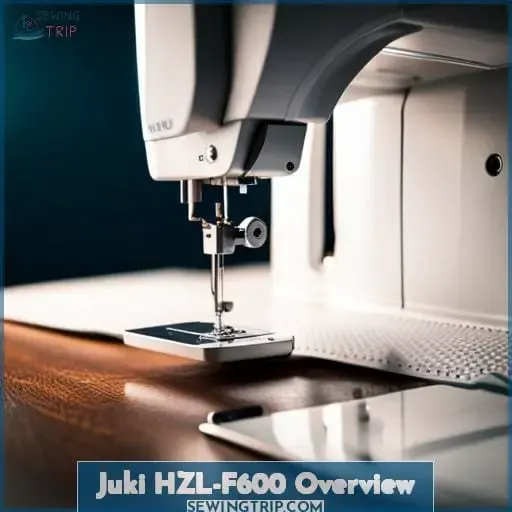 You'll be impressed by the Juki HZL-F600's industrial strength and variety of stitches that make it a versatile workhorse for sewers and quilters. With 225 built-in stitches, 67 quilting patterns, and 4 alphabets, you get loads of seam type options to unleash your creativity.
Accessory recommendations like the extension table, free arm, and multiple presser feet let you handle all fabric techniques with ease. Make tension adjustments on the fly, and save up to 70 of your own unique stitch pattern creations in handy folders.
LED lighting illuminates your sewing space while the sturdy construction keeps vibration low even at 900 stitches per minute. From quilts to garments and more, this modern machine can master any project on your wish list.
Juki HZL-F600 Features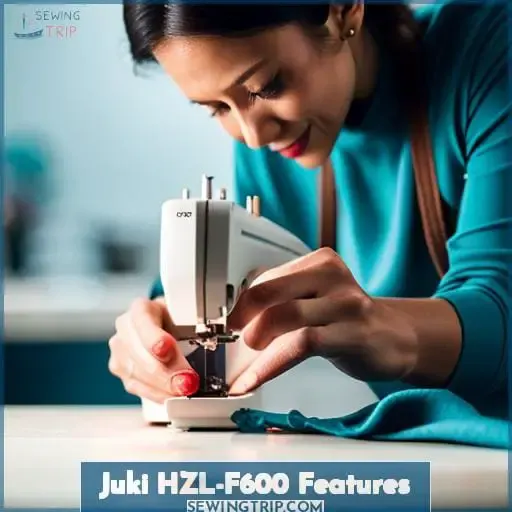 With over 200 built-in stitches and 67 quilting patterns, the Juki HZL-F600 provides you with plenty of creative options for your projects. You'll also appreciate the spacious 8 x 12.25 workspace that offers ample room to easily manage large sewing and quilting projects.
Built-in Stitches
With 225 built-in stitches, you have a full arsenal of decorative and functional options for any sewing or quilting project. From stretch stitches for knits to blanket stitches for finishing seams, you can tackle garments, crafts, home decor, and quilting with ease.
The one-step buttonholes and variety of alphabets let you add polished details quickly. With such versatility at your fingertips, your creative options are virtually limitless.
Workspace Size
Boasting an expansive 8 x 12.25 inch work bed, this Juki model provides ample surface area for handling large quilts or expansive projects with ease. The roomy workspace allows for easy fabric manipulation when sewing or quilting.
You'll appreciate the spacious area when dealing with bulky projects or specialized techniques requiring extra space around the needle. This exceptional worktable size distinguishes the HZL-F600 from standard household machines.
Juki HZL-F600 Performance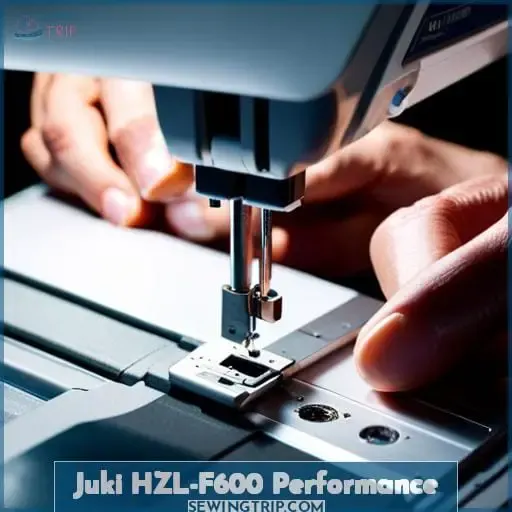 The HZL-F600 purrs along with subdued operation as you effortlessly sew intricate quilting patterns. This well-built workhorse offers buttery power and precision to handle projects from delicate fabrics to layered quilts.
Adjustable stitch length allows meticulous work while the programmable needle up/down turns tight corners gracefully. Engage the feed dogs for straight stitching or drop them to unlock the machine's free motion abilities.
Glide the HZL-F600 over fabric with masterful control thanks to the knee lift and large workspace ideal for quilts. The HZL-F600 proves itself a versatile quilting companion from automatic buttonholes to free motion artistry.
This quilter's dream machine empowers your creativity with the feel of a professional grade machine.
Juki HZL-F600 Recommended Uses

The Juki HZL-F600's industrial strength and large workspace make it a real workhorse machine capable of tackling all kinds of projects with its variety of built-in stitches. As a sewing enthusiast, you'll delight in creating garments, crafts, doll clothes, pet outfits, or even formalwear with this heavy duty sewing machine.
Its power and precise stitching can handle heavyweight fabrics like denim, canvas, and fleece effortlessly.
The HZL-F600 will bring you years of sewing happiness with its versatility, letting your creative vision come to life whether sewing as a hobby or for your small business.
Juki HZL-F600 Pros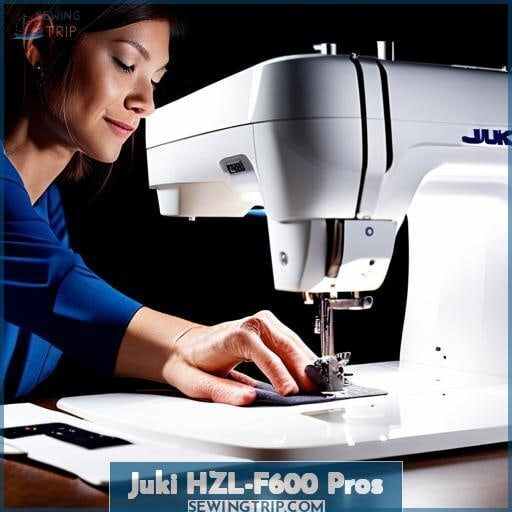 You'll love its industrial strength, very quiet operation, and large workspace ideal for quilts. The F600 boasts quick start up so you can get sewing fast. With over 200 built-in stitches, you have tons of creative options for quilting, garments, crafts, and home decor projects.
Plus, quality construction and smooth operation allow sewing everything from double fleece to stretchy fabrics without skipping stitches. The F600's robust steel feed dogs easily feed heavy curtains or multiple layers of fabric.
Reviewers rave about this top-notch machine from Juki, known for its industrial heritage. From features to stitch quality, the F600 delivers for intermediate to advanced sewers who want professional results.
Juki HZL-F600 Cons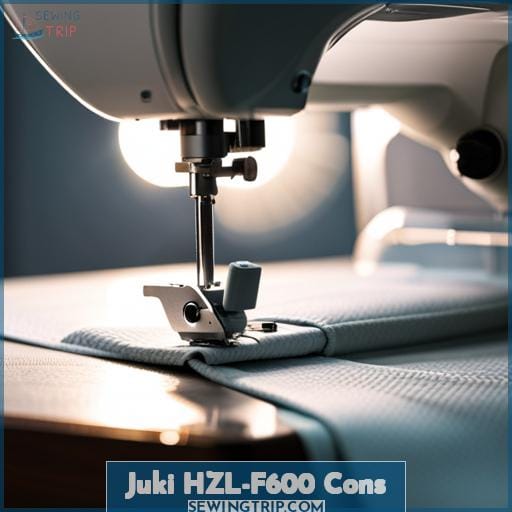 You'd notice some issues with the automatic needle threader and uneven stitching on the Juki HZL-F600. But don't let a couple small quirks deter you – this powerhouse still provides professional-grade construction for avid sewers tackling heavy-duty projects.
The awkward drop feed control placement, tricky threading and stiff stitch length/width adjustments take some getting used to. Despite its industrial heritage, this computerized machine can struggle with inconsistent stitches, unhelpful manual instructions, and thread tension on decorative stitches.
Yet the HZL-F600's quiet operation and high precision feeding make it well worth the investment for passionate quilters and sewers looking to level up from beginner models.
Juki HZL-F600 Reviews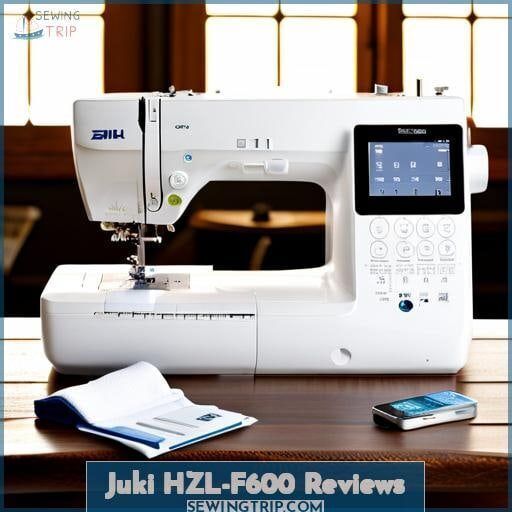 The Juki HZL-F600 garners rave reviews from the support community. Powering through quilts and garments, the presser foot glides smoothly atop stitches and fabrics. You'll find the bobbin tension reliable across pattern updates. Though beginners may find decorative stitching tedious to navigate, intermediate sewers delight in the precise feed and robust construction handling everything from sheer silks to chunky knits.
Passionate creators fill message boards with tales of precision piecing and praise for the near-silent motor. For those seeking professional results without industrial noise, the HZL-F600 surpasses expectations.
When your projects demand intricate details and sturdy construction, this workhorse delivers.
Juki HZL-F600 Vs Other Models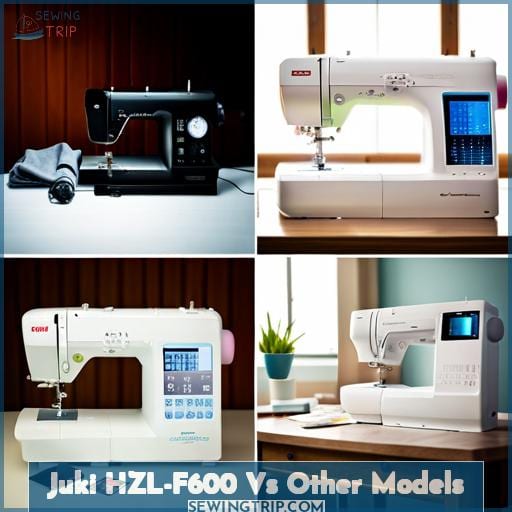 Compared to other Juki models, the HZL-F600 stands out as a computerized, feature-rich sewing and quilting machine geared toward intermediate and advanced sewers. With 200 built-in stitches, an LCD display, and adjustable presser foot pressure, this machine excels at quilting large projects and sewing garments with professional stitch quality.
The generous 8 x 12.25-inch workspace accommodates bulky quilts, while the drop feed allows for free motion techniques. However, manual navigation of the stitch menus can frustrate some users. Accessories like multiple presser feet and a hard case increase the machine's versatility for garments, crafts, and home decor.
Overall, the HZL-F600's industrial strength, quiet operation, and advanced features make it a worthwhile investment for passionate sewers and quilters.
Fabrics for Juki HZL-F600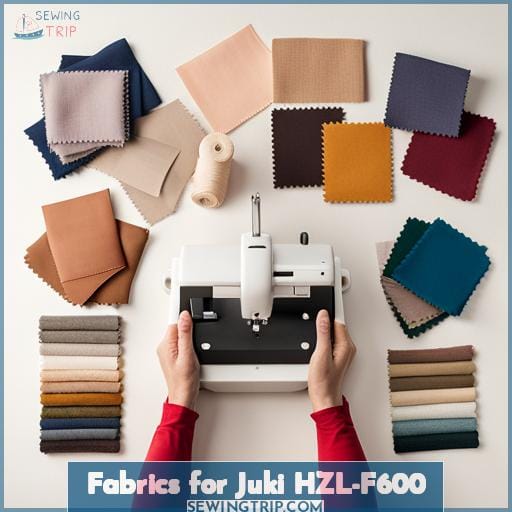 The Juki HZL-F600's industrial-grade power makes it a great match for quilting cottons, woven fabrics, and thinner knits, though you'll want a model better suited for heavy materials like vinyl or leather.
With its 225 built-in stitches and presser foot pressure adjuster, you can easily sew lightweight cottons, woven synthetics, fleece interfacing, and knit trims. The straight stitch slide plate provides smooth feeding on lightweight fabrics. Lower the speed with the low speed inching feature to have full control over faux suede and other delicate materials.
While not recommended for thick fabrics, the HZL-F600 excels at a wide range of everyday sewing projects with its versatility, precision, and thoughtful features.
Juki HZL-F600 Accessories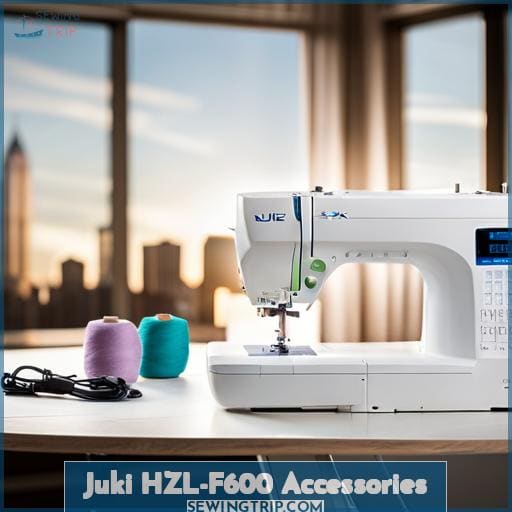 You'll want some must-have accessories for your Juki HZL-F600 like the walking foot, quilting guide, and open toe foot to expand what you can do.
Walking foot for sewing thick fabrics without shifting
Quilting guide for straight lines
Open toe foot for visibility
Clear stitch plate to see under fabric
Extension table for large projects
Thread stand to keep spools in place
Free motion foot for stippling quilts
Edge stitch foot for precise seams
Hemmer foot for quick hems
Gathering foot for ruffles and tucks
These handy accessories open up new possibilities like free motion quilting, visible needlework, and working with thicker materials.
Frequently Asked Questions (FAQs)
How loud is the Juki HZL-F600 when sewing? What is the noise level?
The Juki HZL-F600 sewing machine operates very quietly, even when running at high speeds. You'll experience minimal noise and vibration thanks to the machine's high-quality construction. This makes it easy to focus on your sewing projects without distraction. The smooth, whisper-quiet operation also allows for relaxed sewing marathons.
You can sew for hours in peace without worrying about waking the house or straining your ears.
Can the Juki HZL-F600 sew through heavy canvas and multiple layers of denim?
The Juki HZL-F600 can indeed sew through heavy canvas and multiple layers of denim. Its powerful motor and industrial-grade construction allow you to sew with ease through thick, sturdy materials like heavy canvas, layered denim, and other heavy fabrics.
The machine's professional-level stitching quality and adjustable presser foot pressure mean you'll achieve smooth stitching on these materials.
How easy is it to thread the Juki HZL-F600 both the needle and the bobbin?
While threading the Juki HZL-F600 isn't totally foolproof, you'll find the process fairly straightforward once you've done it a couple times. The auto-needle threader does the hard work for you there. Bobbin winding and threading are easy thanks to the independent winder and quick-set bobbin.
What size of thread does the Juki HZL-F600 use? What needles?
The Juki HZL-F600 uses regular household sewing machine thread sizes, from fine silk thread to thicker polyester thread. You'll want sharps or universal needles; sizes 11/75 to 16/100 are compatible. For most fabrics like wovens, quilting cottons, knits, and blends, start with size 14 needles.
Heavier fabrics may need a 16, sheers and silks an 11 or The HZL-F600 can handle all thread sizes and needle types beautifully.
How long is the Juki HZL-F600 warranty and what does it cover?
The Juki HZL-F600 has a 5-year limited warranty covering defects in materials and workmanship. This warranty provides peace of mind that Juki stands behind their product for half a decade. Contact an authorized Juki dealer if problems arise to arrange service covered under the warranty.
Conclusion
For the passionate sewer with an eye for quality, the Juki HZL-F600 is a must-have. Boasting industrial strength, precise stitchwork, and ample workspace, this nimble machine will accompany you on countless creations.
Though some quirks exist—finicky threading, cryptic menus—they're but small snags in an otherwise splendid sewing experience. So take the plunge, and let your imagination soar with the steadfast Juki HZL-F600 by your side.