This site is supported by our readers. We may earn a commission, at no cost to you, if you purchase through links.
The Juki HZL-F600 has a lot to offer. Between its 225 stitches, its maximum speed of 900 stitches per minute and its army of attachable presser feet, it has no shortage of gadgets.
However, gadgets are not what a machine makes. How does the Juki HZL-F600 sewing and quilting machine perform when you strip it of all the frills?
Will it be worth its modest price tag? Let's see how it compares to the top machines.
The Juki HZL-F600 machine: the details
The Look
The Juki HZL-F600 computerized sewing machine seems to embrace the Mary Poppins approach to design.
At first glance, it looks like a solid, non-flashy machine with a wide arm, a wide screen and small icons to guide you, but otherwise disappointing in its aesthetic, simple and white.
That is, until you open that top cover and take that bottom one pull out the drawer, and all the tricks and gadgets that the Juki HZL-F600 offers as if it were a buffet for any sewer.
Specs
Weight: 33.4 lbs
Dimensions : 14" x 23" x 16"[196590]Stitches: 225 sewing patterns
Speed: a top speed of 900 stitches per minute
Automated/Mechanical: Automated
Spool: a simple drop-in coil system
Accessories
To stay true to that promise of 225 stitches, the Juki sewing and quilting machine must come with a matching set of accessories.
It certainly delivers and offers its users:
10 (!) clip-on presser feet, for appliqué, pearl fastening, embroidery and whatever quilting style you feel most comfortable with.
A knee lever.
A wide extension table.
(4) Bobbins.
A hole punch.
A quilting guide.
Spool caps (small, medium-sized).
A custom screwdriver.
A helper spool pin.
A seam ripper.
Twin Needles.
Foot Controller.
DVD Instruction.
]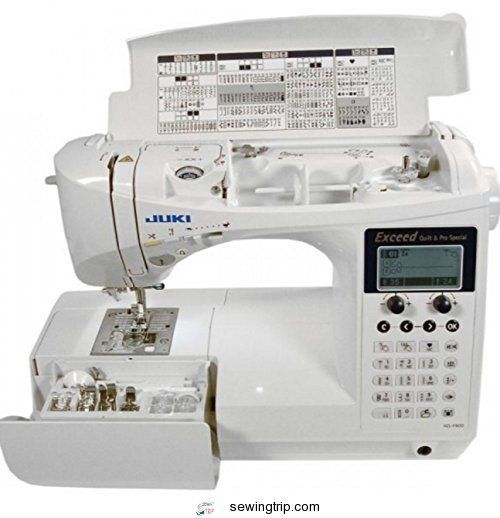 Juki Corporation: The Company
Juki Corporation is a relative newcomer to the household sewing machine market, but is no novice to sewing machines.
As the world's largest manufacturer of industrial sewing machines, Juki knows Co. sure what it does.
Founded as a small company in 1938 in Tokyo, .pan, Juki has since grown into a global market.
With their industrial knowledge background, Juki's household sewing machines to be incredibly durable and long-lasting: a smart choice if you're looking for solid quality that is reflected in the machine's performance.
Features
225 Sewing patterns
Each quilting machine worthy of its name has about 100 stitches: at least, but this target is barely halfway through the mile for the Juki HZL-F600.
With 225 stitch options, this machine can match (and patch!) your wildest quilting and sewing fantasies.
It also comes with the extra 16 industrial style buttonhole stitches, allowing the users to create exactly the high-quality effect they are striving for!
Four fonts
All you need to know is that the Juki HZL-F600 is a more advanced machine, by finding the monogram fonts that come with it.
With four font options, the HZL-F600 isn't the one but if the next level is what you're looking for, it's fine.
Large LCD (33mm x 66mm)
The Large LC D screen makes it easy to read and is a great little addition, especially in monograms.
Say goodbye to squinting and typing in a program without being sure if it's registered or not – the screen is big enough for every bit of information.
Large, wide work surface
The Juki HZL-F600 comes with an 8" wide, 12¼ " clip-on work surface, which is significantly larger than what most quilting machines offer.
The surface area and high arm of the Juki make tossing and turning a thick fabric half the work it usually is.
]
Here is a video showing the large clickable wide table:
Knee lever
A brilliant addition, possibly inspired by Juki's industrial background: a small toggle lever that allows the user to operate the presser foot without pausing sewing or losing track of the pattern.
Foot Controller—With a wire cutting feature!
Created to know exactly what a more experienced user needs, the HZL-F series introduced the wire cutter foot controller.
This gadget is what you would call handy; by pressing the heel side of the foot control, the machine automatically cuts both the needle and bobbin threads, making it very easy to move to your next pattern.
Uses Box Feed technology
It is clear that Juki really cares about the quality of the sewing by using the box feed technology. While most machines have the usual oval conventional feed, Juki scrapped that and took it up a notch by including the box feed to ensure anything you sew doesn't shift or shrink.
This improves the accuracy of your sewing, whether you are working with light or heavy materials.
Direct stitch pattern selection
Users'most frequently used stitches can via the small keypad, saving you both the time to find your favorite stitch and the time to get into the program.
Selections include: over lock, invisible hem and stretch stitch to name a few.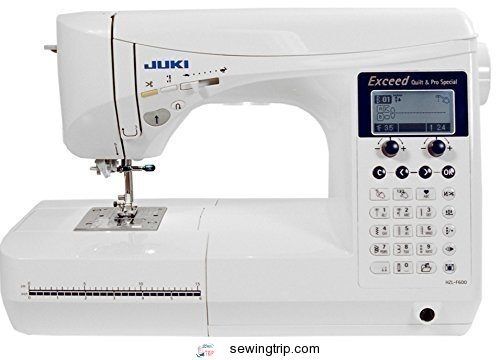 And what else is so great about the Juki HZL-F600? Well, it has:
An automatic needle threader
An easy bobbing threader
Presser foot pressure control
Dual LED lighting, for a visible work surface
Any stitch option
The Juki HZL-F600: Review
The Positives
For the heavy and the light
The Juki HZL-F600 Sewing and Quilting Machine is extremely versatile.
From the million (read: 10) sewing machine feet options, to the endless stitch options, this machine can for basic sewing (but why would you?), as well as for the most advanced, professional quality garment making.
In other words, whatever you have in mind, you will oBkRaTgube able to make it with the HZL-F series.
Thick fabric, light chiffon, pearl applique – SOHQsMfhgSFkSIlb8this machine can handle it all.
High quality within its reach
We admit it's not the cheapest machine out there, but it's not what it wants to be.[196590(]For its own price range, however, this machine is undeniably one of the best out there, built for your sewing.
The design is meticulous, sometimes ingenious. It knows what it's doing and needs the user it can keep up with.
Customizable
While the Juki's abundance of features and controls can overwhelm, you don't have to accept everything that comes your way.
On the Juki HZL-F600, you can set the machine up by your favorite settings on the LCD screen.
Juki allows you to save up to 70 patterns by programming the needle position, trim of the foot control and even the volume of the buzzer at the touch of a button.
You can mix, match and combine stitches and letters and be ready to continue a project by selecting your programmed settings on the right on the screen.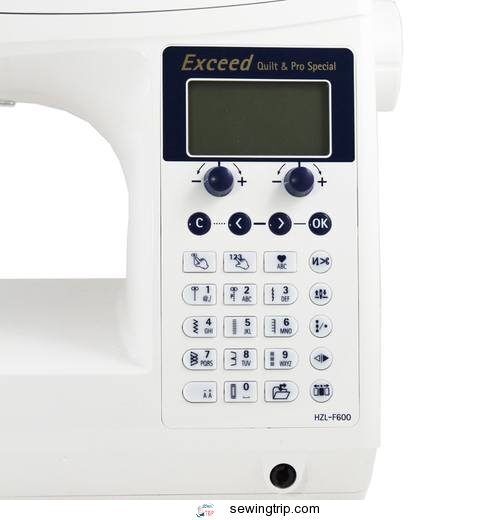 Assistance at the Ready
The danger of complicated sewing and quilting machines is that, despite a good design, extra help can be 0l8VhAiv7WE2vm.
Juki is of an exception to this: the help they provide in solving technical problems is pitch perfect, they spend as much time as it takes to help you understand it. find what doesn't work (and what doesn't).
Ultimately, the company knows that its users are investing both their time and money in a machine that isn't always the most understandable.
They are more than willing to reward that vote of confidence by listening to you, gasping and puffing on the phone, because "no, I've definitely been on that one before button pressed, and the last time I swear it didn't work…"
Don't Make a Fuss
We haven't mentioned this yet, but it certainly deserves a mention: the Juki HZL-F600 is very, very quiet.
For a machine of this size, which do And what he does with the amount of gadgets he has, this is quite impressive.
So now you can quilt with the radio on and really hear the next song. We live in the future.
The negatives
Not for the easily confused
If it's not clear by now, let it be said louder and clearer: this isn't your average entry-level sewing machine.
It's a complicated little number that needs your full attention, especially in programming your stitches.
So if you're looking for a laid-back, ready-to-go ready machine that runs in under five minutes, this one isn't ideal for you.
What Goes Where?
]
So the Juki HZL-F600 comes with its own army of add-ons, snap-ins, gadgets and extensions, and you need them all in order to use this machine to its fullest.
If you put on the zipper foot and use it to quilt a floral pattern, you will not get the best finished product, so we would like to point out again: it is a lot.
But if a lot is what you're looking for, then continue as you were.
Too advanced for beginners
We've mentioned this before, but the reality is: the Juki HZL-F600 is not the most affordable machine on the market.
It's good, and well worth its price tag, but it's not a learning machine, and it shows. The attraction is not universal.
Our advice? As truthfully as you can, consider your current level before starting this purchase.
Overall verdict
The Juki HZL-F600 computerized sewing and quilting machine is a brilliant piece of engineering and human design.
It reflected the needs and habits of the more advanced sewer, and for those who take the time to figure out the quirks, the payout will be great and guarantees certainly professional, high-quality results.
The downside of course is that the Juki HZL-F series is not suitable for everyone.[196590]It's a decent standalone quilting machine, but it has some drawbacks.[196591]Yes, it certainly is. a shiny piece of machine, but we recommend you consider your own skill levels before making this purchase. After all, it's not a small price tag, and it's a choice that might need a good night's sleep.[196592]But for those who know for sure what they're looking for: and know that the Juki HZL -F600 offers what they need – then we can say with confidence: you will not be disappointed![196593]Where to buy Juki HZL-F600 Sewing and quilting machine[196594]With such high quality, it's no surprise that the Juki HZL-F600 is available online from several specialty stores.[196595]To get started, check out the below:[196596]Ken's (from $1049)[196597]SewingMachinePlus (from $1049)[196598]SewVacDirect (starting at $1049)[196599]And of course it's available on Amazon.

---
That was it for our review of the Juki HZL-F600 sewing and quilting machine. Are you tempted to try all the features?
Not sure if this is the model for you? Browse our latest machine reviews.