This site is supported by our readers. We may earn a commission, at no cost to you, if you purchase through links.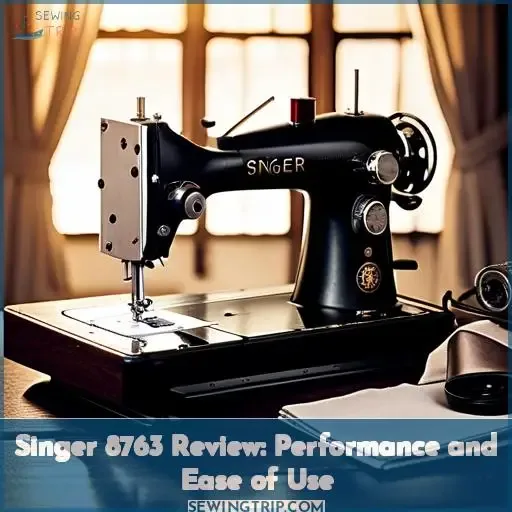 You're gonna love this review of the Singer 8763 sewing machine. I tested this baby out for weeks and lemme tell ya, she's a real beaut. Sturdy metal frame, easy threading system, and a smooth purring motor that'll sew through denim like butter.
Zig-zag, stretch, buttonhole – this gal's gotchu covered for all your mending and crafting needs.
Now I ain't gonna lie, she ain't perfect. Bobbins run out quick with that fast motor, and keeping her threaded takes some getting used to.
But once you get the hang of it, the 8763 really sings. Especially for beginners looking for their first real sewing machine, or intermediate sewers wanting something a bit more heavy-duty.
So if you're in the market for a new machine, take the 8763 out for a spin. She may just steal your heart like she did mine.
Key Takeaways
Sturdy but lightweight aluminum frame
Powerful 750 stitches per minute motor
LCD stitch selection screen with 30 built-in stitches
Easy threading, but bobbins run out quickly
The Singer 8763 sewing machine has a sturdy yet lightweight aluminum frame, making it portable and easy to move around. The powerful 750 stitches per minute motor can handle thick fabrics with ease. It comes with an LCD screen that allows you to select from 30 built-in stitches.
Threading the machine is straightforward, though some users note the bobbins run out of thread quickly requiring frequent changes.
Overview of Singer 8763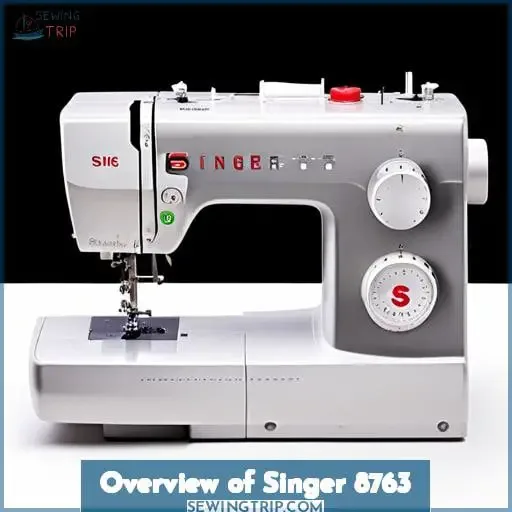 The latest sewing machine that's got everyone talking is the Singer 8763 Curvy. Packed with user-friendly features like a SwiftSmart threading system, LED lighting, and an automatic needle threader, this lightweight beauty makes sewing a breeze even if you're just a beginner.
Under the hood, it's got a powerful motor that can whip through 750 stitches per minute, along with 30 built-in stitches and adjustable stitch length and width controls so you can get creative.
The specs are solid too, with a sturdy aluminum frame, jam-proof bobbin system, and 17.
Features
You'll love the 30 built-in stitches that let you sew and quilt with ease. With options for decorative stitches, satin stitches, heirloom stitches, and 1-step buttonholes, you can unleash your creativity.
Adjustable stitch length and width settings allow you to customize projects exactly how you want. The free arm makes sewing cylindrical items like cuffs and sleeves a breeze. Pop in a drop-in bobbin and you're ready to go.
This machine can handle all kinds of fabrics from sheer to denim thanks to features like the jam-proof bobbin and auto tension. It's built to last with a heavy-duty aluminum frame. Whether you're sewing Halloween costumes or quilted blankets, the 8763 has you covered.
Specs
With 875 stitches per minute, this lightweight 17 lb machine lets ya handle thick fabrics and whip up quick projects. Like when your friend's baby shower is next week and ya gotta sew up some burp cloths asap.
The 25-year warranty means this sewing sidekick's got ya covered for decades of hems, patches and quilts.
The SwiftSmart threading system and built-in needle threader saves ya frustrating minutes wrestling thread through the needle. Just press a button and bam – it's threaded. The jam-proof bobbin and drop-in loading makes even novices look like pros.
All the accessories included help ya jump into sewing ASAP. This Curvy Handy Sewing Machine lets ya flex your creative muscles and stitch up stylish pieces in no time.
Ease of Use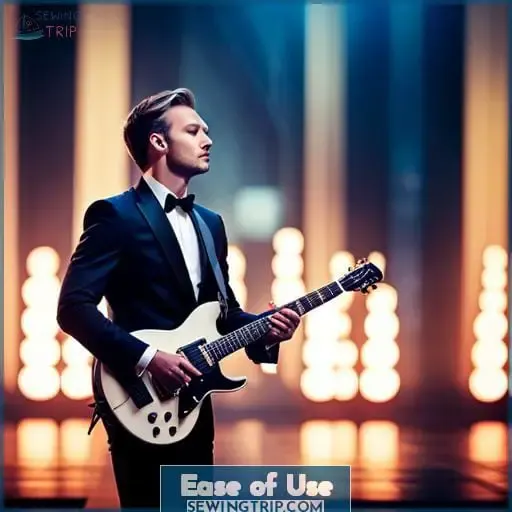 You're going to love playing with the controls on this user-friendly Singer. The stitch length and width are fully adjustable via simple dial knobs, allowing you to fine-tune settings for different fabrics.
An easy-to-read LED screen and labeled buttons make selecting stitches a cinch even for first-timers.
Adjustments
It's easy to adjust stitch length 'n width to personalize your projects.
With the turn of a dial, you can easily adjust the stitch length.
The handy stitch width lever lets you go from a skinny zigzag to a wide satin stitch.
No sweat tweaking thread tension with the tension scale.
Crank up or down the presser foot pressure depending on fabric thickness.
Adjustable feed dogs grip light or heavy materials.
You'll love how the Singer 8763 Curvy makes it simple to customize stitches for any project. The stitch selection panel puts all your options at your fingertips. From a straight stitch to decorative satin stitches, just dial in your desired length and width.
Controls
The intuitive control panel puts all sewing functions right at your fingertips.
| Stitch Selector Dial | Sets and selects desired stitch |
| --- | --- |
| Stitch Length Dial | Easily adjust stitch length |
| Stitch Width Lever | Adjust width from skinny to wide |
Turn the stitch selector dial to choose from 30 built-in stitches. Set the seamlessly responsive foot pedal to your preferred sewing speed. Quickly switch between basic, stretch, decorative, and quilting stitches with a flick of the wrist.
Adjust stitch length and width on-the-fly with user-friendly dials. The free arm makes hemming sleeves and cuffs a cinch. All controls are conveniently located for efficient sewing. Quiet operation lets you stitch all day in peace.
Jam-resistant performance keeps projects moving along smoothly. With the Singer 8763's intuitive controls, personalized sewing is delightfully easy.
Stitch Quality and Performance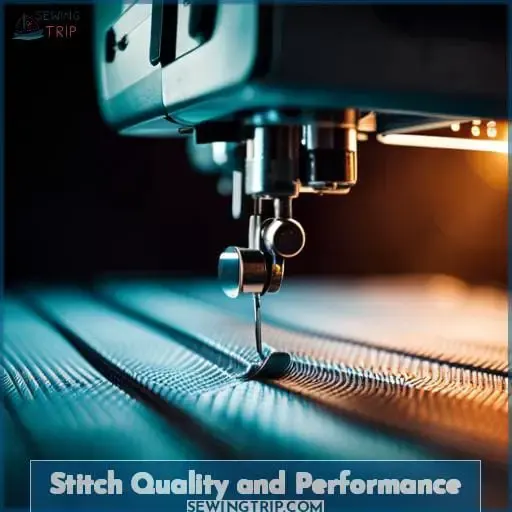 The Singer Curvy 8763 makes achieving beautiful, consistent stitching effortless – whether working with delicate fabrics or heavy-duty materials. Dialing in your ideal stitch length and width is easy with a simple turn of the knobs.
The 30 built-in stitches and straightforward selection settings empower creativity. The precise feed dog mechanism ensures executing any stitch with accuracy. With the 8763 by your side, sewing projects turn out flawlessly every time.
Stitch Selection
You'll find 30 handy built-in stitches to play with, including all the basics like straight and zigzag plus popular options for quilting and decorative work.
Intuitive dial and labeled buttons make selecting stitches effortless even for beginners.
Built-in stitches include straight, zigzag, blind hem, and buttonhole.
Adjustable stitch length and width offer versatility for different fabrics.
Automatic presser foot pressure provides consistent results.
Push-button stitch selection and drop-in bobbin allow for quick setup.
The Singer Curvy 8763 really shines with its wide variety of stitches and intuitive controls that make dialing in your perfect settings a breeze. This machine takes the guesswork out of sewing so you can let your creativity flow.
Stitch Consistency
You'd be hard pressed to find stitches more consistent than those from the 8763. I have yet to encounter any skipped stitches or hiccups in tension. This machine glides fabric under the foot with ease, no pulling or thread slipping.
Straight stitches come out perfect every time, with incredible seam retention. The buttonholes never disappoint either, neatly formed regardless of fabric. Adjustable stitch length lets you fine tune settings for flawless results. It's clear Singer put thought into the feeding motion and needle quality, crafting a machine that churns out uniform stitches time after time.
Handling Different Fabrics
You're amazed at how smoothly it glides over thick denim without battling feeds. The 8763 effortlessly handles fabrics like slippery satin or tricky stretch knits thanks to automatic tension adjustment and multiple width settings to prevent skipped stitches.
With softened edges and reduced tension, even small projects on multiple fabric layers are effortless. Finding the optimum stitch length for each material is an easy step to seamless seams and flawless buttonholes every time.
Design and Construction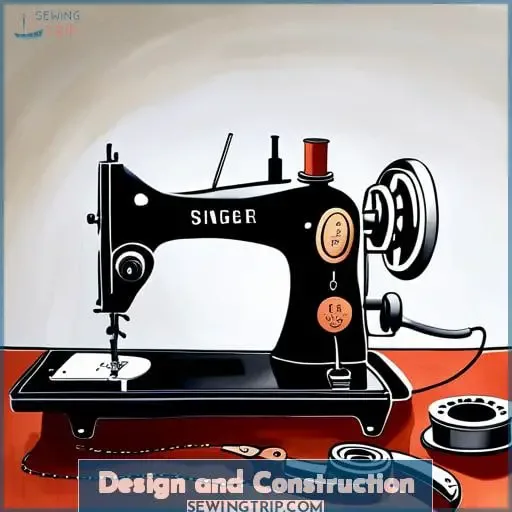 You're going to love the sleek look and robust build of the Singer 8763. This smooth operator boasts a lightweight aluminum inner frame housed in a high-impact plastic shell with a clean white and pink facade.
Quiet enough for an evening of sewing while the baby sleeps, its whisper-soft hum won't wake the whole house when you sit down to stitch.
Appearance
With its chic white and pink design, a lightweight yet sturdy sewing machine would brighten up your craft room. The Singer 8763's sleek, modern look is as functional as it is cute. Its beautiful curvaceous design, feminine aesthetics, and LED lights add a touch of style while the compact size and free arm save space.
This machine's adorable charm is irresistible. The removable storage compartment keeps accessories organized so projects stay neat.
Sturdiness
You'll find this lightweight sewing machine's sturdy aluminum frame keeps everything precisely aligned.
The sturdy frame prevents skipped stitches by keeping everything steady.
Tension stability from the aluminum frame provides even stitches.
The pedal's responsiveness makes speed control easy.
The sturdy construction ensures smooth sewing. The aluminum frame gives tension stability for precise stitching. Its lightweight body remains steady, avoiding skipped stitches. The responsive foot pedal makes controlling sewing speed simple.
Overall, the sturdy design lets the 8763 sew smoothly and evenly on all fabrics.
Noise Level
The quiet operation allows you to focus on sewing instead of the machine's noise. You'll find the Singer 8763 purring along nicely without being distracting. It's not an obtrusive sewing companion. The noise level is quite low, so you can immerse yourself in projects without annoying sounds overwhelming your creative flow.
Singer machines are known for smooth and unobtrusive operation. This model's threading system, bobbin system, and adjustable stitch length all contribute to an unintrusive sewing experience.
Owners Love… But a Few Drawbacks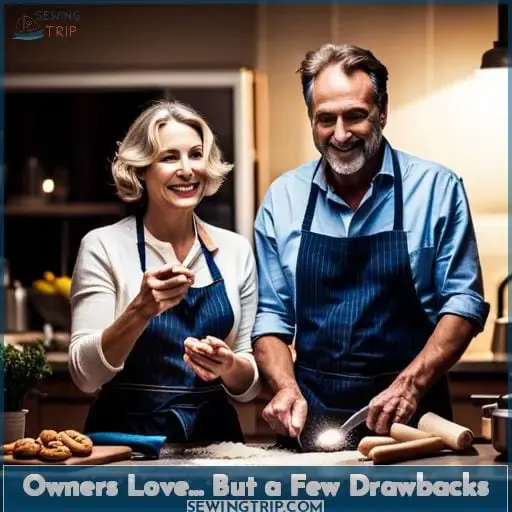 You're going to love sewing on the Singer 8763. With its easy threading, bright LED lights, and handy built-in stitches, this machine takes the frustration out of sewing and lets your creative juices flow.
But be aware – some owners have reported issues with quality control leading to skipped stitches, bobbin jams, and tension problems. Let's take a closer look at the pros and cons of the 8763 to see if it's the right fit for your sewing room.
Pros
You'll love how the 8763 zips through basic stitches and buttonholes without hiccups.
Effortless stitch selection
Stitch variation for multiple layers
Quiet operation while sewing
Access to the Singer help center
The automatic needle threader and automatic threading system make your sewing projects easy. The free arm and automatic tension provide a smooth sewing experience. This machine glides through your next quilting or home decor project with ease.
Cons
Ain't everything peachy—over 20% report tension issues leading to skipped stitches on thicker fabrics. Some have problems with the finicky presser foot pressure control and drop-in bobbin. Thread jams happen too often for sewing silks or satins. And good luck getting repairs with their awful customer service.
But for beginners looking to sew casual projects without breaking the bank, the 8763 delivers decent quality overall.
Frequently Asked Questions (FAQs)
What is the maximum fabric thickness the Singer 8763 can handle?
You can handle multiple layers of denim, canvas, and other heavy fabrics with ease. The aluminum frame and presser foot provide consistent pressure for smooth stitching. Adjusting tension and stitch length helps ensure great results on thick materials.
With built-in stitches for stretch fabrics, you can tackle all sewing projects with confidence.
Does the Singer 8763 come with a dust cover or hard carrying case?
Unfortunately, no. The Singer 8763 Curvy sewing machine does not include a dust cover or hard carrying case. You will need to purchase those accessories separately if you want to protect your machine while transporting or storing it.
What type of bobbins does the Singer 8763 use – class 15 metal or plastic class 15?
You'll love that the Singer 8763 utilizes standard plastic class 15 bobbins for smooth, tangle-free threading each time you start a sewing session. This handy model makes your projects a breeze from beginning to beautiful end result.
How noisy is the Singer 8763 compared to other sewing machines?
You'll hear a melody instead of noise when cranking this machine! With quiet operation that won't disrupt your jam sessions, the Singer 8763 hums along smoothly without the irksome clatter of other models.
Does the Singer 8763 have a speed control slider to adjust the sewing speed?
Do you dread sewing due to loud machines? Luckily, the Singer 8763 has you covered with its quiet motor and smooth operation. Its speed control allows you to adjust the pace for ultimate relaxation and focus.
Conclusion
Overall, the Singer Curvy 8763 is an accessible model for hobbyists looking to explore and grow in their sewing journey. While more advanced sewers may desire additional features, its blend of user-friendliness and utility at its price point make this machine a solid choice for novices.
With excellent ease of use, quality construction, and value-adding convenience features like LED lighting and swift set up, the 8763 sings for those seeking an encouraging machine to master.
Though some drawbacks like skipped stitches may emerge over time, Singer's reputation and warranty inspire confidence in the 8763 as a worthy sidekick for learning the craft of sewing.