This site is supported by our readers. We may earn a commission, at no cost to you, if you purchase through links.
Are you a sewer? Do you daydream about what your next project will be? Are you a beginner or have you been sewing since your little fingers could hold a needle? Either way, searching for a sewing machine can be an arduous task.
To say there are many options on the market would be quite an understatement. There are so many with so many functions that it can quickly become confusing and scary.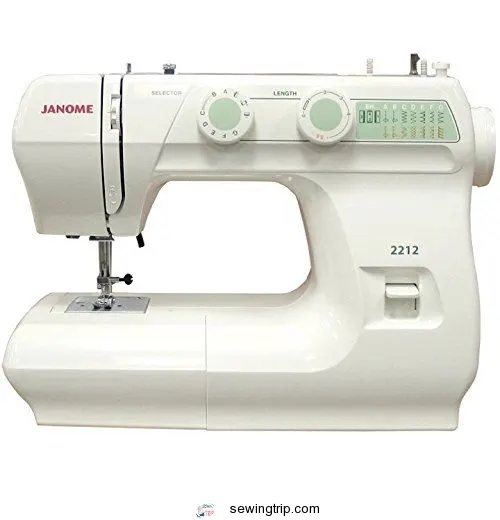 The Janome 2212 Sewing Machine is one of those choices. With its 12 built-in stitches, a 25-year warranty and a wide variety of fabrics it can sew, this might just be the machine for you.
There are some complaints about it uses about the noise and the bobbin is not the easiest to use, but let's inspect the machine and then you can decide for yourself.
Janome 2212 Sewing Machine: The Details
The Look
The Janome 2212 is a fairly basic looking, average sewing machine. Its body is white with the list of stitches and buttonholes trimmed in a light green.
The machine is about the size of a small toaster oven and is 13 lbs., light enough to carry from room to room as needed.
It may not be the sewing machine you want to travel with or take to sewing classes, but it is certainly light enough to move around.
Also, with its metal interior and heavy plastic exterior, the Janome 2212 seems quite durable.
Specs
Weight: 13lbs
Dimensions: 17 x 13.5 x 9 inches
Stitches: 12 built-in stitches and four-step buttonholes
Speed: 860 stitches per minute
Computerized/ Mechanic: Mechanic
Spool: Front loader coil in
Warranty: 25 years warranty
Accessories
The Janome 2212 includes the following accessories:
Blindstitch foot
10 extra bobbins
Screwdriver
Needle set
ipper blade
ipper foot
Sliding Buttonhole Foot
Vinyl Dust Cover
Multi-Purpose Foot
Folding carrying handle
Instructions for use
Janome: The Brand
The company in 1921 as The Pine Sewing Machine Factory by Mosaku Osem in Japan and renamed Janome Sewing Co. in 1954.
Janome now has branches in the US, Canada, Mexico, Europe, Australia and many more countries.
Janome's mission is to provide sewing machines and overlook machines that are easy y to use, reliable and made v of high-quality materials, so that users " can maximize their creativity."
Warranty
The Janome 2212 comes with a 25-year limited warranty. The warranty covers all problems with the "materials or workmanship, except for electrical/electronic equipment, which is warranted for two years from the original date of purchase."
During the first year of ownership, the machine offers free replacements for defective parts and any required labor.
After the first year of ownership Defective parts can qmwanwpY2n for free, but you will have to pay for any labor required to repair your .
The warranty does not cover damage caused by the owner and does not cover any damage caused by "normal wear and tear."
The warranty also only applies to machines purchased through an authorized Janome dealer.
Features
12 Built-in Stitches
The Janome 2212 comes with 12 built-in stitches, including straight stitch, buttonhole stitch, decorative stitch, zigzag stitch and reverse stitch.
All stitches are in the top right corner of the machine, and with a dial you can choose from.
In addition to the YOl8D8KbQstitches is a dial that changes the length of the stitch up to 4mm and a width up to 5 mm.
Two needle positions
The Janome 2212 also has the option of adjusting the needle in two different to set positions, depending on the project you are working on.
]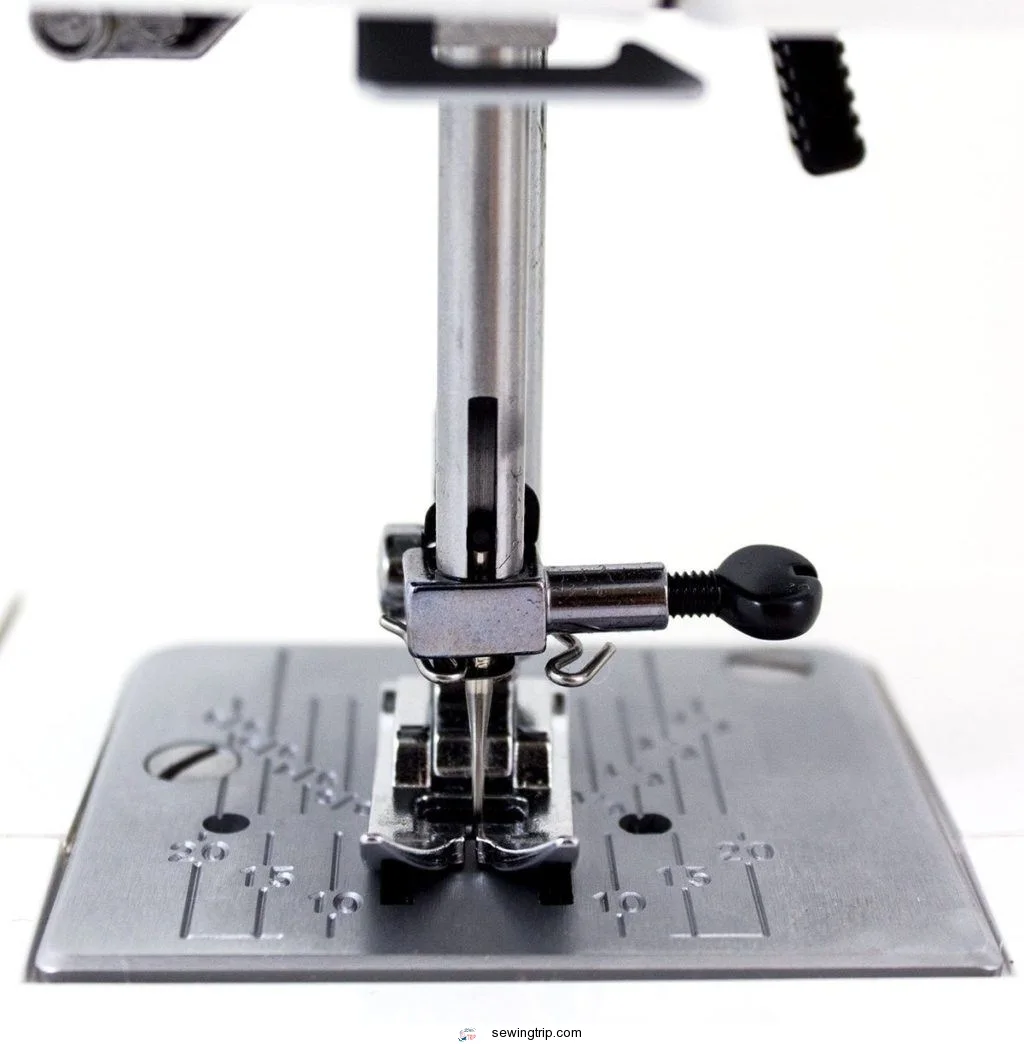 Positioning the needle in one of two positions means the stitch stays smooth on fabrics of different thicknesses, weaves and weights.
You will not miss a stitch or get stuck, whether you are sewing on cotton or wool.
Feed feeder with feed dog
The feed dogs allow free motion sewing and quilting.
The feed dogs automatically raise when the machine is in operation and must in this position. position while sewing, but should always be down when the machine is not in use or while in storage.
To access the drop feed function, you must remove the accessory box and open the flush door.
Reverse stitch
The reverse stitch via a switch on the front of the machine, just above the needle.
You can sew in reverse of course, but you can also secure your stitches and make sure your hard work doesn't fall apart.
Needle plate
The stitch plate isn't just where you place your project when you're ready to sew; it can also help you with measurements.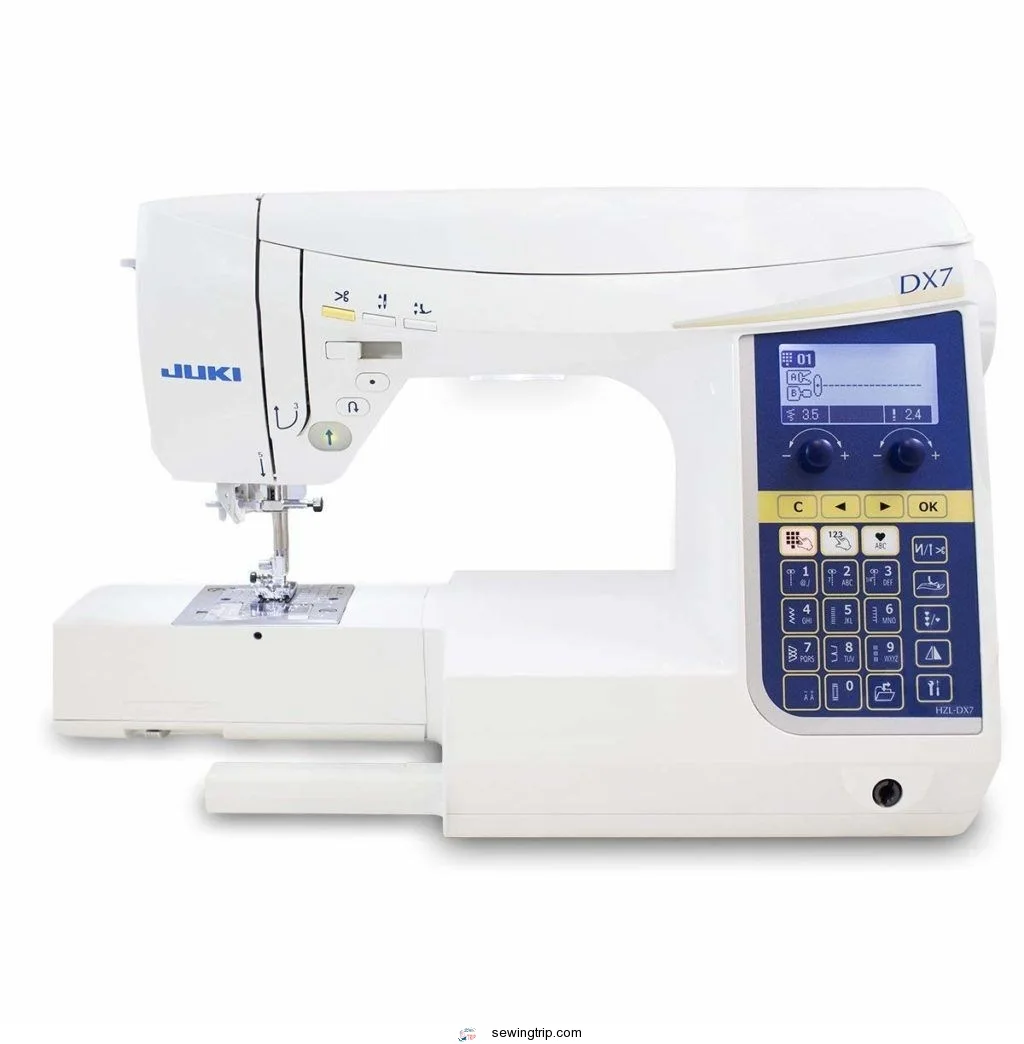 The stitch plate on the Janome 2212 has measurements and seam guides etched on both sides of the needle.
Lamp
The Janome 2212 also includes a lamp that illuminates the work area.
It is quite bright, so you can see what you are sewing and be sure that you are sewing a straight line. If there is a malfunction or problem, you can also easily see what is causing it.
Janome 2212 Sewing Machine Review
The Positives
Versatile
With the Janome 2212, our testers tried several substances and reported that the machine can sew through cotton, linen, wool, silk, satin, taffeta, velvet, knits, blends, rayon, polyester and upholstery with no problems.
This means that you can tackle a variety of projects and ideas with one machine.
No need to remove dust
If you find that your thread gets stuck in the machine, you don't need to remove the fabric or any project to fix the problem.
You can get to the needle or spool, as it is a front loader, without having to move your project, thus missing the opportunity to mess up your project.
Good f of Beginners and Advanced Sewers
The Janome 2212 allows beginners the tension 9UJM:tI51 many other basic sewing machine functions.
This ensures that when they move to a more complicated or advanced machine, they understand how all the mechanics work. It will z8Cb4OBAtransition much more manageable.
Conversely, experienced seamstresses will find that the machine has enough stitches and extras to not feel bored or limited.
Setup
While the Janome comes with an instruction manual which, according to users, up in a way that is easy There are also some good tutorials and how-to videos online.
They can help a novice user or any user who is struggling from a specific part of the machine.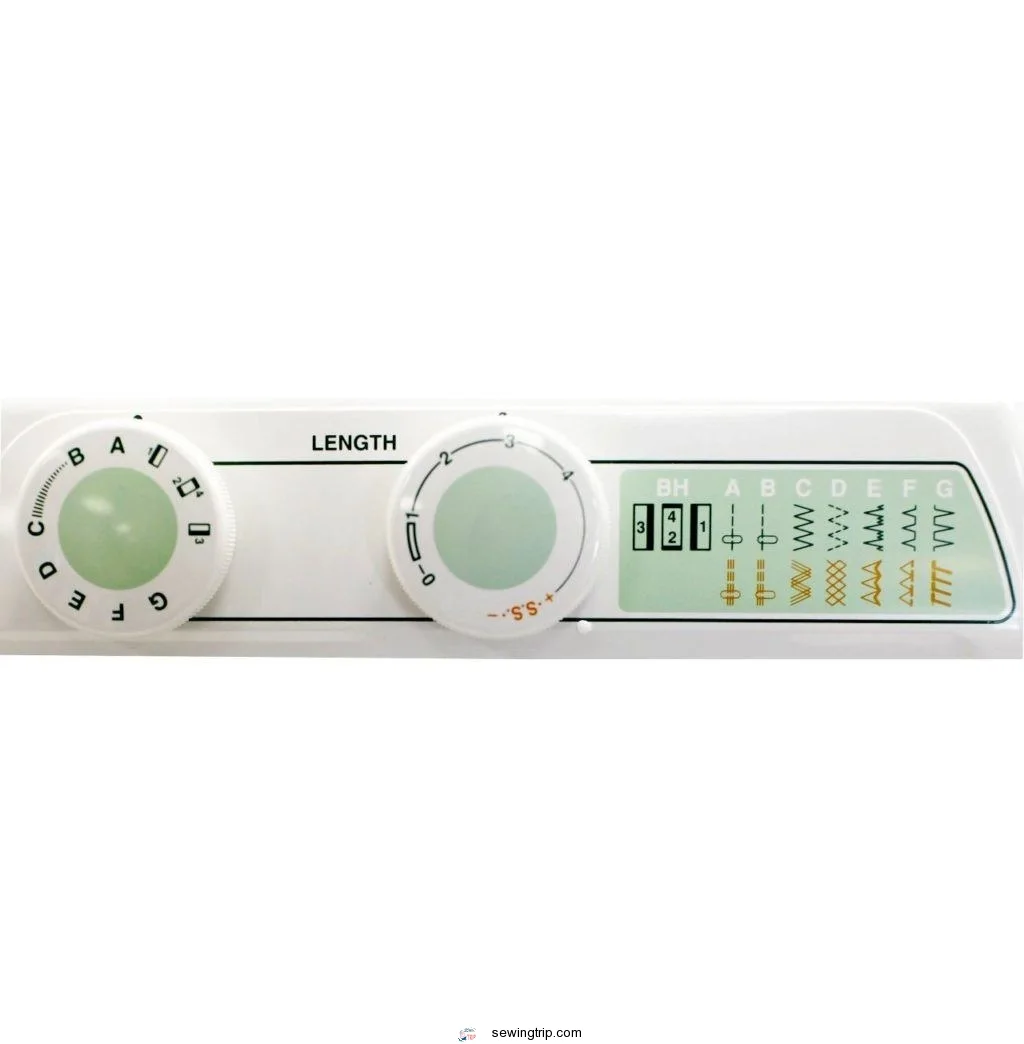 The owner's manual also contains information on matching fabric weights with the correct sewing threads and needles.
Built-in thread cutter
While a built-in thread cutter is not necessarily something unexpected on a sewing machine these days, it is invaluable.
You don't have to stop every time you finish a seam or hem or grab a pair of scissors to cut a thread, the time to finish a product can . to make considerably shorten.
The negatives
Speed control difficult
A few users complained 0GPEfOVldLsywny1jfKSaYpkoqI at low speed. While the pedal controls the speed, the machine will not start initially without a higher speed that most users are comfortable with.
You have to start the machine quickly and then slowly after that down. Especially for new sewers, this can be a bit of a problem, but with practice, it's something you can get used to.
Can't Sew All Fabrics
]
Although the Janome 2212 has a target number of fabrics can sew, this may be a limitation for more experienced sewers.
The machine cannot sew leather, suede, fur, reptile skin, canvas, twill, plastic, rubber, extra thick fabrics or multiple layers.
Do you need something heavy? Check out our guides on the best machine for leather, denim or general heavy duty items.
If you want to experiment with more complicated materials, this sewing machine may not be the best bet.
Jams
There were some reviews complaining about the machine crashing
The bobbin may break, the thread may get caught, the fabric may get caught in the feed, or the machine may jam.
Some users found that if they got the thread tension right, changed the needle position or worked a little with the machine it worked better, but others still found it a tedious task to maneuver.
Not much workspace
A few users also complained about the lack of space on the machine. Minor projects would fit in the machine easily, but if you were working on a larger project, it most likely wouldn't fit.
If you tried it could be very inconvenient be trying to move so much dust in such a small work area.
Those who want to focus on making smaller, simpler projects don't have to worry about this, but those who want to expand their field may have to look for a solution.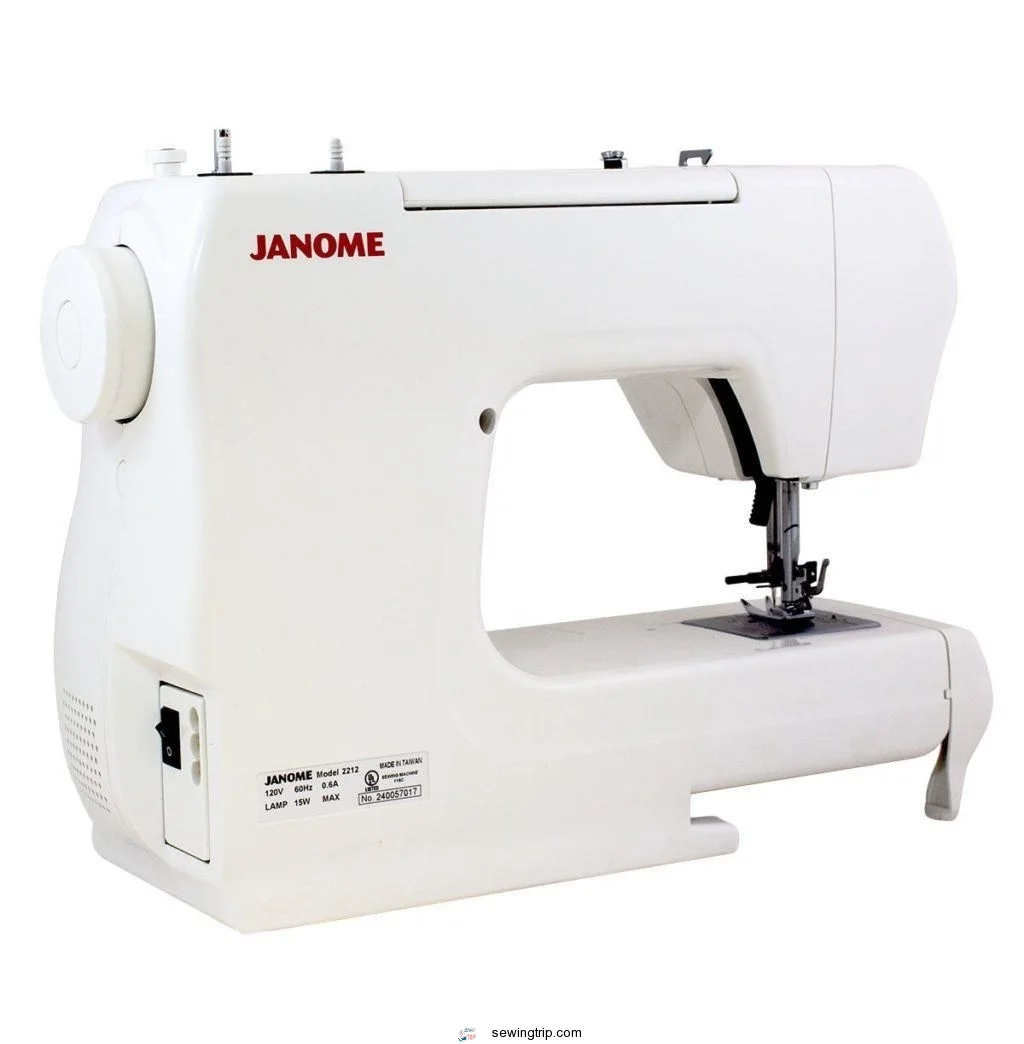 General opinion
With all factors considered, we would recommend the Janome 2212 sewing machine to hobbyists – especially beginners and those who are just venturing into the craft.
It is a good starter machine for beginners, especially those who really want to know how the different components of the machine work and will do some to take time and.
This I have reported machine to get stuck a lot and sometimes difficult to operate i. An advanced sewer worker may not have the patience or willingness to bother with a machine that is difficult to use.
A patient beginner would be the best person for the Janome 2212.
Where can I buy the Janome 2212 sewing machine?
As mentioned, Janome has been around for quite some time. The Janome brand is no stranger to specialty and craft stores, with many retailers carrying their machines both in-store and online, and the Janome is no stranger to their craftsmanship. 2212 is no different.
Check out the following online retailers to start your search.
And of course this sewing machine can also on Amazon.

---
That's all for our review on the Janome 2212 sewing machine. Ready to'sew'it?
Not sure if this is the model for you? Browse the rest of our sewing machine reviews.