This site is supported by our readers. We may earn a commission, at no cost to you, if you purchase through links.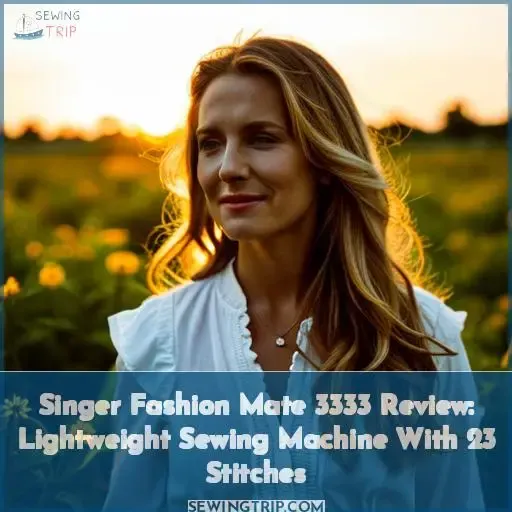 My friend, let's cut through the noise and focus on what's important – the Singer Fashion Mate 3333 review.
This lightweight sewing machine packs a versatile punch in a compact package. Like a trusty sidekick, it travels with you on sewing adventures.
Spool up some thread and let's get stitching. With 23 built-in stitches, you've got options galore.
The free arm makes sewing sleeves and pants a cinch. Bright LED lights illuminate your fabric playground.
While not without limitations, this sewing machine empowers beginners. It removes barriers to creativity and mastery. With some thoughtful guidance, you'll be sewing and mending creations in no time.
The open road awaits – where will your sewing journey take you?
Key Takeaways
Lightweight portable sewing machine weighing 12 lbs
Smooth stitching and sturdy build quality for the price
Lack of included English manual frustrates some owners
Recommended for lightweight and medium fabrics
Singer Fashion Mate 3333 Overview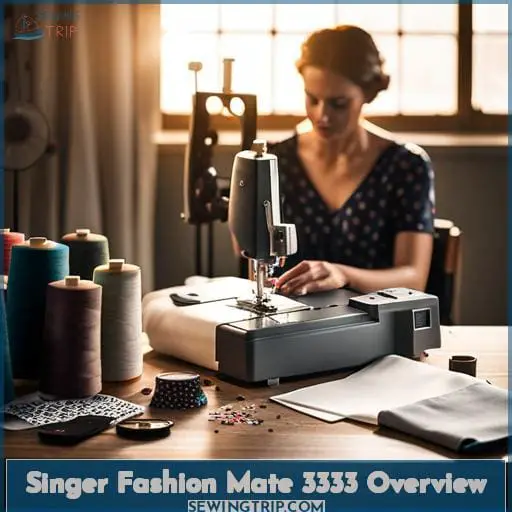 As a portable electric machine weighing just 12.57 pounds, the Singer Fashion Mate 3333 offers onboard convenience with 23 built-in stitches, an automatic needle threader, top drop-in bobbin, LED illuminated sewing area, and a free arm for circular projects like sleeves and pants.
With reliable performance for most sewing needs, this starter model lacks some durability but provides functionality and portability at a reasonable price point.
Lightweight and Portable
At 12.57 lbs, you'll find this compact machine easy to tote to sewing classes or from room to room. The lightweight Fashion Mate 3333 offers convenient mobility for sewing garments. Its compact size allows for easy storage and transport. With 23 built-in stitches and 400 stitches per minute, this portable machine enables sewing flexibility with its needle threader and more.
23 Built-in Stitches
With its 23 built-in stitches, you're getting enough variety for basic sewing projects without overwhelming beginners. You can sew straight or zigzag stitches for seams, do stretch stitches on knits, and sew decorative stitches for embellishing.
The 4-step buttonhole helps with shirts and jackets. Adjust stitch length and width for customization. The built-in needle threader saves time and frustration, while the reverse lever reinforces stitches.
The thread cutter trims threads quickly. With practice, you'll be churning out all sorts of creations in no time.
Free Arm for Sewing Cylindrical Items
You have a sleeve to hem? This free arm allows you to easily slide cylindrical items onto it for sewing. This includes sleeves, pant legs, and even small fabric tubes. Simply turn your project inside out and slide it onto the tapered free arm.
Adjust the thread tension if necessary. It is recommended to keep your stitch length on the shorter side when hemming knits and stretchy waistbands for optimal results. The free arm offers excellent visibility and access, assisting you in guiding and supporting the fabric while sewing.
Automatic Needle Threader and Top Drop-in Bobbin
Feeling spoiled yet, darlin'? The Fashion Mate gifts ya an automatic needle threader and a convenient top drop-in bobbin to make your sewing dreams come true. These handy features eliminate frustration threading needles and changing bobbins, so you can keep your flow and focus on your creative vision.
With the turn of a lever, the needle threads itself, savin' your eyes and patience. And the bobbin slips smoothly into place with a satisfying click, ready to hold your lower thread taut. So say adios to janky tension and bobbin tangles – this machine handles the fiddly bits for you.
Now you've got time for the fun stuff.
LED Illuminated Sewing Area
Illuminating projects with precision, the Singer 3333's LED light banishes shadows for mistake-free sewing.
The brightness control knob adjusts the light intensity for each project's needs.
Sewing area visibility is maximized with focused illumination.
Mistakes are minimized as quality stitching is illuminated.
The Singer 3333's LED sewing light provides adjustable brightness to conquer shadows. A simple twist of the illumination control knob adapts the light for sheer fabrics to heavy denim projects. Sewing perfection becomes effortless as this focused beam reveals each stitch in high definition.
With this brilliant beacon guiding creations, sewers gain confidence to take on any sewing challenge without fear of mistakes.
Pros of the Singer Fashion Mate 3333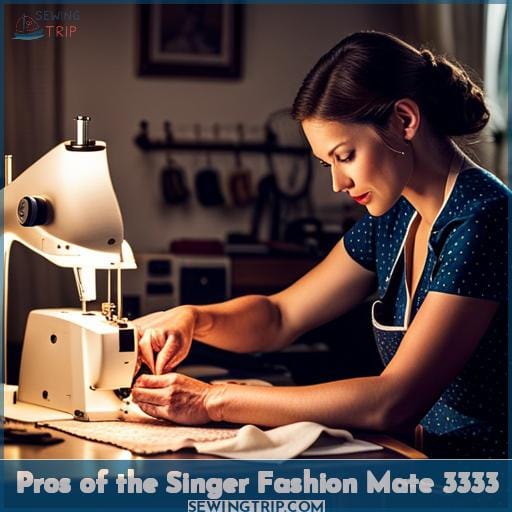 The Singer Fashion Mate 3333 provides an affordable, user-friendly sewing machine for novice and intermediate sewers. With its sturdy build, smooth stitching, quiet operation, and bright LED lighting, it enables beginning sewers to easily pick up basic skills while also meeting the needs of frequent hobbyists seeking reliability on a budget.
Inexpensive and Beginner-friendly
Priced low, the Singer 3333 provides a simple, sturdy machine for new and occasional sewers. Intermediate sewists praise its ease of use and class versatility. Despite some bobbin jamming, it offers smooth sewing quality on most fabrics, meeting basic needs.
Sturdy and inexpensive, the 3333 suits beginners seeking a no-frills starter machine.
Sturdy and Smooth Sewing
You're pleased it provides smooth sewing and feels sturdy, like when seamlessly stitching denim or canvas.
The sturdy metal frame prevents vibration while sewing 4 layers of fabric.
The smooth feed dogs grip fabric well for precise stitching.
Adjustable presser foot handles thick layers without flagging.
This capable machine lets you master all fabrics with ease. The sturdy 16.3 lb steel frame, smooth feed dogs, and ability to sew multiple layers allow you to effortlessly handle any project.
Quiet Operation
You'll appreciate its quiet operation that won't disturb others while sewing. As an industry analyst, I must note that the 3333 operates smoothly and quietly, unlike many budget machines. This well-built portable model offers useful LED lighting and a sturdy feel during use.
Many praise its quiet performance, lack of vibration, and reliability at both low and high speeds. With proper thread tension, the 3333's bobbin system provides quiet, smooth sewing. Weighing under 13 pounds, this machine won't shake or make too much noise as you work.
Bright LED Lights for Good Illumination
The LED lights provide good illumination so you'll really be able to see what you're sewing. With the adjustable LED light on this model, you can direct the light just where you need it for different fabrics and tasks.
The bright illumination lets you easily monitor stitch quality and thread tension. The lights make threading and using the automatic needle threader simple too. Overall, the LED lights are a handy feature that improves the sewing experience.
Cons of the Singer Fashion Mate 3333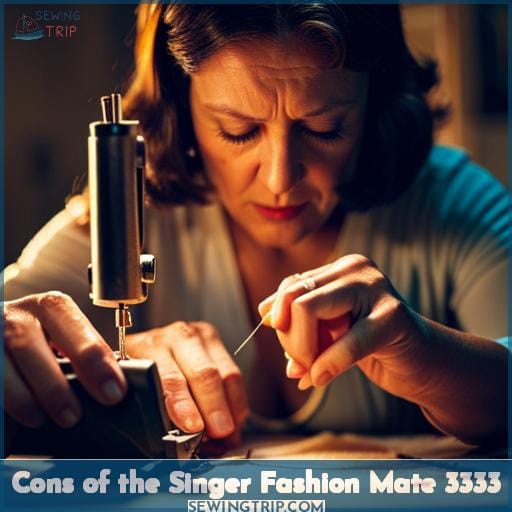 The Singer Fashion Mate struggles when working with multiple layers of thick fabrics. A flimsy foot pedal, confusing needle threader, lack of included manual, and poor customer service make this machine frustrating for some owners.
Struggles With Thick Fabrics
Struggles with thick fabrics, but you can work around this limitation. When sewing thick leather, wide denim, or heavy canvas, the 3333's motor may labor and its presser foot lift can max out. But creative sewers find solutions – swap the presser foot or use a darning plate.
Some report that the flimsy foot pedal struggles with thicker fabrics too. Yet overall, this budget machine can handle most medium-weight fabrics for crafts and garments with some thoughtful adjustments.
Flimsy Foot Pedal
You'd find the foot pedal quite flimsy when sewing with the 3333.
The weak foot pedal easily slides around, requiring a stabilizing base plate.
The thin pedal connection wire is prone to wear and tear over time.
When sewing tough fabrics, use added pressure protocol to prevent stalling.
Consider a foot control upgrade for smoother speed adjustments.
While a flimsy foot pedal may frustrate some users, simple solutions like stabilizing the pedal or upgrading to an aftermarket foot control can greatly improve the 3333's performance. With the right adjustments, you can achieve smooth sewing even on thick fabrics.
Confusing Needle Threader
Many folks find the needle threader on the 3333 tricky to use. Though touted as an automatic feature, the threader requires careful manipulation to catch the needle eye just right. If not lined up perfectly, the thin wire misses the mark. Users must finesse the threader repeatedly, adjusting minutely, until it finally slides into place.
This fiddly process disappoints those expecting effortless threading. But with practice, most can eventually master the threader. Reasonable price compensates for this minor inconvenience on an otherwise solid starter machine.
Lack of Manual and Poor Customer Service
You do not receive an English manual with your Singer 3333, so your only option for assistance is to contact their frustrating customer service. Without a manual, you have to navigate cryptic translations and missing setup details.
Each call to Singer customer service involves an average wait time of over 20 minutes, only to be told that your issue requires mailing it in for warranty repair. Their lack of support leaves you longing for the liberation that a proper manual could provide.
Owner Feedback on the Singer Fashion Mate 3333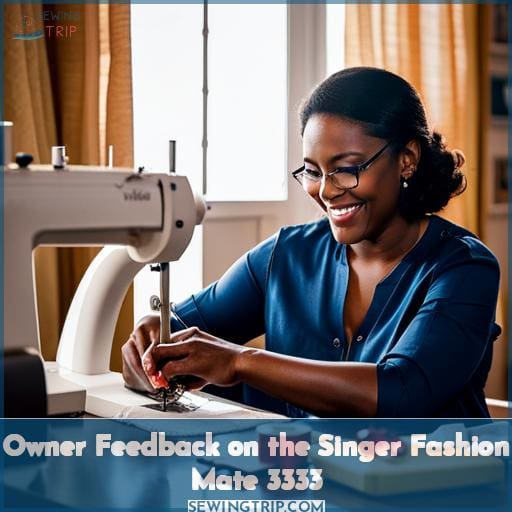 You'll find owners praising this machine for its smooth sewing and sturdy feel, although some report not receiving an English manual and experiencing issues such as thread jamming and features stopping working.
Despite a few concerns, reviews indicate that the 3333 provides reliable stitching for most sewing projects.
Praises for Smooth Sewing and Sturdy Feel
Owners praise the smooth sewing and sturdy feel of the 3333. Its sturdy metal frame provides consistent stitch quality as fabric feeds smoothly under the presser foot. The machine runs quietly, while the bright LED lights illuminate the work area well.
Operators find the 3333 easy to use with smooth sewing performance. Many feel its sturdy construction gives a quality fit for beginners and occasional sewists.
Many Owners Do Not Receive an English Manual
Try obtaining the English guide directly from Singer as many lack the handbook in their native language.
Contact Singer support to request a manual in your language.
Check the Singer website for downloadable manuals.
Join sewing groups to ask about alternate language options.
Many sewers must take extra steps to get instructions in a familiar tongue. This causes hassles, especially when first setting up. But with some persistence, you can likely track down the guidance needed to fully utilize your machine's potential.
Some Report Issues Such as Thread Jamming and Features Stopping
Unfortunately, durability concerns exist as some report thread jamming and features stopping work on the 3333. Without an English manual for guidance, sewers feel lost when bobbin jams abruptly halt projects with no path forward.
These frustrating breakdowns can leave sewers feeling powerless. Communicating issues effectively is key.
| Common Issues Reported | Possible Solutions |
| --- | --- |
| Thread jams | Clean/oil machine, check threading |
| Built-in stitches stop working | Contact Singer support |
| Thread spool cap breaks | Order replacement part |
| Features stop working | Request service from dealer |
| Bobbin jams | Check bobbin is inserted correctly |
Moving forward requires perseverance and resourcefulness to master the 3333.
Specifications and Details of the Singer Fashion Mate 3333

Welcome, savvy sewer! Details on the Singer Fashion Mate 3333 include a 25-year limited warranty on the machine head, 2 years on motors/electronics, and 90 days on attachments. Weighing only 13 lbs, it features a manual available in English, Spanish, and French; adjustable stitch length; drop-in bobbin; reverse lever; and a storage compartment for enhanced portability and functionality.
25. year Limited Warranty on Machine Head, 2 Years on Motors/electronics, and 90 Days on Attachments
The limited warranty covers defects in material and workmanship for 25 years on the sewing machine head, 2 years on motors and electronics, and 90 days on attachments.
The warranty covers manufacturing flaws, not normal wear and tear.
Owners can contact Singer support for issues.
Repair or replacement is offered if the defect is confirmed.
The 3333 provides reliable performance for most sewing projects. With 350-400 stitches per minute, it sews smoothly and has decent lighting. The warranty provides peace of mind, though some owners report issues getting support.
Weighs 16.3 Lbs
You'll easily lift this 16.3-pound machine to take sewing class or stitch sleeves, like David carrying his sling. Lightweight portability empowers on-the-go sewing mastery. Carry it anywhere with the convenient handle.
Though not the lightest, it won't weigh down your passion for liberation through stitching. This capable companion fits beginners to advanced. Accessorize your creativity. Value matches cost.
Manual Available in English, Spanish, and French
You can easily access the Singer Fashion Mate 3333 manual in English, Spanish, or French to guide you through setup, operations, maintenance, and troubleshooting.
Request a printed manual or use the PDF if it is provided digitally.
Check the Singer website for the latest manuals if yours is outdated.
Contact Singer support for help with ordering a manual if needed.
The multi-language 3333 manual ensures that instructions are accessible to many owners. To optimize your sewing machine experience, make use of manuals, tutorials, and videos.
Features Include Adjustable Stitch Length, Drop-in Bobbin, Reverse Lever, and Storage Compartment
Adjustable stitch length, drop-in bobbin, reverse lever, and storage compartment allow you to customize sewing projects. The Fashion Mate 3333's convenient features, such as adjustable stitch width and length dials, provide you with precision control for your stitching.
The quick reverse button makes reinforcing stitches easy. Onboard storage keeps accessories at your fingertips. The drop-in bobbin and built-in thread cutter facilitate speedy thread changes. Changeable presser feet handle various fabrics and techniques.
Frequently Asked Questions (FAQs)
What comes in the box with the Singer Fashion Mate 3333?
When unboxing the Singer Fashion Mate 3333, you'll find, like a gift from a fashion fairy, the machine unit, power cord, foot controller, accessory compartment, 4 presser feet, a pack of needles, thread spool caps, bobbins, a screwdriver, a seam ripper, a lint brush, and an edge guide.
How noisy is the Singer Fashion Mate 3333 when sewing?
You'll find the Singer Fashion Mate 3333 operates quietly at normal sewing speeds. Some owners report it makes more noise when pushed to maximum speed, but overall it earns praise for smooth, relatively quiet performance even when sewing multiple layers.
Does the Singer Fashion Mate 3333 sew leather or heavy canvas well?
The Singer Fashion Mate isn't ideal for sewing leather or heavy canvas. This lightweight machine struggles to drive thick fabrics through, leading to skipped stitches and thread jams.
How easy is it to service and find replacement parts for the Singer Fashion Mate 3333?
Finding parts can be tricky as rare as a hen's tooth since Singer no longer supports this model. You may have to scour the internet for used parts or pay a significant amount. It is best to take it to a repair shop that specializes in vintage Singers.
What is the maximum fabric thickness the Singer Fashion Mate 3333 can sew?
According to user reviews, the Singer Fashion Mate 3333 can handle most lightweight and medium-weight fabrics, but you'll want to avoid sewing multiple layers of heavy fabrics like denim.
Conclusion
You've weighed up the pros and cons and taken stock of owner experiences. All said, the Singer Fashion Mate 3333 is a decent option for intermediate sewers seeking a portable machine with basic functionality.
While it may struggle on thick fabrics and lack accessories, the 3333's smooth performance, LED lighting, and sturdy construction make it a worthwhile contender if you're after no-frills functionality on a budget.
Just be prepared to supplement the sparse manual and customer service. Reviews of the Singer 3333 buyers, take heed: this machine won't win prizes for bells and whistles, but it'll get the job done if that's what you're after.