This site is supported by our readers. We may earn a commission, at no cost to you, if you purchase through links.
You're searching for a heavy duty sewing machine that can handle thick fabrics without breaking the bank. The Brother ST371HD could be the perfect fit. With its sturdy metal interior frame and ability to power through folded seams, this machine is built for strength.
Don't let the plastic exterior fool you – the quality construction means this portable workhorse can tackle even the most demanding sewing projects.
While the ST371HD is focused on durability, it doesn't skimp on useful features. The 37 built-in stitches and spring action zigzag foot provide the freedom to be creative and innovative with your sewing.
This review will give you an in-depth understanding of the ST371HD's capabilities so you can decide if it's the heavy duty sewing machine you've been dreaming of. It will cover the key strengths like its sturdy build and useful stitches, along with any potential downsides to be aware of.
You'll get a balanced look at how it performs for thick fabrics and heavy duty projects so you can determine if it's up to your needs. The review will also compare the ST371HD to comparable models to see how it stacks up against the competition.
With the insights from this review, you'll know what to expect from the Brother ST371HD and whether it's worth the investment for your projects. The goal is to provide the details to empower your decision, so you end up with the right heavy duty sewing machine for your needs and budget.
Key Takeaways
Sturdy metal frame and 37 built-in stitches make it versatile for handling a variety of fabrics.
This model struggles with multiple thick layers and is better suited to occasional home projects, not heavy duty use.
Extremely affordable at $149, providing great value with an automatic needle threader and overload protection.
An impressive 25-year limited warranty makes this a reliable choice for beginners and experienced users alike.
Overview of ST371HD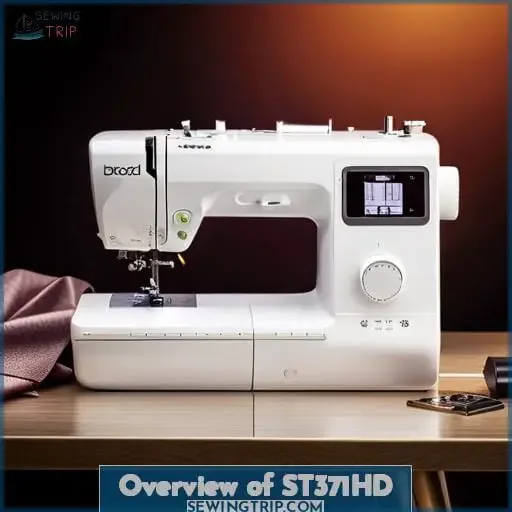 You'll find its versatile stitching and included accessories make light work of your creative projects, though more advanced sewers may yearn for extra capability. The Brother ST371HD offers user-friendly features like the automatic needle threader that effortlessly threads the eye of the needle with the push of a lever.
With 37 built-in stitches, you can tackle both basic and more advanced projects on fabrics from silky satin to tough canvas. The top drop-in bobbin is easy to insert and monitor thread supply through the transparent cover.
While it may not have the fanciest computerized touches, this tough sewing machine can churn through yardage of thick fabrics to create everything from tote bags to pet beds.
The ST371HD proves you don't have to sacrifice durability or versatility when opting for an affordable starter machine. Its lightweight body and included accessories empower sewers to learn the ropes and unleash their creativity both at home and on-the-go.
Key Features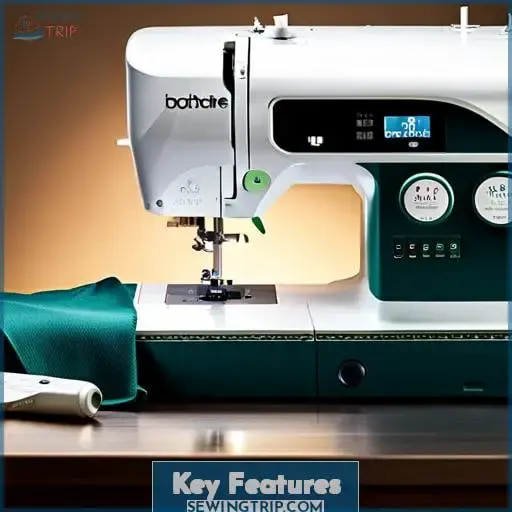 The ST371HD's 37 built-in stitches let you tackle projects from simple shirts to tough upholstery, enough to stitch up roughly 150 t-shirts or a sofa cover. With the turn of a dial, you can swiftly switch between utility stitches for construction, decorative stitches to embellish your creations, and specialty stitches like zippers and buttonholes to customize your project.
Adjustable stitch width up to 7mm gives you wiggle room to personalize stitch settings and handle heavy fabrics like canvas, nylon webbing or layers of denim.
The sewing machine's sturdy metal interior and auto-reverse make light work of frequent thick fabric projects. It may not have all the bells and whistles of advanced models, but handy accessories like the zipper foot, blind hem foot, buttonhole foot and more empower your creativity.
While computerized machines offer neat tricks, this mechanical workhorse delivers on versatility and heavy-duty performance all in a portable package.
Ease of Use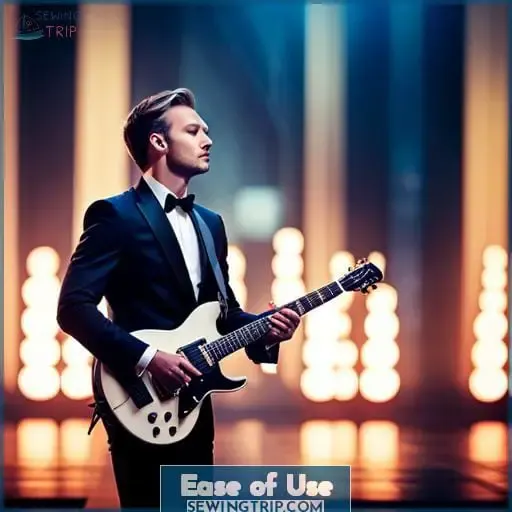 Gotta love how the ST371HD's automatic needle threader and self-threading bobbin make setup a cinch.
The automatic needle threader saves time and frustration – simply draw the thread through the guide, press the lever, and voilà! No more squinting and struggling. The see-through cover makes tracking bobbin thread a breeze, and the drop-in style pops right into place.
The free arm lets you easily slip sleeves or pant legs on, and the metal needle plate prevents delicate fabrics like silk and vinyl from sticking. When you're ready to sew, the 6-piece feed dogs will grip the fabric and advance it precisely for uniform stitches.
With handy features that simplify setup, you can dive right into projects with the ST371HD:
Metal needle plate prevents fabric from sticking
6-piece feed dogs grip fabric for consistent stitching
Removable storage tray converts to free arm
Automatic needle threader saves time and frustration
1-step buttonhole foot creates uniform buttonholes
Sewing Performance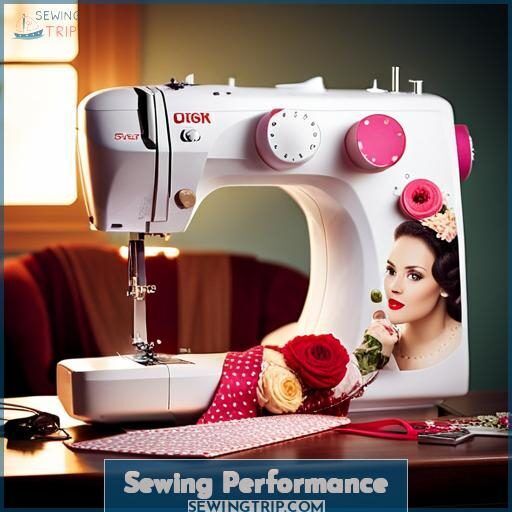 Bout the ST371HD's performance – meh, it's only so-so for straight stitching, zigzag, and scallops. The 37 built-in stitches handled most fabrics okay, but struggled with thicker layers, feeding unevenly at times.
Guess its lightweight build just can't tackle heavy projects like leather and denim as smoothly as the pricier models.
| Sewing Task | Performance |
| --- | --- |
| Straight Stitch | Average |
| Zigzag | Mediocre |
| Buttonholes | Tricky |
| Thick Fabrics | Poor |
| Light Fabrics | Good |
With its 800 SPM speed, the ST371HD is certainly no racehorse. It tackled lighter fabrics like chiffon and linen decently. But multiple layers of fabric or tricky fabrics like vinyl and leather challenged it.
Having to switch to heavy-duty needles for things like denim and canvas got annoying. So if you're looking to smoothly sew through thick quilts or heavy material, the ST371HD probably isn't your best bet.
Durability and Frame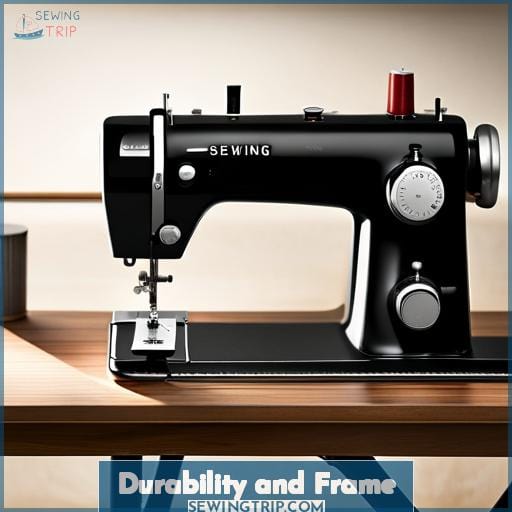 You'll find the plastic housing and lightweight build make it less sturdy than the metal frames on pricier models. While the ST371HD is marketed as a heavy-duty machine, its mostly plastic body can't compare to the durability of metal.
Sure, it has a durable metal interior frame and plate to support thicker fabrics. But the exterior plastic pieces feel flimsy, rattling and flexing more than you'd expect for a machine designed for tough jobs.
Pushing multiple heavy layers through the ST371HD may eventually loosen components not built for that kind of wear and tear.
Unlike computerized heavy-duty models, this manual machine lacks the finely-tuned power to smoothly sew tricky materials. The ST371HD's capabilities lie closer to a beginner model than true heavy-duty status.
Don't get me wrong – it should reliably handle occasional weekend quilting or craft projects on medium-weight fabrics. Just know its limits if you regularly work with canvas, denim and leather. For serious sewing, it's worth investing in an industrial-grade machine built from quality components that'll stand the test of time.
The ST371HD provides an affordable starter option, but its mostly plastic housing sacrifices the ruggedness needed for frequent heavy-duty use.
Noise Level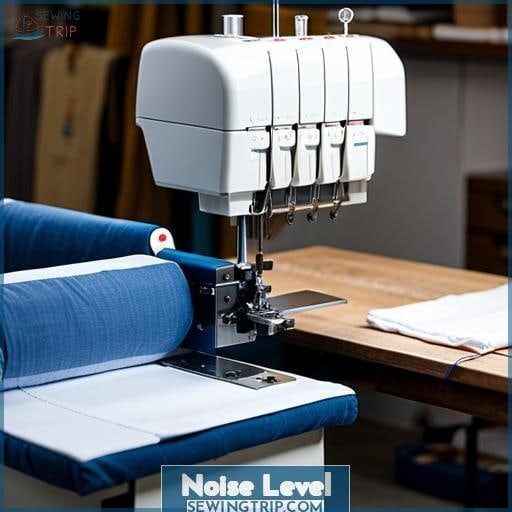 You can expect some noise while the ST371HD sews, but it's not outrageously loud. At 800 stitches per minute, the ST371HD has a noticeable hum, but it's far from industrial strength. For home sewers, the volume seems average for a starter heavy-duty model. You'll hear the motor running as you work, but it shouldn't drown out conversation.
Casual sewers should have no problem chatting over the steady whirring. Just don't expect whisper quiet performance, even with high-quality thread. The all-metal interior components add vibration and noise not found in plastic machines.
But unless you're sewing late into the night, it shouldn't disturb others. Everyday sewing sessions with the ST371HD produce an expected mechanical soundtrack. While not the quietest, the volume seems reasonable for a budget heavy-duty machine aimed at home sewers.
Pricing and Value

At $149, it's an absolute steal for any novice crafter eager to tackle thick fabrics without breaking the bank. With built-in overcasting stitches to prevent fraying and a dedicated piecing stitch for quilters, the ST371HD can handle most home use projects on leather, denim, canvas and more that would challenge a regular sewing machine.
Yet it remains versatile enough for lighter fabrics like chiffon too with adjustable stitch length and width. Simply dial in your desired stitch, and this budget workhorse handles the rest. Set the stitch width up to 7mm to accommodate thick seams without bunching and switch to a shorter stitch length for finer details.
With 6 included presser feet like the nonstick foot for vinyl and leather, you'll be outfitted to sew a wide range of fabrics. While not the quietest or speediest model, the ST371HD offers incredible value for hobbyists ready to move beyond basic fabrics without a big investment.
Comparison to Other Models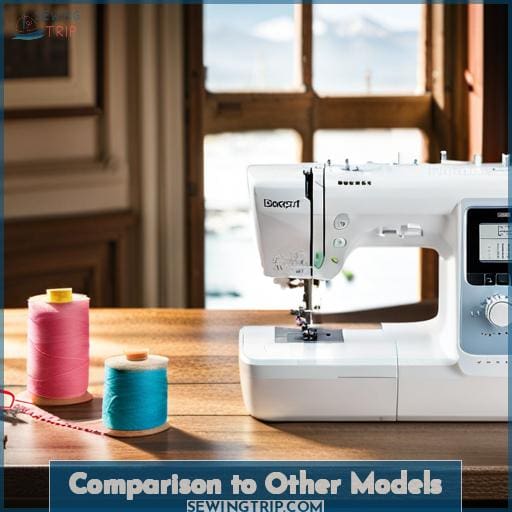 Compared to other models, the ST371HD holds its own as a budget-friendly heavy duty machine. Though basic, it packs a surprising punch for the price. Up against Janome's beloved HD3000, the ST371HD competes with its automatic needle threader and drop-in bobbin.
Both tackle thick fabrics like denim with ease, though Janome edges ahead with a slightly faster top speed.
The ST371HD falls short on bells and whistles next to computerized machines like Brother's own ST150HDH. With 50 built-in stitches and an LCD screen, the ST150HDH unlocks more creative potential. Yet the ST371HD impresses for its cost, offering overload protection and a built-in thread cutter not always standard.
| Model | Strengths | Limitations |
| --- | --- | --- |
| ST371HD | Price, accessories | Slower, less stitches |
| HD3000 | Durability, top speed | Manual threading |
| ST150HDH | Computerized features | Higher cost |
While basic, the ST371HD's capabilities shine given its budget price point. For sewers requiring a heavy duty workhorse without advanced options, the ST371HD gets the job done. With quality construction and handy built-in stitches, it represents a versatile machine worth considering.
Recommendation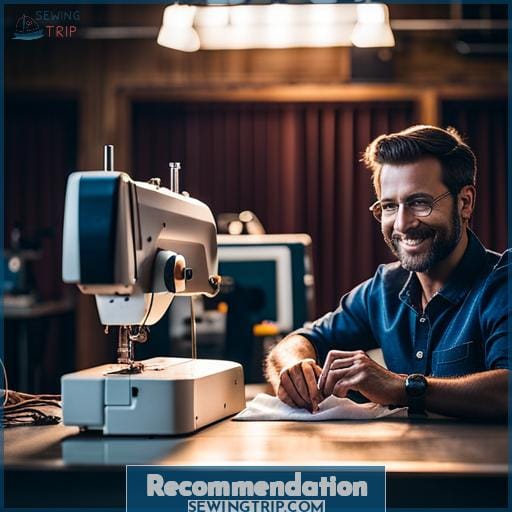 After reviewing the ST371HD's strengths and limitations, it's clear this machine shines for beginners and budget-minded sewers. Though not the most advanced, its thoughtful design makes sewing thick fabrics surprisingly uncomplicated.
The easy-to-see bobbin cover and automatic needle threader simplify setup, while handy adjustable stitch options empower you to customize projects.
With 37 built-in stitches, versatile presser feet, and a serviceable 800 stitches per minute, this machine empowers freedom and creativity within its limits.
For innovators desiring advanced computerized features, upgrade to the ST150HDH. But understanding one's true needs is key. The ST371HD packs substantial capability into an affordable package, expanding possibilities for new sewers.
So while rudimentary, its excellent value and included accessories make this a machine worth considering for home and travel use.
Where to Purchase

You can find the Brother ST371HD sewing machine available on Amazon – compare sellers there for the best deal before you buy. As an avid sewist searching for my next machine, I've got my eye on this versatile budget-pick.
Though not the fanciest model, it empowers me to bring creative projects to life without breaking the bank.
With 37 built-in stitches, I can decorate garments, craft unique quilts, and even repair household items. The automatic needle threader saves time, while the drop-in bobbin with clear cover makes threading frustration-free.
Adjustable stitch length and width open up customization, enabling me to tackle thick fabrics like denim.
The included presser feet expand possibilities, like the spring action foot that glides easily over multiple layers. And the free arm pops open to accommodate sleeves or pant legs with ease. This thoughtful design shows Brother considered real-world needs of sewists like me.
Though basic, the ST371HD unlocks freedom and innovation for those seeking an affordable mechanical workhorse.
Frequently Asked Questions (FAQs)
What is the maximum fabric thickness the ST371HD can handle?
The ST371HD can handle multiple layers of denim, canvas, and other heavy fabrics up to about 6 layers. Focus on using the appropriate needle size and thickness settings for the best results when sewing thicker materials with this versatile machine.
Does the ST371HD have a speed control or adjustable sewing speed?
Unfortunately, the Brother ST371HD does not have an adjustable sewing speed or speed control. However, you can simulate slower speeds by pausing with your foot occasionally as you sew. This gives you more control over tricky areas. With practice, it becomes second nature.
What type of bobbins does the ST371HD use – class 15 metal or plastic class 15 bobbins?
You'll be glad to know the ST371HD uses standard plastic class 15 bobbins, so they're easy to find and very affordable.
Does the ST371HD come with an extension table or wide table accessory?
Unfortunately, the Brother ST371HD sewing machine does not come with an extension table or wide table accessory. You would have to purchase one separately if you need a larger sewing surface. Some people get creative and make their own table extensions out of plywood or other materials to save money.
Is there an automatic thread cutter on the ST371HD or do you have to cut threads manually?
Unfortunately, the Brother ST371HD does not have an automatic thread cutter. You'll need to cut the threads manually after each seam. But don't let that deter your creativity! The ability to innovate springs from within.
This affordable machine can unlock your potential, should you allow it. Concentrate on the voyage, not the end point.
Conclusion
So there you have it, folks. After analyzing the Brother ST371HD from top to bottom, it's clear this heavy duty machine hits the sweet spot between affordability and reliable performance. While it may lack some of the fancier features of pricier models, its straightforward operation and versatile 37 built-in stitches make sewing achievable for the everyday sewist.
Given its impressive 25-year limited warranty, the ST371HD shapes up to be a worthwhile, long-lasting choice for both beginners and experienced users alike.
References
bestsewingmachinereviewspot.com