This site is supported by our readers. We may earn a commission, at no cost to you, if you purchase through links.
Ah, the age-old debate: computerized or mechanical sewing machines? If you're on the fence about which type is right for your projects and skill level, then don't worry—we've got you covered!
We have compiled a list of our top 5 picks for the best mechanical sewing machines for beginners. From Janome to Singer to Brother models, we'll show you what features make each one stand out from the rest so that you can find exactly what fits your needs.
With our expert advice and comprehensive reviews of all these great options at hand, finding the perfect machine doesn't need to be complicated.
5 Best Mechanical Sewing Machines for Beginners
When you're starting your sewing journey, having the right mechanical sewing machine can make all the difference. In this overview of the best mechanical sewing machines for beginners, we'll explore five top options that offer reliability, versatility, and the features you need to kickstart your creative projects: the Janome HD3000 Sewing Machine Kit, SINGER Heavy Duty Sewing Machine, Brother XM2701 Sewing Machine, Swiss Design Sewing Machine, and Consew Walking Foot Industrial Sewing Machine with Table and Servo Motor.
1. Janome HD3000 Sewing Machine Kit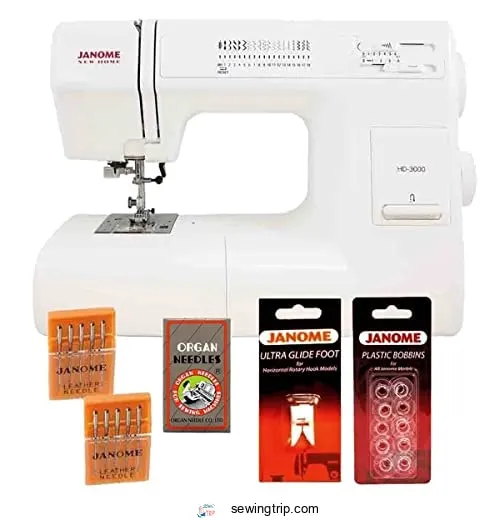 View On Amazon
If you're looking for a dependable sewing companion that offers versatility and reliability, the Janome HD3000 Sewing Machine Kit is an excellent choice to consider. This heavy-duty sewing machine is suitable for both beginners and experienced sewists, thanks to its robust construction and user-friendly features.
With 18 built-in stitches, including utility and decorative options, you'll have the flexibility to tackle various sewing projects, from clothing to heavy-duty tasks. The automatic needle threader and jam-proof top-loading bobbin system make threading a breeze, while the adjustable presser foot pressure ensures smooth stitching on different fabric thicknesses.
The machine's free arm capability is perfect for sewing pant legs and shirt sleeves, and it comes with a comprehensive set of accessories, including a hard case/cover, various feet, needles, and more. Its heavy-duty aluminum body guarantees durability, and it can achieve a maximum speed of 860 stitches per minute.
Robust and durable construction.
Versatile with 18 built-in stitches.
Easy threading with automatic needle threader.
Adjustable presser foot pressure for various fabrics.
Free arm capability for sewing cuffs and sleeves.
Comprehensive accessory kit included.
Maximum speed of 860 stitches per minute.
Mechanical stitch selection may feel clunky to some users.
No ability to shift the needle left, only right for stitch width adjustment.
Reverse stitch button located on the front, not near the needle.
2. SINGER Heavy Duty Sewing Machine
View On Amazon
Explore the features of the SINGER Heavy Duty Sewing Machine, a robust and versatile option for your sewing needs. This sewing machine boasts a heavy-duty metal frame that provides stability and durability, ensuring it can handle a wide range of sewing projects.
With 32 built-in stitches, including decorative, stretch, and utility stitches, you have plenty of options for customization. The adjustable stitch width allows you to fine-tune your stitches, and the machine's free arm design makes it easy to access cuffs, collars, and hems.
It also features an automatic needle threader for added convenience and a transparent bobbin compartment for easy thread monitoring.
Heavy-duty construction for stability and durability.
Wide range of 32 built-in stitches for versatility.
Adjustable stitch width for customization.
Free arm design for easy access to tight areas.
Automatic needle threader for convenience.
Transparent bobbin compartment for easy monitoring.
Suitable for heavy fabrics and household sewing projects.
Comes with a variety of accessories.
Some users experienced performance issues, possibly related to misuse or thick materials.
The manual could be clearer in its instructions.
No speed control feature for adjusting sewing speed.
3. Brother XM2701 Sewing Machine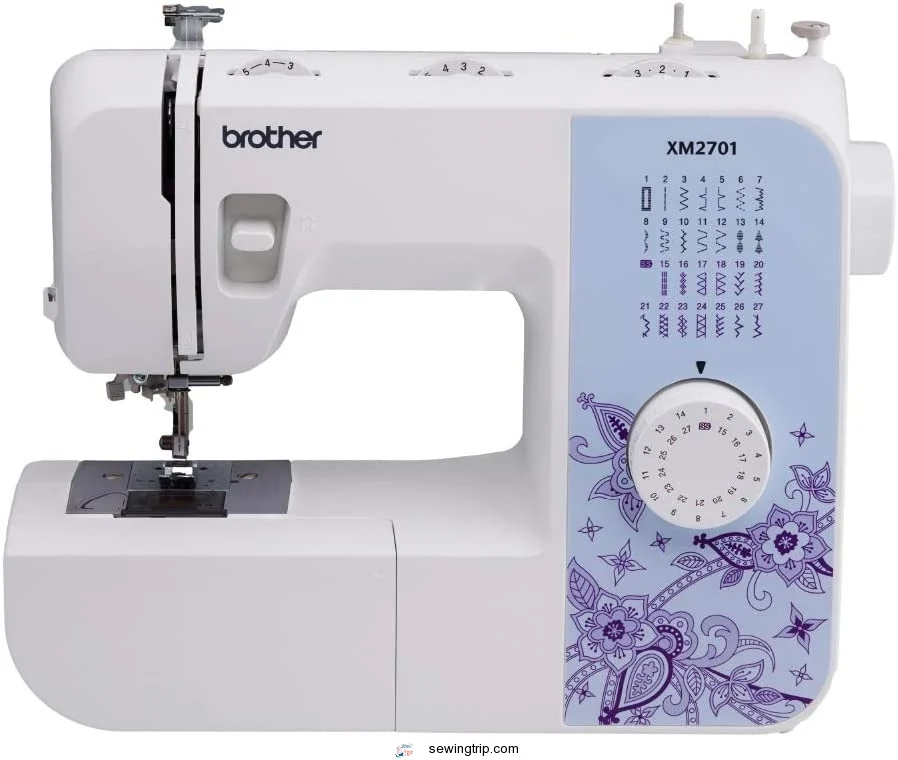 View On Amazon
When considering your sewing needs, the Brother XM2701 Sewing Machine offers versatility and ease of use for your creative projects. With its 27 built-in stitches and automatic features, this user-friendly machine is perfect for beginners and those looking to advance their sewing skills.
Versatile with 27 built-in stitches.
Automatic features like needle threading and one-step buttonhole.
User-friendly and suitable for beginners.
Comes with a range of accessories.
Reliable performance and durability.
Some users have reported issues with tension adjustment.
Limited stitch width on certain stitches.
May not handle very thick fabrics as well as heavy-duty machines.
4. Swiss Design Sewing Machine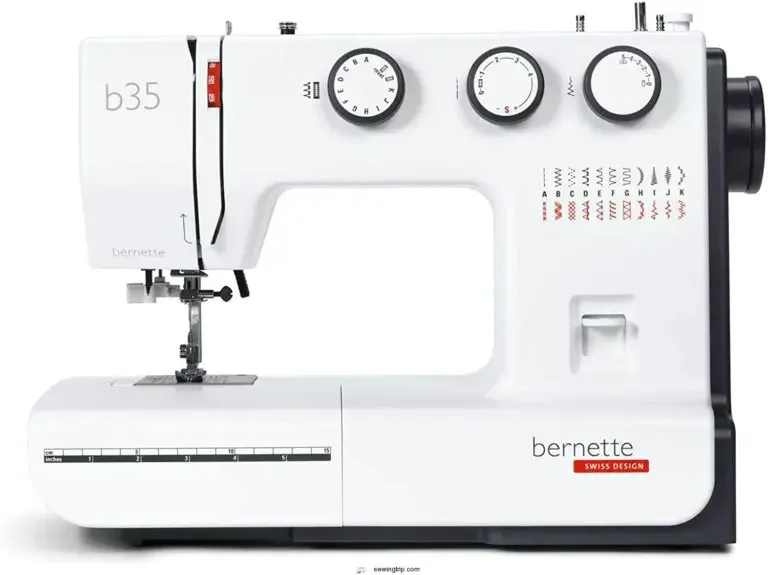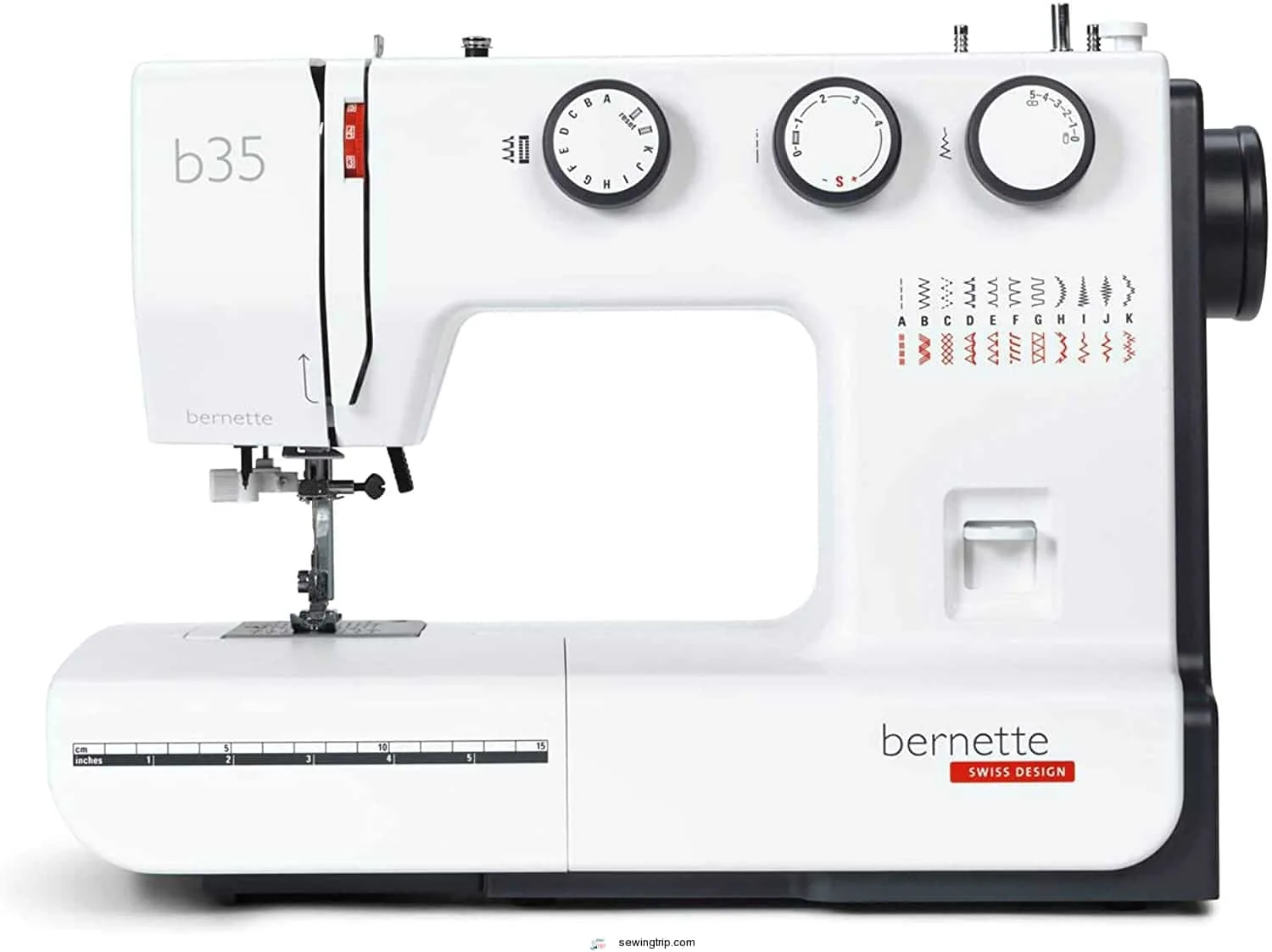 View On Amazon
Discover the Bernette Swiss Design Sewing Machine, a versatile option with 23 stitches and user-friendly features, offering both automatic and manual functionality to suit your creative needs. This mechanical sewing machine provides a range of utility and decorative stitches, allowing you to explore various sewing projects.
Its seven included presser feet, equipped with a stable presser foot shank, ensure precise and controlled sewing, while the automatic one-step buttonhole function simplifies buttonhole sewing. You'll appreciate the manual needle threader, thread cutter, and 2-step presser foot lift for tackling different fabrics effortlessly.
Crafted with durability in mind, this sewing machine is primarily constructed from metal, ensuring it can handle your sewing projects for years to come.
Versatile with 23 stitches for various sewing projects.
User-friendly design with automatic one-step buttonhole and manual features.
Durable metal construction for long-lasting performance.
Seven included presser feet for precise sewing control.
Suitable for beginners looking for both automatic and manual options.
Some users have reported durability issues, such as needle threader breakage.
Lacks a speed control feature, which may affect sewing pace.
Difficulty with multiple layers of fabric, requiring extra effort.
Limited stitch options compared to more advanced machines.
Mixed reviews on overall longevity and performance.
5. Consew Walking Foot Industrial Sewing Machine With Table and Servo Motor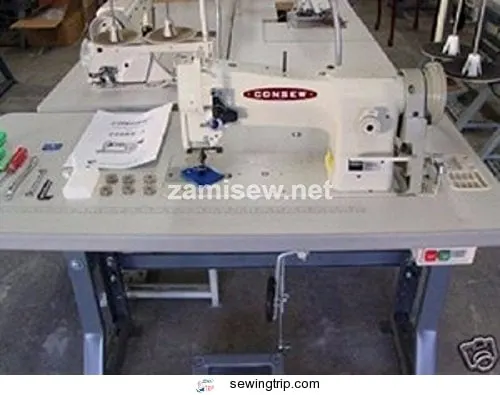 View On Amazon
Consider a robust, heavy-duty companion for your sewing needs, one that effortlessly conquers thick fabrics with its walking foot technology. The Consew Walking Foot Industrial Sewing Machine with Table and Servo Motor is a powerhouse designed to handle a variety of sewing tasks, from furniture upholstery to leatherwork and canvas projects.
Its triple feed mechanism ensures even material feeding, making it suitable for challenging projects. With features like an extra-long maximum stitch length of 10mm, high foot lift of 9/16 inches (14mm), and a large bobbin, this machine offers both power and versatility.
The included sewing table and servo motor add convenience, while centralized arm lubrication and a safety clutch enhance functionality.
Industrial quality and power for heavy fabrics.
Triple feed mechanism ensures even material feeding.
Adjustable height for different fabric types.
Extra-long maximum stitch length.
Comes with a sewing table and servo motor.
Centralized arm lubrication for smooth operation.
Suitable for furniture upholstery, leather, and more.
Lack of setup instructions may pose challenges for beginners.
Some users have reported difficulties with table assembly and machine fit.
Missing screws for the belt guard have been noted.
New motor is smaller but powerful.
Consideration to buy a brushless motor for enhanced performance.
What is a Mechanical Sewing Machine?

Explore the world of mechanical sewing machines – they offer a hands-on experience that many find satisfying and enjoyable. Mechanical sewing machines are a fantastic choice for beginners diving into the art of sewing.
They provide a tangible connection to the craft, allowing you to control every stitch with precision.
Unlike their computerized counterparts, mechanical sewing machines rely on manual adjustments, giving you a deeper understanding of sewing techniques. These machines are not only great for learning the basics but also for honing your skills.
You'll become adept at adjusting stitch length and width, mastering straight and zigzag stitches, and creating beautiful buttonholes.
As you embark on your sewing journey, consider investing in essential sewing accessories like seam rippers, fabric scissors, and rotary cutters to enhance your sewing projects.
Maintenance is straightforward with mechanical sewing machines, making them a reliable choice for the long haul. Regular cleaning and oiling are all that's needed to keep them running smoothly. Whether you're stitching garments, quilting, or tackling various sewing projects, mechanical sewing machines offer a satisfying and empowering experience for beginners and seasoned sewists alike.
The Best Features to Look for in a Mechanical Sewing Machine

When choosing a mechanical sewing machine, you'll want to prioritize certain features for a seamless sewing experience. Look for machines that offer a variety of stitches, allowing for customization in your projects, as well as adjustable stitch length and width for precise control.
Additionally, consider machines equipped with LED lighting to enhance visibility, ensuring your sewing work is accurate and effortless.
Stitch variety for customization.
When choosing a mechanical sewing machine, you'll want to focus on the variety of stitches available, allowing you to unleash your creativity and tailor your projects to perfection.
Stitch Variety: Look for machines with a range of stitches, including straight, zigzag, buttonhole, blind hem, and stretch stitches.

Thread Tension: Ensure the machine offers adjustable thread tension for different fabrics.

Fabric Compatibility: Check if the machine is suitable for the types of fabric you plan to work with.

Needle Types: Some machines accommodate various needle types for specialized sewing techniques.

Sewing Techniques: Consider your sewing style and the techniques you want to explore with the available stitch variety.
Selecting a mechanical sewing machine with these features will empower you to master your sewing projects with precision and control.
Adjustable stitch length and width.
You'll appreciate adjustable stitch length and width for customizing your projects. With a mechanical sewing machine, you can tailor stitches to your specific needs. Adjustable stitch length lets you set the exact length of stitches for different fabrics and techniques.
Adjustable stitch width allows you to widen or narrow zigzag stitches for various effects. Fine-tune the stitch size on mechanical machines by simply turning dials or knobs. Custom stitch sizing gives you more creative control when sewing, perfect for beginner to intermediate skill levels.
Experiment to find the ideal stitch length and width for each new project with these mechanical sewing machine features.
LED lighting for visibility
Bring excellent visibility to your sewing space with LED lighting on your mechanical machine. The brightly lit sewing area allows you to see stitches and fabric details clearly. LED bulbs last longer than traditional bulbs and stay cool to the touch. Proper lighting prevents eye strain, mistakes, and injuries.
With a well-lit workspace, you can sew accurately and comfortably for hours on end.
How to Choose the Right Mechanical Sewing Machine for Your Needs

When shopping for your first mechanical sewing machine, prioritize key features like an automatic needle threader and easy bobbin winding to ensure a beginner-friendly experience. Though computerized models offer more bells and whistles, quality mechanical options like the Singer MX231 can be quite capable yet budget-friendly at under $200.
Key features for beginners
Focus on adjustable stitch length and width to customize your projects as you gain experience. When buying a mechanical sewing machine for a beginner, pay close attention to certain key features that provide the flexibility and functionality needed.
Adjustable Stitch Length and Width: Allows you to customize stitch size for different fabrics and techniques.
Built-in Stitches: Gives you options for utility stitches, decorative stitches, buttonholes, and more.
Reverse Stitch lever: Makes backstitching easy for reinforcing seams.
Free Arm: Allows easier sewing of sleeves, cuffs, pant legs, and other tubular items.
Top Loading Bobbin: Makes winding and monitoring thread supply simple.
Equipped with these essentials, you'll have a versatile companion as you embark on your sewing journey. Master the fundamentals, explore your creativity, and let your mechanical machine support your growth every step of the way.
Mechanical vs. computerized
With a mechanical sewing machine, you are the conductor directing the orchestra of stitches, whereas computerized machines handle the technical work behind the scenes. Mechanical machines offer simplicity, durability, and reliability due to their straightforward mechanics and limited components.
While computerized machines provide more built-in stitches and features, mechanical models focus on high-quality basics ideal for mastering fundamental techniques and gaining sewing confidence as a beginner.
Best options under $200
Dive into the Singer SM024 and Janome Arctic Crystal if you're seeking quality mechanical sewing machines under $200.
Stitch selection
Ease of use
Durability and warranty
Brand reputation
Customer reviews

Weighing the pros and cons of budget models helps you make an informed purchase for your sewing needs.
Are Mechanical Sewing Machines Easier to Use Than Computerized Versions?

Have you ever wondered if mechanical sewing machines are simpler to operate than computerized models? When selecting between mechanical and computerized sewing machines, ease of use is a key consideration.
For many beginners, mechanical sewing machines offer a more approachable user experience. Their basic controls and limited features allow new sewists to grasp the fundamentals without feeling overwhelmed.
Mechanical sewing machines provide direct dial control over stitch selection and length, enabling you to easily set and adjust stitches. Their simple interfaces focus on manual operation, giving you full hands-on control.
Without complex digital displays and advanced features, mechanical machines have a shorter learning curve. However, computerized sewing machines offer their own advantages, like automatic settings, preset stitches, and programming capabilities.
If you're seeking simplicity, mechanical sewing machines allow you to gradually gain skills without advanced functions getting in the way. But computerized models provide helpful automation once you're ready to expand your sewing horizons.
How to Shop for a Home Sewing Machine

Browse local dealers and online retailers when shopping for a home sewing machine that aligns with your creative goals.
Narrow your options by thinking through key criteria:
Prioritize utility stitches like straight, zigzag, buttonhole for stitch selection.
Look for intuitive dials and settings for user-friendly controls.
Opt for metal frames over plastic for durability.
Include all-purpose, zipper, buttonhole, hemmer feet for presser feet.
Prefer drop-in for simplicity in the bobbin system.
Trust top names like Janome, Singer, Brother for brand reputation.
Quality beginner models run $150-$350 for cost.
Compare features between new and used models in your price range. Test drive display models at local sewing machine dealers to get a feel for the controls. Check manufacturer websites for technical specs. Read buyer reviews on sites like Amazon for candid feedback.
Once you've selected the best sewing machine for your needs, watch tutorial videos to learn how to thread, wind bobbins, and start sewing.
What to Look for in a Sewing Machine

Maintaining your sewing machine's performance relies on understanding its key features. For beginners, start with a mechanical sewing machine offering essential functionality at an affordable price point.
Focus on models with a top drop-in bobbin for easier threading and monitoring, adjustable stitch length and width for customization, and built-in utility stitches like straight, zigzag, blind hem, and buttonhole.
Consider user-friendly additions like an automatic needle threader, needle up/down feature, and LED lighting for visibility. Seek out metal frames and gears for durability, along with multiple presser feet to handle different fabrics.
When comparing brands, Singer, Brother, and Janome are recommended for beginners, praised for simplicity and reliability.
With practice and patience, the ideal mechanical sewing machine will support your creative sewing endeavors. Ultimately, the best machines offer versatility for projects, dependable performance, and intuitive operation.
Keep this beginner's guide in mind, and happy sewing!
Where to Buy Your First Sewing Machine

Hit up estate sales for vintage Singer gems after checking out Facebook Marketplace locally. Nearby dealers have access to older machines, so buy from people willing to show how they work before purchase.
Online shops offer convenient browsing and buying, but beware of shipping costs. Budget-friendly options exist secondhand if patient. Follow sewing influencers sharing finds in your city.
Mechanical workhorses like Janome and Singer regularly surface on resale apps. Test appliances thoroughly before leaving with them. Examine tension, switch speeds, and stitches. An all-metal interior withstands learning curves.
Sturdy machines motoring decades ease frustration. Vintage models charm, but confirm the availability of replacement parts and manuals.
Local shops happily service and advise new hobbyists. Establish rapport by visiting often before making big investments. Buying locally means getting help transitioning skill levels with demos and troubleshooting guidance.
Conclusion
It's undeniable that sewing can be a rewarding and creative pursuit, and with the right machine, you can take your projects to the next level. If you're a beginner, a mechanical sewing machine is a great place to start. Luckily, there are plenty of excellent mechanical machines to choose from, all of which offer different features.
The Janome HD3000 Sewing Machine Kit, SINGER Heavy Duty Sewing Machine, Brother XM2701 Sewing Machine, Swiss Design Sewing Machine, and Consew Walking Foot Industrial Sewing Machine with Table and Servo Motor are all excellent options for those just starting out.
Make sure to consider your needs and budget before making a purchase, and remember, practice makes perfect! With the right machine, you can make your sewing dreams a reality.