This site is supported by our readers. We may earn a commission, at no cost to you, if you purchase through links.
Everewn may not be as big of a name as some other companies yet, but it feels like it will only be a matter of time.
Realizing that every sewer needs something different, they and continue to improve their own machines.
The Everewn Charlotte 70-titch Computerized ewing Machine is a sewing machine that impresses with its captivating exterior.
Getting up to 650 stitches per minute with 70 built-in stitches is no small feat, but this brave girl is up to the challenge. It really shines with its hands-on approach to crafting, adapting from a sewing machine to a quilting machine and then back to an embroidery machine.
With all this versatility, is there a catch? Or is the Everewn Charlotte really as good as it sounds?
We have all the details about this girl, so read on to find out how it compares to the best machines.
Everewn Charlotte ewing Machine: The Details
The Look
The Everewn Charlotte gives a fresh look at the table by breaking with the mold and instead looks memorable and nostalgic.
The light blue color combines well with the white, keeping everything legible and fashionable.
The Everewn bird logo at the top left and the'Charlotte'nominator at the bottom right show which sewing machine you are working with.
Don't by his weight; this little machine is powerful, but hides it under a chic exterior. Once this sewing machine makes its way into your sewing room, it will surely be one eye-catchers.
pecs
Weight: 5 pounds
Dimensions: 5 x 7 x 11 inches
titches: 70 built-in stitches and 1 one-step buttonhole
peed: 650 stitches per minute
Computerized / Mechanic: Computerized
Bobbin: Drop-in bobbin
Accessories
Everewn has launched their Charlotte to the market with the idea that even novice seamstresses should be able to pull out all the stops.
These included accessories contain everything the novice seamstress could want and take this sewing machine to a new level.
1 all purpose foot
1 zip r foot
1 buttonhole foot
1 overcasting foot
1 blind hem foot
1 satin stitch foot
1 button presser foot
3 bobbins
1 large bobbin holder
1 small bobbin holder
1 spool pin felt
econd pool Pin
Large mall crewdriver et
Edge / Quilting Guide
Brush / eam Ripper
3 Machine Needles
Everewn: The Company
Based in Chicago, Everewn is a relatively new player in the market.
Their major focus is on providing a range of sewing machines that make sewing accessible and fun for beginners, and giving our world all the creative options they need.
Their mission was to keep the crafting world alive with creativity from the start. Knowing they have to compete with big and established names, Everewn has taken a bold path to achieve their goal.
Rather than sticking to a tried-and-true formula, they keep their finger on the pulse and their ear to the ground, listening to what is going on in today's world. By doing this, they have a good idea of what their customers want in their next machine, rather than focusing on what was the norm in the past.
Their We can also find focus on the future in their parrow line, a series of sewing machines specifically aimed at children and young adults.
Those who learned young will become stars when they get older, and Everewn is happy to provide a new generation with all the tools they need.
Features
Automatic Needle Threader
Needle, needle in my hand, why isn't your eye bigger?
Everyone has had a needle at least once, and it's not a straightforward task. Even the largest needles may require a second or third try before you can get started.
Automatic needle threaders take the hassle out and get you started much faster than ever. manually.
Everewn knows this is a great time (and frustration) saved, so they have incorporated the automatic needle threader into their design to make our lives easier.
Insert Bobbin
etting up your bobbin falls into the same category as threading a needle; it has to be done, but it will always be a chore.
Drop-in spools take this chore away, leaving you more time for really fun stuff. the transparent cover you can always monitor how much thread you have left.
70 built-in stitches
Few people can sneeze at 70 stitches waiting to be used to become.
Whether it's embroidery or functional sewing, these built-in stitches can handle it all.
titch Library
With so many stitches available, it is necessary to keep track of your options.
The included pull-out stitch library helps you find the location of your favorite stitch and can serve as inspiration if you are not sure what your next project should include.
Feed Dog Drop
Want to turn that sewing machine into a quilting machine with no hassle?
By lowering the conveyor, you do so with a simple wrist movement.
o whether you're passionate about sewing, embroidery, quilting or all three, the Everewn Charlotte has you covered.
Automated panel
The LED screen on the Everewn Charlotte ewing Machine may not be grandiose, but it is certainly functional.
From this panel, users can easily select and maintain stitch patterns – all at the touch of a button.
Everewn Charlotte ewing Machine Review
The Positives
Versatility
When looking for a sewing machine, we want to make sure it's not just a one-trick pony.
Those who plan to get serious about their sewing will want to invest in a machine that has more to offer than a simple stitch.
With the option to lower your conveyor, change your Everewn Charlotte Computerized ewing Machine to a quilting and embroidery machine in no time.
Robust
Accidents happen, even for the most handy of us. ave yourself the first time you have to buy a new machine and check how durable your sewing kit is.
The Everewn sewing machines with a durable frame, and every part . Truly a machine built to last.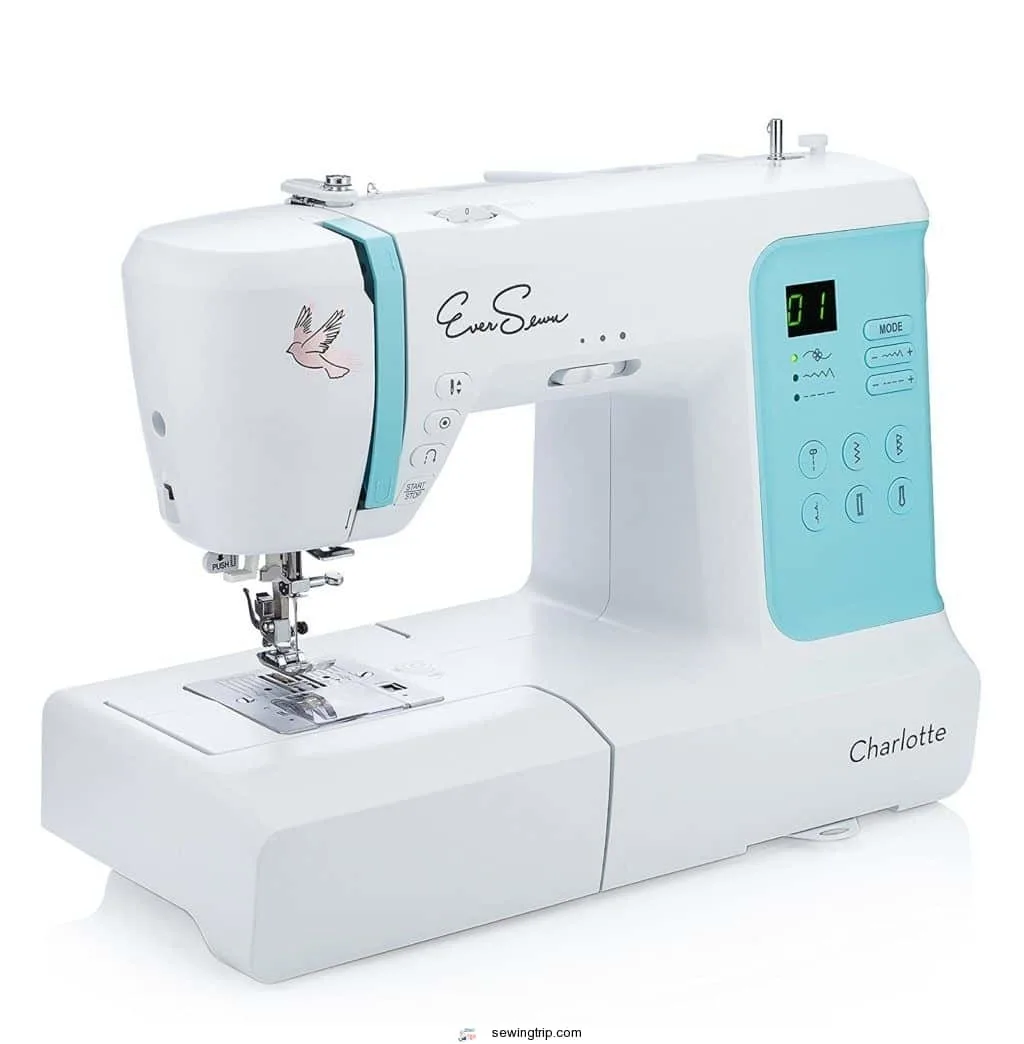 Price
If you are just sewing, you shouldn't want to waste all your money on a machine that you will never use it again – especially if it doesn't work out.
Not only is the Everewn Charlotte priced specifically for beginners, it also offers so many features that you won't need to upgrade or buy a more advanced machine for years to come.
Heavy Duty with no issues
0
If you're a jeans lover, you want to make sure you sewing machine can handle this task.
While the design is absolutely cute and small; the interior . jHdjCnaJm3MMzwpLxhwaaeM3Ls2mRAcrHJUOAtp1MtfaaLCFgng1FbfOMjNFAiUeZ to last and perform well during your wildest sewing dreams.
Treat your machine with care, and he will take care of you in return.
o don't be afraid to try out some of the'heavier'projects.
Well-written Manual
Do we consider a well-written manual a positive point? Yes of course.
A clear guide means you ask less others for help, more time to get to work and really enjoy it. sew your heart out.
This is especially important for beginners, or those purchasing this as their very first machine. It can daunt when you can't even set up your machine before starting your project.
Portable and lightweight
For such a strong built, sturdy machine, the Everewn Charlotte is handily lightweight, weighing in at 16.5 pounds.
This makes it easy to move, travel and take to classes, with no relocation team to assist you.
The size of this sewing machine means it won't take up too much space in your craft room, or wherever you want to place it.
If a permanent space isn't ideal, it's compact enough to store in closets or cupboards and there's no hassle taking it out when you're ready to tackle a new project.
No foot pedal needed
The start / stop button and speed controls are on the front of your machine, eliminating the need for a foot control and making sewing more intuitive.
tyle
While the style of a machine is usually the least of a seamstress's concern, it is nice have a machine that you can show off.
The light blue and white design, along with the illustrated bird, is attractive and cute enough that you'll love having it in your craft room anytime!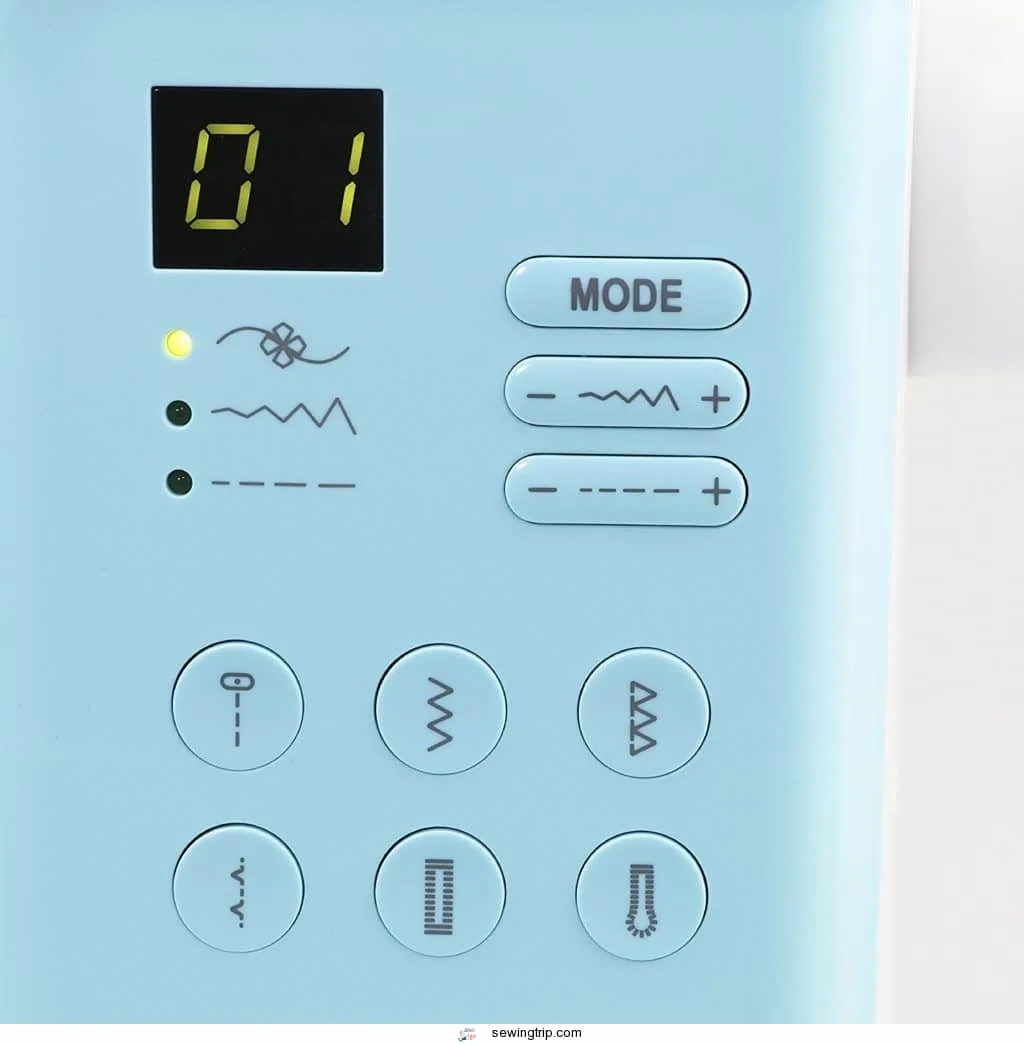 The negatives
Wonky Needle Threader
The automatic needle threader is a boon, but some people just never get it. Don't worry if it doesn't come your way right away.
Until it clicks, you can also easily thread the needle by hand.
Overall Opinion
Everewn y9n1r7LJwr4 to making sewing more accessible, for young children and teens and for people who have to sew in a distant past.
Recommend this sewing machine to the ambitious beginner on a budget is easy to do.
We would also extend this recommendation to more advanced users looking to replace older machines, although they should think about where their passion lies before moving on to a new machine.
Overall, the Everewn Charlotte Computerized ewing Machine a well-built beginner machine, brought to the market by a refreshing new player.
We look forward to seeing more.
Where to buy the Everewn Charlotte computerized sewing machine
While Everewn is still a new name on the market, which competes with well-known brands who have been in the sewing game for a lifetime, their sewing machines have proven to be a solid option.
The Everewn Charlotte has received rave reviews for its performance from both beginners and advanced users, making this a machine that is growing in popularity and with promise.
The Everewn Charlotte Computerized ewing Machine is all the rage online but can be tricky to find in the store.
To get started, check out the following online retailers.
And of course it's also available on Amazon.

---
That's it for our review on the Everewn Charlotte too computerized sewing machine. Curious to give it a try?
For more reviews, visit our complete machine rating archives.