This site is supported by our readers. We may earn a commission, at no cost to you, if you purchase through links.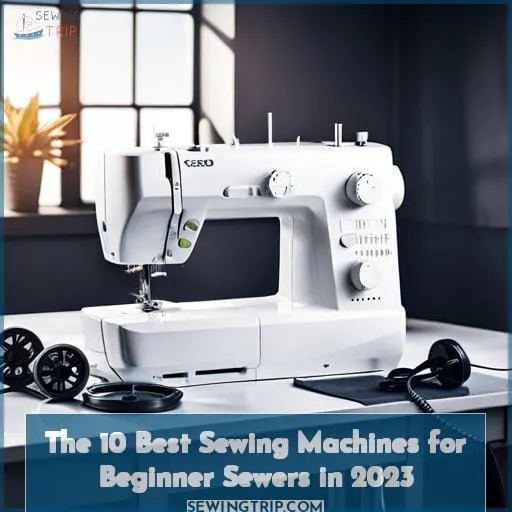 Whether you're looking to make clothes, crafts or home decor, starting with the right machine is crucial. I'll outline the key features to look for, compare mechanical and computerized machines, suggest budget-friendly options, provide must-have accessory recommendations, and share tips to get you up and running.
By the end, you'll have the knowledge to confidently choose a sewing machine you'll love learning on.
With so many options out there it can be downright confusing trying to pick the right one. Rest assured, you've come to the right place! With over 20 years of sewing experience, I'm going to walk you through everything you need to know to find the perfect beginner sewing machine.
You've got the itch to start sewing and want to buy a machine, but don't know where to start.
Key Takeaways
Mechanical sewing machines are simpler to operate and maintain, while computerized models offer more advanced features.
Entry-level mechanical sewing machines can be purchased for under $200, while computerized models start around $300.
Look for essential features like adjustable stitch length and width, a top drop-in bobbin, and easy threading capability in a beginner sewing machine.
Select a model with a few built-in stitches to handle basic sewing tasks. As a beginner, you likely do not need hundreds of decorative stitches right away.
Beginner Sewing Machine Guide
Here are some options when buying your first sewing machine! Lightweight mechanical models are perfect for learning, while computerized machines packed with features suit those with bigger budgets. Consider options like the Bernette 35 Design, a lightweight model good for beginners; the heavy-duty Consew 206RB-5 walking foot machine, ideal for thick fabrics; Janome's 50 stitch computerized model with lots of decorative options; and more.
With the right information, you'll find the perfect starter sewing machine to commence your sewing journey.
Bernette 35 Design Sewing Machine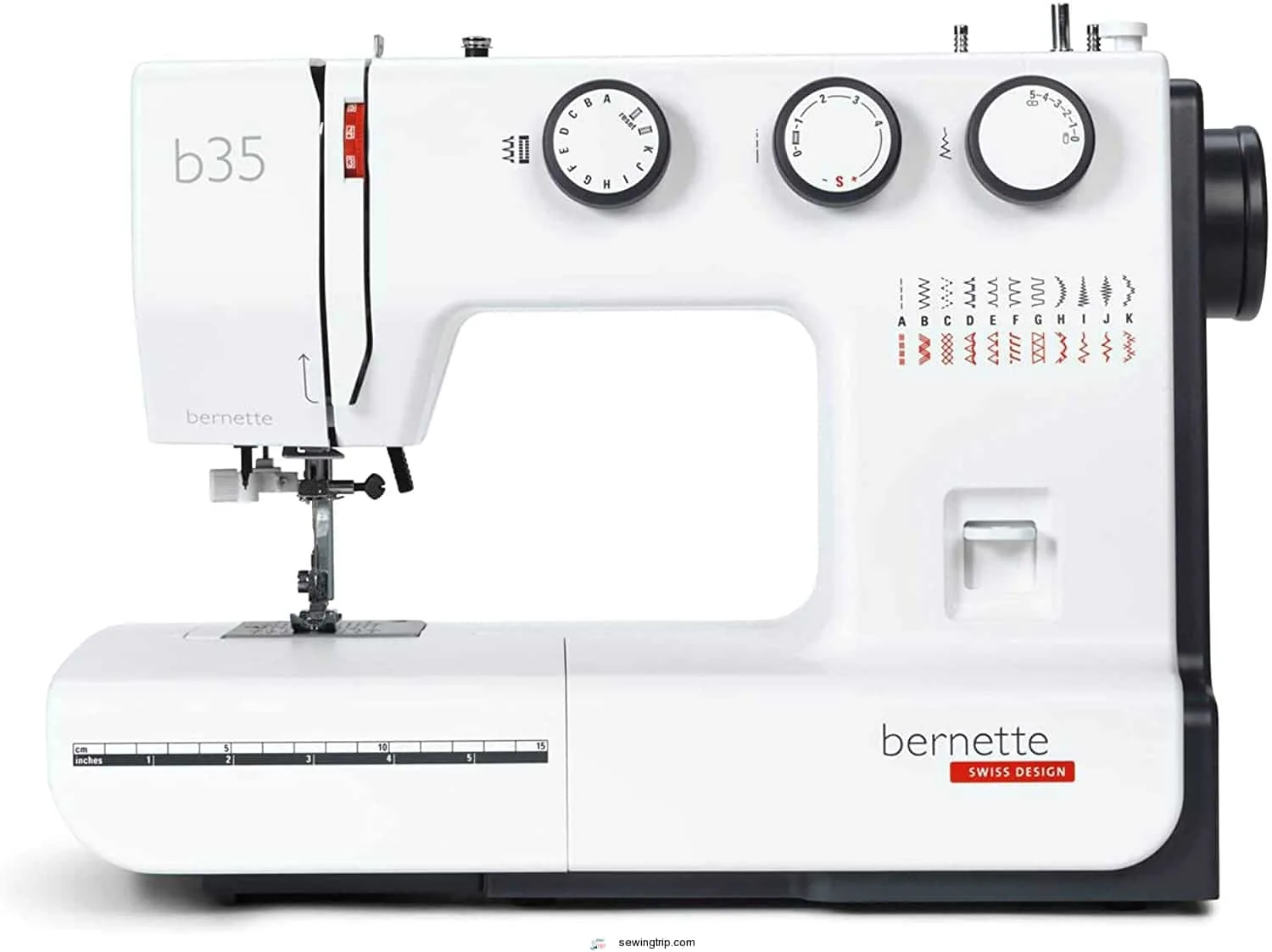 View On Amazon
You'll find the lightweight Bernette B35SML a handy little helper for tackling your introductory sewing projects, though its temperamental needle threader may leave you in knots. This 23 stitch mechanical machine is simple to operate with knob selections, adjustable tension, and a 1-step buttonhole.
The compact size and 2-step presser foot lift add convenience for basic sewing needs. With piercing power for multiple fabrics, it can grow with you. However, consistency issues have been reported, so exercise care and patience as you learn.
Lightweight and portable
Easy to use controls
Good for beginners
Affordable price
Mixed reliability reviews
Needle threader prone to breakage
Limited feature set
Heavy Duty Gray Sewing Machine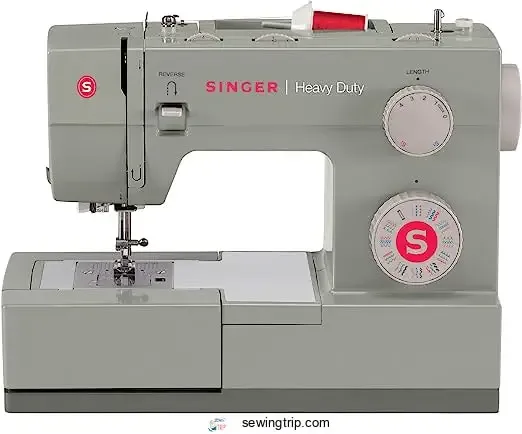 View On Amazon
As an aspiring sewer, this heavy duty workhorse can tackle your toughest projects with its robust 1,100 stitches per minute and 25-year warranty. Get ready to unleash your creativity on heavy fabrics like denim and leather thanks to its high piercing power and adjustable presser foot pressure.
The built-in needle threader and LED lighting make operation smooth and frustration-free. You'll have plenty of space for quilting queen-sized blankets or stitching drapes with the included extension table.
With sturdy metal insides, multiple presser feet, and easy reverse stitching, this machine empowers sewers of all levels to bring any vision to life.
Powerful motor for thick fabrics
Large workspace
User-friendly features
Long-lasting durability
Versatile presser feet included
Could be heavy for some to move
Higher price point
May need adjustments out of box
Brother Sewing Machine XR3774, 37 Stitches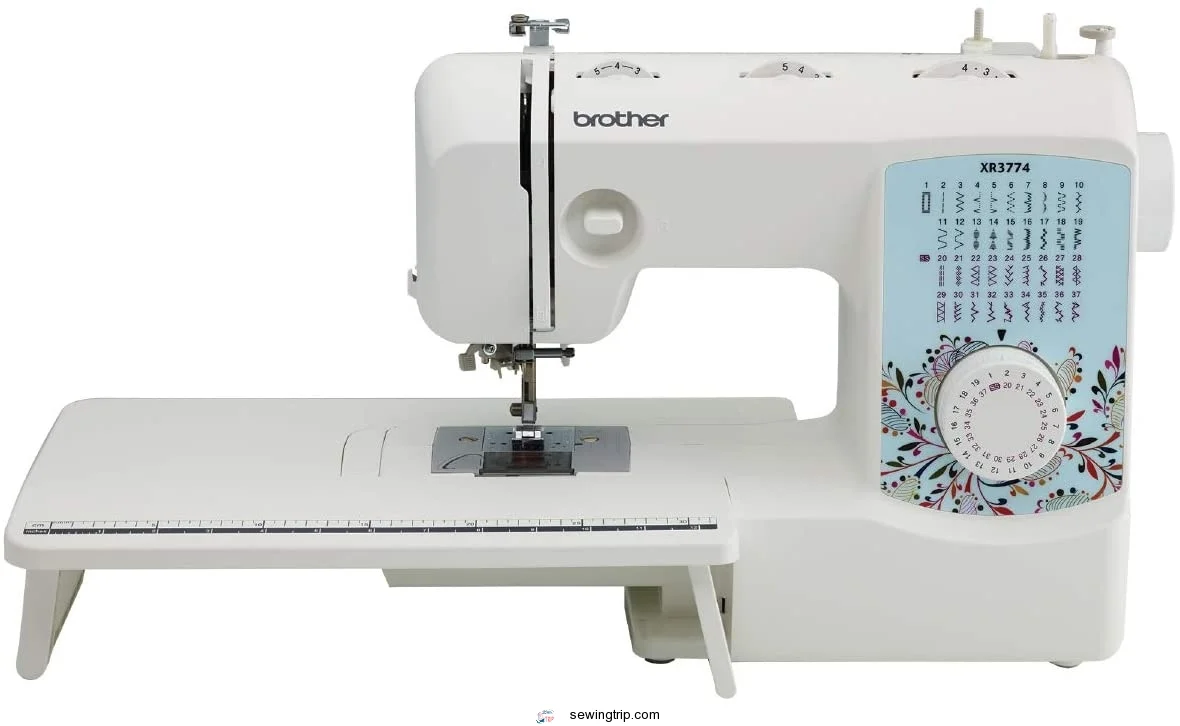 View On Amazon
This versatile Brother offers 37 stitches to unleash your creativity on any project. As your sewing skills progress, this machine grows with you. It glides from basic straight stitching to decorative patterns to empower your wildest visions.
The automatic needle threader saves frustration, while the free arm gives you full access to easily hem pant legs and sleeves. Its lightweight body belies the heavy-duty metal insides built to last through years of fashion endeavors and crafting experiments.
You'll find handy accessories like a DVD tutorial, 8 presser feet, and a wide quilting table. With the Brother XR3774, you are fully equipped to see any design from thought to finished product.
Smooth automatic features
Sturdy long-lasting construction
Useful included accessories
Easy to operate for all skill levels
Lower stitch count than computerized machines
Limited to household use voltage
May need adjustments initially
Consew 206RB-5 Industrial Walking Foot Sewing Machine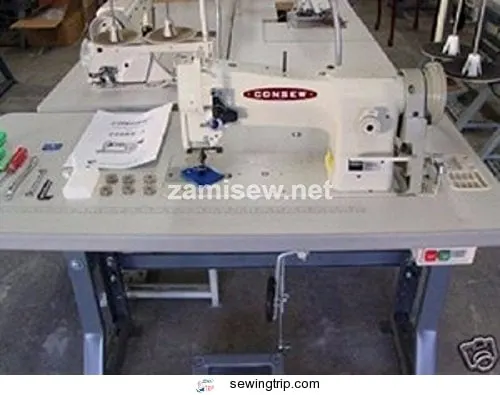 View On Amazon
After learning basics on smaller machines, advance your skills with the heavy-duty 200 lb Consew for upholstery, leatherwork, auto, marine, and canvas projects. The triple feed walking foot ensures even fabric feeding as you tackle heavy materials.
With centralized arm lubrication, a safety clutch, and interchangeable feet and needles, this machine is built for smooth operation on big projects. While initial adjustments may be needed, this sturdy workhorse has the power to confidently sew straight through multiple layers of leather, vinyl, and canvas.
Heavy-duty for thick fabrics
Triple feed walking foot
Centralized arm lubrication
Safety clutch
Very heavy at 200 lbs
Adjustments needed out of box
Setup instructions not included
Parts may be missing on delivery
Janome Computerized Sewing Machine 50 Stitches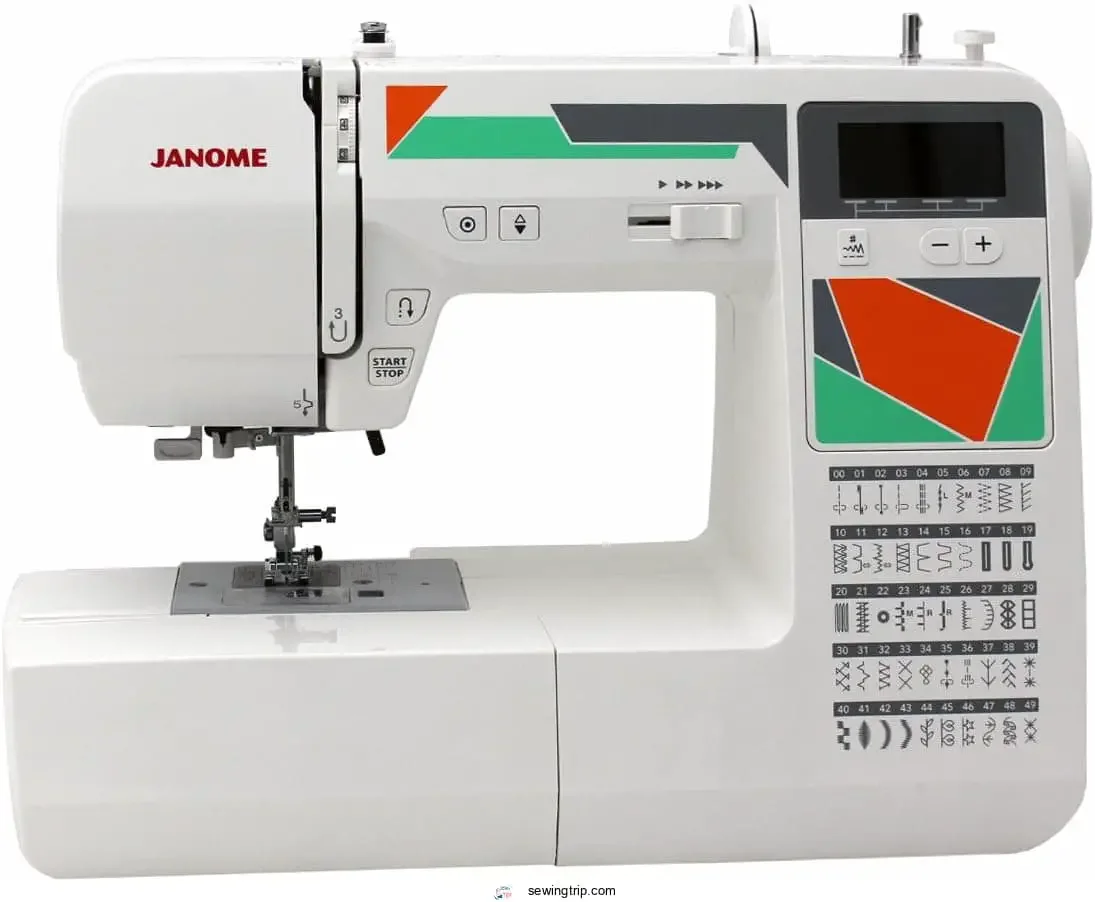 View On Amazon
Advance your skills by considering the portable, durable Janome model with metal construction for small projects and quilting. This computerized sewing machine packs 50 versatile stitches and 3 one-step buttonholes into its durable metal frame, weighing just 12.
Navigate stitches, adjust settings, and control speed via the intuitive backlit LCD screen and buttons. The high-quality 7-piece feed dog provides smooth fabric control, especially helpful for quilting.
While accessories may arrive broken or missing, users find it sews straight stitches beautifully and the buttonholes couldn't be easier. For advancing from beginner machines without sacrificing quality or features, this Janome offers reliability and functionality to grow your skills on apparel, crafts, and quilts.
Durable metal construction
Portable at 12.7 lbs
50 built-in stitches
Intuitive LCD screen
7-piece feed dog for smooth fabric control
Accessories may arrive broken or missing
Not actually dual voltage as claimed
Should include a hard case
Magicfly Mini Portable Sewing Machine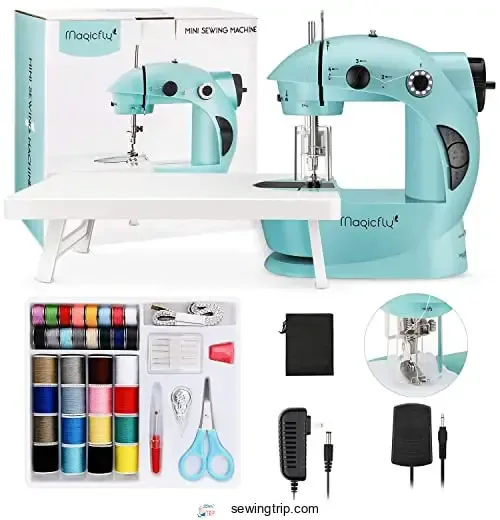 View On Amazon
Take this compact Magicfly with you to craft simple projects anywhere. The Magicfly portable sewing machine weighs just 2.2 lbs for effortless transport in its included carry bag. With dual power options, you can operate it on batteries or plug it in, letting your creativity flow whether on a road trip or curled up on the couch.
While best suited for lightweight fabrics like scrunchies and placemats, it sews straight stitches with precision. The easy threading and bobbin winding make getting started a breeze. Despite limitations like no adjustable stitch length or backstitch capabilities, it empowers beginning sewers to complete basic projects with quality results.
So grab this super portable machine and sew creative pieces during your journeys, powered by imagination.
Weighs only 2.2 lbs for portable use
Dual power options add convenience
Unintimidating for beginner sewers
Not suitable for heavy fabrics
Lacks adjustable settings
No backstitch function
Mini Sewing Machine for Beginners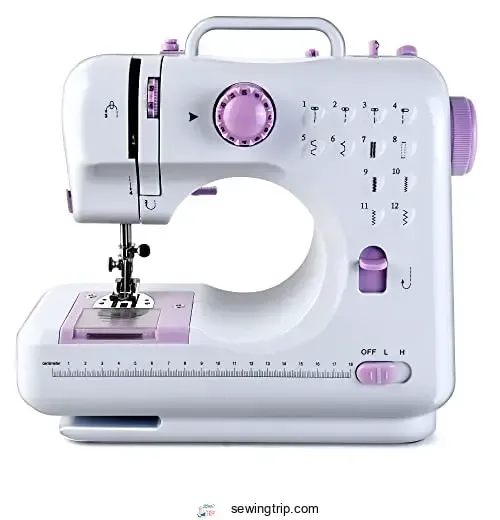 View On Amazon
Port your creative passions anywhere with this mini sewing machine tailored to beginner sewers. Light as a feather at just a few pounds, you can pop it in a tote for a sewing circle with friends or keep it stashed in your RV for stitching by the campfire.
Its compact size takes up little space, but its cute exterior and easy threading pack in unlimited potential.
Simply power up with batteries or plug in and sew basic projects with straight stitch precision. Wherever creativity strikes, let this portable pal unleash your inner crafting nomad.
Ultra lightweight and portable
Dual power options for convenience
Unintimidating for new sewers
Limited to lightweight fabrics
No adjustable settings
No backstitch capability
NEX Portable Sewing Machine for Kids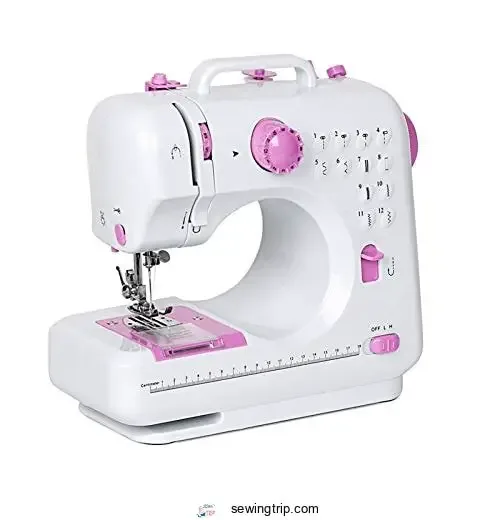 View On Amazon
You'll love how this cute, pink sewing machine lets your inner fashionista flutter free as a hummingbird on a breeze. As a budding Betsey Johnson in the making, this portable powerhouse packs creative potential like sequins on a skirt.
Pop it open for an instant escape to a sparkling world of fabrics and threads just waiting to be stitched into existence.
Its petite frame takes up little space but holds big opportunity for your inspired hands. Sew funky scrunchies during recess, stitch sweet sachets at a sleepover, or craft chic carryalls for a farmers' market outing – this travel-ready tool invites innovation wherever you roam.
Simple to thread and master, it lets your talents take flight with straight stitch possibilities.
Unleash your style and talents on-the-fly with this featherweight fashion powerhouse sized just right for your free-spirited heart.
Portable and lightweight
Cute design for kids
Easy to operate
Limited functionality
Not suitable for heavy fabrics
No variable settings
Juki HZL-70HW Portable Sewing Machine
Dig this lightweight road-ready sewing sidekick takin' your handmade hotness anywhere ya wanna go. Clockin' in at just 11 pounds, it's a cinch to toss in your bag for impromptu craftin' on the go. With 70 built-in stitches and a zippy 550 stitches per minute, you'll fly through projects in no time.
An automatic thread trimmer and easy reverse stitch lever make sewin' sleeves and details a breeze.
Lightweight and portable
Automatic thread trimmer
550 stitches per minute
70 built-in stitches
Not suitable for heavy fabrics
Low stitch variety compared to other machines
No embroidery function
Disney Embroidery Sewing Machine Grand Slam Bundle
Channel your inner Elsa and let it go with this feature-packed Disney machine. With 100 built-in Disney designs, you'll add a touch of magic to any project. The large 5 x 7 inch embroidery area lets your creative dreams go big, while the LED light banishes shadows.
Stitch up to 850 stitches per minute to sail through seams and quilts. An automatic thread cutter saves time on details. Plus multiple fonts and easy threading make embroidery a breeze, even for beginners.
This versatile machine truly brings Disney magic to sewing, embroidery, crafts, and quilting.
100 built-in Disney designs
Large 5 x 7 embroidery area
Automatic thread cutter
Easy threading and bobbin winding
Can be noisy when running at high speeds
Large size may not fit smaller spaces
Lots of accessories can get disorganized
Key Features for New Sewers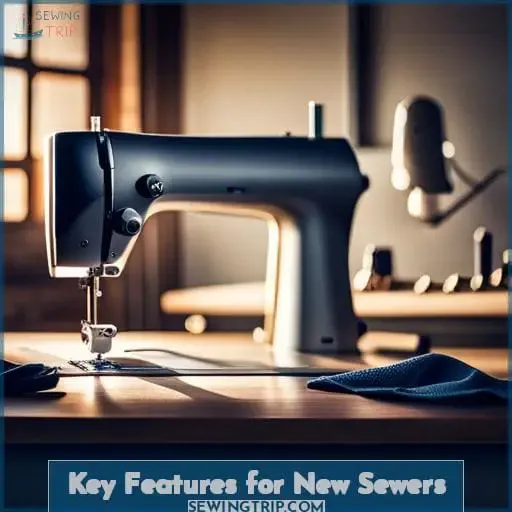 Focus on user-friendly models with automatic threaders and easy bobbin winding to avoid frustration as you start out. Seek adjustable stitch length and tension controls so you can tweak settings as your skills progress.
Portable lightweight machines allow you to sew anywhere, while heavy-duty models will power through thick fabrics. And don't forget extra presser feet, letting you tackle various techniques down the line.
Start with softer fabrics like cotton and avoid tricky ones like silk or leather. Prioritize key features like easy threading and few stitches. As your abilities grow, upgrade to more advanced models with decorative stitches, adjustable settings, and special feet.
For now, focus on learning the basics – straight and zigzag stitches will carry you through countless projects.
Most importantly, be patient with yourself. Sewing takes practice, but with a quality beginner machine, you'll be creating in no time.
Mechanical Vs Electronic Vs Computerized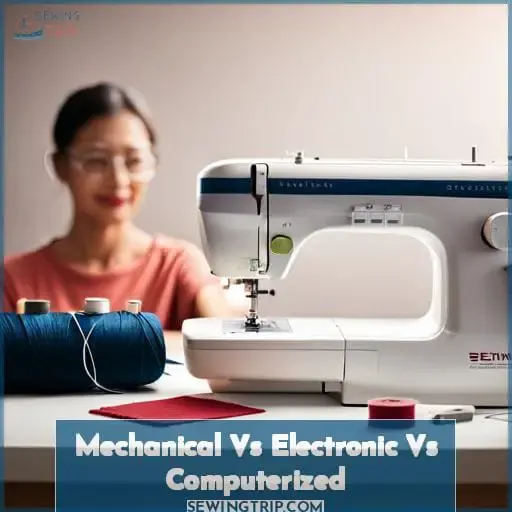 Choose between mechanical, electronic, and computerized models based on what skills you're developing now versus later. If you're just starting out, a basic mechanical model helps you grasp the fundamentals – working the hand wheel, adjusting tension, selecting stitches.
As your abilities progress, upgrade to an electronic for more options like varied stitch lengths and easier feed adjustments. When you're ready to build a custom machine with specialty stitches, creative monogramming, and advanced programmability, it's time for a computerized model.
Stitch selection, fabric feed, presser feet, and manual tension tweaks are all easier on computerized devices. But mechanical models teach the foundations. Build skills first, then accessorize your high-tech dream machine.
Budget Friendly Options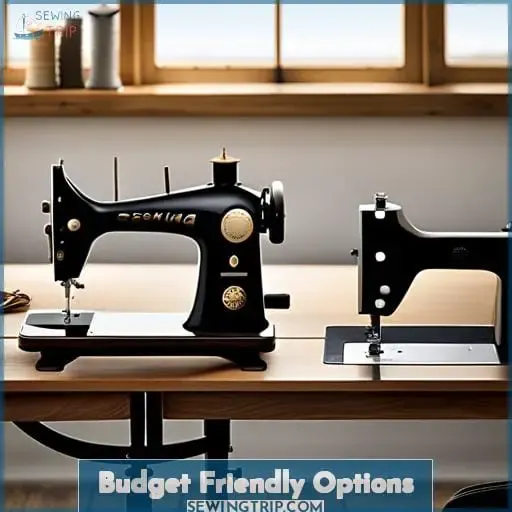 Look around for some gentle hand-me-downs to start stitchin' up memories on a shoestring. Check with friends and family for a lightly loved machine they're willing to pass along. Most models built before planned obsolescence have utility owned basics like straight and zigzag stitches to get your feet wet.
Start simple with linens and cottons, adding modular accessories as your skills progress. With proper maintenance, an older model has plenty of mileage for learning the ropes before considering more bells and whistles.
And lean on your circle for troubleshooting help as you get to know your new-to-you companion. Soon those straight seams will become custom creations to cherish for years – buttonhole stitch and all.
Must-Have Accessories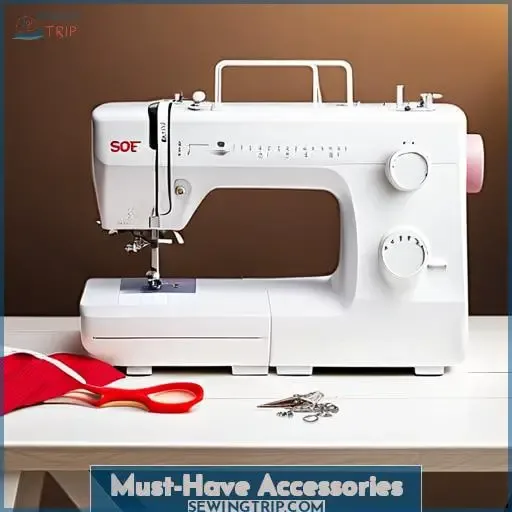 Grab those fabric shears and start snippin' away, friend. Invest in quality cuttin' tools like a self-healin' mat, rotary cutter, and fabric shears for clean edges. Keep hand needles of varyin' types on deck to whip up stitches by hand. Stock versatile thread for any project; look for bonus features like a built-in needle threader.
Explore presser feet to expand your machine's capabilities – walkin' feet prevent shiftin' layers and rolled hems put a polished finish on edges. Don't forget the seam ripper for inevitable mistakes. Gettin' the right tools empowers your creativity and control.
With practice, you'll be customizin' existin' patterns and draftin' your own in no time. Who knows where your sewin' journey will lead, but the right gear makes the fabricatin' fun.
Tips for Learning to Sew

Practice patience as you start stitchin' – it'll take time to master the machine. Begin with simple projects usin' basic cottons or linens to understand how fabric handles. Study fittin' techniques like easin' and dartin' to perfect the drape. Review thread types so you choose the right one; incorrectly matched thread causes frustration.
Invest in presser feet like a buttonhole foot to expand abilities. Schedule machine cleanin' and oilin' for smooth sewin'.
With each project, your confidence and competence grow. Sewin' opens doors to craftin' unique designs, mendin' worn items, or startin' a business.
Before Buying an Embroidery Machine

Before investing in an embroidery machine, consider your needs and budget. Will this mainly be for personal projects or a business venture? Do you want a dedicated embroidery-only model, or a combination machine that also sews? Evaluate hoop size based on the designs you'll make.
Larger hoops allow bigger designs yet take up more space. Also factor in ongoing costs like thread and stabilizer, as well as the convenience of built-in designs versus purchasing separately. Choosing the right embroidery machine requires balancing capabilities, costs, and your goals as an embroiderer.
Embroidery-Only Vs Combination
Embroiderin' fabric with intricate stitchin' is your passion, a machine designed just for embroiderin' has advantages. They include multi-hoop capabilities, faster speeds, and expanded design options. However, a combo machine offers versatility to sew apparel, piece quilts, and decorate all on one appliance.
Assess your goals. Some crafters find a standalone sufficient, while sewers desire the dual functionality. Visit local dealers to test options hands-on. Compare prices too. Advanced embroidery features come at a cost.
Determine what machine best sparks your creativity within budget. Then let your imagination soar, stitchin' and embroidrin' to your heart's content.
Personal Use Vs Business Use
Consider if it's for hobby or enterprise before selecting an embroidery machine, as business use requires durability to endure long hours of high production stitching. Planned projects, fabric options, pattern types differ for personal compared to professional use.
Sewing groups, helpful tutorials support a new hobby, while LCD screens, features suit high volumes. The best beginner embroidery machine depends on whether it's just for you or a business.
Embroidery Hoop Size
You'll want an embroidery hoop size that matches the designs you'll stitch most often. Small hoops work well for lettering, names, and compact motifs. Larger hoops allow for more elaborate patterns with high stitch density and varying thread types.
Optimal hoop dimensions prevent fabric shifting and puckering. Test different hoop shapes and connector types before purchasing a computerized sewing machine with built-in designs and a free arm for easy maneuvering.
Budget
A robust selection is within reach with well-rounded options under $200. Scour reputable retailers for quality mid-range machines. Compare useful extras between advanced models, noting what's truly essential for a starter set-up.
Affordable choices exist with handy features like USB ports, drop-in bobbins, and auto threaders to simplify the learning curve.
Cost Vs Convenience
Consider initial purchase cost when looking for a model whose simplicity or sophistication matches your ambitions while staying within budget.
Evaluate the machine's fabric handling ability. Test the thread tension range. Gauge the maximum sewing speed.
Opt for a sewing machine aligned with your goals. Mechanical models provide essential functionality at a lower price. Computerized options offer more convenience but cost more. Weigh cost against specialized features to find the ideal match for skill level and budget.
Frequently Asked Questions (FAQs)
How long does it take to learn to sew proficiently?
With diligent practice, developing fundamental sewing skills typically takes 3-6 months. Begin with simple patterns and have patience as you build competency. Joining a sewing group provides community support.
You'll soon gain confidence to take on more complex projects and unleash your creativity.
What small household items can I practice sewing as a total beginner?
Start with simple squares and rectangles to make napkins, dishcloths, or even a pillowcase. Try hemming a short curtain panel or making a small zippered bag for cords. Once you've mastered straight lines, personalize towels and t-shirts with easy applique designs.
Is it better to buy a used or refurbished sewing machine when starting out?
When starting out, it's better to invest in a new sewing machine for reliability. Buying used machines comes with risks of missing or broken parts, while refurbished models may lack key features you'll want as your skills advance.
What are signs my beginner sewing machine needs servicing or repairs?
Watch for skipped stitches, thread bunching up, or unusual noises while sewing. Also look out for tension problems, feed dogs not grabbing the fabric properly, needles or thread breaking, the machine getting repeatedly jammed, the motor slowing down or stopping, buttons or dials not working correctly, or indicator lights flickering.
Don't forget regular oiling and cleaning as well. Getting your machine looked at is advisable if you notice any of these issues arising.
Are there any subscriptions or clubs I can join to get sewing patterns and projects delivered?
Here are some great sewing subscription services to get patterns and projects delivered to your home. CreativeBug offers hundreds of online classes; you'll enjoy a new skill-building tutorial each month with Seamwork.
Mood Fabrics has monthly fabric and pattern boxes suited to your style. Join a sewing community with Stitch Box; they send patterns, fabric, and notions monthly.
Conclusion
Want a sewing machine that won't leave you in stitches? After reviewing the 10 best options for beginner sewers, the choice is clear: Start simple. Mechanical models like the Heavy Duty Gray offer user-friendly operation, all-purpose utility stitches, and the core functions you need to begin sewing with ease.
As your skills progress, you can always upgrade to a more advanced electronic or computerized machine.