This site is supported by our readers. We may earn a commission, at no cost to you, if you purchase through links.
If you're looking for a long-term sewing investment that requires minimal maintenance, the inger 4411 Heavy Duty does not disappoint.
This model is one of our picks for the best sewing machines on the market today, and it is a machine many sewers choose to upgrade from less sturdy models.
It features 11 different stitches and it has an automatic 4-step buttonhole system, allowing you more than just simple seams or hems. We're going to look at the pros and cons of each.
In our full inger 4411 review, we'll let you know how it compares to the superior inger 4423, and discuss areas where the machine could improve.
Let's take it away…
Introducing the inger 4411 Heavy Duty Machine
For who is he?
The inger 4411 for people who sew or quilt at home.
It as a'Heavy Duty'machine, meaning it will work with a variety of materials, including harder fabrics and fabrics that are normally too thick for lesser machines to handle. By sewing.
While the inger 4411 can work with many more materials than your average machine, it is not what you would describe as a industrial heavy machine.
It falters when trying to work with multiple hard layers at once, and while it can sew through materials such as leather, absolutely must use the right needles – otherwise you won't get anywhere soon!
We see the inger 4411 as an excellent machine for the novice or advanced sewer who wants to work with a variety of materials, with a machine that will deliver reliable performance over several years. And he/she wants to do this at a very affordable price.
It is impossible to deny that the 4411 Heavy Duty is a tremendous value when you consider its low price.
Although it doesn't have the heavy references of the Janome HD3000we think it is more than enough for the needs of most sewers.
And we'll get one thing out of the way early on: this machine is fast. FAT.
The Look
We would describe the overall look of the machine as classic inger with a modern twist.
The dark gray body up with red flashes and there is a minimalist look to the machine , meaning it won't look out of place wherever you put it.
Although the inger 4411 has a metal inner frame, the plastic housing means it feels free not as robust as some of the more expensive heavy duty machines. However, it is fairly lightweight, only 14.5 lbs. The stainless steel base plate clarifies that this is a machine that is built to last.
It is a very practical sewing machine, equipped with a handy canvas cover to protect the machine. to protect against dust, a foot control and many presser feet.
Let's go through the functions:
Top drop-in coil with clear cover
Reverse switch
Tension dial
Needlemode dial
titch width dial
titch length dial
titch selection dial
pecs
Weight: 14 .5 lbs
Dimensions: 15.5 x 6.2 x 12 inches
titches: 11 built-in stitches and one automatic four-step buttonhole
peed: p to 1,100 stitches per minute
Computerized/!chanic: !chanic
pool: pper insert coil
Warranty: 25 years limited
Accessories
The inger 4411 heavy duty sewing machine comes with the following accessories included:
4 presser feet: universal, buttonhole, zipper and button sewing 0
ealer/lint brush
Quilt guide
Needles
pools
crewdriver
pool pin
pool pin felt
oft dust cover
Power cord and foot pedal
Instruction manual
You can often find bundle deals on sites like Amazon or Walmart that include extra accessories t at a discounted price.
It is best to check the product listings to see exactly what is included with each bundle and whether it is worth the extra cost.
The company behind the machine
Well, they hardly need an introduction.
inger has earned its reputation as one of the best sewing machine brands around, selling top quality machines at affordable prices.
The company is up and running since 1851 and for manufacturing the very first zigzag machine and electronic machines.
As an industry leader, thousands of sewers rely on inger's products. any other brand in the market. Buyers expect and receive quality and heritage when they choose this brand.
The 4411 is one of 's flagship machines for the mass market.
The Warranty
The inger 4411 comes with a 25-year limited warranty. Here are the details:
ewing Machine Head: Limited 25 Years
Motors, Light Assembly, Wiring, titching, peed Control and electronic components: limited 2 years
Adjustments, straps, rings, lamps and accessories: limited 90 days
Your you can read the full warranty document here.
Heavy Duty Features
A key selling point of the inger 4411 sewing machine is its ability to handle a range of heavy fabrics because of its enhanced capabilities and features.
]
Here are some of the heavy fabrics this machine can work with:
Denim
Leather
Quilting
Vinyl
pholstery
Girths
Overcoat fabrics
Wool fabrics
We have to make a big caveat here.
It is so important that you use the correct needle for any material, otherwise you end up… breaking needles, shredding fabrics, and probably bang your head against the wall.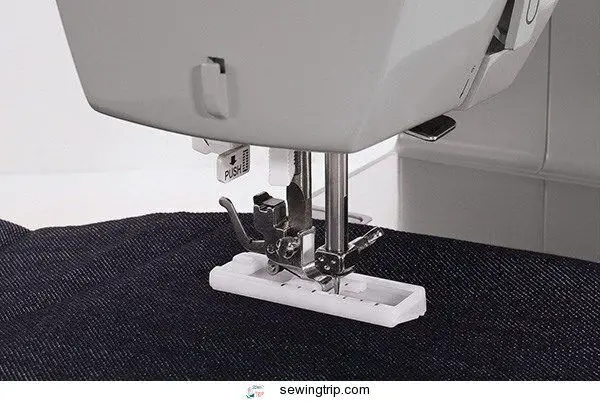 The inger 4411 sewing machine at work on some denim
Here's what the inger 4411 packs in the heavy department:
60% more powerful engine means it can easily handle heavy substances
A heavy Inner metal frame makes it sturdy enough to withstand layers of weight manageable
Adjustable presser foot pressure control let you glide from lightweight to heavy fabrics
tainless steel bedplate ensures smooth feeding regardless of material weight
inger 4411 vs 4423
Many people wonder which model suits them best, the inger 4411 or the inger 4423.
Both are heavy sewing machines with a lot of An. The inger 4423 sewing machine is slightly more expensive and so has a few extra features you may find useful. others, but the 4423 has 23 built-in stitches (vs 11), a 1-step automatic buttonhole (vs a 4-step) and an automatic needle threader.
Which one you choose will depend on whether you need the extra built-in stitches and the simpler buttonhole option.
Clothing designers, for example, appreciate the larger selection of the inger 4423.
If your priority is making clothes, we would inger 4423 should definitely a valuable upgrade.
inger 4411 Review
o those are all the features and promises of the inger 4411 Heavy Duty sewing machine – but what is it really like?
Do it work as promised? What's better about it?
We're about to find out.
The Positives
It's really heavy
This may sound like an obvious point for a machine that markets itself as heavy duty, but we found the inger 4411 exceeded all our expectations in how much it can handle, given its remarkably low price.
Although it feels sturdy, it is it was fairly lightweight for a heavy sewing machine, even at 14.5 lbs, but it could handle pretty much anything we tested it with. From heavy fabrics like denim and leather to multiple layers of lighter material — as long as we use the right needles, it worked almost perfectly.
(Disclaimer: when we accidentally used the wrong needles… it didn't.)
Thank you, 60% more powerful engine!
The machine faltered a bit on several layers of heavy material, especially in large and bulky seams. Hvl7zflO52 would not recommend it for commercial sewing or anyone expecting to use it for exceptionally heavy duty sewing. We recommend only moderate use.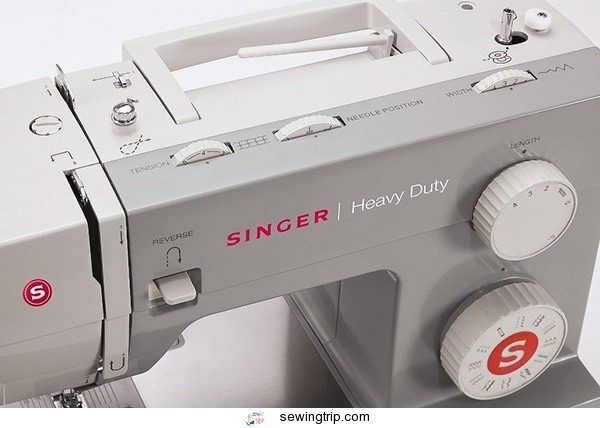 Low price
You just can't help but get a fairly high quality sewing machine at a bargain price with the inger 4411.
Apart from being reliably heavy duty, the speed is so much faster than other machines in this price range.
uper fast
With a top speed of 1,100 stitches per minute, the inger 4411 sewing machine rivals more industrial models for pace. fast and well done. We found we achieved an impressive time saving with this machine compared to comparable models from other brands.
In addition to the speed, things like the top drop-in bobbin and the extra high presser foot lift make it a very convenient sewing machine to use. We wish he had an automatic needle threader to make sewing super easy!
ewing quality is reliable
You You will not sew masterpieces on the inger 4411, but it certainly gets the job done reliably with even stitching and tension. No skipping stitches here!
The stainless steel bedplate provides a smooth feed of fabric, while the adjustable presser foot pressure control allows you to glide from light to heavier fabrics with ease.
Additional features like the free arm and three needle position options are great for greater access and control over tricky projects like sleeves and zippers. The 4 presser feet included should also have you covered for most of your needs. look at the Janome HD3000. It's a little more expensive, but it's probably the best heavy-duty sewing machine out there right now.
Other Things We Love
The cover over the bobbin allows you to see when the thread is running low
The clip-on presser feet allow you between them
Lots of storage space on board
Adjustable stitch width up to 6 mm and length
It sews quietly
It is very low maintenance once up and running
Reasonably lightweight and portable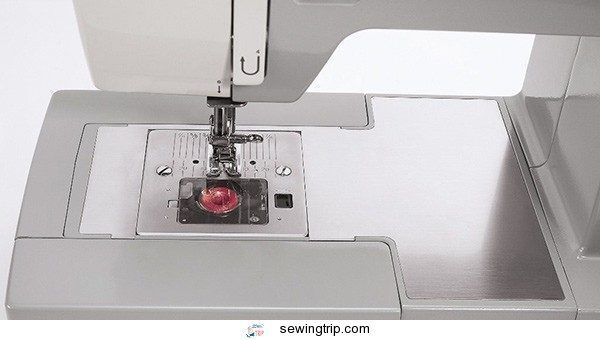 The top drop-in coil with transparent lid
The negatives
There are a few improvements for the inger 4411 sewing machine. You need to decide if one of these deal breakers is for you.
No automatic needle threader
Call us spoiled, but we're used to machines with an automatic needle threader, so it was a little disappointing to find that the inger 4411 doesn't have this technology (although its superior brother, the 4423 does).
We didn't find it difficult to thread it ourselves, but novice sewers will need the (complicated) instruction guide to read carefully. Once you've done this, it's very easy to use, but it's an unnecessary obstacle these days.
Here's a video explaining how to string the 4411K
As you can see, it's not too difficult thanks to the 6 different wire guides!
It's a Basic Machine
As you might expect at this price point, the inger 4411 heavy duty sewing machine is no miracle worker: it's a basic sewing machine meant for simple jobs.
]
While we found sewing quality to be reliable and fine for tackling heavy fabrics, it doesn't have the bells and whistles of being a machine for impressive design and inspiration. There are only 11 built-in stitches and that is nothing special. more money.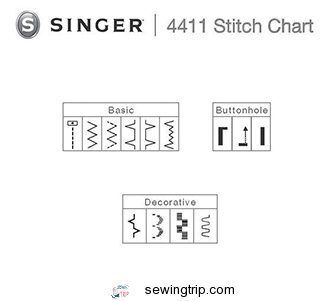 The stitch selection on the inger 4411 heavy duty sewing machine
The included needles are not Great
Many buyers have found that the needle supplied with the inger 4411 is blunt and simply not suitable for the job.
The machine comes with a pack of needles that will allow you to replace it immediately, but you should also remember to use the correct needle for the material you are using. For example, you need a specialized denim needle for denim and a leather needle for leather.
You can't blame the machine for wrecking your project if you use the wrong needles.!
The speed of the machine may actually be too fast for some
Ok, so we had the speed from the machine down as a big positive.
But we also mark it as a negative.
For some users, the slowest setting the machine uses at may still be faster than they prefer. If you're an absolute beginner, you might not want a machine that speeds through your next project at the speed of light.
In those cases, it would be nice if the slowest setting was actually LOW
Other things that could be improved
Due to the plastic case it doesn't feel quite like it sturdy as other heavy machines
The automatic buttonhole is a 4-step (not as convenient as a 1-step!)
Overall review of the inger 4411
All we recommend the inger 4411 heavy-duty sewing machine, especially for inexperienced and intermediate seamstresses.
]
It's certainly a solid performance for such a cheap machine, and there's no doubt it gets the job done. Also, the incredible speed it can work with rivals takes a lot of other machines and makes for some really impressive time savings – if that's what you're looking for!
It's basic for sewers looking to start more decorative projects, and isn't as heavy as some of the more expensive models out there. For example, he's not very good at sewing multiple layers of heavy fabric.
If you have reasonable expectations, you'll love the inger 4411.
Where to buy the inger 4411
Thanks to its enormous popularity with so many American households, you can find the inger 4411 on a wide range of places – offline or online.
Here are a few online dealers:
And of course you can buy the inger 4411 sewing machine on Amazon.
---
That's all you need to know about the inger 4411 heavy duty sewing machine.
What do you think of the inger 4411?
Read more: Brother T371HD vs inger 4411
Not sure if this is the model for you? Browse our latest machine reviews.